Raring to see the best of Singapore's cityscape, but reluctant to walk long distances or pedal on a bicycle? Or have you always wished for another way to explore the island without the need to take a cab, bus, or train everywhere? We've found the perfect solution for your hassle-free, non-strenuous exploration needs!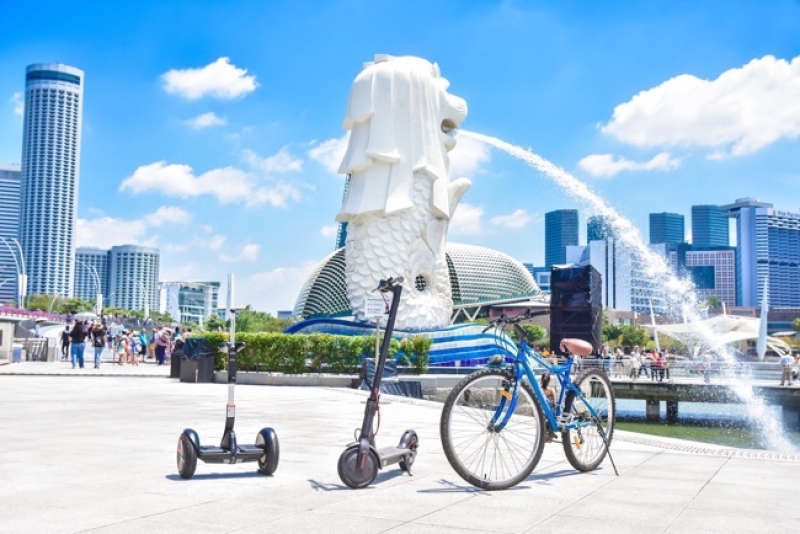 Introducing the Segway, the personal transportation device that is revolutionising our travelling options. This nifty two-wheeler can go up to 30 – 38km on a single battery charge, depending on the Segway model and terrain. The Segway only requires your feet to steer, making it easy to stop for photos, or even take a selfie while on the go! This device is also less than a metre wide, allowing you to effortlessly weave through crowds and forest trails alike. Besides being the most efficient and least strenuous way to travel (outside of a vehicle of course), the Segway allows you to join the ranks of celebrities like Jackie Chan and Gordon Ramsay in whizzing down the pavement in style.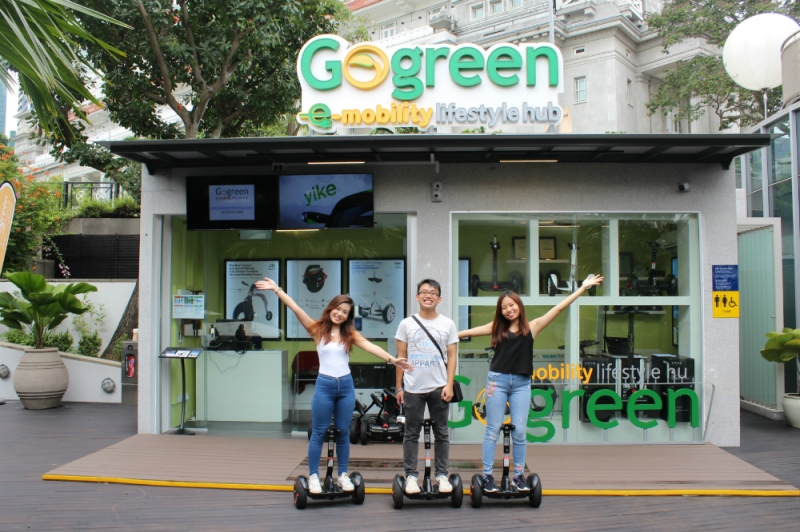 Behold, the NEWEST Segway rental location in Singapore you can traipse to in eager anticipation – the Gogreen E-Mobility Lifestyle Hub at The Fullerton Waterboat House! Oh yes, you don't have to buy a Segway just to get the opportunity to traverse across Singapore on one, you just have to rent it. And who knows, you might love exploring Singapore on it so much – you might even be tempted to purchase it! Hop onto a sleek Segway miniPro, or e-scooter, and glide past riverside parks and architecture marvels alike. For those desiring an independent, free-and-easy urban adventure around Singapore's city district, this is the place to go to! Alternatively, if you prefer to have an itinerary all planned out for you, then head on over to Sentosa for guided Segway tours.
For The Adventurous Explorers: Free-&-Easy 1 Day Itinerary Around Merlion Park
11am – 12pm (Merlion Park – Jubilee Bridge – Esplanade – The Float @ Marina Bay – Helix Bridge)
As Gogreen E-Mobility Lifestyle Hub opens at 11am, you can spend the morning lounging about, or feasting on a hearty breakfast, before heading towards the Merlion Park. Take a couple of minutes to acclimatise to the Segway or e-scooter at the open space outside Gogreen, where the friendly and patient instructors will guide you on the necessary tips you need to know before riding it effortlessly!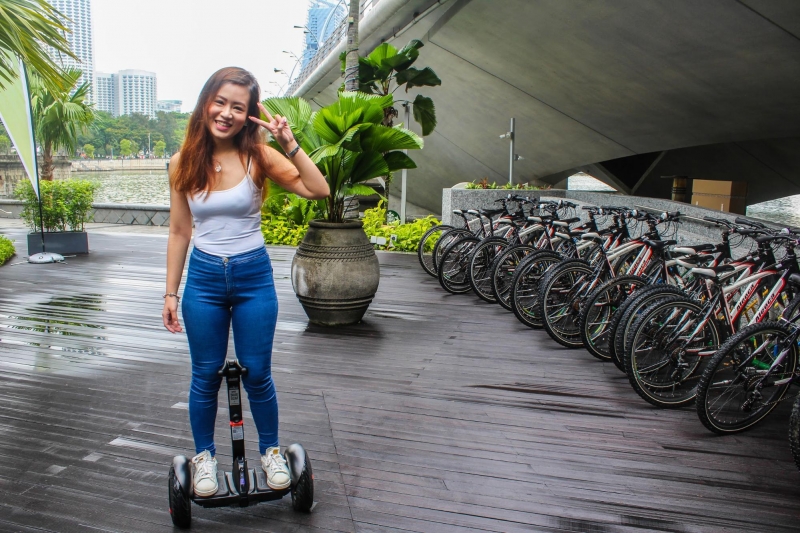 For those who are more safety-conscious, or have young kids who want to try riding, fret not. The Gogreen E-Mobility Lifestyle Hub has helmets, elbow pads and knee pads for you as well! It's incredibly safe and easy to ride, so you don't have to worry at all.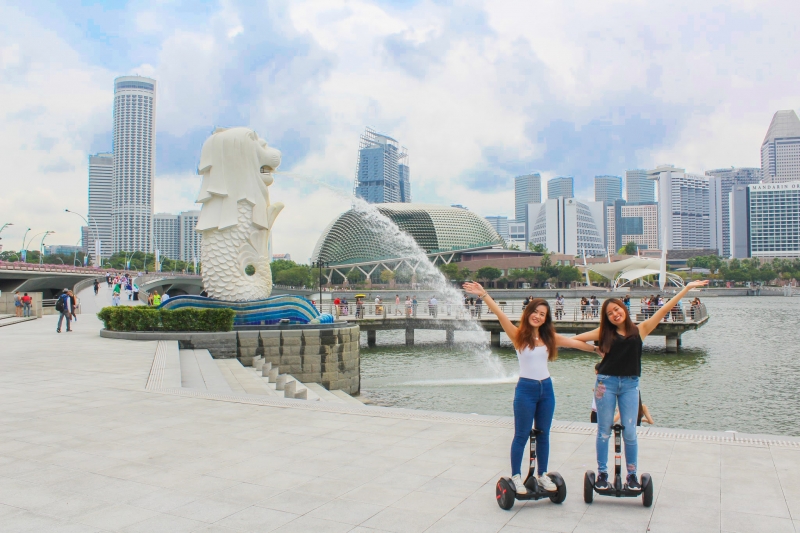 Once you're all geared up and ready for an adventure, head towards the nearest attraction – the Merlion Statue itself to start your exploration journey!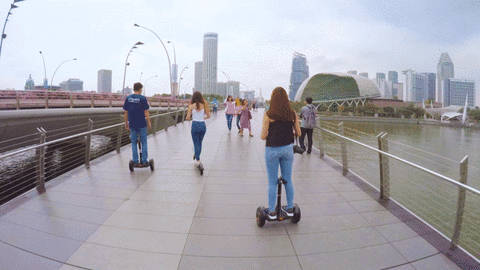 After posing for a million photos with this iconic national mascot, turn towards the nearby Jubilee bridge, and take in the gorgeous Marina Bay scene, with the majestic Marina Bay Sands across the river. Glide around like a boss while the rest of the world looks at you in utmost envy!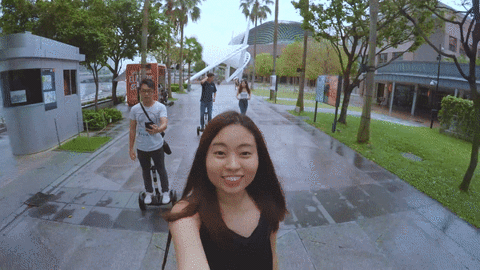 Once across the Jubilee bridge, get up close to the Esplanade – Theatres on the Bay, the central hub for Singapore's performing arts scene. Glide down the waterfront, and pass by The [email protected] Bay, the world's largest floating stage.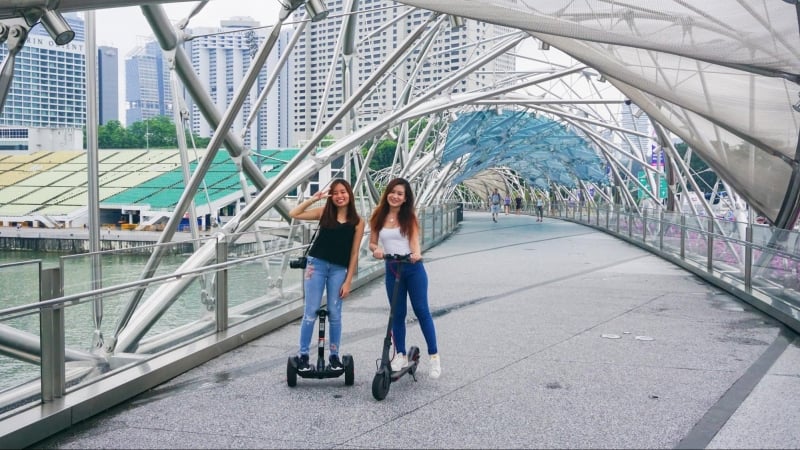 Head up the ramp towards the Helix Bridge, a pedestrian bridge that links the rest of the waterfront to Marina Bay Sands. This complex architectural marvel is inspired by the double-helix structure of DNA, and was a challenge to build. It also makes for an awesome backdrop for photos! You can glide up this bridge, and view the other side of the Marina Bay waterfront, or take marvelous photos of the iconic Marina Bay Sands.
And have we mentioned how incredibly convenient it is to take photos or videos while riding the Segway? You can just stop anywhere you like, snap a photo, and glide over to the next spot! Or record a video while gliding across the pavement at a constant pace – say goodbye to shaky video footage because you don't have to struggle with keeping your hands steady. Smooth, simple, and fuss-free! Exploring the Marina Bay waterfront was a complete breeze.  
Excited to zoom around Singapore on a Segway now? Simply use the promo code:
"Segzilla
"
when renting online
to enjoy a
WHOPPING 50% OFF
the rental rates for a Segway miniPro or e-scooter, at just
$19.95 per pax
(UP: $39.90)!
This promotion is valid till 30th June 2017, so grab your family and friends, and…
12pm – 1pm (Singapore Flyer – Merdeka Bridge)
As tempting it is to cross the Helix Bridge and enter Marina Bay Sands, turn around and head towards the Singapore Flyer instead! This exquisite giant Ferris wheel serves as the world's tallest observatory wheel, and is a significant landmark in Singapore's city skyline. You can park your Segway at the security counter and head up for a ride in the Singapore Flyer.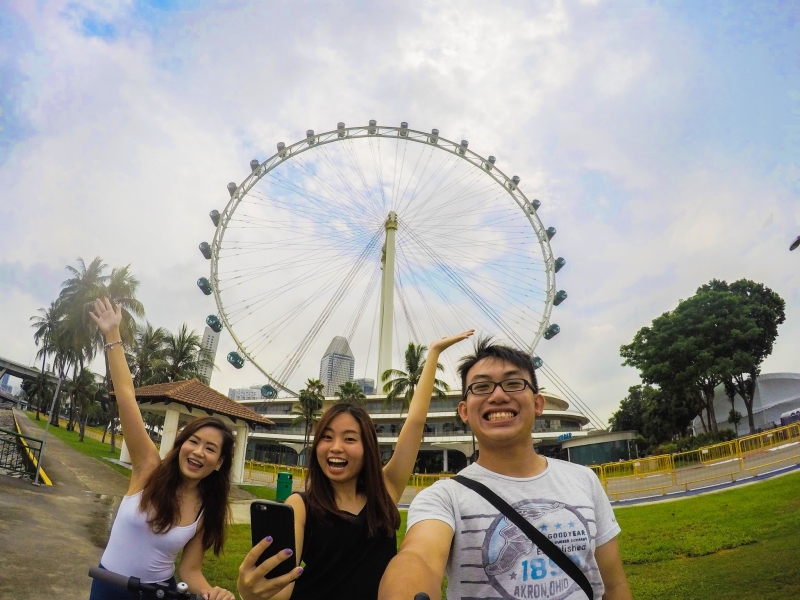 Once you have had your fill of this lovely structure, take a leisurely glide along the Kallang river towards Merdeka Bridge. After passing under the Benjamin Sheares Flyover, you should be able to catch a glimpse of Singapore's newest architectural addition – the Singapore Sports Hub! Continue onwards, and cross the Merdeka Bridge towards this integrated sports and lifestyle centre.
1pm – 3pm (Kallang Wave Mall – Tanjong Rhu Promenade – Gardens By the Bay (East) – Marina Barrage)
By the time you reach the Singapore Sports Hub, it'll be almost time for lunch! Fortunately, the nearby Kallang Wave Mall offers a wide selection of dining options. As you enter the shopping mall, choose to park your Segway with the security counter, or bring it along with you to the restaurant – the device is that portable!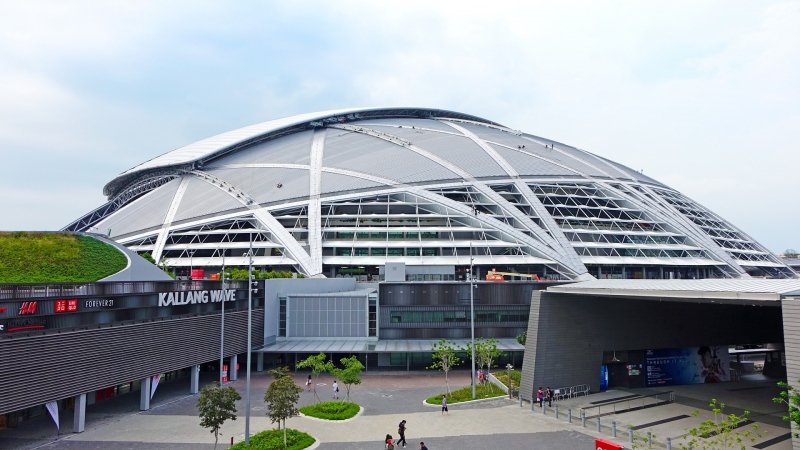 After satiating your hunger, set off again across the Tanjong Rhu Suspension Bridge, and speed down the Tanjong Rhu Promenade towards the Bay East Garden. This eastern section of Gardens by the Bay, remains under the radar to many locals and tourists, but offers you the opportunity to catch most of the famous landmarks on the Marina Bay area – such as Marina Bay Sands. And if you're lucky, you might even be able to spot an adorable family of otters along the way!
Continue onwards, and head towards the Marina Barrage to complete the loop back to Marina Bay Sands. For a more exhilarating experience, glide across the dam quickly, and let the sea breeze wash over you.
3pm – 5pm (Gardens By the Bay)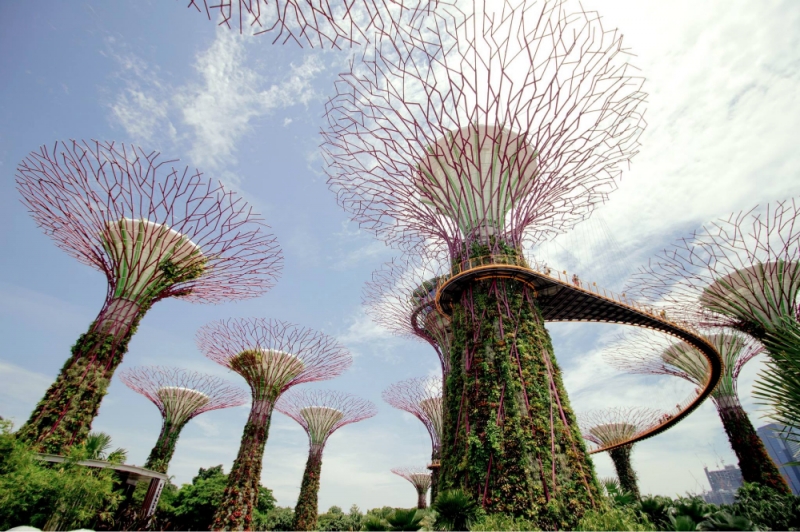 Image Credit: Gardens by the Bay
Cross the Marina Barrage, and enter the western portion of the Gardens By the Bay. This renowned part of the park needs no introduction, so spend ample time admiring the plethora of plants, or posing for picturesque photos. Do remember that riding the Segway is prohibited in the park itself, so do leave them at the park's visitor's centre.
5pm – 6pm (Marina Bay Sands – Clifford Square)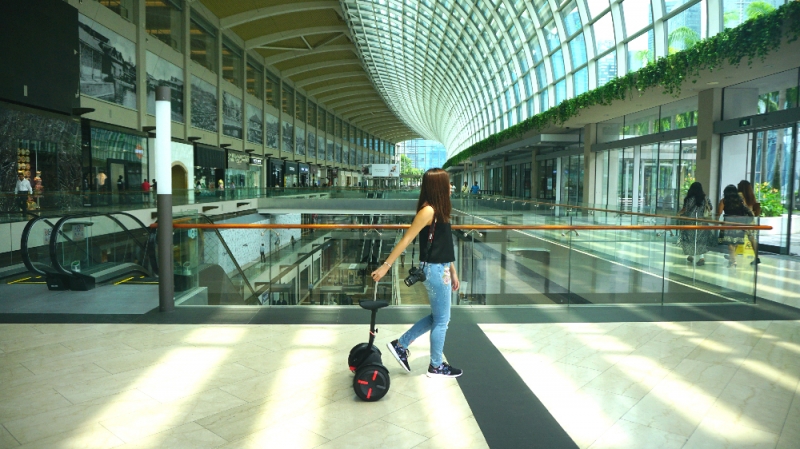 Immersing yourself in verdant greenery can work up an appetite, so glide under the Benjamin Sheares Bridge towards Marina Bay Sands for a well-deserved meal. You can't ride the Segway around Marina Bay Sands Shoppes unfortunately, but it's incredibly easy to bring it along with you wherever you go! Equipped with a handle, all you have to do is pull it across the floor like you would with a luggage. The Segway glides across the glistening marble floor so smoothly, you hardly need any effort in tugging it along.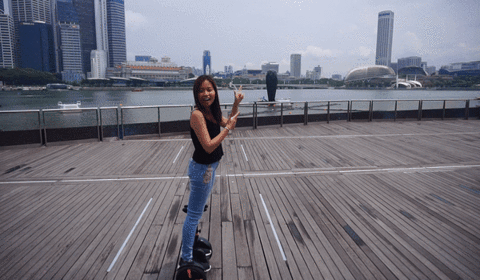 After pampering yourself with a lovely dinner, glide down the Marina Bay Sands promenade and soak in the lovely view of the Singapore city skyline as the sun sets. Head towards Clifford Square, and onwards back to Merlion Park – your tour is almost complete!
6pm – 7pm (Merlion Park)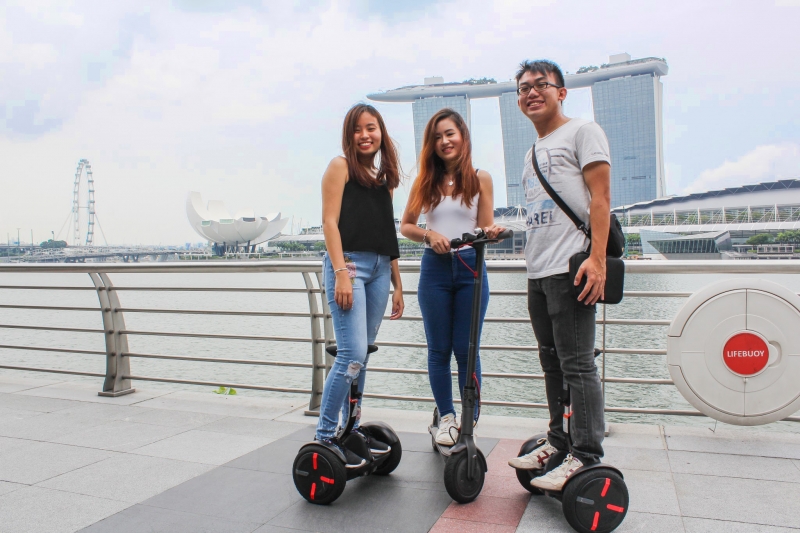 Back at Merlion Park, your itinerary for the day is done! Return the Segway back at Gogreen E-Mobility Lifestyle Hub, and have some after-dinner drinks at the bars nearby. We had an absolute blast trying out this Segway exploration experience, and we're sure that you will too. 
So, if you want to take your travels up to the next level, and glide around exploring the most iconic corners of Singapore,
rent your Segway now
!
Simply use the promo code: "Segzilla" when making your Segway rental reservation online to enjoy a WHOPPING 50% OFF the rental rates for a Segway miniPro or e-scooter, at just $19.95 per pax (UP: $39.90)!
You'll be having so much fun roaming around and taking tons of photos, you won't even realize time whizzing by. This promotion is valid till 30th June 2017, so get booking!
For The Tropical Beach Lovers: Guided Tours at Sentosa
Of course, if a free-and-easy tour is not for you, or if you want a taste of Singapore's sun, sand and sea, head towards Sentosa Island instead! There are two Segway stations at Sentosa – one at Beach Station and another at Siloso Beach – and both rentals offer a 2.5 hour Segway tour of the island resort. The tour comes with a experienced local guide, and allows you to visit renowned Sentosa attractions such as Fort Siloso, the new elevated Skywalk and the massive Merlion.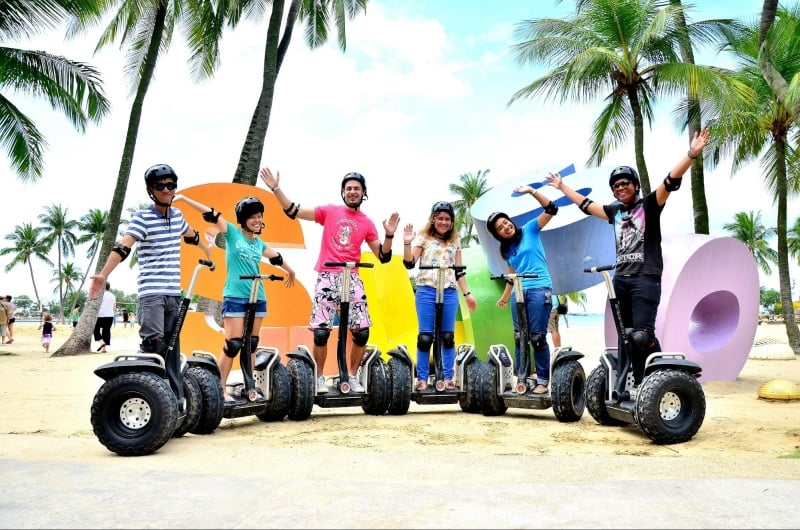 The Segway model offered in Sentosa also differs from that at Merlion Park. The former uses the heavier Segway PT for its tours instead! This larger Segway model comes with an additional handgrip and larger wheels, which are perfect for traversing the island's pavements and jungle trails alike. You can even glide across Sentosa's sandy beaches smoothly! Cool or what?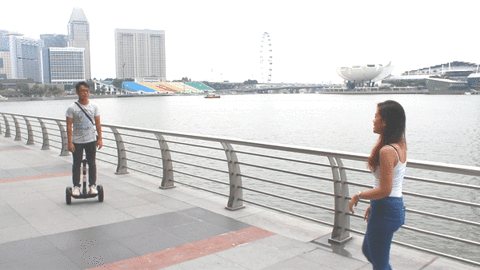 Already day-dreaming of gliding around Singapore on this awesome device? Well what are you waiting for – head towards the Merlion Park or Sentosa Island today! After an hour or two riding on a Segway, you will never want to explore the Lion City in any other way again.
RENT YOUR SEGWAY AT 50% OFF NOW!
---
Brought to you by Gogreen Holdings.