I don't think I am alone when I say that the idea of camping scares me a little – being so far from civilisation, sleeping uncomfortably on the ground, going to the toilet behind the tree. If this sounds like you as well, then 'glamping' is an alternative you should definitely consider.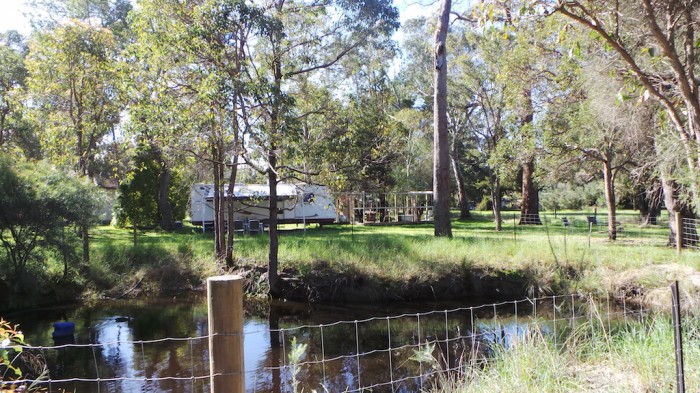 The caravan and trailer are located on a bushy site just out of the seaside town of Mandurah
Otherwise known as 'glamorous camping', glamping bring you the best of both worlds – being close to the natural Australian bush, towering gum trees hosting laughing kookaburras, campfires to toast some marshmallows… as well as king-sized beds, proper toilets and life's little luxuries such as TV and WiFi. Glamping gives you all the fun of camping, without actually having to do any of the work.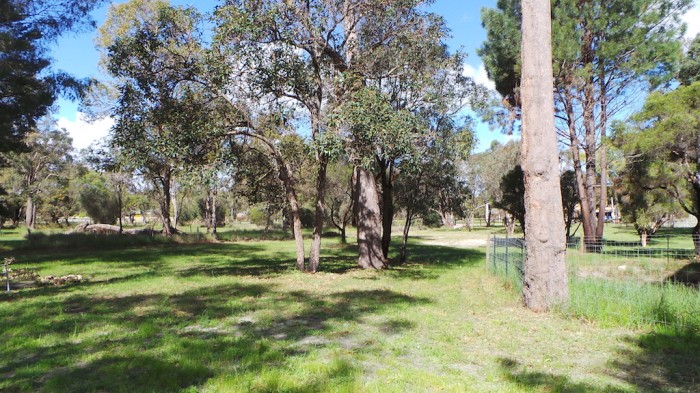 Tall gum trees and plenty of space make you feel as though you are in the Aussie bush
Just ten minutes out of Mandurah, the beautiful seaside town an hour south of Perth, there is a friendly glamping spot on the bush block of Natalie and Jarrod and their three friendly sons. They have a 31-foot caravan and a luxury camp trailer, both sleeping five people each, making it perfect for families or friends who wish to travel together and still have a little space and privacy. All glampers have free access to the kids' play equipment and fire pit, with freedom to wander around the property and (soon) enjoy the unique outdoor bathroom currently being built.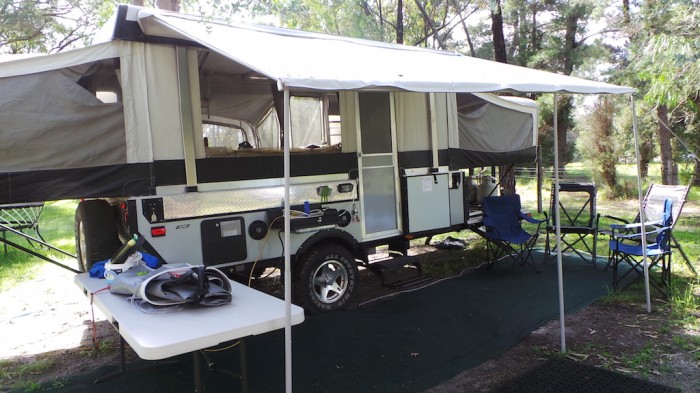 The luxury trailer is fun and full of natural light
While less than ten minutes from Mandurah, with its top restaurants, shops and markets, and beautiful canals and beaches, the glamp is on a small Aussie farm with free range chickens, a friendly horse next door, and kookaburras to sing you to sleep each night.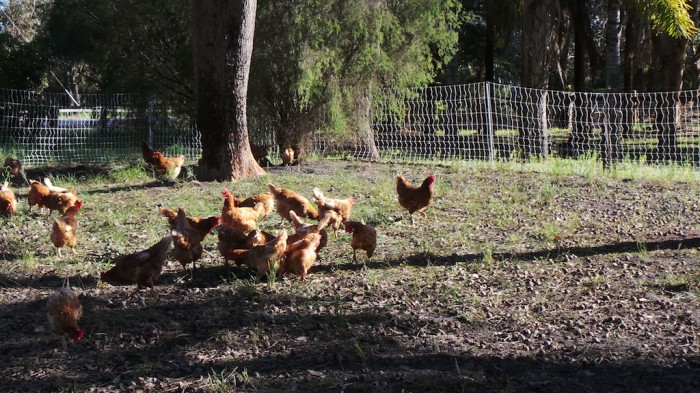 Free-range chickens enjoy roaming around their fenced off paddock, providing beautiful fresh eggs to the local community
The 31-foot caravan has a bedroom with carpeted floor and TV, kitchen and dining area, lounge area (with another TV) and bathroom with toilet and shower. The sofa bed sleeps two, and the dining table also converts to make another bed, sleeping five people in air-conditioned comfort.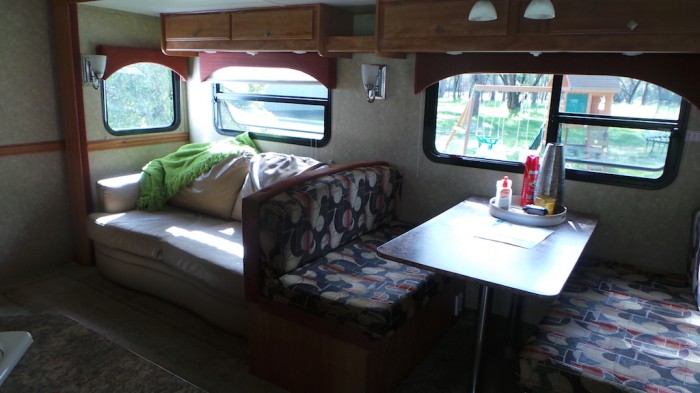 The huge caravan has two TVs, a DVD player, radio and free WiFi
Cleverly designed with plenty of storage and spaces to store things, the kitchen has a microwave/convection oven, fridge, freezer and enough utensils to cook a meal, although you may prefer to stay outside and enjoy a BBQ while overlooking the (fenced) dam and towering gums.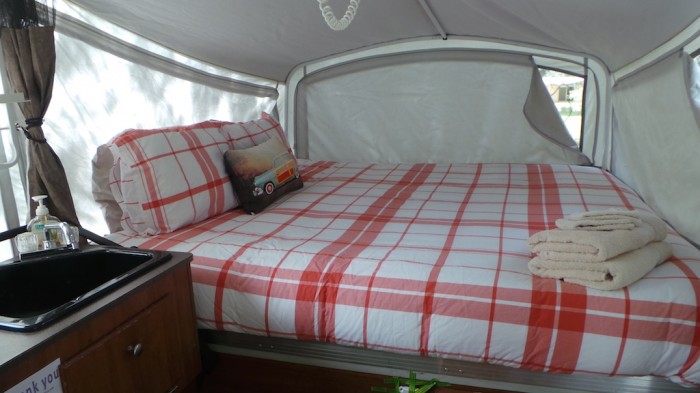 The king-sized beds in the trailer are incredibly comfortable with top quality bedding
The camp trailer also sleeps five in comfort with two king-sized beds and a fifth bed made from converting the dining table. The trailer is full of natural light, with many of the canvas walls zipping open to reveal insect-proof mesh, allowing you sleep effectively under the stars. While the trailer kitchen is much smaller, it's still functional, plus it also has its own outdoor cooktop under the awning, allowing you to cook some sausages or boil pasta while sitting in the camp chairs and gazing at the bush.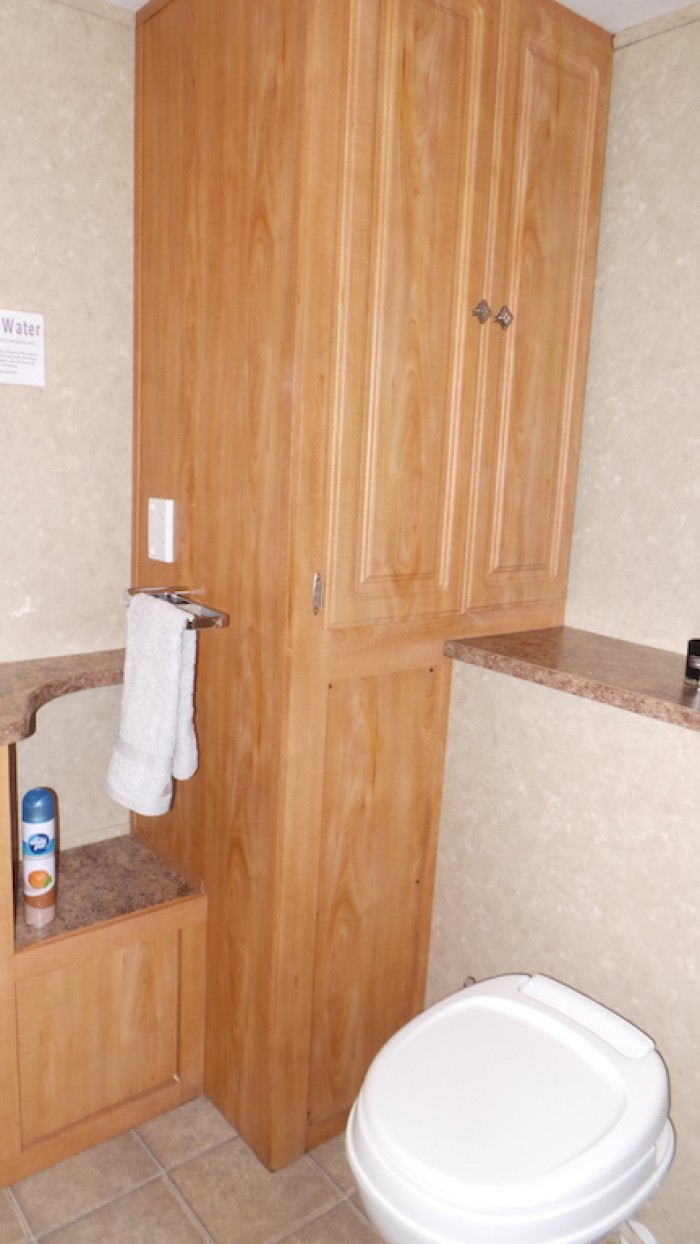 The caravan has a full-sized toilet, shower and sink
Both the trailer and caravan have their own bathrooms, and while the caravan has a fully equipped toilet, shower and sink (with doors), the ensuite in the trailer is quite unique. It's here that you need to remember the 'camping' part of glamping. The picture should explain how it works, and I recommend that you use it with a sense of adventure and non-existent modesty.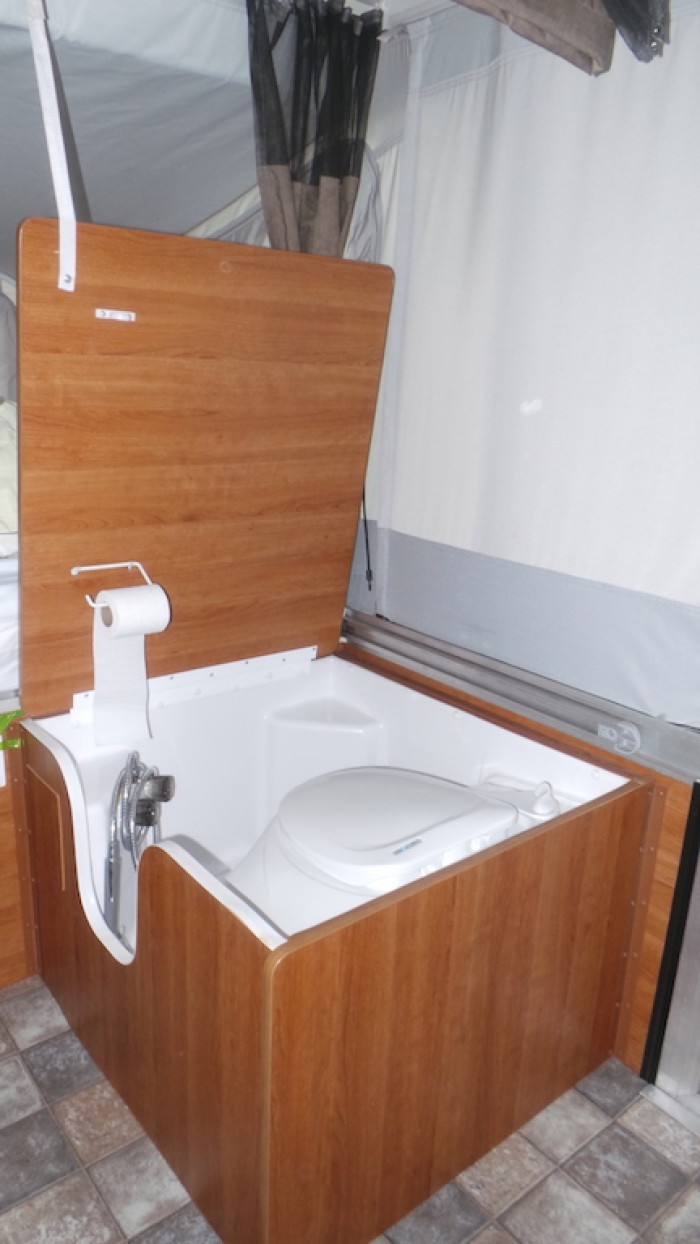 The trailer ensuite is not for the modest, but there is a privacy screen you can attach to the roof
Some people will love it, while others will soon be able to use the incredible private outdoor bathroom that Jarrod is currently building. When complete, it will be much larger than either the trailer or caravan, and incorporate a toilet, shower and free-standing bath. There will even be gum trees growing through the wooden floors right through the ceiling, and plenty of natural light.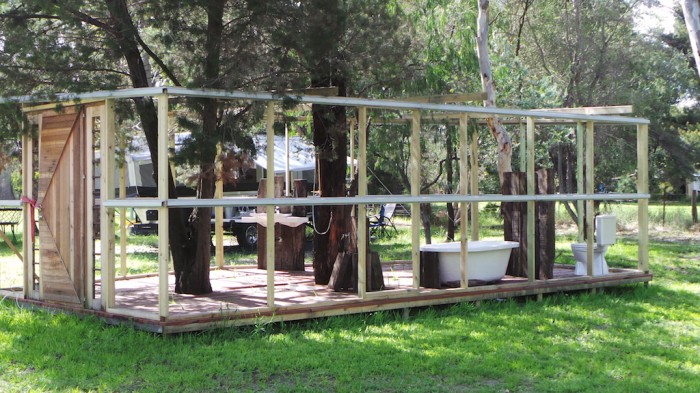 When finished, the roomy external bathroom will have a shower, bath, toilet and sink
This is glamping family style, and when I visited with my three daughters, along with my sister and her three children, the kids were in heaven. The caravan and trailer are close enough to the house so that your kids can play on the fantastic equipment (including a huge trampoline, slides, swings, flying fox and more) yet far enough to give privacy as well as have plenty of shady grass to run or set up a game of cricket.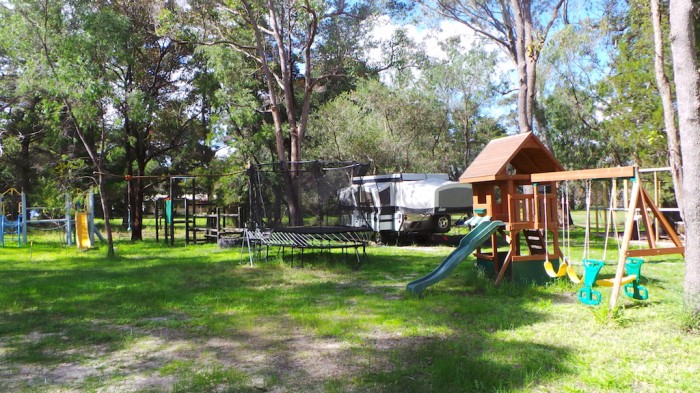 Children are welcome to play on all the equipment
The glamping site can be used as a base for exploring the area and its attractions including dolphin cruises, the King Carnival and mini golf as well as Serpentine Dam and Peel wineries.
Everything is provided, all you need to bring are your clothes (wellies are recommended in the wet months) and food.
What are you waiting for? Book your stay at the luxury trailer or caravan near Mandurah!
Also Read: 8 Things You Must Do for a Memorable Experience in Perth