Borders have reopened and it's time to revisit the Philippines! One thing you should know before travelling to this country is the time-honoured tradition of bringing back pasalubong or Philippine souvenirs for your family and friends back home. And for yourself, too, of course! 
LATEST PHILIPPINE TRAVEL UPDATES
For a truly worthy stash of Philippine gifts, you can seek out the tokens and keepsakes we've listed below. They can be found in markets, souvenir shops, and malls around the country. Pretty soon, you won't be able to visit the Philippines without packing these goodies in your suitcase.
Top souvenirs and pasalubong from the Philippines
1. Dried mangoes
Dried mangoes are some of the best souvenirs you can find in grocery stores around the Philippines. These slivers of tangy-ripe mangoes are vitamin-rich, easy to chew, and so delightful for snacking at any time of the day. But we must warn you: They're very addicting! Word of advice? Hoard as many packs of dried mangoes as you can. You'll be surprised at how quickly they disappear once you get home! 
2.  Buko pie, polvoron, and other Filipino delicacies
With flavours ranging from sweet to "wow, that's really sweet," these local delicacies are the ideal Philippine souvenirs to buy for your loved ones back home. Some of our favourites include pastillas de leche (soft and creamy milk confections rolled in sugar), otap (a flaky and crunchy puff pastry), polvoron (crumbly shortbread made of toasted flour and powdered milk), Choc Nut (a small peanut-chocolate bar), and buko pie (coconut custard pie). Believe us, that's only the tip of the iceberg! If we tried listing all the scrumptious morsels you could take home from our country, we would be here all day.
3. Coffee beans
Not too many tourists know this, but the Philippines boasts many coffee-growing regions that yield varieties such as Arabica, Robusta, Excelsa, and Liberica, which is known as barako. With delicious flavours across the board, it's no wonder that specialty coffee is a growing industry in the Philippines. So, why not take a bag of beans back home with you as your pasalubong from the Philippines? Let the bold and intense aroma of barako coffee beans from Batangas perk you up in the morning. It'll be a delicious reminder of where you spent your last vacation. 
Also read: 10 Must-Visit Places in the Philippines for Specialty Coffee
4. Philippine pearls
Along with its bountiful marine life, the Philippines is also teeming with jewels from the sea. From white to lovely gold varieties, the finest South Sea pearls can be found at affordable prices — that is, if you know where to look! Let's just say that curious backpackers aren't the only people who drop by Greenhills Shopping Center in search of valuable pearl earrings, necklaces, bracelets, and rings. We don't want to disclose any names (cough, Rihanna, cough), but many famous celebrities have been spotted looking for these Philippine souvenirs as well. 
5. Mother-of-pearl plates, capiz shell boxes, and other tableware
Lustrous from every angle, the mother-of-pearl products of the Philippines will be the aesthetic envy of every party you attend. Whether you're scooping your rice with a stunning spoon or setting capiz shell placemats on the table, taking these dinnerware items out of your drawer is like a subtle flex to all of your friends. "Yeah, that's right. I own shiny things now." If they fit within your budget, these iridescent souvenirs are very much worth the splash! 
6. Native bags, pouches, and accessories
Bags, pouches, laptop cases, bandanas, and embroidered garments — how could we ever resist? Beautifully and thoughtfully made, these authentic Filipino souvenirs are both comfortable and IG-ready at the same time!
For mindful shopping, keep an eye out for ethical Filipino brands that work closely with different ethnic groups and cultural communities in the Philippines. Not only do they create great art that we can hold, but they also contribute substantially to the livelihoods of the people who dedicate so much of their time and ancestral heritage into these products. 
7. Patterned mats, baskets, and home décor
From rattan baskets to wooden carvings, Filipino handicrafts showcase the diverse traditions and craftsmanship of indigenous artisans around the country. For your own pasalubong from the Philippines, we suggest looking into cotton tapestries, earthy pillowcases, and handwoven mats, which will add a splash of colour and tropical character to any room. 
8. Dreamcatchers
Whether you believe that they protect you from nightmares or you just want beautiful ornaments to adorn your walls, these dreamcatchers are so soothing to look at. Graceful hoops are embellished with beads and drooping feathers. When you hang these trinkets up in your bedroom, you feel that a good night's rest is close at hand. Sweet dreams are made of these pretty things, wouldn't you agree? 
9. Graphic t-shirts
If you're hoping to spruce up your style in the Philippines, then you're in the right place! When it comes to souvenir t-shirts, many brands like TeamManila, Linya Linya, and Strange Mercy offer a generous selection of simple prints and location-specific imagery. Often inspired by popular vacation sites around the country, these clothes radiate positivity and good vibes — like basking in warm sunshine all day long. Plus, you know you're all about that beach life once you start reaching for their tie-dyed shirts!
10. Toy jeepney
Among Filipino pasalubong and souvenirs, the toy jeepney is a must-have because it captures the spirit of Manila so well. Originally, the jeepney was built using leftover parts from military Jeeps that had been cast aside after World War II. But as early as the 1950s, it evolved into a mode of public transportation for many Filipinos. Both a travel memento and a cultural symbol in miniature, the jeepney figurine reflects the eye-catching design and history of the real vehicle. 
11. Baro't saya and barong Tagalog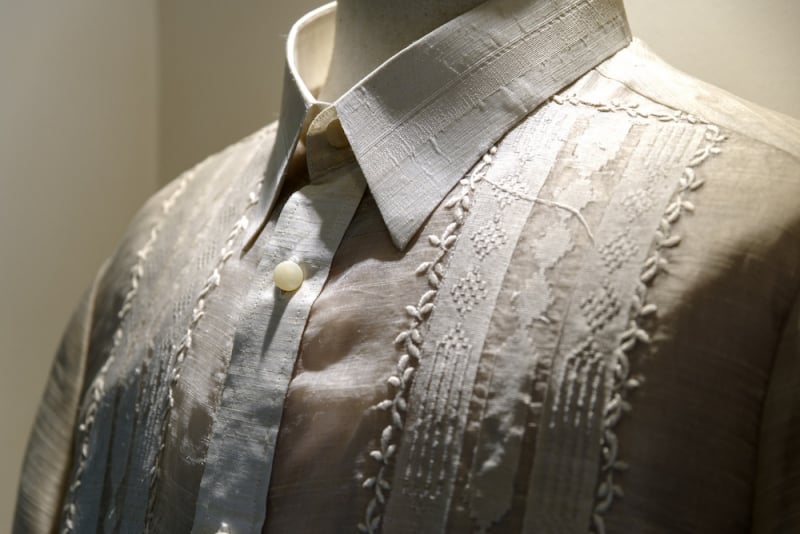 Want to wear some "Pinoy pride" on your sleeves? Traditionally woven with piña cloth from pineapple fibres, the barong Tagalog for men and the matching blouse and skirt of the baro't saya for women are the national costumes of Filipinos. While these are used for formal occasions and ceremonies, you can also choose modern interpretations of their designs. Embroidered silks, shirts, pants, skirts, shawls, and neck scarves exude a genteel and elegant vibe, while remaining ideal for everyday use.
12. Hand-held fans
Take it from a local: The intense heat in Metro Manila can make you wish you brought a bucket to douse yourself in ice. Should you underestimate the warmth and humidity of these summer islands, we have an item that will banish your worries away. Abaniko is a paddle-shaped native fan that will help you (or your lady friends) beat the heat in style. Useful and pleasing to the eyes, these multi-hued fans will wave those sweaty moments goodbye! 
13. Sungka
Show off the playful souvenirs from your vacation by bringing home an actual Filipino game! Sungka is an indigenous board game in which two players take turns tossing pebbles or shells into seven hollows on a wooden block. The goal of the game is to gather the largest number of game pebbles or shells in your pile. Today, you would be hard-pressed to find a Filipino citizen, young or old, who isn't nostalgic for sungka. It has a way of revealing the competitive spirit in everyone.
14. Ube jam, strawberry jam, and other sweet preserves
Here's a classic Filipino pasalubong that should be part of every traveller's wishlist: ube halaya! We're not referring to just any kind of ube dessert, but specifically the purple-coloured jam from the Good Shepherd Convent in Baguio. Really, it's so good, you won't notice you're hooked until your spoon meets the bottom of the jar with a clink. The sisters at the convent began making this creamy treat in 1976, and its recipe has remained a secret ever since. 
As you eat your way through Baguio, you should also try peanut brittle, chocolate flakes, butter cookies, and strawberry jams. And if you can't make the journey all the way to the City of Pines, you can still find the same biscuits and sweet preserves at K&L Cafe along Katipunan Avenue in Quezon City. The owners, Karen and Loren, grew up in Baguio and love to bring the taste of their hometown a little closer to city dwellers in Metro Manila. 
Also read: Where to Stay in Baguio: 10 Airbnb Homes For All Budgets
15. Salt and pepper shakers
Level up your dining table with salt and pepper shakers that don't just season your food — they score points on charm, too! Made of porcelain or bone china, these table pieces resemble adorable jeepneys, pineapples, carabao, roosters, or nipa huts. Everyone will jump at the chance to pass the salt and pepper at the table! 
Equally noteworthy souvenirs are the salt and pepper shakers fashioned after the bulul, a carved sculpture that represents the Ifugao rice deity. You can get these Filipino souvenirs from Liwayway, a humanitarian foundation that promotes the work of local artisan communities. 
16. Philippine tsokolate
Going for a dessert crawl? Don't forget to take a bite out of Philippine chocolates, which are considered to be some of the best in the world! Thanks to local chocolatiers bagging awards left and right, the country is rapidly becoming a destination for high-quality cacao. 
Look for Auro Chocolate, a bean-to-bar company known for their sumptuous chocolate bars. Another homegrown brand is Theo and Philo, which specialises in novelty chocolates that infuse local flavours, such as green mango, chili, coconut, toasted glutinous rice, banana pieces, and crispy caramel. There's also Malagos Chocolate, whose dark and unsweetened chocolates put the southern island of Davao on every chocoholic's map. 
What do these brands have in common? Aside from producing superb chocolate, they share the same mission to nurture the livelihoods of cacao farmers, too.
Also read: The Ultimate Pasalubong Guide: Must-Buy Food Items From Every Region in the Philippines 
17. Colourful guitars
Handmade guitars and ukuleles will definitely add tropical charm to your collection of Philippine souvenirs! Stringing together a tune with these instruments will remind you of laid-back afternoons at the beach and carefree days under the sun.
While traditional instruments in the Philippines include the harp-like kubing and the gong ensemble of kulintang,  these multi-coloured guitars are much easier to pack into your suitcase. They can be found at local airports and souvenir shops around the country. 
18. Sun hats
The sun shines high and can burn quite hot in the Philippines. Although locals themselves don't always wear hats or caps outside, wearing a fashionable sun hat is pretty common when hitting Philippine beaches, and exploring historical monuments under the sun. Don't forget to purchase your own affordable sun hat that spells "Philippines" or any of the fun-filled Philippine destinations where you've made great memories. These Insta-worthy Philippine souvenirs are widely available in tourist attractions, from the Intramuros fortress in Manila to the White Beach of Boracay!
19. Traditional Philippine salakots
In case you want a more traditional Philippine hat, look no further than the salakot. This cone-shaped hand-woven headdress is common around Southeast Asia, and the salakot is the Philippines' very own version of this native hat. Historically, these hats were typically worn by Tagalogs and Kapampangans (locals mostly based in the agricultural plains of Central Luzon). There have also been different versions of the Philippine salakot over the years. It was once used to reflect social class and even worn as a war helmet during the Philippine Revolution and the Philippine-American War. You can order your very own salakot through local online stores in the Philippines and heritage stores near tourist attractions.
20. Modern bayongs
In the Philippines, a bayong refers to a sturdy native bag woven with palm leaves. They were traditionally used when selling and purchasing goods in wet markets. But now, several local businesses have innovated bayongs to make them more fashionable and casual for everyday use. You can shop modern bayongs online and find distributors on Instagram like Hiraya at Sinag, or you can purchase them in malls at heritage stores that feature local artistry and craftsmanship like Kultura. These Philippine souvenirs come in many colours, and you can even hand-paint or customise them!
21. Keychains
Almost anywhere you go in the Philippines, you'll encounter vendors selling keychains. You can find dolphins, sea turtles, crocodiles, starfishes, surfboards, palm trees, sea shells, and other island imagery. Hang a little tarsier on your bag, or attach your apartment keys to a souvenir that has the name of your favourite island engraved on the wood. 
Looking for more inventive designs? Head to Lakbay Museo for keychain replicas of popular Filipino food: lechon (roasted pig), chicharon (salted and deep-fried pork rinds), isaw (pig or chicken intestines), crispy pata (deep-fried pig knuckles), daing (dried fish), fish ball, squid ball, longganisa (Filipino-style sausages), and pork barbecue. 
22. Stickers, artworks, pins, and postcards
Shopping for Filipino souvenirs doesn't have to be an expensive affair. Beyond the fashionable outlets in the malls, you can walk into any local arts and crafts store to discover colourful stickers, art prints, enamel pins, illustrations, and postcards made by artists in the Philippines. 
Manila-based stores like Papemelroti and Common Room PH have cool works of art that can easily go on your planner, laptop, phone, or the walls of your room. More importantly, they showcase Pinoy creativity and humour. "Can't talk, I'm eating?" "EXTRA RICE?" We feel this every day.
23. Refrigerator magnets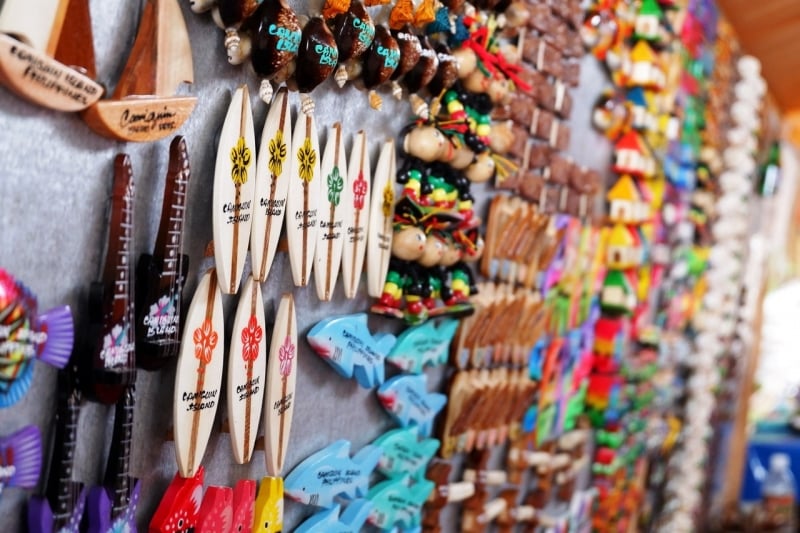 Relive the summer vibes from your trip to the Philippines with these endearing magnets! Take your pick from an exciting collection of sailboats, electric guitars, seahorses, fish, whale sharks, slippers, jeepneys, and other pocket-sized souvenirs that celebrate the Philippine Islands. Certainly, these refrigerator magnets cheer you up each morning while you head to the kitchen to prepare breakfast or brew a cup of coffee.
24. Philippine literature
Most people don't imagine packing anything that isn't consumable, wearable, or ornamental for their souvenirs. However, we recommend having a book to accompany you on your journey back home. Consider Tikim: Essays on Philippine Food and Culture, a book that reads like a love letter to Filipino food. Written by the late Doreen G. Fernandez, it holds everything you need to know about Philippine cuisine and its history.
Literary page-turners will also allow you to revisit your memories of the Philippines, even as they open a window into truths that you may not have seen during your trip. Dive into the revolutionary classics of the hero José Rizal. Or, pick up a collection of stories by Nick Joaquin, one of the greatest Filipino fictionists of all time. These local books are available at Fully Booked, Biblio, Power Books, National Bookstore, Booksale, and university presses around the country. 
25. Merchandise from the Philippine Eagle Foundation
Last but not the least of these Philippine souvenirs, if you're visiting the region of Mindanao, seeing a Philippine Eagle up close in Davao's Philippine Eagle Foundation is a must! The foundation is a non-profit organization dedicated to restoring the diminished population of the majestic Philippine Eagle, arguably the largest eagle in the world. You can support the foundation by visiting, donating, and buying from their store. Their souvenir shop includes adorable Philippine Eagle stuffed toys, a plushie set, shirts, and caps. 
Naturally, the country that has perfected the art of gift-giving has so many trendy gifts and tokens to nurture your nostalgia. No matter which province you fall in love with during your stay, these Philippine souvenirs will make the perfect homecoming presents from your trip.
For more information, please visit philippines.travel and TPBPhls's official Facebook page.
---
Brought to you by Tourism Promotions Board – Philippines.