The centre of the Visayas Region, Cebu, locally known as Sugbo, is comprised of one main island and few surrounding islets. Cebu City, the capital and the oldest city in the Philippines, forms part of Metropolitan Cebu together with four other cities: Danao, Lapu-Lapu, Mandaue and Talisay.
Also read: Insider's Guide to Cebu: All You Need to Know Before Your Trip
While it is known that Cebu is one of the most popular tourist destinations in the country and that the internet has already so much information of where to go and what to do, this list includes activities that one might not know Cebu also offers.
1. Up for some trivia?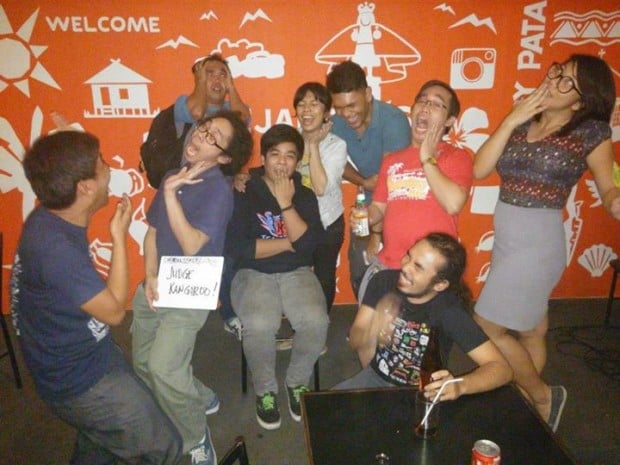 Image credit: Cebu Trivia Night
If you happen to arrive in the middle of the week, you must no longer wait for the weekend before you can meet and greet locals and travellers alike. Cebu Trivia Night has answered the plea of most weekday workers by providing them a mid-week break of mentally stimulating entertainment with regular schedules on Wednesdays and Thursdays.
When joining trivia night, there is no need to feel intimidated. The quizmasters can ask various questions on topics ranging from the most obscure to the most popular genres, and they do it in a gentle and comical fashion, providing hours of enjoyable entertainment in a friendly atmosphere. It is best experienced with friends but solo travellers are also welcome, especially on Thursdays at Politics Bar where the local couchsurfing group participates under the name "Pirates". Join in the fun and bring out your wit, for smart is the new sexy.
2. Be a volunteer!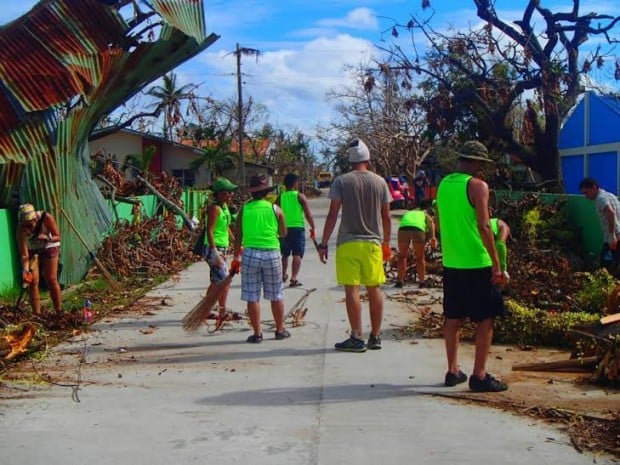 Image credit: Ariane Sanchez Pero
ViC clean-up operation in Bantayan Island after Typhoon Haiyan
Volunteering has been made easy by this group of avid travellers called Volunteer in Cebu. What started as an effort to help and rehabilitate the parts of Cebu and nearby islands that were devastated by calamities, such as the 2013 Bohol earthquake and the Typhoon Haiyan, has become a regular effort by the group. Among their events are feeding programs, distributing bags of kindness and gift giving to kids during the holidays.
While there are dedicated people that keep the effort alive, they are always in need of helping hands and material contributions to help support their projects. To join them, just show up and partake in the events which they usually announce on their page. Be sure to be ready for some hard work because although fun, volunteering requires dedication, and meeting friends while doing so is just one of its greatest perks.
3. Get to know the island's Capital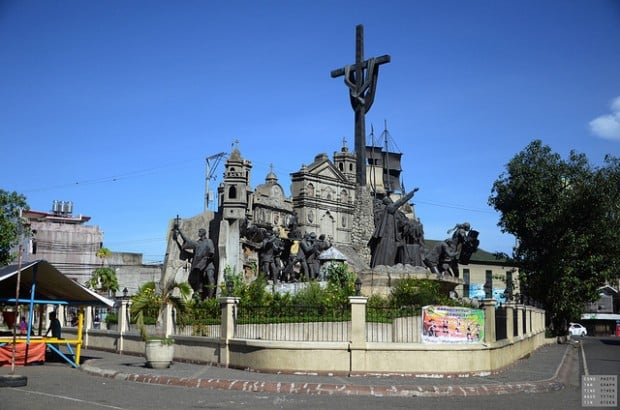 Image credit: Constantine Agustin
Parian Monument
While Cebu City is rapidly becoming highly urbanised, evidence of its rich history is still apparent in the city and isn't long forgotten. Because of its size and close proximity of historical landmarks, it is very doable to make your own D.I.Y. city tour. Among the popular landmarks are Parian Monument, Fort San Pedro, Magellan's Cross and Basilica del Santo Niño, a Spanish colonial church which still holds the original Santo Niño de Cebu, the oldest Christian image in the country that was a gift by Ferdinand Magellan to the chief consort of Rajah Humabon.
If you have booked your travel dates on the last week of May, you might want to participate in the Gabii sa Kabilin (Night of Heritage), an event every last Friday of May dedicated to the rich heritage of Cebu. Museums, ancestral houses, historical landmarks as well as Buddhist temples are all open for everyone, and buses to and from each site are available for free.
4. Road trip to the South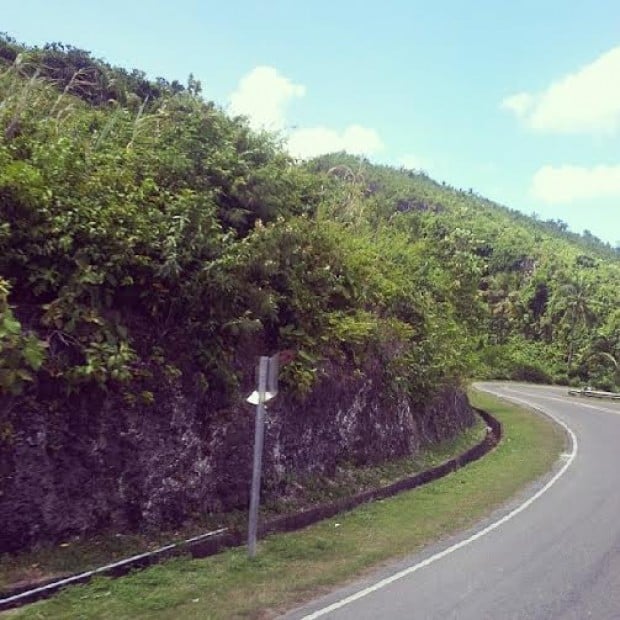 Road going to Barili, Cebu
When you have explored much of the city and are ready to go beyond, travel to the south part of the Island and embark on a road trip visiting each of the municipalities that have treasures of their own. What makes the southern region a good place for a road trip is that the municipalities are close to each other and easily accessible; many buses from the South Bus Terminal of Cebu City pass by the villages.
Every municipality has a plaza centre of its own, reminiscent of the old Spanish "pueblo" where all the important town structures are grouped together with a plaza at the centre facing the town church. One of my favourites is the Argao Plaza where the old stone fortress gates guarding the town centre are still standing. Another one is the Boljoon Plaza which has splendid sea views and a scenic mountain backdrop. Oh! Don't forget a good road trip playlist to accompany you on your exciting journey.
Also read: 23 Fun and Free Things to Do in Cebu
5. Chase the waterfalls in Samboan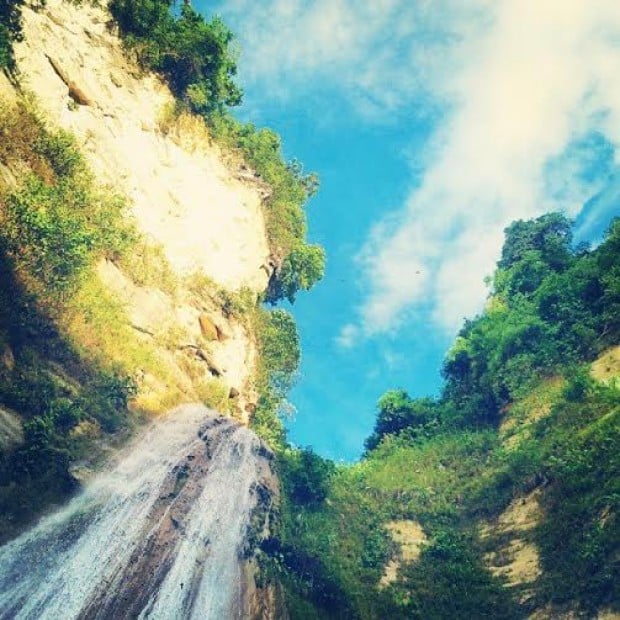 A view from the foot of Da-o Falls, Samboan
Before heading back to the city from your Cebu south road trip, exercise your limbs with a traverse to different waterfalls in Samboan, Cebu. While there are plenty of waterfalls scattered around the province, what makes this municipality a good location to start your affair with nature is that it has plenty of falls near each other so you can explore many in just one location. A good pair of hiking shoes, especially if they are amphibian, can make the traverse easier, leaving you to only focus on enjoying what nature has bestowed upon this humble place. Insect repellant, sunscreen as well as a waterproof pouch to keep important belongings dry, are also needed.
6. Explore the 7 caves of Camp 7, Minglanilla
Image credit: Jasper Colico
Facade of White Cave Cathedral, Minglanilla
Another treat for the adventurous travellers is exploring the 7 caves of Camp 7, Minglanilla. Only a good 15 kilometres away from Cebu City, it makes for a perfect day trip. Get your head lamp, hiking shoes, insect repellant, sunscreen and waterproof pouch ready as you climb the rocks, crawl under ground and sneak in cave holes limited to one person at a time. Getting dirty is inevitable, but that is the price to pay in exchange for seeing the glory of the magnificent caves. Willard Elemino, a local tour guide, can be contacted directly at this number +6393035355551.
7. Bird watching on Olango Island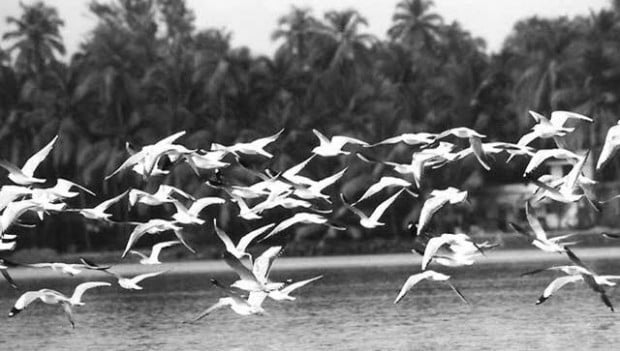 Image credit: Olango Island Wildlife Sanctuary
The island of Olango and its satellite islets, Sulpa, Gilutongan, Nalusuan, Caohagan, Pangan-an, and Camungi, compose the Olango Island Group which would probably be among Darwin's favourite hangouts if he ever had the chance to visit Cebu. Known to be a good diving and snorkelling spot with three dive points, this group of islands is a popular island hopping site for tourists. But another attraction that makes this place unique is observing migratory birds from their escape of the cold winter.
The Olango Island Wildlife Sanctuary, a 1,030 hectare of flat sand and mangroves, is a resting station of approximately 40,000 migratory birds of 48 different species during peak season from November to February, but the best time to visit the sanctuary would be from September to May. This place of refuge for birds makes for a relaxing day tour as the jump off point to the island is not too far from Cebu City.
8. Off to another Island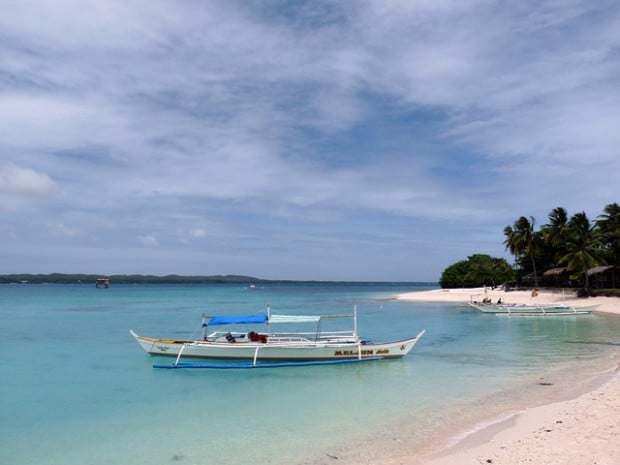 Image credit: Allan Ascaño
Now, a visit in Cebu would not be complete without a day, or at least a week (in my opinion), on the beach. While the main island itself has already so many beautiful beaches to choose from, another alternative (only if you have more days to spare) that adds a provincial twist to your holiday is visiting the islands of Malapascua, Camotes and Bantayan. Most of these islands are small enough to bike around. Rented motorbikes are available, especially in the Camotes Island where local transportation is limited. Aside from basking under the sun on white sand beaches and treating yourself with fresh seafood (if not allergic), you can also mingle with the locals and observe their daily lives to get the full experience of the island life.
Also read: 15 Secret Beaches in the Philippines You Probably Didn't Know About
The Cebuanos are known to be passionate and happy people. But who wouldn't be full of passion when living in a province that offers so many inspirational sights and activities? Who wouldn't be happy in this slice of paradise?