Contributed by Journey Era
When I decided to meet my friend Jorden for a month of Philippines backpacking adventures I had no idea what we would find amongst the 7,500 islands that make up this beautiful country. We did about one hour of research together in Kuala Lumpur and planned a rough itinerary that would begin in Cebu. In total, we planned to visit 9 locations and our budget was US$800 including all ferries, transfers, tours, activities, food, accommodation but not including flights.
I carried 14kg in my backpack and a small daypack with my camera gear, electronic accessories and my laptop. Neither of us speaks anything other than English and had no idea about any cultures, customs or what to expect in the Philippines.
Also read: 10 Reasons to Go Backpacking in the Philippines
Philippines backpacking budget for 1 month
If you have US$1,000 and are ready for an epic adventure throughout paradise, this is my Philippines backpacking guide blog post that may just inspire you to pack your bags, jump on a plane and have the time of your life. There are many cheap travel destinations in the Philippines but we only had time to visit some of them!
Our Philippines backpacking route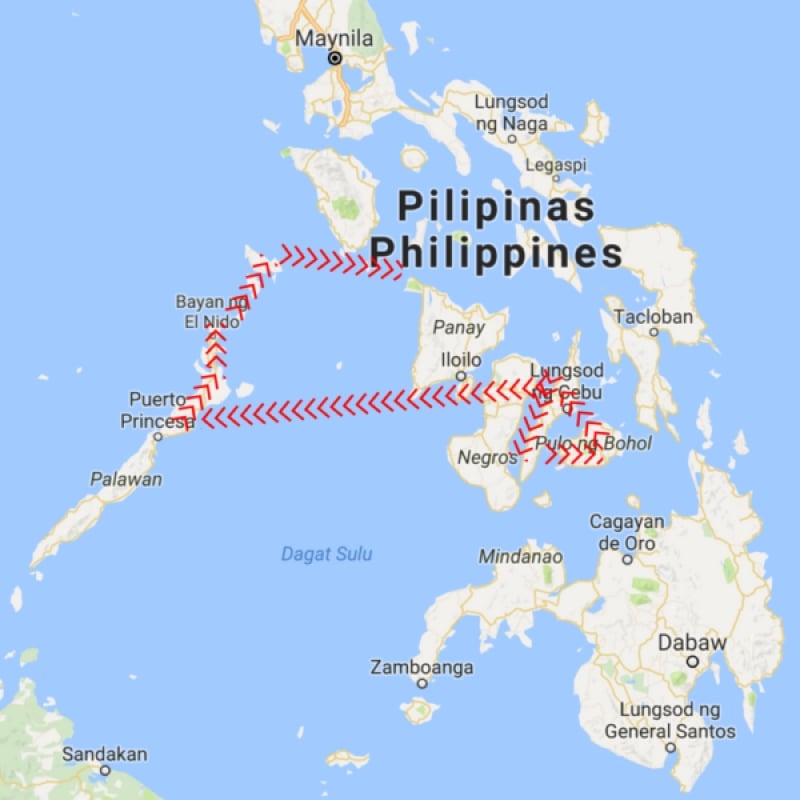 All of the hostels/guest houses named in this article were not sponsored and places I would recommend for a cheap night of reliable, safe accommodation. Don't expect the Hilton.
I have written in detail about many of the locations and adventures we got up while backpacking in the Philippines. If you see a location or adventure that you want to know more about, just click the link and find out all of the details you need to know.
Our Philippines backpacking itinerary
Cebu City – 1 night
We landed in Cebu city planning to 1-2 nights Couchsurfing about an hour from the city. Our hosts were brilliant, accommodating us and cooking us dinner and breakfast. When Couchsurfing, it is inevitable not to be overwhelmed by how generous complete strangers can be. A night of drinks and stories was a great introduction to the friendliness of locals we would experience throughout the next month. We left the next morning, taking a bus for a couple of dollars down to Alegria where we would base ourselves for the next two nights. Sandeep, a recently divorced Indian from Bombay had also been Couchsurfing at the same place as us and joined our crew while in Alegria.
Alegria – 2 nights
For US$7 a night we stayed at D'Allegre, a wooden guest house that rose above the ocean on stilts. Each night the sun set over the ocean from our patio and we couldn't help but feel we were underpaying for our accommodation.
On our first night, we still had a few hours of sun, which was seemingly begging us to take off on a short adventure. The guest house owner suggested we visit Mainit Hot Spring in Malabuyoc, a 15-minute bus ride away.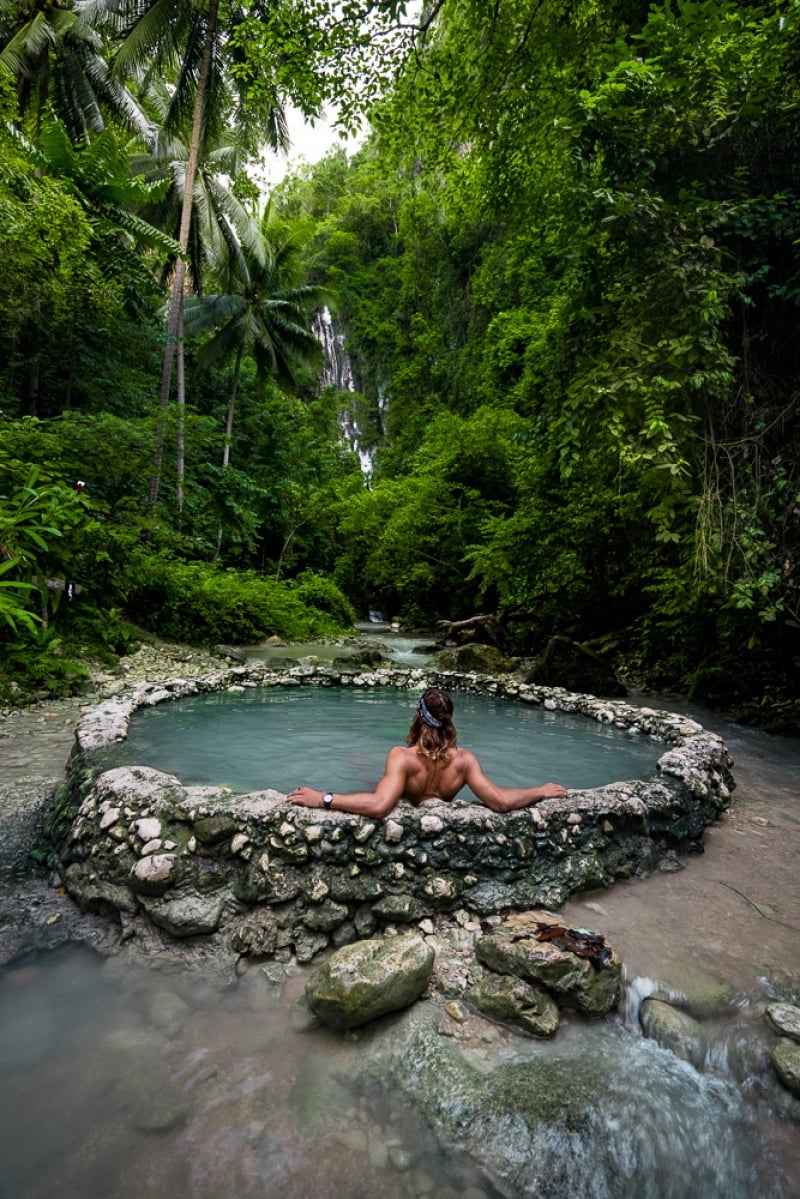 The hot springs were steaming. So hot we could hardly sit in some of the springs which ranged from 38-42 degrees Celsius. Set in a rainforest just beyond a local village we could feel this was just the beginning of an amazing trip.
Our next adventure began at 3:30 am the next morning. Jorden and I crammed onto the back of a motorbike with our expert driver. An hour cruise in the dark through the mountains and a complete loss of feeling in my butt had us arriving at the base of Osmeña Peak in Guadalupe. The Peak is known for having amazing panoramic views across jagged cliff lines and the ocean. We were told it would be best for sunrise and we were left speechless by the scene from the summit of the short 20-minute trek.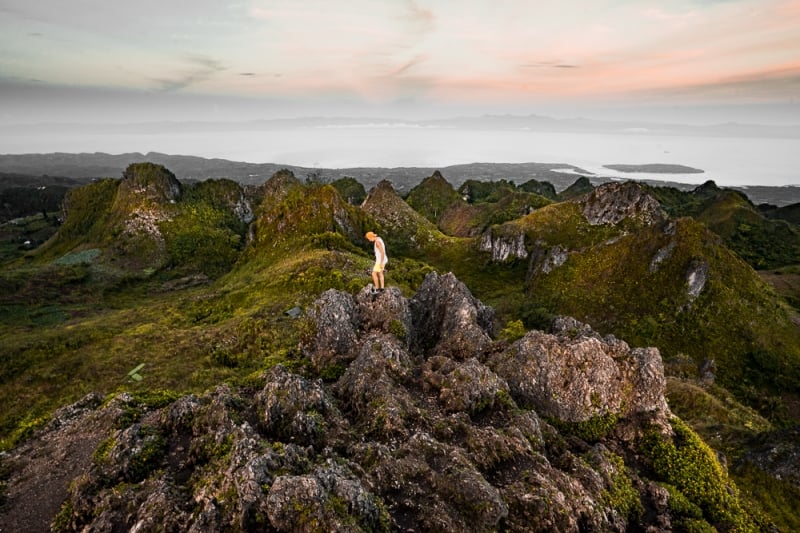 Kawasan
While still staying in Alegria, we visited a town just north called Kawasan. Famous for the spectacularly blue Kawasan Falls. We planned to do a canyoneering adventure from Alegria to Kawasan that cost about US$25. After a few communication breakdowns with tour agents, we were finally taken to a village in the jungle where locals had a community discussion for about twenty minutes over who would be our guides. In the end, four young guys in jeans and flip flops took the lead and we began our canyoneering adventure.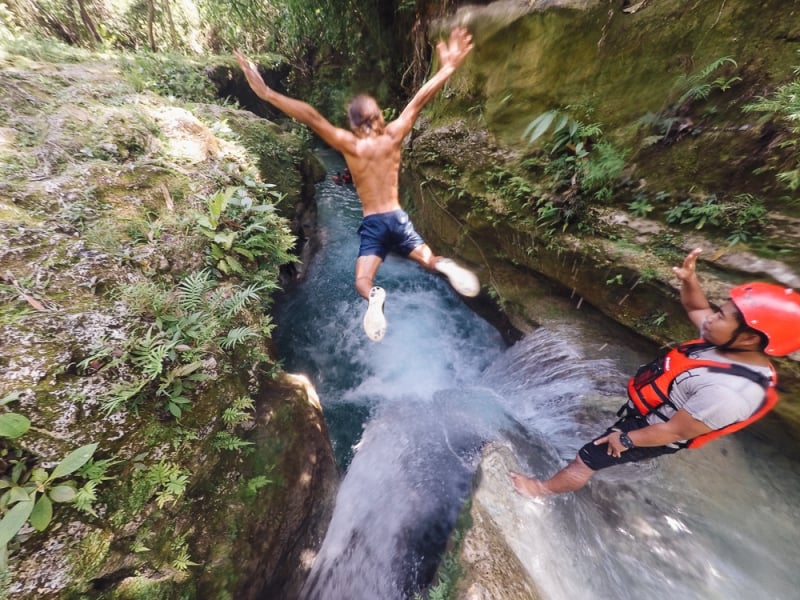 This was definitely a highlight of the Philippines backpacking trip. The adventure began by jumping into the vibrant blue water of the river. From that point on we floated, jumped and climbed our way down the river. All the time guided brilliantly by our expert local guides. The highest jumps were 50ft but they were optional. The highest jump that everybody had to make to continue the course was only about 10-15 feet.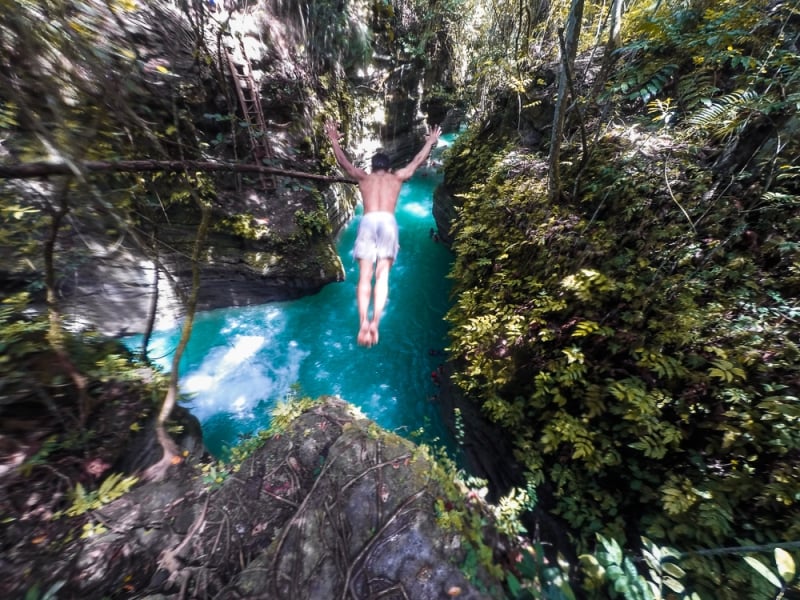 Halfway through the tour, our guides let us loose as it was mostly just walking and wading in the water to come. We didn't need any more guidance about where to land or how to stay safe, so we spent the next hour nomadically exploring the canyons.
After 4 hours, we finally arrived at Kawasan Falls and celebrated by finishing the day of canyoneering with one last 45 ft jump into Kawasan Second Falls.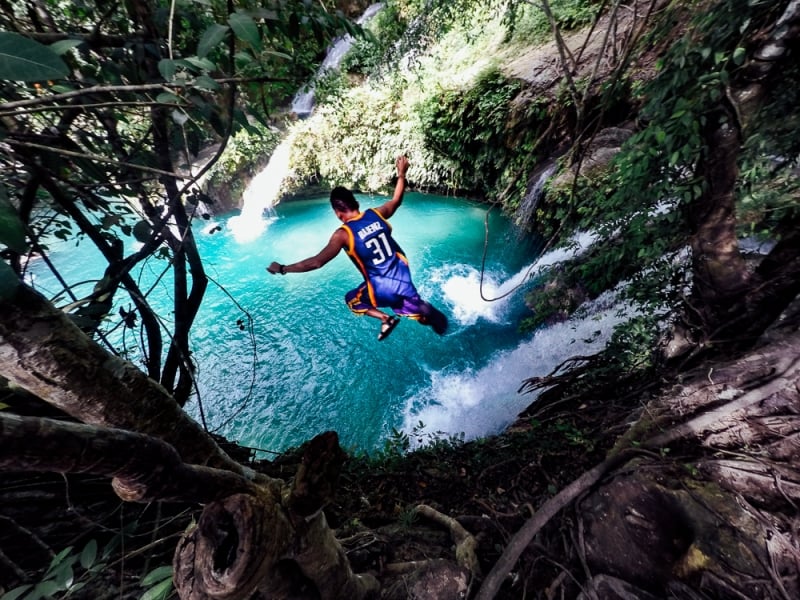 Oslob – 1 night
While there was plenty more to see in the Kawasan/Alegria, region we decided to continue our journey south in Cebu to Oslob. A one-hour tuk-tuk journey along the coast was a relaxing way to transit out of Alegria. We arrived at the small coastal town, well known for being the prime tourist location for swimming with whale sharks. Sharky Hostel was our home for the night and the owners are well versed in organising tours and transfers for the guests. They organised our whale shark tour for US$20 as well as our next boat trip.
Jorden found himself in trouble as soon as we arrived, discovering he had left his passport and a wad of cash under the bed in Alegria. Too smart for his own good. I said adios as he had to make the journey back to grab his cash and passport. I sat down for lunch and made friends with a boat captain who took me out no charge to Sumilon Island to explore. An unexpected afternoon with a couple of new friends on a beautiful slice of paradise in the middle of the ocean was a perfect introduction to Oslob.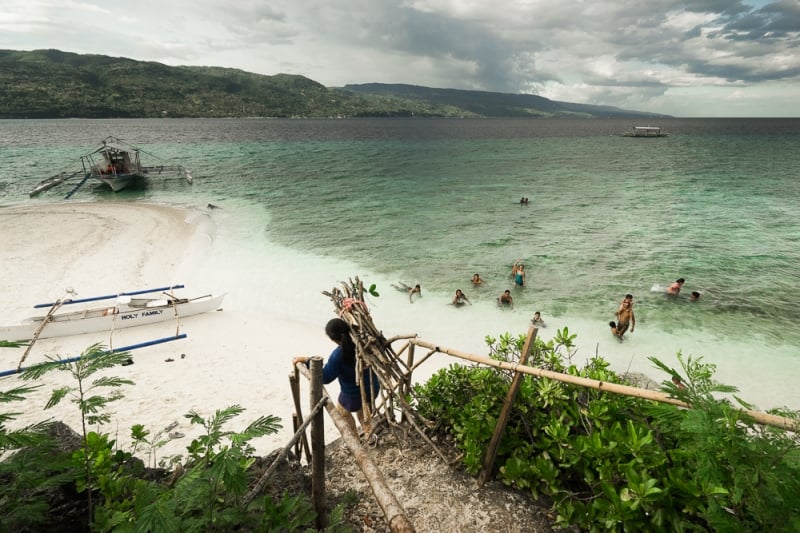 At 6am the next morning, we woke to watch the sunrise over the ocean as all of the tour guides began organising the boats ready for the first batch of whale shark watchers to arrive. I don't do too many animal based tourist activities but I did swim with whale sharks. The experience was amazing. We swam alongside gigantic whales, who circled the tour boats while vacuuming fish out of the water like no-one's business.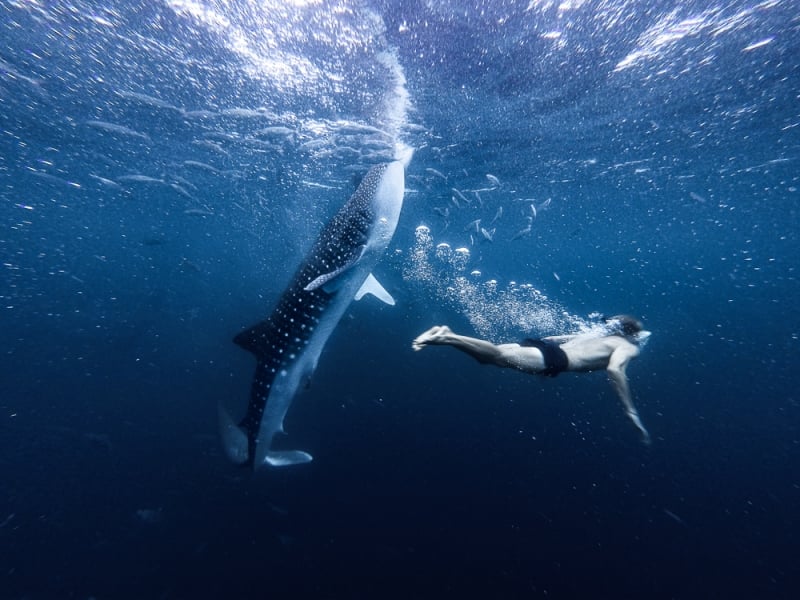 The experience was a little tainted by the number of tourists in the water. A 5-feet rule was explicitly explained before the tour but it was seemingly thrown out of the window when underwater. I think tighter guidelines and a reduction in the number of tourists will help to keep this industry sustainable for both the local people and the sharks, whose well-being should be a major concern.
A quick shower and we were off on a fishing boat for an hour journey to Bohol, our new island home for just under a week.
Bohol – 5 nights
As we stepped off of the fishing boat I couldn't help but notice how quiet the entire area was. We did travel in the late part of the low season but it felt a little like a ghost town. Not that we were complaining, the fewer tourists the better. After a quick look around, we settled on a room at Alona Divers for US$5 a piece per night, which was only a 20-second stroll to the beach. On the first night, I found a hermit crab in our bathroom to give you an idea of the proximity to the beach and the luxury of our accommodation.
HOT TIP: This won't bother everyone but if you're honest with yourself, I think it will bother most of you. From this point of the trip onwards, WiFi becomes a mysterious force only available at certain times, places and often magically disappears for days at a time.
On Bohol, I assumed the role of Jorden's personal moped taxi service. I was quick to remind him I've only ever had one crash in which I knocked out 2 teeth in Indonesia, so he was in good hands.
Exploring by moped/motorbike is my favourite way to travel as you see so much along the way. From a bus or a car, you miss so many sounds, smells and sights that it just isn't the same.
We did a full day adventure from 9am til 9pm on the moped and we made short stops at the following spots.
Hinagdanan Cave is on the way to all of the waterfalls, Chocolate Hills and pretty much everything from Alona Beach. It is overflowing with tourists most of the time but somehow we entered the cave and we enjoyed it all to ourselves for a good fifteen minutes before more than 40 nervous tourists huddled around the pool as we backflipped and dove into the crystal clear water.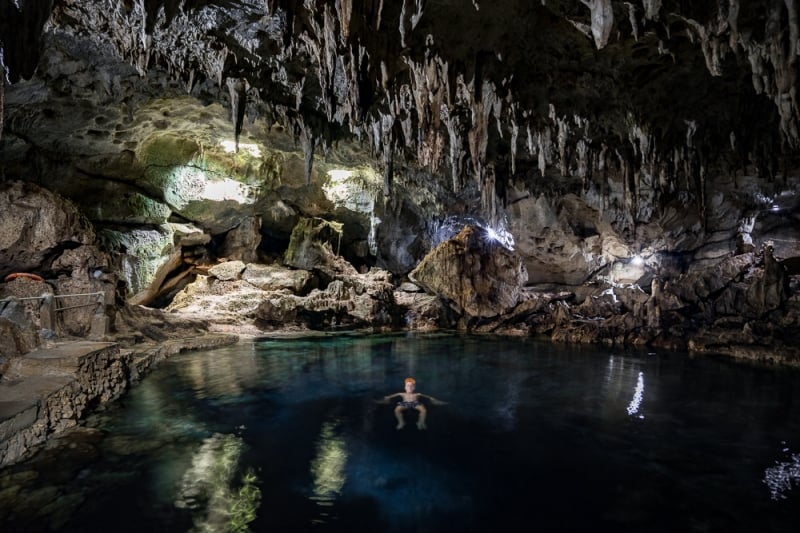 Along the way, we found a rope swing in the river, the best-fried banana for ₱20 or US$0.30 and some amazing rice fields. The man-made forest was cool but looked like a normal forest. You have to drive through it anyway so it wasn't a huge loss of time.
Finally, we arrived at Chocolate Hills just before sunset. We stood atop the hundred or so stairs at the viewpoint and looked out over the slightly brown hills. The sunset was a bit of a burnout but the giant termite mound laden landscape was fascinating. Darkness replaced the mediocre sunset tones in the sky and we had one hell of a 2-hour drive back to Alona Beach trying not to die on the way.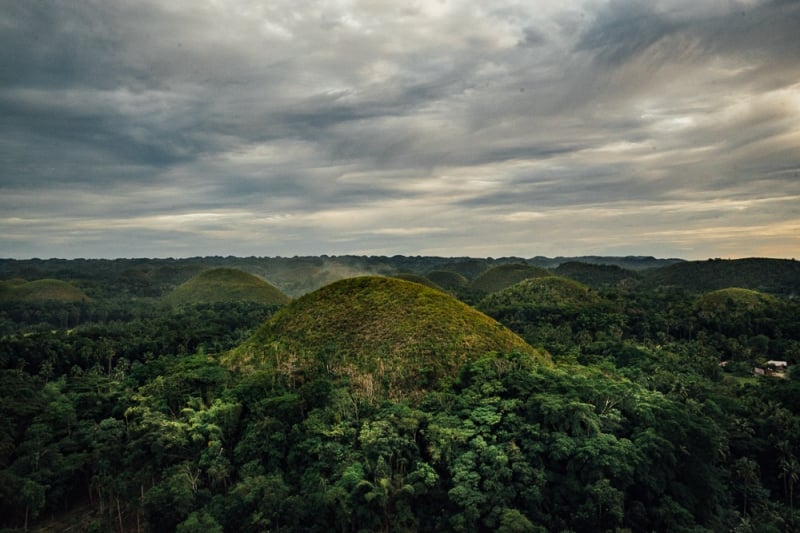 Our second big adventure on Bohol was a day of waterfall hunting. We had met a local girl through that great old app Instagram, who was nice enough to show us to her favourite secret spot. I can't tell you that spot because like I just said, it's her secret spot but we went to another more well-known waterfall that was amazing too. With a bit of digging and exploring, you will likely find too many waterfalls to handle on Bohol.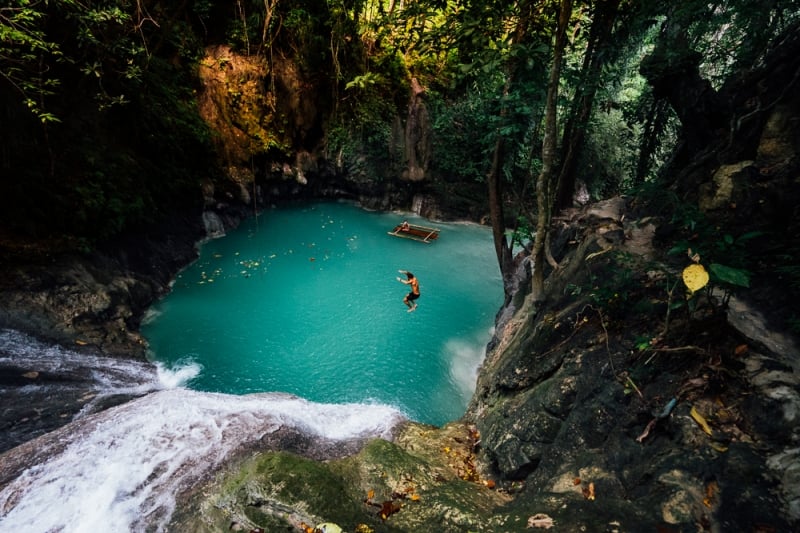 The second falls we went to was called Twin Falls and it ran a close second to the first waterfall. This one wasn't quite deep enough to do any big jumps into but we hung out in the tranquil surroundings for a couple of hours enjoying some of the best Bohol has to offer.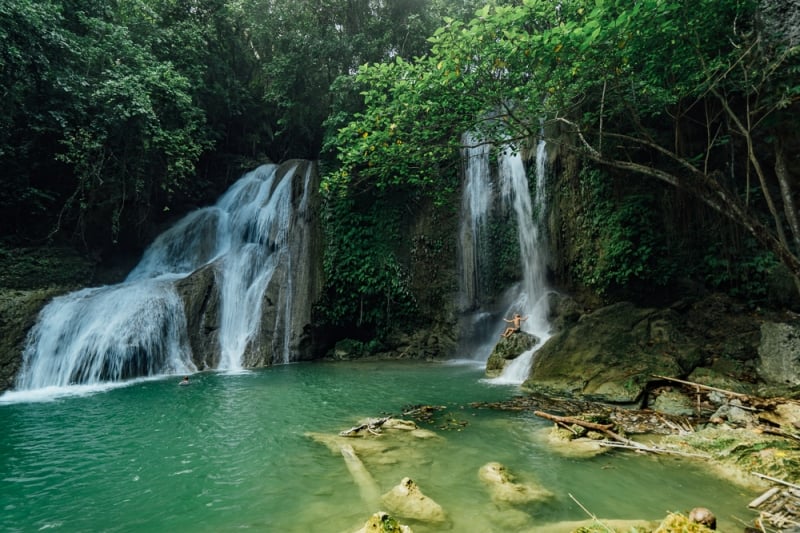 The final big adventure we did on Bohol was a day trip of island hopping. Each day a friendly guy tried to get us to join his tour and on the last day, we finally buckled. At 6am, we met him and it was actually a really good day that happened to be my birthday. I didn't have all my friends and family around but I did see dolphins, swim with turtles and got a belter of a tan while baking on our boat.
The tour takes you to Balicasag Island to snorkel with turtles, fish and in amongst a marine park with beautiful coral.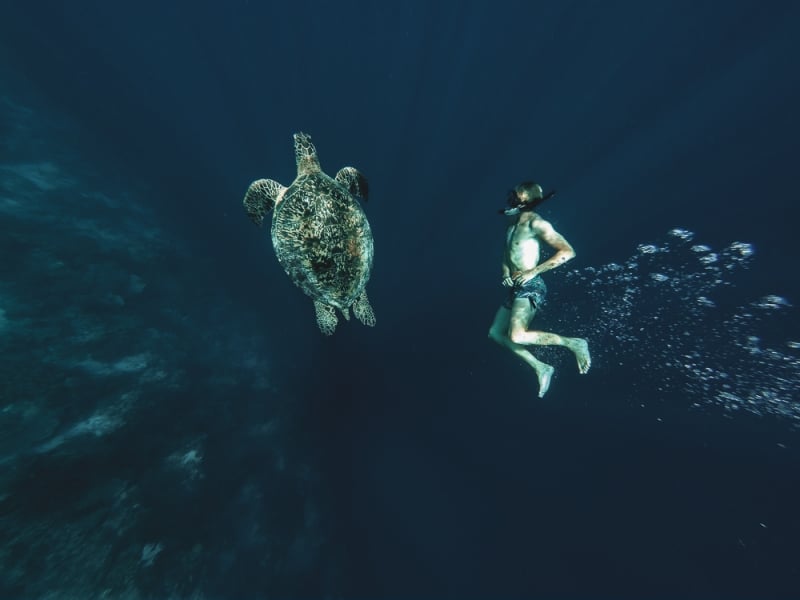 The second stop on the tour is Virgin Island, which was a little bizarre as there was no swimming there and not really much there at all. We still wandered around inquisitively and found a few starfish and abandoned boats to entertain us.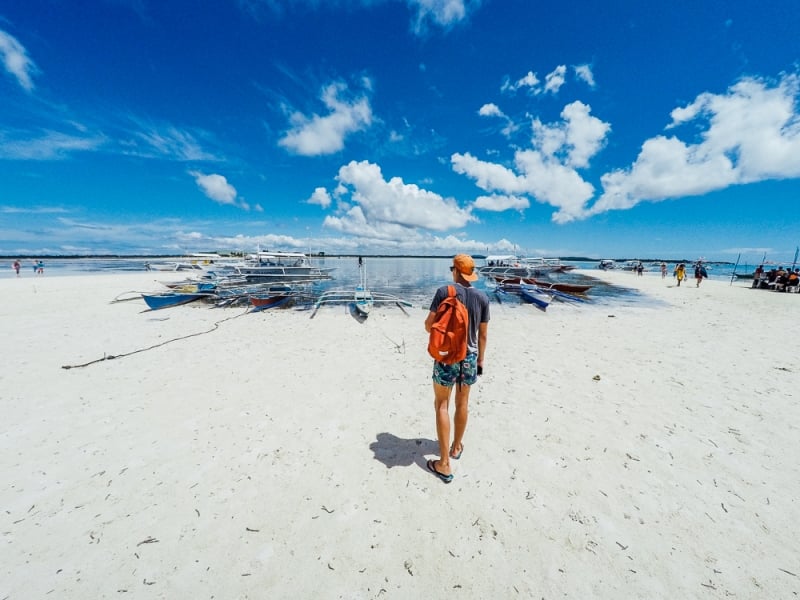 We had a blast on Bohol but it was time for the next destination. This wasn't a month of relaxation, we were on a whirlwind tour of the Philippines. An early morning ferry to Cebu followed by a flight to Puerto Princesa took up the majority of the day.
Also read: Cebu to Bohol 3-Day Itinerary for Your Next Long Weekend Getaway
Puerto Princesa – 2 nights
We couch-surfed in Puerto Princesa for two nights with a lady who had a spare room above her house. We did a lot of work on the computer, met some of Jorden's friends, who were in town and recovered from the first 10 days of the trip. The city is known for its jungle vibe and it was definitely an odd city with random fields and trees scattered throughout the suburbs. Not one of the highlights of the trip but it is the easiest place to fly into Palawan from Cebu, especially with the route we were taking. However, one night as a stopover is more than enough if you are tight for time.
HOT TIP: An important point to note is that we booked most of our hostels and tours the night before we arrived. However, don't stress trying to plan out every single hostel, flight, ferry and tour before you arrive. Accommodation can easily be found upon arrival at most of the locations we visited.
We booked our tour to the underground river in Sabang at 10pm the night before we left and had no issues at all.
Sabang – 2 nights
Sabang is a hotspot for tourists trying to visit the underground river cave which has been listed as one of the New 7 Wonders of the World. It wasn't cheap and was the most expensive tour we did and definitely not the best. The cruise was interesting but the bottom line is that you glide through the caves for 45 minutes in a boat, the majority of the trip is so dark you only see what the tour guide points to with the torch. Well worth seeing but if you are tight for cash it might be best to save it for El Nido and Coron, tough call.
We decided to crash in Sabang for two nights even though most tourists come for the day and head straight back to Puerto Princesa. We ditched our van as it drove back and we stayed at Cafe Sabang and explored the area for a couple of days. It was a good change of pace in a small coastal town that operates largely without electricity. After Sabang, El Nido is coming so brace yourself and enjoy the quiet atmosphere of Sabang.
We played soccer at sunset with local kids, watched the fishermen go about their daily tasks and did some exploring up and down the coast even checking out a waterfall that is right on the beach.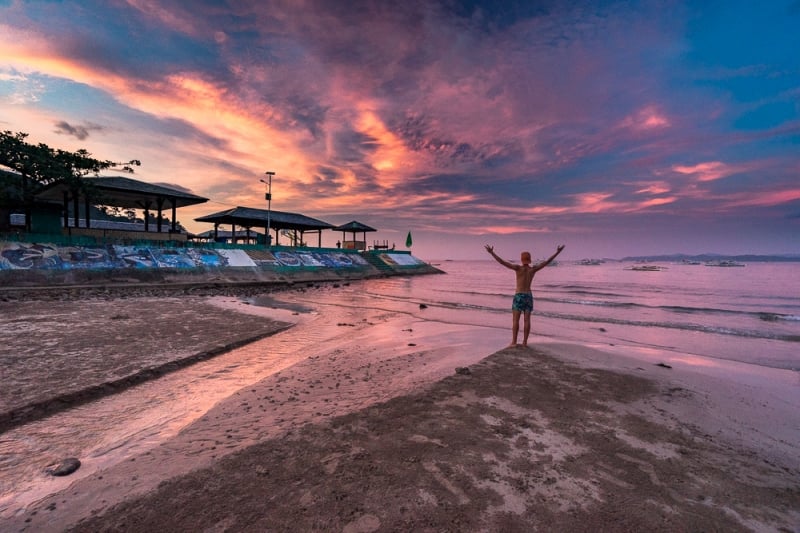 El Nido – 8 nights
We rode on the roof of a Jeepney to the junction from Sabang before riding in a 5-hour van from the junction to El Nido.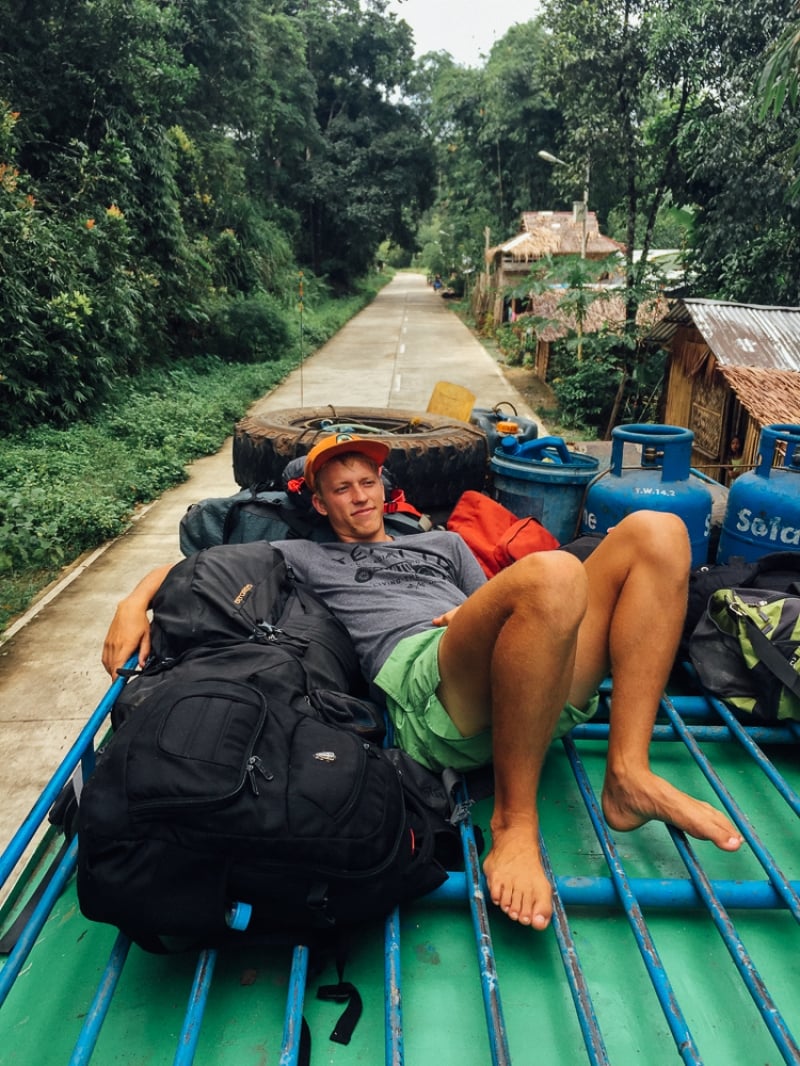 Finally, we were arriving at the gem of the Philippines and it delivered big time. If you only have time for one location during your Philippines backpacking trip, this is the spot. El Nido has the best of everything. It's cheap, the scenery is out of this world, the island vibes are strong and I felt like we could've spent a month here.
Also read: El Nido Travel Guide: What You Need to Know Before Your Island Getaway
Where do I begin with El Nido? We did Tour A and Tour C island hopping. Both are all day adventures that include a gourmet lunch. You get to visit 5-6 islands and do some snorkelling in between the islands. We had about 15 people on our boat and both days were just amazing. Each tour costs about US$20 but considering the gourmet lunch, it is about US$15 for an entire day. A huge steal. If you want to know more about the individual locations you will visit on Tour A, CLICK HERE.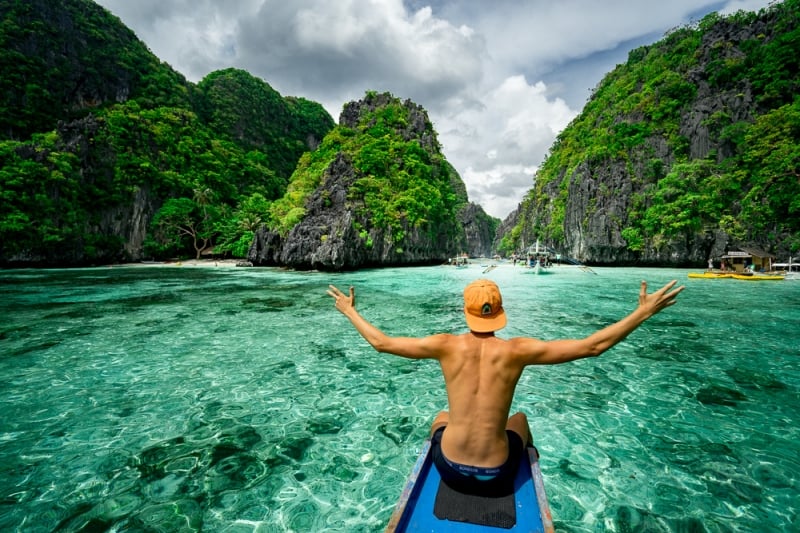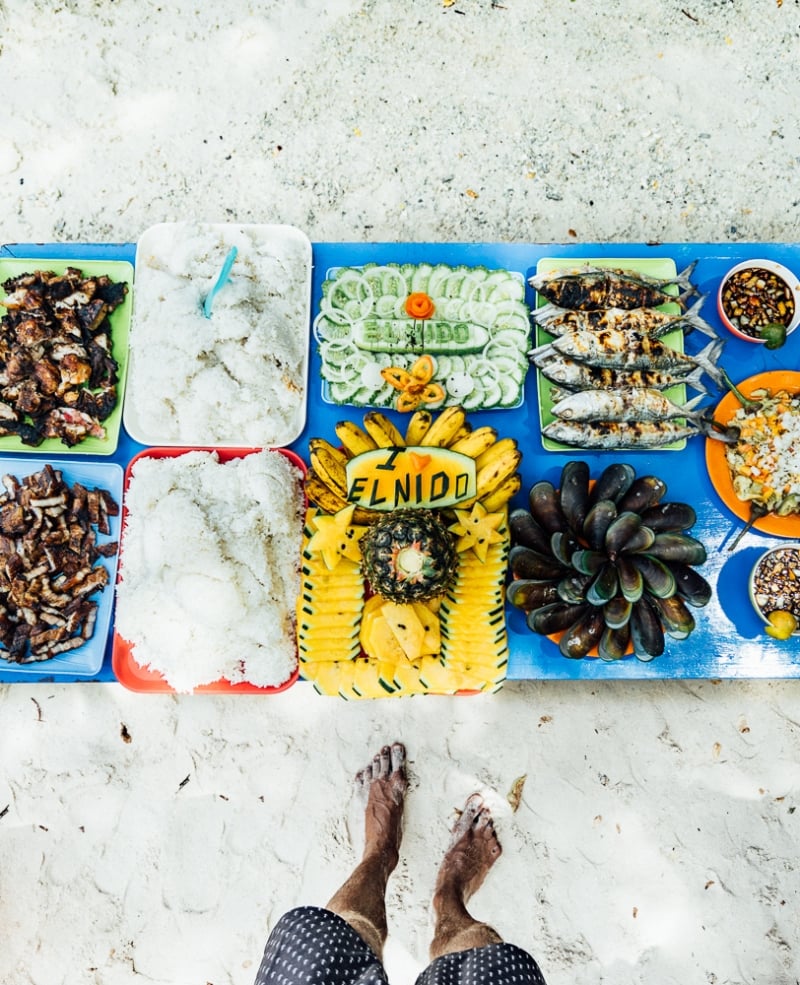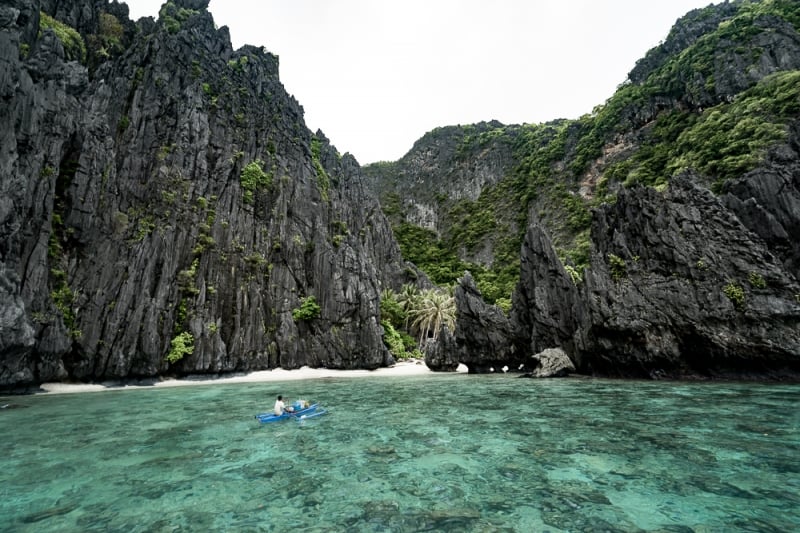 We tried to hike Taraw Peak multiple times unsuccessfully as our guides did a no-show or bailed. It turns out it was closed due to a landslide, so if you can try and do that hike and send me a photo, I will be eternally jealous.
One of my favourite days in El Nido was a moped journey. Of course. We hired a few mopeds and a convoy of us from the hostel, visited Nacpan Beach, Duli Beach and Verde Safari.
Nacpan Beach is a huge stretch of sand with some decent sized body-surf waves. Down one end there are a few small hills with trails that have great views and climbing trees.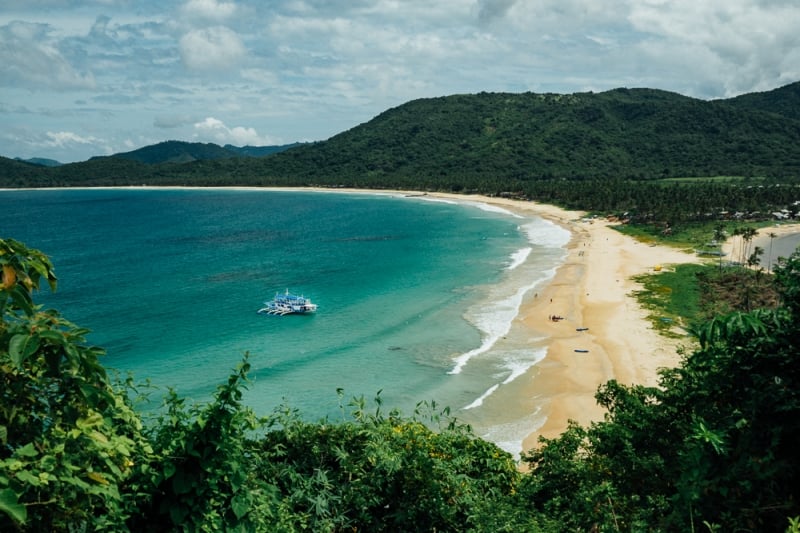 Duli Beach had a big swell that I swam out in. For me, it was just big enough to scare the shit out of me a few times but small enough that it wasn't going to drown me. Long story short, floating out in the ocean amongst the waves was a great way to view the sunset.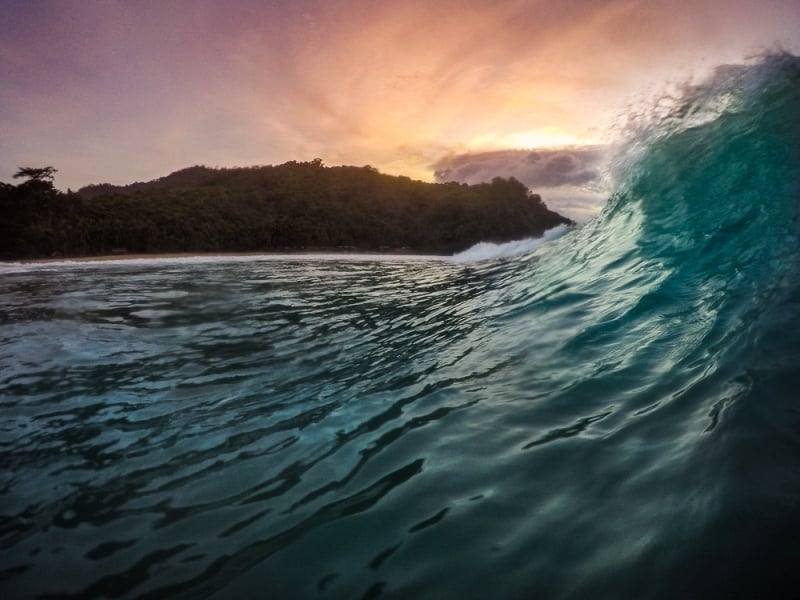 Verde Safari is a beach we visited by mistake after overshooting Duli Beach. It was really impressive and totally deserted. We almost stayed for sunset but I'm glad we headed back to Duli.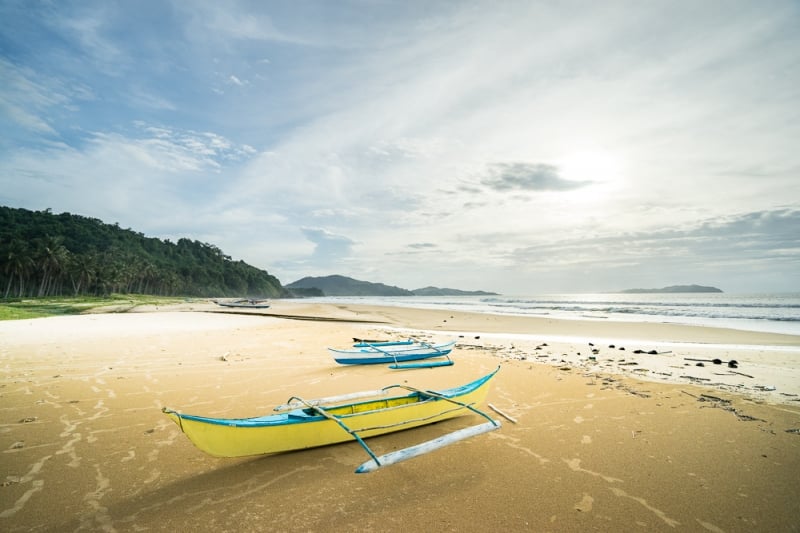 One of the girls in our crew got a flat tyre and we had to drive to nearby town, buy another one and bring it back to a vulcanizer, who fixed it on the spot. Total cost US$3 for a new tyre and labour.
The last big adventure we got up to in El Nido was a kayak adventure for sunset. Jorden and I hired a double kayak and paddled out of the harbour. We cruised along checking out several islands and enjoyed going at our own pace. We ended the night floating in the middle of the ocean after all of the tour boats were safely back in the harbour. The sunset delivered and it was a moment to remember.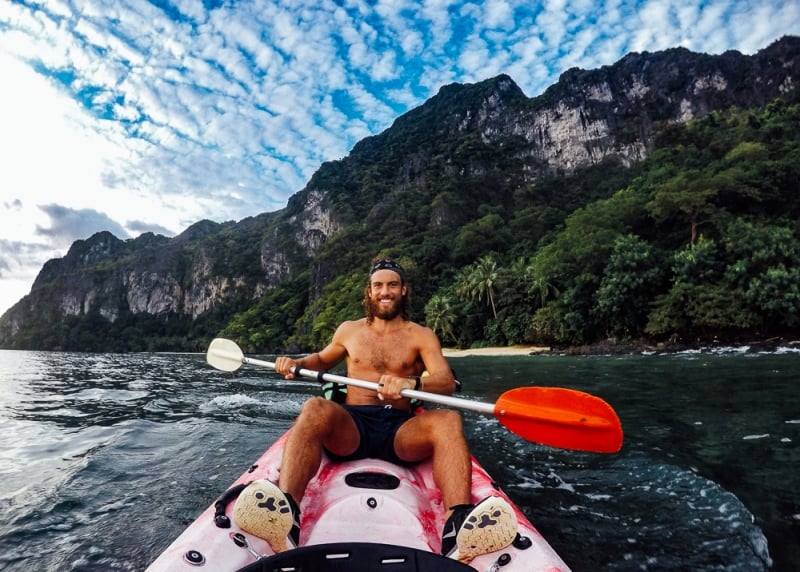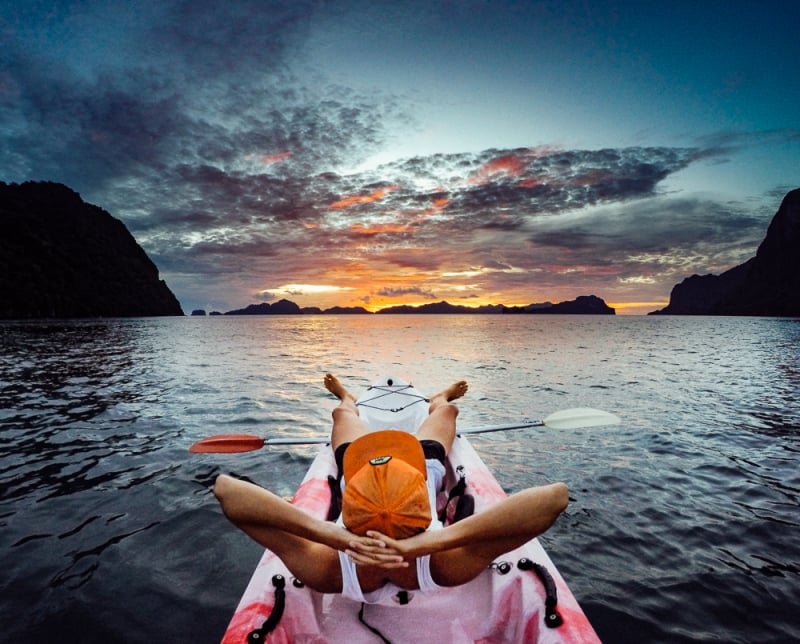 We had a few rainy days in El Nido, which slowed us down a bit but we got out to Puka Bar, a local reggae joint and enjoyed a few nights out with a great bunch of people from our hostel called Hakuna Matata.
Another transit day was coming up and this one featured a 6-hour ferry trip that was surprisingly smooth. We arrived in Coron in the early evening and felt ready to embark on new Philippines backpacking adventures.
Coron – 4 nights
Coron is a hotspot for divers but neither Jorden or I have done any diving so we were a bit skeptical about how much we would like Coron. The city was interesting but I wouldn't want to spend too much of my vacation in there.
We decided to hike up Mt. Tapyas. 742 steps in the burning sun proved to be a good wake-up call before breakfast. At the peak, a Hollywood-style 'CORON' sign sits atop the hill. Beautiful panoramic views gave us a good sense of direction and provided the variety of landscapes on Coron.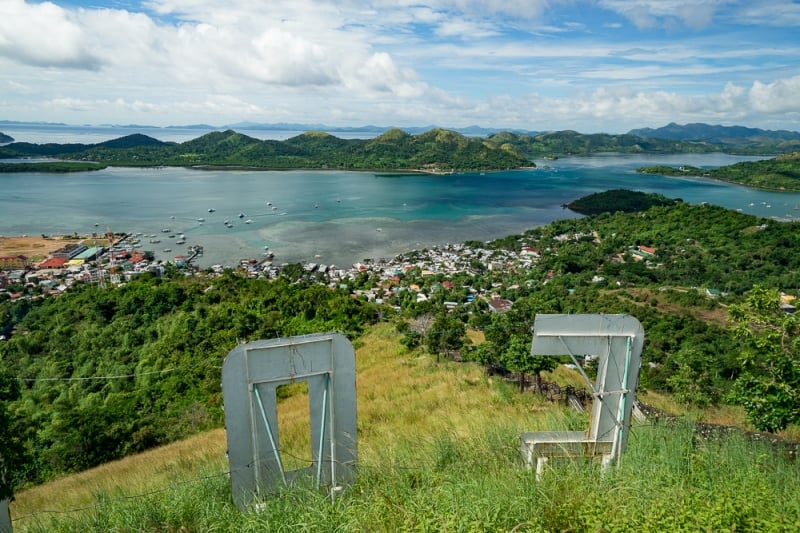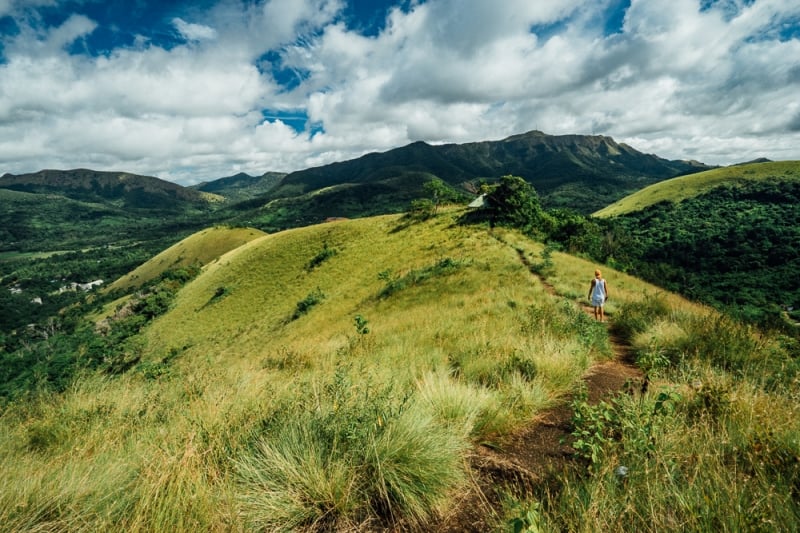 After a slow start on Coron, things hyped up, as we did two days of island hopping in amongst amazing scenery. I will let the photos do the talking for this part of the blog post but list the names so you know where each place is. Check out my detailed blog post about how to have an epic adventure in Coron.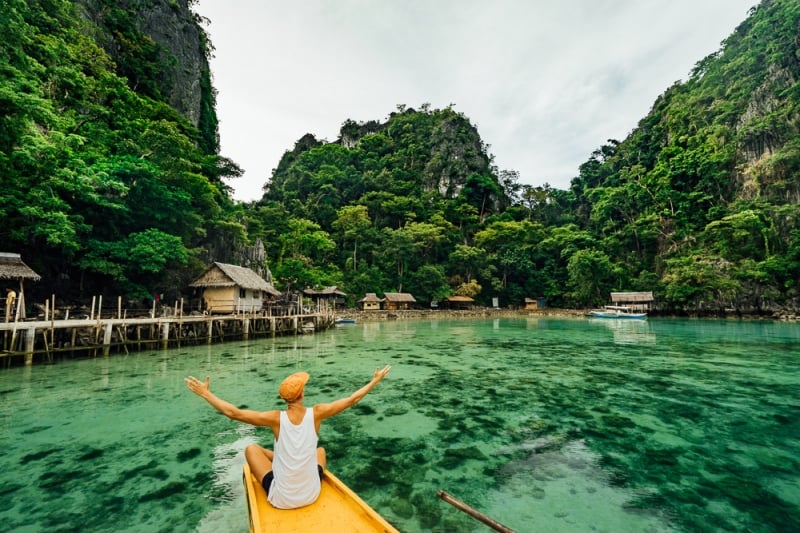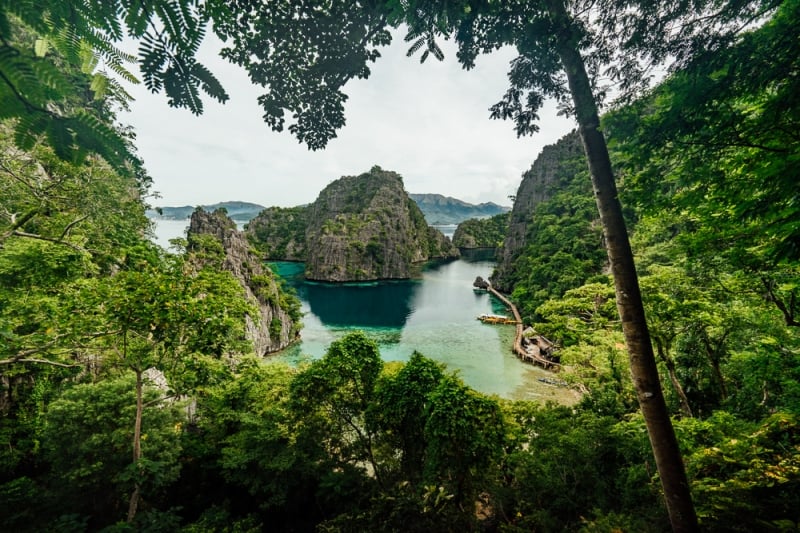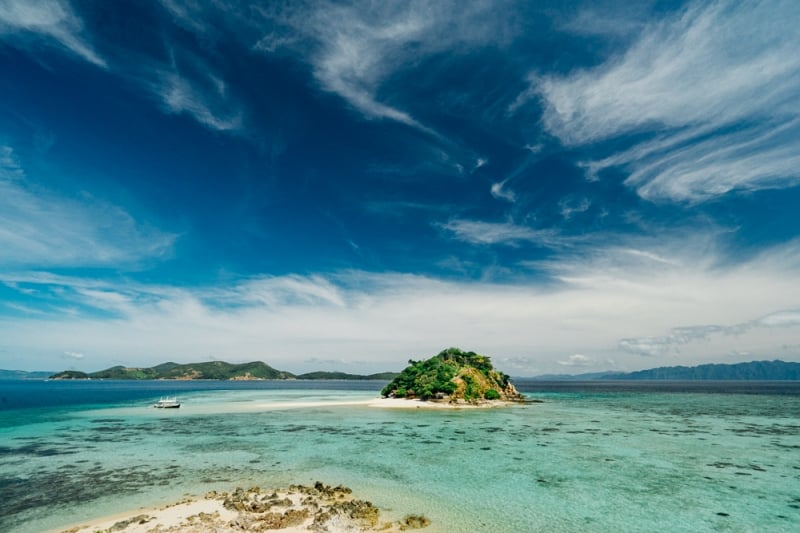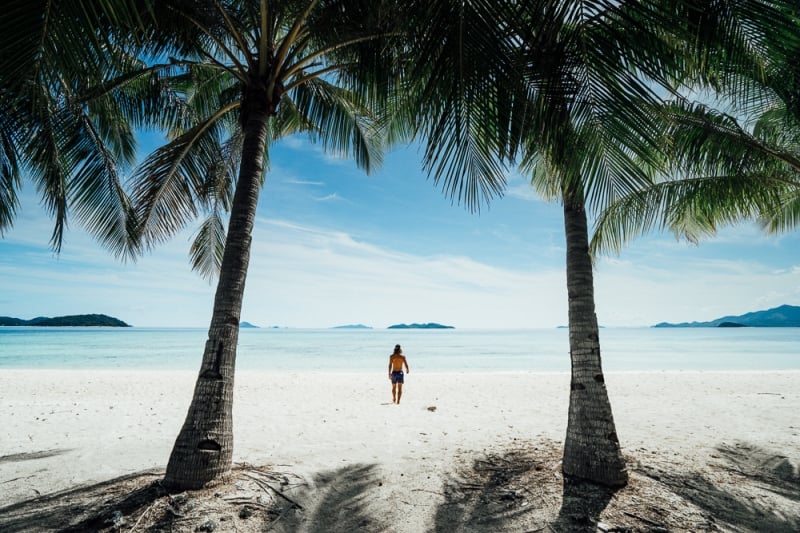 Our final adventure on Coron was a visit to the Maquinit Hot Spring. The salt water spring was teeming with tourists and locals alike during the sunset. This is an awesome spot to spend the evening if you are in Coron Town, although the ride up the mountain couldn't have been any bumpier.
By this stage of the trip, we were both exhausted but we still had one more location to hit up. The Bali of the Philippines. You know it… Boracay. We took a flight from Coron to Boracay, which was actually a scenic joy ride that I won't forget in a hurry.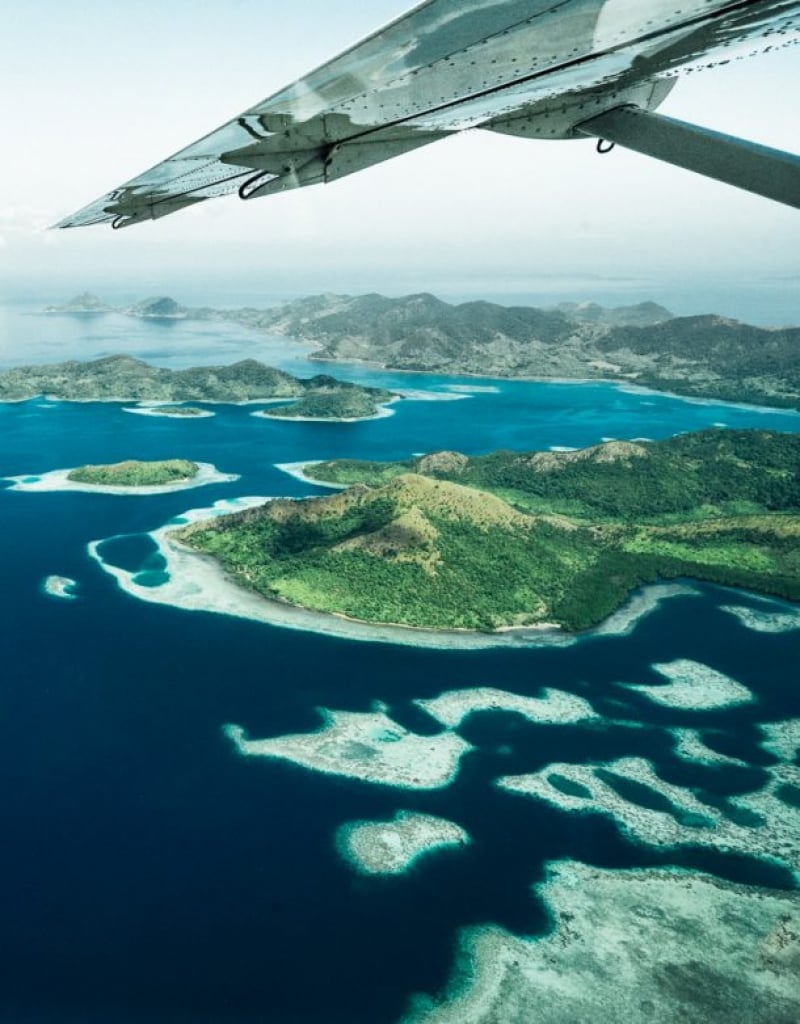 Boracay – 5 nights
There are lots of answers to the question: What to do in Boracay? We chose to take the chill route rather than the adventure or party option.
It was a great way to finish the Philippines backpacking trip because we didn't feel the need for adventure as we did during the first week and we were happy to enjoy the beautiful beach and watch the sunsets from our favourite bar.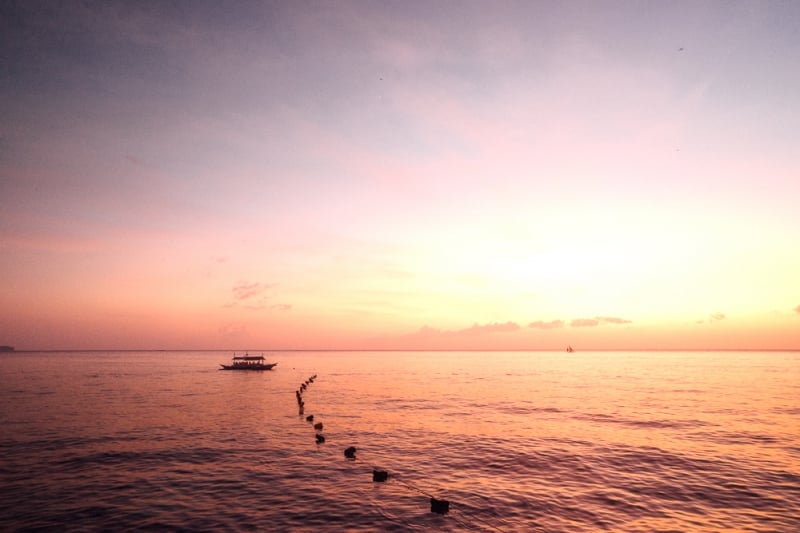 Each night we went to Spider House, a bar that looked out over the ocean. It was a perfect spot for sunset and if you don't mind shallow water, a little bit of cliff jumping isn't out of the question.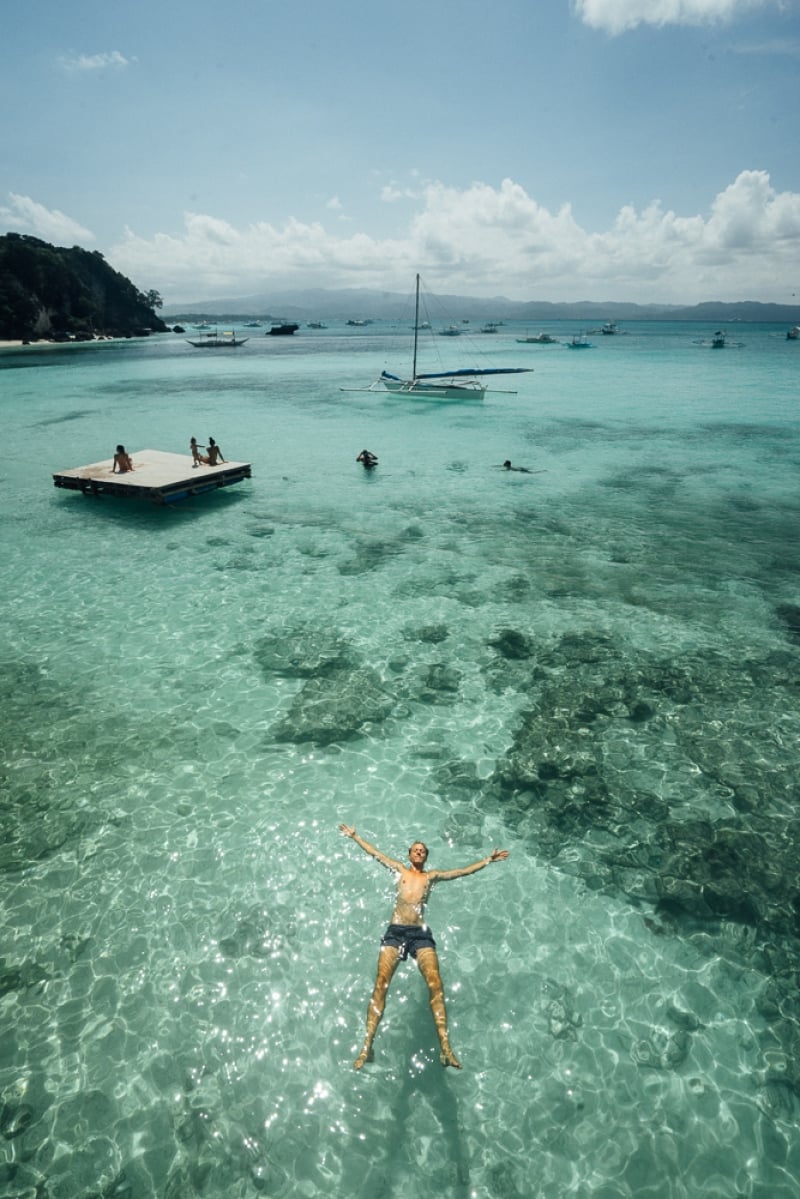 We also got out to Puka Beach and chilled under the umbrellas with smoothies reminiscing about our time in the Philippines and what a crazy adventure it had been.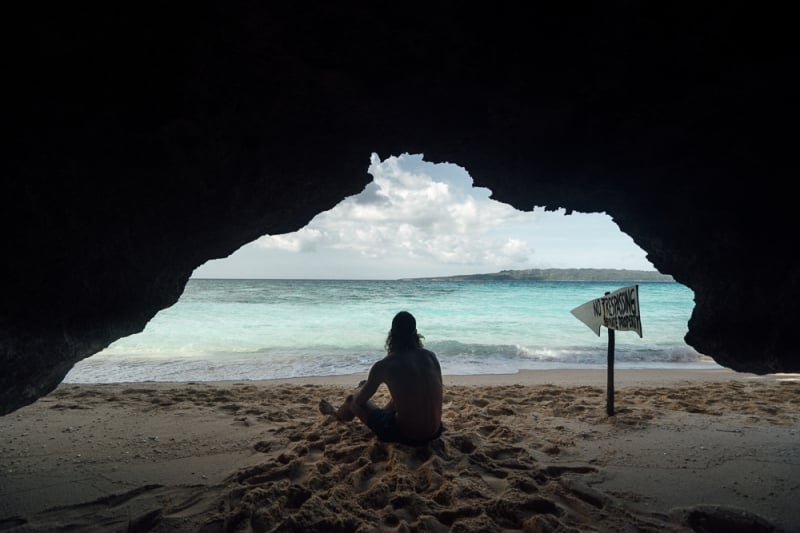 I have been travelling in Asia for five months at the time of writing this so I may be desensitised to some things. However, I want you to know that the Philippines is one of the friendliest places I have ever visited. Not once did we have a single issue regarding money, safety, scams or theft. In fact, we had the opposite. Generous couch-surf hosts, people letting us join in games on the beach and constant smiles. (Maybe they were laughing at us I don't know, I like to think they were smiling.)
Also read: 23 Reasons Why It Is So Much More Fun in the Philippines
I've never been thanked for visiting a country so many times on the blog and social media than when we visited the Philippines. The people are so proud of their country and rightly so. They want to share it with you and show you how amazing it is to spend time in their backyard.
If you have any comments or tips about Philippines backpacking, add them below. We missed out on plenty of places but the one-month visa only allowed us to do so much. Travel safe and adventure hard!