Fukuoka, the most populous prefecture in Kyushu, is a cultural and gastronomical destination that is usually overlooked by travellers. Situated on Japan's third largest island and close to Korea and China, Fukuoka is the epicentre of historical ties and cultural exchanges between East and West. Trailing just behind Tokyo, Fukuoka City, the prefecture's capital, is ranked as one of the top liveable cities in Monocle's annual Quality of Life Survey 2016.
With her colourful history as a gateway for international exchange, Fukuoka boasts a diverse food culture – a fusion of culinary treasures from the region. Well known for its plethora of high-quality Japanese dishes, Fukuoka is an epicurean wonderland for not just locals but gourmands from around the world.
1. Tonkotsu ramen
Fukuoka is the mecca for ramen-lovers. The reputable Hakata ramen, tonkotsu (pork bone) ramen, is the signature cuisine in Fukuoka City, which is made up of two historical centres: the port city Hakata and castle town Fukuoka. Tonkotsu ramen is legendary for its thick savoury broth and thin, firm noodles. Topped with slices of succulent chashu pork and judicious layering of garnishes like vegetables, tonkotsu ramen fills the stomach and soul. Facing the leftover broth, it is so difficult to resist a second order of noodles (kaedama) – a unique Fukuoka ramen-eating tradition. Some locals swear by their favourite obscure ramen joint while others recommend the famous purveyors of classic ramen like Ichiran and Ippudo.
2. Mentaiko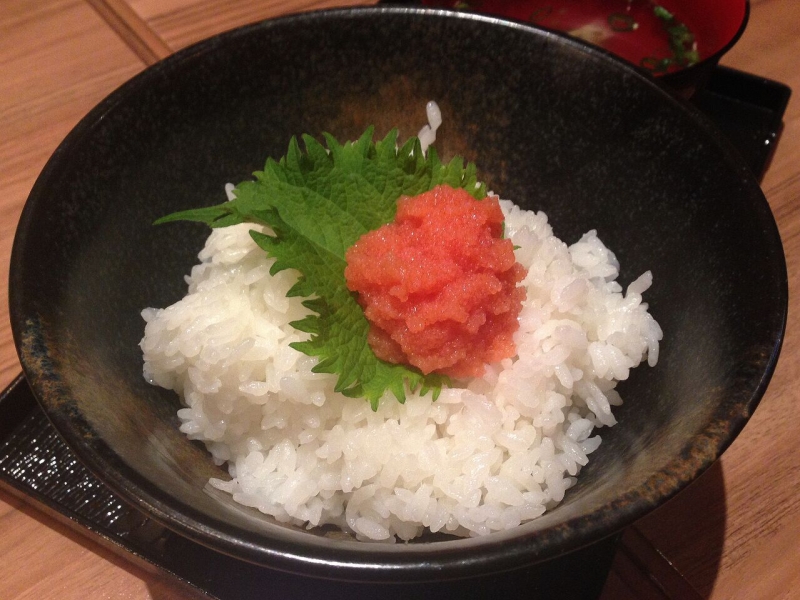 Fukuoka's pride, karashi mentaiko (spicy marinated cod roe) is one of the best food inventions. Produced freshly in Fukuoka, the flavourful condiment is used to enhance the taste of staple meals like rice and pasta. It is amazing how a bowl of plain rice is transformed by just a small scoop of mentaiko. Fresh mentaiko are widely available especially in supermarkets and many specialty shops sell packaged mentaiko products like mentaiko mayonnaise. Mentaiko is also a common seasoning in snacks and mentaiko-infused food souvenirs are very popular amongst tourists.  
3. Motsunabe
Motsunabe is a hot pot filled with beef or pork's internal organs and fresh vegetables like cabbage and garlic. Heated over a slow flame, the hearty hot pot is perfect for a gathering with friends, especially in winter. The hot pot is fully enjoyed right up to the shime, which refers to the Japanese practice of adding rice or noodles to the remaining broth in the pot.  
4. Mizutaki
Another classic Fukuoka style hot pot, Mizutaki is a simple pot of chicken and vegetables with sophisticated cooking style. Most people are surprised to learn that no additives are used in this dish. The simmering hot water absorbs the natural essence of the fresh chicken and sweetness of the vegetables. Those who prefer stronger flavours can throw in condiments like seaweed to the soup or even order a milky chicken broth that is available in some restaurants. Like motsunabe, rice or noodles can added at the last stage of the meal to soak up the essence of the broth.  
5. Tetsunabe gyoza
Fukuoka's speciality gyoza is served on tetsunabe (cast iron skillet) in many shops. The petite bite-sized dumplings are packed with so much goodness. Delivered straight to the table in hot frying pan, the piping hot gyoza with lightly charred, crispy skin oozes with delectable juices. It tastes even more heavenly with complimentary sauces like zesty yuzu kosho (a mixture of Japanese citrus lemon, pepper and salt). It is impossible to just eat one gyoza so most people wash down mouthfuls of gyoza with cooling draft beer.
Be prepared to be a glutton in Fukuoka as you indulge in these! For a true Fukuoka dining experience, try some of dishes like ramen and gyoza in atmospheric yatai, open-air food stalls, found along the river or scattered around the city centre. Fukuoka is the last bastion of yatai culture in Japan where famous Japanese delicacies were sold commonly at pushcart street stands in the past.
Also read: 12 Underrated Foods You Should Never Leave Japan Without Trying