Originally from France, crêpes are thin wheat pancakes that have become a global favourite and taken up different makeovers from country to country. One popular crêpe variant would certainly be Japanese crêpes! These desserts look uber delicious with its whipped cream peaks, sweet fruit toppings, and rich ice cream.
For those who are not fond of sugar, fret not. There are savoury crêpes that include ham slices, drizzles of curry and even the classic millennial staple of avocados. Head down to the Japanese capital for a filling dose of Japanese crêpes. Choose from a plethora of yummy fillings and watch eagerly as your small cone of joy is made right before your very eyes!
1. Marion Crepes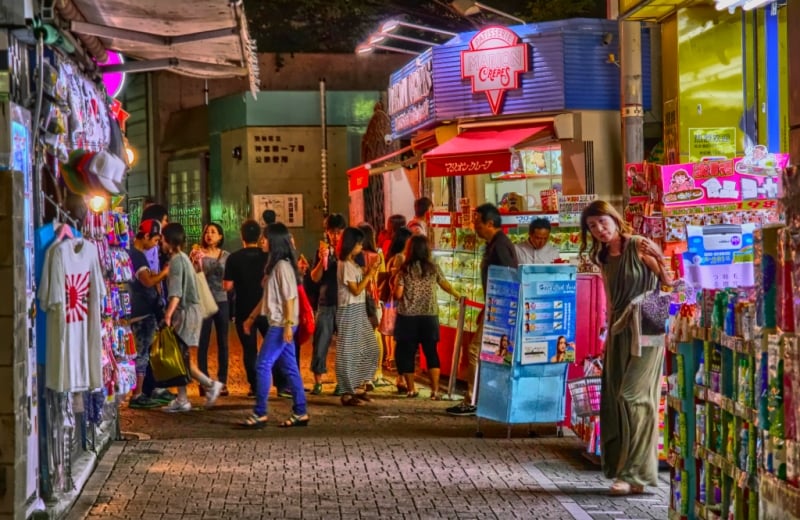 If you're down in Takeshita Street in the heart of quirky Harajuku and you see a crowd of people hogging a particular store, you're most likely near Marion Crepes. Also regarded as Harajuku's oldest crêperie, this 40-year-old joint has garnered so much popularity that it opened a franchise stall in China and even brought its stores to the US and Singapore for a brief period.
At Marion Crepes, this quintessential street food comes in many great flavours, from sweet to savoury (pizza crêpe, anyone?). Plus, the store's dough is uniquely made from the company's self-produced flour, so rest assured you won't be able to get the taste of Marion's anywhere else!
Try their popular Ichigo Cheesecake Special crêpe that comes filled with vanilla ice cream, strawberries, cheesecake, strawberry sauce, and whipped cream. Or better yet, challenge yourself to complete the Mega Marion which comes with double the fillings! The artisanal crêpes here are worth every calorie.
Address: 1-6-15 Jingumae, Tokyo 150-0001, Japan
2. Café Creperie Le Bretagne
Established by Bertrand Larcher who is originally from France, Café Creperie Le Bretagne is as close to French cuisine as you can get! Tucked away in the midst of Kagurazaka, this atmospheric café opens you to gastronomical delights you probably have never experienced. A French dessert made by a Frenchman is bound to be no less than mouth-wateringly appetising!
Get your hands on their traditional crêpes and galettes (savoury French pancakes), coupled with imported French cider. Only using quality farm-fresh ingredients to conjure up the desserts, the dishes of Café Creperie Le Bretagne are tasty and a delight for the tummy!
As much as sweet sugary crêpes are the go-to choice, these papery pancakes can also transform into a full meal when you dig into those garnished with eggs, bacon, and mushrooms glazed with special salted butter! Finish off the meal with some sickly sweet crêpes drizzled with syrup and topped off with ice cream scoops.
Address: 4-2 Kagurazaka, Shinjuku-ku, Tokyo
3. Com Crepe
Com Crepe is a fairly new stall in Harajuku that quickly earned a spot in the Japanese crepe scene when it birthed the novel concept of crêpe brûlées. Headed by Chef Kei Hasegawa, Com Crepe takes your simple loaded Japanese crepes to the next level. Bite into their signature crêpe with toasted sugar that caps the vanilla custard and experience a firework of smooth sweetness on your palate!
Have a go at the joint's crêpe dolce series where cocoa crêpe meets cream cheese. Or indulge in a savoury twist with their bacon cooper series where the crêpe roll is crowded with bacon pieces, cheese strips, and some greens. Choco-cheese crêpe or bacon salad crêpe, Com Crepe is a store you simply can't miss!
Address: 1 Chome-8番25号Jingumae, Shibuya, Tokyo 150-0001, Japan
4. Santa Monica Crepes
Santa Monica Crepes is another icon amongst the crowd of Harajuku's crepe stalls. With two stalls dotting Takeshita Street, this vibrant shop serves up dozens of sweet and savoury crêpes daily. When you chance upon their California-style diner shops, be spoilt for choice as you stare bug-eyed at the fake display of their army of crêpe selections!
With their coned desserts made from premium flour and quality butter, Santa Monica Crepes offers over a hundred varieties of fillings to choose from! Although their best sellers are the Strawberry Banana and Chocolate Ice Cream crêpe, the crêpe brûlée (caramelised sugar coating!) is equally sought after.
Address: 1 Chome-16-8 Jingumae, Shibuya, Tokyo 150-0001, Japan
5. Honey Bee Crepe
Koenji's favourite creperie may not serve over-the-top crêpes that are extravagant but their simple bundles sure pack a punch! Honey Bee Crepe lives up to its name by including honey in their crêpe batter!
Imagine the delectable sweetness as you bite into their already sweet and crispy crêpe that holds together more sugary treats. Choose from a range of garnishings, such as velvety honey gelato or mascarpone, to top your luscious pastry. To boot, this treat for your sweet tooth can be made impeccable when coupled with a glass of honey lemon drink!
Address: 3 Chome-35-24 Koenjikita, Suginami, Tokyo, Japan
6. Orange County
It is not easy to spot crêpe stalls out of Harajuku most of the time. Orange County is a great exception! Nosh on Harajuku's famous street delight in a café quietly nestled in Setagaya. Serving up fluffy Japanese crêpe cones, this Instagram-worthy dessert is chock full of whipped cream adorned with succulent fruits and crunchy nuts, and drizzled with sweet sauces!
Savoury galettes are also plated up in Orange County, with their popular classic being a galette dressed with egg, cheese, spinach, and bacon. Complete this tasty experience when you pair your delectable Japanese crêpe dish with a hazelnut latte!
Address: 3-1-17 Soshigaya, Setagaya, Tokyo
Whichever crêperie you head to in Tokyo, there is bound to be a crêpe that will suit your preference. These decorated treats would not only satisfy your taste buds and stomach but are also an incredible feast for the eyes! You can thank us later, it's time to dig in first.