Blessed with breathtaking scenery from the mountains to its seas, Tohoku is the northern region of Japan. It stays beautiful all year round, but have you ever visited Tohoku in autumn? The temperature difference between day and night enhances the colours of Tohoku's autumn foliage, so much so that it's among the best places to experience the fall season in Japan. Check out our recommended Tohoku autumn spots below to enjoy the painting-like landscape in Tohoku during this season.
1. Hirosaki Castle (Hirosaki Park): Aomori Prefecture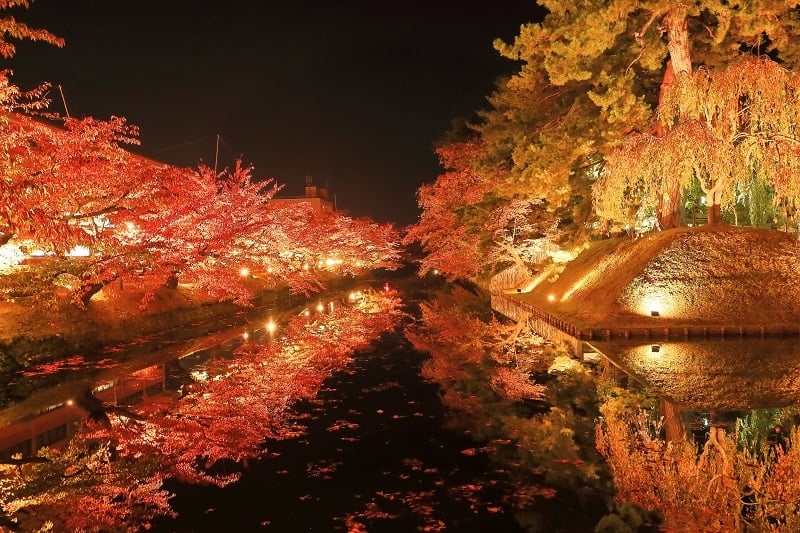 Surrounding the three-storey castle tower in Aomori Prefecture's Hirosaki Park are 1,100 maple trees and 2,600 cherry blossoms. The area's lush foliage alone makes it among the prettiest Tohoku autumn spots you can visit! The castle is the symbol of the park, and it was the residence area of the Tsugaru clan, the lords of the Hirosaki Domain.
In autumn, when all maple trees turn red, visitors are transported into an otherworldly realm reminiscent of fairytales. Take a stroll through this picturesque forest and bring home lots of photos to remember your trip!
2. Motsuji Temple: Iwate Prefecture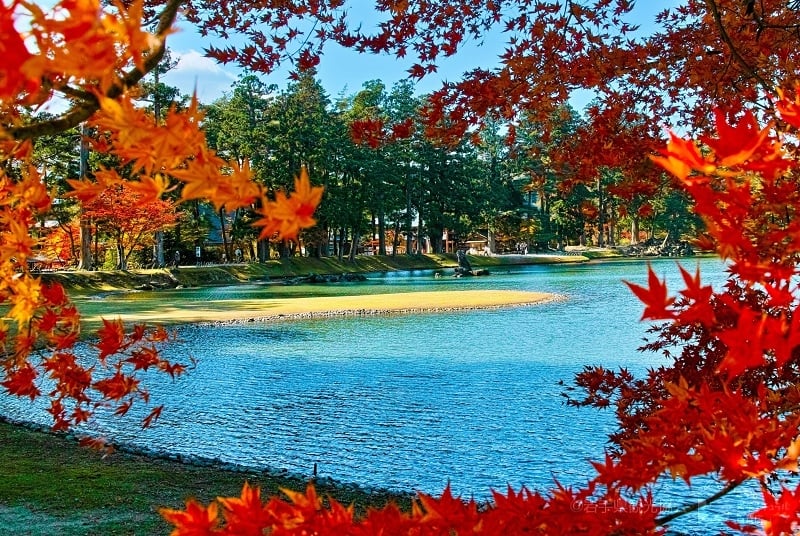 The world heritage site of Motsuji Temple, which is in Hiraizumi Town, Iwate Prefecture, is also famous for its autumn views. The best time to enjoy autumn's fiery, golden glow is from late October to mid-November every year. One can witness red maple leaves in the historic garden, which was built in the Heian period. Nothing is more striking than the maple leaves' pretty crimson color reflecting on the calm, azure waters of Oizumi ga Ike Pond. Take a leisurely stroll around and relish the stunning landscape.
3. Dakigaeri Gorge: Akita Prefecture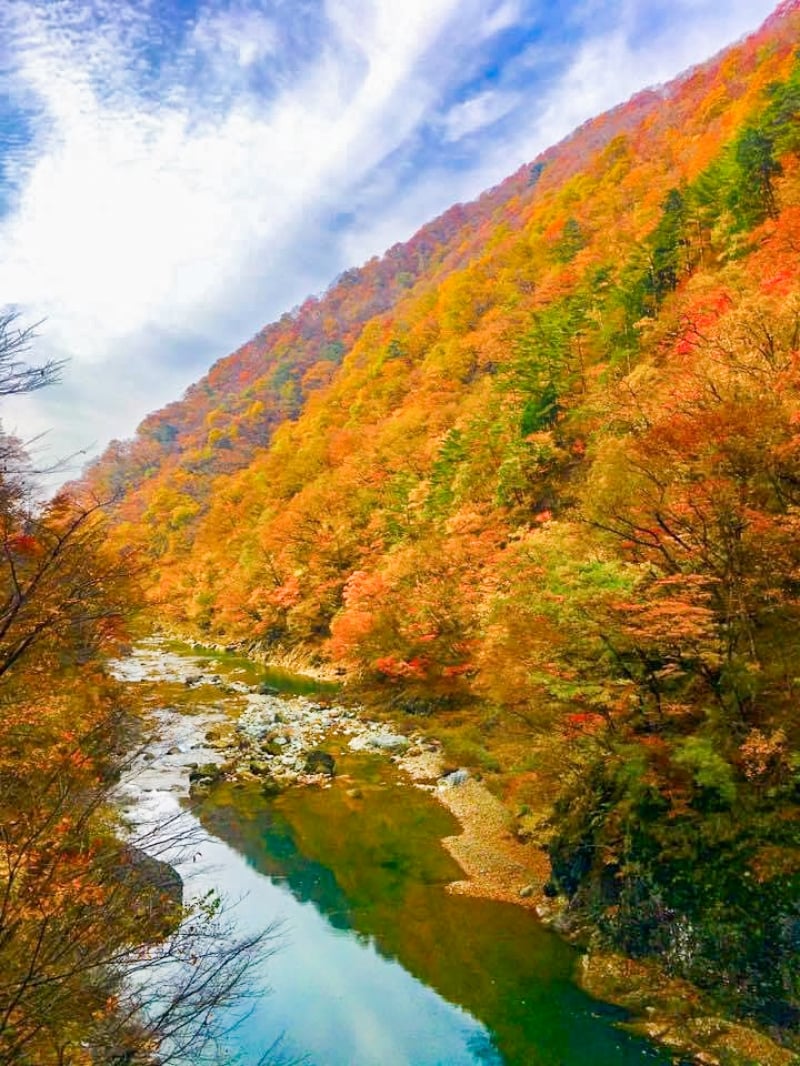 At Dakigaeri Gorge, one can enjoy the impressive combination of crystal clear, cobalt blue waters and the striking, warm palette of autumn foliage. Make sure to pass by Kami-no-iwahashi, the oldest suspension bridge in Akita Prefecture conveniently located along the strolling route. From this location, you can take the best shots of Dakigaeri Gorge — arguably one of the most picture-perfect Tohoku autumn spots you'll see.
If you get a little tired, how about taking a break and enjoying the area's cool spring water? The autumn foliage around Mikaeri Waterfall in the back of the valley turns red later than in other areas, so visitors of Dakigaeri Gorge will have more time to enjoy Tohoku's autumn colours. 
While you're at it, we recommend you visit Kakunodate Samurai District, a samurai residence area. The autumn foliage here is superb, and its historical significance is sure to make your Japan getaway even more meaningful!
4. Naruko Gorge: Miyagi Prefecture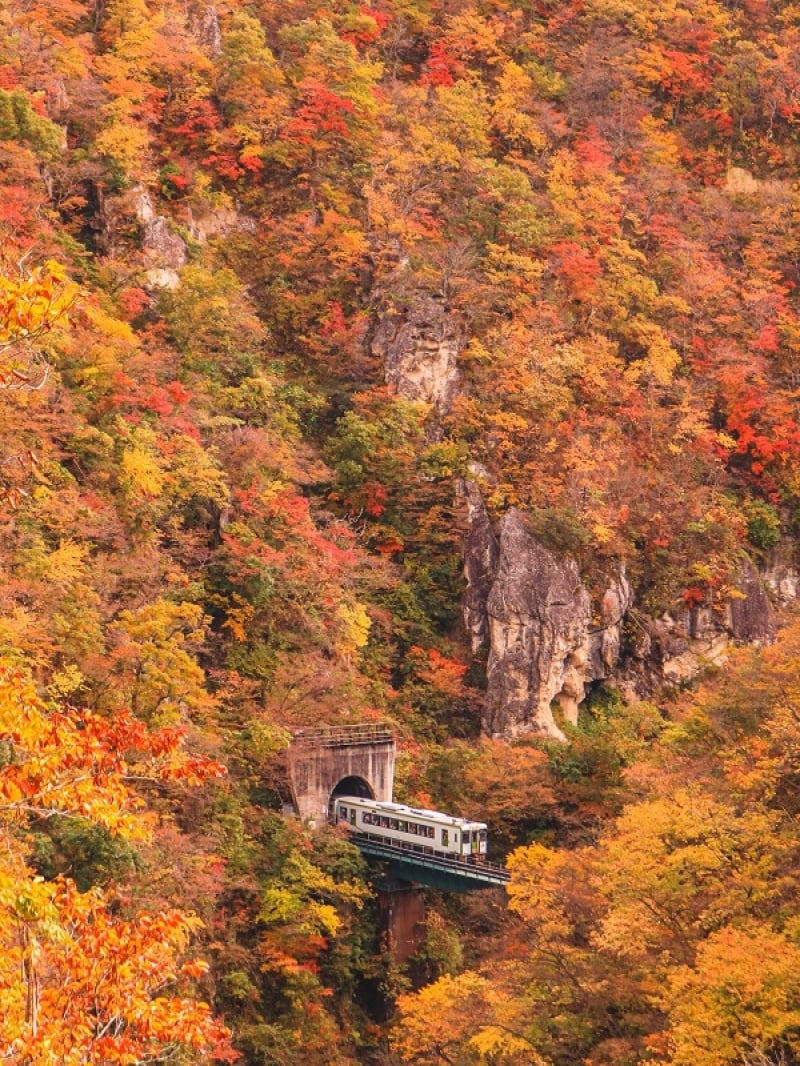 The V-shaped Naruko Gorge was created by the Daiya River at the border between Miyagi and Yamagata Prefectures. It features steep, 100-metre-high cliffs that extend for over 2.5 kilometres end to end. Among Tohoku's most postcard-worthy spots, Naruko Gorge is one of the most popular come fall season. They say the best autumn colours are found in Miyagi, and Naruko Gorge's picturesque landscapes are often touted as the highlight of any autumnal trip in Tohoku.
From Obukasawa Bridge, one can witness the view of trains passing through a tunnel in the gorge warmly tinged by autumn foliage. It is a remarkable scene not only for railway fans but also for those looking to imbue colour into their Instagram feeds. You can also stroll through the stunning valley along the promenade and make memories that will last a lifetime.
5. Zuihoden Mausoleum: Sendai City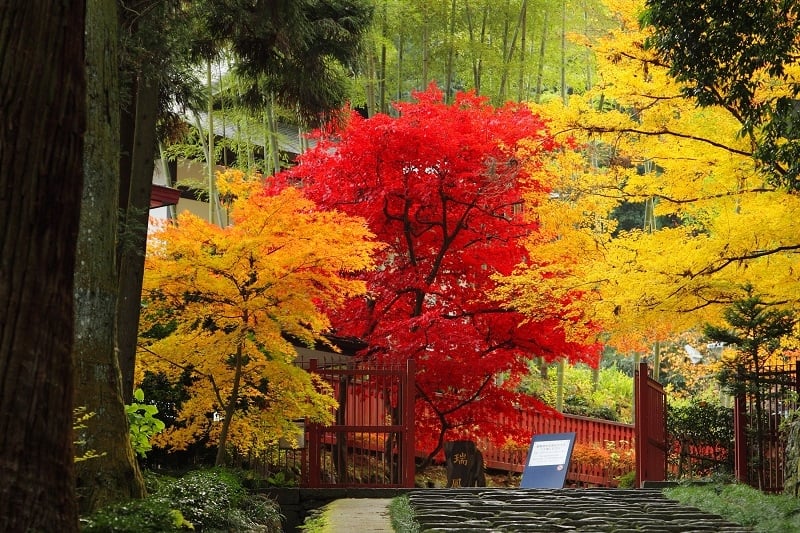 The Zuihoden Mausoleum is situated in Sendai City in Miyagi Prefecture. It is a sacred mausoleum dedicated to the founder of Sendai, Sengoku Daimyo Date Masamune, and was built about 450 years ago. Here, the buildings are unique and bear gorgeous architecture that pays homage to Japanese heritage.
Especially in autumn, red and yellow maple leaves tinge the surroundings of Zuihoden Mausoleum. For a limited time during the year, the forested grounds will be illuminated both by beautiful sunlight and the colours of fall during the day and vibrant lights at night, creating a tranquil landscape that makes you feel like travelling back in time.
Also read: Downtown Sendau & Zuihoden Mausoleum
6. Mount Gassan: Yamagata Prefecture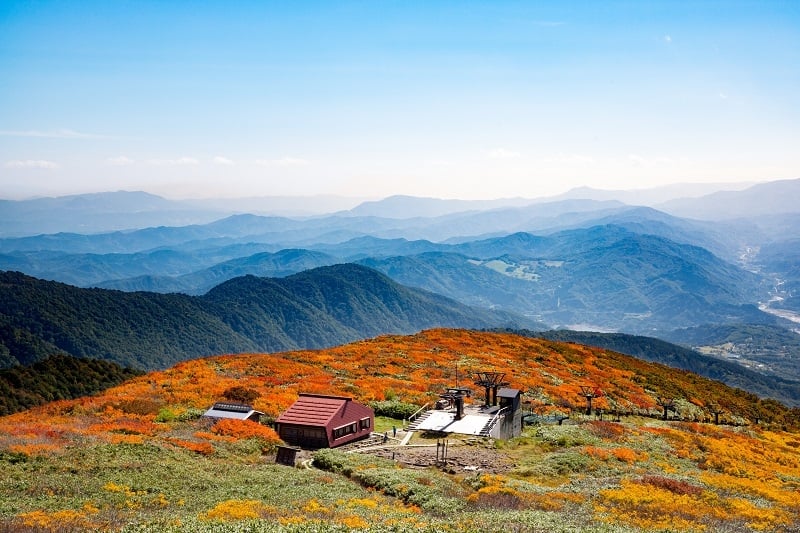 At an altitude of 1,984 metres above sea level, Mount Gassan in Yamagata Prefecture is the highest peak of the Dewa Sanzan (The Three Sacred Mountains of Dewa). The mountain turns red and gold in autumn, which is astonishing. One can reach the peak and return in four hours using the lift.
In addition, Mount Gassan is said to be a treasure trove of alpine plants, with over 350 types of alpine flora native to the area. Tap into your inner botanist and explore Mount Gassan's trails to identify its rare alpine greenery, while admiring the autumn foliage that it's also known for.
Midagahara Marsh, situated on the eighth station of Mount Gassan, is also considered one of Tohoku's best autumn spots thanks to its golden hue. It is easily reached by car and situated right in front of the eighth station parking lot.
7. Mt. Adatara: Fukushima Prefecture
Many tourists, climbers, and photographers visit this mountain in the autumn season because of its natural beauty. What's more, travellers use the ropeway to reach the summit in a mere 10 minutes! Upon reaching the top, enjoy the aerial landscape of the entire mountainside and the marvelous autumn colours that envelope the area. In addition, there are courses for mountain climbers and pre-made promenades, so you can choose a trail that suits your level — whether you're a beginner or an experienced climber.
8. Momijien (Maple Garden): Niigata Prefecture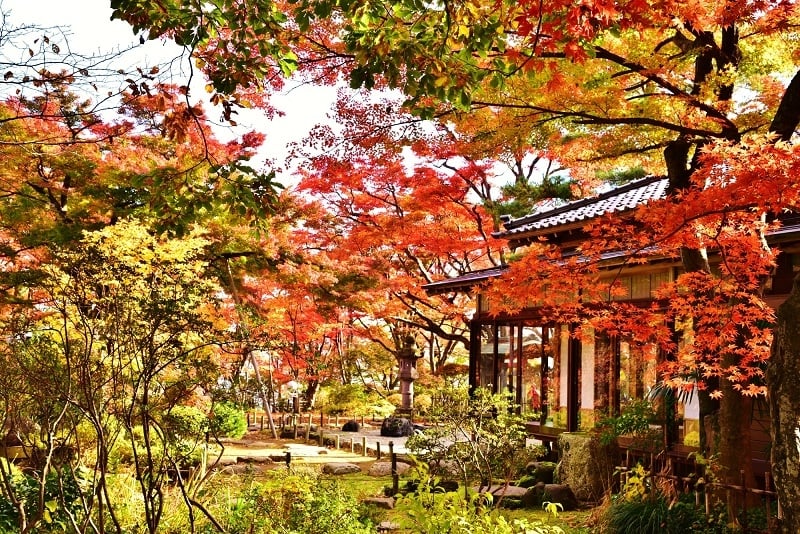 Completed around 1897 in Koshiji, Niigata Prefecture, Momijien (Maple Garden) was a villa for the Takahashi Family, wealthy landowners of the Kamiya area. Every year, this Japanese garden's grounds turn into a brilliant crimson, all thanks to the autumnal hues brought about by fallen leaves.
Many plants — such as maple trees, wild cherry trees, and azaleas that are 150 to 201 years — can be found there. Besides the main garden, there is a teahouse offering pancakes and pasta, and Tomoegaoka Sanso, a nationally registered tangible cultural property significant to the area and its people.
The next time you're planning a trip to Japan, consider visiting during the fall — with Tohuku's best autumn spots in mind. Here, nature gifts visitors with the most splendid scenes that come with the changing of the seasons. See you soon in Tohoku.
Want to learn more helpful tourism information about Sendai and Tohoku? Visit this Tohoku Special website for more details.
---
Brought to you by Tohoku Tourism Promotion Organization.