There are plenty of perilous and dangerous hiking trails around the world, and some people live to seek out, conquer and survive these hikes. These kinds of people are the same ones who live off the thrill that comes with scaling a mountain cliff without ropes, running across glaciers and crossing deserts. Perhaps it's the adventure, perhaps it's the challenge – or perhaps it's that feeling of being alive that, ironically, comes with putting your life at risk.
Let's take a look at 12 of the most extreme hiking routes in the world, the ones that will make your heart race, adrenaline flow and sweat pour.
Drakensberg Traverse, South Africa
Image credit: billandkent
The Drakensberg Traverse is a 65-kilometre trail through Natal National Park in South Africa. It takes in some of the most unsheltered alpine landscapes in the world. The first couple of kilometres lead up to the ridge along chain ladders, ancient cattle trails and rocky stairways. In addition to offering superb views, the Drakensberg Traverse also takes a life almost every year.
El Caminito del Rey, Spain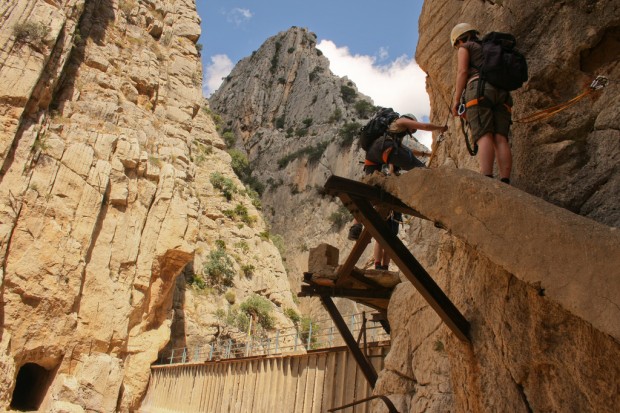 Image credit: Sam Dredge
El Caminito del Rey is arguably one of the most famous dangerous hikes in the world. It's not longer than three kilometres, but because it is a steel and concrete path that hangs on a sheer vertical cliff, it attracts only adventure-minded hikers. People who are afraid of heights don't belong there.
Also Read: 10 Easy Hiking Trails in Asia for Beginners
Rover's Run Trail, Alaska, USA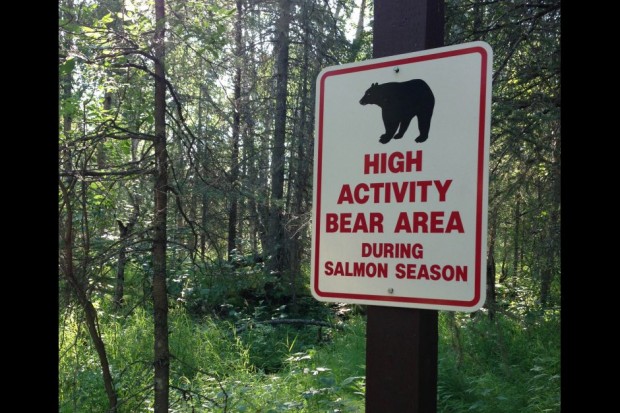 Image credit: www.adn.com
The Rover's Run Trail in Far North Bicentennial Park in Anchorage, Alaska, is not physically challenging, nor is it dangerous in bad weather. Instead, it's a simple leisure trail near a beautiful river. The real danger, however, are the brown bears that flock to the salmon-filled river in summer and fall. The huge number of encounters between humans and bears, which include killings, has been the reason why the trail has been relocated to a distance further away from the river. Besides bears, moose are something to watch out for as well.
Huayna Picchu, Peru
Image credit: Richard Droker
The world-famous Inca Trail toward Machu Picchu is completed by thousands of people each year. Few people, however, continue on the trail past the ancient city and climb to Huayna Picchu. This is an old stairway built by the Incas that's made up of wet rocky stairways, rotting roots and steep drop-offs. Steel cables help hikers to the top, but the real danger is the slippery way down. The fact that the trail is nicknamed the "hike of death" by locals says it all.
School Cliff Path, China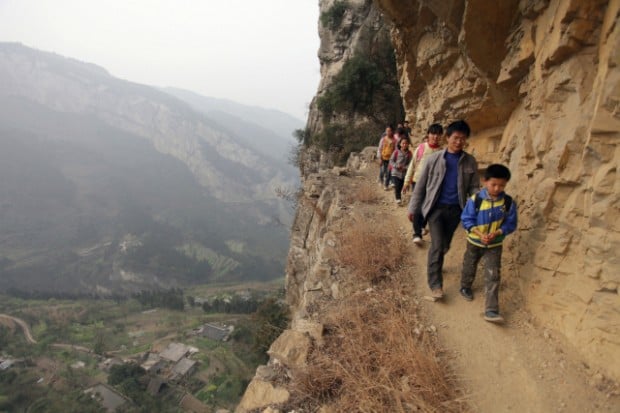 Image credit: Kristina McBride
This almost incredible path is carved out in a cliff side that's more than 1,500 metres high. What makes it even more extraordinary is that it's used by children – the children of Genguan, a small Chinese village, use the path every day to walk to and from school.
Mist Trail, California, USA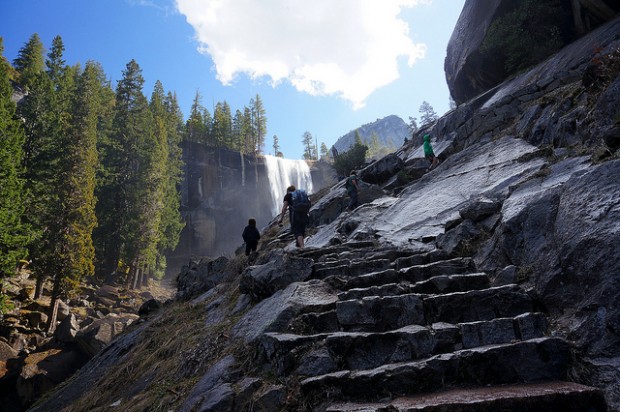 Image credit: CheWel Chang
The Mist Trail is a 23 kilometre trail leading to the summit of iconic Half Dome in Yosemite National Park, California. The trail is very steep – particularly the last couple of hundred metres which require the help of steel cables. In bad weather, the surface becomes extremely slippery and during thunderstorms, the steel cables become the target of lightning. More than sixty people have lost their lives on the way up (or down) Half Dome, mostly due to bad weather.
Aonach Eagach Ridge, Scotland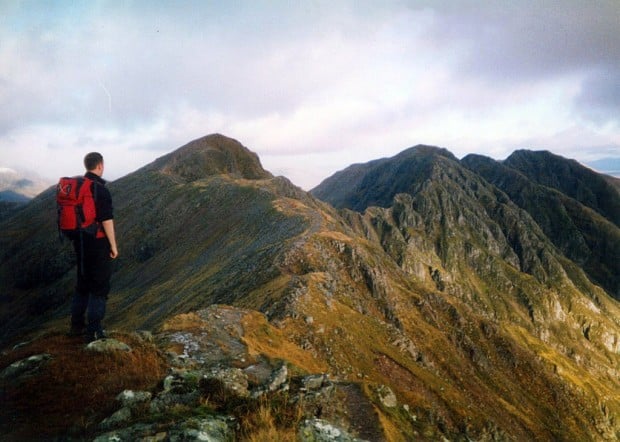 Image credit: Bill Kasman
This 6.5 kilometre rock scramble runs through Glen Coe Valley and traverses two Munros in the Scottish Highlands. It's regarded as one of the most beautiful and challenging hikes in the Highlands. The views are breathtaking, but the fact that the trail runs along a sharp ridge with sheer drops and requires some technical climbing makes it dangerous. Also, there is not short or less dangerous way down if the weather turns bad.
Hua Shan, China
Image credit: Ian Armstrong
Mount Hua Shan is a five-spired mountain in the province of Shaanxi, China. There are temples on the mountain's summits, which have been climbed for many, many centuries. Every single trail on the mountain, however, is quite dangerous and is made up of nothing more than boardwalks attached to the mountain sides, ropes, vertical stairways and chains. Even despite this obvious danger, the plank walkway has become a major tourist attraction.
Also Read: Hiking in Asia: 10 Places With Stunning Trails
The Maze, Utah, USA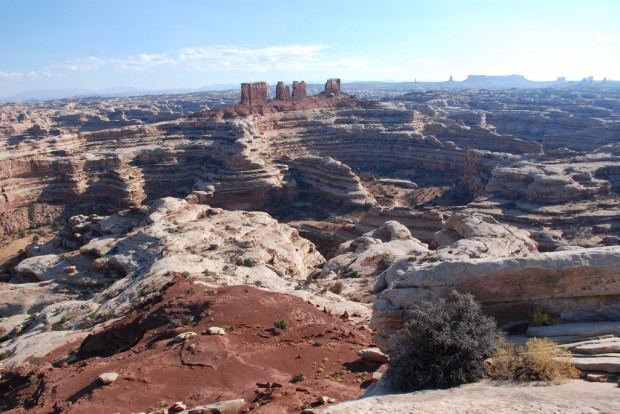 Image credit: Mike Renlund
Only approximately two thousand people visit the outskirts of Canyonlands National Park in Utah every year. The main reason is not that it's not scenic – rather the contrary – but that it's extremely difficult to reach. The area known as The Maze is not only nearly inaccessible, but also very challenging to get around in. It's filled with hidden ravines, cliffs, gullies and canyons. Although no one has ever been killed in this corner of the Canyonlands, (probably due to the extremely low number of visitors) the danger lies in the possibility of rock falls, flashfloods and getting lost.
Via Ferrata, Austria and Italy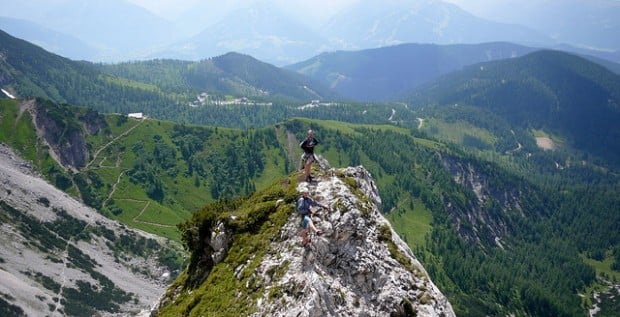 Image credit: Joopey
Via Ferrata are literally "iron ways" in the Italian and Austrian Dolomites. These walkways consist of wooden boardwalks, suspension bridges, ropes, iron rungs and steel cables. Helmets, clasps and experiences are essential to safely complete a via ferrata. It's one of the most exciting hikes you can do in Europe and it boasts fabulous mountain views.
Pacaya Volcano, Guatemala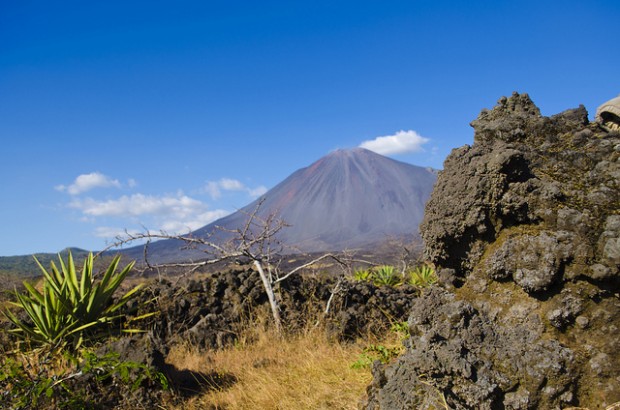 Image credit: Andy Cifuentes
Although there aren't any official trail to the summit of Guatemala's Pacaya Volcano anymore after several deaths, it is still possible to scale this 2,400 metre mountain on pathways from surrounding farms. Pacaya is an active volcano which had a deadly eruption in 2010. More recently, the volcano has regularly shown signs of activity in the forms of vapors, ash clouds and lava flows.
Presidential Traverse, New Hampshire, USA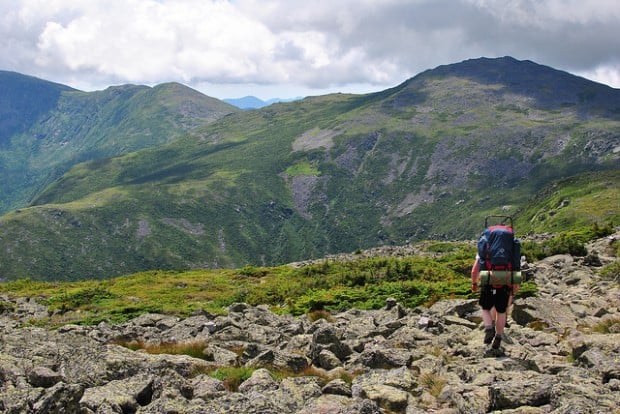 Image credit: Rand Snyder
The Presidential Traverse in the White Mountains of New Hampshire is a 37 kilometre multi-day hike. It runs over an exposed granite ridge, the highest mountain ridge in the American Northeast. Mount Washington lies about halfway and is often considered to be one of the most dangerous mountains on earth. For many years it has held the world-record for highest wind speeds ever recorded and in winter, it always is one of the coldest places in the world. Although it's not that tall a mountain, the average annual temperature is -2.7°C. Sudden weather changes, powerful gusts of wind and avalanches have claimed more than a hundred lives.
Also Read: Top 12 Countries in Europe that Hikers Will Absolutely Love