Food and scenery – that's what everybody goes to Taiwan for. After all, who can resist feasting on sumptuous street food, exploring picturesque mountain towns, and hiking through lush nature reserves? Vacationing in Taiwan is more than just eating and taking Instagram masterpieces, however. The island nation is perfect for an exploration into its rich culture, heavily influenced by its various indigenous aboriginal tribes, numerous mainland Chinese dialect groups, and a Japanese occupation of over 50 years.
Also read: 8 Fun Things to Do in Tainan & Its Surroundings for an Immersive Taiwan Trip
From painting paper umbrellas to brewing pounded tea, here are five immersive experiences that will make you love Taiwanese culture:
1. Paint paper umbrellas at Kuang Chin Sheng Paper Umbrella studio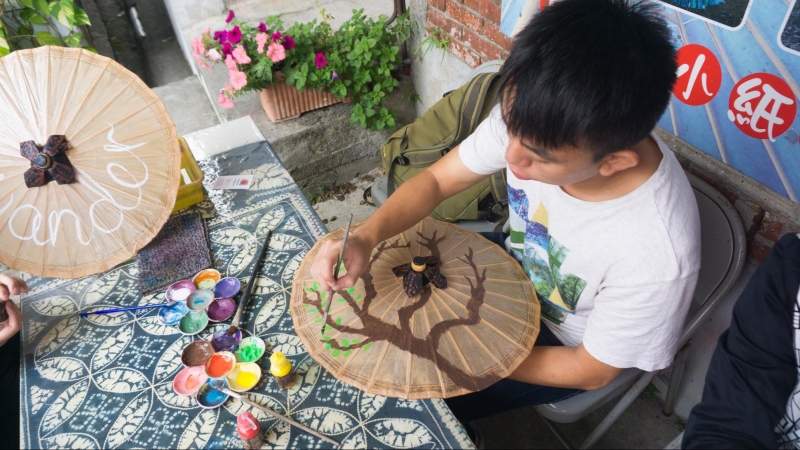 With the Hakka people being the ethnic majority in Taiwan, getting in touch with Hakka culture is no difficult task. And what better way to do that than to decorate the cultural symbol of the Hakka people – the oil paper umbrella! Kuang Chin Sheng Paper Umbrella studio, nestled in Meinong Township, the birthplace of Taiwan's oil-paper umbrella industry, offers visitors an opportunity to purchase and decorate its freshly-made umbrellas.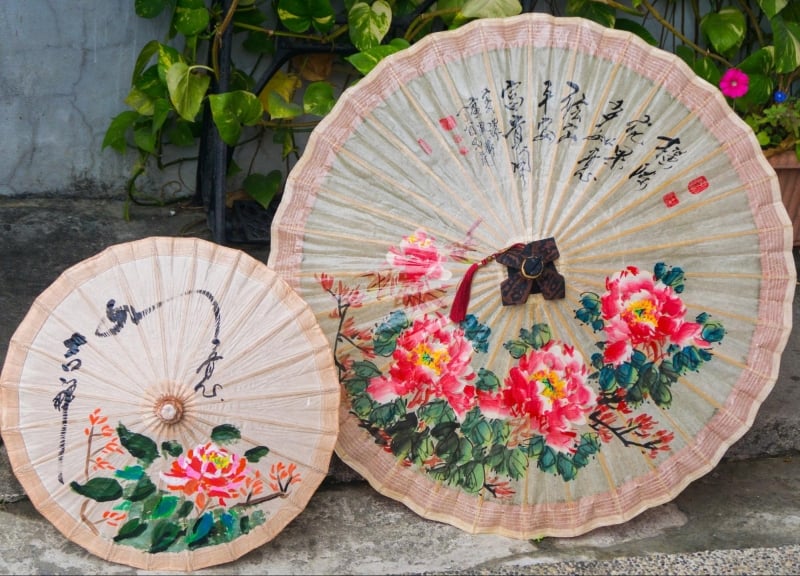 The painting session takes place in the rustic courtyard of the studio, and is largely hands-on, with the studio employees offering occasional painting tips. You can exercise your creative juices and decorate your umbrella however you want, be it in the traditional illustrations of nature, or in more contemporary designs. Once you are done with unleashing your inner artistry, take in the tranquillity that the countryside has to offer as you wait for your designs to dry. Don't forget to bring the umbrella home after that too!
2. Get on a holistic farm tour in Dashu District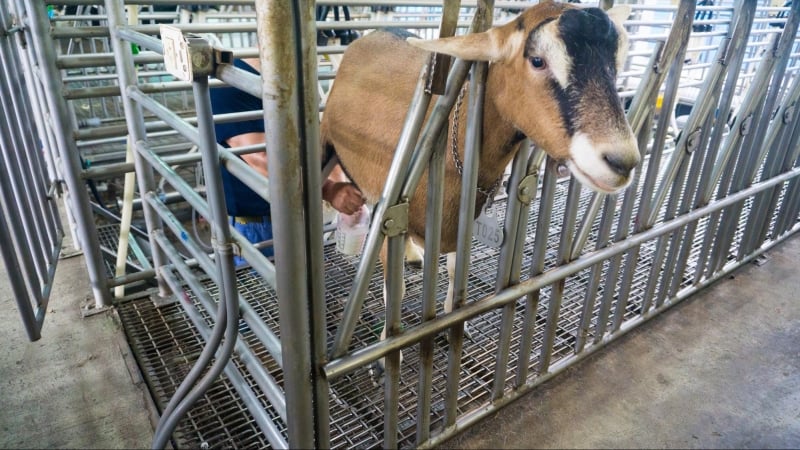 Agriculture has played a major role in the formation of Taiwan's export-drive economy, and still remains of the nation's main industries. You can catch a glimpse of the agriculture scene in Dashu District, famous for its goat farms and pineapple plantations. Start your day at Lin's Pasture, a goat farm which offers you the opportunity to drink milk fresh from the goat! The farm also offers guided tours around its grounds, which comes complete with a complimentary goat milk pudding or ice cream.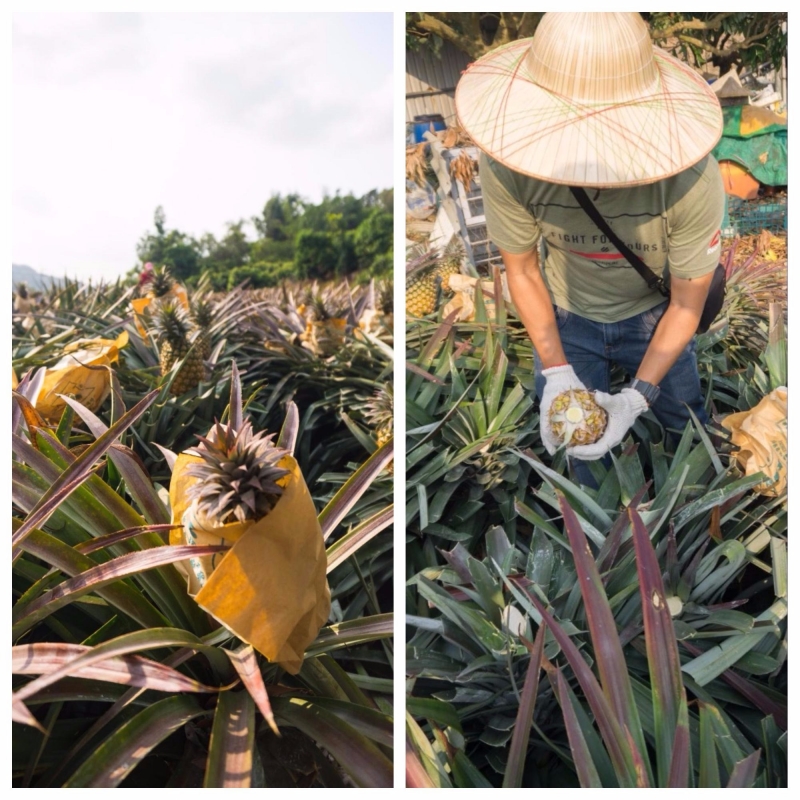 Once you had your fill of feeding goats, head down towards one of the many pineapple plantations in the area. Most plantations in the district are open all year round for visitors to plant or harvest pineapples (depending on the season). While you can harvest the pineapples any time before the annual Dragon Boat Festival (which falls around May or June), pluck the fruits during March for the best results. Do note that visits to these plantations have to be booked beforehand.
Plucking pineapples might be easy, but pickling them might be more of a challenge. Fortunately, the Dashu District also offers lessons in this unique way of preserving pineapples! The pickling session comes with a glass jar and preservatives, as well as a sweet-smelling biodegradable bag made entirely from corn.
3. Make Ang Ku Kueh and brew coffee at Fairy Lake Leisure Farm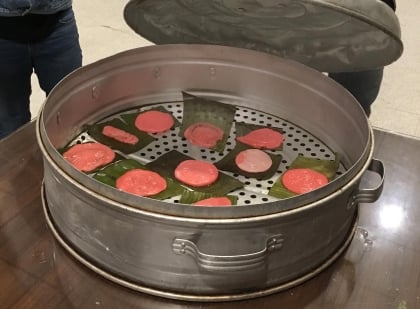 Always wondered how Ang Ku Kueh is made? Or desiring to brew your own blend of coffee? Well, satiate your curiosity with the workshops at Tainan's Fairy Lake Leisure Farm! The farm offers detailed step-by-step instructions as well as hands-on opportunities in making both the traditional Chinese dessert and brewing this morning necessity.
Besides honing your culinary skills with ingredients grown straight from the farm, you get to taste the products of your hard work! The best part, however, is that the workshops are conducted on top of a mountain, giving the lessons an exquisitely rustic touch.
4. Prepare Hakka Pounded Tea at Meinong I-Chan Tea Preparation Shop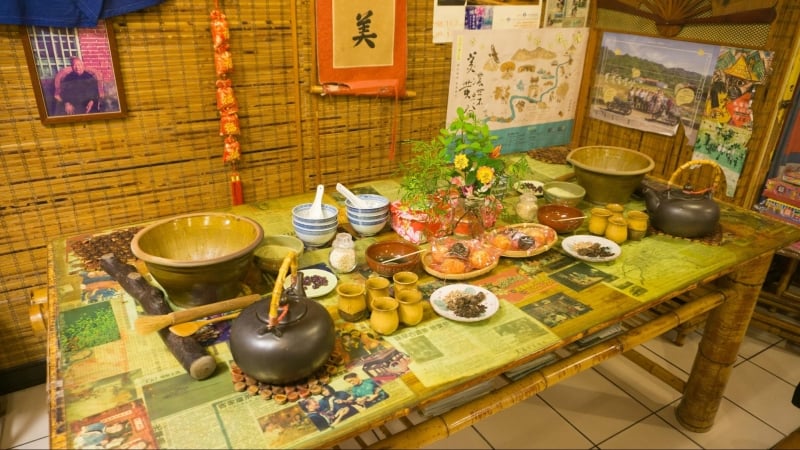 As a traditional Southern Chinese beverage, pounded tea is extremely popular among the Hakka people in Taiwan. Also known as "Lei Cha", this tea is made from tea leaves as well as a blend of pounded herbs and nuts. While you can buy the tea off the shelf, head towards the Meinong I-Chan Tea Preparation Shop in Meinong Township for an opportunity to prepare it the traditional way! With bamboo furniture and tatami furnishings, the shop transports you back to medieval Taiwan as you customise your own Hakka brew. You can even take the immersion a level higher by donning the traditional Chinese costumes that the shop provides for free!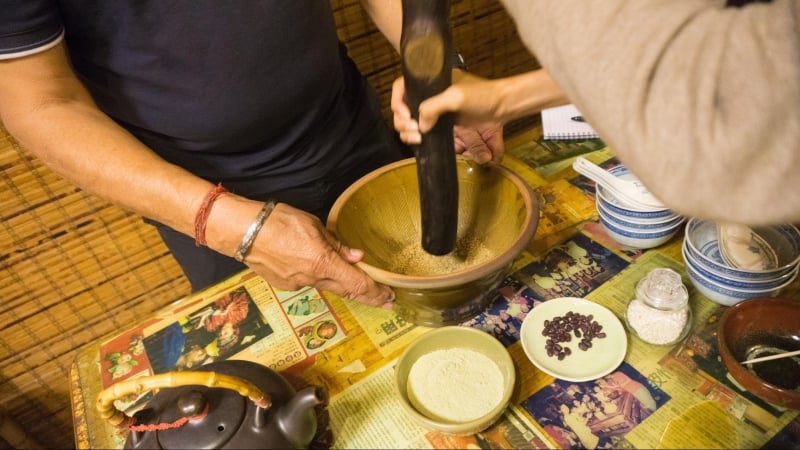 5. Learn to embroider at Illuminate
"Do you even sew?" You might not get that from the usual city folk, but over at Illuminate in Tainan City, not knowing how to thread a needle would certainly draw stares of amusement. This shop specialises in traditional Taiwanese embroidery, and handles orders for company banners and temple decorations alike. The more sophisticated pieces include 3D designs made from cotton and fabric, stitched masterfully together.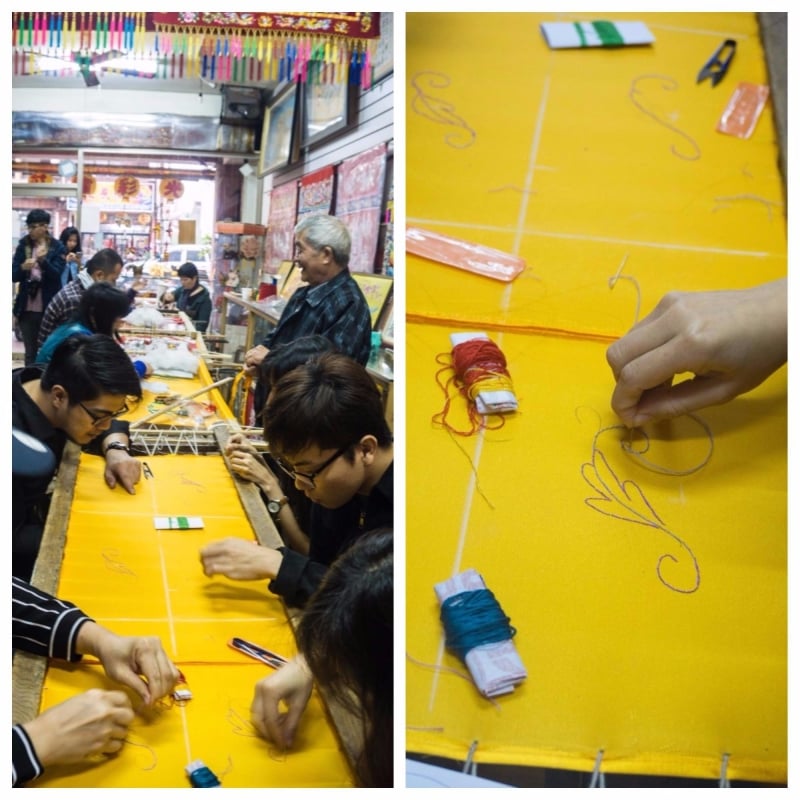 Illuminate also offers workshops for visitors interested in the art of embroidery, which has become popular amongst the Taiwanese youth. You can spend half a day creating patterns under the watchful eye of the shop's ancient owner, who patiently and carefully instructs novices on this classical Taiwanese artform. You even get to keep your piece of decorated fabric at the end of the workshop, which you can proudly display on the mantlepiece back home.
Also read: 4 Days Taiwan Itinerary: Unconventional Things to Do for Your Next Weekend Getaway
Taiwan is definitely more than just food and scenery! The nation's iconic night markets and scenic landscapes bely a rich culture pervading almost every aspect of its society, and with it a vast potential to make your vacation more enriching than the usual "shop and eat" getaway. Fortunately, there are plenty of places to soak in Taiwanese culture! Once you get your first taste of it, you'll definitely be coming back for more.
---
I was only able to immerse myself completely in Taiwanese culture thanks to Scoot, who flew me in their new Boeing 787 Dreamliner. If you desire to head over to Taiwan as well, check out Scoot's numerous seat options, such as the ScootinSilence zone at FlyScoot.com.