In this day and age, we simply cannot wait until we get WiFi to Instagram the latest spectacular view on our travels, or tweet the latest snarky thought to run through our heads. It has to be done now. Pronto. Our followers are waiting. In view of this, getting a SIM card with the best data plan upon reaching a new country is a common quest among travellers. If you're travelling to Singapore and want to know the best data plan for your needs, then you're in the right place.
Which data plan suits you best?
There are three major mobile providers in Singapore: Singtel, Starhub and M1. Picking one among these three is simple – you need to know the data plan that suits you best. If you need talktime on top of data, look under Data + Talktime plans. If you simply need data, look under Data-only plans.
For a summarised comparison of the three mobile providers, scroll down to the info-chart.
Singtel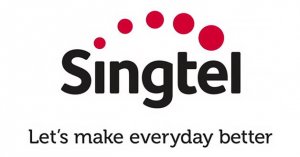 Image credit: Singtel
1. Social Data Plans
Social data plans are app-specific, so whether you are an avid user of Facebook, Whatsapp or Line, these plans will cover you. From $3 a week or $6 a month, social data plans give you the best value for money if your social media world is centered around one application.
2. Normal Data Plans
For those who use their phones nearly 24/7, normal data plans might be better for you. For $25 a week, you get 14GB of data. 14GB! That's the approximate equivalent of uploading 3000 high-resolution photos, streaming 240 hours of music, or loading 14000 webpages. Needless to say, that should satiate even the most ardent of social media users.
3. Data+Talktime Plans
This is for you if you need to make some calls, but of course with this added capability its going to cost you. At $38, you get that value in your card plus a complimentary 1GB worth of data for a week. This is less bang for your buck, but for those who need to a traditional mobile line with data this is your best bet.
Where to Buy: RHB Currency Exchange counters and Changi Recommends counters in Changi Airport
Starhub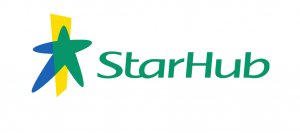 Image credit: Starhub
1. Social Data Plans
Starhub also offers app-specific data plans, namely plans for the popular communication apps LINE and WeChat. With prices as low as $0.40 a day or $6 a month, do consider these plans if you're only going to stop by in Singapore for a short layover. Alternatively, if you're going to be in Singapore for a period of time, plonking down $6 to stay connected for a month is pretty reasonable as well!
2.Normal Data Plans
The MaxMobile Prepaid Internet SIM offered by Starhub costs $18. For that you get internet access for 5 consecutive days, and up to 2GB every day. This offers travelers who are in Singapore for a shorter stay a good option to remain connected on the go. Of course, extensions are possible for those staying for a longer period of time.
Also Read: 24 Hours in Singapore
3. Data+Talktime Plans
Starhub has a appropriately named Happy Tourist Pack which retails at $32. With 120 minutes of local outgoing calls, this comes in handy if you happen to get separated from your travel group. The pack also comes with 1GB of data for the first week, $18 of credit, free incoming calls for a month and an extra 200MB for the rest of the month!  As an additional bonus, you get unlimited usage of Line and WeChat which should help you keep in touch with family and friends back home. Did we mention that the internet connection is on the super-fast 4G network?
Where to Buy: Selected 7-11 and Cheers outlets, UOB counters throughout Changi Airport, Changi Travellers' Booth in T2 and T3
M1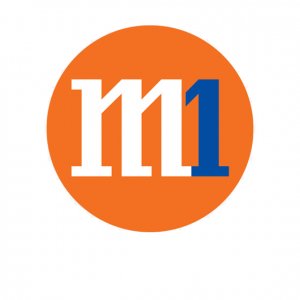 Image credit: M1
M1 offers a $30 Prepaid Travel SIM Card which comes with $15 of credit toward local calls/SMSes and $15 of credit toward global calls/SMSes. This package includes 1GB of data for the period of 7 days. In addition, it is possible for high-usage users to purchase extra data at $7 per gigabyte with a validity period of 7 days.
Where to Buy: M1 Prepaid counter in Changi Airport
Singtel vs. Starhub vs. M1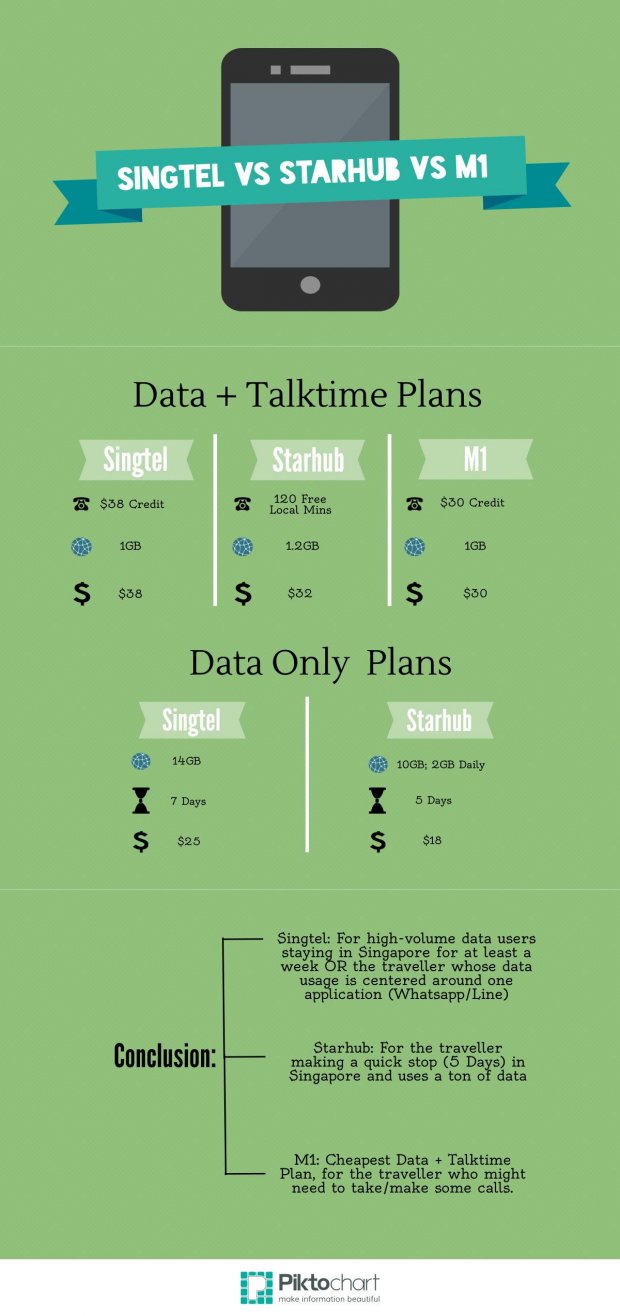 Alternatives to talktime
Why buy a mobile plan with talktime at all? There are many free apps you can download to your mobile device to make free phone calls. This include Facebook Messenger, LINE, Skype, Viber and Tango. Of course, making calls from these apps will consume data, so it's best to be connected to a wifi source to make calls if you're running low on data. Also, most of these applications require both parties (you and the person you're calling) to have it installed in your phones. Before buying your data plan, do consider such alternatives.
Alternatives to Traditional SIM Card: Portable Router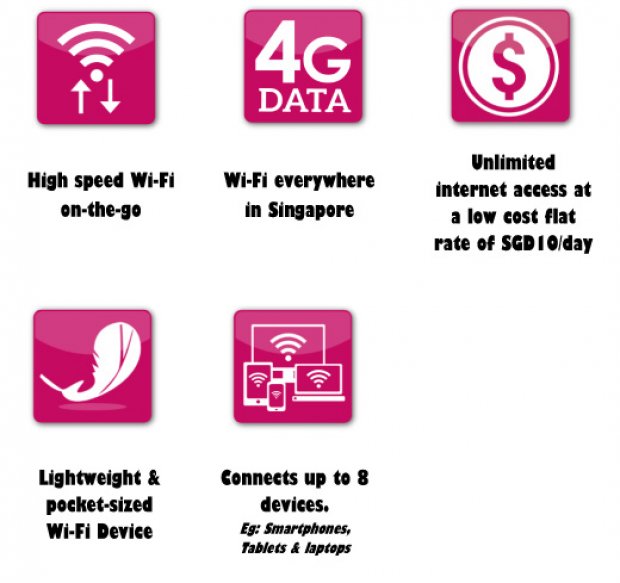 Image credit: Changi Airport
Changi Airport rents out a Wi-Fi Router which allows you to get connected anywhere, anytime in Singapore. Providing unlimited data for $10 a day, this is a great alternative for larger groups with multiple users as it connects up to 8 devices to the internet. Register for rental of the router at least 3 days before the date of your departure, and you can collect the device at any of the Changi Recommends booths in the respective terminals.
Also Read: Best Hostels in Singapore Under $30