Contributed by The Grammar Fuhrerin
Winter is here!
— Or at least that which we call "winter" in the U.A.E. — a brief spell of cool weather, survivable even without 24 hours of air conditioning, and typically running between November to April.
Today also marks my second anniversary in Dubai, so what better way to pre-mark the occasion than by splurging a bit more in one of the city's coolest winter destinations?
The Dubai Miracle Garden, as the name implies, is a 72,000-square metre flower garden that has survived, indeed thrived as if by miracle, in the desert.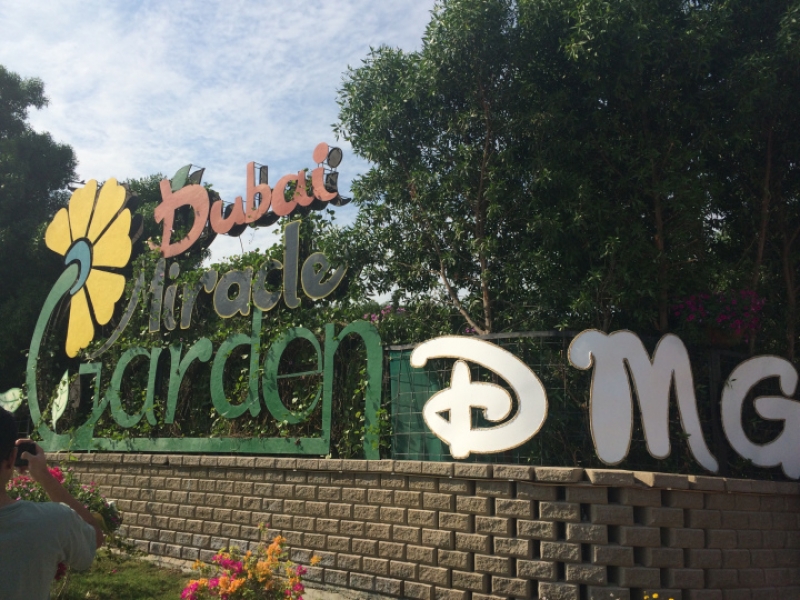 Located in Al Barsha South 3, the cheapest and most convenient way to get there by public transportation is by taking Bus 105 from the Mall of the Emirates.
Unfortunately, Bus 105 will not restart its MoE-Miracle Garden-MoE route until December, whereas my pink backpack and I were all set for the first of our winter adventures this year last Friday.
To save on taxi cost, I took an F30 bus from MoE and asked the driver for the nearest stop to Miracle Garden. He suggested that I get down from Studio City and take a cab the rest of the way. I ended up paying exactly AED 12 which, considering it is the minimum fare, was a decent rate already.
Still, of course, I would advise you to wait until December when Bus 105 operations will have restarted, so that you can spend less on transportation (AED 10 only for the 2-way trip) and more on things that matter, like food and drinks inside.
I paid AED 40 for one adult ticket, and the rest of the afternoon was mine to spend in what could easily be the modern-day Hanging Gardens of Babylon, one of the seven wonders of the ancient world.
Having covered the vast expanse in 4 hours' time (including lunch and coffee), I've compiled a list of the 15 must-see peculiarities in Dubai Miracle Garden.
15. A Giant 3D Popcorn Stand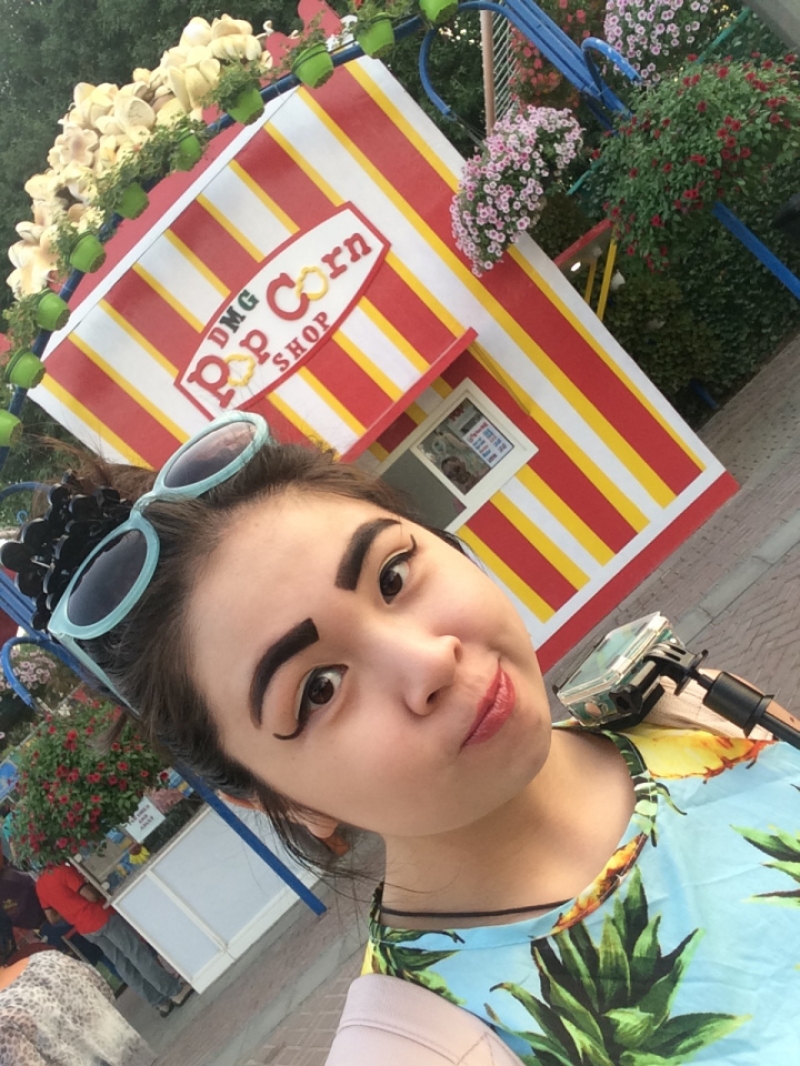 Who doesn't love popcorn?
The taste, texture, heck even the scent alone brings to mind countless happy memories at parks, carnivals, and the movies.
Even if you aren't in the mood for some freshly popped buttery goodness, there are a lot of dining options inside the Garden, so there's really no need to pack a picnic basket.
Food and beverages may be a little more expensive (for example a bottle of water starts at AED 5), but hey, it's worth keeping your bag light while you go exploring.
14. Turtle Beetle Manias (Literally)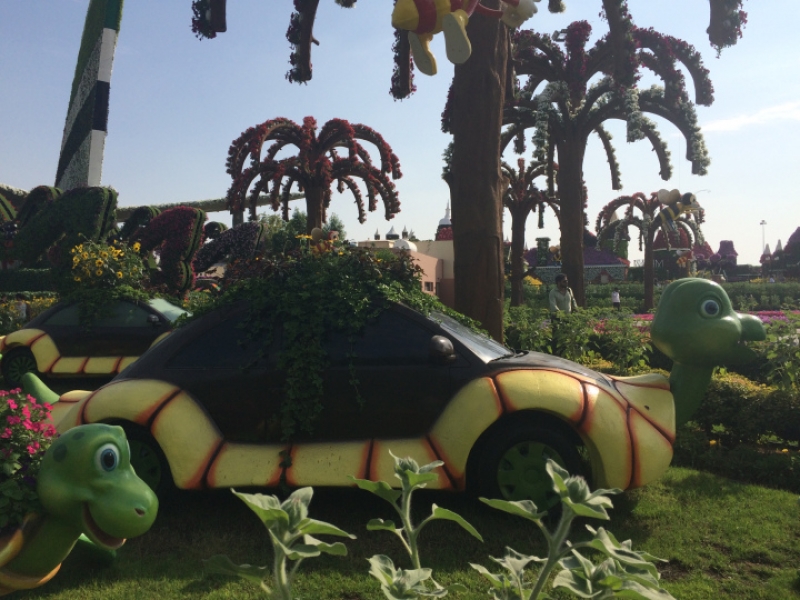 I highly suspect these were the products of ingenious Filipino designers and gardeners recalling their childhood games of "Pagong (turtle) pass."
Then again, I remember Adam smacking my head in Egypt when we passed by a huffing-and-puffing Volkswagen, so maybe "Pagong pass" is a universal game after all?
Talk about freaky hybrids.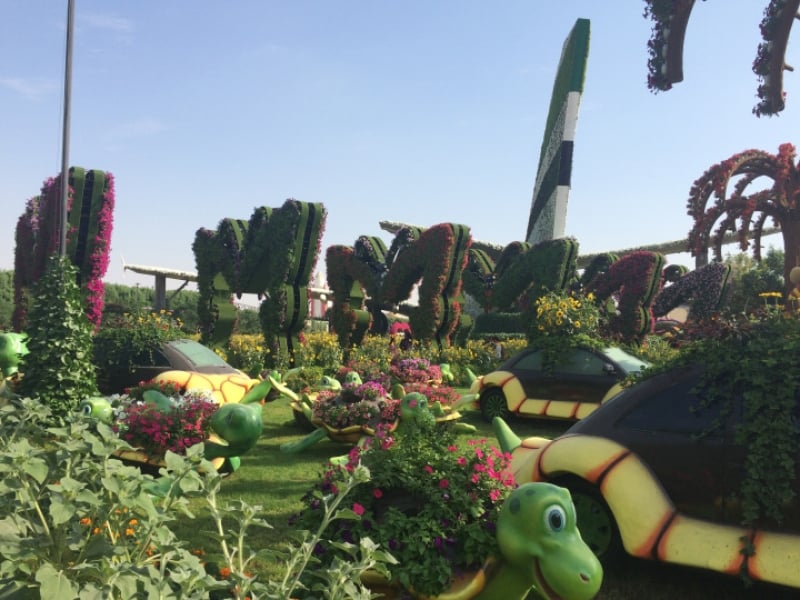 13. Umbrella Tunnels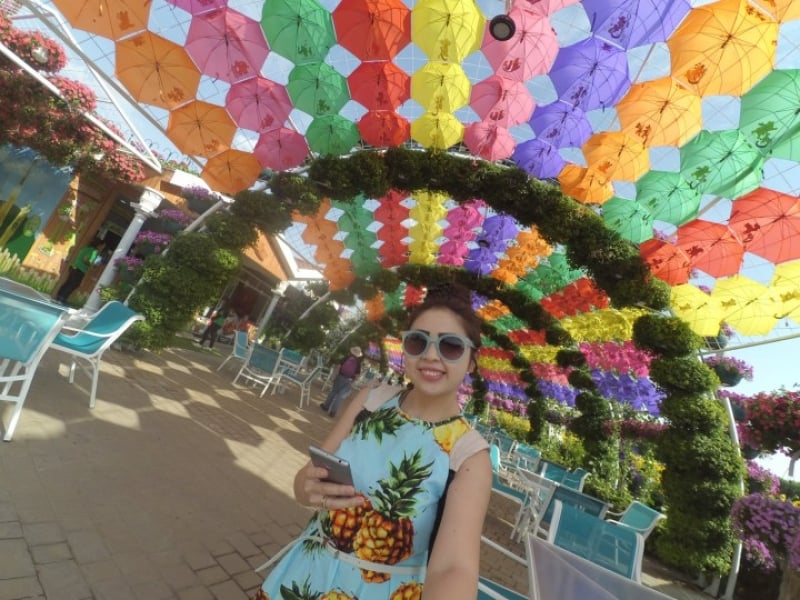 There are quite a number of them spread out to provide a cheerful shaded place to eat al fresco.
I enjoyed a Hardee's Mushroom Superstar meal for lunch in one of the umbrella tunnels but got up soon after as there was no peace from people taking photos.
Don't get me wrong; it was nice being surrounded by so many happy people, so it was my mistake for trying to read an Orwell novel in the first place.
12. Picture-Perfect Arches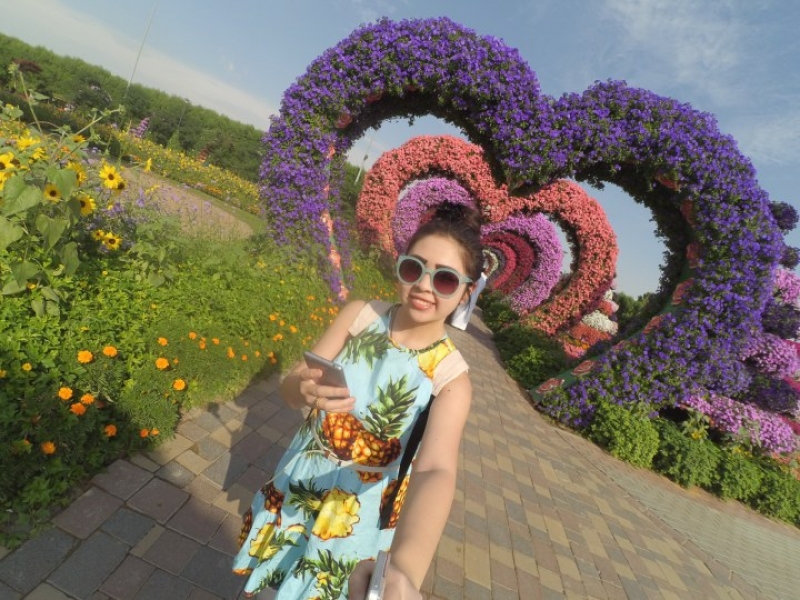 As one of the few solo travellers there, I was an easy target for families to take their photos.
While busy connecting my phone and action cam to take a selfie, I was approached by one such family — a mom and dad and two adorable young kids — and I was more than happy to oblige.
They stood in front of a purple flower-shaped arch, while I shooed passersby to snap three picture-perfect shots of them.
When I returned their phone, they thanked me and even complimented my pineapple dress before they left.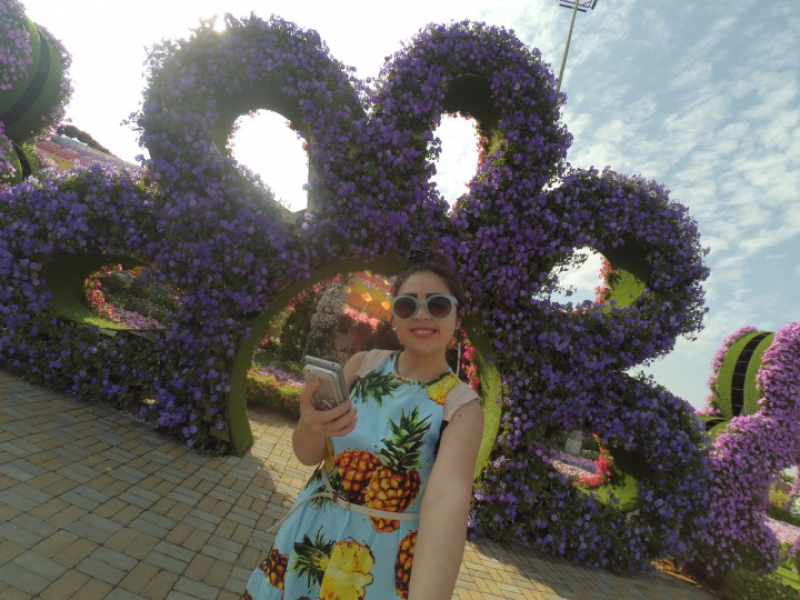 I also took several photos under the flower-, heart-, and butterfly-shaped arches, but they didn't come out as happy as the family's.
11. Frog Prince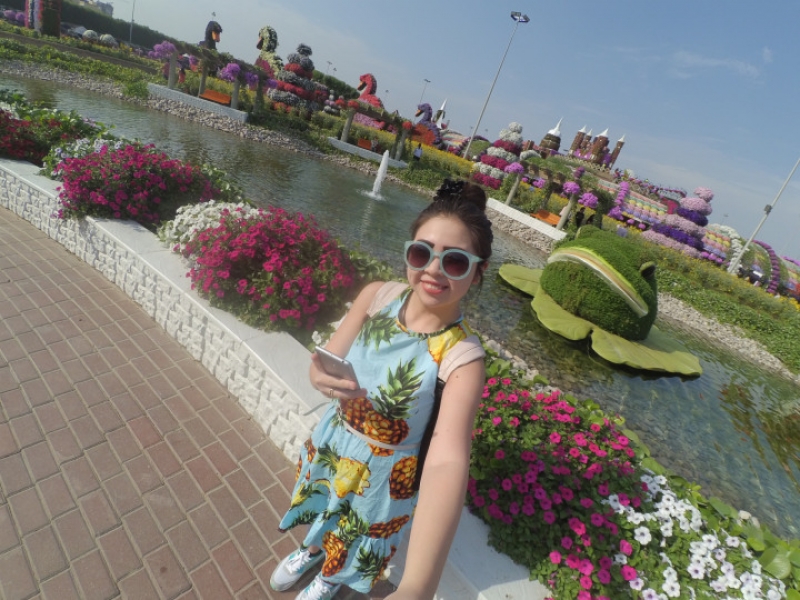 From a certain angle, I'm sure I could have achieved a kiss-the-frog shot, but why bother turning him into a prince when he was perfectly cute like that already?
10. Barbie Gazebos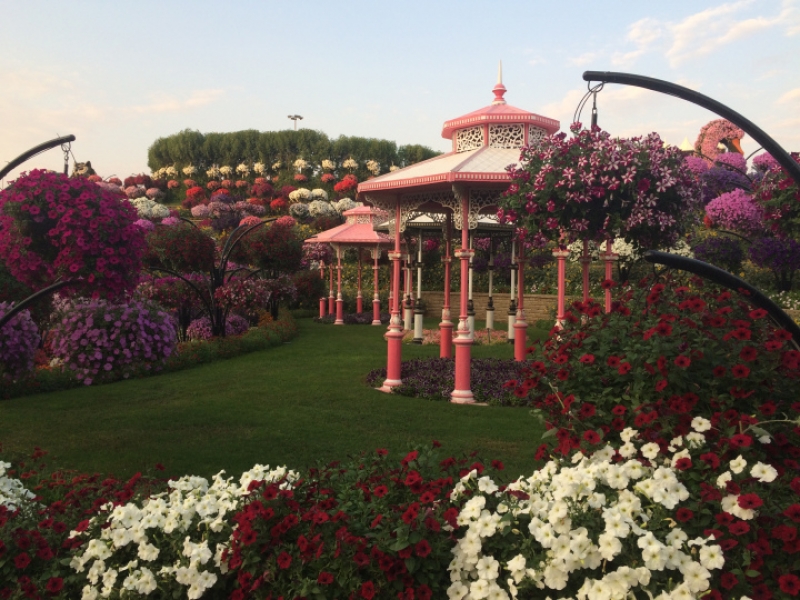 The only bad thing about them was that you weren't allowed to go near them, much less do a princess twirl under them, but they were still very whimsical-looking from a distance.
9. Rapunzel Tower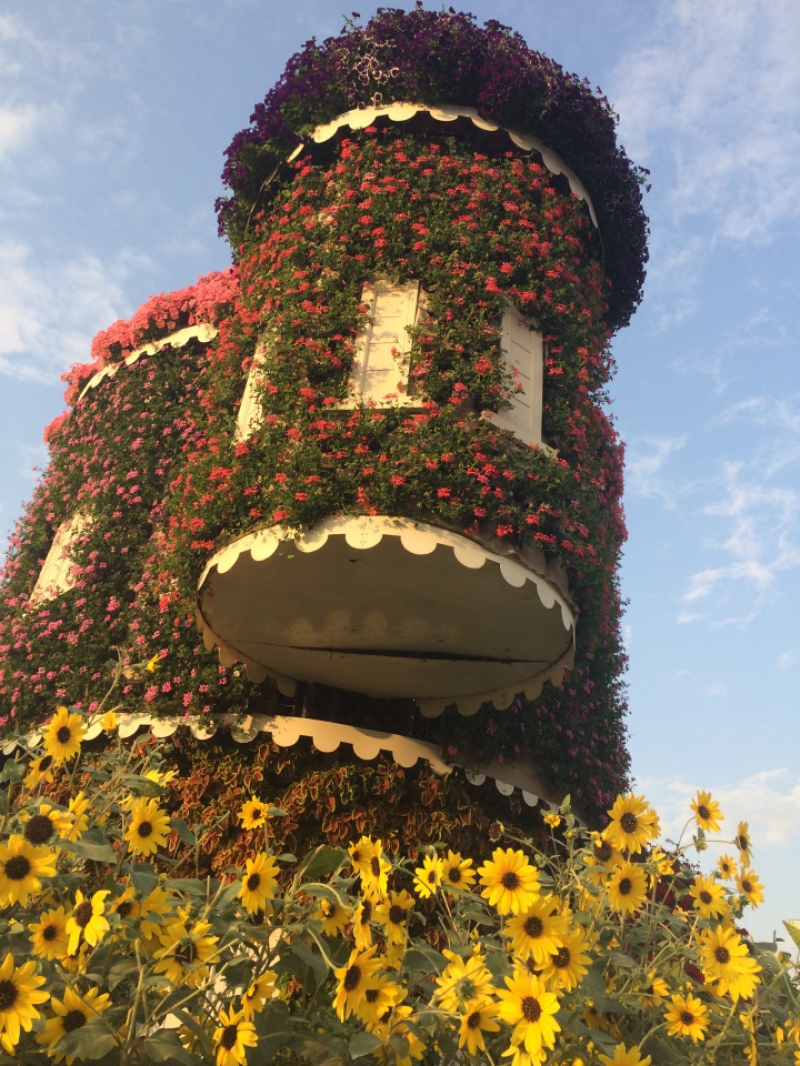 "Rapunzel, Rapunzel, let down your hair…"
Ooorrr "Romeo, Romeo, wherefore art thou, Romeo?"
8. The Onion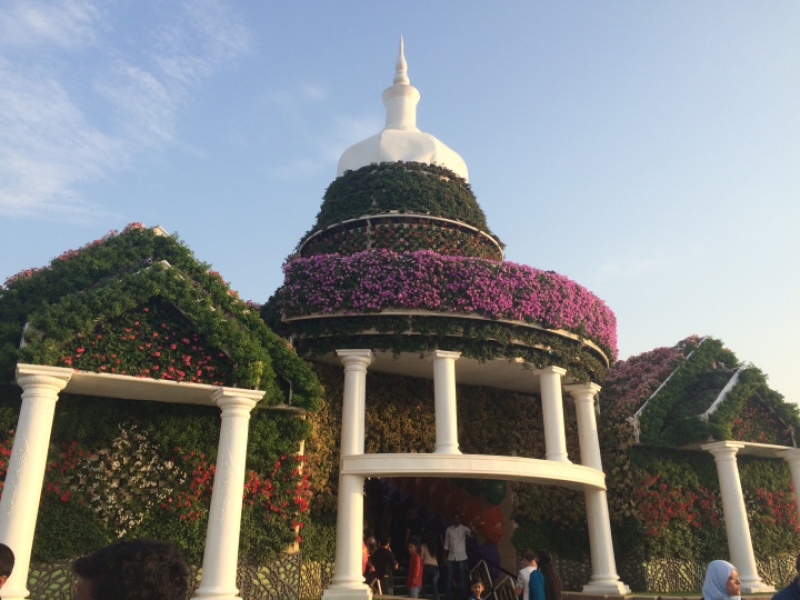 The Onion is hard to miss as it is perched on top of an artificial hill which you could easily climb with a few steps. The semi-dome structure lined with Roman-style columns makes for an odd architectural fusion. It is also one of the few floral structures you can actually explore from the "inside," as it has a staircase leading up to the topmost view deck.
7. The Teddy Bear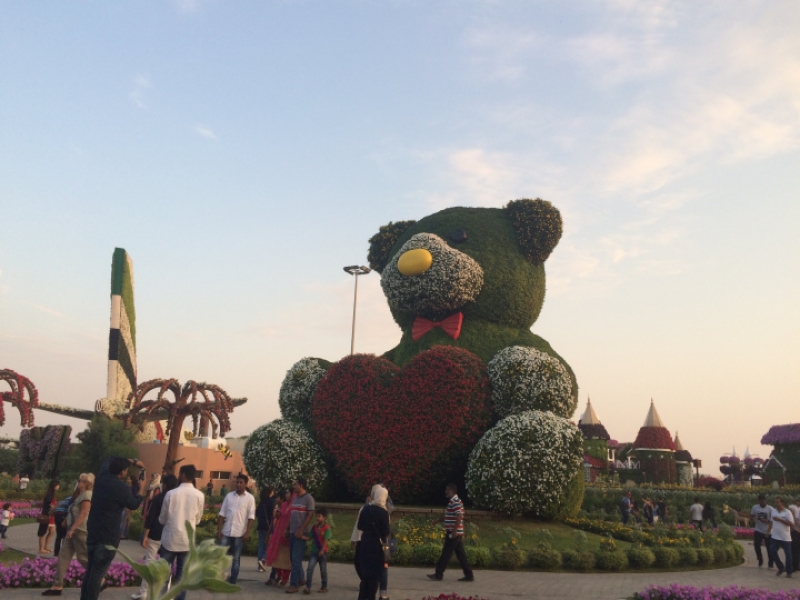 Dubai Miracle Garden first debuted on Valentine's Day 2013, so it's no surprise that even after four years of switching themes, it still retains a lot of cheesy Valentine's elements like this giant teddy bear. It's a favourite for lovers and families alike. You can forget about snuggling it though, as touching the flowers is strictly forbidden.
6. Fairy Pompoms
They don't give out maps there, so the only way to see the whole Garden is by walking.
A lot.
That said, don't be like that woman I saw in a tight-fitting, off-shoulder red dress, balancing precariously in stilettos.
Following a word of advice from a friend who suffered a four-week foot allergy after her first visit, I chose sneakers over sandals just to play it safe.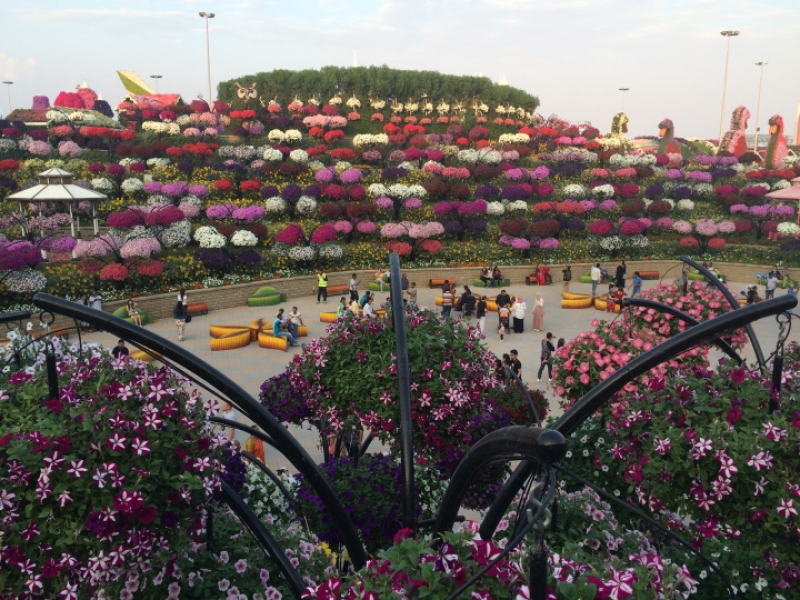 One of the last areas I "discovered" was a low-level plaza complete with petal-shaped benches and surrounded by pink and purple hanging bouquets — just like fairy pompoms.
5. Te Fiti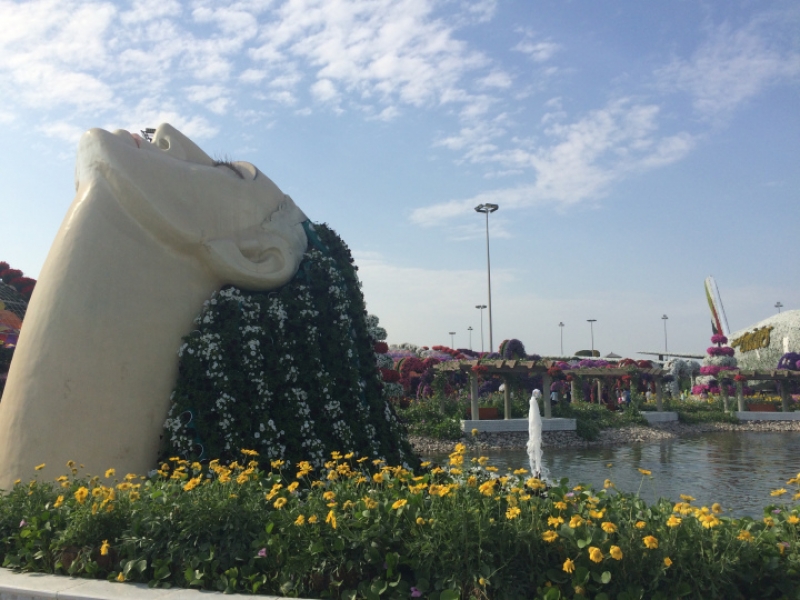 Te Fiti is the Polynesian goddess of life in Disney's "Moana," and the lady by the lake had serious Te Fiti vibes with her flowing green locks stringed with flowers.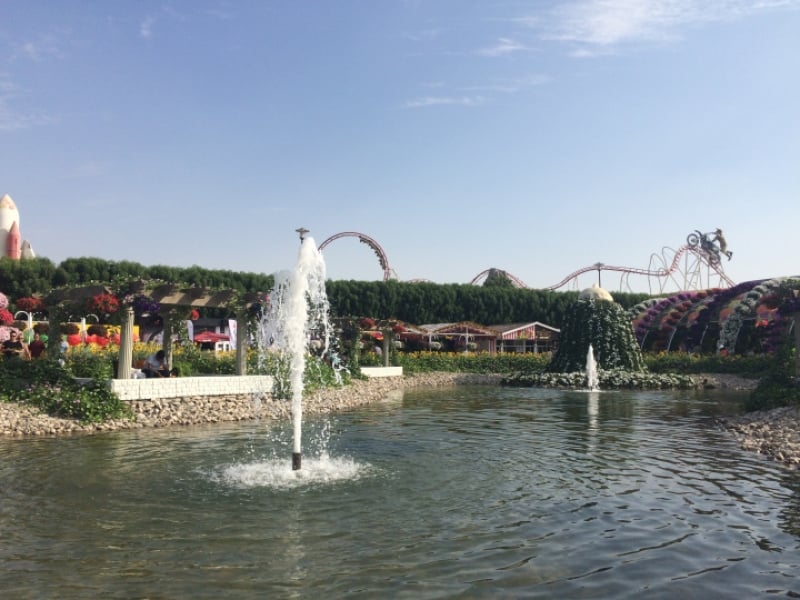 Keep an eye out for her, as she is quite the deceptive beauty. From a different angle, she can hardly even be recognised.
4. Castle of Flowers (And Ice Cream)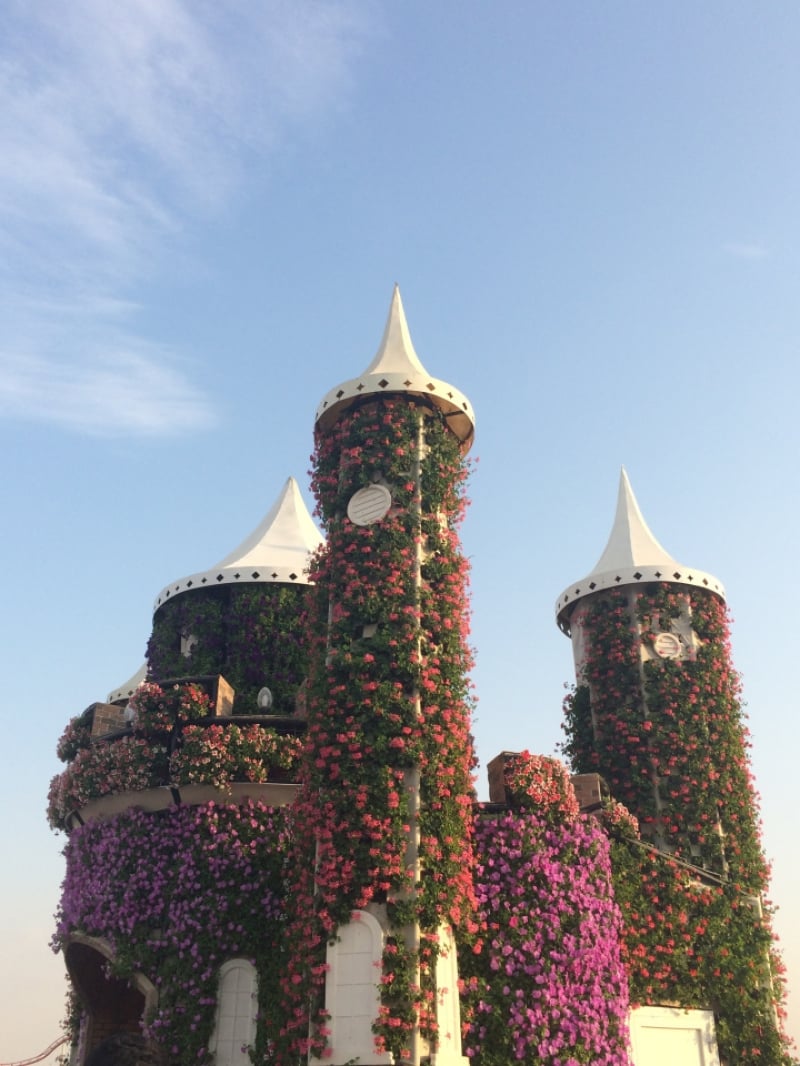 Standing on the topmost view deck is the castle of flowers — and ice cream? Yup, the castle on the hill is actually an ice cream parlour, so you can enjoy a panoramic view of the Garden with a sugar cone or two.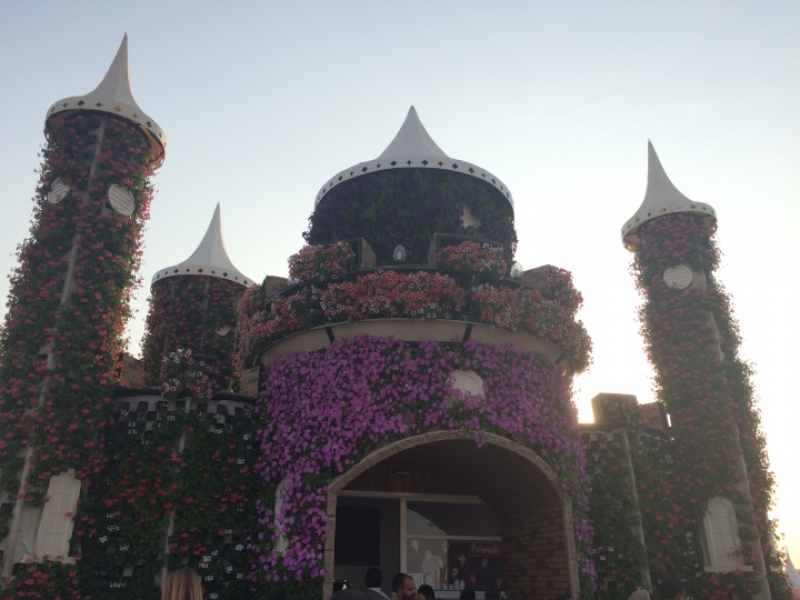 I already had my hands full with my phones and selfie stick, so I skipped the frozen treat and went ahead snapping more photos.
It pays to climb the few steps up, because you not only get the best view, but you also get the chance to map out the areas you want to visit next.
3. Flower Clock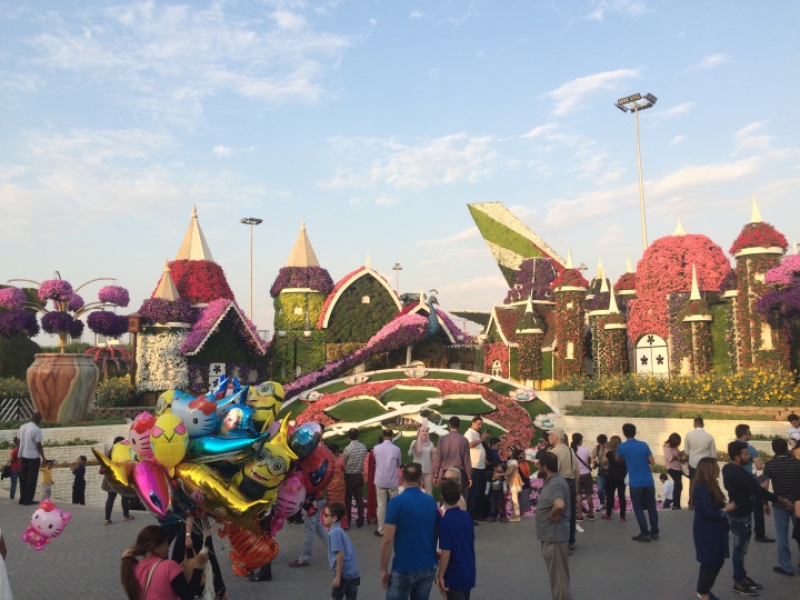 My favourite display of them all is the flower clock, because if I ever stumbled and fell inside a fairy tale book, it would probably be the first thing I'd see before fairy tale creatures start singing "It's a Small World" out of those quaint little cottages at the back.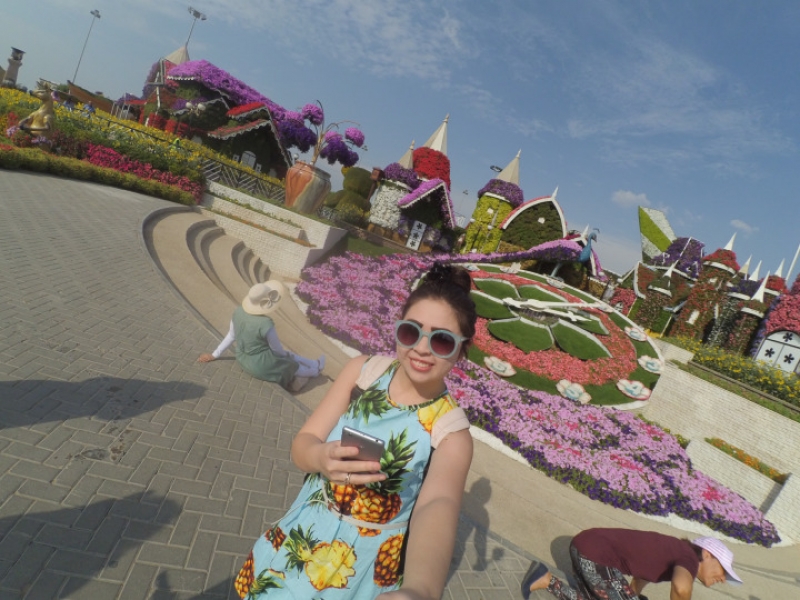 2. Emirates Air Bus A380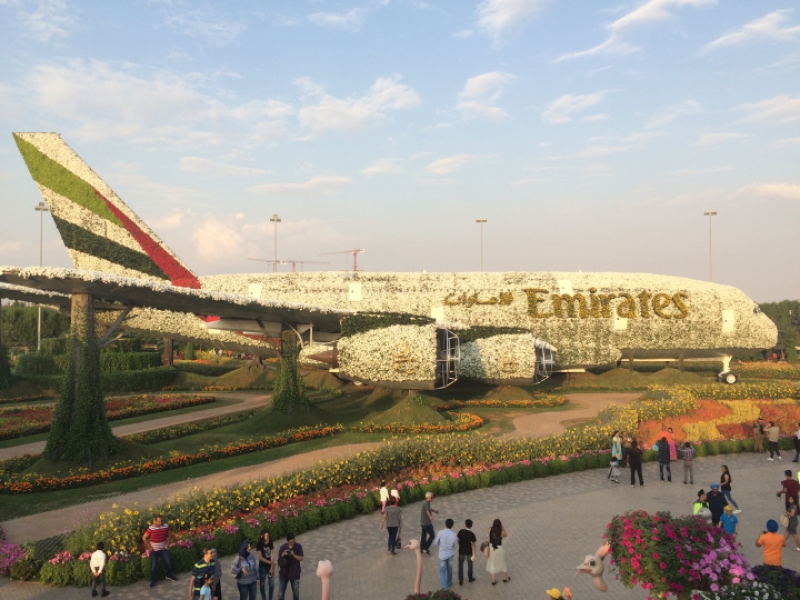 The Garden's very own Emirates Air Bus A380 first landed last year before quickly taking off to win the Guinness World Record for the largest floral installation. Not bad for a maiden voyage.
To get the perfect selfie with the A380, you need to climb up to the view deck.
But to inspect and better appreciate the tiny details (like its "functional" propellers), you only need to be on ground level.
1. A Celebrity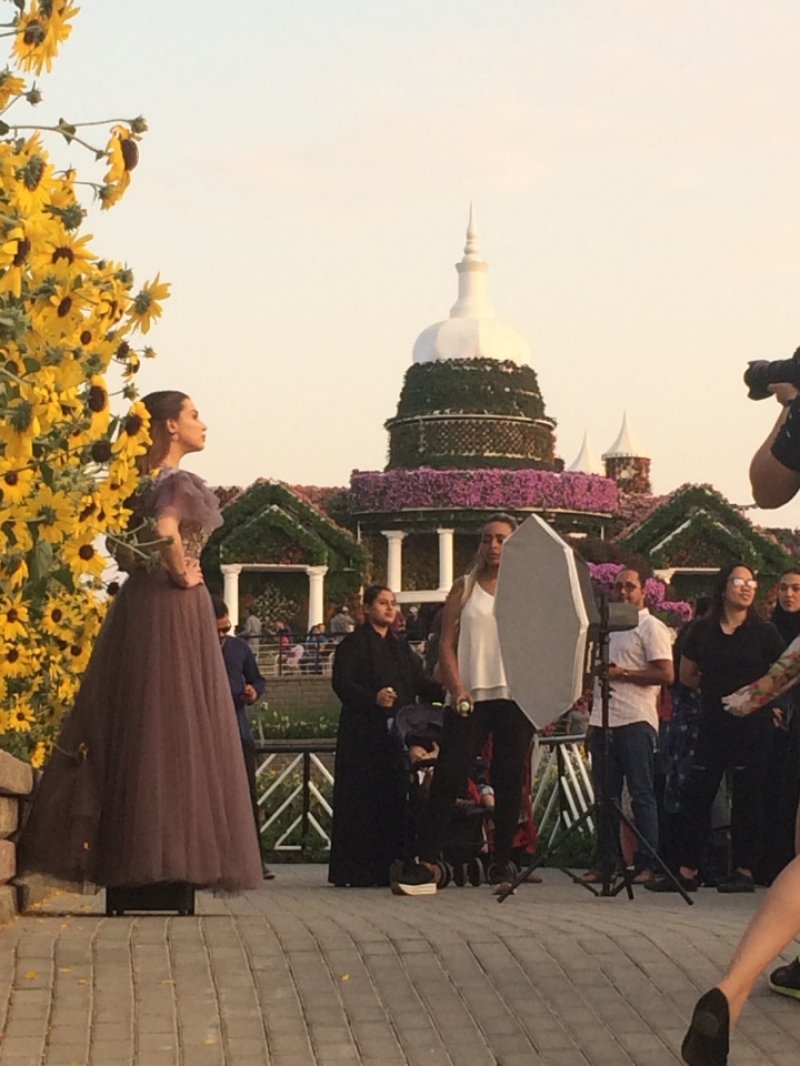 Dubai Miracle Garden attracts millions of visitors each year, so chances are, you're going to run into at least one celebrity on the premises.
Last Friday, I spotted a statuesque model doing a Cinderella-themed photoshoot. The photographers and the rest of the entourage very politely asked the small crowd forming (myself included) to excuse them for a minute more.
I noticed two elderly ladies bubbling with excitement, and even though I don't speak Arabic, I have a knack for understanding it.
"Is that (celebrity's name)?"
"Yes, that's her," a member of the entourage answered with a smile. "Please wait until the end of the shoot for a chance to take a photo with her."
I decided to take photos of her anyway and showed them to Adam who later confirmed that she is the famous Egyptian actress, Mai Ezz Eldin.