With COVID-19 tests no longer a requirement to travel to South Korea, many of us are now planning our holiday to the Land of the Morning Calm. Besides, with the cooler seasons underway in South Korea, you can look forward to stunning sights at every corner and street food to warm you up in the 10°C weather. To get you started, here's a 10D9N itinerary to see the best of South Korea this holiday season. 
Call DBS your travel partner in this new era of revenge travel! From now till 31 Mar 2023, get 5% cash rebates on your overseas offline Shop and Dine spend, more than enough to offset all your FX fees and still enjoy bonus cash rebates!
Cash rebates are capped at S$15 per calendar month.

Minimum qualified card spend of S$1,500 is required per calendar month.

Applicable to POSB Everyday and DBS Woman's Cardmembers. Terms and conditions apply.
Or, don't have a DBS or POSB Card yet? Apply now here and get S$150 cashback!
Incheon
Day 1: Wolmido -> Chinatown Incheon -> Incheon Art Platform -> Sinpo-ro
Upon landing at Incheon International Airport, many people might immediately cross the Han River to Seoul. However, before making your way to the capital city, spend two days exploring the quiet and stunning beauty of Incheon. 
Your South Korea itinerary will start at the vibrant yet quaint Wolmido island. Walk along Wolmido Culture Street, a boardwalk strip of shops overlooking the sea. Then, snap a photo of the scene that looks straight out of a postcard. Have your first meal in South Korea at the many seafood restaurants available here, then experience a fun day out as a local with a few hours at Wolmi Theme Park. 
Also read: 15 South Korea Theme Parks & Amusement Parks Worth Visiting
Ready to eat again? Head to the nearby Chinatown Incheon, a bustling cultural district where many delicious Chinese-owned restaurants lie. Try jajangmyeon, then visit the Jajangmyeon Museum to learn about the origin of this Chinese noodle dish.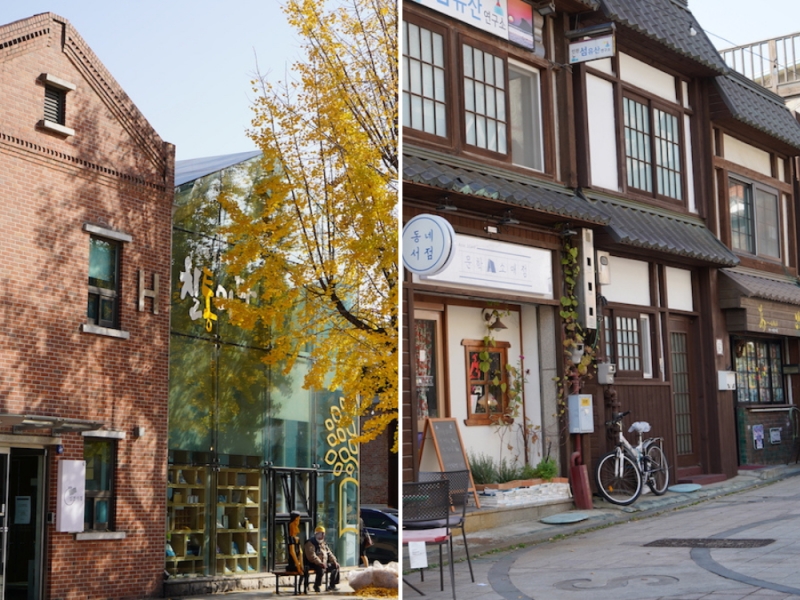 Take a five-minute walk to Incheon Art Platform, a revitalised historical area where you'll find many public galleries and outdoor art installations. However, the charm of this place doesn't lie in the exhibits. Instead, hop on a buggy and explore the breathtaking and quiet Sinpo-ro neighbourhood. Every corner has cafes and shops designed with Japanese-influenced architecture and cyclists riding close to the sidewalk — surely, a pleasant way to end your first day in Incheon. 
Day 2: Incheon Grand Park -> Songo Central Park -> Solchan Park
Continue discovering what makes the year-end in South Korea so remarkable at Incheon Grand Park. This zoo and botanical garden in one has plenty of lakes, open areas for picnics, campsites, and sculptures. It goes without saying: Regardless of which path you take, every angle is a worthy sight for the 'gram. 
Before you make your way to the next location on your South Korea itinerary, stop for lunch at a restaurant in the modern residential area of Yeonsu-gu. Then, spend your afternoon walking around Songdo Central Park. Modelled after New York City's Central Park, this park has made its way to the list of must-visit attractions in Incheon. And, it's easy to see why: You can explore on foot, by renting a bicycle, or the best way — on a boat ride down the river coursing through the entire park. Plus, if you need a perk me up, the cafes at Songdo Hanok Village will have you more than covered. 
Come dinner time, remember to dine with your POSB Everyday Card to enjoy 8% cash rebates! That's made up of 5% cash rebates on overseas dine + 3% cash rebates on dining spend with the card. Get a dinner order delivered to you at the riverside Solchan Park, and watch the sunset as you munch on delicious grub. 
Seoul
Day 3: Arrival in Seoul -> Changdeokgung -> Gyeongbokgung -> Myeongdong -> Deoksugung
On day three of your South Korea itinerary, make your way across the Han River to Seoul for a time of cultural sites and sights. 
Start with a peaceful morning at Changdeokgung, a Joseon Dynasty palace with a sprawling Secret Garden. Not as crowded as other palaces in the city, Changdeokgung is said to offer a more personal and intimate look into South Korea's history and culture. 
Be that as it may, one must brave the crowds in order to appreciate the majesty of Gyeongbokgung Palace. When you're at this 14th-century royal palace, be sure to do the following: watch the Royal Guard Changing Ceremony, have a hanbok photoshoot, join a free guided tour, and visit the National Palace Museum of Korea. 
Then, hop on a train to Shinsegae Duty Free in Myeongdong, one of the many duty free chains in South Korea. Retail merchandise spans a whopping 14 storeys, with six of these floors dedicated to duty free shopping. In between your retail therapy, proceed to the massive food hall in the basement to fill your tummy. 
Enjoy retail therapy in the heart of Seoul at Myeongdong's Shinsegae Duty Free. Mastercard cardholders enjoy the following at the Myeongdong store and Incheon airport stores:
10% discount vouchers

Complimentary Gold membership for Platinum Mastercard cardholders and above
Perhaps the only royal palace in Seoul that opens at night, Deoksugung also lies in the heart of the city. The palace thrives with one of the most spectacular autumn foliages in South Korea. Marvel at the traditional structures lit up at night while locals enjoy a relaxing evening outside — you'll feel as if you've stepped into a fairytale. 
Day 4: Namsan Park -> Shilla Duty Free Seoul -> Ikseondong
With so much activity the day before, it's time to take it easy. First off, among all the things to do in Seoul, making your way up Namsan Mountain Park is one of the most popular. You can opt for the sweat-free way up via Namsan Cable Car, where you'll get a breathtaking panorama of the city. Near the peak, you'll see people walking up via Namsan Dule-gil, a hiking trail that follows the same route as the cable car. 
Once you're at the peak of Namsan, scale to even greater heights by going to the top of N Seoul Tower, one of the tallest towers in the city. Have lunch at the revolving restaurant, then spend the rest of your early afternoon snapping pictures of the Love Lock, Palgakjeong Pavilion, and vantage points spread throughout Namsan Peak. 
Head back down to Namsan, and hop on a public bus to Shilla Duty Free Seoul. Browse through more than 550 brands, including luxury brands such as Louis Vuitton, Chanel, and Hermes; and K-COS brands such as WHOO and SULWAHSOO. Plus, you can rest with a cup of tea at the rooftop garden overlooking the city centre. 
Shop through a wide range of beauty and skincare brands at Shilla Duty Free Seoul and enjoy massive savings today!
₩5,000 discount coupons with minimum US$60 spend
₩15,000 discount coupons with minimum US$100 spend
₩30,000 discount coupons with minimum US$200 spend
₩45,000 discount coupons with minimum US$300 spend
₩75,000 discount coupons with minimum US$500 spend
₩150,000 discount coupons with minimum US$1,000 spend
Looking for a dinner spot? At Ikseondong Hanok Village, a 10-minute train ride away from Shilla Duty Free Seoul, you'll find a labyrinth of hanok cafes and restaurants to choose from. Craving Italian, Mexican, or a Korean BBQ feast? This trendy yet traditional shopping district has you more than covered.
Don't forget to use your DBS Woman's Card or your POSB Everyday Card to enjoy up to 8% cash rebates to go with your delicious meal! 
Day 5: Haneul Park -> Yeonnam-dong -> Hongdae -> Yeouido Hangang Park -> voco Seoul Gangnam
If your idea of the perfect South Korea autumn consists of grass fields, park trails, and sweeping vistas, then no place captures this beauty as well as Haneul Park. Come early before the crowd, and either ride a buggy or take a morning hike up to the top. Stroll through mazes of 90cm-tall muhly grass fields swaying in the gentle breeze, and make use of photo ops under clear skies. 
Have lunch at Yeonnam-dong, an up-and-coming area with a buzzing dining scene that's just a 30-minute bus ride away. Select from Asian and European restaurants, or look for a cafe along the many mural alleyways here. Then, fulfil all your retail therapy needs at Hongdae Street, one of the most popular shopping districts in Seoul. 
Spend the last moments of daylight at Yeouido Hangang Park, a riverside park with views of the city centre across the Han River. Pack a picnic for a pre-dinner al fresco grub, and hop on a river cruise, rent a bicycle, or walk down the many paths here. 
Come dinnertime, stay on to feast at Seoul Bamdokkaebi Night Market, where food trucks gather from 6pm to 11pm every Friday to Sunday. Alternatively, head to voco Seoul Gangnam for a dinner you'll remember.  
Day 6: Insadong -> Gwangjang Market -> Ihwa Mural Village -> Seoul City Wall Trail -> Dongdaemun Design Plaza
On your last day in Seoul, enjoy breakfast at a cafe in Insadong. Then, spend a few hours walking along the streets; you'll quickly see what makes this spot a local favourite hangout. 
For lunch, go the traditional route by buying local street food from vendors at Gwangjang Market. A go-to for many tourists, this marketplace houses everything to satisfy your Korean street food cravings: tteokbokki, kimbap, yukhoe, mung bean pancake, bibimbap, and so much more. 
Besides, you can continue browsing through more street food, souvenirs, and clothing items at Bangsan Market and Pyounghwa Market — located just a few steps away from Gwangjang Market. 
The rest of your afternoon will be spent filling up your photo gallery. At Ihwa Mural Village, walk through a network of alleys lined with colourful murals, mosaic staircases, and sculptures. Not to mention, just like every bustling area in Seoul, you'll find a fair selection of cafes here to keep you going the rest of the day. 
By day six, you would've seen quite a bit of what Seoul has to offer. So, why not get a new perspective of the city — from a 14th-century hilltop trail? On your way up Seoul City Wall Trail, you'll see people out for all sorts of things: exercising, a family or group of friends hanging out, and photographers. The incline may be steep, but rest assured that the views at the magnificent Naksan Park will be well worth it.
On your way back down to your last dinner in Seoul, be sure to walk past Dongdaemun Design Plaza to gaze at this architectural masterpiece. If you're here on the right day, you might even see a night market set up nearby! 
Jeju
Day 7: Arrival in Jeju -> Shilla Duty Free Jeju -> Seafood lunch -> Seongsan Ilchulbong
Anyone in South Korea for more than a week will agree that a trip to Jeju is a must-do. Commonly referred to as "The Hawaii of South Korea", Jeju is a paradisiacal island in the south with everything a nature lover yearns for: mountains, caves, waterfalls, and beaches. 
Wake up bright and early the next morning for your flight to Jeju. Once you've landed, go for a seafood lunch feast near the airport. Our tip? Choose an affordable and well-rated place on KakaoTalk, South Korea's very own version of Google Reviews. 
Following your energy spike, it's time to conquer one of the most remarkable natural attractions in South Korea: Seongsan Ilchulbong. This volcanic cone is a popular hiking route not only for dawn treks. Many even come here to watch the sunset; the hike takes less than an hour, and the trail leading to the top is lit up. 
Day 8: 9.81 Park -> Arte Museum Jeju -> Gwakji Beach
Many first-timers to Jeju might not know this, but the island actually boasts a number of unique museums! These range from the not-so-family-friendly and quirky sort, to technologically innovative museums that only opened up within the past two years.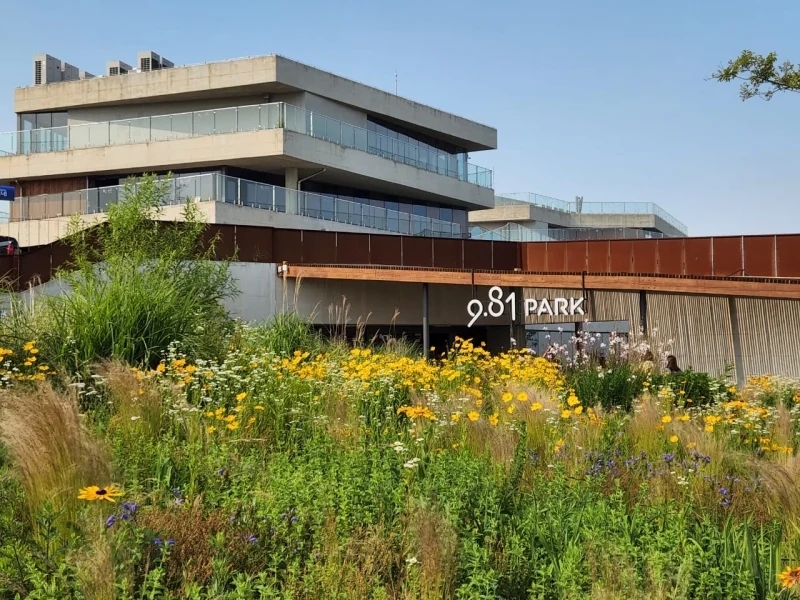 Start your first full day in Jeju at 9.81 Park, an integrated smart playpark with an array of indoor and outdoor attractions. However, perhaps the most exciting installation here is the Gravity Racing Track, a typical go-kart — without an accelerator! We'll leave the description at that so that you can experience it on your own.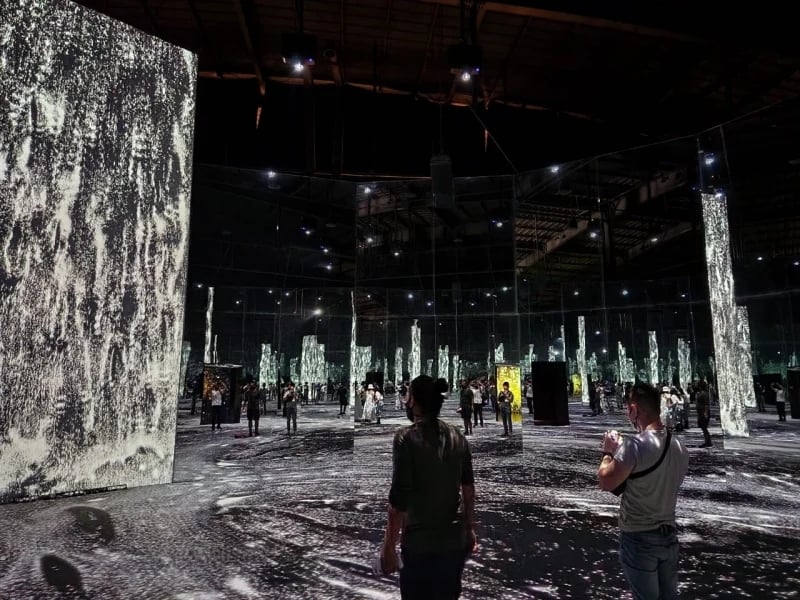 After a delicious lunch, head to the nearby Arte Museum Jeju. You'll be happy to spend the rest of your day here, thanks to the immersive media art exhibitions at literally every corner. Some of these installations are even "hidden" and require a keen observer to uncover the entire piece. Not sure what we mean? Find out on your next trip to Jeju! 
End your day with a sunset stroll at Gwakji Beach, located a 30-minute bus ride away from Arte Museum Jeju. Popular for water sports and family day outs, this beach is situated near a number of cafes and restaurants for dinner. 
Foot the bill with your DBS Woman's Card or your POSB Everyday Card for up to 8% cash rebate on your meal in Jeju! 
Day 9: Mount Hallasan
A trip to Jeju (or South Korea, for that matter) wouldn't be complete without attempting to climb the tallest mountain in the country: Mount Hallasan. That is why, on your South Korea itinerary, it's best to dedicate an entire day for this (you'll need the rest of the afternoon and evening to rest). 
Unlike most mountain climbs, Mount Hallasan isn't known for its sunrise views; that is, when hiking will begin in the middle of the night. Instead, start your climb up at about 7am (in the autumn), and expect to take six to eight hours for a round trip. We'll leave you with a few tips: arrive at the base of Hallasan before 8am, and remember to pack enough food, water, and bug spray. 
Day 10: Seogwipo Forest of Healing -> Jeongbang Waterfall
Finally, you've reached the last day of your South Korea itinerary. As with any end of a holiday, it's best to keep it simple — where you'll really be able to relax before returning to the hustle and bustle of work. 
For this, head to Seogwipo Forest of Healing. From its name, this national forest brims with towering canopies of Hinoki cypress trees, providing a shelter — both physically and spiritually — from the rush of the city. Though there are boardwalks here for a forest trail, you can definitely choose to take it easy as well with a casual stroll. 
Then, head down to the coast to marvel at a cliffside waterfall. Located by the ocean, Jeongbang Waterfall is a short walk away from the entrance, making your time here a sweat-free one. While no swimming is allowed in the waterfall itself, you can certainly get close enough to the waterfall to feel the rushing mist and capture some amazing photos.
Also read: 20 Awesome Attractions in Jeju Island You Shouldn't Miss
On your flight back home from Incheon International Airport, you'll realise that this South Korea itinerary has only scratched the surface of everything the country has to offer. Hopefully, that will be reason enough to plan a holiday in other seasons! Besides, like most frequent visitors to South Korea would say, each season is beautiful in its own special way. 
Are you ready to tick the Land of the Morning Calm off your travel bucket list? With DBS, you can finally make this a reality. 
Find out more travel and overseas promotions you can enjoy with the POSB Everyday and DBS Woman's Card here!
Don't have a POSB Everyday or DBS Woman's Card? Apply here now and get S$150 cashback!
Also, from now till 31 Dec 2022, earn 5% cashback on your first foreign currency top-up to your DBS Multi-Currency Account. Plus, earn 3% cashback when shopping overseas with your DBS Visa Debit Card.
---
Brought to you by DBS.