Looking for a respite from the hustle and bustle of neighbouring Japanese cities? The town of Mount Kōya is zen and tranquil, and here is where one can relish in the slow, quiet atmosphere and carry out some self reflection. If you're looking for some peace and quiet, Mount Koya is definitely the day trip for you!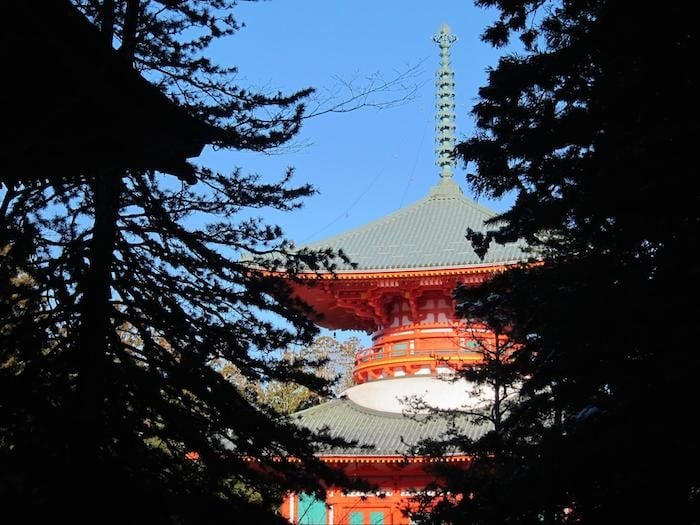 Mount Kōya is a sacred Buddhist pilgrimage site that has been in existence for the past 1,200 years. Its isolated location in Wakayama prefecture means that it is far away and elevated from the nearby bustling cities of Osaka and Kyoto – perfect for some peaceful 'me' time!
Also read: 10 Great Day Trip Ideas From Osaka
Getting in: Ride on Tenku train
There are two ways to get into Mount Kōya. The first is relatively simple and fuss-free: take the Nankai Kōya Line from Namba Station to Gokurakubashi Station. Then, simply take the cable car from Gokurakubashi Station to Kōyasan Station at the other end.
The second way is a more novel journey into the mountain, riding on a two-car train called "Tenku". Take the route mentioned earlier, but alight earlier at Hashimoto Station. On the platform of Hashimoto Station, you can buy your tickets for the Tenku train. Do plan ahead – the train runs only two to three times a day and takes breaks on certain weekdays! Ideally, you should take the 9am train from Namba Station, and the 10:12am train from Hashimoto Station.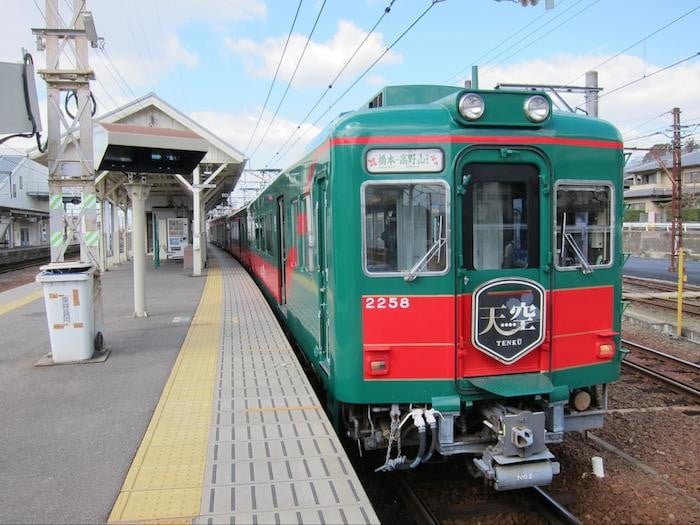 Tenku (天空)
So why take Tenku? Tenku train cars have their seats arranged facing one side of the train (the scenic side!) so that their passengers can enjoy the surrounding picturesque view as the train chugs upward onto the mountain. The cushioned seats are really comfortable by the way!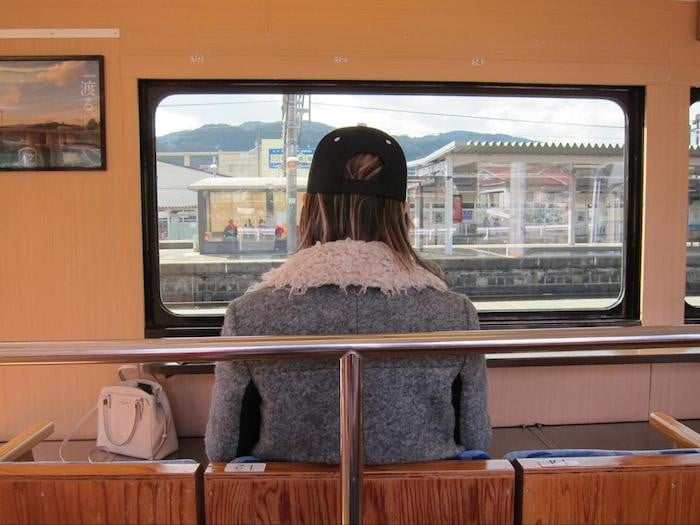 Along the way, passengers are treated to a panoramic view of little villages at the foot of the mountain. As the train moves deeper into the woods, one is treated to lush green sceneries of towering trees and meandering rivers. The train zooms past pretty quickly though, so don't focus too much on taking pictures. Try capturing the passing views with your heart and eyes instead – you won't regret it!
Whichever route you take into Mount Kōya, you will be required to ride the cable car at the end of the train journey.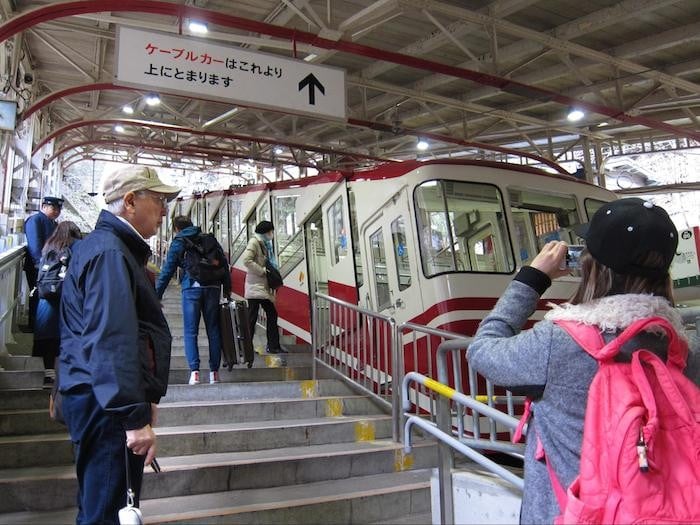 Upon arrival: Get a 1-day bus pass
We were greeted by snow when we arrived! Due to the elevation, snow on Mount Kōya is pretty common. Especially in winter months, the entire mountain will be coated with thick layers of fresh white snow! It's truly a sight to behold.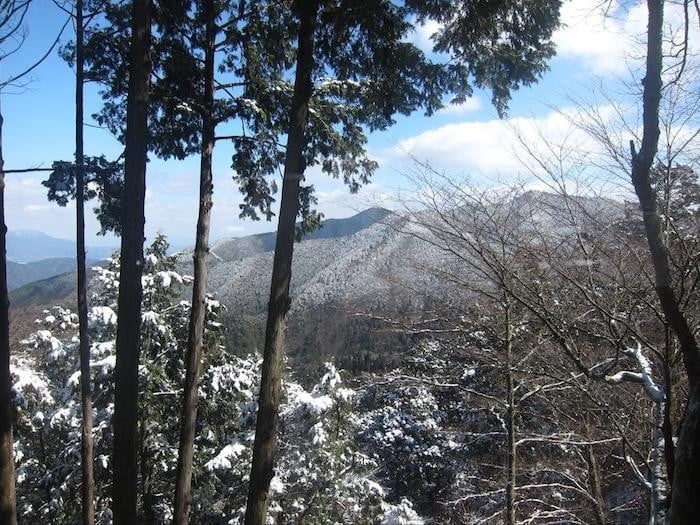 A gorgeous sight outside the window of a cafe next to Kōyasan Station
Right outside the train station, you will find the bus terminal. At the terminal entrance, it's highly recommended to get a 1-day free ride bus pass! For 830yen (adult fare) you can ride the local buses as much as you want. If you're in Mount Kōya for only a day, this pass is great because it saves you a lot of time. If you plan to take your time to wander around the town over two days, it's possible to explore the town just by foot. Otherwise, the 1-day bus pass is the way to go!
In any case, note that to get into the town center from the train station, all visitors are required to take a 5-minute bus ride. The road there is windy and narrow, so pedestrians on foot are not allowed!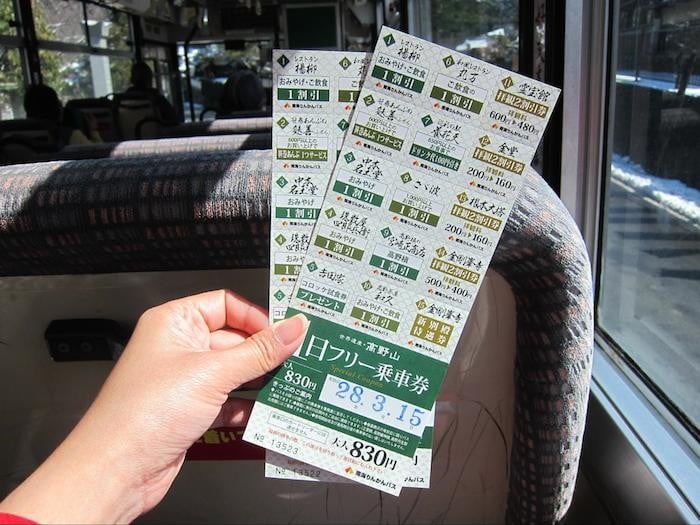 The bus pass also comes with little numbered coupons that include discounted rates for restaurants and souvenir shops, as well as for the entrance fees into some attractions. Is that great or what?
Before you start exploring Mount Kōya, I highly suggest making a stop at the Central Tourist Information Office to grab some maps as well as rent an audio guide! The audio guide is especially informative for those who are interested in the history of Mount Kōya.
Eating at Mount Kōya
It doesn't really matter where you choose to eat, because the restaurants here serve very basic fares. Plus point: almost all of the restaurants here serve food with ingredients sought from nearby farms and plantations. It's always great to know where your food comes from!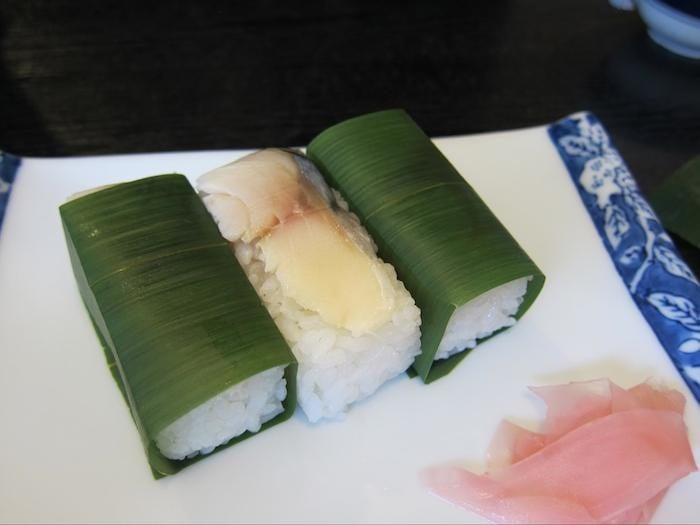 Sasazushi, a refreshing saba fish sushi wrapped in bamboo grass (the bamboo grass is not for eating!)
Also read: What to Eat in Japan: 23 Must-Try Foods Other Than Sushi
After a quick meal, it's time to explore the town! There are quite a few things that you can do at Mount Kōya, including hand-copying the sutra and meditating in the temple. As someone who prefers sightseeing to hands-on activities, I did none of those. Instead, here are some places that I visited on my day-trip there.
1. Okunoin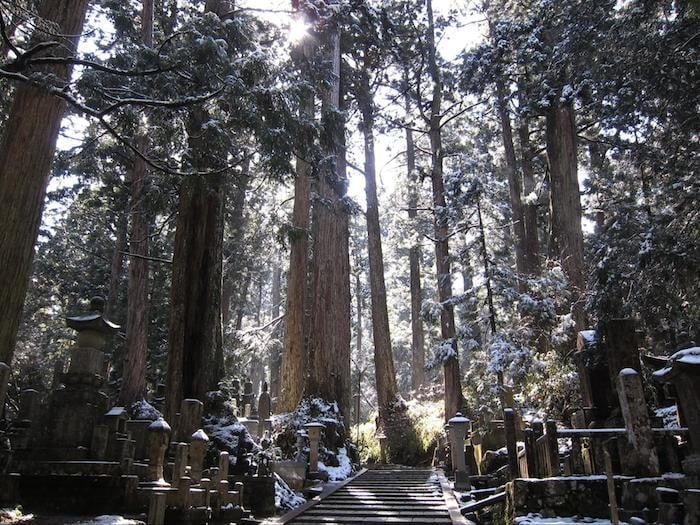 If there is one place you should visit in Mount Kōya, Okunoin has to be it. Soaring cedar trees that are over several hundred years old line the 2km path to the mausoleum of Mount Kōya's founder, Kobo Daishi Gobyo. Beside the pathways are hundreds of thousands of tombs for people of all classes, from the commoner to the military commander, reflecting the people's deep faith in this holy mountain.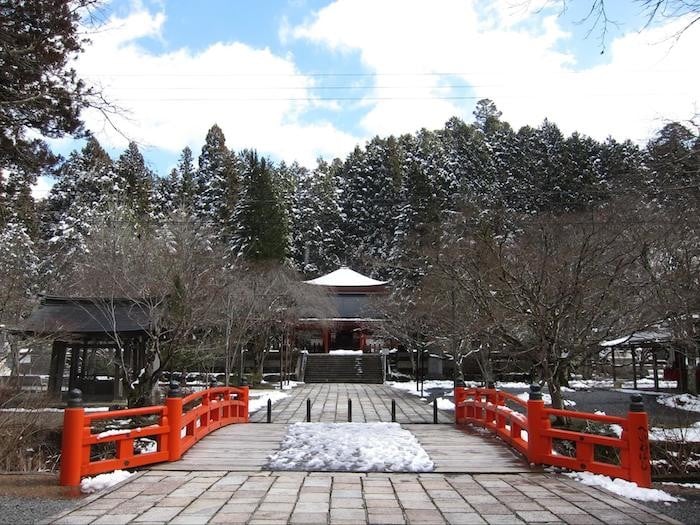 During my walk there, the sunlight that filtered through the towering cedar trees together with the falling snowflakes created an otherworldly scene that was unbelievably magical. The walk was overwhelmingly beautiful and moving, unlike anything else I've ever experienced.
2. Kongobuji Temple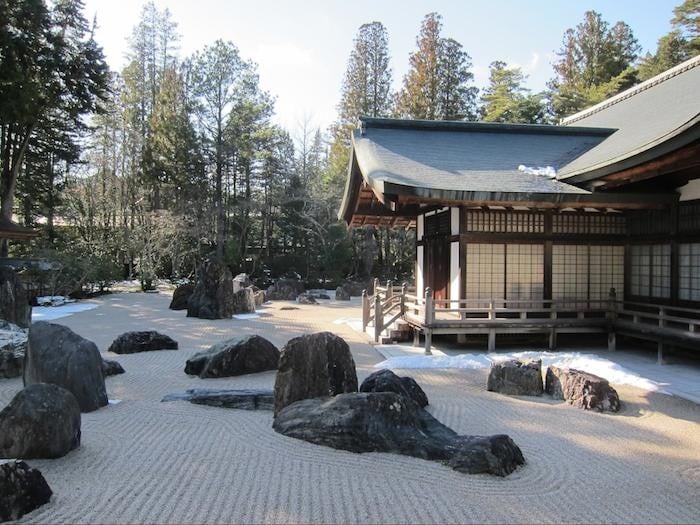 Kongobuji Temple is an important site in Mount Kōya as it serves as the head temple of more than 4,000 temples of Buddhism's Shingon sect. You can walk through the temple and take a look at the elegant rooms that are furnished with gorgeously painted sliding doors. The garden in the temple exudes simplicity and zen, and is a nice spot for a moment of rest. There is also a hall where visitors are treated to green tea and a small snack!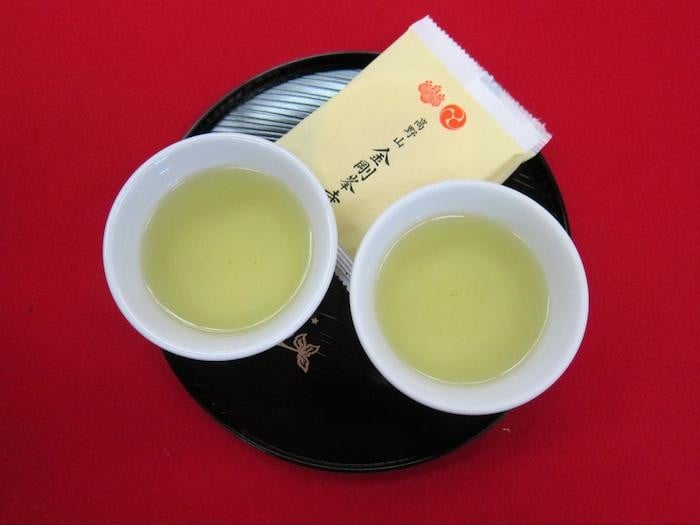 3. Danjo Garan Complex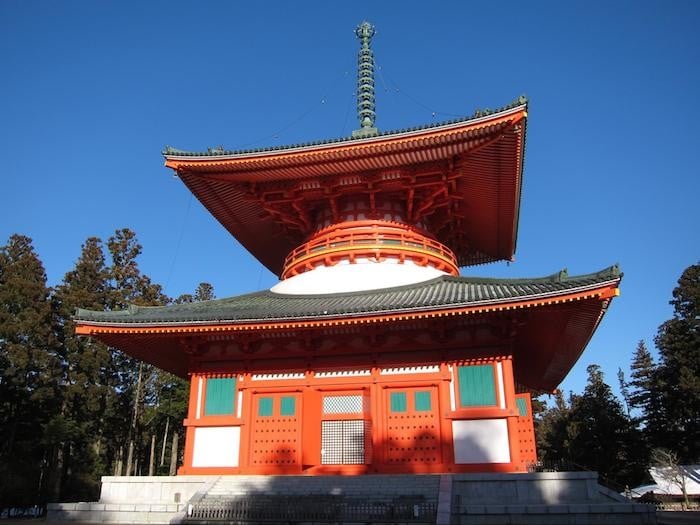 Konpon Daito, or the Great Stupa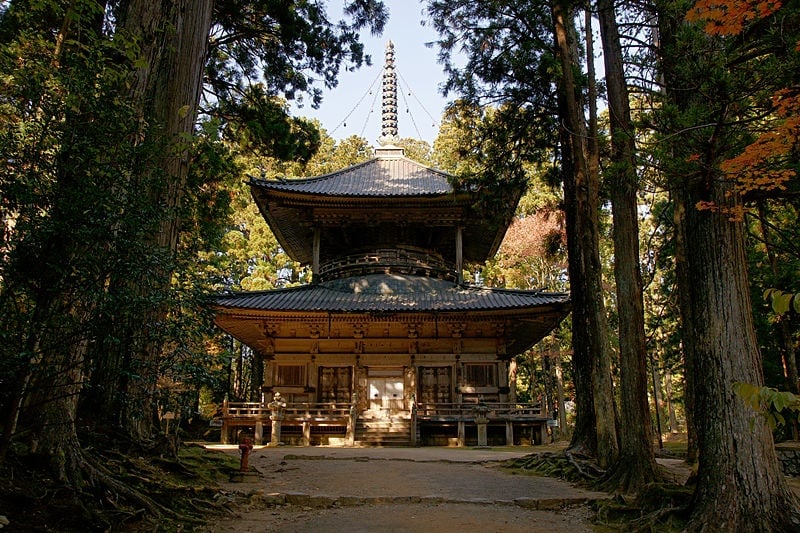 Image credit: 663highland
This is where the first temple was erected when Mount Kōya was first found. There are various structures that are worth visiting in this complex! One of them is Konpon Daito, also known as the Great Stupa. The tower painted in vermillion lacquer stands bright and proud in the middle of the complex, and makes for a great photo-taking spot.
4. Mount Benten-dake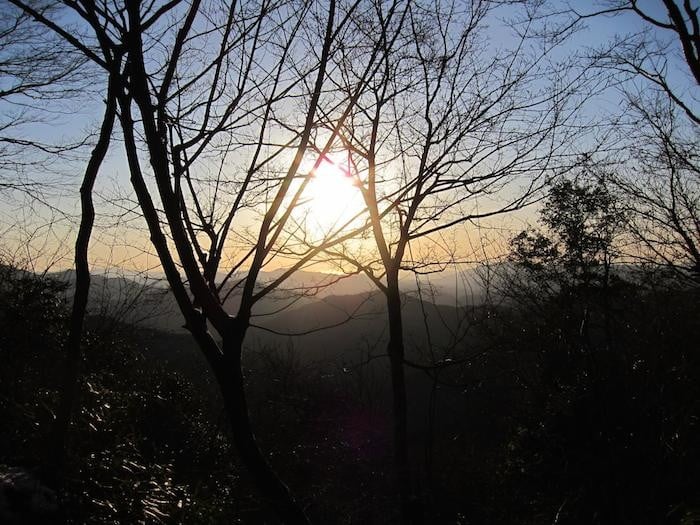 The hike through Mount Benten-dake connects Daimon, the majestic gate of the Mount Kōya temple complex, on one end and Nyoindo on the other. Do take caution whilst hiking this mountain: there have been sightings of bears in the region! It took us approximately one hour to finish climbing the mountain, and we managed to emerge from the woods right before sunset. It has a great lookout to the mountain ranges beyond, but take note that the hike is not as easy as it seems! There were parts of the mountain where I was literally squatting beside a steep cliff, shaking from fear of rolling down the cliff with one careless slip or wrong step. Nevertheless, the hike takes you deep into the middle of the forest, which is covered in layers of white snow during the cold months. Needless to say it was an enchanting view!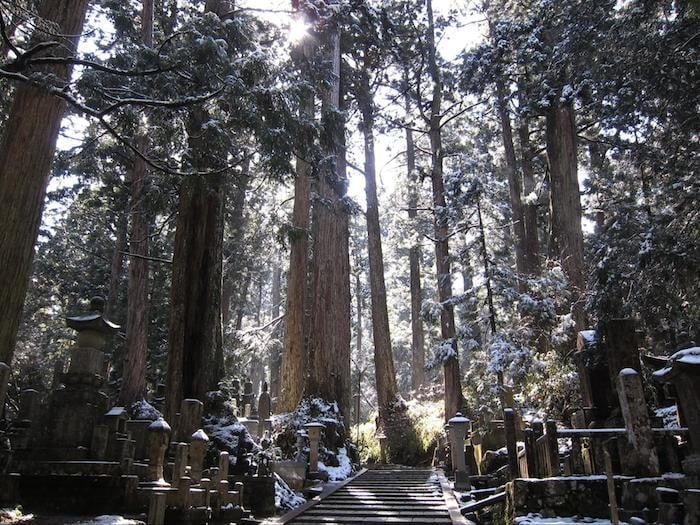 Also read: 7 Absolutely Breathtaking Sites in Japan You Never Knew Existed
After the sun had set, we took a bus back to Kōyasan Station and went back to Osaka on the Nankai Kōya Line. That concludes my (second, actually!) trip to Mount Kōya. For those who are interested, I highly recommend you to stay a night at Mount Kōya in one of the temples! I'm sure it will be a unique experience for those curious about life in temples, or even for those who rather explore Mount Kōya slowly. The temples typically provide vegetarian meals for their guests, and invite their overnight guests to the morning ceremony and meditation sessions the day after.
Wishing you could experience the beauty of Mount Kōya for yourself? Don't hold back any longer! If you have any questions or comments about travelling to Mount Kōya, let us know below!