Most people covet Japan's magical wintertime or lovely cherry blossoms in spring, leaving its summers overlooked more often than not.
However there's so much more to discover in Japan when the sun's fully out! It's safe to say that the Japanese make the most out of their balmy days; activities you can partake in range from admiring the colourful summer blooms to hiking Mount Fuji. The best part? You certainly won't be able to get experiences like these during the other seasons!
You'll also get to enjoy a new take on popular destinations in Japan like Tokyo, Osaka and Hokkaido, as these places are where all the summer action is. So get out your mini portable fans, and get ready to experience a trip to Japan like no other this summer!
Start planning your summer adventure in Japan this June to August. You might think that you're cutting it too close to your travel dates to secure the best deals, but Scoot has you covered!
Travel on Scoot's spacious, modern Boeing 787 Dreamliner™ on direct flights to Osaka (7x weekly), one-stop flights to Tokyo (7x weekly) or Sapporo (4x weekly) with fares from S$229!
With so many things to see and do, you might need a little help discerning the best ones to fit into your itinerary. We've helped by rounding up this list of quintessential summer activities in Tokyo, Osaka and Hokkaido that you wouldn't want to miss!
1. View fields of vivid flowers that bloom only in summer
If your knowledge of flowers in Japan only extends as far as sakura, you'd be glad to know that there are other spectacular flower varieties that you should catch in full bloom!
With clear cloudless skies above and the shimmering sun reflecting off the Sea of Japan, summer is the perfect season to enjoy an adventurous road trip around Hokkaido! An essential stop you must make is at the flower fields where you can take in the colours that appear only during summer.
Farm Tomita, Hokkaido
There's nothing quite as eye-catching as a seemingly endless stretch of purple lavender fields, and the best place to witness this is none other than Farm Tomita! While there are a number of specialty shops here selling lavender produce that you should check out, the main highlight is the flower fields that comprise various types of lavenders as well as other flowers. Since the best times to view most of these flowers fall in the summer months, it's an experience that's can't be replicated elsewhen!
Should you be visiting in mid-July, you should also definitely stop by Lavender East – one of the largest lavender fields in Japan which is about 4 kilometres east of Farm Tomita. Take this chance to get on the Lavender Bus which will take you in between the rows of lavender, as you sit back and enjoy a view of the lovely mountain landscape overlooking the fields.
Address: Kisen Kita 15-go, Nakafurano, Hokkaido 071-0704, Japan
Operating hours: 8.30am – 5pm daily
Website: farm-tomita.co.jp/en
Hokuryu Sunflower Field, Hokkaido
Nothing screams summertime quite like bright yellow sunflowers, which explains why the Hokuryu Sunflower Field is one of Hokkaido's biggest attractions each summer. Located in the little town of Hokuryu are about 1.5 million sunflowers over a vast 23.1 hectares of land. An annual sunflower festival is held here each year from mid-July to mid-August, and the best time to enjoy the festivities is in early August – when the sunflowers are in bloom and make for the best viewing experience!
Before you leave, do have some sunflower-flavoured ice cream, and take some sunflower seeds to snack on during your drive!
Address: 143 Itaya, Hokuryu, Uryu District, Hokkaido 078-2511, Japan
Operating hours: 24 hours daily
Website: hokuryu-kankou.com
2. Bask in the fireworks and other summer festivities
If you're never really gotten the spectacularity of fireworks, that's about to change once you get a glimpse of how they do it in Japan. The Japanese take their fireworks very seriously, lighting up the sky during hanabi (fireworks) festivals practically every weekend in the summer months.
These festivals filled with smiles and food are often attended in the company of loved ones, giving it a warm overall atmosphere – and not just due to the weather. Grab a friend, find a yukata (Japanese garment usually worn in the summer) to don, and spend the evening gobbling up yummy festival food and looking up in awe at the colourful sky when the show begins.
Sumida River Fireworks Festival, Tokyo
There are plenty of summer festivals to catch all over Japan, but the Sumida River Fireworks Festival is undoubtedly one of the most iconic ones to be held each year. A successor of the Ryogoku Kawabiraki Fireworks Festival that began in 1733, it sustains as one of Tokyo's biggest and most magnificent displays that can be viewed against the backdrop of Sensoji Temple and Tokyo Sky Tree.
Be one of the thousands of spectators gathered for this splendid event on the last Saturday of July.
Address: 1-2-5 Mukojima, Sumida-ku, Tokyo-to (nearest station: Asakusa Station)
Website: sumidagawa-hanabi.com
Tenjin Matsuri, Osaka
Apart from a dazzling fireworks display in the evening, witness all the liveliness that's on parade at Tenjin Matsuri, a 1,000-year-old festival where rituals, dance and music come to life. Dedicated to Sugawara Michizane, the Japanese deity of scholarship and learning, this exciting, colourful festival falls on the 24th and 25th of July each year.
The festivities extend to the waters as you get to watch traditional noh and bunraku plays performed on floating stages. Don't miss out on this incredible cultural experience that you can only witness during the summer!
Address: 2-1-8 Tenjinbashi, Kita-ku, Osaka-shi, Osaka-fu (nearest station: Tenmangu station or Sakuranomiya station)
Website: tenjinmatsuri.com/tenjinmatsuri_navi/honmiya_shinshin
3. Grab a refreshing drink at a Japanese beer garden
Those who are always up for a beer or two can look forward to visiting Japanese beer gardens! Drinking at a beer garden is considered a summer tradition, because what better way to stave off the summer heat than to grab a cold one?
Beer gardens aren't necessarily restricted to being situated only in gardens, as they are commonly found on building rooftops in urban areas. It's usually an all-you-can-drink-and-eat affair, so prepare your tummy before you go!
Mount Takao, Tokyo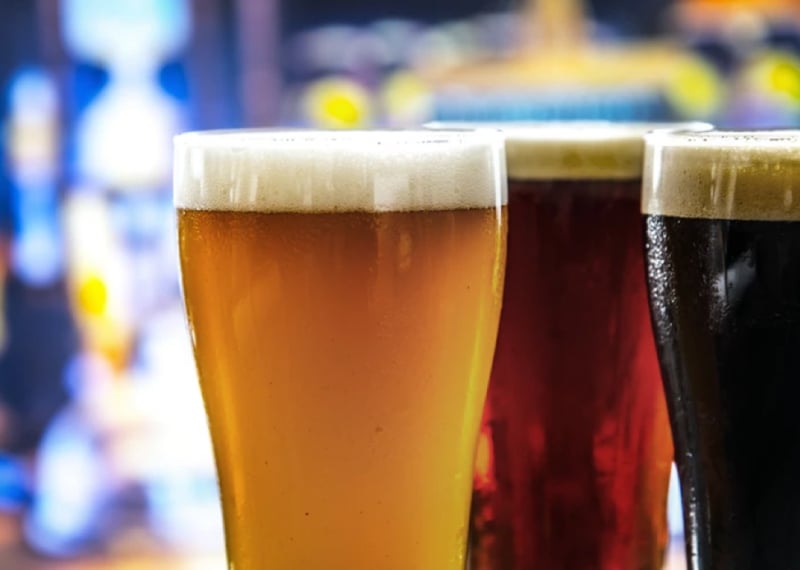 A unique beer garden site is on top of Mount Takao, which is one of the most popular mountains for hiking in Japan and a 55-minute train ride from central Tokyo. After a good hike (or chairlift ride) up, reward yourself with a free-flow feast of food and drinks.
Here you won't only be refreshed by the beer, you'll also feel revitalised by the stunning views of the Tokyo skyline. As the garden is only open from mid-June to mid-October, you'll find yet another reason to love Japan's summer.w
Address: 2205 Takaomachi, Hachioji, Tokyo 193-0844, Japan
Operating hours: 1pm – 9pm daily
Website: www.mount-takao.com/beermount
Sapporo Beer Garden, Hokkaido
While the Sapporo beer brand is now world-famous, this is a great chance to visit the place where it all began for Japanese beer. Take a look around the Sapporo Beer Museum to trace the beginnings of the iconic beer brand, before heading next door to the Sapporo Beer Garden.
At this beer garden, you can enjoy the "Genghis Khan", a Mongolian barbecue meal along with your drink. Dine indoors to be close to the food selection, or outdoors on the terrace to relish the full summer experience. Either way, you'll perk up at the taste of Japan's signature beers, such as Sapporo Draft Beer Black Label or Ebisu Premium Black.
Address: 9 Chome-2-10Kita 7 Johigashi, Sapporo, Hokkaido 065-0007, Japan
Operating hours: 11.30am – 10pm daily
Website: www.sapporo-bier-garten.jp/global/english.html
4. Cool off on a sightseeing cruise
Staying cool and hydrated on your vacation is important, especially in the summer! Besides drinking lots of water, surrounding yourself with it isn't a bad idea either.
Instead of walking from one attraction to another, conserve some of that energy by taking a sightseeing cruise or boat ride! Not only will you get to see more places within a shorter period of time, you'll also get the chance to enjoy a different view of Japan.
Tombori River Cruise, Osaka
While others flock to the Dotonbori Bridge to get a picture in front of the Glico Man sign, you'll have a more settling time admiring it from the comfort of your boat. In fact, sailing along the peaceful Dotonbori River on the Tombori River Cruise will be a welcome contrast to the masses gathered all over the hectic Dotonbori area.
Relax and let yourself be entertained by your tour guide as he introduces the landmarks of Downtown Osaka. This 20-minute cruise can be taken from the embarking point located in front of Don Quijote Dotonbori, where the ticketing area is located.
Address: 542-0084 Soemoncho, Chuo-ku, Osaka
Operating hours: 1pm – 9pm on weekdays; 11am – 9pm on weekends, holidays and peak days
Website: www.ipponmatsu.co.jp/cruise/tombori.html
Tokyo Mizube Line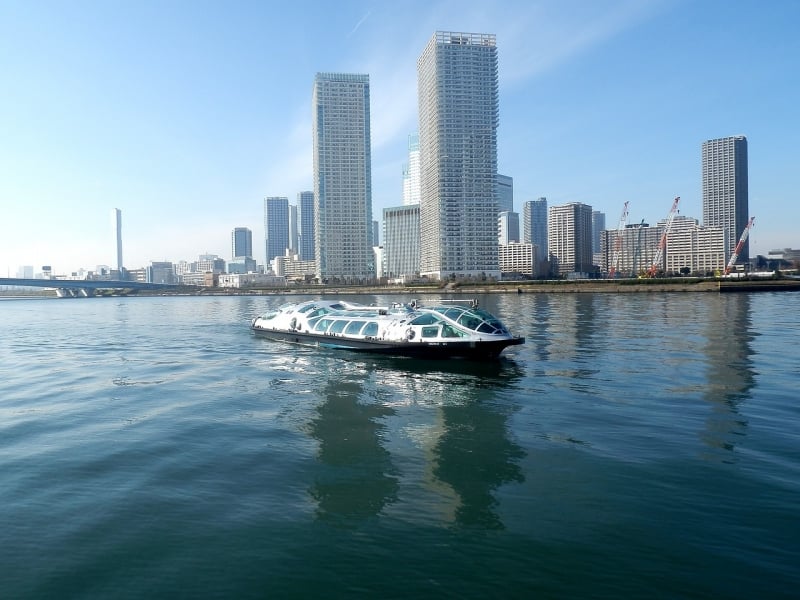 Travelling on a cruise can also be a very efficient way to get around a city like Tokyo. The Tokyo Mizube Line, which comprises the Asakusa Odaiba Cruise, the Odaiba Kasai Tour, as well as the Asakusa Kasai Cruise.
The cruises take you to a sizeable number of sights, including the Tokyo Gate Bridge, which spans Tokyo Bay. You'll be staying cool and likely covering more ground than you would using other modes of transport, as you'd easily be able to get on and off at the different stops!
Address: Various piers to embark from (refer to website)
Operating hours: 9am – 5pm on Tuesday to Sunday; closed on Monday
Website: tokyo-park.or.jp/waterbus/english
5. Slurp up flowing noodles before they're gone
There's no argument that the best kinds of summer activities are those that incorporate food. In Japan, nagashi somen – which roughly translates to "flowing noodles" – is one such activity. The idea is that somen are let loose in flowing water along a long open-faced bamboo tube, and that you'll only get to eat by "catching" the noodles with your chopsticks. How fun!
Funa Yado, Tokyo
This exciting gastronomic experience is a fun activity for people of all ages, and you can enjoy it right in Tokyo, at a shop called Funa Yado. The catch is that it's open only on weekends and public holidays from 24 June until the end of September, so it's a summer-exclusive activity indeed! Be sure to call in advance to make a reservation before you visit.
Address: 2-4-2 Kikunodai, Chobu, Tokyo
Operating hours: 11am – 4.30pm on weekends and public holidays
Contact: +81 042-483-3053
Website: maingreen.jp/funayado
6. Feast on summer specialties
It's not a holiday unless you're stuffing your face, especially when the delicacies that you're having are not easily available anywhere or anytime else.
All the seasonal specialties start to make their appearance in the markets and onto our tables as summer rolls around. There truly is no time more exciting than this, especially for seafood enthusiasts.
Ayu (Sweetfish)
Often regarded as the first (edible) sign of summer, ayu or sweetfish is everywhere in the streets right as summer begins. It's most popularly enjoyed grilled with some salt added, but otherwise you're meant to eat it whole. There's no missing this delicacy; head to any place selling street food near you and gulp it down at one go!
Hakodate Morning Market, Hokkaido
Hokkaido is commonly known to have the best seafood in Japan, due to its freshness and flavour. You won't regret rising early to take a trip to the famous Hakodate Morning Market to try some of the freshest seafood you'll have in your lifetime.
Of course, you'll have to savour the seafood that are most popular during the summer, including squid, sea urchins, as well as the horsehair crab. In fact, some of these seafood are only available during the summer months, so you'll be in luck!
Address: 9-1 5 Wakamatsucho, Hakodate, Hokkaido 040-0063, Japan
Operating hours: 6am – 2pm; only open on Wednesdays in June
Website: hakodate-asaichi.com
7. Enjoy Japan's most scenic spots best seen in summer
Just when you thought there's no way Japan's summers could not get any more exceptional, we're here to tell you that some of the top sightseeing spots in the country are only or best visited during summertime.
After all, the main hiking season in Japan is in July and August, as more nature trails open during the summer months. So don't forget to pack in your hiking shoes and a whole lot of enthusiasm to overcome the heat in order to enjoy unmatched scenic views out in the great outdoors.
Mount Fuji
The best example of a scenic spot that should be experienced in summer has to be Mount Fuji. A good 300,000 people attempt to climb the majestic mountain once its trails and facilities open, from early July to mid-September. The most popular trail among climbers is the Yoshida Trail, which is also the most accessible from central Tokyo.
If you're not up for breaking out a little sweat, fret not as there are many ways to enjoy the mountain view, including admiring it from the Fuji Five Lakes, found at the northern base of the mountain. Summer days mean a less obstructed view to see the marvel of nature that it is.
Address: Mount Fuji, Chūbu region, Honshu, Japan
Website: fujisan-climb.jp/en
Kamikochi, Nagano
In the Nagano Prefecture, Kamikochi is just a bus ride away from Tokyo and Osaka. Open only from mid-April to mid-November, the peak season for this highland valley is in the summer when all activities can be enjoyed in full.
Besides trekking, there are many ponds and rivers around the area to marvel at. It's renowned for its lush forests and surrounding mountainous landscape, which makes it aptly dubbed as the jewel of the Japanese Alps. One thing's for sure: you'll return from this paradise on earth recharged and ready for more adventures.
Address: Kamikochi, Matsumoto, Nagano Prefecture, Japan
Website: kamikochi.org
There you have it, seven of the best summer activities to fill your Japan itinerary with. Since all these activities all easily accessible from popular destinations like Tokyo, Osaka and Hokkaido, you truly have no excuse for not attempting all of them on your next summer vacay.
So what are you waiting for? Summer fun's just a flight away, and it doesn't even have to be expensive when you travel this June to August with Scoot.
Fly direct to Osaka (7x weekly), or one-stop to Tokyo (7x weekly) or Sapporo (4x weekly) from just S$229. Escape the ordinary and Scoot on to all the activities lined up for you this summer!
---
Brought to you by Scoot.