Located in Northern Thailand, Chiang Mai is a gem of a city. It is dotted with sacred temples, quirky cafes and lively night bazaars, and is fringed by mountains where hill tribes prosper. It is a destination steeped in culture and tradition, yet very much fun and hip at the same time.
For travellers, the list of things to do in Chiang Mai is endless and every day brings an exciting adventure. Read on for a sneak peek of the awesome activities that await you in Chiang Mai.
1. Watch how ice cream rolls are made in Chiang Mai's night bazaar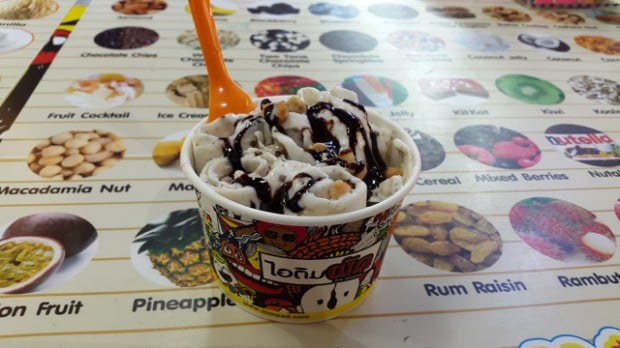 So you think that Cold Stone Creamery is cool? Wait till you see how ice creams are made in Chiang Mai's night bazaars. Pick your combination of nuts, berries, cheeses and cool flavours of ice cream, and keep your eyes glued on the man in apron. I had the yoghurt-flavoured ice cream with macadamia nuts and Kit-Kat topping, drizzled with chocolate sauce. There's only one word that describes this dessert: YUM! Find this stall in the Anusarn Night Market.
2. Find the Grand Canyon of Thailand
Get off the beaten track and make your way to Chiang Mai Grand Canyon, a quarry near Hang Dong. Bring a swimsuit along if you'd like to take the leap of faith into the body of water where souls have perished before.
3. Have lunch at the restaurant with the best views nearby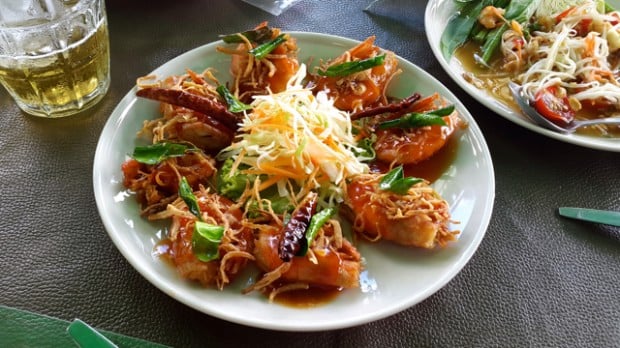 When you're done with all the cliff-diving, photo-taking and swimming, have lunch at the nearby Tuang Thong Canyon View Restaurant. This is possibly the restaurant with the very best views in Chiang Mai. To top it off, the food served here is extremely delicious as well. Fun fact: this restaurant is owned by a Singaporean and his Thai wife.
4. Watch the Elephant Show at the Maesa Elephant Camp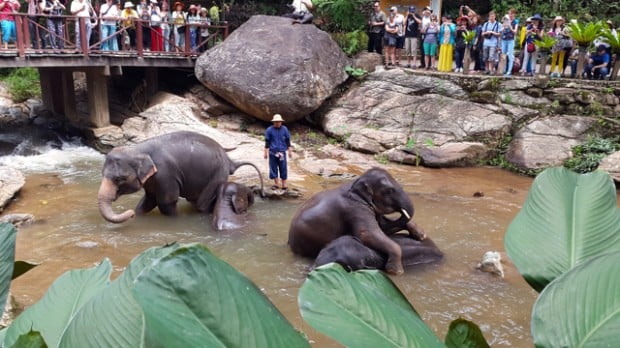 Elephants are highly revered in Thailand, and there is no better place to get up and close with these animals than the Maesa Elephant Camp. If you don't already know how clever elephants are, watch the Elephant Show and your mind will be blown.
5. Get an elephant hug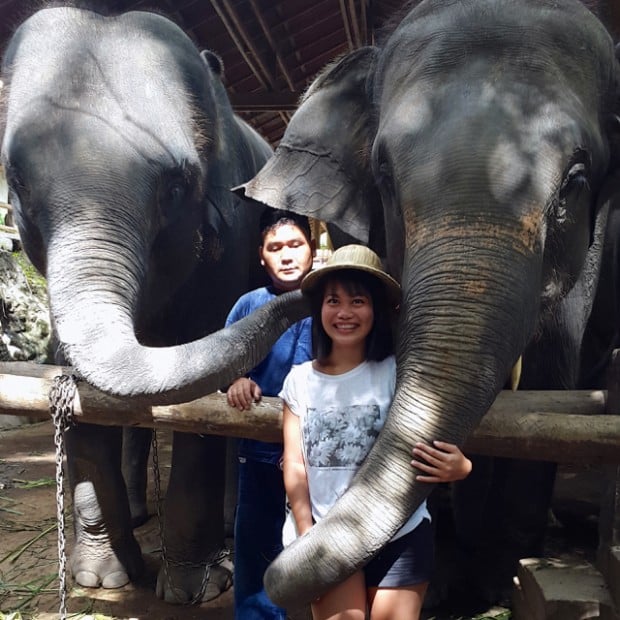 Don't leave without getting an elephant hug. Bonus if you can get an elephant kiss as well.
6. Visit Wat Phra That Doi Suthep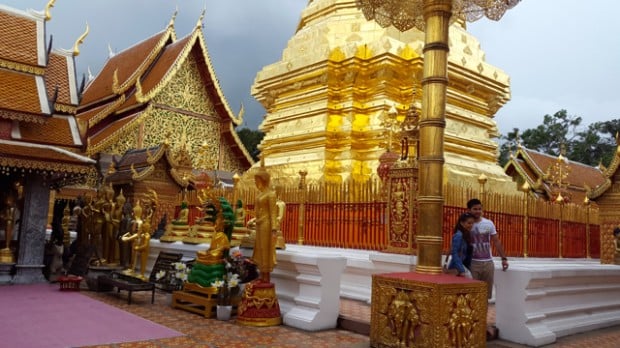 Wat Phra That Doi Suthep, located atop a mountain 15 kilometres out of the city, is one of the must-see temples in Chiang Mai. In fact, some locals would say that you've never truly been to Chiang Mai until you've been to Wat Phra That Doi Suthep. Ascend 300+ steps to get to the entrance, or just hop on the funicular that will shuttle you there.
7. See Chiang Mai city from above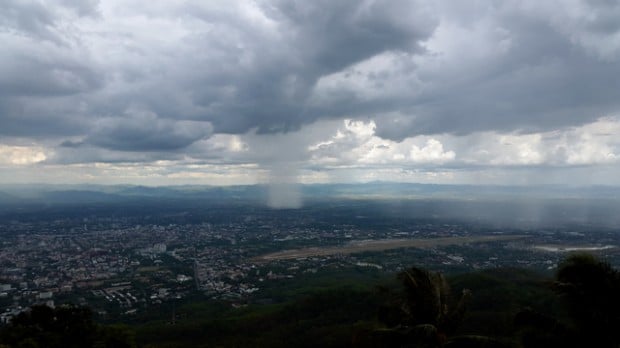 After the sightseeing in Wat Phra That Doi Suthep, admire the gorgeous view over the city from the terrace. Spot the rain in the distance!
8. Stand at the highest peak in Thailand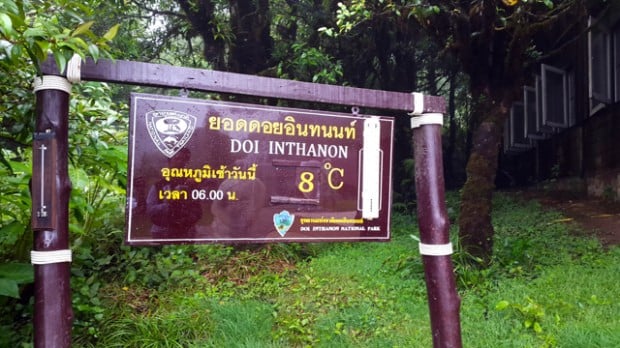 The highest peak in Thailand is Doi Inthanon (2565 metres), just a 2-hour drive from Chiang Mai city. There is a road that leads all the way to the top, so there's no need for any strenuous climbing. The view from the summit isn't that spectacular – in fact, there is hardly a view at all. There is, however, beautiful walking trails near the summit that run through the forest. Bring a jacket along because it's rather chilly up there.
Also Read: Koh Nang Yuan: The Most Stunning Island in Thailand
9. Marvel at Wachirathan Waterfall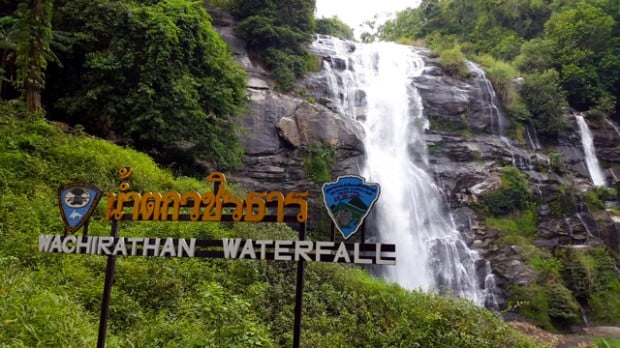 Combine the trip to Doi Inthanon with a stop at Wachirathan Waterfall and a visit to the King and Queen Pagodas (#10), as both of these attractions are along the way to the summit. As far as waterfalls go, the Wachirathan Waterfall is quite impressive.
10. Visit the King and Queen Pagodas
I visited the Twin Royal Pagodas on a day with bad weather, and the mist and cold brought about a rather enchanting atmosphere. Admire the beautiful details and artwork in the pagodas, and take a walk around the charming garden outside.
11. Spend the night wandering around the Night Bazaar
You won't be long into your stay in Chiang Mai when you'll realise that the city is truly a shoppers' paradise. Brush up on your haggling skills and grab some bargains in the Night Bazaar along Chang Khlan Road. Keep a lookout for the Kalare Night Bazaar and Anusarn Market, which are also part of the Night Bazaar.
12. And go CRAZY in the Sunday Night Market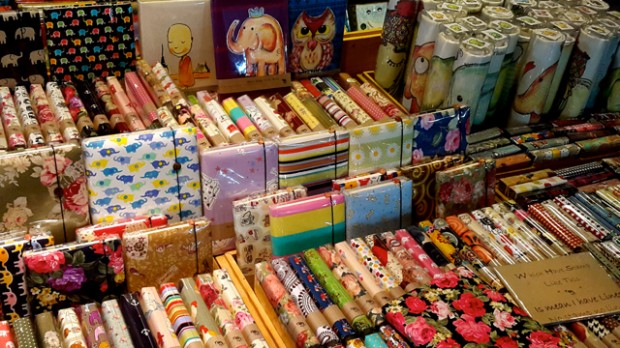 Hands down, the Sunday Night Market in Chiang Mai gave me the best shopping experience I've ever had in Thailand. It stretches over one kilometre along the length of Ratchadamnoen Road, and there were a huge amount of stalls selling a plethora of things – cakes, critters, pouches, notebooks, bags, clothes and so much more. The Sunday Night Market is different to many other night markets I've been to in Thailand, because there were plenty of unique items made by the stall vendors themselves. I can't rave enough about the Sunday Night Market – you simply have to visit this one.
If you happen to be in Chiang Mai on a Saturday instead, head to the Wualai Walking Street.
13. Crunch on critters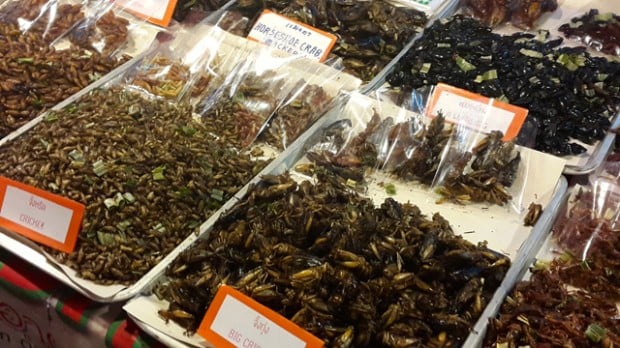 Speaking of which, try snacking on critters. Any crickets, grasshoppers, cicadas, bamboo worms or mealworms for you?
Okay, I admit that I was too much of a wimp to try anything that strays too far from my usual diet. However, I've been told that eating these insects isn't as disgusting as one might imagine. They are deep-fried to heavenly crunchiness, and slightly spiced too. Crunch, crunch, crunch.
14, Get some personalised passport covers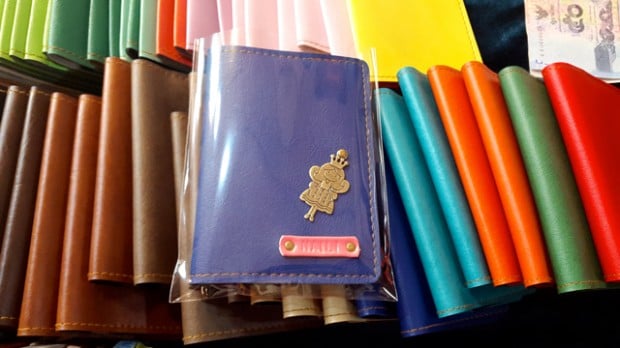 You can find vendors selling personalised passport covers everywhere in Thailand, and Chiang Mai is no exception. At THB 100 (SGD 4), these passport covers make cheap, cute and practical gifts for the whole family.
Also Read: 10 Reasons Why Koh Samui Should Be Your Next Thailand Destination
15. Wind down with a Thai massage
Another reason why travellers absolutely love Thailand is the availability of Thai massages everywhere. Pamper yourself at a high-end massage parlour, or settle for a not-too-dodgy-looking budget massage shop along the street. THB 150 (SGD 6) can get you an hour's worth of pure bliss.
16. Embark on a hilltribe trek
For a natural and cultural immersion in Chiang Mai, embark on hilltribe trek that ranges from a single day to a few weeks. Escape the city to discover verdant jungles and the colourful population that lives in little villages. Enjoy authentic Northern Thai food and sleep in traditional bamboo huts – this interesting journey will give you a peek into the real Thailand.
17. Drink Thai iced green milk tea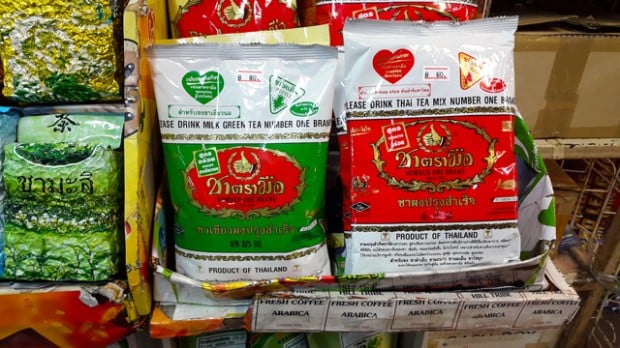 I discovered my love for Thai iced green tea in Chiang Mai. If you love green tea and milk tea, this combination is certainly one that you simply won't be able to resist. To bring a taste of Thailand back home with you, buy a packet of the "number one brand" milk green tea and brew it yourself. It tastes excellent, I promise.
18. Watch the night show at Khum Khantoke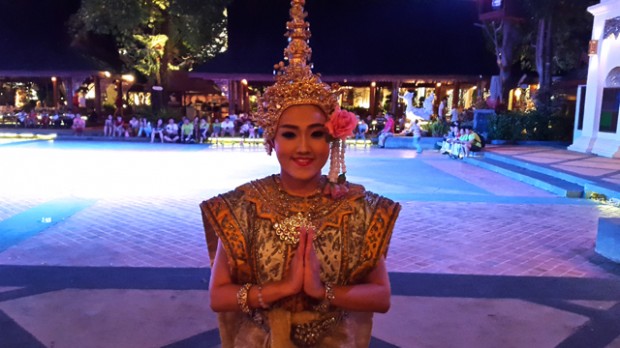 A great way to spend the evening in Chiang Mai is to have dinner while watching a cultural performance at Khum Khantoke. I was a little too busy with my food to actually pay attention to the show, but I did enjoy the music and the atmosphere. The food serving was huge (though not that tasty), and they have halal and vegetarian options too.
19. Discover the Ancient Lost City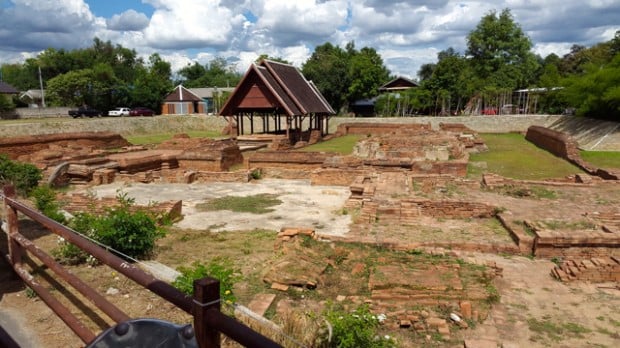 Wiang Kum Kam, once the capital of the Lanna Kingdom, is now partially buried due to years of flooding. Spread around the archaeological site are over forty ancient temples and other structures. Hire a local guide with a pony carriage to get you from site to site, and get lost in the rich history of ancient capitals.
20. Enrol in a cooking class
After you've fallen in love with Thai food, you might be inspired to learn how to cook it. Pick up this useful skill in Chiang Mai by enrolling yourself in a Thai cooking course, which also normally includes a visit to the market to buy ingredients. Expand your Thai food vocabulary beyond tom yum and green curry, arm yourself with secret recipes passed down over generations and of course, impress your folks when you get back home.
21. Chill out at a Hipster Cafe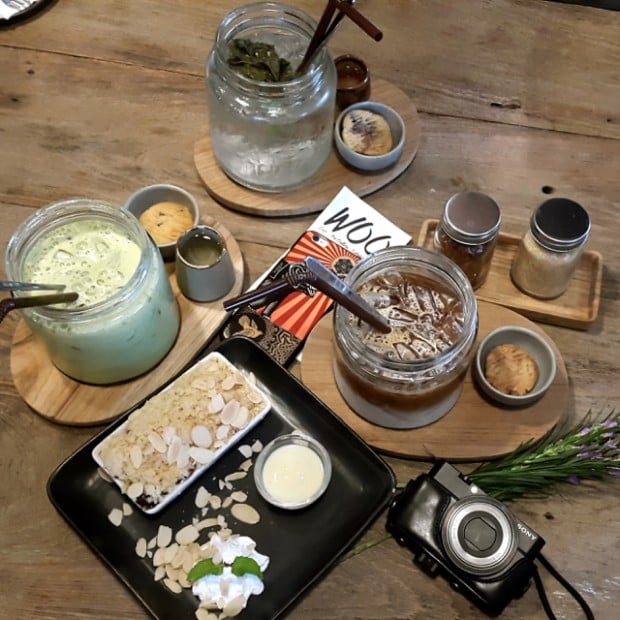 Chiang Mai has a pretty serious coffee culture, and quirky coffee shops (or cafes) are scattered throughout the city – a haven for coffee lovers, cafe-hopping hipsters and location-independent digital nomads. I highly recommend a visit to Woo Cafe, a cosy and tastefully decorated cafe. Their drinks are served in huge jars, their cakes are outstanding, and everything about the cafe screams "Instagram me!"
22. [Optional] Pet and take photos with tigers at Tiger Kingdom
Taking photos with HUGE tigers seems to be a popular touristy thing to do in Chiang Mai, but I don't quite like the idea of "docile" tigers in captivity. I also didn't like how the trainers use sticks to "tame" the tigers and to get them to "pose" for tourists. So yup, while this is one thing you can do in Chiang Mai, the animal rights activist in me wouldn't actually recommend that anyone support Tiger Kingdom. Tigers shouldn't live for tourists and their selfies, and hence I shall omit a photo for this point.
23, Spend a night (or ten) in Le Meridien Chiang Mai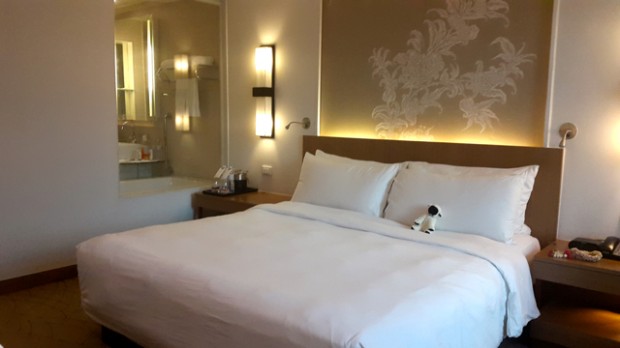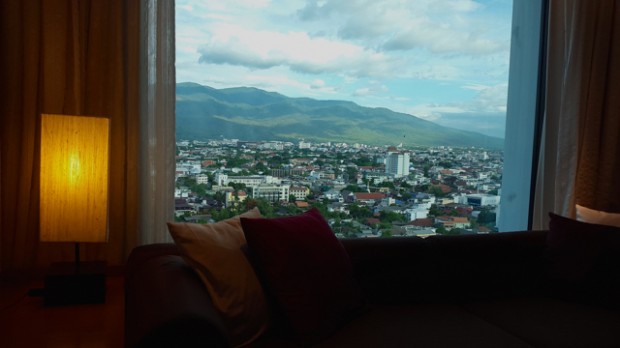 If you have money to spare, book a few nights in the centrally located Le Meridien Chiang Mai. This 5-star hotel guarantees a comfortable and classy stay. I loved the view from my bedroom window, the see-through bathroom (woot!), the huge luxurious bed and the infinity pool.
Also Read: 10 Must Underrated Destinations in Thailand
24, Enjoy a great flight with Bangkok Airways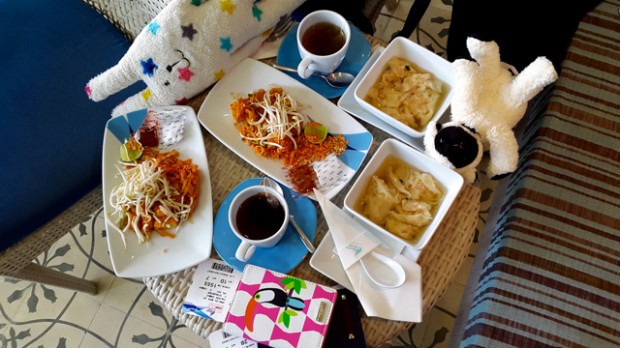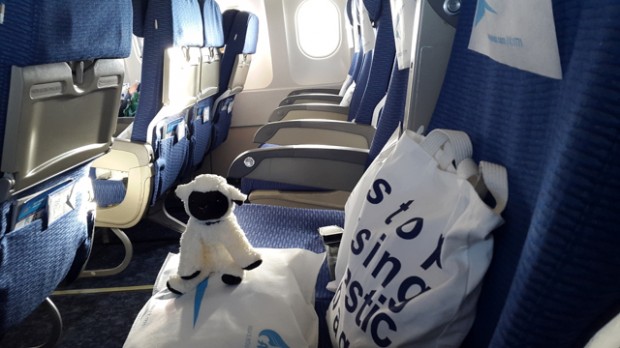 Bangkok Airways connects Chiang Mai with local destinations such as Bangkok, Krabi, Phuket, Koh Samui and also international cities such as Hong Kong, Malaysia and Singapore. Why fly with Bangkok Airways? Because their seats are cushy, the legroom ample and the service terrific. Also, you can chill out in their passenger lounge and treat yourself to pad thai and shrimp wonton soup before your flight.
Make your trip happen with Focal Travel's 5D4N Chiang Mai/Chiang Rai package, which includes a night in Mae Kajan Hot Spring House! In Chiang Mai, travellers will visit the aforementioned Doi Suthep Temple and enjoy the Khantoke dinner. But the adventure doesn't stop there – move on to Chiang Rai and also Golden Triangle, the area where three countries meet.  
I extend my deepest thanks to Bangkok Airways and Tourism Authority of Thailand (Singapore Office) for giving me the opportunity to experience Chiang Mai.