Christmas is a huge holiday in the Philippines. In fact, it is the longest and grandest celebration of the year, starting nine days prior to Christmas and ending on the first Sunday of January, which is the Feast of the Three Kings. As early as September, you can already hear Christmas songs being played on the radio.
Also read: 10 Unusual Experiential Christmas Gifts to Impress Your Friends With
The best thing about celebrating Christmas in the Philippines is that it usually does not require you to spend a lot of money or go far. Look around these places and you'll immediately feel the spirit of Christmas in the air!
Malls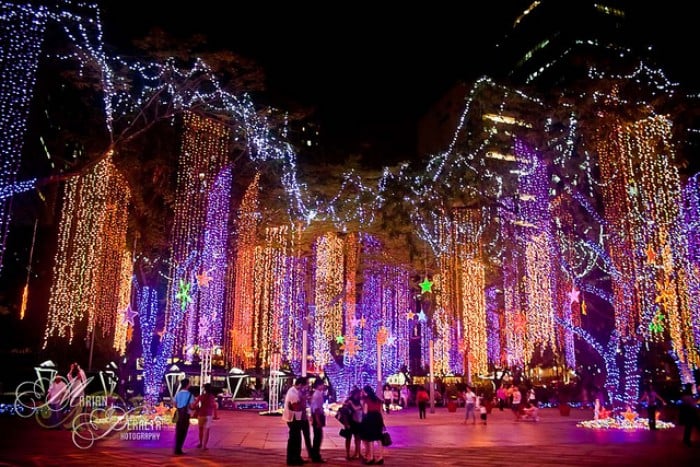 Image credit: Iana Peralta
Of course, malls are not being left behind when it comes to Christmas tree displays. They sell their own trees so why not display the biggest one in the building, right? Aside from huge trees, they also accompany it with other Christmas decorations and even invite Santa Claus over so you can have your pictures taken with him!
Plus, you can also catch firework displays not just on Christmas Eve but also on New Year's Eve.
Hotels
When it comes to putting up Christmas trees, hotels seem to be the first one to do it. However, their trees are not simply displayed and decorated without fuss because they usually invite people over, including the top people in the hotel, to their tree lighting ceremony. The biggest hotels often put up the grandest and tallest tree displays.
Also read: 7 Christmas Traditions that Will Always Be in Every Filipino's Heart
Parks and City Centres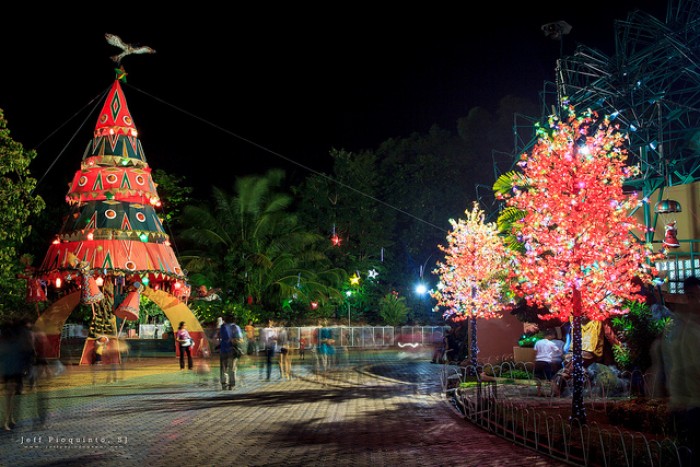 Image credit: Bro. Jeffrey Pioquinto, SJ
Another place to see beautiful Christmas attractions are within city parks, centres and main roads.
In Cebu, for example, a huge tree is being put up at the Fuente Osmeña Circle and nightly shows and attractions are being held there leading to Christmas. If you want to see even more, you can also drive along the long stretch of Osmeña Boulevard and check out different versions of the nativity.
Theme Parks
These attractions often come alive at night so their Christmas trees are usually different than the traditional ones. If you are a fan of glitters and lights, head on over to your nearest theme park and see the trees glowing. Among the best places to go include Star City, Sky Ranch and Enchanted Kingdom.
Christmas Houses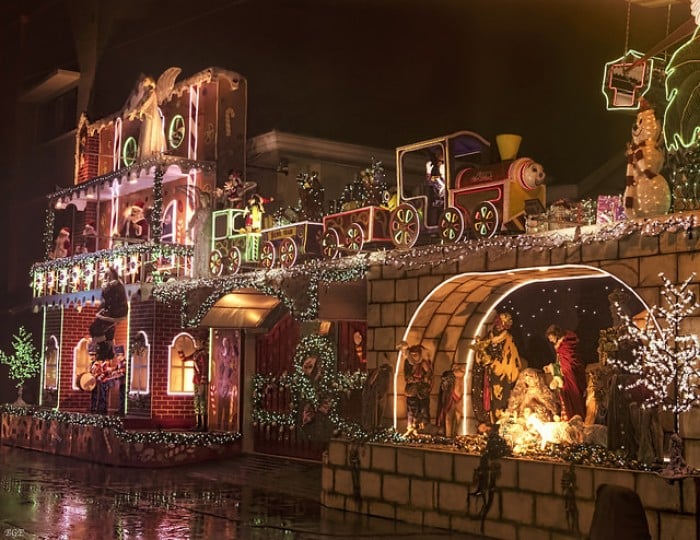 Image credit: Brian Evans
Filipino families take delight in putting up small Christmas trees and lining their windows with series lights. However, some households take their decoration up a notch by lighting their whole house and putting up all sorts of Christmas decors including Santa Claus, reindeers, snowmen, angels and a whole lot more.
You can check out the Christmas houses in Policarpio Street in Mandaluyong and in Dumaguete City as well as the Santa Claus House in Antipolo.
Also read: Feel the Christmas Season in Antipolo's Casa Santa Museum
Christmas Shows
Starting sometime mid or late November and ending in early January, the Greenhills Shopping Centre holds the COD Christmas Show which features figures that dance to the beautiful lights and music. The place also holds a night market and bangketa fair for the public.
If you want something else to entertain the kids, Disney on Ice is also being held around this time of the year. It doesn't have a Christmas theme but the cold will certainly make you feel like in winter wonderland.
Lantern Festivals and Parades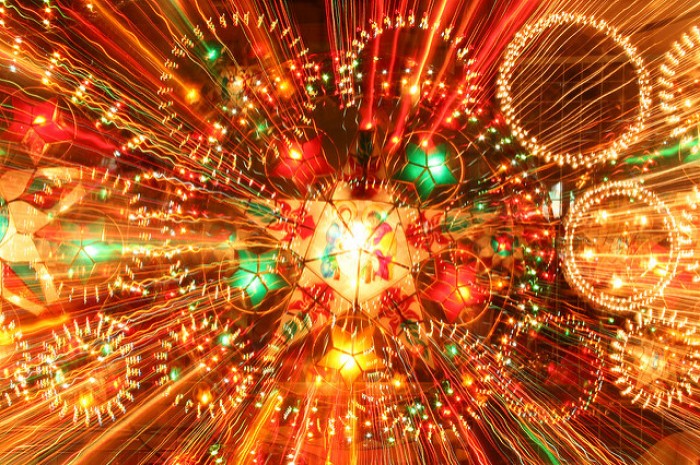 Image credit: Gep Pascual
When it comes to huge lanterns, there is only one place that comes to mind: San Fernando City, Pampanga. The city holds a yearly Giant Lantern Festival which takes place every 2nd week of December.
However, if Pampanga is a little too far for you, you can always check out the UP Lantern Parade in Diliman, Quezon City held every third week of December. Before the university goes on a Christmas break, they feature a parade of lanterns and floats created by the students.
Also read: 7 Unique Ways to Celebrate Christmas in the Philippines
There's certainly nothing like Christmas in the Philippines, and everyone, young and old, will be visiting these holiday attractions all around the country.