If Indonesia has its tumpeng, Singapore has its Hainanese chicken, and Malaysia has the deliciously spicy Nasi Lemak, the Philippines has its own unofficial national dish, proudly called adobo.
Also read: 18 Philippine Provinces for the Absolute Foodie
Adobo = Adobar
With 300 years under Spanish rule, the Philippines' local foods inevitably have heavy Spanish influence, and adobo is one of them.
Adobo is from the Spanish word adobar, meaning, "to marinade," "sauce," or "with seasoning." This go-to viand for Filipinos involves very basic ingredients cooked with meat (mainly pork or chicken, but sometimes both), garlic, onions, vinegar, and soy sauce, for a combination of the perfect spices and seasoning that best go with unlimited servings of steamed rice.
Viand for the whole family
Given that vinegar is one of its main ingredients, adobo has a longer shelf life than other local homemade cooked viands. Hence, many Filipinos cook adobo in huge batches. Pop the cooked adobo in the freezer, and a whole family can enjoy it for the rest of the week.
Like any other country, different parts of the Philippines have their own versions, and here are some of them:
The Classic Adobo
This adobo is the simplest of all to cook and is the go-to recipe of any mother, dormer, or single person who might be too scared to burn the house down if he or she tries cooking anything apart from frying an egg.
The main meat ingredient can be chicken or pork, and even both. Use a heavy bottomed pot, add a little bit of oil, and then add the crushed garlic, sliced onions, black peppercorns, vinegar, soy sauce, and the meat. Cook for about 20 minutes until it's boiling to ensure that the meat ingredients are well done. Pop in bay leaves for more aroma and taste, and your Classic Adobo is ready!
Also read: 25 Popular Street Food & Snacks to Try in The Philippines
Chicken Adobo in Coconut Milk
In some regions in the Philippines, particularly in Southern Luzon, coconut milk is a food staple. The Pinoy adobo was not able to escape its coconut milk destiny.
This version of adobo goes well with chicken. Just combine the chicken meat with the usual ingredients of the Classic Adobo, but this time, add some coconut milk with a little bit of sugar.
This version will give you a lighter flavour that's a bit earthy and sweet!
The Yellow Adobo
Turmeric is the key ingredient for this version, where it is braised along with the meat. This incarnation of the adobo is best cooked using pork. Soy sauce is stripped off the main ingredients and substituted with turmeric, thus explaining the yellowish colour of this deliciously light and peppery flavoured adobo.
The White Adobo (Original)
From South Luzon, let's now go to the Visayas, which has its version of this yummy viand, and yes, it is stripped off of soy sauce, too! It is cooked like the Classic Adobo, but there is no soy sauce, and vinegar is exclusively used. This is THE ORIGINAL, for this is how the Filipinos used to cook adobo in bygone eras.
The Seafood Versions
Yey! Seafood for adobo!
Shrimp Adobo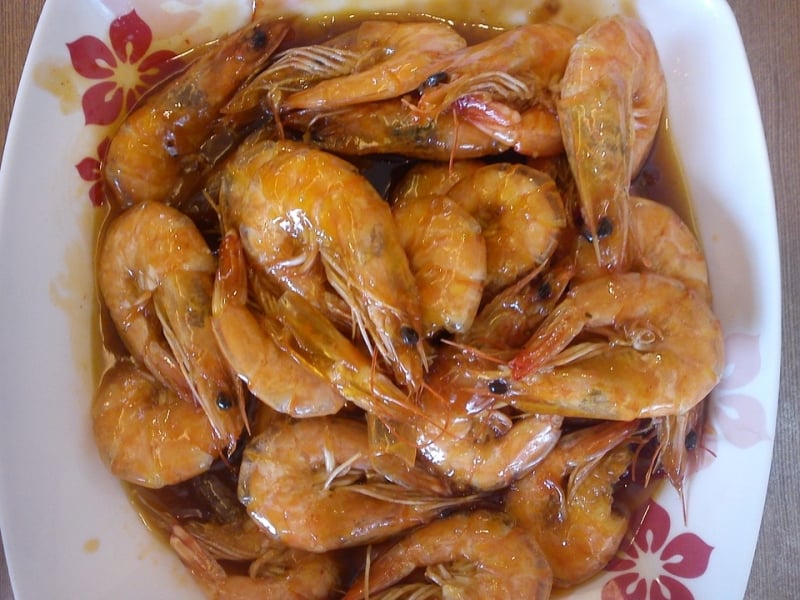 Substitute the usual pork or chicken with shrimp. Cook with a bit of vinegar and soy sauce (just like the classic version), but this time, add some coconut milk to have a creamy stew version. There's no need for bay leaf; just add garlic!
This seafood version is a new twist that can take on the classic pork and chicken preparations. This is light on the tummy, yet still delicious!
Squid Adobo
Now, this version is unique. It uses all the main ingredients, but with the squid's ink, the stew becomes black, leaving the ravenous eater with black-tainted teeth! Nevertheless, the aroma and unique twist will not stop anyone from eating this version!
Also read: 10 Bizarre Filipino Foods to Try – If You Dare
With the unofficial title, national food adobo will never disappoint you. So whether you are a tourist visiting the Philippines or a true-blue Pinoy who's about to try his or her culinary skills, adobo is a must-try!