Good things are meant to be shared – and more so when it's cheap and good food! As one of the not-to-be-missed cities to visit for its rich cultural history and sights to see, New York City unfortunately also has a reputation for being one of the more expensive cities – and yes, food can be pretty wallet-lightening. That is why we have decided to recommend you our top 8 places you should check out in NYC if you are travelling on a budget – all within US$10 –  without having to compromise on your New York culinary experience a single bit!
1. Joe's Pizza
Easily spotted by the snaking line that extends out of the shop during lunch hours, Joe's Pizza is one of the eateries that you have to check out when in NYC. Founded in 1975 by Joe Pozzuoli, Joe's Pizza is one of the most widely-known pizza places where you can get yourself a piping hot slice of old-school pizza, fresh from the oven. With the cheapest slice coming at around US$3, there is a good variety of New York style pizzas to choose from – from the classic pepperoni pizza to the plain cheese pizza – where you can get generous servings of stringy cheese and the sweet taste of the tomato paste in every bite!
While the line might seem intimidating at first, the highly-efficient crew service means that the line moves quickly. At such an affordable price, there is no reason that Joe's Pizza should not be on your to-do-list to visit when in NYC. Afterall, can you say that you have really been to New York if you have not had a slice of good ol' classic New York Pizza?
Price: US$3 onwards
Where: Several locations including 7 Carmine Street, NY 10014 (Greenwich Village, Manhattan)
2. Wah Fung No. 1 (華豐快飯店)
If you are craving some traditional Chinese roasted meat, you should definitely head to Wah Fung No. 1 for your hearty serving of succulent Roasted meat and Rice takeaways. The place specializes in roasted meat delights, offering a selection of roasted char ciew meat, crispy roasted pork (烧肉), roasted duck (烧鸭) and braised soya sauce chicken (油鸡) along with noodles or rice. The perfect-glaze and mildly-charred texture make the roasted char siew a popular crowd favourite at Wah Fung No. 1.
The cheapest takeaway rice set costs only US$4.25, where you can get a choice of roast pork or chicken on rice. For just US$5, where you can get an assortment of up to three different roast meats on top of a generous serving of white rice and vegetables. If you are feeling especially hungry, you can request for an up-sized portion for just an extra US$2. Do remember to bring some cash as the place is a cash-only place!
Price: US$4.25 onwards
Where: 79 Chrystie St, NY 10002 (near Chinatown, Manhattan)
3. Los Tacos No. 1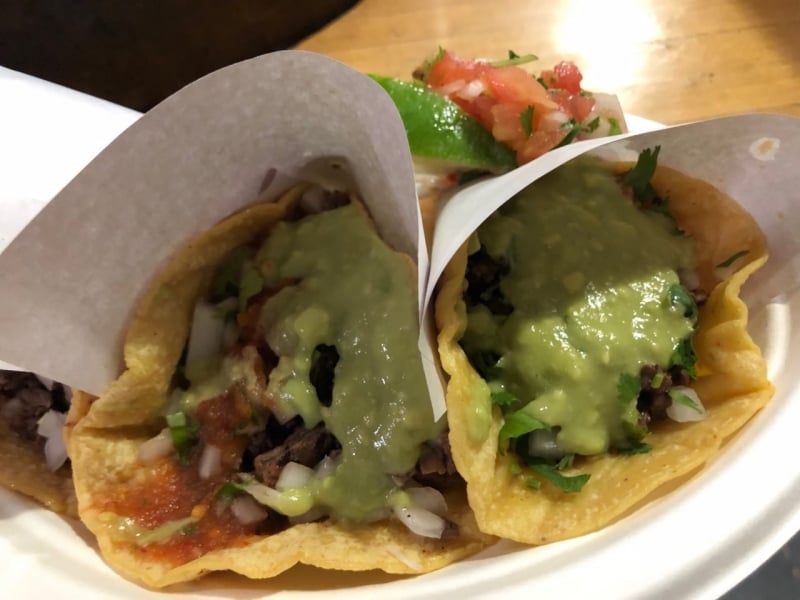 With one of its branches conveniently in the Chelsea food market, Los Tacos No. 1 is a popular taqueria serving a variety of tacos, tostadas and quesadillas. For their tacos and tostadas, you have a choice of either the corn or flour tortilla, with four different filling options: the Carne Asada (grilled steak), the Pollo Asado (grilled chicken), the Adobada (marinated pork) and the Nopal (grilled cactus).
The tacos cost between US$3 to US$3.75 each, depending on your choice of filling and comes with a generous and fresh serving of guacamole. A crowd-favourite is the Carne Asada (grilled steak) taco, known for its well-seasoned juicy and tender beef cubes that will leave you wanting to come back for seconds. You can help yourself to additional servings of salsa and other condiments like lime and peppers after you collect your tacos from the taco stand, where you will likely have to finish your tacos standing as there are no seats around.
Price: US$3 onwards
Where: Several locations including 75 9th Ave, NY 10011 (Chelsea Market, Manhattan)
4. Mamoun's Falafel
A popular hangout for college students because of its highly-affordable fares, Mamoun's Falafel is an eatery that serves popular Middle-Eastern dishes like the falafel, baba ganouj sandwich and tabbouleh, each for just US$3. Established in 1971, the family-owned shop is the oldest falafel restaurant in NYC, and is also one of the earliest Middle-Eastern eateries in the whole of the United States.
It is recommended that you get yourself one of their falafel-based dishes, like their falafel sandwich, where you will find falafel (a deep fried ball of grounded chickpeas, onions and other spices and herbs), salad and tahini sauce all enclosed within a pita bread. Mamoun's Falafel is therefore a perfect place if you are a vegan because of their vegan food options like their falafels, vegetarian sandwiches and lentil soup! This is another cash-only place, so do have some cash on hand.
Price: US$3 onwards
Where: 119 MacDougal St, NY 10012 (Greenwich Village, Manhattan)
5. Baohaus
Price: US$5 onwards
Where: 238 E 14th St, NY 10003 (East Village, Manhattan)
Whether you are looking for a quick snack to fill your stomach or a place for a proper meal, Baohaus is the place you might want to check out for their range of trendy and creative series of steamed buns – all for a reasonable price! Baohaus was opened in 2009 by two brothers – Eddie and Evan Huang – who wanted to bring their homestyle Taiwanese-Chinese food to the city of New York. Each steamed bun costs around US$5 and the buns come in a few variations with rather creative names: the Chairman Bao, the Birdhaus Bao, the Spiceland Bao, the Uncle Jesse Bao and the Fried Fish Bao.
Their signature Bao is their Chairman Bao, which comes with braised all-natural Berkshire pork belly served with relish, crushed peanuts, Taiwanese red sugar, and cilantro. While Baohaus is one of the more expensive recommendations on the list, especially given the smaller serving portion, it still offers a rather affordable price for the quality of the ingredients used (all natural, antibiotic and hormone-free meats) and the sheer tastiness of the steamed buns!
Price: US$3 onwards
Where: 119 MacDougal St, NY 10012 (Greenwich Village, Manhattan)
6. M&O Market and Deli
Located at the corner of Thompson and Prince, M&O offers some most the best made-to-order sandwiches in the SoHo area. The delicatessen itself is found within the market, where you can choose from their selection of meat sandwiches, cheese sandwiches, salad sandwiches and other in-house specialties. The average price range of their sandwiches is between US$5 to US$8.
Some of the popular choices are their M+O's Famous BLT Sandwich, the classic Kaiser roll or their hot Pastrami sandwich – which comes with savoury cuts of Pastrami, coleslaw and melted Swiss and Russian dressing – using only the freshest of ingredients. Having served the local New York community for over 30 years, M&O Market and Deli has attracted many regular customers for its delicious and affordable sandwiches. So what better way there is to experience NYC than to get a deli sandwich, just as the locals do?
Price: US$5 onwards
Where: 124 Thompson St, NY 10012 (SoHo, Downtown Manhattan)
7. Famous Fish Market
If you are in the Harlem area of Manhattan and have some time to spare,  you might want to consider checking out Famous Fish Market. This family-owned seafood spot has been around since 1974, with their fried fish being their main selling attraction – known for its crispy batter and lightly-seasoned fresh fish chunks. Their cheapest menu item is the fish sandwich (US$6.50) while their fish and chips (US$7.25) is a safe option to order if you are not sure about what to eat.
They also have on offer other seafood options like shrimp and clams combos if you are a fan of seafood. Although this is a takeout-only place, many people still choose to return to Famous Fish Market for their generous servings of seafood at an affordable price – so maybe you should consider doing so too?
Price: US$6.50 onwards
Where: 684 St Nicholas Ave, NY 10030 (Harlem, Upper Manhattan)
8. 2 Bros. Pizza
Just when you think that you couldn't find anything cheaper, 2 Bros. Pizza offers one of the cheapest slices of pizza you can find in NYC – at only US$1! You will be greeted by the fragrant aroma of fresh pizzas baking in the oven as you walk by the shop. Every slice of pizza is sinfully greasy and big – just the way a classic slice of New York style pizza should be.
2 Bros. Pizza also offers a US$3 pizza combo meal which comes with two slices of pizza and a canned drink of your choice – where you will get a delectable range of pizzas to choose from. There's a reason why we chose to feature this New York staple twice in this post and you surely do not want to miss out on this irresistible bargain when you're in NYC!
Price: US$1 onwards
Where: Several locations including 31 W 46th St  (near Times Square, Midtown Manhattan)
Do you agree with our list of recommendations? Do you have any other cheap and good food recommendations in NYC?