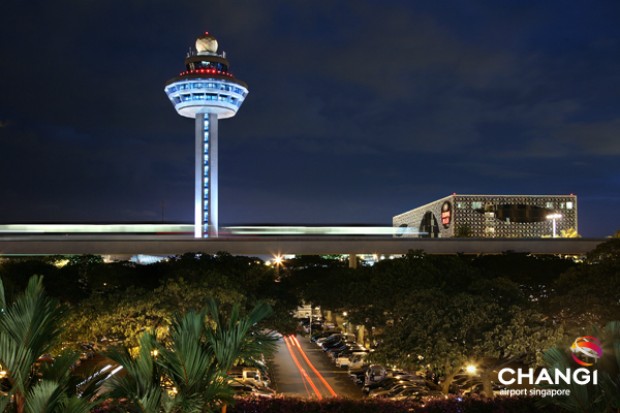 Changi Airport Group (CAG) honoured its top airline partners this evening at the Changi Airline Awards 2015, where a total of 23 awards were presented to airlines whose efforts have contributed to the growth and development of the Singapore air hub. Themed SG50, the awards ceremony, into its 10th year, also featured the pioneer airlines that have been operating in Singapore since the country's independence, and showcased their contributions to Singapore aviation.
At the event graced by Mrs Josephine Teo, Senior Minister of State for Finance and Transport, awards across six categories were presented. These included top airlines by passenger and cargo carriage, top airlines by absolute growth in passenger carriage by region, top airlines by absolute cargo growth, best airline marketing and the Partner of the Year award. A list of all the award winners is in Annex A.
Partner of the Year
The Partner of the Year award was presented to British Airways, for its steadfast and unwavering commitment to grow and develop the Singapore air hub. Singapore remains a key stopover destination in the airline's network, linking Europe with Australia and Southeast Asia. Over the years, the London-Singapore route has witnessed a number of groundbreaking aviation developments, including iconic aircraft such as the revolutionary Imperial Airways C Class flying boat and the supersonic Concorde that plied the route.
Today, British Airways is the largest European carrier serving Changi Airport, with close to 470,000 passenger movements registered in 2014. The airline operates twice-daily services between London and Singapore, with one of the services extending to Sydney, Australia.
Top carriers at Changi
In terms of passenger carriage, the top five airlines operating at Changi Airport in 2014 were Singapore Airlines, Tigerair, SilkAir, Jetstar Asia and, for the first time, Cathay Pacific. On the cargo front, the cargo airlines in the top five spots were largely unchanged, with Singapore Airlines Cargo continuing to head the list.
Airlines that registered the strongest absolute growth in passenger traffic (by region of origin) were also lauded for their contributions. These were Scoot (Singapore), Garuda Indonesia (Southeast Asia), Korean Air (Northeast Asia), Jet Airways (South Asia), Emirates (Middle East) and KLM Royal Dutch Airlines (Europe). Emirates and Jet Airways were repeat winners in their respective categories, winning the award for the third and fourth year in a row respectively.
The partnerships behind Changi's success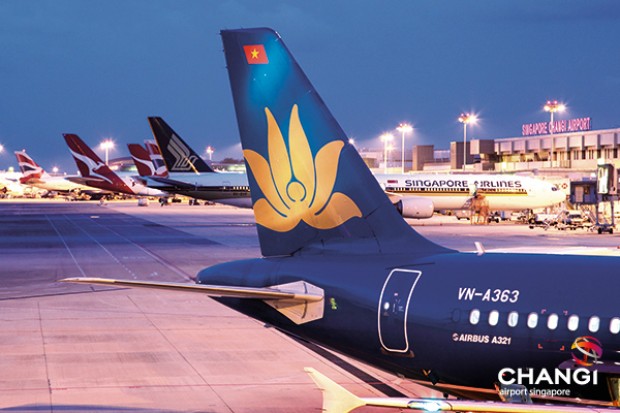 Marking Singapore's Golden Jubilee at the event, CAG paid tribute to Mr Lee Kuan Yew, the pioneer of Singapore aviation, who was instrumental in the conception and development of Changi Airport. Not only had Mr Lee's foresight to shift the airport from Paya Lebar to Changi kick-started Changi Airport's development, his conviction that all aviation partners have to work together for the Singapore air hub to succeed, is one that has underpinned Changi's growth all these years.
CAG's CEO, Mr Lee Seow Hiang, said, "Mr Lee Kuan Yew's legacy was greater than the hardware or the monumental decision to move to Changi that was well captured in his memoirs. Throughout his time in office, Mr Lee was steadfast in his view that the Singapore air hub was much bigger and more important than any one entity or organisation. All players in Singapore's aviation sector, including the airport, can only succeed if the system as a whole succeeded. Mr Lee created a common vision upon which we could promote the symphony of partnership and collaboration that has become the bedrock of Changi Airport's success."
In recognition of the contributions of Singapore's first batch of airlines, a special SG50 pioneer airlines exhibition was set up as part of the Changi Airline Awards event. The exhibition commemorated the history and showcased the achievements of the 12 pioneer airlines – Air France, Air India, British Airways, Cathay Pacific, Japan Airlines, KLM Royal Dutch Airlines, Lufthansa, Malaysia Airlines, Philippine Airlines, Qantas, Singapore Airlines and Thai Airways. Having operated here since the country's independence or earlier, these airlines have come a long way with the Singapore air hub, contributing to its growth over the past fifty years.
Today, Changi Airport continues to thrive thanks to its network of close knit partnerships between airlines and airport partners – to improve connectivity, grow traffic, enhance service standards and support each other in times of need. For instance, Changi's strong portfolio of airlines has created a conducive eco-system for codeshare partnerships to flourish as airlines expand their networks, allowing the Singapore air hub to better serve passengers. Similarly, the airport community came together last year when crisis hit with the QZ8501 incident, with airlines providing their unwavering support to the relatives of passengers onboard.
Mr Lee concluded, "From Mr Lee Kuan Yew, we received the gift of Changi Airport – the hardware – but he also imbued in the Changi community the spirit of working towards a common purpose, regardless of whether you are Singaporean or foreigner, friend or competitor. It is these precious partnerships at Changi Airport that we celebrate tonight and during this jubilee year."
Source: Changi Airport Group