Contributed by The Lost Koy
Is El Nido one of your top local bucket list destinations?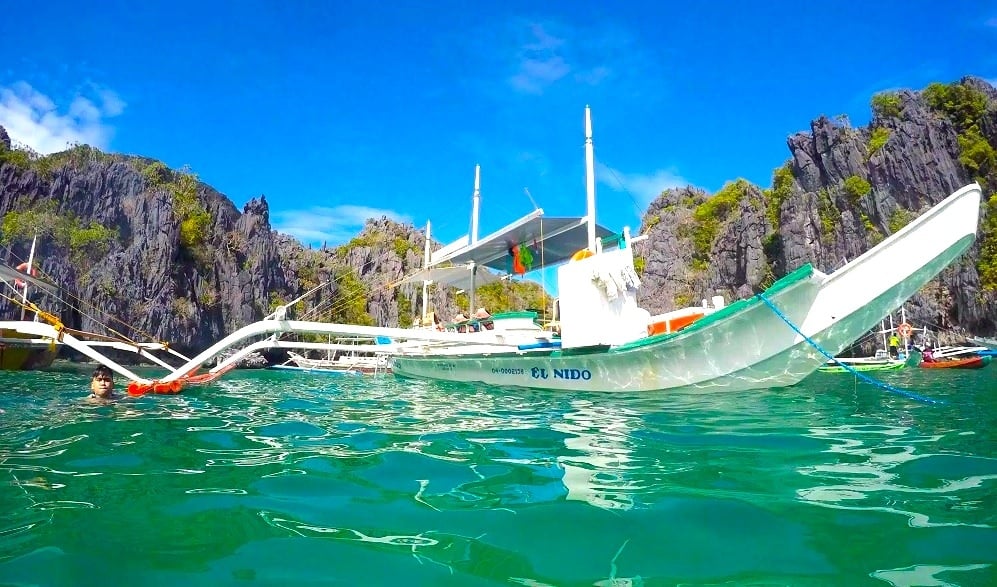 If yes, then let me share with you some helpful travel tips that will guide you during your vacation.
What you need to bring
Clothes and swimwear
Underwater camera
Bottled water
Aqua shoes – Very helpful!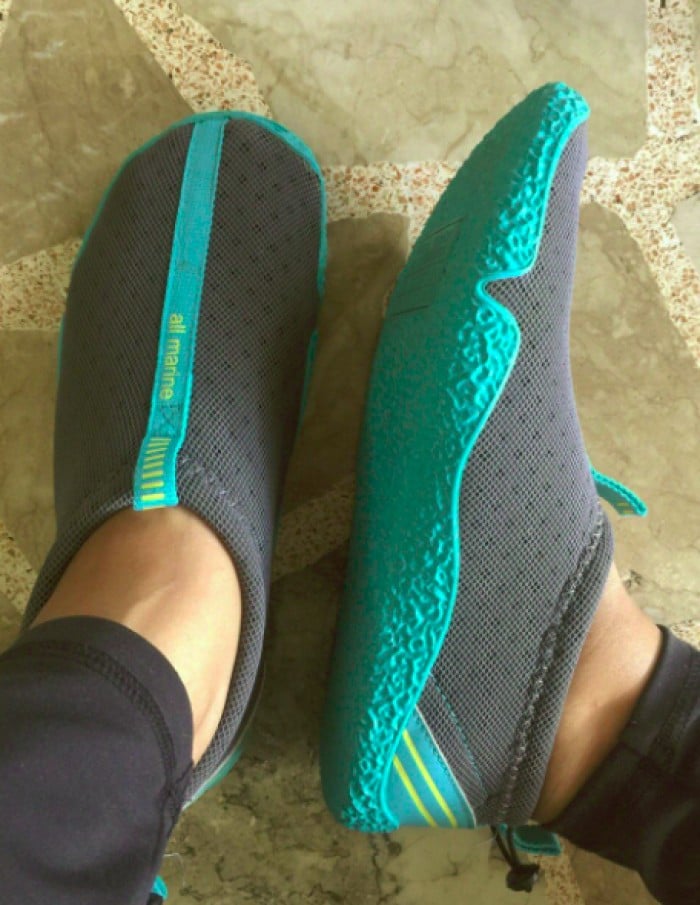 Brand of the aqua shoes below is ALL MARINE for Php 900 available at Shell NLEX. For cheaper options, you may go to SM Department Store, for PHP 350 per pair.
What we did
1. We were able to score a RT airfare to PPS via CebPac for PHP 1,080 per person
2. Researched hotels in El Nido and chanced upon a recommendation for Pawikan Hostel El Nido. I quickly messaged them via Facebook and the owner offered us a complete package of 3D2N accommodation, transfer and tour for PHP 3,500 per person.
Bryan, the owner, responds to messages quickly and is very much willing to help you and answer your El Nido related questions.
Breakdown of standard rates:
Accommodation per night (with AC, CR, towels, daily breakfast and unlimited coffee/tea) – PHP 1500
Round Trip Van Transfer per pax – PHP 1000
Tour A (per pax, comes with buffet lunch) – PHP 1,200
Also read: How We Travelled 5 Days in El Nido for Only PHP 6,730.66 (All-in)
Pawikan Hostel is located a few blocks from the beach, but it actually is a good thing because a five-minute walk is a chance to explore the area for restaurants and quick bites. (And honestly, the beach front is not that sun-bathing friendly because they use it as a port for the tours being held daily.)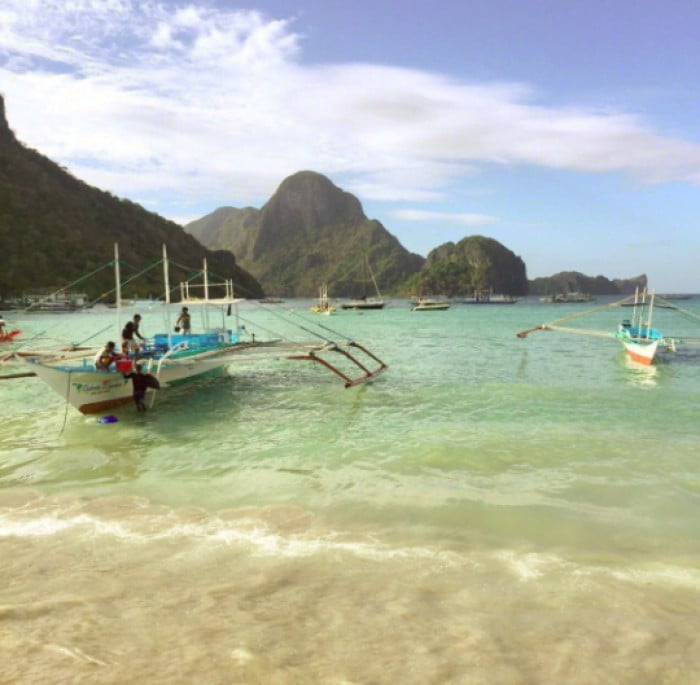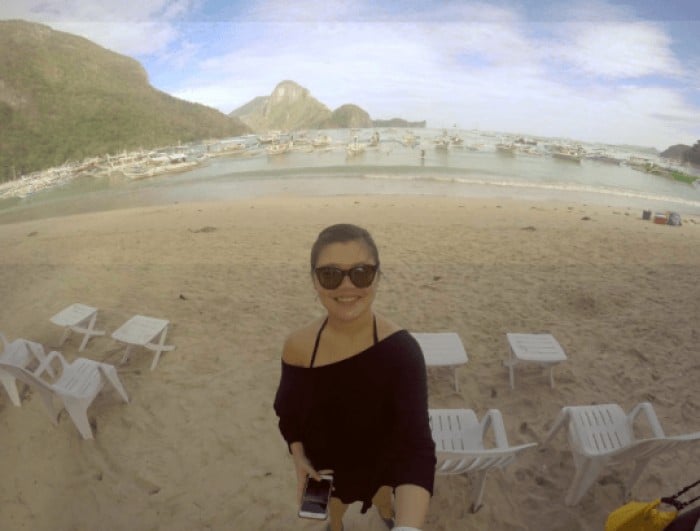 The entire strip of beach front is full of boats waiting for their guests, me included
Pawikan Hostel may not have the best hostel building but you will be amazed on how their rooms are designed.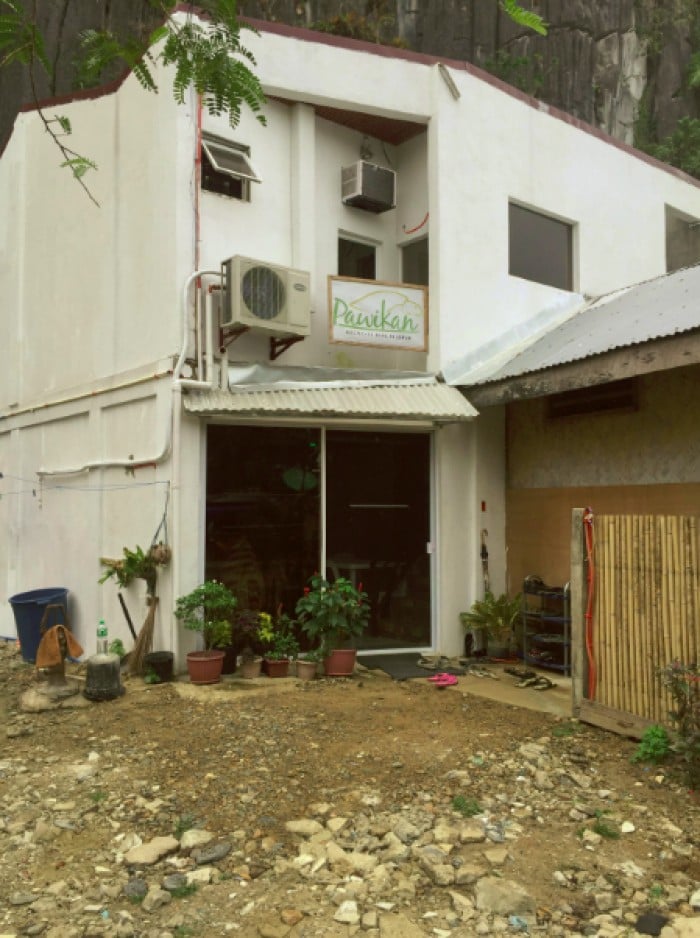 Pawikan Hostel Building (Exterior)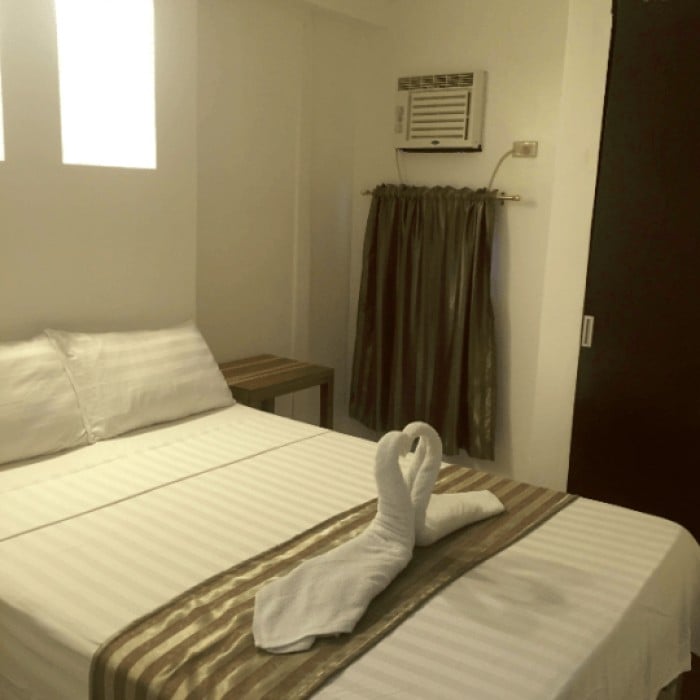 Photo of our room
While walking around El Nido, you will see a lot of stores offering tour packages. Rates are standard and non-negotiable. Van transfers are also being offered almost everywhere for PHP 500 per way.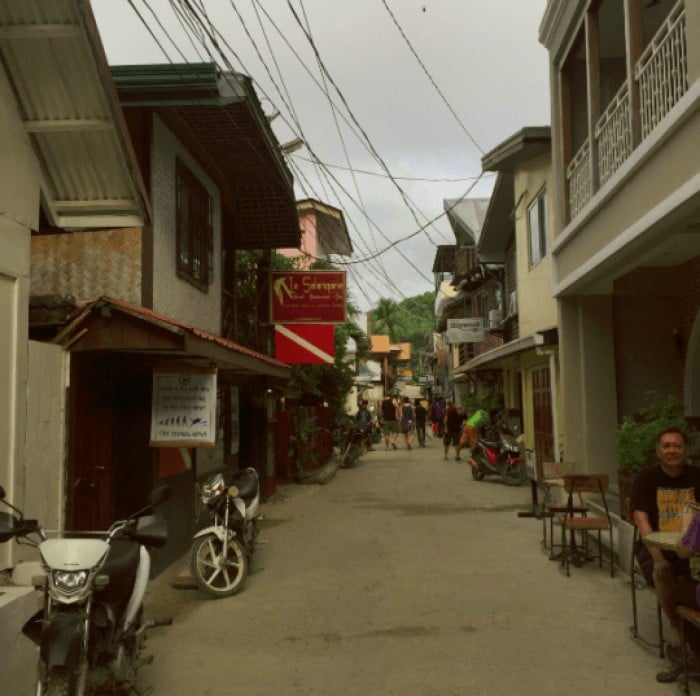 Photo of El Nido Town Proper, one block away from the beach front (reminds me of the stalls in Boracay)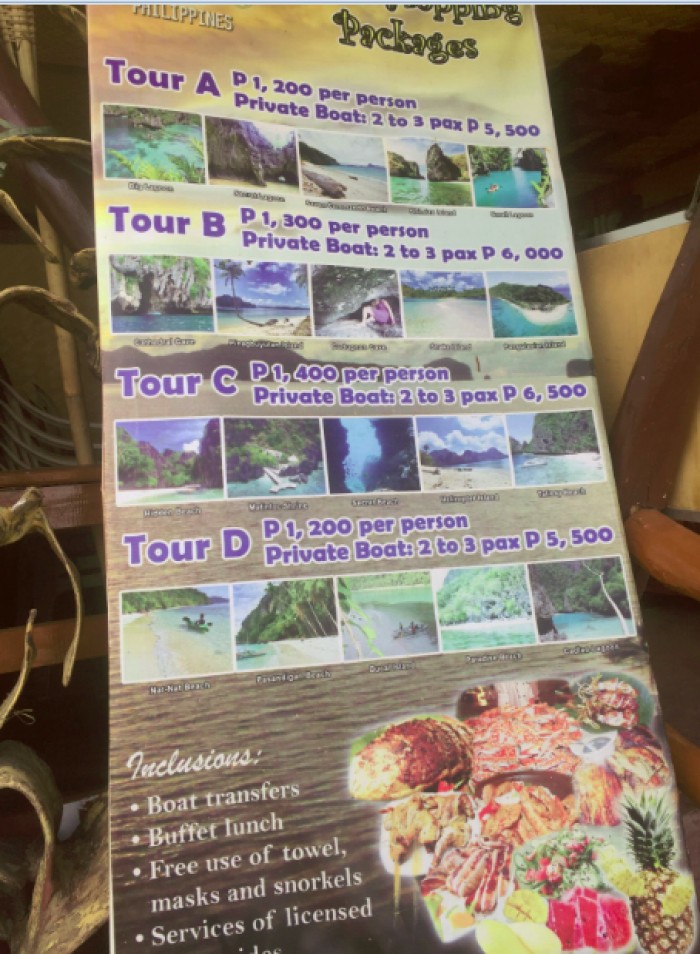 Here's a photo of the tour packages being offered
Tours are held daily, each tour starts at 9:00 am and ends at 4:00 pm. If you wish to do all tour packages, make sure to allot 4 days.
There are also other destinations in El Nido that are not included in the tour packages such as Nacpan Beach, where you can see two beaches sharing the same shore, and Los Cabanas, where you can watch and enjoy the sunset. Both beaches are less than an hour away from the town proper via rented motorcycle or tricycle. (More on this in Day 3 itinerary)
So…. We decided to get Tour A because it has lagoons and the famous 7 Commando Beach. I initially wanted to see the Snake Island, a long stretch of sand bar, which is part of tour B, but I am not really keen on seeing caves.
All aboard?
Day 1: Arrival PPS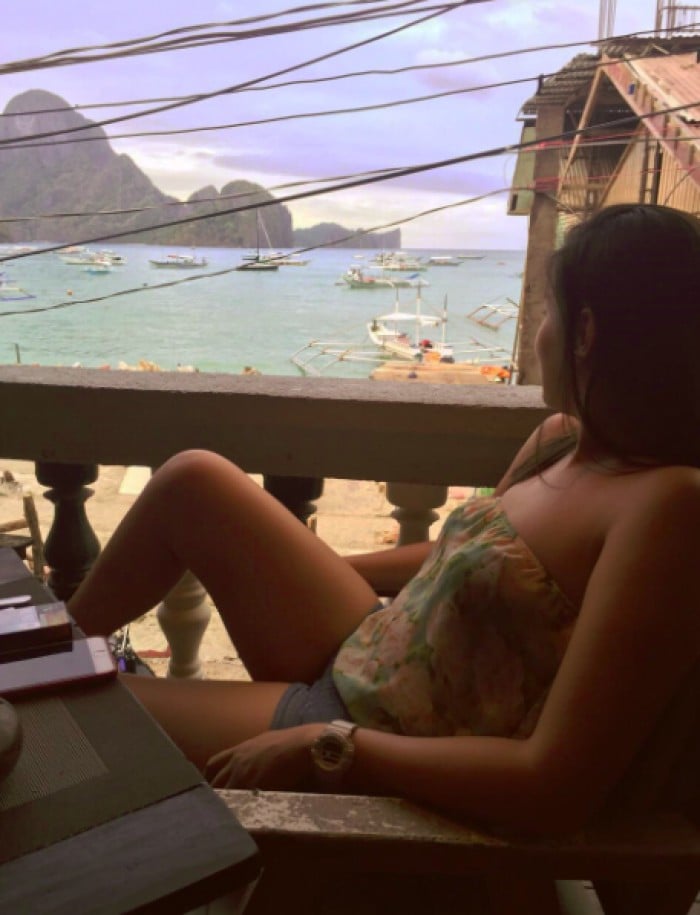 Me enjoying the view of the beach at Little Italy Al Fresco. Hating the wires, though.
We arrived in Puerto Princesa Airport at 10:00 am and was picked up by the van driver at the airport. The trip had stopovers every hour, including lunch break. We had lunch in this restaurant found in the middle of the road with no neighbouring houses or stores.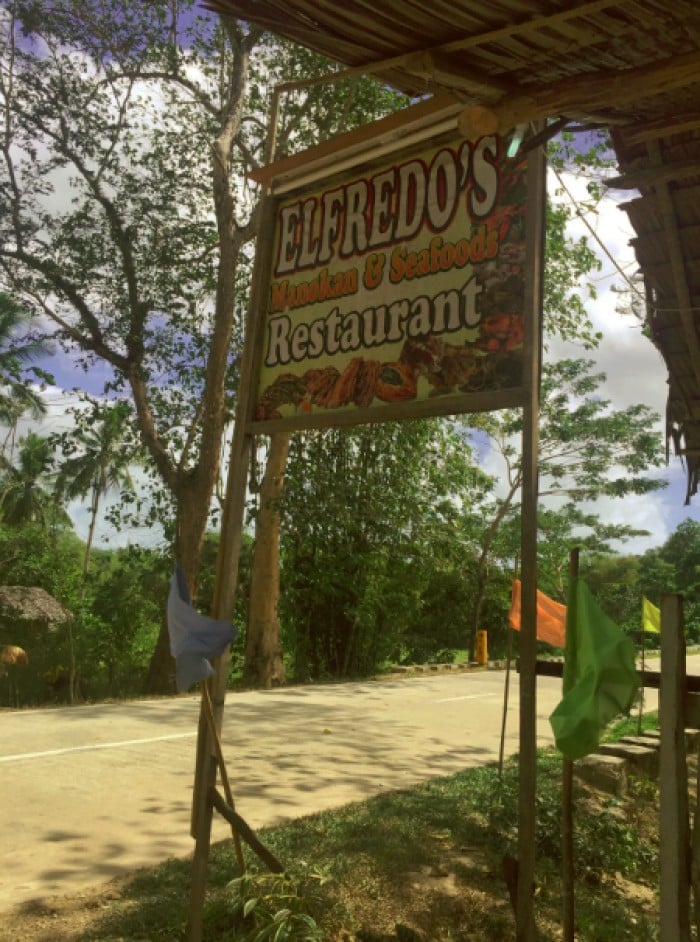 We arrived in El Nido at 3:30 PM. We were dropped off in front of Pawikan Hostel.
After we have settled and freshened up, we roam around the town proper and ate at Little Italy. We ordered pizza, beer and coffee.
El Nido has a lot of Italian restaurants serving pizza and pasta. This is maybe because almost 80% of the tourists are foreigner.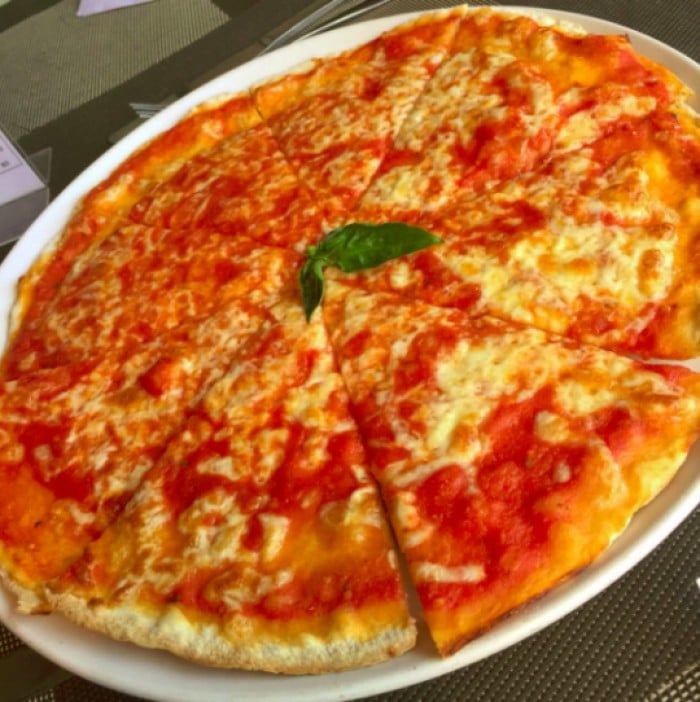 Margherita Pizza from Little Italy, PHP 380
We spent almost 3 hours in this restaurant because of their Happy Hour Promo. Beer costs PHP 50 per bottle, while coffee costs PHP 150. Just make sure to ask the server to prepare you coffee without liqueur.
At 9:00 PM, we had dinner at Kaptain's.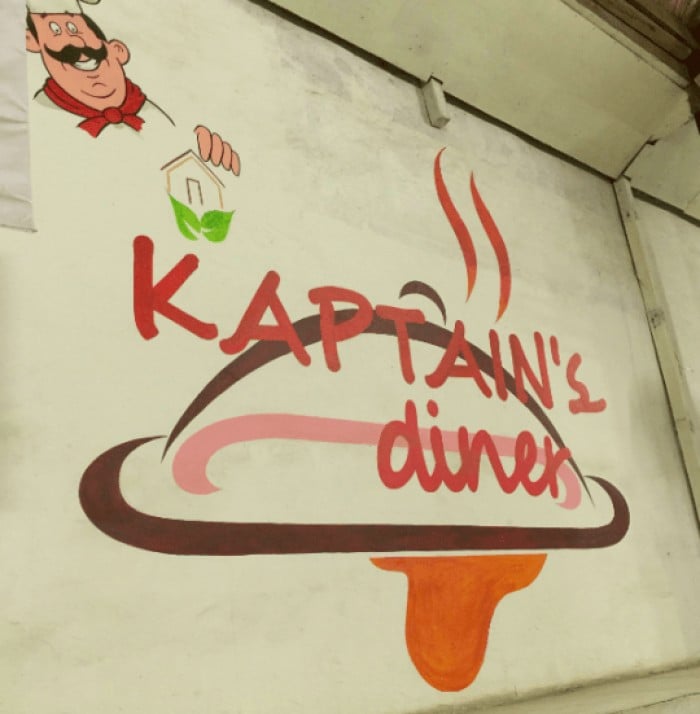 This restaurant is located a few blocks away from the beach front. We decided to eat here because when we passed by in this area earlier that day, a lot of people were eating here.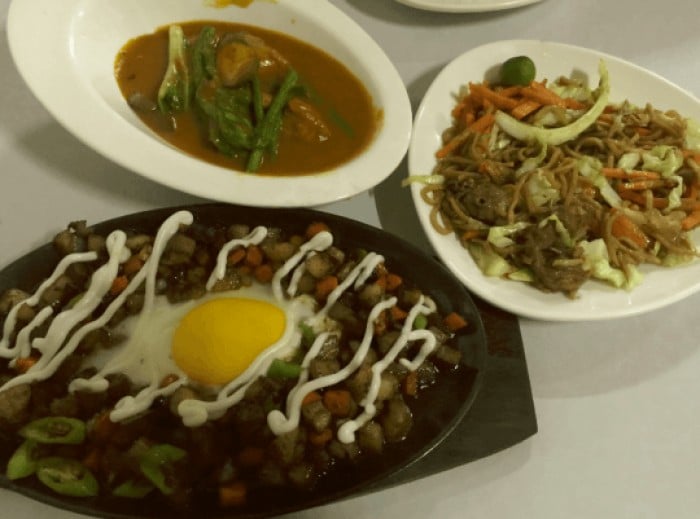 Kare-kare, pancit and sisig
We were not disappointed (except for the sisig), Kare-Kare was really good!
After dinner, we went back to the hotel and rested so we'll have energy for the tour!
Day 2: Tour A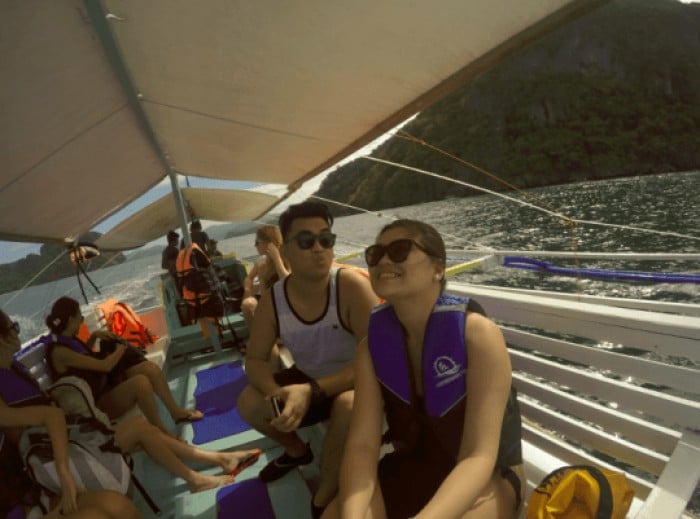 We woke up at 7:30 am to have our breakfast and we were picked up by the tour organizer at the hotel at 8:30 am. We rode a tricycle going to the beach front (included in the tour package). We waited for the other tourists and by 9:00 am, we were all ready to start the tour. We were actually the only pinoys in the boat (except for the three tour guides of course). We were joined by 5 foreigners, three of them are Spanish and two are British.
Also read: Travel Tips for Island Hopping In El Nido, Palawan
First destination: Small Lagoon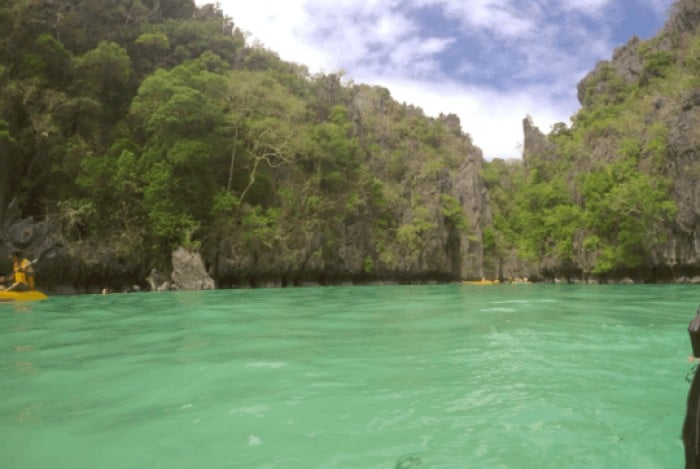 Here, you may rent a kayak for PHP 300 to explore the lagoon or  you can simply swim/walk, which we did. But note that the lagoon has large stones and it is hard to walk around with slippers, that is why I recommend for you to bring aqua shoes.
Second destination: Secret Lagoon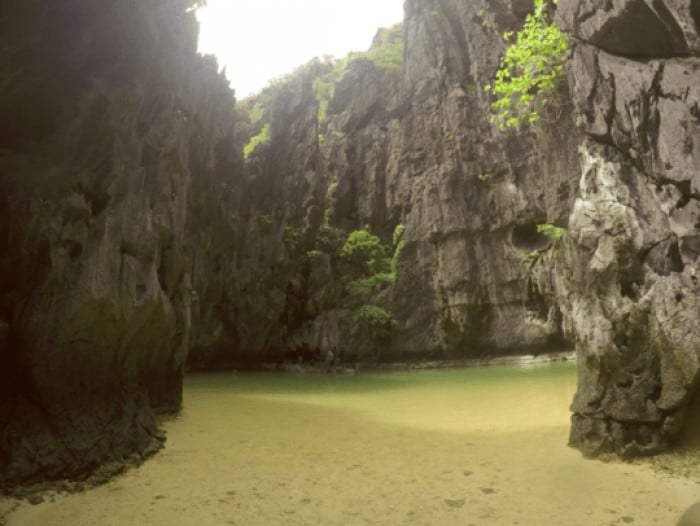 This is how the Secret Lagoon looks like
But first, you need to pass through a small hole to enter the lagoon, hence, the name Secret Lagoon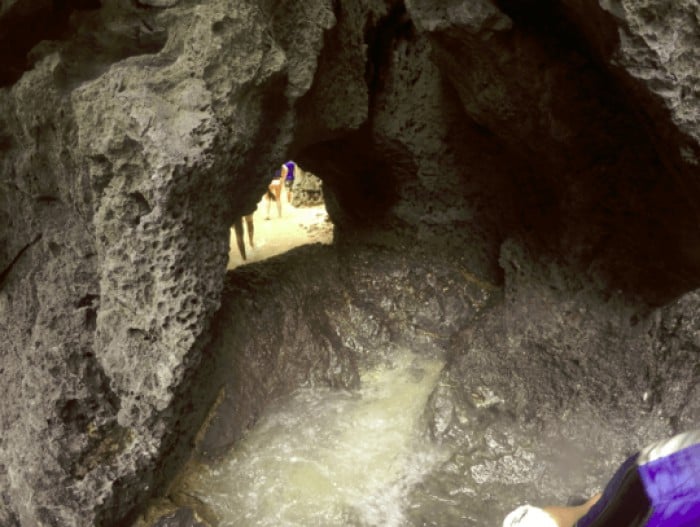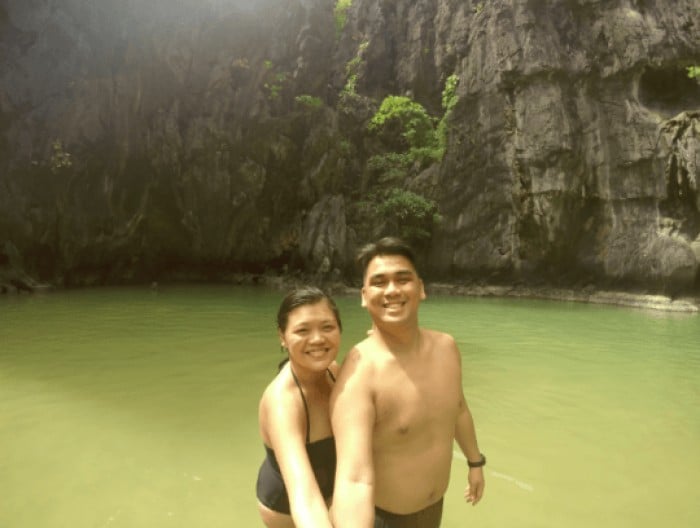 This lagoon is just ankle-deep. And also, this Secret Lagoon is different from Secret Beach and Hidden Beach (Both part of Tour C).
Third destination: Shimizu Island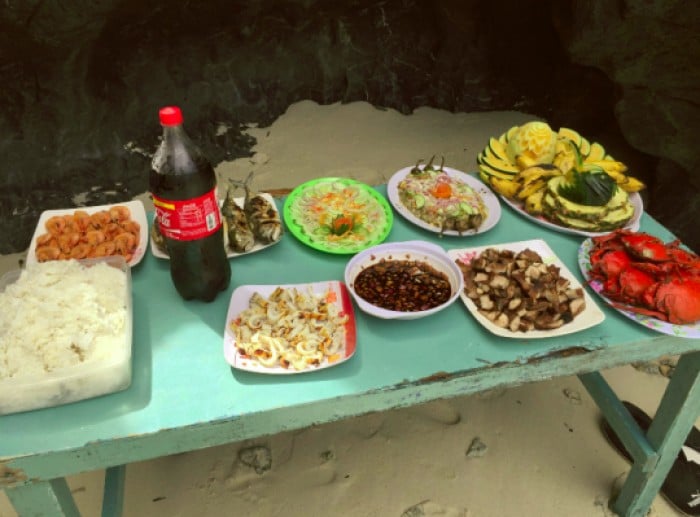 Shimizu Island is just a small island, where lunch is being prepared. Lunch is part of the tour package and set up in buffet style. They prepared a lot of food viands, mostly seafood. It also comes with soft drinks and drinking water. Hooray!
The tour guide has a talent in food preparation and presentation. Look at how beautiful this fruit platter is: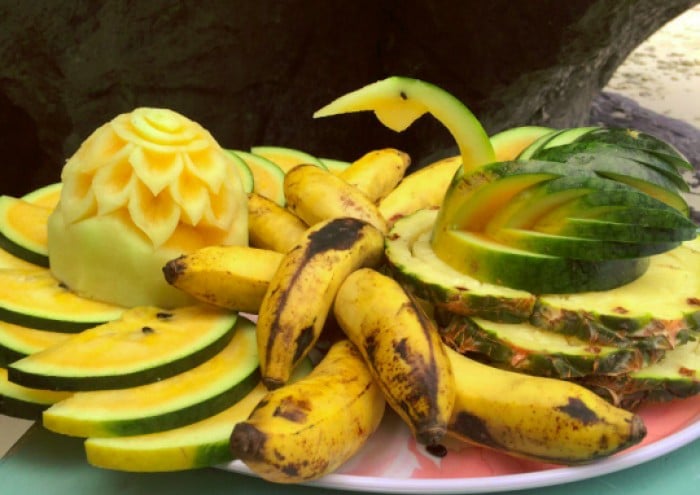 Surprisingly, there is a boat roaming around selling cold beer, softdrinks and chips.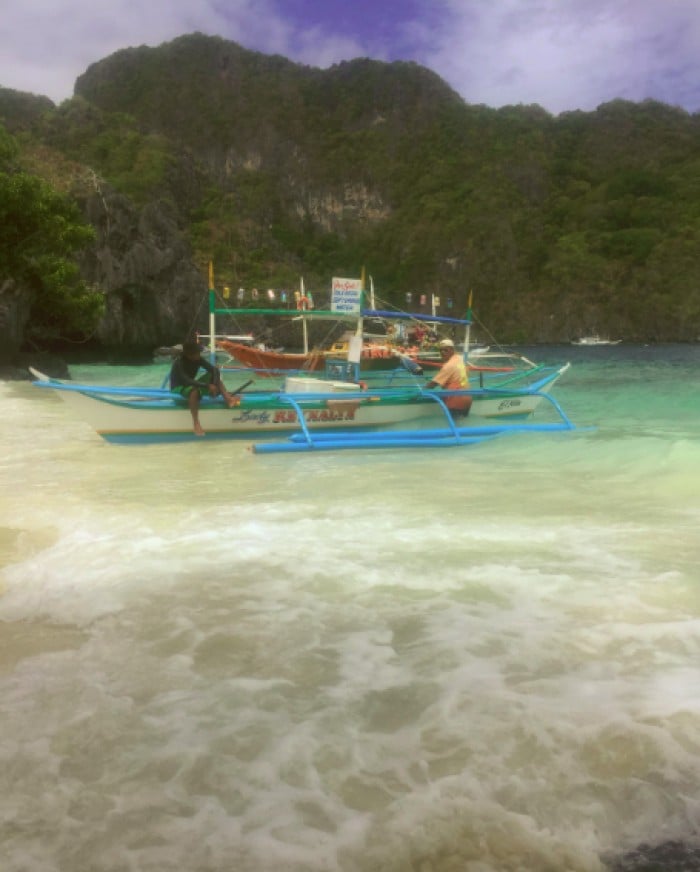 Fourth destination: Big Lagoon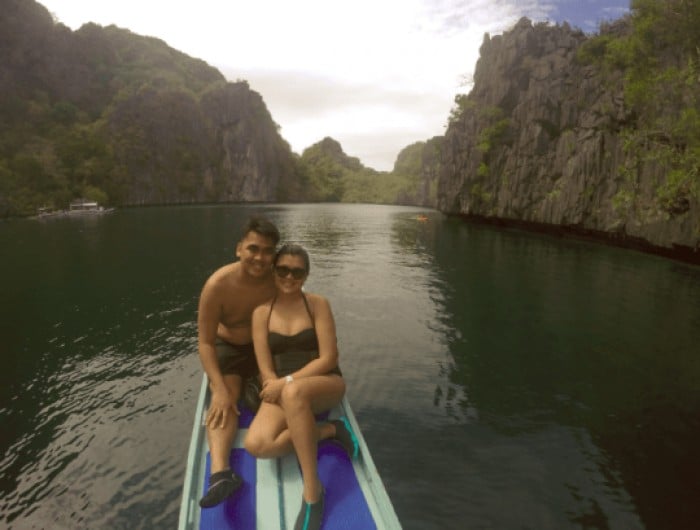 Here in Big  Lagoon, the water level is low that is why they need to slow down the boat engine. This lagoon is also where the famous El Nido photo took place.
Fifth destination: 7 Commando Beach – My favourite part of the tour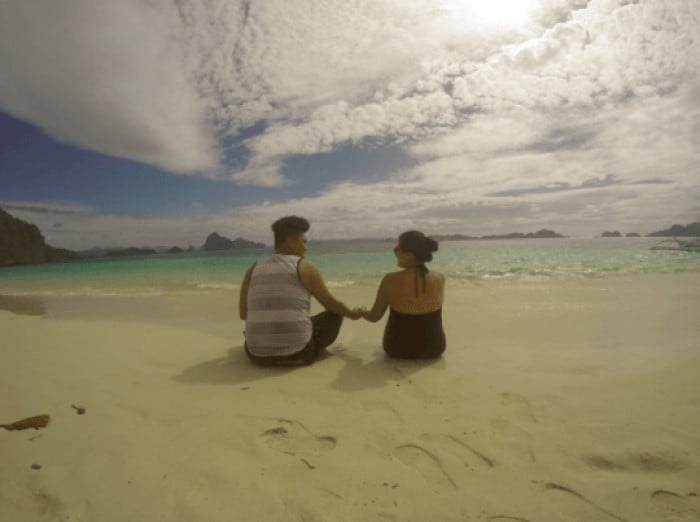 This beach is really beautiful. We actually spent an hour here sunbathing while enjoying our fresh buko for PHP 50. You can also play with the hammock along the shore.
At 4PM, we went back to El Nido town proper and rested. We had beer, coffee and dinner at a beach front restaurant serving fresh seafood.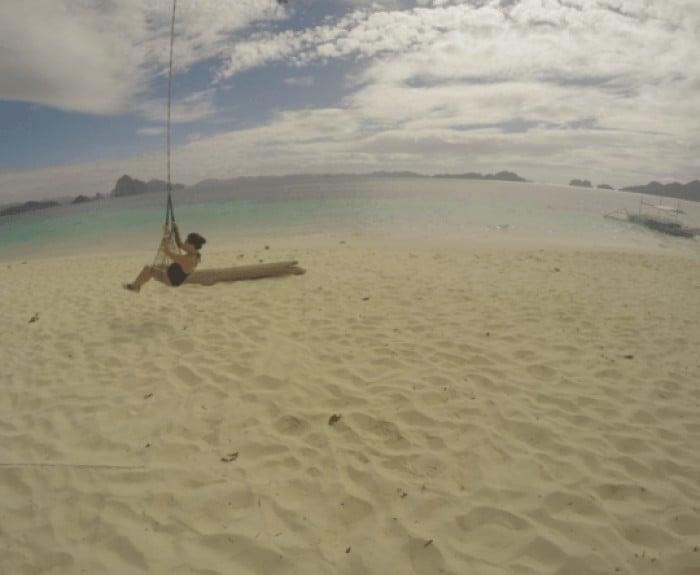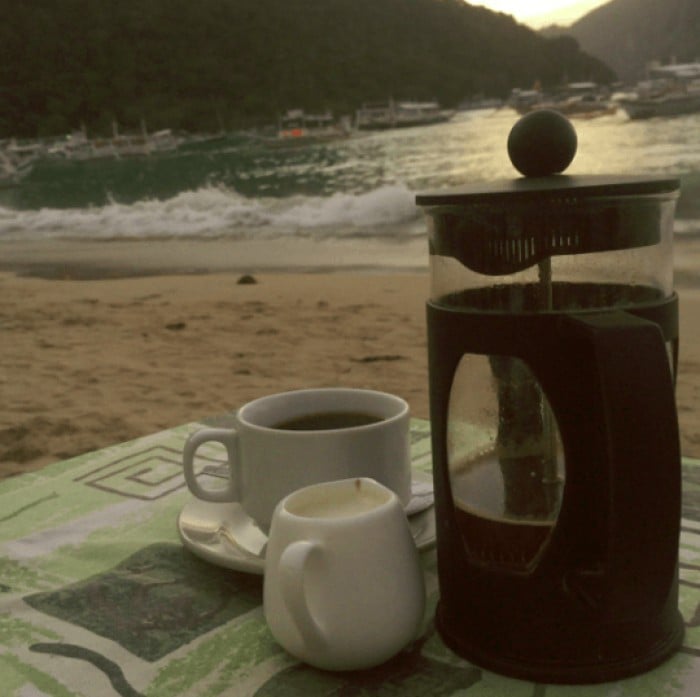 Before sunset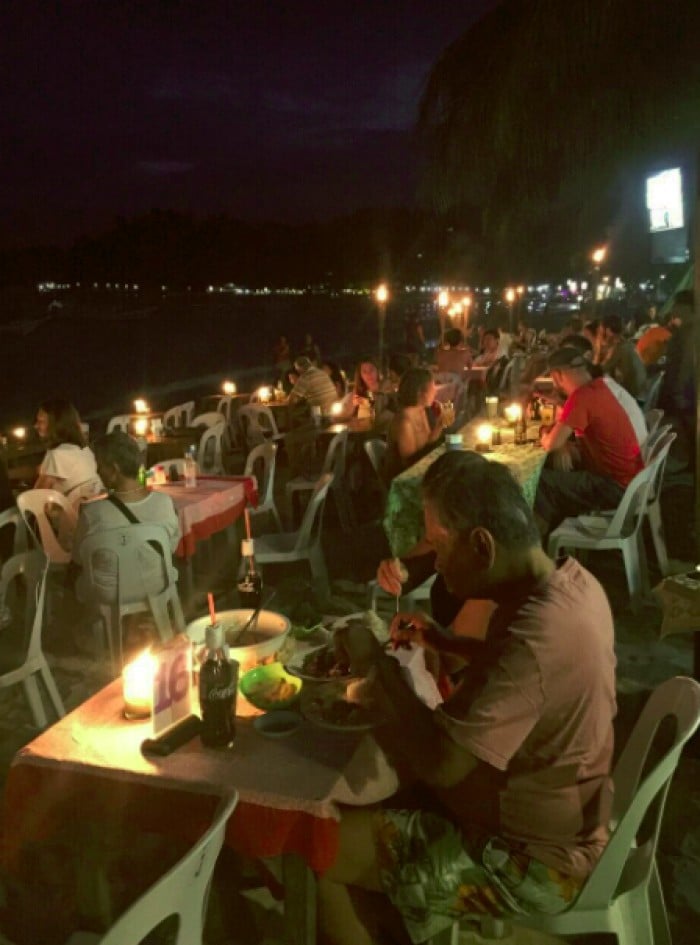 Beachfront Candlelit dinner (Monoblocks, WHY?)
After dinner, we went back to the hotel to rest – the day was kind of energy consuming.
Day 3: Nacpan Beach (Twin Beach)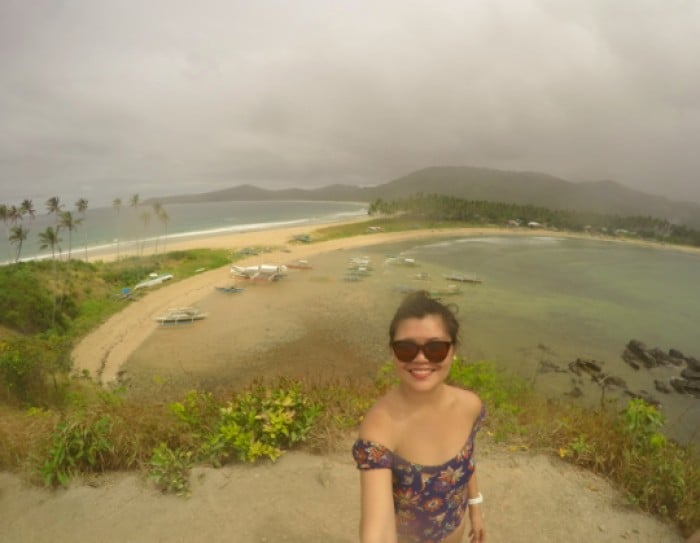 Originally, we planned to leave El Nido on our third day and explore Puerto Princesa's Honda Bay but we were enticed to spend another day in the island to see Nacpan Beach. We talked to the hotel owner and requested to book another night which he granted right away.
We rented a motorcycle for PHP 500, which is pretty low because usual rate is PHP 700 or above. Rent is good for 5-7 hours, but the owner allowed us to use the motor until 9PM. You may contact ate Lanie (+63 915 432 5566) if you wish to rent from her, too. But if you are a group of 3 or more, you may rent a tricycle for PhP 1500 going to Nacpan Beach. Travel time is 1 hour. (Beware: a good 30 minutes of rough road ahead).
Nacpan Beach is popular for its Twin Beach, wherein two beaches share the same shore. For you to see it, you need to go up a hill located at the far end of beach stretch and enjoy the view. Too bad it was rainy when we went there, but it was worth it. So picturesque.
We actually enjoyed our stay in Nacpan Beach and watched some locals play volleyball with foreigners while enjoying our fresh mango shake for PHP 100.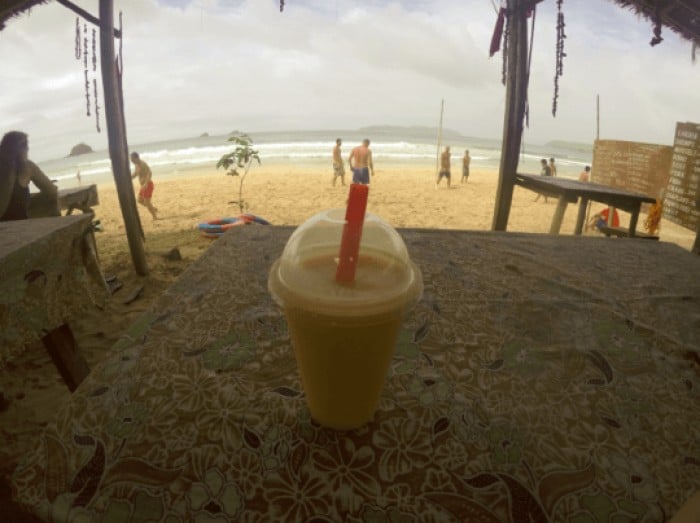 At 3:00 pm, we decided to go back to El Nido to rest. Unfortunately, we woke up at 9:00 pm, so what we did was search for a good place to eat at the beachfront and found a restaurant serving Bulalo and Corn in a cob.
Another beach you may visit through the rented motorcycle or tricycle is Los Cabanas Beach.
Los Cabanas Beach is known for such a beautiful sunset – so beautiful, a friend of mine thought the picture was a painting.
Credits to AR Recella for this photo: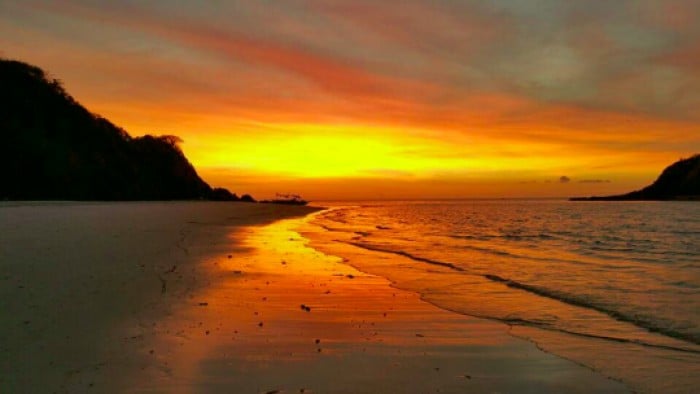 Day 4: Flight back to Manila
We requested for 9:00 am van transfer from El Nido to Puerto Princesa because our flight is at 4:30 pm. This gives us enough lead time to at least have lunch at the airport.
Unfortunately, the van picked us up at the hotel at 9:30 am and they were just starting to pick up other guests at different hotels. We were able to leave El Nido at 11:00 am because some foreigners in the van were already complaining and reminding the driver about their flight schedule. We were able to reach Puerto Princesa at 3:00 pm, without a single stop over.
Tip: Make sure to book van transfers 7 hours earlier than your flight schedule.
Also read: 10 Things You Need to Know About El Nido, Palawan
That sums up our El Nido trip. Hoping this will help you plan your El Nido itinerary! I will definitely go back to see the Snake Island and Los Cabanas Beach!
Travel Period: February 1 to 4, 2016
'Till my next destination!