Hiking is the best way to get closer to nature, to explore the rural side or to tread the outer stretches of a city or town. While hiking trails may vary in their levels of difficulty, they are rewarding in their own ways. Beautiful views, scenic landscapes, fresh air and a feeling of fulfilment surround you and leave you longing for more. This is exactly what happened to me when I went hiking at Cameron Highlands. There are so many trails that I wanted to keep going back and explore each and every one of them. However, they are not very clearly marked. Let me share my experience with some tips on the trails that I hiked through.
Also read: Budget Travel: Cameron Highlands and Ipoh with Just RM350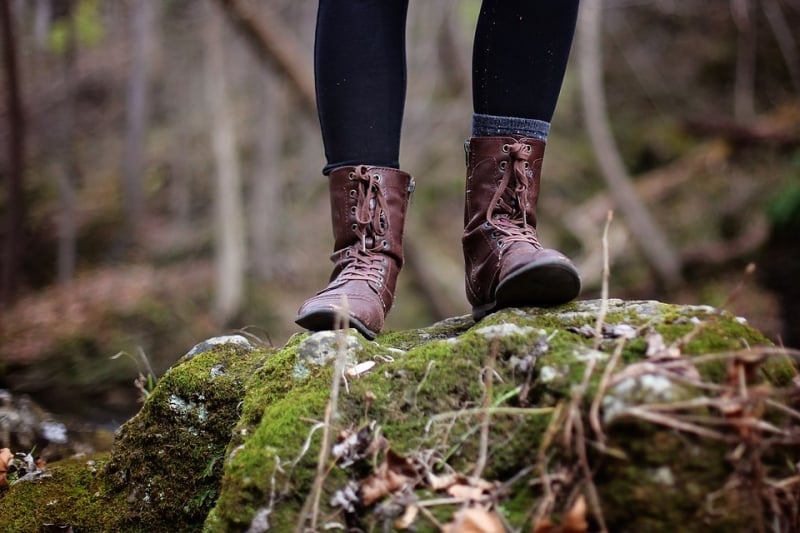 Let's divide the hike into two main phases:
1. Mossy Forest
Mossy Forest is a beautiful green fairyland surrounded by lots of trees that have moss coated on them, as evident by the name. There are two ways of enjoying the lush green surrounding. You could hike up to the forest or hike within the forest. Either way, make sure you head to the watch tower to gain a lovely view of the surrounding cities. At an elevation of over 6,000 feet, it offers a bird's eye view of Perak and Pahang, as long as the weather is favourable and not too misty for the visuals.
There are a number of routes to take to Mossy Forest that is en route to the mountain peak of Gunung Brinchang. The best route is from the end of Brinchang uphill, close to Raju's Hill (strawberry farm). Walk all the way up and imbibe the scenic views. To cut this short, you could reach BOH tea plantations of Sungei Palas by taxi, stay put for a while, and then walk it up to the forest. This way you get the best of both. Hiking inside the forest consists of a paved path with steps and shades to rest. It is ideal for families and easy-going hikers. However, the mist enveloping the forest might play spoilt sport at times. Please check the weather before heading out.
2. Jungle Trails
Most of these trails are confined to lead through the Tanah Rata and Brinchang, the two small cities in Cameron Highlands. Jungle hiking is a thrilling experience. With trails catered to different levels of hiking, each one of them offers different views. Remember that hiking enthusiasts from all over the world lie to head here for the experience. Some of the best things you will spot here are rare flora and fauna. Keep your eyes peeled for Rafflesia, insectivorous plants, orchids, different species of fungi, fern trees and more. Get your cameras ready for snakes, millipedes, jungle lizards, squirrels, frogs and more. Nature-lovers are sure to have a swell time.
Also read: 7 Quick And Cheap Coach Getaways to Malaysia For An Awesome Weekend
This place, no doubt is a paradise for imbibing fresh air and bird-watching. However, what you see or spot depends on the season of the year and the trail you choose. Most of the trails are closed during monsoons, around November to January. However, some trails remain closed (or half-closed) through mid-February as well. It is advisable to hike during the day with natural sunlight playing to your advantage. A lot of guides and tours are available as well. If you decide to tread on your own, do look up the map before heading out.
There are 14 hiking trails and each one has something unique to offer.
Trail 1 – From army quarters to Mount Brinchang: difficult
Trail 2 – Sam Poh Buddhist Temple to join Trail 3: difficult
Trail 3 – Golf Course road's Arcadia cottage to Trails 2, 3 and others: easy to difficult
Trail 4 – Forestry Department to Parit Waterfall: Easy
Trail 5 – Agriculture Institute (MARDI) to Trail 3: Easy
Trail 6 – Bharat tea estate to Mount Jasar: moderate to difficult
Trail 7 – Agriculture Institute (MARDI) to Mt Beremban: very difficult
Trail 8 – Robinson Waterfall to Mt Beremban: moderate – difficult
Trail 9 – This has 2 trails: 9 and 9 (a) – Robinson Waterfall trails to Tanah Rata: moderate, steep
Trails 10, 11, 12: Jasar Trail: from Oly Apartments at Tanah Rata to Mt Jasar: moderate to tough
Trail 13 – Cameron Holiday Inn to Trail 14
Trail 14 – Tanah Rata to Mount Mentigi, experience Mossy Forest: moderate
Tips
Warm up before you start hiking
Download an offline map for navigation
Carry your own food, water and first-aid kits
Look up the weather before booking your tickets
Take the help of a guide or use a map from a travel agent/hotel concierge
Keep your friends or your staff at the hotel informed of your hiking expedition
It is advisable to go in groups, especially in Trails 9 and 9 (a)
Please remember that all the trails aren't marked well
Beware of robbers and wild dogs in certain trails
Hire a tour guide for tough trails
Be cautious of slippery trails
Enjoy your hiking experience. It's okay to have a few hits and misses. Get lost in the wilderness and have fun. 🙂