Visiting the Great Barrier Reef was always at the top of my bucket list; I've incessantly dreamed of exploring the kaleidoscope of colours, corals and marine life.
"Go to the Great Barrier Reef before it becomes too bleached" – such was the recurring mantra that floated over my head during pockets of conversations. Thus when the opportunity to do so came up, how could I resist?
Cairns > Great Barrier Reef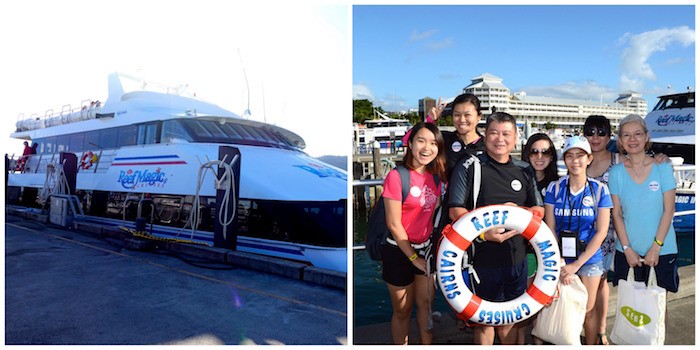 I first flew to Cairns, which is the gateway to the Great Barrier Reef and all things adventure. The reef is a mere 90-minute catamaran ride away from Cairns, and many tour operators offer day trips or even multiple day excursions. We chose to go with Reef Magic Cruises, which offered an irresistible package that allowed us to have a full five hours at the reef.
Also read: 23 Fun Things to Do in Cairns On Your Very First Visit
The journey to the reef was smooth-sailing, with only a few bouts of choppiness at best. We were blessed with clear skies and sunny weather, which bid well for the day out at sea. The cruise would bring us to a pontoon anchored at the reef from which we could do an array of water activities. These water activities are available at an extra cost, and we eagerly signed up for a couple. Before we knew it, the catamaran was pulling up next to the marine pontoon. We eagerly stood in line to exit the vessel, our eyes shining and our hearts doing a silent dance. Believe it or not, we were finally at the Great Barrier Reef!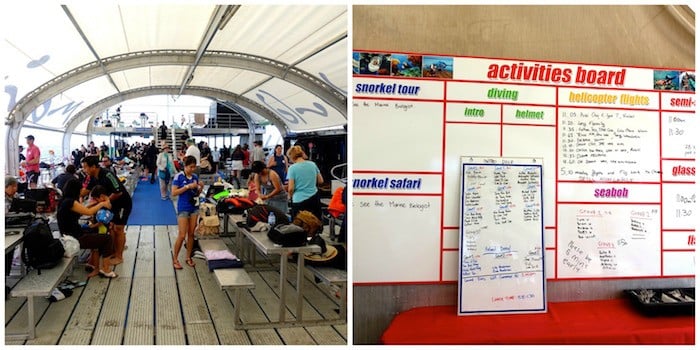 The pontoon was spacious and wide enough to accommodate everyone with ease. The timings of various activities were neatly written out in detail on whiteboards adorning one end of the pontoon, which came in especially useful for scatterbrains like us. Time to go exploring!
See the reef from up top on a helicopter ride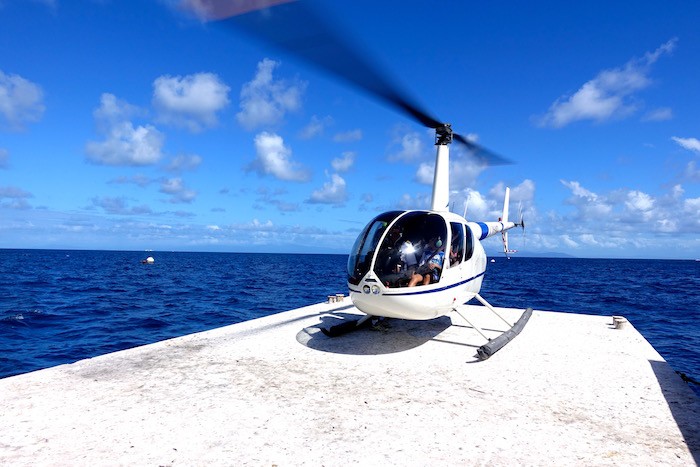 First we decided to get an aerial view of the Great Barrier Reef by going on a helicopter ride! A quick 5-minute speedboat ride brought us to the landing pad from which we would board the helicopter.  Each helicopter sits a maximum of three people, and we were each given bulky earphones to drown out the noise of the blades.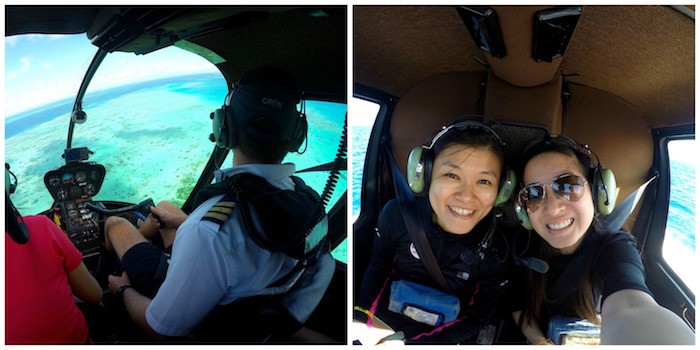 The ocean was crystal blue, and seeing the reef spread out under our feet? Magnifique. I never quite imagined the sheer vastness of the reef, it seemed to simply stretch on and on!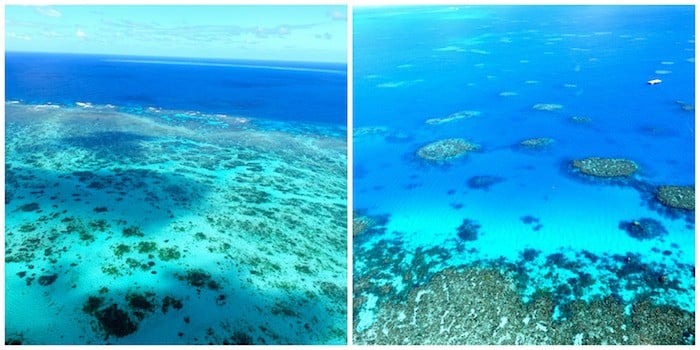 I highly recommend everyone to go on the helicopter ride – it'll offer a unique vantage point nary found anywhere else.
Dive down to the seabed on an introductory Scuba Dive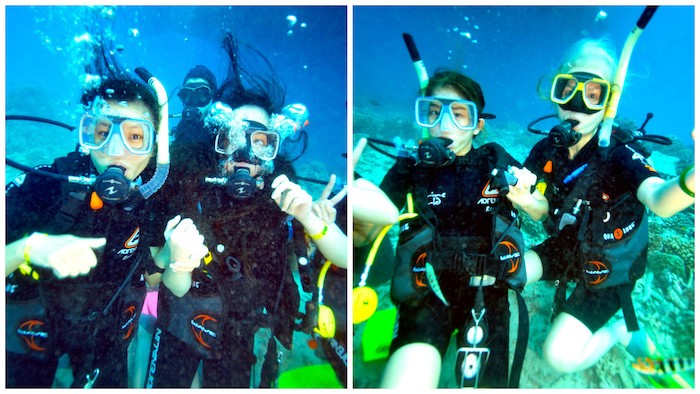 This activity is perfect for those without a scuba diving license! Introductory scuba dives are offered, where you can dive without any experience necessary. You'll be guided by a highly experienced diver, who will ensure you're in good hands whilst diving down into the depths of the ocean. We strapped on our oxygen tanks and masks with quivering anticipation, and got ready to be submerged. Our instructor taught us the basic safety procedures as well as the necessary hand signals, and off we went!
Cue one of my favourite moments of the dive – getting photobombed by a giant fish. How's that for a great picture! Breathing through our mouths was admittedly a little hard to get used to, but we got the hang of it after a while. It was quite something to feel weightless in the water, yet also so miniscule with yards of ocean stretching out before us. We swam over swaying corals, and through schools of fish that darted like quicksilver.
Also meet Wally, the friendly neighbourhood reef guardian! This giant fish is about the length of both my outstretched arms, and is friendly to boot. It swam right up to us at times and, yes, was the photobomber in the previous picture!
Be an underwater astronaut with a Helmet Dive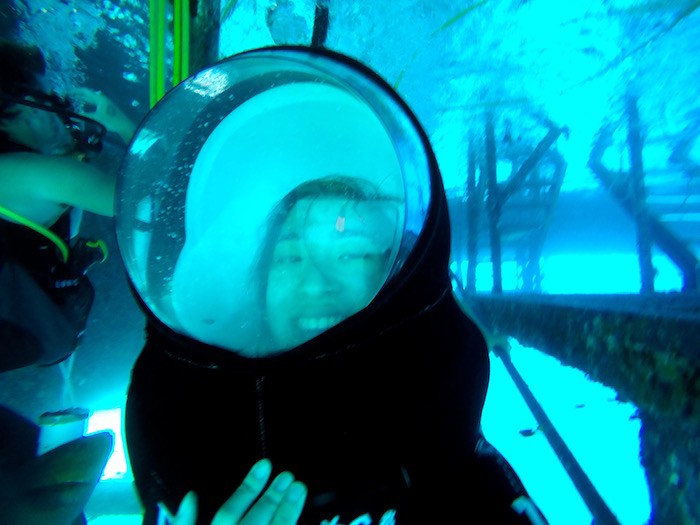 If scuba diving isn't your cup of tea, why not warm up with a helmet dive? A helmet dive is an innovative way to see the creatures of the ocean whilst in absolute comfort! All we had to do was put a helmet over our head, and we had a comfortable bubble of air to breathe in whilst we walked under water.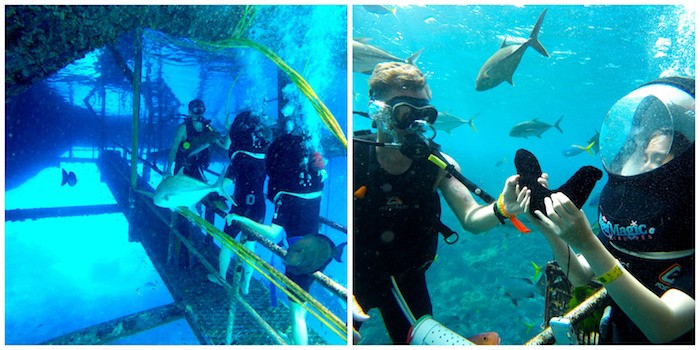 We walked down through a labyrinth of sorts, an underwater maze of slick railings, rickety floorboards and pillars overgrown with barnacles. It felt like we were on an intrepid adventure, on a quest to discover the wonders of deep below! Our guide showed us starfishes, sea cucumbers as well as intricate shells picked from the sea bed.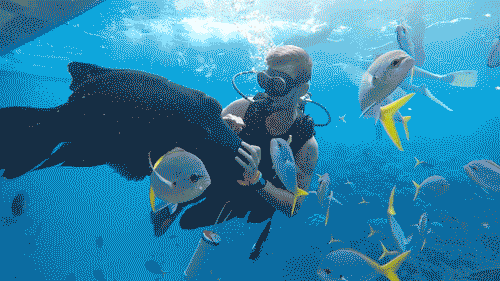 Fishes swam all around us, including our dear old friend Wally. The helmet dive is perfect for non-swimmers, as all you have to do is to put on the helmet and walk!
Venture on a Snorkel Safari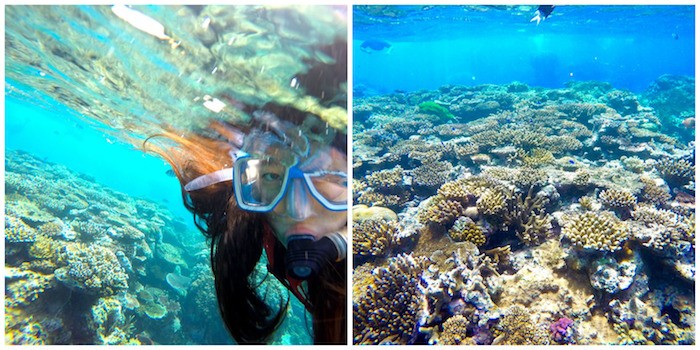 Snorkel Safaris are available for those who wish to explore the outer reef. It will even bring you to the 'drop-off', a part of the reef made famous by famous Pixar film, 'Finding Nemo'. We hopped onto a speedboat that ventured about 10 minutes away from the pontoon, before splashing off the side of the boat into the water. We snorkeled as a group, led by a marine biologist who had lots of facts and stories to share.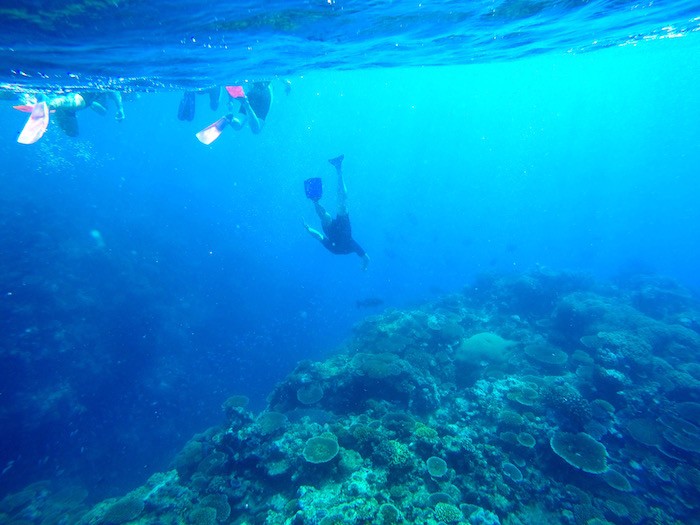 What I liked about the snorkel safari was that some parts were a lot deeper than that at the pontoon, allowing us to experience a change in coral colour, as well as a change in the temperature of the water. We were even free to 'dive' down to get closer to the corals if we wished!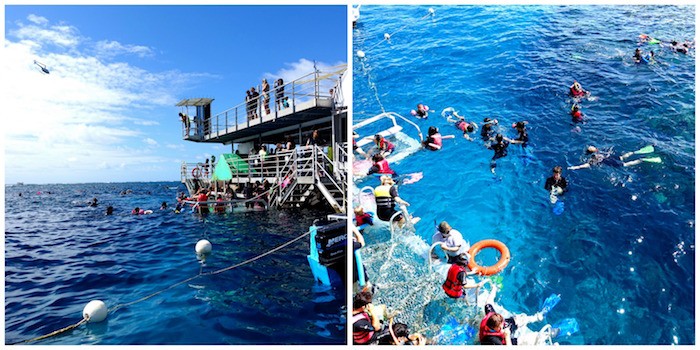 For those that don't wish to go on the snorkel safari, there's a snorkelling area right beside the pontoon. This is absolutely free of charge – all you have to do is grab a pair of flippers and a snorkel mask and you're good to go! There's a lifeguard on duty at all times, so it's completely safe.
For non-swimmers, don't fret! There are still plenty of ways to enjoy the reef even if you're not a strong swimmer. Besides the helmet dive, you can also choose to take a ride in a Glass-Bottomed Boat or a Semi-Submersible.
A day out to the reef is basically great fun for everyone, for both the old and young alike. Bucket list, check!
Special thanks to Tourism and Events Queensland for making this trip possible, and for allowing me to experience the wonders of the Great Barrier Reef.