So it's the weekend, and 5 or 6 (or 10) of you are looking to let your hair down, but… short of the usual eating, drinking, and shopping you always do when you gather, you're totally out of ideas. Plus, it's frustrating trying to even find someplace that can accommodate all of you at a go.
Like that how? Go where?
Instead of the standard buffets and barbeques (not saying they aren't good—they're definitely still the best bet for large gatherings), why not try these activities out the next time you hang out with your best buds?
1. Attend a stand-up comedy session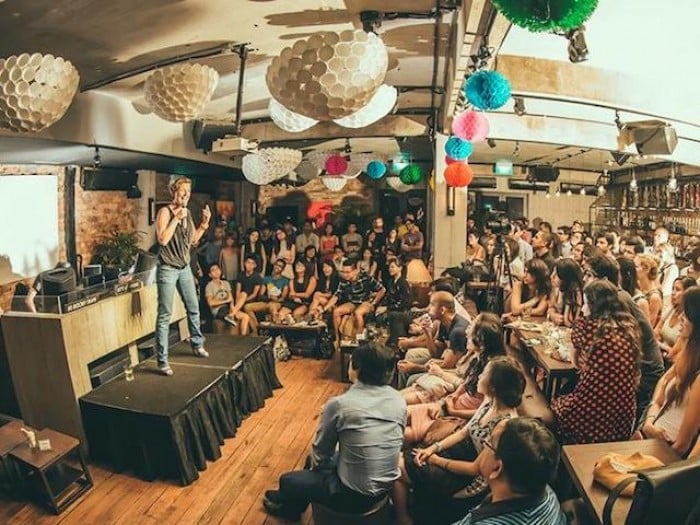 Image credit: The HoneyCombers
Badly need a couple of hours to let off steam? What better way than to laugh it all off? Forget all your work-related stresses and worries for a night, and come join the comedians for a night of mirth and happy tears!
Try out Comedy Masala, a weekly stand-up open-mic affair first started by Pakistani personality Umar Rana. They draw the biggest crowds on a Tuesday night at Clarke Quay. For $15, you get a great abs workout and a drink to boot! And hey, if you're daring enough and have a few jokes up your sleeve, go right up and try them out on the audience!
Alternatively, you can attend smaller stand-up nights at various pubs around Singapore. Some stand-up comedians do bring their gigs with them around the pubs. I think these are more personal and intimate. The comedians may alter their routine to fit the nationalities of those in the audience, and if you do become the butt of a couple of jokes, it's all in earnest jest!
2. Watch a movie under the stars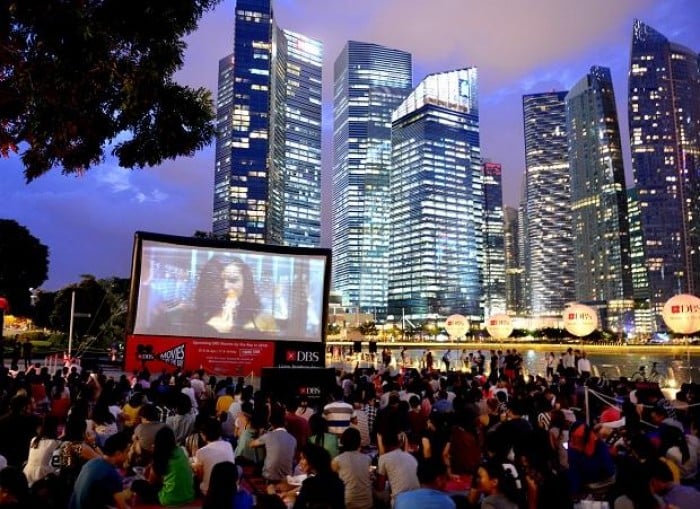 Image credit: DBS
I've always wanted to do this. To pack a picnic, hop into a car with some friends, and head to a drive-in movie. I'm just a car short of doing this at the moment, but for those of you with cars (or friends with cars), there's nothing stopping you from doing this!
Check out MovieMob, which tells you the open-to-public movie screenings at various spots around Singapore! While you can't choose the movie, if you're bored or tired of sitting up to watch the movie, you could always sprawl face up on the ground/car hood, and stargaze. A pretty good alternative to falling asleep at the cinema, I'd say. Some of these screenings are also sponsored by corporate partners, making them free. FREE. In some cases, these events feel more like mini carnivals, with the movie being the highlight of the night. I mean, free movie, free popcorn, free cotton candy, free drinks…. What's not to like? Of course, you can't expect that every time you go, so do prepare some chips, drinks, and a picnic mat or two.
3. Bond over Cosmic Bowling Night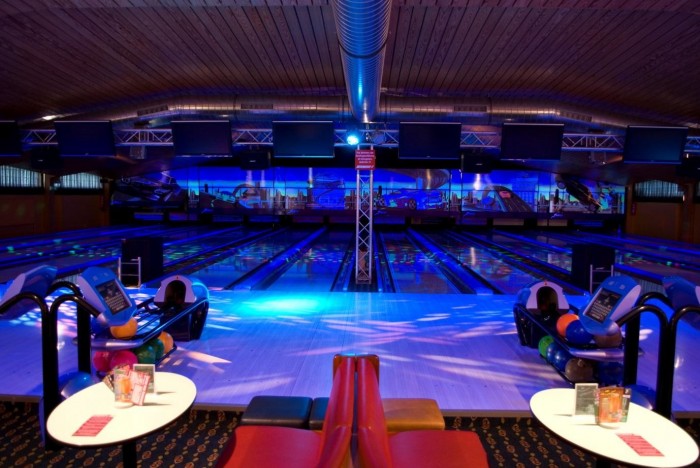 Image credit: BundesverbandBowling
Regular bowling is overrated. Imagine watching a glowing ball hurtle towards the white pins in a bowling alley washed aglow with futuristic blue light. Then imagine doing a victory jiggle to the tune of the pulsating music from the speakers as that same ball hits a strike.
I've been to something similar myself, and while the lights and music may be a little disorienting at when you first start bowling, the music and ethereal atmosphere makes you feel as though you've been transported into another world, one removed from the harsh glaring white lights of the shopping malls. Call it a tame, family-friendly club!
Also read: 20 Fun Outing Ideas in Singapore Under SGD20
If you're raring to go experience this for yourselves, then book your bowling lanes now at Orchid Bowl @ The Chevrons! Known as Cosmic Bowling Night, the night bowling experience happens every Tuesday and Wednesday from 8pm to midnight. You don't have to pay a premium for this either, just the regular rates for a game—SGD4.80 at peak periods and SGD 4.20 during off-peak times. This is a great choice for Westsiders, by the way; The Chevrons is conveniently located in Jurong East. Just sayin'.
4. Make a farm visit
Ever wondered where our vegetables and meat come from, besides the usual imports? If so, why not visit a farm and join one of the many farm tours to find out more about what it is farmers do for a living?
With Singapore's limited space and sometimes less-than-ideal conditions for farming, we've had to rely on technology so that some of these farms can sustain themselves. Learn about the technology that have helped them so much and more at farms such as Oh' Farms, Tropical Aeroponics, and Sky Greens.
Image credit: Sky Greens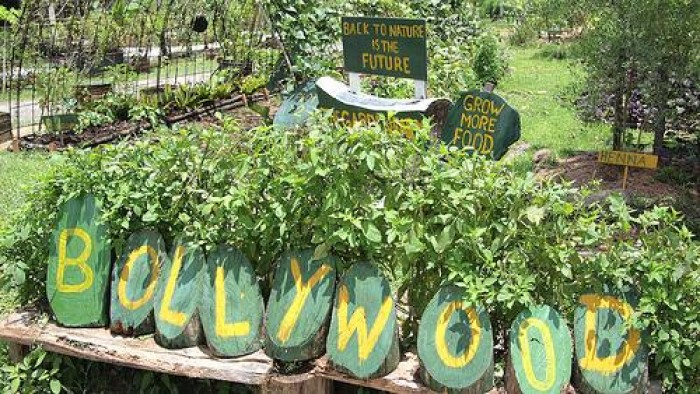 Image credit: Daniel and Esther
In particular, Sky Greens is the world's first vertical green farm. What this means, you ask. Well, you know how we live in HDB flats? Now replace the people with veggies, and visualise the flats moving in a loop, à la Singapore Flyer. That's a vertical green farm. Cool, eh?
The traditional way of farming is, of course, still around, and you can get a taste of the farm life as well. Bollywood Veggies has plenty of activities for you to partake of—guided farm tours, potting sessions, harvest treasure hunts, scarecrow building. Why, you can even get your hands downright dirty by learning to plant paddy fields! And when you've tired yourselves out completely, you can pop over to its bistro for a farm-to-table meal of home-cooked goodness.
5, Chill at a board games café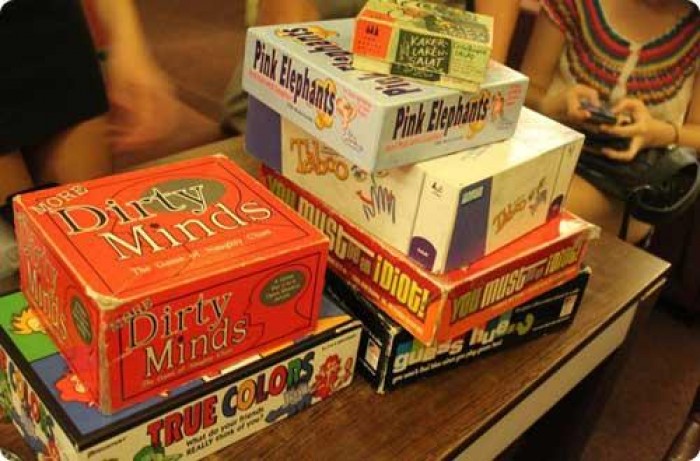 Image credit: AllDealsLeak.com
Let's go old-school! While kids these days are more familiar with the games on their smartphones/tablets, board games are a great way to bond and connect with friends! Not only do they give you and your friends a common topic, they also give you a chance to do something else while sitting down besides eating! Afterall, we just want to rest and relax on the weekends, don't we?
The Mind Café, I find, is a great choice for both board games enthusiasts and those looking to relive their childhood leisures. With more than 250 games at each of its two outlets in Singapore, you're bound to find something you and your friends can all agree on, whether it is a family-friendly Monopoly, or a game that tests your speed like Ugly Doll. There are even game facilitators around to help you pick out a game suitable for your level of expertise, interest and number of people playing a game. Thoughtful of them, aren't they? It's also a great plus factor that the charges are really easy on the pocket as well—it's only $2-2.50 a person per hour to play as many games as you want! And of course, they do offer drinks and simple food items as well. You'd be hard pressed to spend only 1 afternoon there!  
6. Go for a game of Laser Tag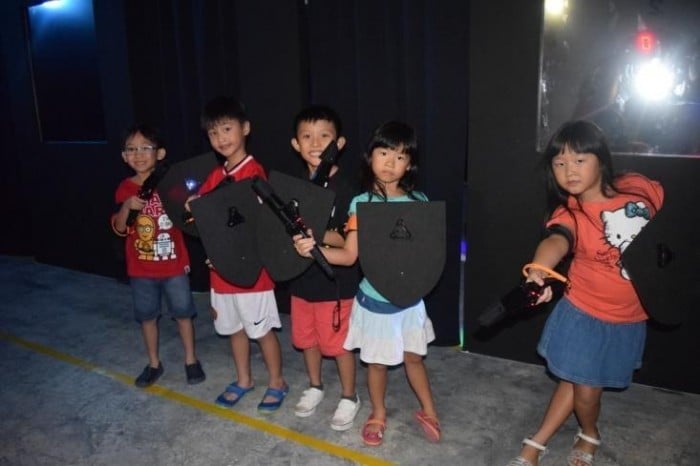 Image credit: Tag Team Inc.
Shoot your friends! It's one against the other! No, not literally.
Let's face it, the more people you have, the better it is for team games. So why not play that to your advantage and go for a round or two of laser tag? Divide your group into 2 teams or more, and score points for your team by shooting players of the opposing team down. And you don't have to hold back on the shooting either—the game uses the same infrared technology as the ones used for remote controls, so it's totally safe and alright to aim your targeting device at your mark. Now you can shoot that one friend you always wanted to!
And if you're one of those who dislikes the yellow ball of sun, worry not, there are indoor options in Singapore. Tag Team, owners of Singapore's largest indoor laser tag arena, can accommodate up to 20 people at a time. That's as ideal as any activity for large groups can go. Children as young as 6 years can play in this arena, and there is a separate, smaller one children aged 4 and above.  
7. Explore Coney Island and Kranji Marshes (if you haven't already)
Image credit: Jnzl
Take a few hours out from the hectic pace of city life and reconnect with nature. With the two most recent nature spaces in Singapore recently opened to the public—Coney Island, and Kranji Marshes—there's plenty of reason for you to put on some comfortable shoes, grab a bottle of water, and go on a trail through these places with your friends.
Coney Island is Singapore's largest nature destination at the moment, and houses a park within its grounds. It was previously owned by the Haw Par brothers of Tiger Balm fame, and closed to the public till last year. Also known as Pulau Serangoon and located off the north-eastern coast of Singapore, the government, in line with keeping it environmentally sustainable, has left the park largely as it was. As such, there are close to zero amenities in the park. There is just one toilet, run by solar power and rainwater.
The park boasts a wide variety of biodiversity. It is home to 80 bird species, including the migrant birds that stop over, a cute family of otters that are part of a globally-threatened species, Singapore's last 2 surviving cycad specimens. There is also a resident bull—a Brahman, though you may not spot it easily as it is very shy.
Note: Do remember to put on insect repellent, as it has been reported that there are many sandflies. Also, it is recommended that visitors should wear long pants and covered shoes on the island. Most importantly, keep this in mind:
"Take nothing but photographs, leave nothing but footprints."
8. Enjoy a 10-course picnic in style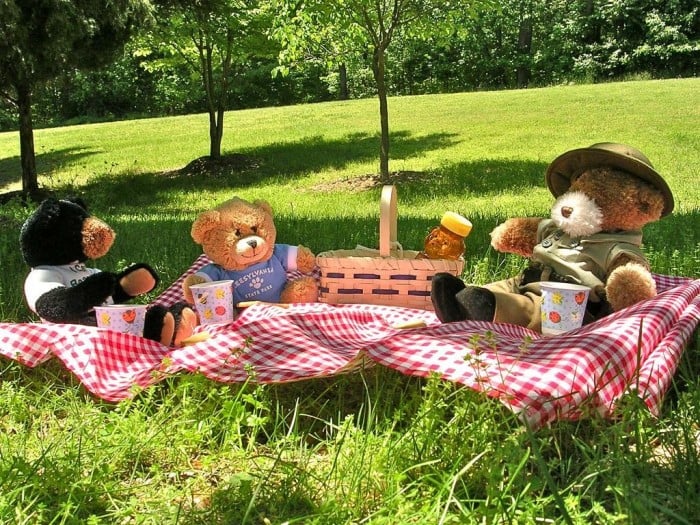 Image credit: Virginia State Parks
Turn a gathering into a garden potluck party fit for a king! Yes, I know I said no buffets and barbeques, but there's no reason why you can't prepare your own and bring them to the party. The way I see it, the best way to go about this is to have a potluck picnic. If everyone brings two dishes, you'd have a 10-20 course meal in no time at all. With so many people and so many dishes, you wouldn't even have to prepare that much; a portion enough for 3-4 people would be sufficient. It's also a great way to exchange new recipes, try new dishes, and best of all, bond over the mutual love everyone has for cooking and/or eating. As for style, you could do away with the niceties and simply prepare a picnic mat to keep the plant juices off that pretty dress, and a picnic basket to keep those sandwiches, fruit and chilled juices.
Also read: Top 10 Outdoor Outing Ideas in Singapore
Or, you could also go all out and bring the foldable tables, chairs, proper cutlery and dinnerware and have an elaborate garden lunch set against a lush green background. In any case, it'll be an experience you won't soon forget.
9. Volunteer as a group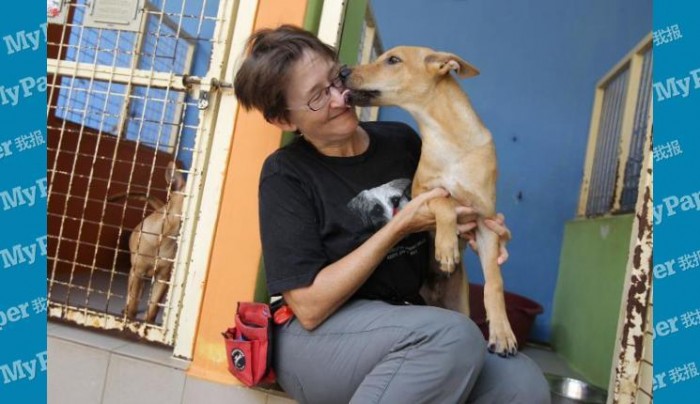 Image credit: MyPaper
More hands make light work. Giving our time to a worthy cause is one of the most meaningful things we can do on a weekend.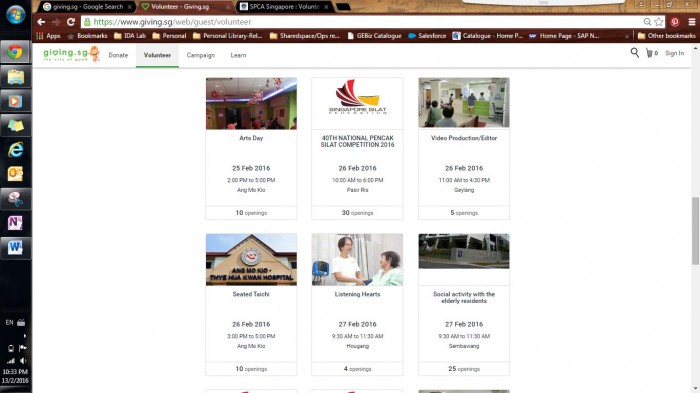 Image credit: Giving SG
Giving SG lists various volunteer projects that you can get involved in. Whether it is befriending the older folks by lending a listening ear or contributing your mad photography/videography skills to their donation appeal efforts, you're bound to leave feeling like a million bucks, knowing you've done something to the betterment of others' lives.
If you're more of an animal person, the no-brainer would be to head straight to SPCA.  Duties range from mucking out cages and feeding the animals to walking dogs, to more frontline ones such as manning counters and answering queries. It is explicitly stated on the website that volunteers have to commit weekly or fortnightly for at least 4 months though, so be sure of what you're getting into when you submit the volunteer registration form. On the bright side, you get to have weekly gatherings with your friends, both furry and non-furry ones, for the next 4 months, if not more!
10. Learn something new at a private workshop
Carpe diem and learn something new on your days off with friends! If there are that many of you, why not fork out a little more for a private workshop? In fact, you may not even need to pay extra, if you can find a place that does small workshops for 6-10 people. Your choice is almost limitless.
Try 3D doodling a pokemon or a dog.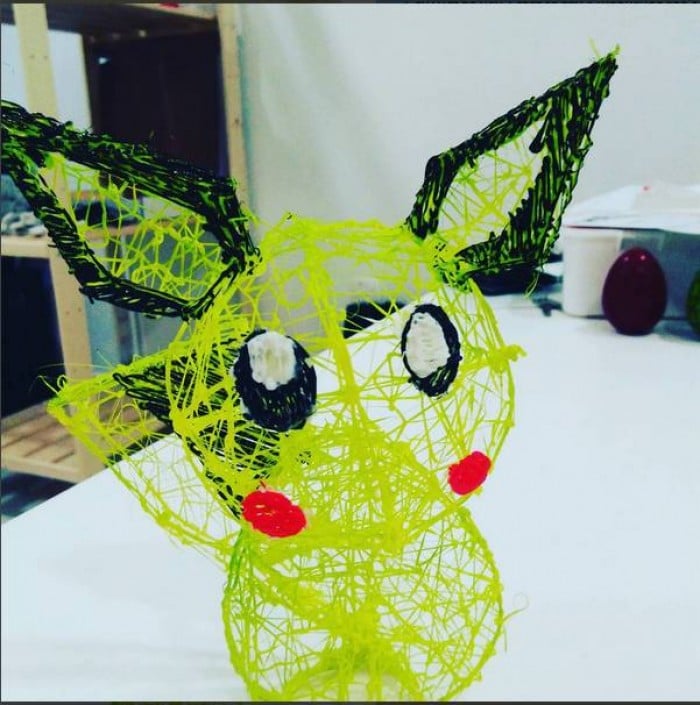 Image credit: Henchmen Asia
Or bring home your own self-made leather goods.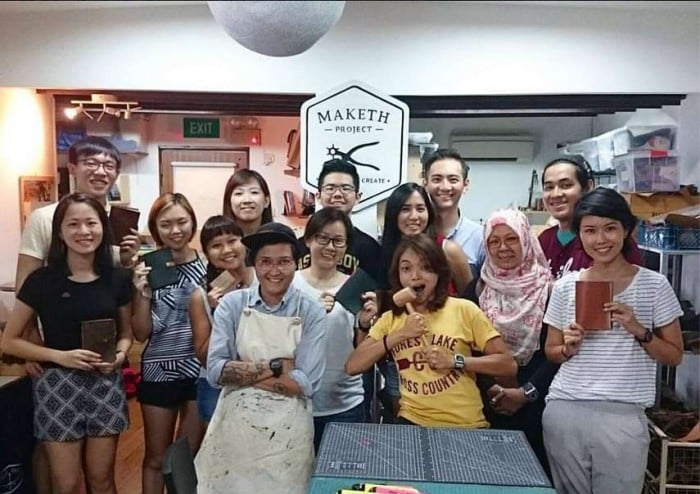 Image credit: MakethProject
Maybe a terrarium?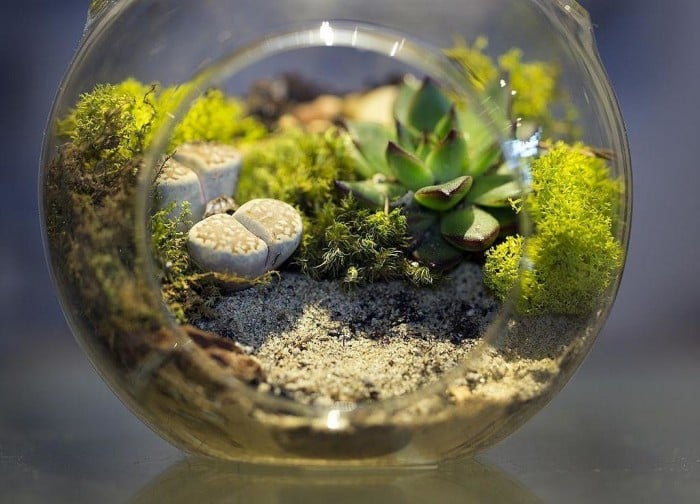 Image credit: Christopher Michel
You get the idea. Again, some of them are pretty easy on the pocket too, depending on which type you're gunning for. For example, Henchmen Asia has a basic 1.5 hour 3D Pen Doodling Workshop going at SGD 20, which is really affordable if you ask me.
And if you're hard-pressed for ideas, check out Lessons Go Where, a marketplace that lists local classes and workshops around in Singapore!
Also Read: 6 Museums in Singapore You Didn't Know Exist
So there they are, 10 activities which would be great for a mini class gathering or that Christmas cousins' gathering. Which activity would most interest you and your friends? Or are there any other activities that you think are suitable for large groups of friends? Let me know in the comments below!