1. Holi, India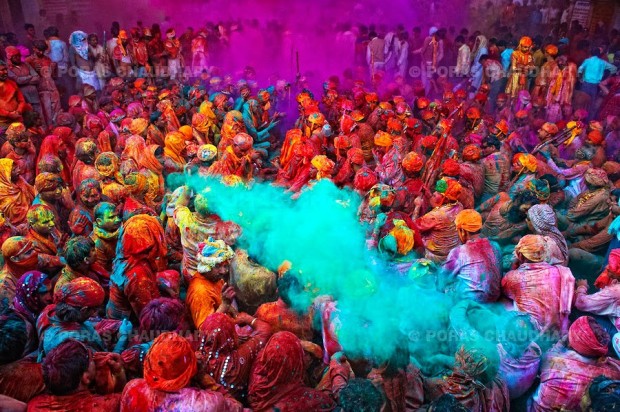 Image credit: Kotiyal Shrish
Image credit: Holi
This extravagant annual festival puts Colour Run to shame. Holi Festival celebrates the end of winter as India welcomes the warmth of spring. It's a time of unity between the locals and travellers alike as Holi-goers dance and bathe in the rainbow mass. Bulks of colours erupt in the crowds as everyone chases one another while throwing handfuls of dyes and powders. It's impossible to rub the smile off your face during this exceedingly joyous occasion (until you get home and try to wash off the dyes).
2. Kanamara Matsuri, Japan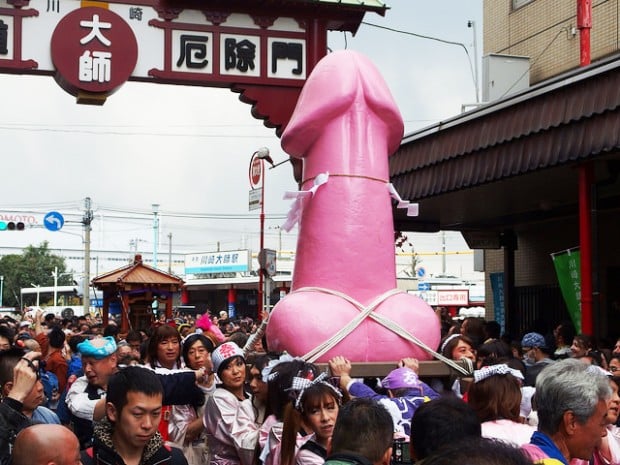 Image credit: Guilhem Vellut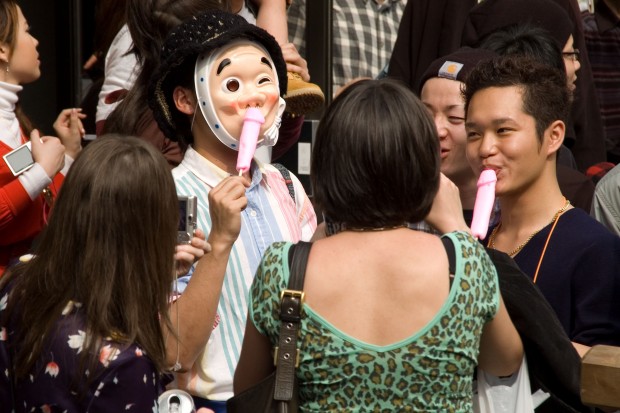 Image credit:elmimmo
Despite baffling smirks from the rest of the world, Japan is not a least bit shy with throwing an extensive parade celebrating the birds and the bees. Kanamara Matsuri explicitly honours fertility and healthy births and promotes awareness on STDs. With sexual organs pompously displayed all over the festival, from enormous floats to costumes that make you uncomfortable with taking a second look, Japan has definitely awed us with a completely different vibe from its usual cherry blossoms and cutesy anime characters. Keep an open mind, join in the fun and go have a ride on that phallic seesaw.
3. Thaipusam, Indonesia
Image credit: Nestor Lacle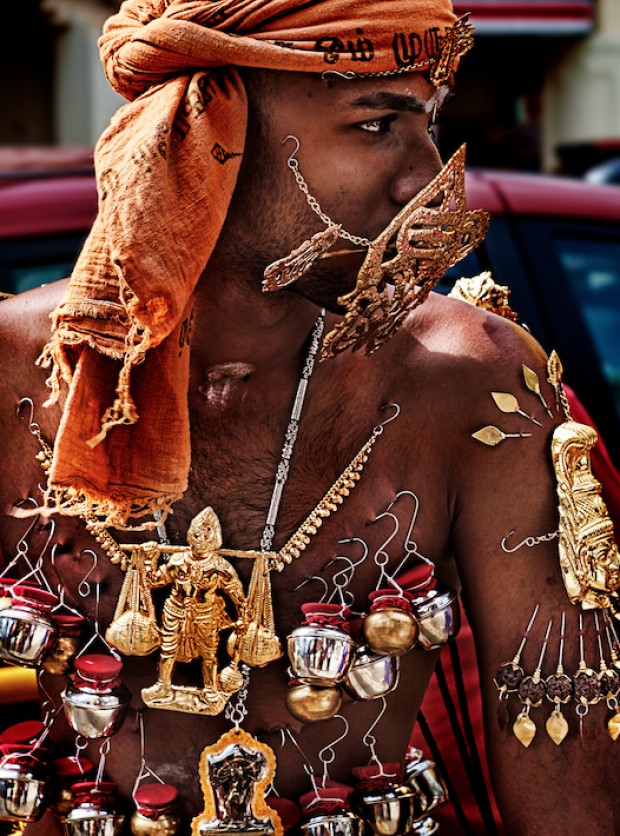 Image credit: William Cho
This festival is not a place for the weak-hearted. Thaipusam celebrates the Hindu God of War and takes place over three days. The main theme of this absolutely bizarre festival is the mortification of human flesh. Unimaginable as it sounds, hundreds and thousands of devout Hindus voluntarily torture themselves by hooking different parts of their bodies (tongue, lips, chest etc.) through metal bars of several forms. To them, it is believed that a short-term bodily pain worths a long-term spiritual gain. Ouch.
4. Konaki Sumo Festival, Japan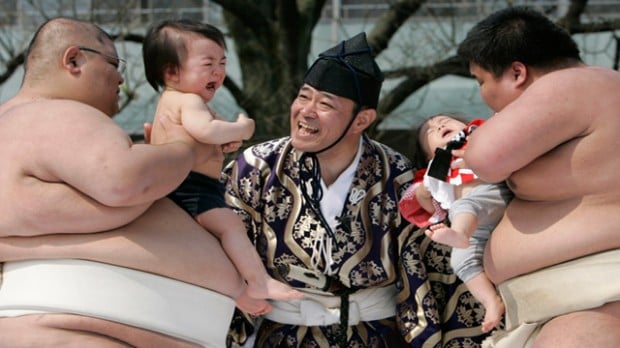 Image credit: Ana Perez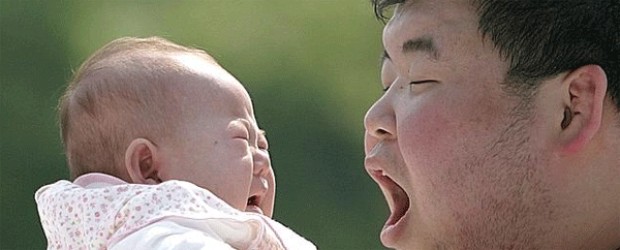 Image credit: Weziwezi
This delightful yet slightly disturbing festival celebrated in Japan involves Japanese sumo wrestlers facing off one another with a baby in each of their hands, and the first baby who bawls wins. And if both cry at the same time, the louder one attains victory. Just imagine the scene of two large men in Japanese diapers growling and making faces in an attempt to bring their babies' tears out — it's hilariously endearing. Things get even more adorable when the baby starts laughing instead.
5. Boryeong Mud Festival, South Korea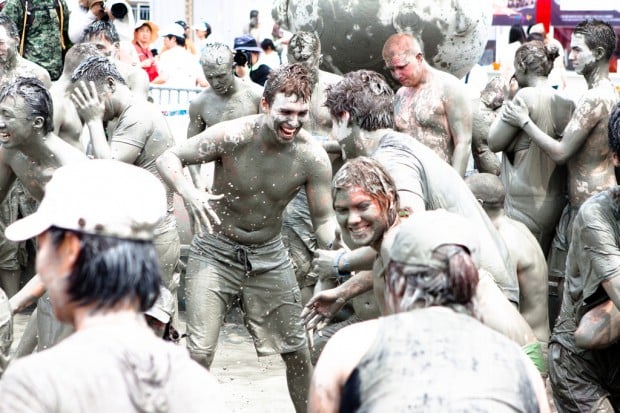 Image credit: Jirka Matousek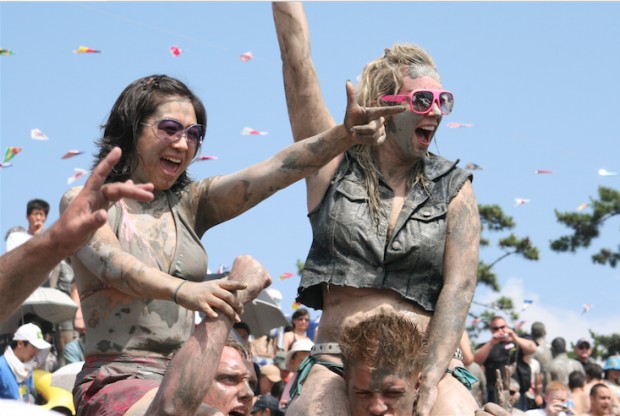 Image credit: Stinkie Pinkie
Boryeong Mud symbolises different meanings for everyone. Some swear by it as a beauty product, while others just want an avenue to channel their inner child. Mud wrestling, mud massages, mud races and mud beauty contests are some of the activities during this filthy festival. Besides the muddy fun, Boryeong Mud Festival also features an amazing entertainment line-up. Performers from South Korea and other parts of the world would provide an impressive bash accompanying the mud play, boosting the energy level to an all time high.
6. Phuket Vegetarian Festival, Thailand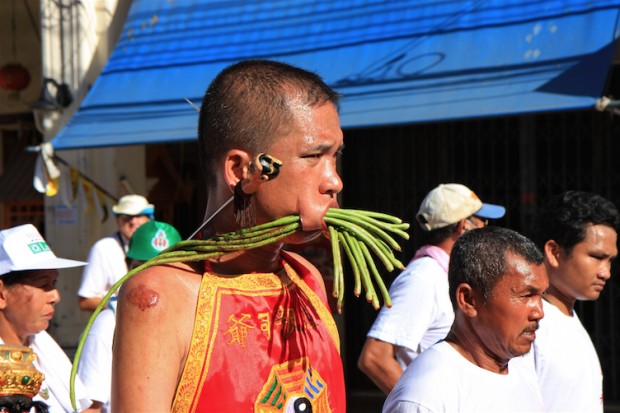 Image credit: Joseph Ferris III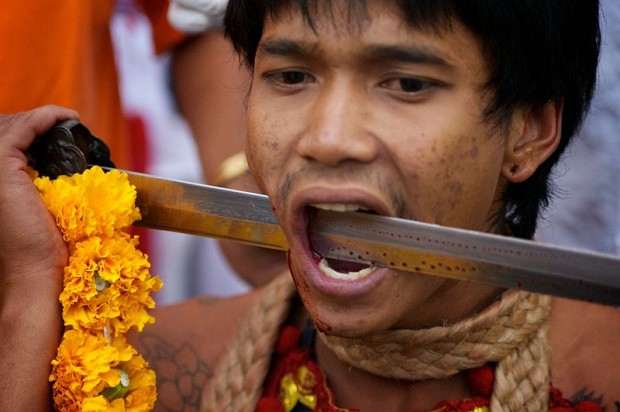 Image credit:Binder.donedat
Vegetarians out there, are you hardcore enough to honour animals by piercing a sword through your cheek? Phuket Vegetarian Festival celebrates a nine days abstinence from meat and participants display their worship for animals by skewing objects like swords, knives, umbrellas and even guitars through their bodies and faces. They are said to become possessed by spiritual powers which give them the strength to undergo such an excruciating ritual. Dozens of participants are severely injured every event and deaths are even reported on some occasions.
7. Bali Spirit Festival, Indonesia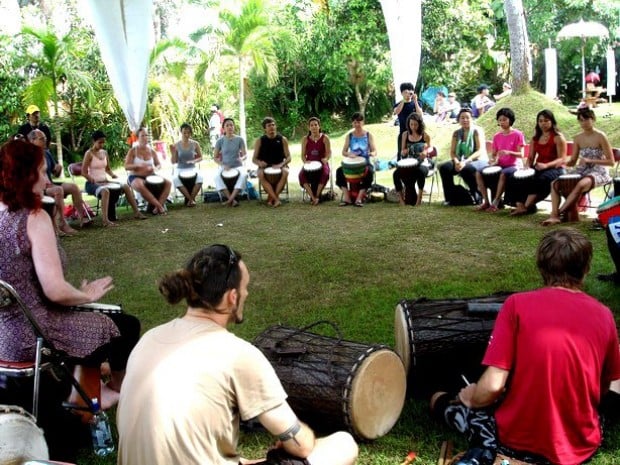 Image credit: Rent a Local Friend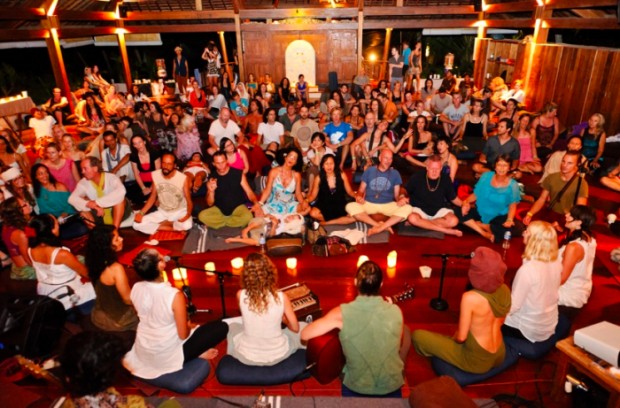 Image credit: Rent a Local Friend
This is the festival you have to attend to get that good vibes channelling through you. Bali Spirit Festival is a spiritually charged festival featuring healing workshops and performances over five days, guaranteed to help you reconnect with your inner zen. The workshops are held by international yoga and meditation legends, healers, dance instructors and performing artists. With infectious positive energy flowing through the massive 6000 people crowd, it's the perfect event for your very own Eat, Pray, Love getaway.
8. Monkey Buffet Festival, Thailand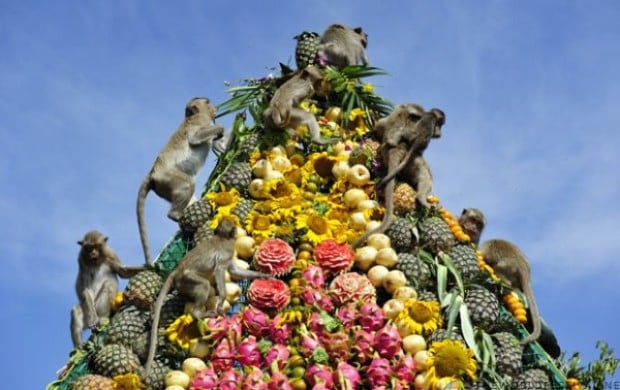 Image credit: The World Festival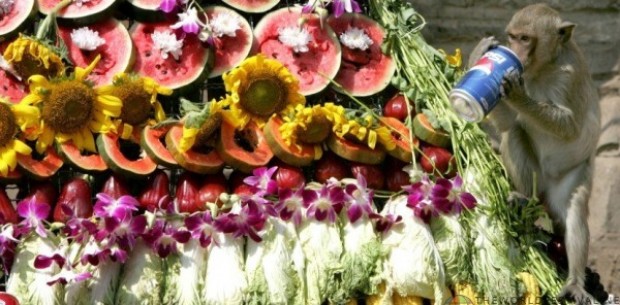 Image credit: The World Festival
Monkeys are worshipped by the Thais in Lopburi as they make up an important population attracting tourism into the city. As such, Lopburi decides it's only appropriate to throw a massive annual feast for these deserving monkeys to chomp on two tonnes of their favourite meat, fruit, ice cream and other treats. Be mentally prepared, the sight of over 600 macaques leaping around in front of you can get pretty overwhelming and no, don't even think about stealing one of their bananas.
9. Hadaka Matsuri, Japan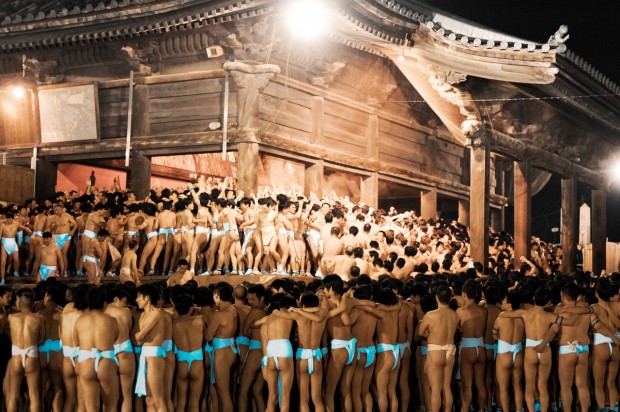 Image credit: Hadaka Matsuri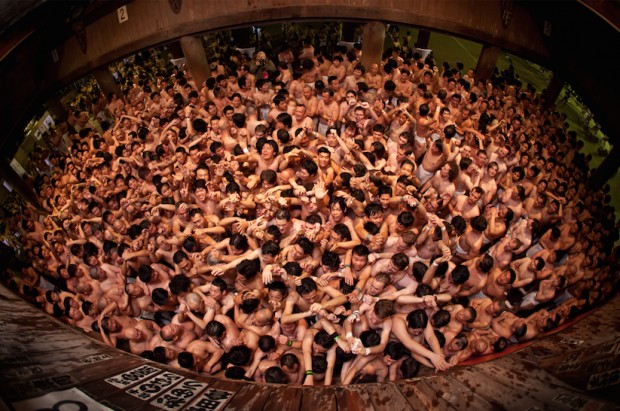 Image credit: JNTO
Yet another nudity-embracing festival of Japan, Hadaka Matsuri probably has the most ridiculous festival rationale in this list. As thousands of men turn up in white Japanese loincloths, their main objective during the event is to succeed in retrieving a sacred talisman thrown by a priest through the temple window. There is also the Naked Man segment, where a man who is honourably selected to be the Man of God, struts the streets and allows throngs of desperate men to touch him. The touches are believed to remove one's sins and bad luck. Japan never disappoints us with its oddities.
10. Ati-Atihan, Philippines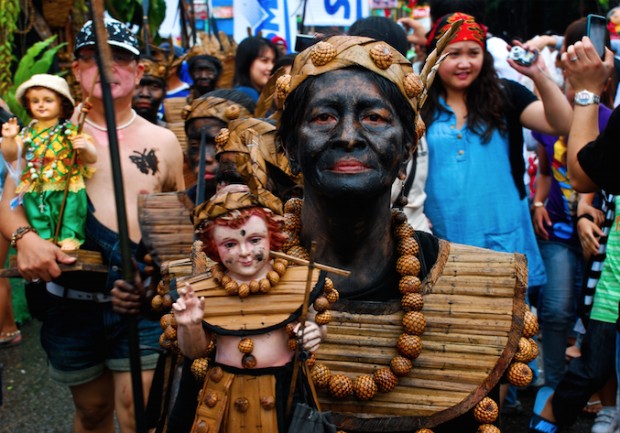 Image credit: runkokokrun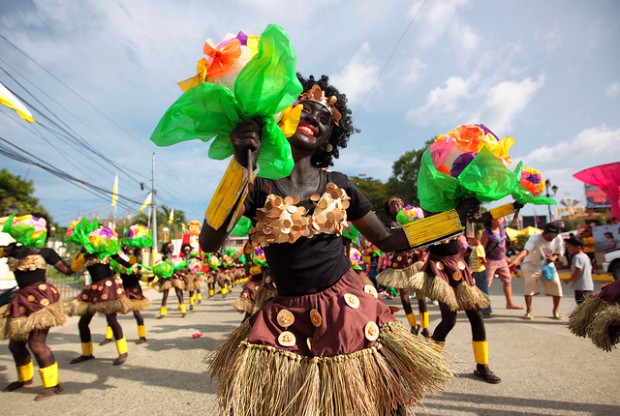 Image credit: RDexter
Ati-Atihan is the Mother of all Filipino Festivals. It's an annual street party celebrating intertribal immigration and acceptance and it spans over nine days of spirited drumming, dancing and feasting. Malay immigrants would show their gratitude to the local Ati people by decorating their bodies in dramatic black soot and elaborated costumes as they perform. Doesn't matter if you aren't sure what this fiesta is all about, just groove along with the performers and remember the only chant you need to know to chorus along with the drumbeats – "Hala bira!"
11. Songkran, Thailand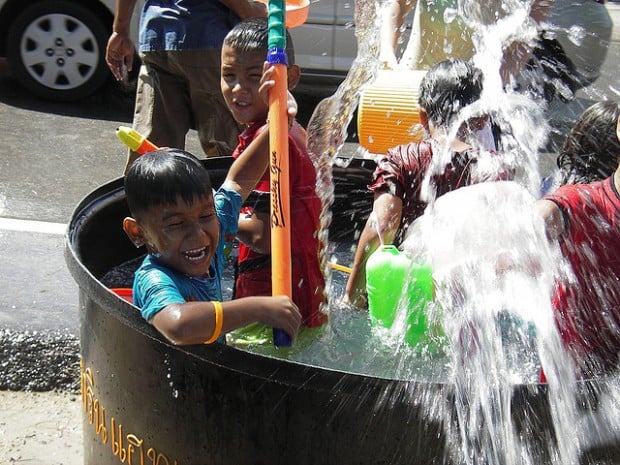 Image credit: Lee LeFever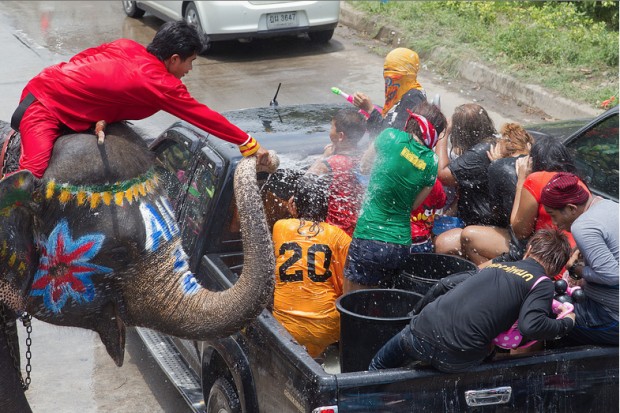 Image credit: Songkran
Gear up for the world's largest water fight! It is celebrated during the traditional Thailand New Year, which is also the time for locals to cleanse their homes and start afresh, Everyone is armed with their weapons — from harmless water guns to giant barrels filled with iced water — as they mercilessly flush one another and have classic wet and wild fun. The streets which are buzzing with infectious high spirits will turn even the most reserved Thais to boisterous adolescents. Note: be forewarned that locals love to aim their pails of iced waters at tourists!
12. Onbashira Festival, Japan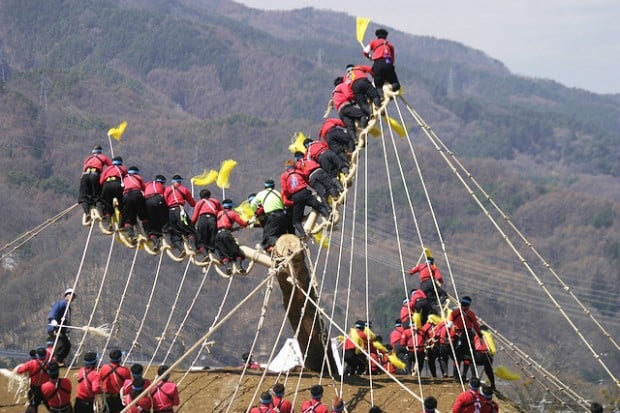 Image credit: Ijiwaru Jimbo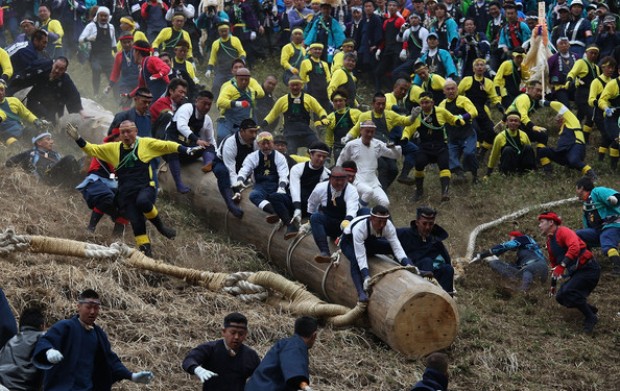 Image credit: Koichi Kamoshida 
Onbashira is one of the most dangerous festivals in Asia centred on the theme of bravery. It's a log-riding festival where men try to outdo one another's fearlessness as they clamber on massive tree trunks and attempt to roll down the hill, risking the loss of a limb or life. After which, riders down cups of sake as they beat their chests, roaring "Kampai!" to toast to their masculinity. If you wish to return home able-bodied, just cheer with the crowds alongside.
13. Omed-Omedan, Indonesia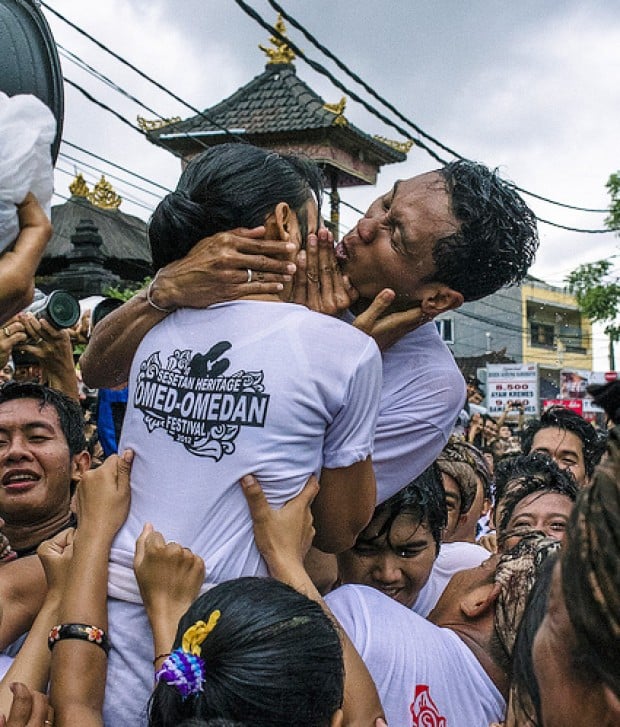 Image credit: Flickr Hive Mind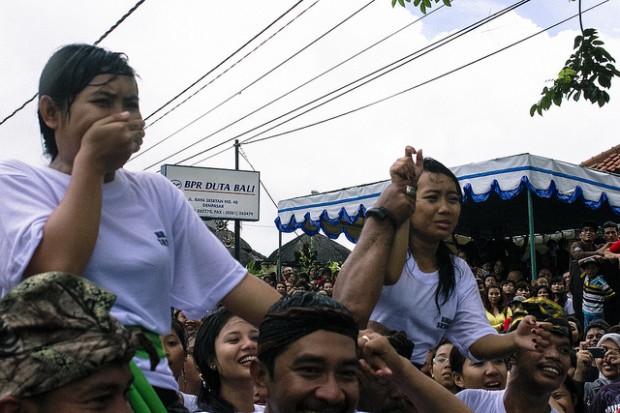 Image credit: Flickr Hive Mind
Indonesians may be a conservative bunch, but they let it all go during this annual mass smooching ritual. The crowd is split into two sides according to their gender and a male and female are chosen from each side to embrace and kiss each other. Crowds would cheer on as they douse them with water during their lip-locking session. Many attendees of this festival even have hopes of finding a mate there.
14. Pingxi Sky Lantern Festival, Taiwan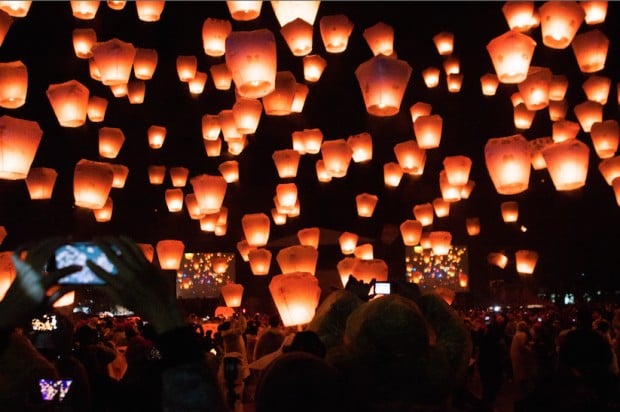 Image credit: Jirka Matousek
Pingxi Sky Lantern Festival marks the new Lunar New Year by releasing up to 200,000 sky lanterns into the moonlit sky. It's a tradition for participants to scribble their ambitions on their lantern, before lighting them up and watch their dreams take flight. The sight of the majestic mass of luminous magic emblazoning the otherwise pitch-dark sky is going to be insanely breathtaking.