Famous for its game-changing coffee shops and stunning coastal views, Seattle draws many travellers to its shores in the Pacific Northwest. Not only is it one of the best places to live in the United States, but it's also home to more billionaires than any other city in Washington. But if you can't buy a sprawling mansion like Bill and Melinda Gates' family estate overlooking Lake Washington, then finding an Airbnb in Seattle might be the next best option. 
From Capitol Hill to Pike Place Market, we've rounded up the best Airbnbs in Seattle that capture the allure of the Emerald City. Travellers will get to stay in neighbourhoods full of charm and character, while eagle-eyed fans will surely recognise familiar locations from Grey's Anatomy and Sleepless in Seattle. Check out these Airbnbs to experience the city's hidden gems, from mid-century retreats with waterfront views to a farm stay where you can get away from it all. 
CHECK BOOKING OPTIONS IN SEATTLE
Also read: 5 Airbnbs That Were Featured in Movies & TV Shows
 Best Airbnb homes in Seattle, Washington
1. The contemporary apartment with incredible rooftop views of the city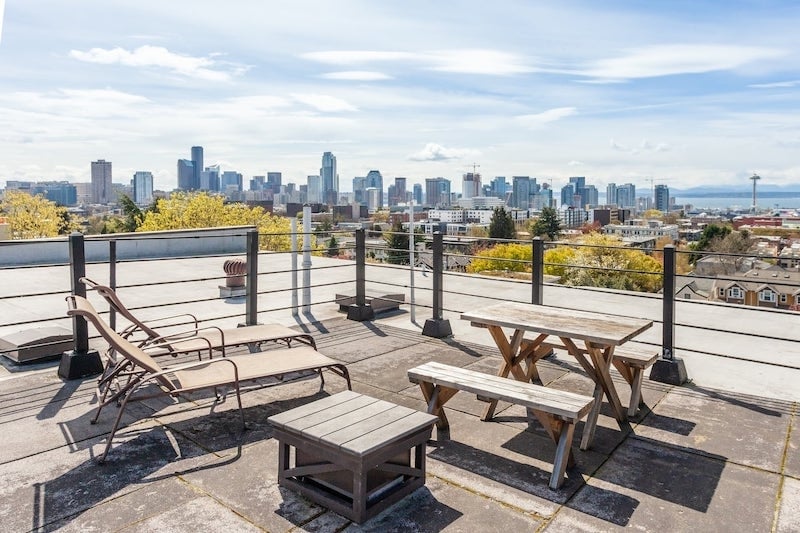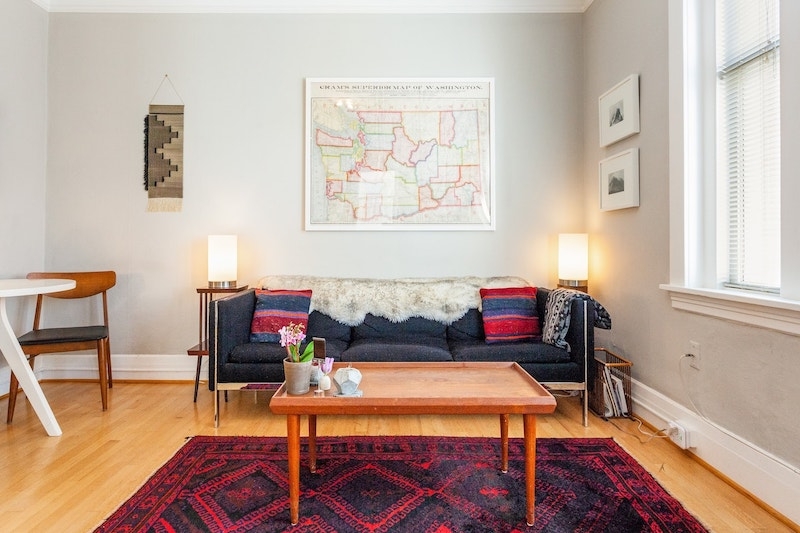 Listing type: Entire apartment 
Max. no. of guests: 2
No. of bedrooms: 1 
For those who can't wait to hit the ground running as soon as they land in Seattle, this contemporary one-bedroom apartment is the answer. Just a few blocks from restaurants and coffee shops in Capitol Hill, this Airbnb offers an exciting range of activities for visitors to enjoy, from soaking in a clawfoot tub to drinking a glass of wine on the rooftop deck. On a clear day, you can even admire unbeatable views of the Space Needle, the most iconic building in the city's skyline. 
2. The beach house in West Seattle for sunsets and wildlife sightings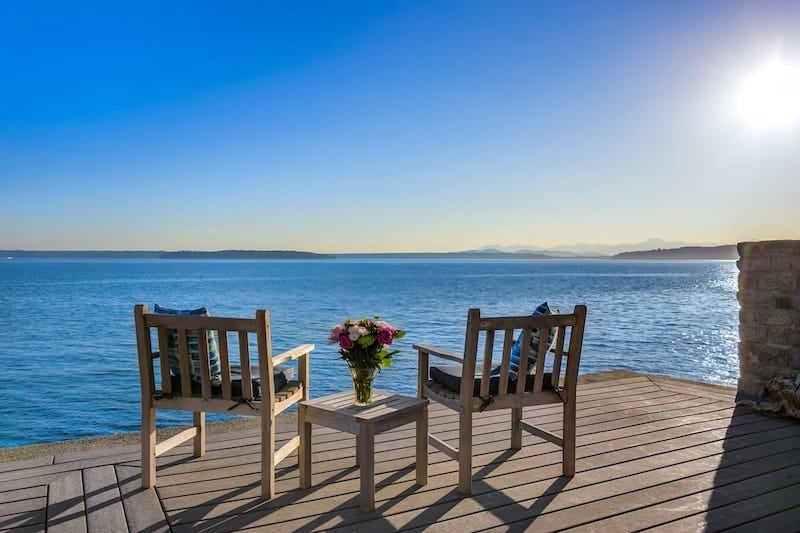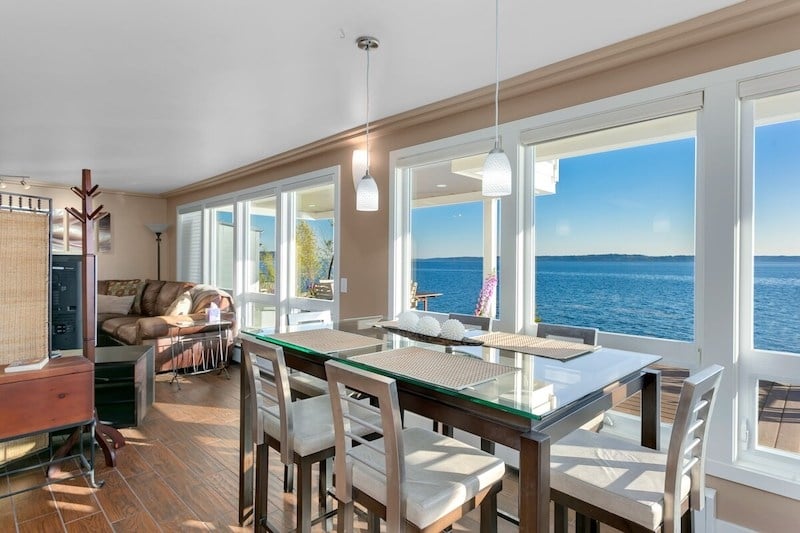 Listing type: Entire house 
Max. no. of guests: 4
No. of bedrooms: 1
If by a miracle, you manage to book this waterfront Airbnb in Seattle before everyone else does, then you've already hit the jackpot. Boasting spectacular views of Puget Sound and the Olympic Mountains, this peaceful beach house in West Seattle features well-appointed interiors, a hot tub for two guests, and a spacious deck overlooking the water. 
Animal lovers also get a chance to meet Seattle's native wildlife, including river otters, seals, bald eagles, blue herons, and other species of birds. In fact, these wildlife sightings happen so often that Airbnb Superhosts Brian and Amara provide binoculars and reference sheets for all the creatures you can spot during your stay. How incredible is that? 
Also read: 16 Best Beach Houses to Book on Airbnb, From California to Hawaii
3. The Sky Cabin near the area where Sleepless in Seattle was filmed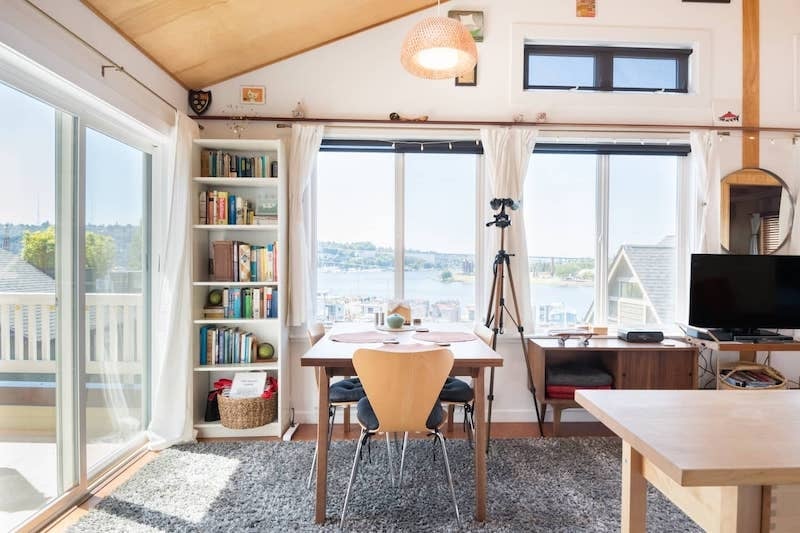 Listing type: Entire apartment 
Max. no. of guests: 2
No. of bedrooms: 1
Calling all rom-com movie fans! How would you like to stay in a cosy home in the same area where Sleepless in Seattle was filmed? Called the Sky Cabin, this book-filled Airbnb in Seattle stands in a quiet neighbourhood on the shores of Lake Union, where a widowed Sam Baldwin (Tom Hanks's character) moves into a houseboat with his son for a fresh start. 
Designed with vaulted ceilings and mid-century furnishings, the wood-panelled apartment greets you with waterfront views from every room. Besides observing the exciting activities on the lake, you can chill with a cup of coffee on the deck or explore the fantastic restaurants in the area. 
4. The chic and industrial loft in the heart of South Lake Union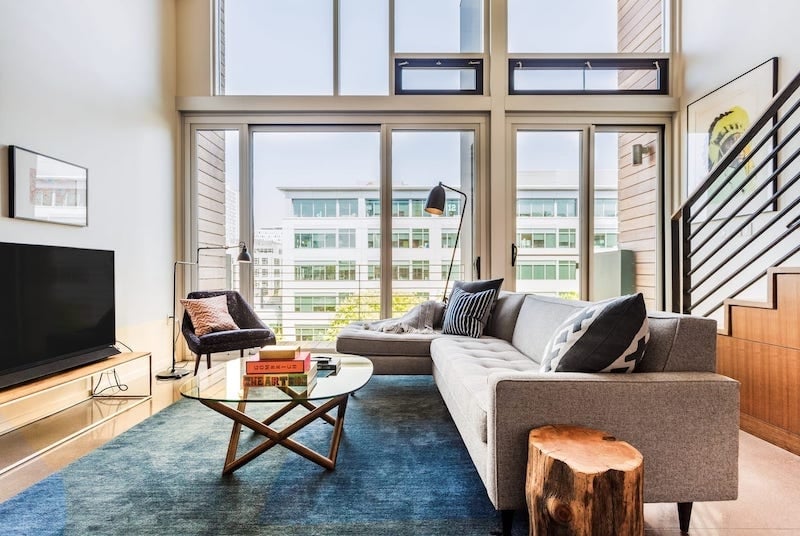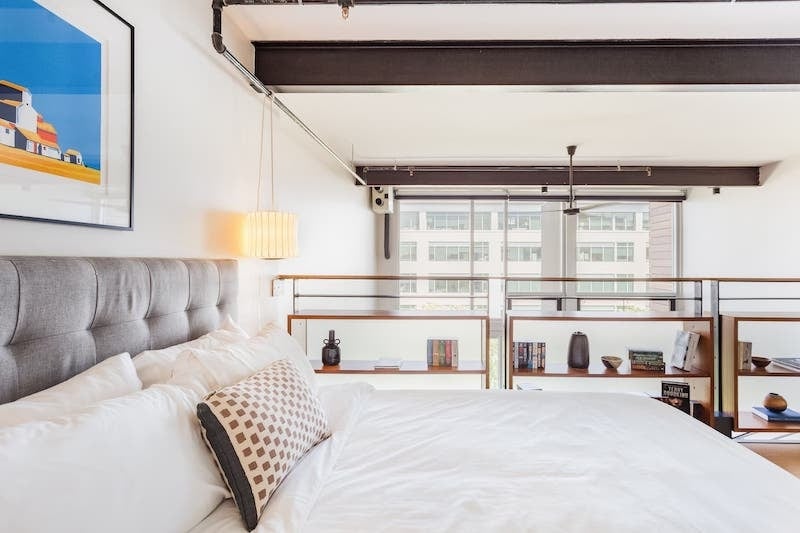 Listing type: Entire loft 
Max. no. of guests: 4
No. of bedrooms: 1
Equipped with a top-notch sound system and streamers like Netflix and HBO GO, this art-filled industrial loft in South Lake Union ticks all the boxes for a stress-free vacation. Inside, paintings fill the chic loft with colour, while the floor-to-ceiling windows bring in natural light. Even though this luxurious Airbnb enjoys a great location for exploring downtown Seattle, it also puts up a good argument for cancelling plans and staying indoors. 
5. The charming tiny house with a hot tub and a private deck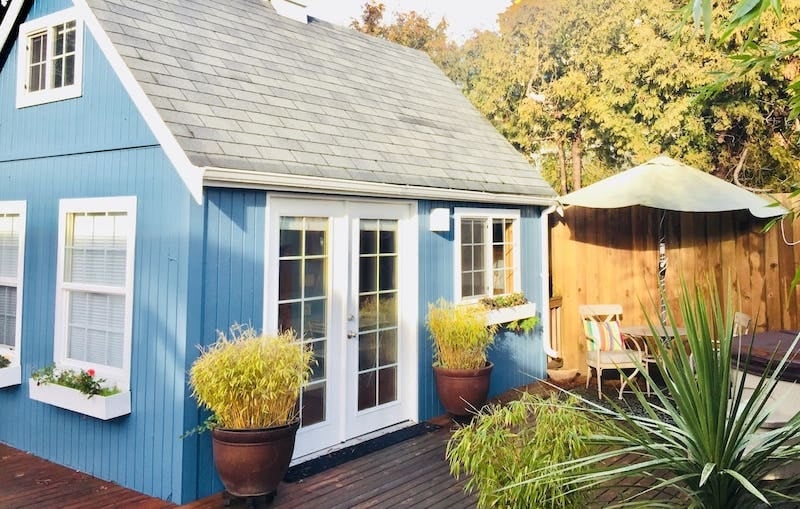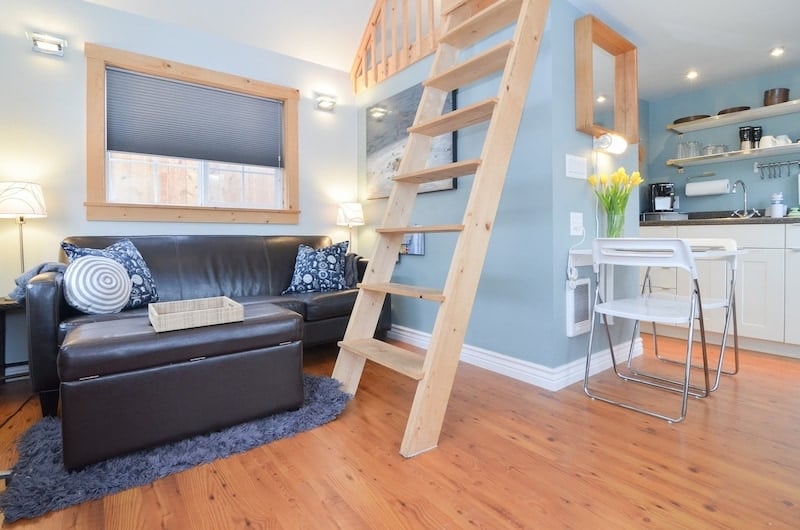 Listing type: Entire guesthouse
Max. no. of guests: 2
No. of bedrooms: 1
Tiny homes are all the rage these days. If you're looking for a uniquely designed Airbnb near downtown Seattle, consider this adorable tiny home in Ballard with a private backyard and deck. While the house may be small, it maximises the space and doesn't sacrifice modern comforts such as a mini-fridge, air-conditioning, WiFi, and even a hot tub for two. Sinking into the tub seems like the perfect way to relax from sightseeing, don't you think? 
6. The strategically located condominium near Pike Place Market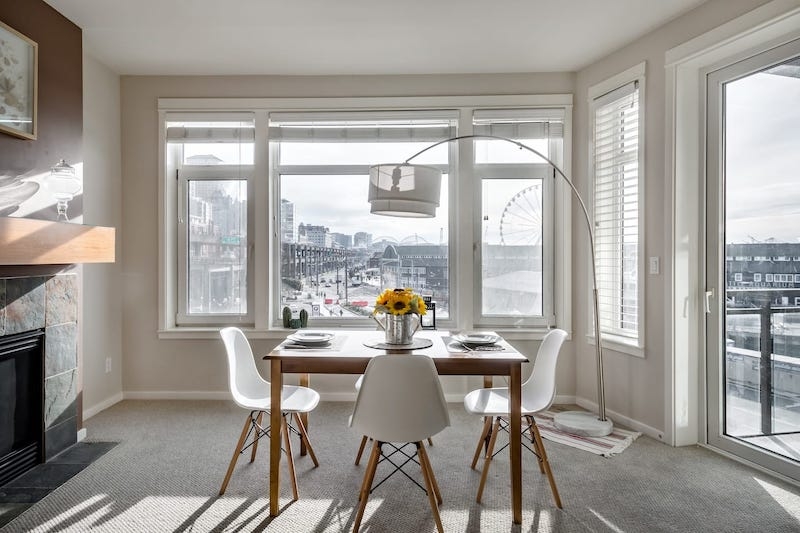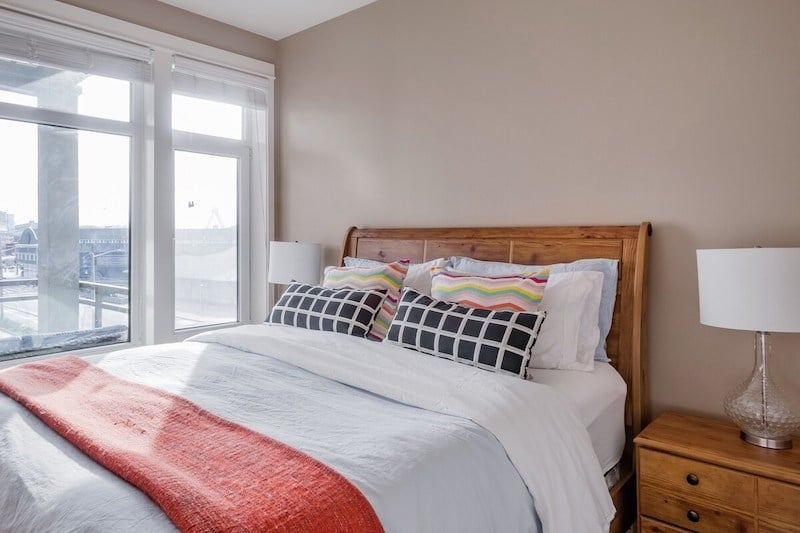 Listing name: Stroll to Pikes Market Waterfront Condo With Balcony
Listing type: Entire condominium 
Max. no. of guests: 5
No. of bedrooms: 1
Any trip to Seattle calls for a visit to Pike Place Market, a world-famous public market and the birthplace of the very first Starbucks. Luckily, this strategically located condominium with a balcony keeps you within walking distance to Pike Place Market for all your coffee-tasting and foodie pilgrimages in Seattle. 
Alternatively, there are plenty of activities to enjoy in the downtown area, where this Airbnb in Seattle is conveniently located. How do you feel about, say, taking a leisurely stroll along the pier or riding a gondola at the Seattle Great Wheel? It's all possible from this condominium. 
Also read: 15 Beautiful Starbucks Branches for Coffee Lovers Around the World
7. The rustic farm hideaway where you can meet adorable goats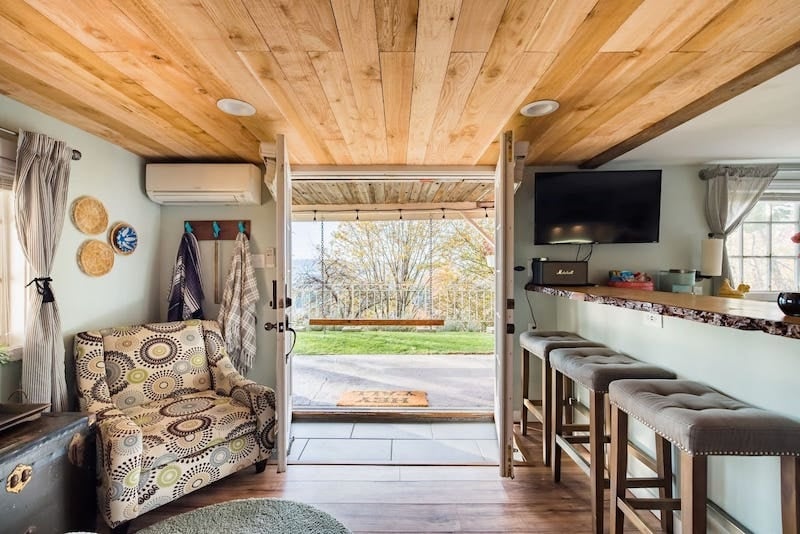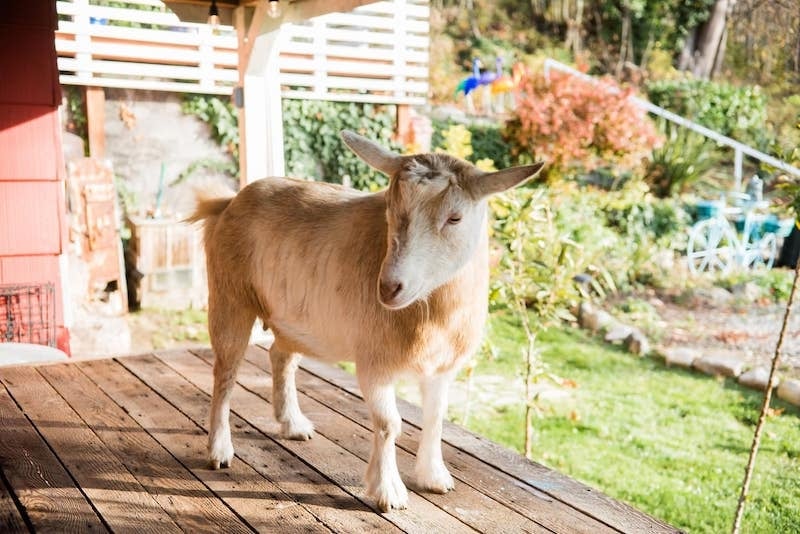 Listing type: Entire apartment 
Max. no. of guests: 2
No. of bedrooms: 1
Farm stays can do wonders for pandemic-induced burnout. If an open-air getaway and the freedom to roam are what you need, this farm-chic hideaway in Seattle will make your stay special by introducing you to the best neighbours: gentle, adorable, and super friendly goats.
Follow the host's detailed instructions to get to the property, and you'll find a modern farmhouse that radiates warmth and creativity — from the swing in the backyard to the beautifully lit patio for watching the sunset beyond the trees. This Seattle Airbnb is pet-friendly as well, so don't even worry about leaving your best pal behind. 
8. The A-frame house with a LEGO®-themed kitchen for family getaways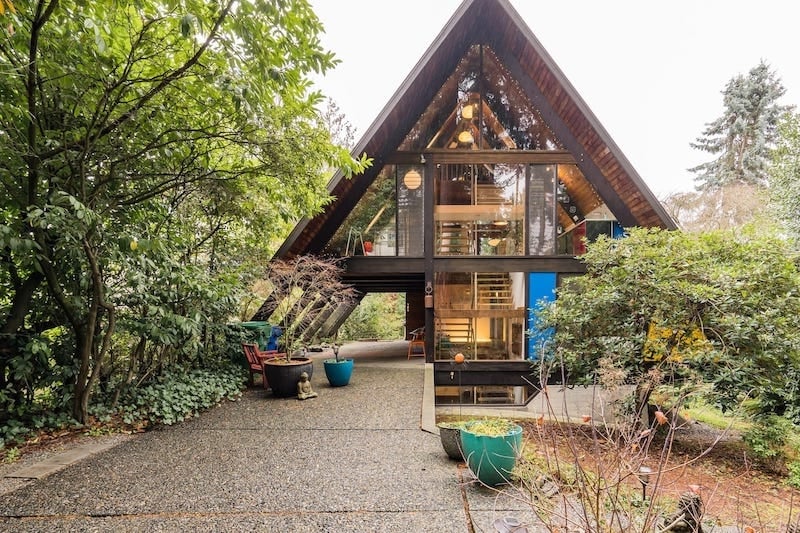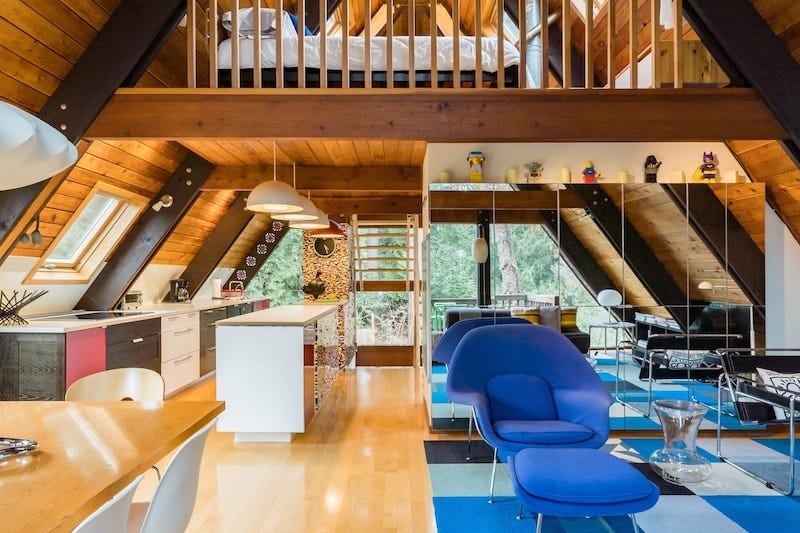 Listing type: Entire house 
Max. no. of guests: 6
No. of bedrooms: 4
When you start to feel a nip in the breeze around September or October, that's your sign to find an Airbnb in Seattle that embraces the best of cabin life. Take this A-frame house, for instance, which looks like it belongs in the pages of a design magazine. 
Tucked away in a wooded area, this four-bedroom home reflects the owner's taste for eclectic design — a standout example being the LEGO®-themed kitchen. Complete with a modern art collection, the playful vibe of this home provides an excellent base for families, especially those who are thinking of visiting Seattle in the fall or winter. 
9. The luxurious spa retreat with a Finnish sauna and a bamboo garden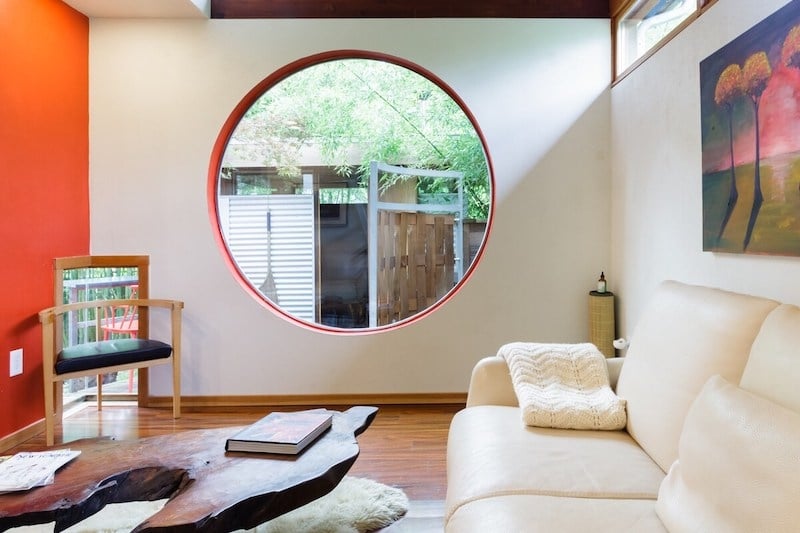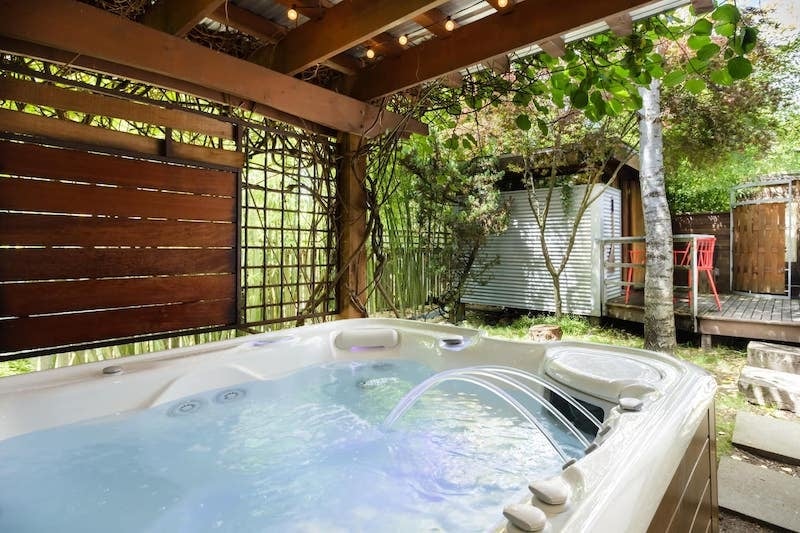 Listing type: Entire apartment 
Max. no. of guests: 4
No. of bedrooms: 1
More than 500 positive reviews on Airbnb can attest to the resort-like amenities at this luxurious spa retreat in Seattle. The apartment combines the owner's love for Japanese and Scandinavian design, resulting in a stunning hideaway with heated floors, a Finnish sauna, and a bamboo garden that leaves guests feeling refreshed and inspired. You might actually get to spend most of your time lounging in spa robes here. Now, doesn't that sound like a real vacation? 
10. This whimsical yurt for glamping in comfort and style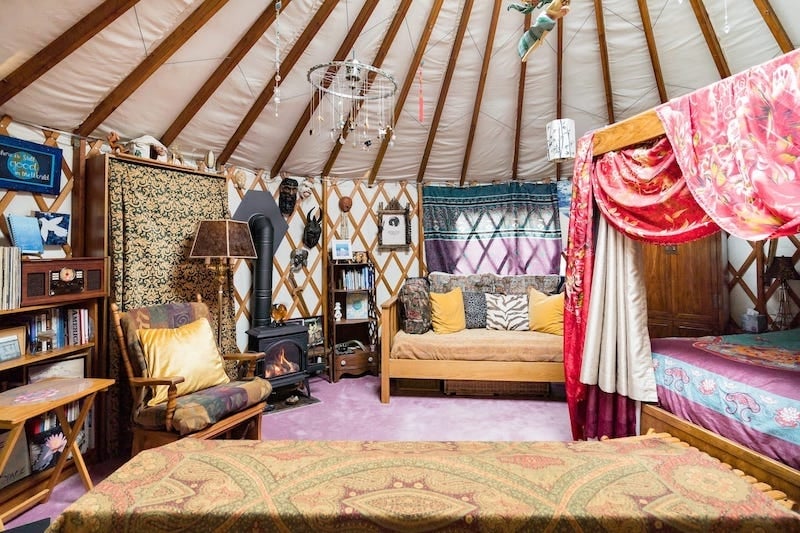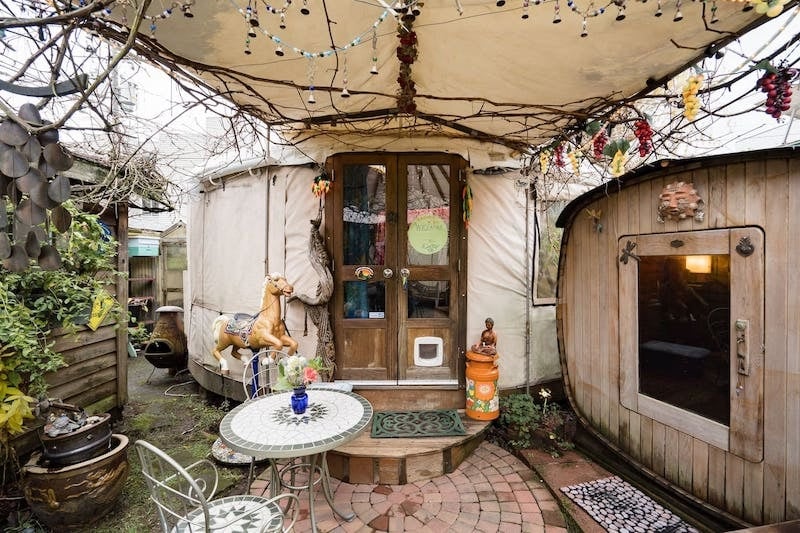 Listing type: Yurt 
Max. no. of guests: 4
No. of bedrooms: 1
Of all the unique experiences you can have in Seattle, this glamorous yurt on Airbnb surely takes the crown. Nestled in a private garden, this yurt offers a welcoming ambience with plenty of colourful blankets and pillows. Boredom is not an option here, as the property comes with books, musical instruments, an epic sound system, and a smart TV with Netflix to keep you entertained. Complete with an indoor fireplace to keep you warm on cold nights, it's an irresistible getaway that hip and adventurous travellers will adore. 
Also read: These Cosy Airbnbs With Libraries Are Every Book Lover's Dream
CHECK ACCOMODATION OPTIONS IN SEATTLE
Have you picked a rental from these Airbnbs in Seattle that you can call home? With these all-year-round options for your next getaway, you're all set for your adventures in the Emerald City.