So you've been travelling around Asia, and you think you've seen it all — the lovely sunrises in Myanmar, jjimjilbangs in Korea, exotic performances in Thailand? Well, think again! The largest continent in the world has more to offer than that, and many of them are travel bucket list experiences one should try at least once in their lifetime! Here I present just 20 of them to you, and of course you're welcome to add more to the list in the comments below!
1. Ride on a motorcycle taxi at peak hour in Bangkok, Thailand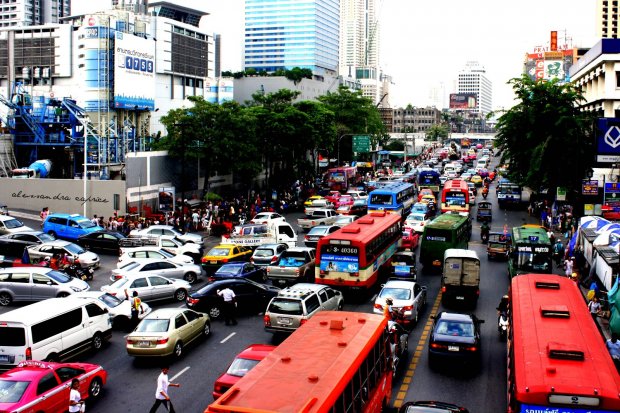 Photo Credit: The Sounding Board
Bangkok [fzPrice]bkk[/fzPrice] is notorious for its traffic jams. It is a great test of endurance, patience, and not pulling your hair out. Trust me, I've tried it. A taxi ride that would have taken me only 10 minutes to reach my destination ended up being a 2-hour nightmare. This is where motorcycle taxis come into play. Motorcycle taxis are the quickest way to get around in peak-hour rush Bangkok. Your orange-clad drivers will do anything to get you where you want to be in the shortest time possible, whether it be weaving through people on sidewalks, or riding against the flow of traffic in the opposing traffic lane.
Fares are relatively low — they start from 10 baht for shorter journeys, and vary depending on how far you go. Do remember to wear a helmet and agree on the price before you get onto the motorcycle though. You don't want to be an easy target for rip-offs.
Also Read: The Bangkok Bucket List: 20 Challenges for Your Next Trip
2. Scale the Great Wall of China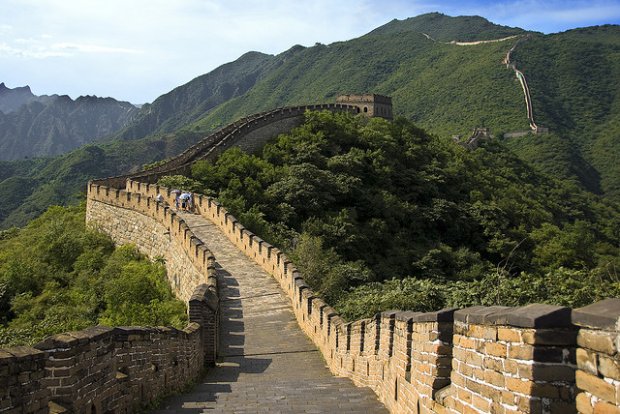 Image Credit: Craig Maccubbin
I'm pretty sure most guided tours do include this as part of the Beijing itinerary [fzPrice]pek[/fzPrice], but if you're going to China sans a guide, be sure to include this in your plans! What better way to declare that you've been to China than a picture of you looking out at the vast expanse of land beyond the Great Wall? There are several sections you can scale. I climbed the Badaling section of the Wall, and the view was breathtaking.
And very cold too, since I was there during winter.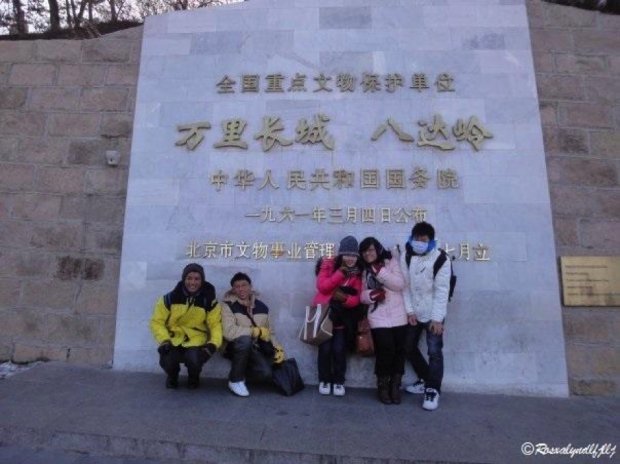 Yup, that's us at the foot of the section, after completing it.
But that's alright, because the view and satisfaction more than made up for the lack of warmth. It does help if you go with friends who can spur you on to reach the top.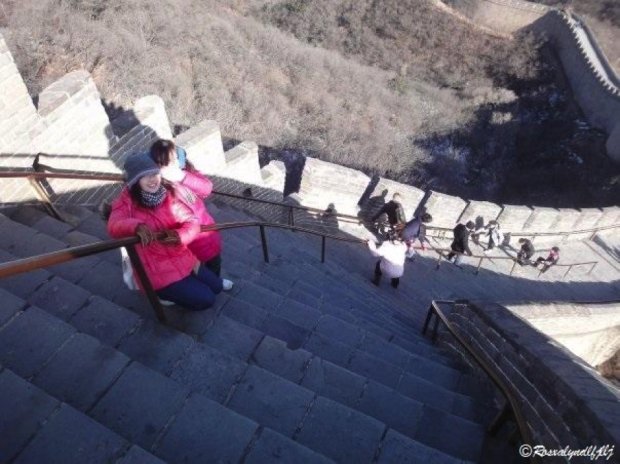 Look at us walking down the treacherous steps.
I do suggest that families with young children might want to wait till your kids are slightly taller or older though — the slopes of the Great Wall of China are steep, not to mention its steps. Some of them were shin-high!
3. Dance under the cherry blossoms in Japan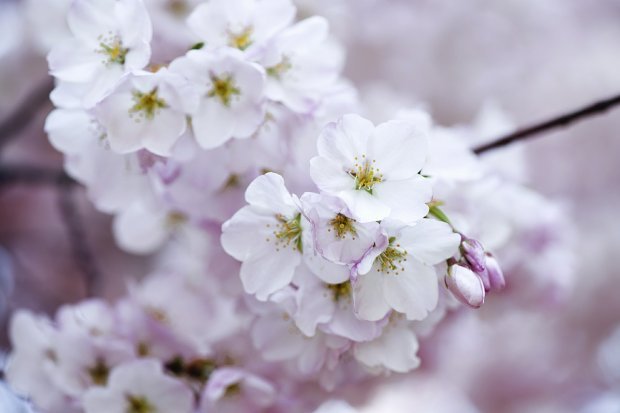 It's springtime now in most countries, and what does that mean for flora junkies? Cherry blossoms! Japan is almost synonymous with the sakura that beautify the country in spring. From Naha to Sapporo, the cherry blossoms can be found in nearly every city. The majority of the blossoms reach full bloom in April, dusting the country in a soft, down-like coat of pink and white petals. Just imagine you and your significant other, dancing under the falling petals of the cherry blossoms.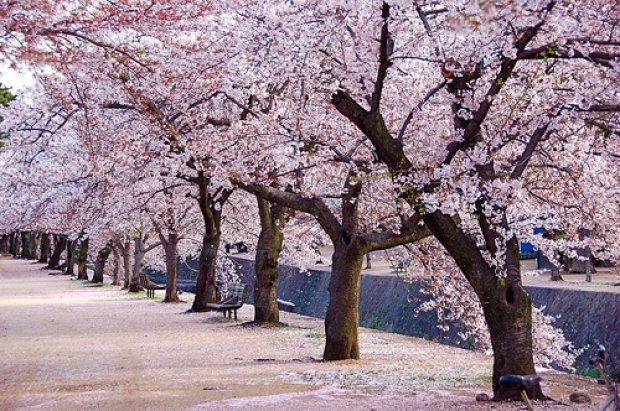 Image Credit: raneko
For a clearer idea of where to view the Japanese blossoms this year, view this guide here.
4. Cruise around Ha Long Bay in Vietnam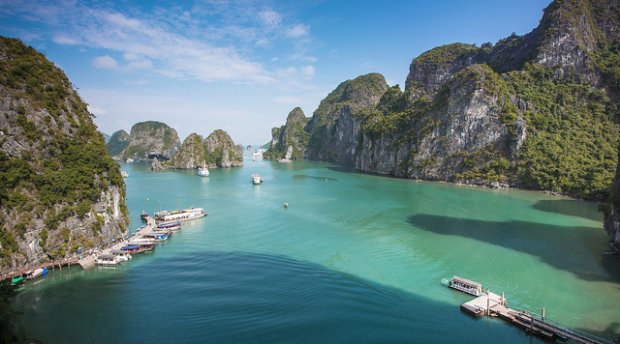 Image Credit: Alan Doyle
Asia has many UNESCO World Heritage sites, and this picturesque bay in Vietnam is one of them. Found just east of Hanoi, Ha Long Bay is best explored via a cruise.
Tourists to the area get to see how the 1600 people live in the floating villages, as well as marvel at the 1600 limestone pillars naturally formed over millions of years.
Largely left untouched by the government and protected by Mother Nature, the area has become somewhat of a giant conservation zone, translating into a paradise for that nature lover!
5. See Tarsier monkeys in Bohol, Philippines

Image Credit: Stefan Munder
Orangutans, gorillas, gibbons — what do they have in common? Yep, they're all primates. So what is so special about the Philippine Tarsier? Nothing much, except that they are one of the smallest known primates on earth. Excluding its tail, it only measures around 12-15 cm, and weighs approximately 113-142 grams. That means it fits into an average male's hand, and is about as heavy as your mobile phone!
Look at how cute it is! The primate version of a teacup poodle.
They are classified as an endangered species, and efforts are underway to conserve the species in its natural habitats, as they do not survive well in captivity. So be sure to visit these primates in its natural habitat at The Philippine Tarsier Foundation in Bohol.
6. Marvel at the breathtaking sculptures in Harbin, China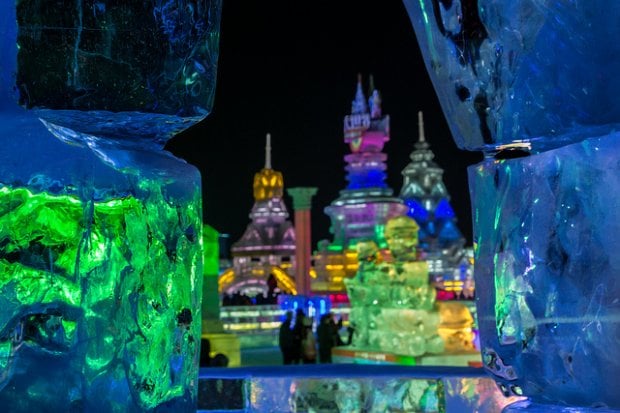 Image Credit: La Priz
Mention Asia, and tropical beaches and rainforests come to mind. Come winter, however, Harbin becomes home to the world's largest Ice and Snow Sculpture Festival. Ice and snow sculptures can be found all over the city, though the main exhibitions are on Sun Island and Ice and Snow World, both situated near the Songhua River.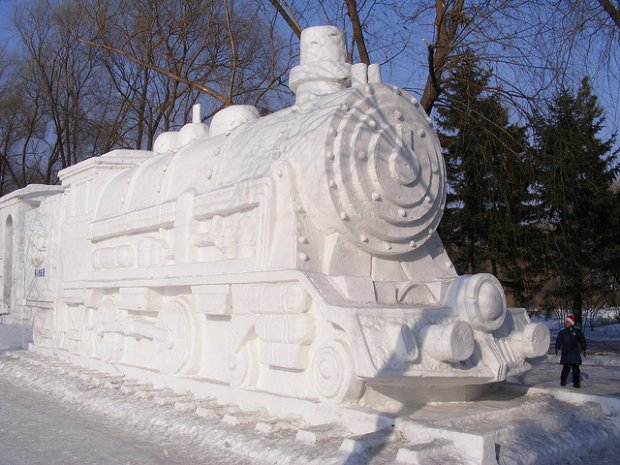 Image Credit: Rincewind42
Huge ice blocks are taken directly from the river and sculpted into beautiful, intricate works of art, lit up by stunning coloured lights that give these sculptures their ethereal beauty.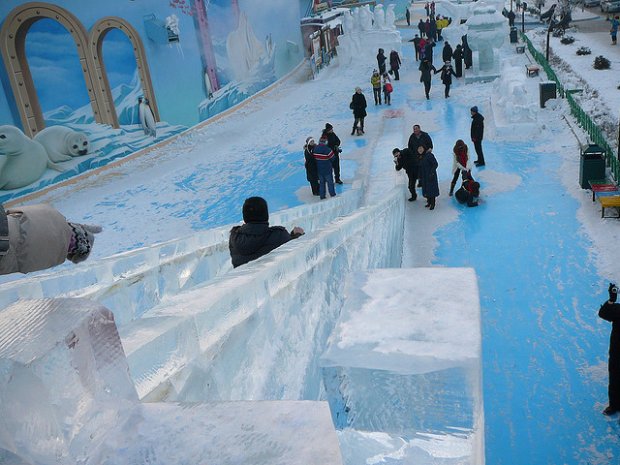 Image Credit: TofflerAnn
Held from early January to March, the festival also includes activities such as winter fishing, fashion shows, competitions, and ice lanterns, as well as ice sport games. It's the best way to escape the heat of Southeast Asia! Well, for a short while at least. I think I'm going to start planning for a trip to Harbin!
7. Get down and dirty in mud in Korea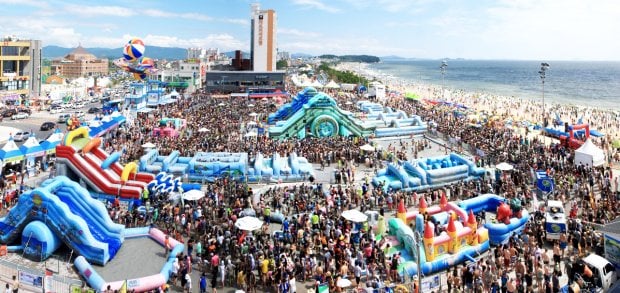 Photo Credit: Boryeong Mud Festival
Tens of thousands of tourists descend upon Boryeong, a town about 200km south of Seoul in July for the Boryeong Mud Festival.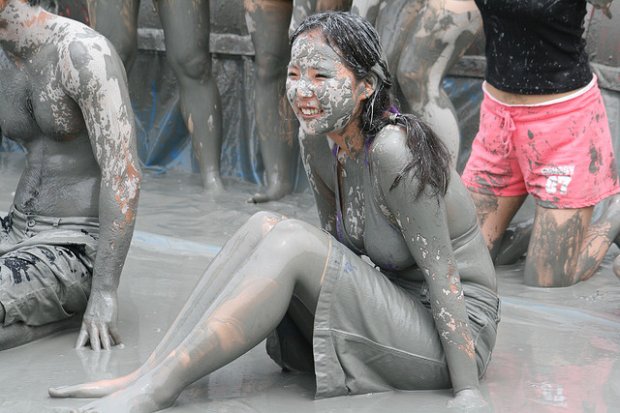 Image Credit: Shawn Perez
Activities include mud wrestling, mud sliding, mud massages,

Image Credit: Jordi Sanchez Teruel
and…wait for it… swimming in a huge pool of mud.
Yep, you read that right. This is a great activity for families. Children get to play around in mud, mothers can enjoy massages, and fathers can play-fight in the mud, all with the intention of getting down and dirty, literally. It's also great for anyone who's ever wanted to experience how being a pig feels like. Just kidding (not really). It helps that all that mud is scientifically proven to be rich in minerals, and is often used in the manufacture of cosmetics. Getting dirty in the name of beauty, y'all! And it doesn't cost much at all — an adult ticket last year cost 10 000 KRW (approx. SGD 12).
8. Visit the Tonle Sap floating villages, Cambodia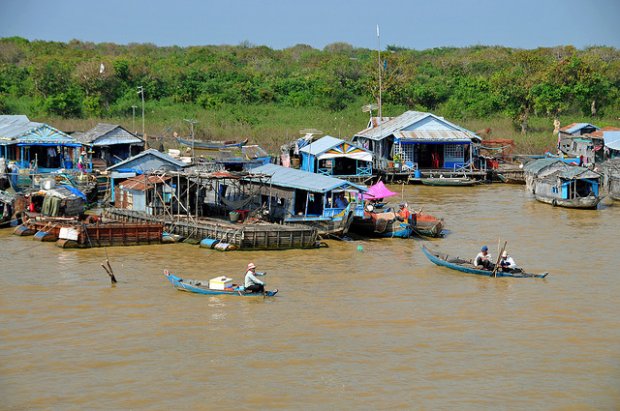 Image Credit: Dennis Jarvis
Ever seen a basketball court on water? No? Then you must come to Lake Tonle Sap, where entire self-sufficient towns of stateless Vietnamese live here.
The lake itself is one of the largest in Southeast Asia, housing more than 300 species of marine animals, and supporting more than 3 million people with food. Depending on how much water from the Mekong Delta enters the lake, it changes in size every wet season. One can see schools, shops, churches, and of course, those water basketball courts, and farms built on bamboo stilts. For a quick view of life on water, take the passenger ferry from Phnom Penh to Siem Reap, though I suggest you take more time to view the area. After all, there aren't many of these floating villages around anymore. And who knows, maybe if you ask nicely, the children may let you play basketball with them!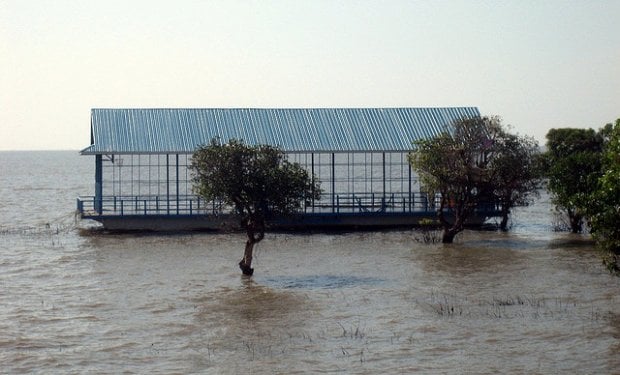 Image Credit: Prince Roy
On the water, no less.
9. Scale Taiwan's highest peak, Yushan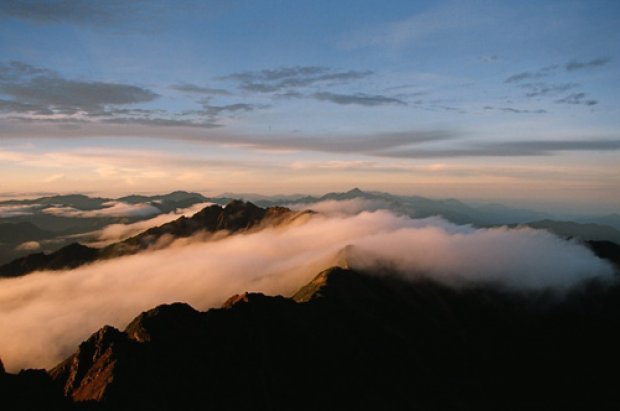 Image Credit: Yee Chiang
At nearly 4000m, Jade Mountain is Taiwan's highest peak. Yeah, it probably sounds like a midget when you compare it to the world's tallest peak (8850m), but not all of us have the funds or the stamina to climb the Everest giant. So why not go for an easier option? Situated near the Alishan National Scenic Area, the mountain is a huge favourite with locals. It is possible to reach the peak of the mountain in a day, with some good stamina and a whole lot of determination. After 10-12 hours of hiking, you'd probably be rewarded by this postcard-like view.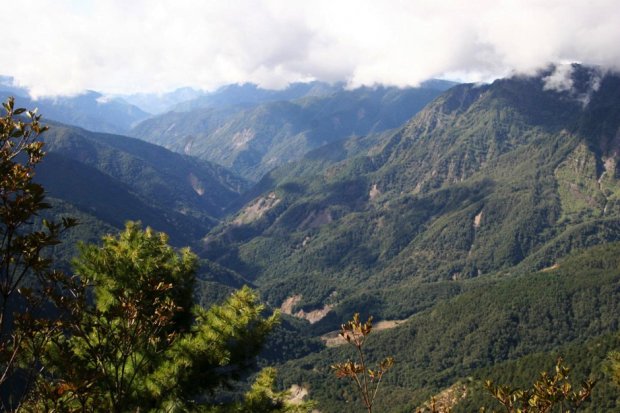 Photo Credit: TWExcellenceUSA
You should probably stay for a night, and rise early to watch the sunrise too. There is an option to do the ascent in 2 days, which is, of course, more manageable and less taxing on the body.
10. Take in the view from Taipei 101 (Asia's tallest building, 509 m)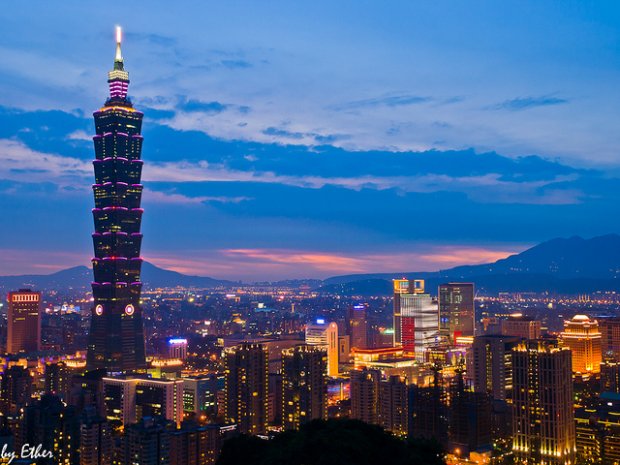 Image Credit: Ether Huang
Before the opening of Burj Khalifa in Dubai in 2010, Taipei 101 was the world's tallest building. Now, it is known as the world's tallest and largest green building. Opened in 2004, it comprises 101 floors above ground and 5 floors underground. It boasts a 360-degree observation deck on the 89th floor, and an outdoor one on the 91st floor. Non-concessional tickets are about NT$500 (approx. SGD22). Don't want to go up? That's alright; trying to fit the entire building in a selfie will guarantee lots of frustration and laughter too! Go ahead, I challenge you to try it and show me!
Another great time to visit the area is on New Year's Eve, when the building is prominently featured in a spectacular fireworks display that gets bigger and better every year, when the clock hits twelve.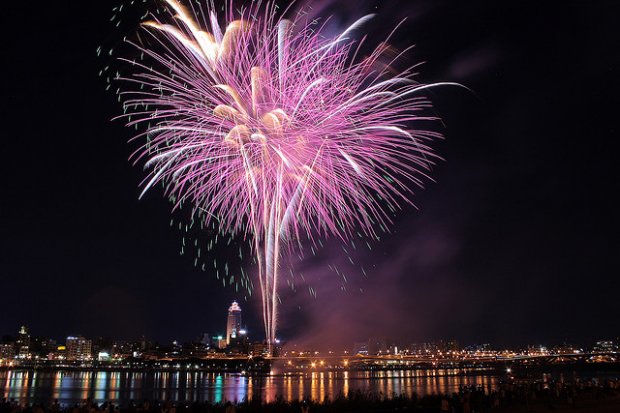 Image Credit: Chao-Wei Juan
Go several hours earlier to get a good spot for viewing the fireworks though; locals and tourists alike flock to the area for a whole night of partying and celebration, and it's near impossible to go anywhere at 11pm.
11. Get lost in Angkor Wat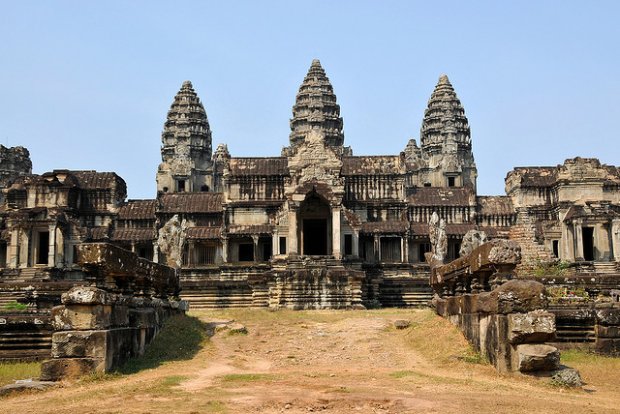 Image Credit: Dennis Jarvis
What monument was first Hindu, then Buddhist, and is situated in Cambodia? That's right, Angkor Wat. Hailing from the Khmer Empire of the 9th to 15th centuries, Angkor Wat is one of the most important archaeological sites in Southeast Asia, and — you guessed it — one of the UNESCO World Heritage sites as well. One of the largest religious monuments in the world, Angkor was first built to honour the Hindu god Vishnu. It was abandoned in the 14th century, until unknowing Buddhist monks stumbled upon its ruins centuries later, and propagated legends of the monument. Today, it is a popular tourist attraction, attracting hundreds of thousands of visitors, both local and foreign.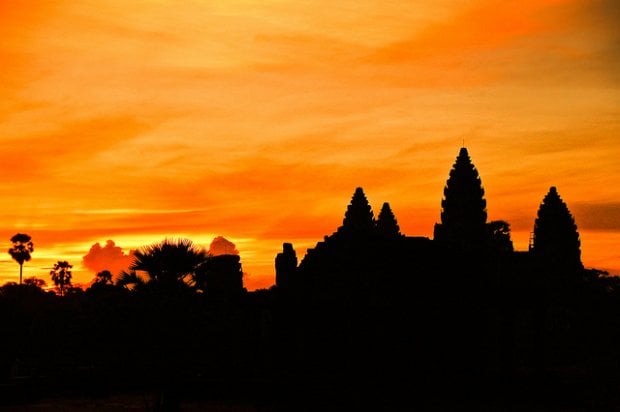 Image Credit: Mendhak
Also Read: Essential Angkor Wat Guide for Travellers
Admire the intricate carvings of the stone figures,  soak in the ambience of Angkor Wat under the full moon, or wake up early to view the sun rise over the temple—you won't regret any of them. With 74 accessible sites in the temple complex, you could lose yourself in the area for days!
12. Hug a baby panda in Chengdu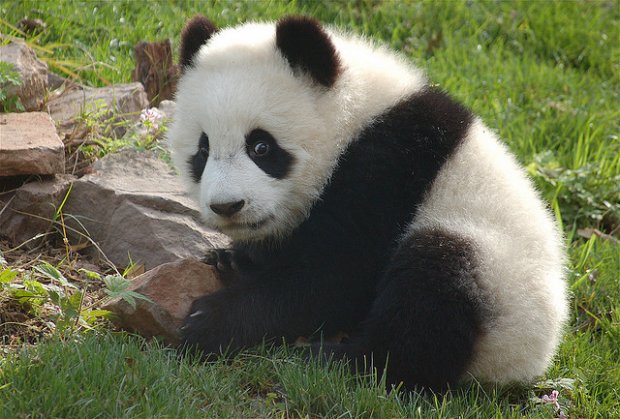 Image Credit: dominique bergeron
Pandas are so revered in China that they are given on loan to countries as gestures of friendship and goodwill. Singapore has two of these cuties, Kai Kai and Jia Jia, as attractions of the River Safari, though they are very well protected. So why not hop on a plane and travel to the land of their birth to enjoy some hands-on experience with these national treasures in their natural habitats? China has 3 panda bases, with 2 in and around Chengdu [fzPrice]ctu[/fzPrice]. All are aimed at increasing awareness of the endangered pandas, and promoting conservation efforts, as well as educating visitors on their evolutionary history. Although there are cages and fences, but visitors can come up so close to the pandas, it feels as though there is nothing holding them back from you.
For a small donation to the panda base, you can even touch and/or hug a baby panda in your arms!
Don't you just wanna hug them?!!
Go early in the morning, as that is when the pandas are awake for their daily feeding of bamboos shoots by their keepers.
13. Take a night cruise around Victoria Harbour, HongKong
No visit to Hong Kong [fzPrice]hkg[/fzPrice] is complete without a visit to Victoria Harbour. Famed for its magnificent skyline at night, the only way to do it justice is to take a harbour cruise at dusk on board a 1920s style double-decker ferry.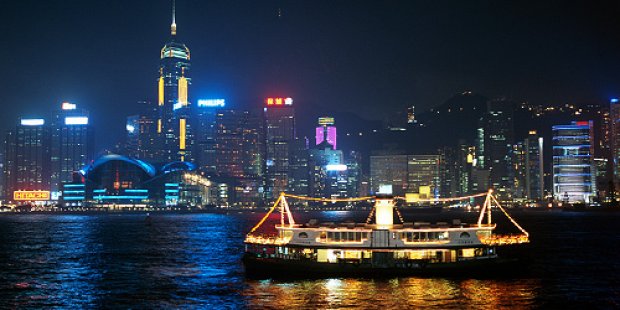 Image Credit: Discover Hong Kong
Enjoy the light sea breeze as you see the bustling city bathed in a soft glow of orange and pink, then blanketed with a dark coat of black with twinkling lights from the buildings that surround the area. For those with cash to spare, try a leisurely 3-hour dinner cruise, or a special Symphony of Lights show, which involves 45 buildings on both sides of Victoria Harbour in Hong Kong Island and Kowloon. Other types of craft that you can consider for a truly unique experience include refurbished Chinese junks.
14. Swim with whale sharks in Donsol, Phillippines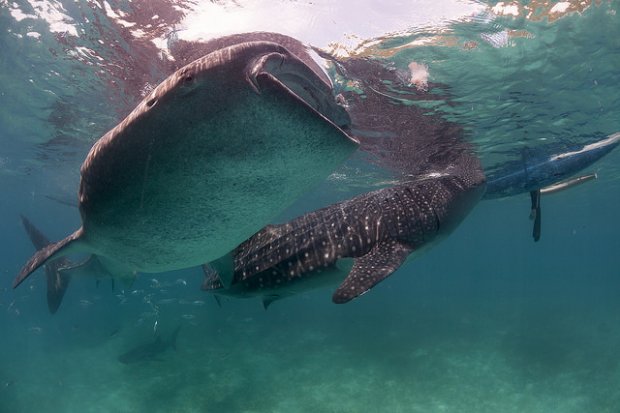 Image Credit: Klaus Stiefel
Marine life meets adrenaline rush in this bucket-list item. Sharks come right up to the surface in Donsol Bay, which makes it the ideal place for snorkeling amongst them. The best time to visit is from December to May, when large schools of whale sharks migrate to the area to feed on the huge numbers of plankton and krill. Most visitors to the area see at least five, though there have been reported sightings of up to 45 of these huge fish. You get to kill several birds with one stone too, since the marine life you see is not limited to whale sharks — sometimes you get to see hammerhead sharks and manta rays, as well as reefs and other fish.
Also Read: 20 Best Islands in the Philippines for Beach Getaways
15. See the sunrise at Shwedagon pagoda, Myanmar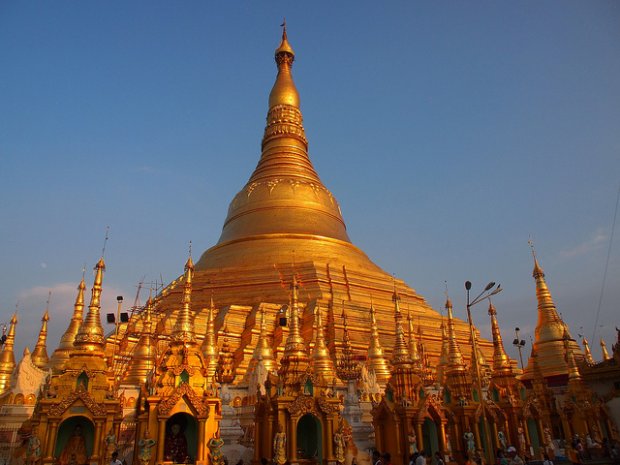 Image Credit: Paul Arps
A country which only recently opened itself to tourism, Myanmar has loads to offer tourists in the form of breathtaking views and largely untouched culture. One of these breathtaking views is that of the Shwedagon pagoda at sunrise.
Most people view the sunset, and that is equally stunning, but personally I feel sunrises always seem to bring with them a sense of calmness, serenity, and a fresh start to a new day. As the sky turns from dark blue to a vivid orange-yellow, the pagoda slowly transforms from a dark silhouette to a spectacular gold, made even more precious and blinding by the sun rays that ricochet off the gems and golden-leaf exterior of the architectural wonder. It makes for a great Instagram photo, or a time-lapse video. And after that, continue this calm and serene streak amongst the Buddhist relics and treasures housed within the pagoda.
Also Read: 10 Wondrous Places in Myanmar You Need to Visit
16. Have dinner in the sky in Singapore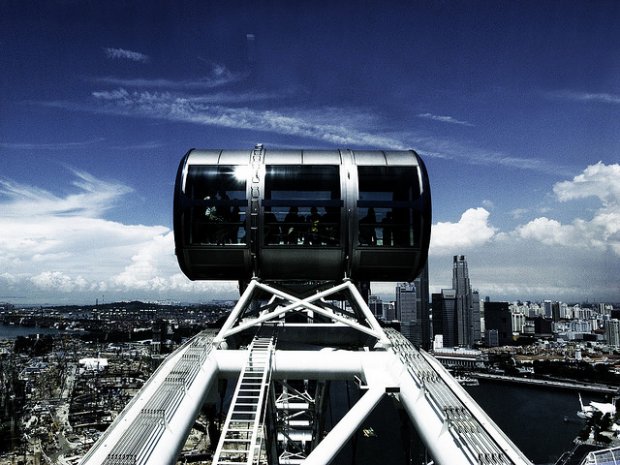 Image Credit: Roger Tan
Ever wanted to have dinner amongst the stars in the sky? Well, then you should try the sky dining experience atop the Singapore Flyer. It probably is the nearest you'll get to dine with the astronomical stars!
Set against the backdrop of the stunning night view of Singapore's skyline, Asia's largest observation wheel lets you enjoy a luxurious 4-course dinner with a full butler service, the world's very first. The package starts from 2-to-go, and you either share a capsule or get a private capsule to yourselves — great for celebrating those special occasions with your loved ones! Of course, these dinners don't come cheap. But fret not, you can still view the Singapore skyline in the same capsule for a fraction of the price, and enjoy a romantic dinner by the alfresco waterfront dining promenade, after which you can take a walk along the F1 race course by the bay!
17. Wander around the Borobudur Temple in Indonesia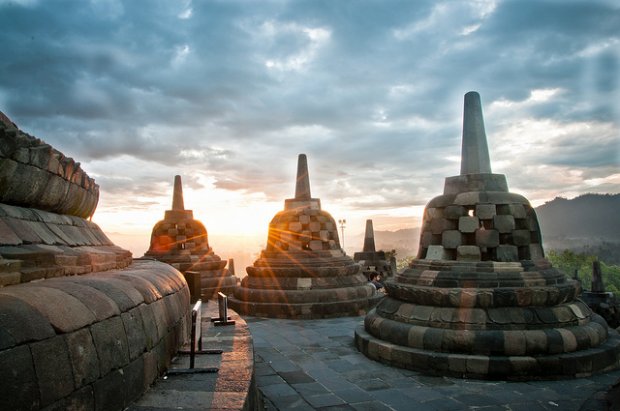 Image Credit: Justine Hong
Another UNESCO World Heritage site, the Borobodur Temple Compounds is the world's biggest Buddhist monument, so it is a sort-of pilgrimage for devout Buddhists. Dating from the 8th and 9th centuries, it consists of 3 temples, the iconic Borobodur Temple, and two smaller ones, Mendut Temple and Pawon Temple. On the day of the full moon in April or May every year, pilgrims from all over the world take part in a walk-in procession, starting from Mendut to Pawon and ending at Borobodur for the Waisak Day Festival. The main temple is built similar to a pyramid, with five concentric square terraces and three circular platforms. At the top is a monumental stupa. A total of 504 Buddha statues can be found here, and many more carved in the decorative panels and reliefs, in the various meditative positions of the Buddha. The local belief is that if you manage to successfully touch the Buddha's figure inside the bell-like stupa at the top of the temple, the one wish deep in your thoughts as you ascended the temple will come true. Why don't you try it and tell me if it rings true?
18. Chill out at the lovely beaches in Phu Quoc island, Vietnam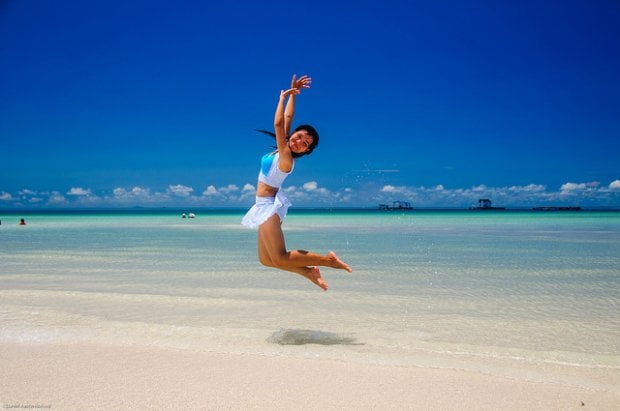 Image Credit: Daniel Hoherd
Looking for a short beach getaway? Forget about Phuket and Bali, those place are just too touristy. The latest trend in beach getaways is right in Vietnam. Just 50 minutes by plane from Ho Chi Minh City, there exists a peaceful, pristine, postcard-worthy paradise: Phu Quoc island.
It has been gaining popularity in the past couple of years for its untouched natural environments and the wonderful water activities one can partake of here. The island is open all year round, with the peak season from November to March. There are also beaches galore here, some more popular, and some more remote, but all with waters that are so clear and blue you can literally see the sandy seabed!
As yet, the island is still largely untouched, and nature lovers will love the virgin forests, sandy beaches, coral gardens and hundreds of wildlife species it has to offer. Plans are underway though, to develop the island into an entire eco-tourism destination by 2020, so I say we make this island a priority destination on our bucket lists!
19. Sleep in a traditional hanok in Jeonju, Korea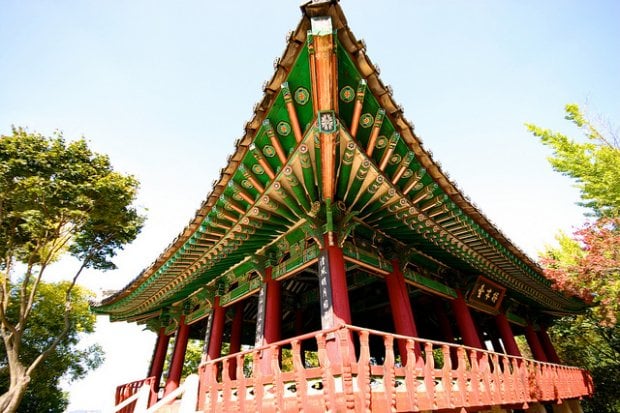 Image Credit: US Army Garrison Red Cloud – Casey
To experience how Koreans lived in ancient times, one needs look no further than Jeonju.
With more than 700 traditional hanok houses and majority of them offering rooms to stay in, the Hanok Village is the perfect place for visitors to experience life in a traditional house.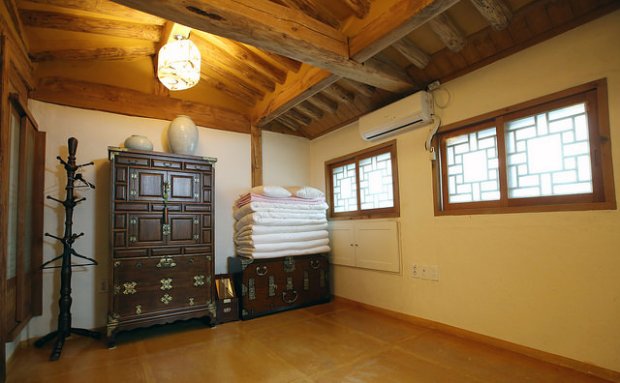 Image Credit: Republic of Korea
They may be slightly more expensive than regular hotels or backpacker hostels, but hey, where else do you get to live in a traditional Korean hanok? The village itself is host to a whole slew of activities, festivals and events, so even if you don't want to stay a night, you will still get to have hands-on experience with Korean traditional culture and history. Learn how to make Korean paper, play their instruments, dye some cloth naturally, play some games, and try on the Hanbok (Korean traditional clothing). Then with a cup of traditional tea in hand, take in the sunset against the many curved roofs typical of hanoks.
20. 
Dance on the Banaue Rice Terraces in Philippines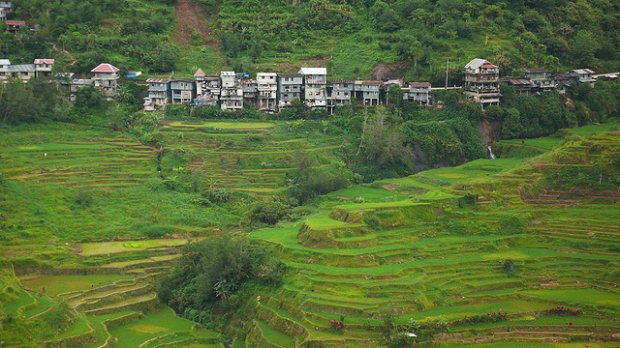 Image Credit: patrick kranzlmüller
They first came into existence approximately 2000 years ago, carved into the natural contours of the Philippine Cordillera mountains by the Ifugao indigenous people. Till today, the Ifugao depend on the Ifugao Rice Terraces as their main source of income and food, the most famous of which are the Banaue Rice Terraces. While rice for export is cultivated in the lowlands, with the help of fertiliser, rice grown on the higher terraces are for personal consumption by the Ifugao. In a day and age where conservation and sustainable living are the buzzwords, the rice terraces are a perfect example of striking a harmonious balance between nature and the human community. Visitors to the area are constantly amazed by the sheer magnitude of the rice terraces.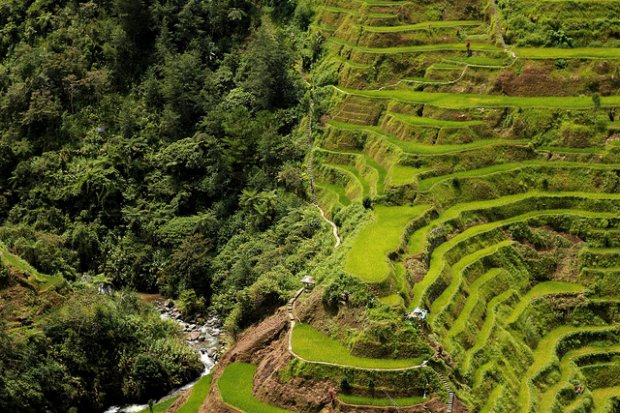 Image Credit: Allyson Tachiki
Every season brings with it differently coloured terraces, though I think the best periods by far are during April and early May, when the terraces are at their greenest, and in August, when they are golden with ripened grain.
Just imagine the sight—rolling hills and mountains of emerald or gold. Other activities one can do here include visiting the tribes at the foot of the terraces and visiting a Mumbak, a traditional Ifugao witch doctor, who performs spiritual healing rituals.
Also Read: 20 Reasons Why You Must Visit The Philippines
I'm sure there are more bucket-list items in Asia, and I'm just touching the tip of the iceberg. Why don't you tell me what you think should be included on my list? Or better yet, go along with me to these fantastic places so we can tick them both off our lists! After all, we live in a country where there are doors to all these wonderful countries!