Bad weather can put a damper on any holiday, but when you have a beach getaway all planned out, it can leave you down in the dumps. Many Singaporeans flock overseas during the end-of-year period of November-January, but this coincides with the wet monsoon season in a number of South Asian countries.
Does this mean you have to bid farewell to days of fun in the sun, sand and sea? Certainly not! Here are some weather-friendly beach holiday options around the region, where Mother Nature is unlikely to (literally) rain on your parade.
1. Phu Quoc (Vietnam) – the next Bali and Phuket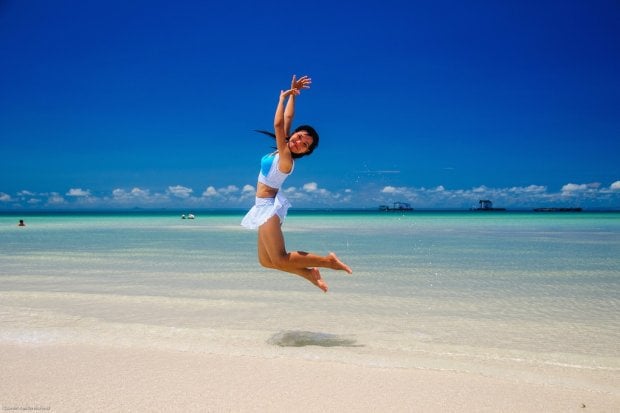 Image Credits: Daniel Hoherd
The largest island in Vietnam, Phu Quoc is located south of the Cambodian coast. With the recent introduction of direct flights from Singapore, Phu Quoc might just be the up-and-coming beach destination.
If strolling along the scenic coastline doesn't do the trick, you could try snorkelling or diving in the clear waters to enjoy the colourful array of corals and tropical fish. For a brief respite from the warm sun, explore the diverse flora and fauna of Phu Quoc by trekking through the lush greenery that is the National Park, perhaps even stumbling upon a magnificent waterfall or two along the way. The Phu Quoc dog may not be your typical tourist attraction, but spotting this rare breed, only one of three with a ridge of hair running along its back in the opposite direction, would be a delight for dog- or animal-lovers.
For the history buffs, there are landmark sites to visit as well. Be sure to stop by the Nha Lao Cay Dua Prison or the Dinh Cau Rock (Cua Temple), a fusion of Buddhist temple and lighthouse, which is also a prime spot for avid sunset-chasers. After sundown, the Dinh Cau night market is the place to be. With more than 100 stalls selling local culinary specialties and handicraft, there is no better way to round up your trip to the amazing Phu Quoc.
2. Koh Rong (Cambodia) – an untouched paradise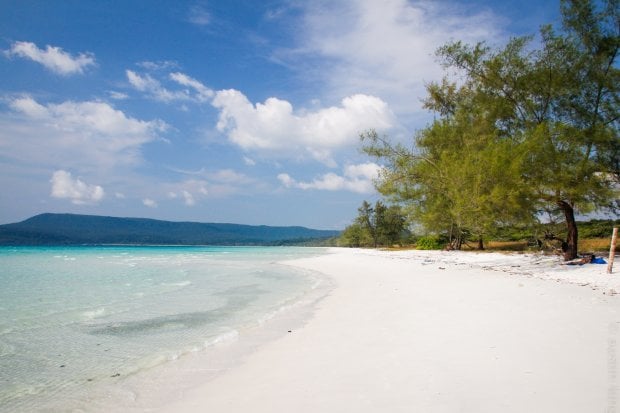 Image Credits: Austin King
If you're in a reclusive sort of mood (we've all been there), a trip to Koh Rong Island 25 kilometres off the coast of Sihanoukville, Cambodia, would make the ideal escapade to unplug and unwind. This secluded paradise has remained relatively undeveloped (and hence, affordable) thus far, but it's only a matter of time before five-star resorts start sprouting, attracting throngs of tourists to the island. There is certainly no better time than now to visit Koh Rong in all its beautiful, unspoilt glory.
A major draw is that water activities like kayaking and snorkelling are available for a fraction of the price offered in other popular beach destinations – music to the ears of all budget backpackers! Adventure awaits at the High Point Rope Park, a "jungle gym" suspended 25 metres of the ground. Afraid of heights? Amazing views of the island from atop this obstacle course might just be enticing enough even for the faint-hearted.
If a sedentary lifestyle is more your cup of tea, all you need is a hammock and a book, and you can check beachside bliss off your list. Surrounded by quaint fishing villages, you can perfect that tan while enjoying the enchanting view of dazzling turquoise waters along the 43-kilometres of beaches fringed with palm trees. When you go for a night dip, look out for phosphorescent plankton glowing in the water – a truly magical sight to behold!
Also Read: Koh Rong Islands – Cambodia's Unspoilt Beach Paradise
3. Krabi (Thailand) – the favourite beach getaway

Image Credits: Torbus
Mention Krabi and images of crystal blue waters and spectacular limestone cliffs immediately come to mind. A mere 1.5 hours flight away, this coastal town on the southern end of Thailand has made a name for itself as the ultimate tropical beach paradise.
With 154 islands to choose from, there is no shortage of beaches to explore – each as breath-taking as the next. Complete your island-hopping adventure with some snorkelling, and explore secret lagoons on your boat tour, where you can bask in tranquillity away from the hustle and bustle of this tourist hotspot.
Once you have relaxed to your heart's content on the idyllic white sand beaches, hop on a kayak and cruise through the evergreen mangrove forests, entering the land of beautiful canyons, caves, waterfalls and thermal springs. If this doesn't quite suit the palate of the daring adventure junkies out there, fret not – Krabi has more in store for you. With adventure sports such as mountain-biking, white-water rafting and cliff diving, you can definitely get that adrenaline pumping.
After a fun-packed day, what better way to wind down than to indulge in a tension-relieving Thai massage and spa treatment? The endless list of things to see and do in Krabi will keep you coming back for more – you can take our word for it!
Also Read: 11 Reasons Why Travellers Keep Going Back To Krabi
4. Mũi Né (Vietnam) – awesome beaches and ethereal sand dunes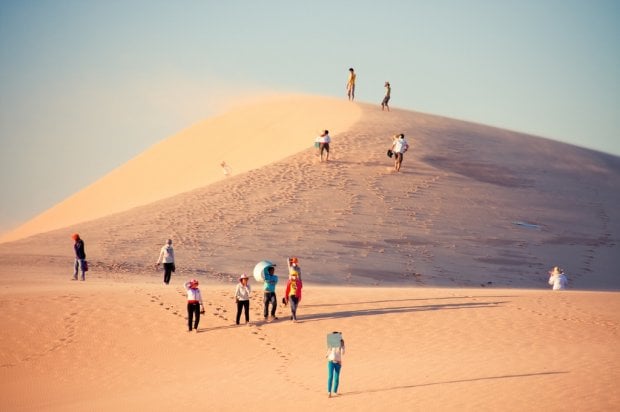 Image Credits: s tsui
The coastal resort town of Mũi Né sits in the Southeast region of Vietnam. Touted as one of the sunniest and friendliest places in Vietnam, it's time to add Mũi Né to your list of favourite sun and sand destinations.
No island holiday is complete without some fun in the sand. In Mũi Né, beaches are not the only place where you can frolic merrily on soft sands. Have fun sand-sledding in the Red and White Dunes, which also make the perfect backdrop for ethereal shots that will have your friends thinking you paid a visit to the Sahara Desert. Along the way, stop by the Fairy Stream, where other-worldly landscapes of limestone walls and rock formations await.
Strong sea breezes make kite-boarding and windsurfing popular activities on the beaches of Mũi Né. If you're up for a little workout, explore Takou Nature Reserve an hour's drive away, and hike up the mountain to reach the beautiful pagoda at the top, where you can also find Vietnam's largest reclining Buddha statue.
For a touch of history and culture, head to the Po Shanu Towers. These ancient stone structures dating back to the 8th century are remnants of the mighty Cham Empire that once ruled over Vietnam. A sweeping view of the surrounding area is a definite plus.
5. Langkawi (Malaysia) – beyond spectacular shorelines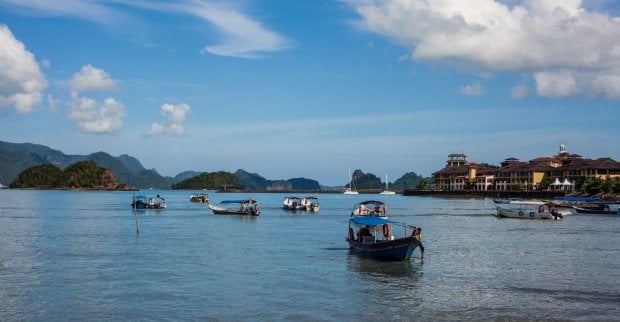 Image Credits: Tatiana Vdb
A small island roughly the size of tiny red dot Singapore, Langkawi is tucked in the far north-western corner of Peninsula Malaysia. Legend has it that the name 'Langkawi' is a combination of 'helang', the Malay word for eagle, and 'kawi', the Sanskrit word for marble – both of which are in abundance around the island.
The island is littered with beautiful beaches, but the Tengkorak and Tanjung Rhu beaches deserve special mention. The former is a relatively quiet and secluded gem with untouched rock formations waiting to be explored; the latter houses high-end resorts if you're in the mood to splurge a little on some well-deserved pampering.
With a UNESCO Geopark status as one of its claims to fame, Langkawi proves it has much more to offer beyond its spectacular shorelines. The splendour of mangroves, caves and lakes that are home to hundreds of wildlife species make Langkawi a haven for sunbathers and nature-lovers alike.
Other must-visits in Langkawi include the Seven Wells Waterfall and Gunung Raya, the island's tallest mountain. Here's a tip to make your trip a little more interesting: most of the sites in Langkawi have a myth or folklore attached to them, so befriend the locals and you won't be disappointed!
6. Boracay (Philippines) – the ultimate beach utopia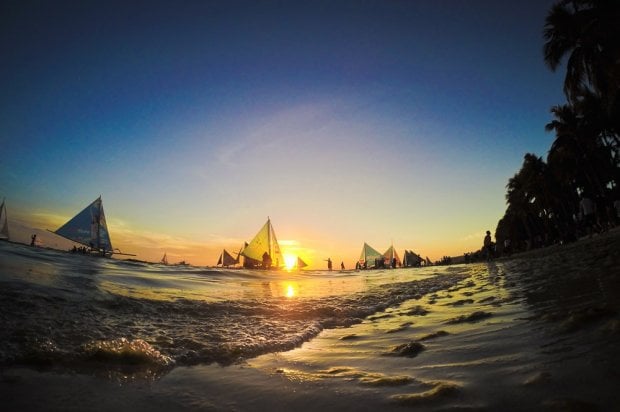 Image Credits: Andy Enero
A mere one-hour flight away from Manila, the small island of Boracay is a far cry from the buzzing urban city centre – in a good way. Boracay is the ultimate place for relaxation; with stretches of pristine beaches accompanied by clear azure waters, it is not difficult to see why.
White Beach on the western side of the island is the perfect destination to achieve that elusive Zen state of mind. A calming massage and manicure by the sea while watching hues of colours paint the sky as the sun sets over the horizon – can it get any better than this?
For the thrill-seekers, the answer is yes, of course! Head to Bulabog Beach on the opposite end of Boracay to quench your thirst for some adventure. From parasailing and windsurfing to kite-boarding and jet-skiing, Bulabog Beach is a mecca for water sports enthusiasts. Another not-to-be-missed activity is cliff-diving at Ariel's Point.
If the view on the ground is not quite stunning enough for you, trek or ride an ATV up to Mt Luho view point for an unforgettable 360-degree view of the island. The panoramic seascape will make it tough to say goodbye to this beach utopia. Travellers visiting Boracay in the third week of January are in for an additional treat: the Kalibo Ati-Atihan Festival, Philippine's own mardi gras.
Also Read: Everything You Need to Know About Boracay
7. Palawan (Philippines) – where complete island-hopping takes a lifetime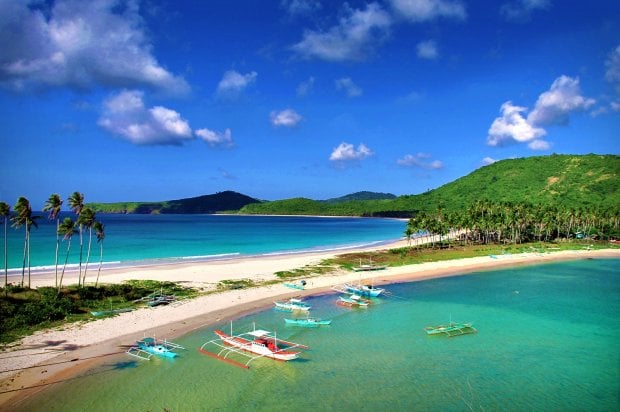 Image Credits: Just One Way Ticket
The Palawan province on the Western part of the Philippines comprises a total of 1,780 islands. If you are unable to spare enough time hopping between them all (it's okay, we understand), the main Palawan Island, with its diverse natural landscapes and cultural attractions, would suffice. Towards the end of the year, the monsoon season would have receded, and though light showers may still occur, it is certainly nothing that would dampen your spirits.
The wondrous beauty that is Palawan Island boasts not one but two UNESCO World Heritage Sites! The Puerto Princesa Subterranean River National Park features majestic limestone karst landscapes and unique wildlife; the Puerto Princesa Subterranean River, Asia's largest underground river, is also one of the seven natural wonders of the world. The second World Heritage Site is the Tubbataha Reef Marine Park, where you can marvel at the assortment of marine life, including a few endangered species such as the hawksbill sea turtle.
Posing against the backdrop of picturesque beaches of El Nido, diving in the magical Barracuda Lake on Coron Island, and firefly watching in Puerto Princesa – these are but some of the things you can check off your list on a visit to Palawan.
8. Si Phan Don (Laos) – the idyllic, peaceful getaway

Image Credits: Steven Belcher
Popularly known as the 4000 islands, the Si Phan Don archipelago is located in the Mekong River in Southern Laos. The absence of fancy villas, ATMs or reliable internet connection in the area gives a glimpse into the deep tranquillity that these untouched islands have to offer.
A haven for sun-soaking backpackers, Don Det is the best place to simply chill out. The nearby Don Khon Island (without a g) is a definite must-visit, as it houses the Khone Phapheng Falls, the largest waterfall in Southeast Asia. The falls feature an intricate labyrinth of islets and waterways that would take your breath away. On this small island, you might even get to wave hello to rare Irrawaddy dolphins. Tubing, where one cruises through the river on an inflatable tyre, is also increasingly becoming all the rage among backpackers here.
For a change in scenery, the sleepy Don Khong (with a g) is worth a visit. You will be greeted by picture-perfect views of the open countryside, rice fields and sarong-clad villagers. Be sure to visit the beautiful temples and look out colonial remnants of the old French settlement in this historic area. Before leaving Si Phan Don, don't forget to get your hands on a punny 'Been There, Don Det' t-shirt!
9. Maldives – more than just a honeymoon destination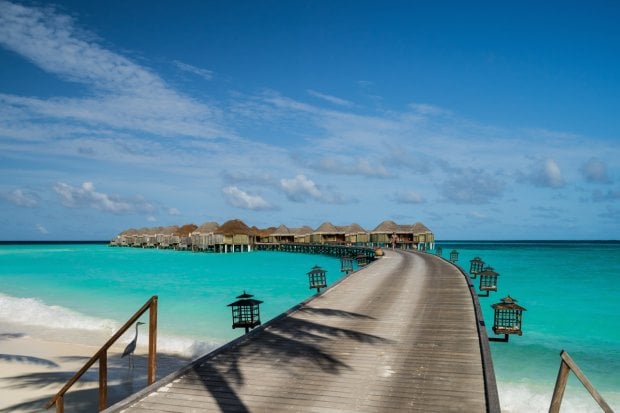 Image Credits: Mac Qin 
This island nation may be a little further off the map compared to the aforementioned destinations, but there are countless reasons why it should definitely make the list. For a country made up of more water than land, it comes as no surprise that visitors flock to Maldives to uncover the trove of treasures hidden in the Indian Ocean.
No matter which island or beach you head to, snorkelling and diving are must-dos – with clear views of vibrant coral reefs, fishes, turtles and even the occasional reef shark, the experience is akin to visiting the world's largest aquarium. The plethora of spa resorts also provides ample opportunities to rejuvenate and recharge your batteries.
For a birds-eye view of the islands and once-in-a-lifetime photo opportunities, seaplane photo flights are the way to go. The skies and seas will dazzle with their hues of blue, while rustic fishing villages interspersed with lush greenery littering the spectrum of tropical islands, will blow you away.
A lesser-known attraction in Maldives is the collection of coral stone mosques on various islands, which are currently on the tentative list of UNESCO's World Heritage Sites. Intricate coral engravings and detailed lacquer work exhibiting interplay of Buddhist and Islamic influences are testament to the cultural and historical richness of the islands. The Grand Friday Mosque in Malé in particular, is a significant architectural landmark as one of the largest mosques in South Asia.
Also Read: 7 Days Of Maldives Ain't Enough!
10. Ngapali (Myanmar) – truly off-the-beaten track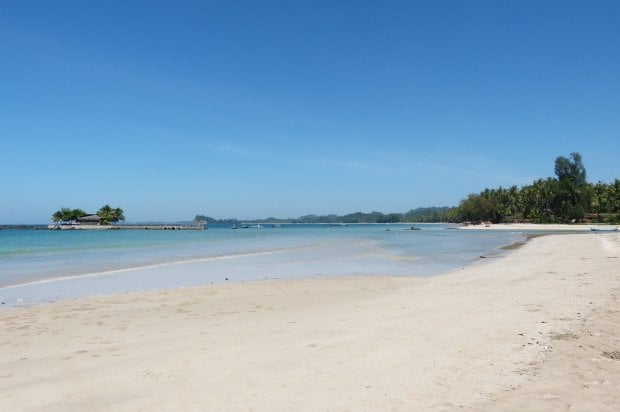 Image Credits: Wikipedia Commons
Ngapali is a small town on the remote West Coast of Myanmar. It houses the 3-kilometre stretch of the stunning Ngapali Beach, thought to rival other famous beach destinations in Southeast Asia, but whose popularity has been unfortunately (or fortunately?) less publicised due to Myanmar's political climate.
To sample the local way of life, cycle down to Jaketaw Village just a stone's throw away from Ngapali Beach and witness the friendly villagers hard at work sun-drying fish, coconuts and bamboo mats. You could also join the locals in a traditional game of cane-ball. From there, a light trek to Amata Mountain will lead you to a meditation centre and a standing Buddha image, along with picturesque views of the ocean vistas.
A 40-minute drive to the town of Thandwe brings you past scenic rubber plantations and paddy fields. The bustling markets, and pagodas towering over the river, make the trip worthwhile.
Boat trips to Pearl and Pirate Islands should also be on the agenda. Clear waters teeming with colourful fish warrant some snorkelling, revealing an array of tropical marine life. Seafood is readily available to whet your appetite, and Ngapali does it best with shacks serving fresh catch lining the beaches.
With so many beach destinations to pick from, there's no reason to forego your dream seaside holiday this year-end. Following that, this Kiasu Traveller 2015 Holiday Plan will come in handy! Time to stock up on sunblock and other beach essentials!