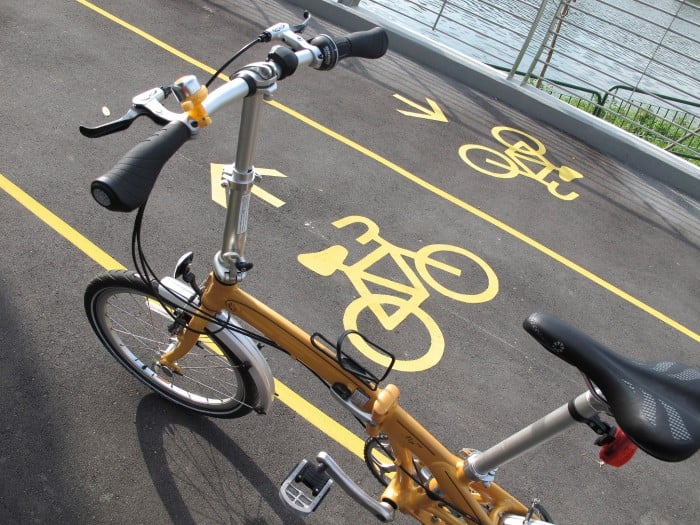 Image credit: Steel wool
The inhabitants of the garden city are starting to embrace the trend of un-motorised bikes. Realising the convenience of bicycles in the city, the amount of cyclists in Singapore has seemingly doubled in the last five years. Bicycle shops and cafes have appeared out of nowhere, while the city itself is becoming increasingly bicycle-friendly.
Being a frequent cyclist myself, I want to share my experience on two wheels in Singapore, exploring the city and parks anew. Here is a little guide and all you need to know to get cycling in Singapore
Also read: Best Countries to Tour by Bicycle
Bicycle shops
Nowadays, it isn't difficult to get a new or second-hand bicycle either in a shop or online. You can find a very good selection of new bicycles on Bicycles.sg and Qoo10, or an affordable second-hand bicycle on Carousell.
However, if you are buying a bicycle for the first time, I would advise you to go directly to a shop, so you can actually try it. Check if it fits your height, you can ride it comfortably, and it has all the functions you want.
There are several well-equipped bicycle shops in Singapore, such as Hello Bicycle (135 Middle Road), Tay Junction (733 Bukit Timah Road), Treknology (14 Jalan Kilang Barat), and The Bike Settlement (261 Waterloo Street). The latter is the best should you need a quick repair. If you are looking for speciality bicycle shops, you should visit Wheeler's Yard (28 Lor Ampas), which is also a cosy café.
Safety, gear & rules
I cycle almost every day and feel very safe on the road. Occasionally, you might get a taxi honking at you, letting you know that it is passing. Don't be afraid of bus drivers, as they do watch out for you, at least in my experience.
I have met cyclists who are afraid of the road, but I believe it is because they don't drive. One shouldn't forget that the same traffic rules apply to cyclists as to vehicles. Hence, you should behave the way you normally would in traffic.
When it comes to safety gear, you should have lights in the front (white) and the back (red) of your bicycle. In my opinion there is no need for cycling clothes, unless you are aiming to do fast road cycling. However, you should always wear a helmet for safety.
A lock is definitely necessary, especially if you park your bicycle in the streets. Bicycle theft has definitely increased with the popularity of cycling. You can also get a bicycle security label from your local police station for bicycle identification.
Scenic routes
Once you start cycling in Singapore, you will notice the full pleasure of Singapore's park connectors. Did you know that you can cross most of Singapore without actually using a road? The park connector network stretches from Changi all the way to the MacRitchie Park via East Coast, Marina Bay, and the Green Corridor.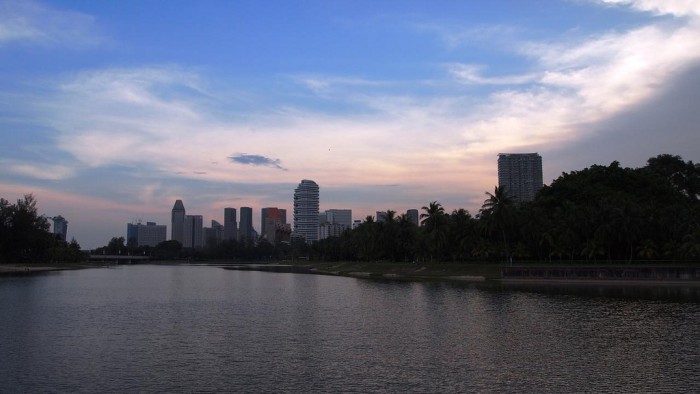 Image credit: Walter Lim
Personally, I prefer the Kallang Park and Marina East, as it is by far the most scenic route and never fails to impress me – especially during sunrise or sunset. The Kallang Park route stretches from Lavender MRT and Kallang MRT to the Sports Hub and Marina East on one side and to the Singapore Flyer and Marina Bay on the other shore.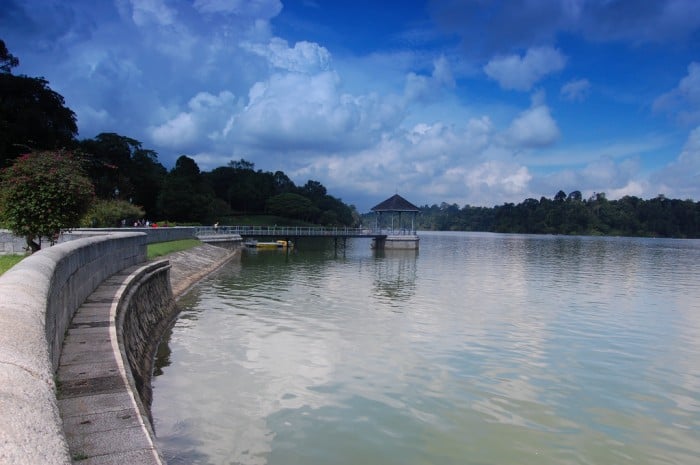 Image credit: edwin.11
Besides that, I also recommend MacRitchie Park, which offers multiple tracks and routes for you to explore on your bicycle. Another popular destination is Punggol Waterway Park. It stretches from Punggol MRT station all the way to Pasir Ris Green, and one can even visit the entirely uninhibited Coney Island along the way.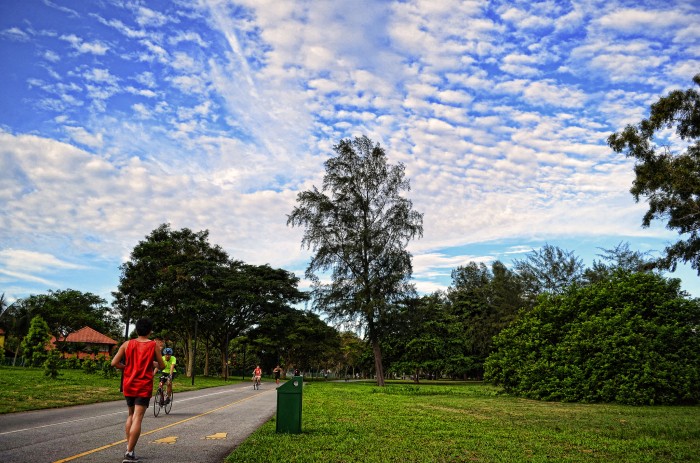 Image credit: jh_tan84
If you seek more comfort on your cycling adventure, you should go to East Coast Park. Connecting Changi and Marina Bay with more than 10 kilometres of green park area, East Coast offers many restaurants, cafes, and bars along the way. The various facilities in the park, such as learning area and renting services, make the East Coast ideal for families. Be aware though that on Sunday afternoons East Coast Park park can get very busy.
Recently, Singapore has also been experimenting with car-free Sunday mornings. With sections of the city streets closed to cars, cyclists will have more scenic routes in the city centres.
Renting
East Coast Park is one of the best places in Singapore to rent bicycles. Single bikes, tandem bikes, or comfortable family bikes – there is something for everyone. Rental can be as low as S$3 per hour, depending on the bicycle.
East Coast Park has an abundance of renting stations, but the majority of them are in proximity to the East Coast Seafood Centre and the major car parks. Helmet and other safety equipment, especially for kids, are available as well.
Also read: 1-Day Itinerary: How to Explore Taipei on a Bike
Which type of cycling enthusiast will you be? The smooth operators going for a casual ride, the fixie fanatics, the mountain bike track junkies, or the light road bike racers? Step up and enjoy your ride!