It's pouring outside, but your spirits are high, only slightly dampened by the open skies and the weeping onion that is your wallet. What do you do then? Pick one activity from this list of indoor outing ideas in Singapore, and get ready for a dry afternoon of delight and merriment!
1. Prawning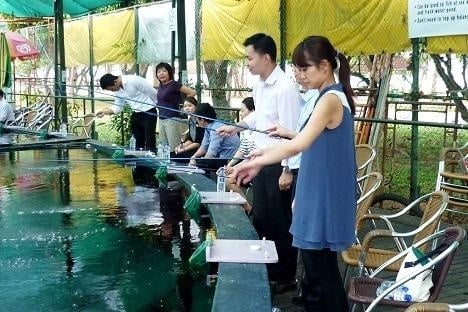 Image credit: East Coast Prawning
Fancy an alternative activity, where you can still chat and catch up with your friends? At a prawning facility, you get to fish for your own seafood from man-made ponds. And while you wait for the prawns to come to you, go ahead and have that tête-a-tête with your friends, or give your children a real-life, hands-on lesson about the biology of the prawn! Many of these facilities are open 24 hours, so even if you only have time for late night musings, you can rest assured that the prawns will be there to accompany you.
For the young ones who can't seem to sit still, there are other activities available for them. Let the kids have a taste of kampong life as they try to catch tiny fish in large monsoon drains, or what locals know as longkang fishing. There are also pool tables, fish feeding, and even fish spas at some of these prawning facilities.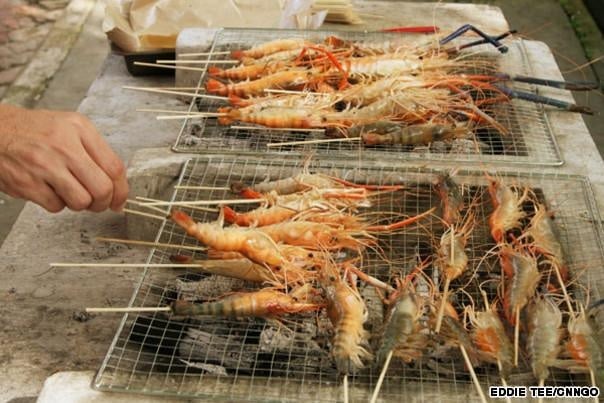 Image credit: CNN
And after prawning, how can one resist not having a seafood feast?! East Coast Prawning offers free-of-charge barbeque facilities to cook and savour your catch. All the more reasons to go prawning!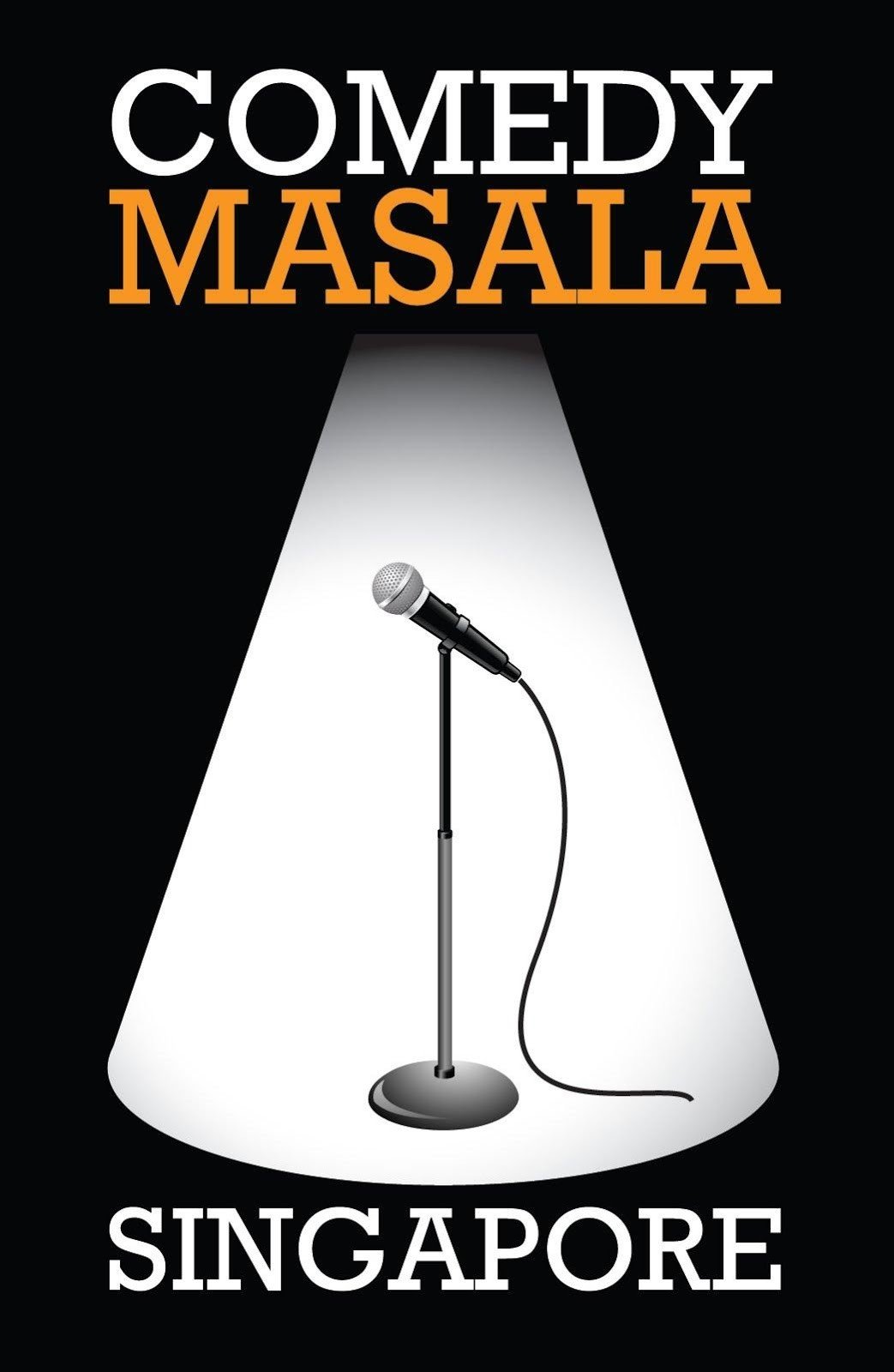 Image credit: Gchuva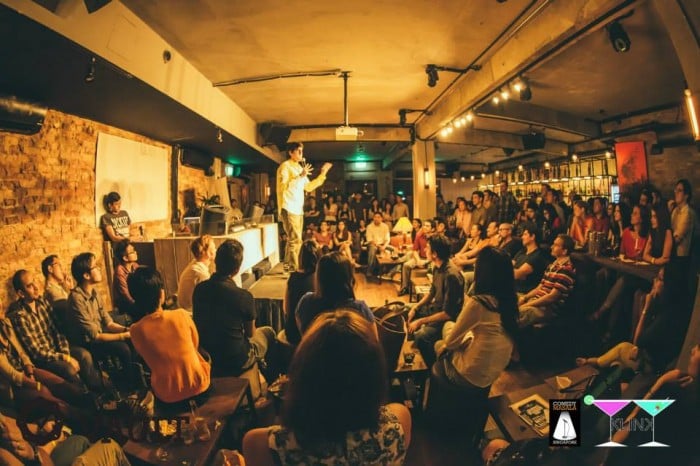 Image credit: Comedy Masala
What's better than a night of drink, jokes, and laughter? Not much else, I reckon! Singapore's biggest and most popular stand-up comedy venue draws crowds in the hundreds every week, and features a mix of both Singapore and international comedians from all around the world. It is also one of the only venues that offer open-mic sessions, in which members of the public can simply go up and deliver their own stand-up routine! So you can go right ahead and step up to hone your comedic skills and bring some mirth to those around you!
Their regular sessions are ticketed events, so do get your tickets early to avoid disappointment. That said, tickets at the door still fall comfortably under SGD20, so you can always keep it as a back-up plan for a rainy date night!
Cost: $12 for early bird tickets, $15 for tickets at the door.
3. Escape alive from a literal lock-down!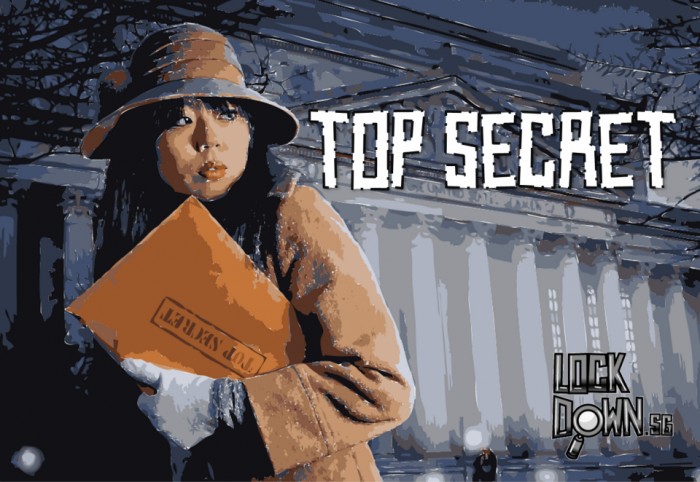 Image credit: Lockdown Singapore
Many of us are familiar with online room escape games, in which your avatar is locked in a room and you have to complete challenges and solve riddles in order to escape from the room unscathed. This activity simulates these games, except that you are now the avatar and the one in a locked room! All the rage now in Singapore, groups of youngsters, couples, and even co-workers (for team-building events) are flocking to them for a creative and brainy session.
There are several players in this survival game of the mentally fittest, but Lockdown Singapore seems to be one of the more popular ones, with up to 8 different rooms for you to choose from, complete with a story synopsis. From CSI-detective styled contexts to scary and ghostly haunted ones, the various challenges and obstacles you'll have to manoeuvre will guarantee a mentally stimulating afternoon!
Cost: $19/person on weekdays before 7pm.
4. Bound away at a Trampoline Park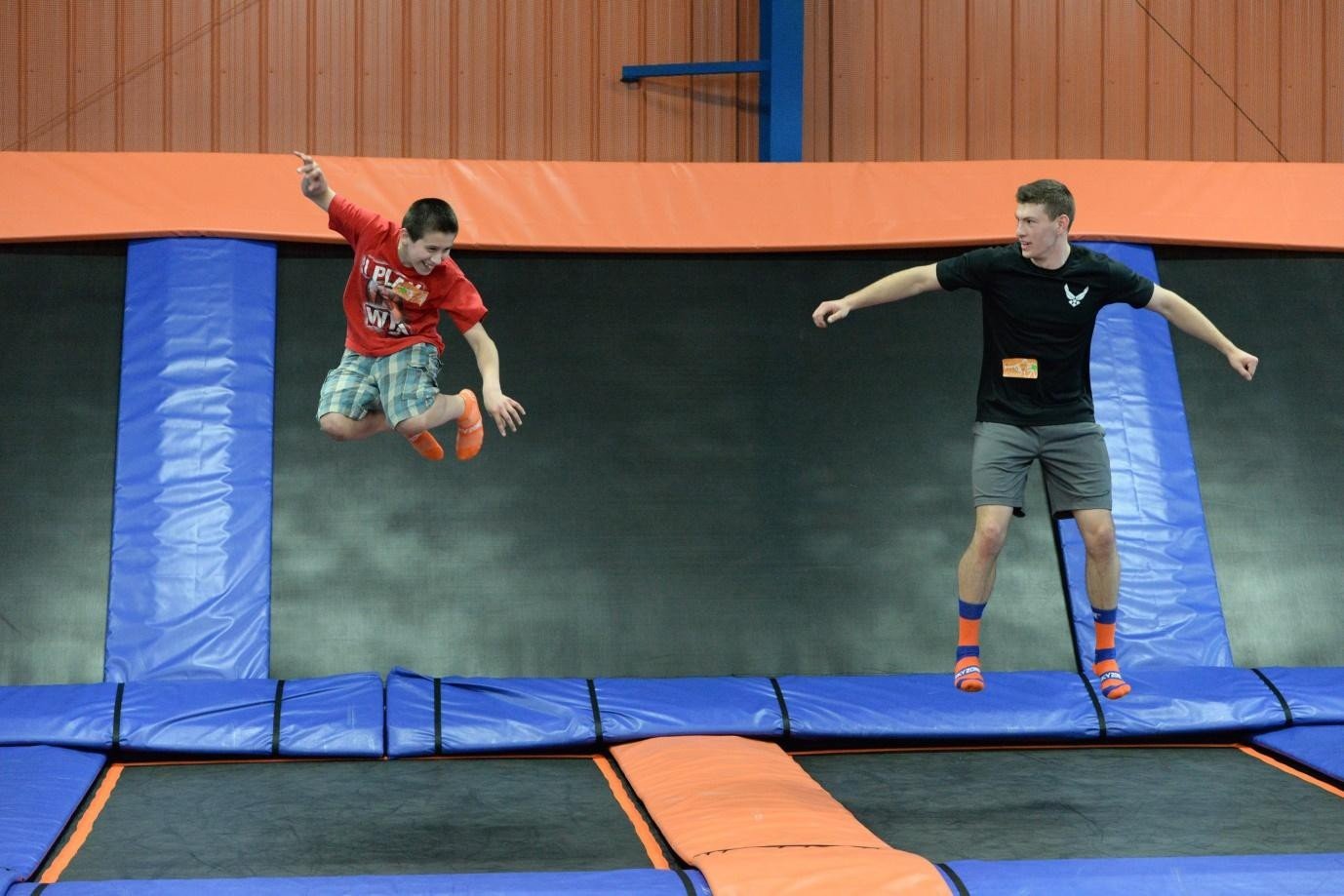 Image credit: Sgt. David Lipp
Do it like those trampoline gymnasts at the Olympics and practice some air somersaults! Or pretend you're a kangaroo, and bounce as high as you'd like. Feel those worries leave you as you shoot into the air. Whatever it is, an hour of defying gravity will guarantee you a light and floaty feeling, even if we aren't all that light!
With more than 450 square metres of interconnected trampolines, a huge foam pit, and even parkour walls, Amped Singapore seems like a good choice as any. Jump, sink, or climb—I guess you could even do all of them if you wanted to!
Cost: $10-16/hour, depending on days of the week.
5. Party on ice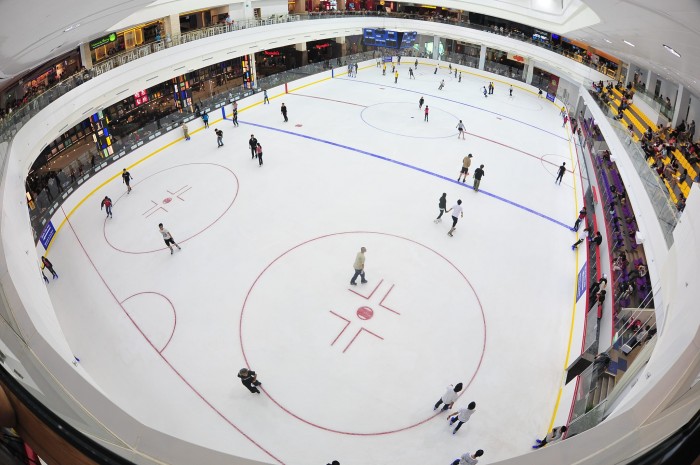 Image credit: The Rink
To stay cool and yet dry, all you have to do is head down to the ice-skating rinks in Singapore! The two rinks in Singapore strategically located in Central and West respectively, and are pretty accessible via MRT.  For two hours at a time, we can either pretend to be graceful figure skaters, or awkwardly waddle around like penguins!
Over at The Rink, Disco Nights are highly popular with children and youths alike. Happening every Friday and Saturday night from 9.45 to 11.45 pm, skaters can sing, glide, and skate along to flashing lights and dance music. And the best part? There is no extra surcharge to enjoy this cool disco on ice!
Cost: $17.50/person for a 2-hour session, including rental fee for skates.
6. Cuddle with cats in a cat café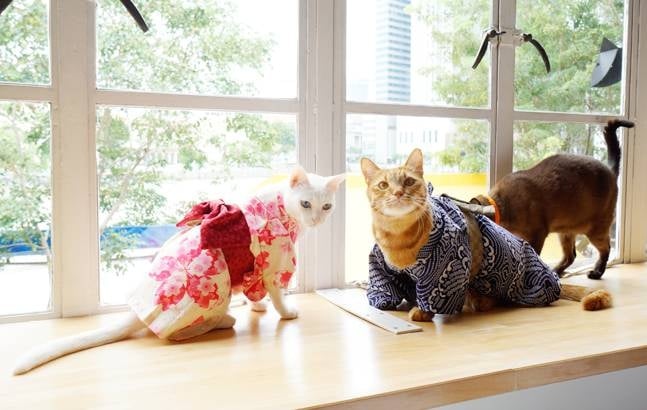 Image credit: Neko No Niwa
In dire need of a dose of cuteness? Grab a cat (or three), a nice drink, and cuddle the afternoon away with these cute yet proud felines! The first cat café in Singapore, Neko no Niwa, has a total of 13 cats, all of them adopted. These cats are free to roam around and interact with humans in the café, giving many cat-lovers cause for delight and Cheshire-cat grins when the felines deign to grace them with their presence.
Even though it is a café, one is not obligated to purchase food or beverage from the premises. Instead, one pays for the amount of time spent with the furry animals! Take note, though, students get a hot chocolate on the house, so be sure to bring that student pass along with you!
Cost: $12 for the 1st hour, $5/30 mins thereafter.
7. Go museum-hopping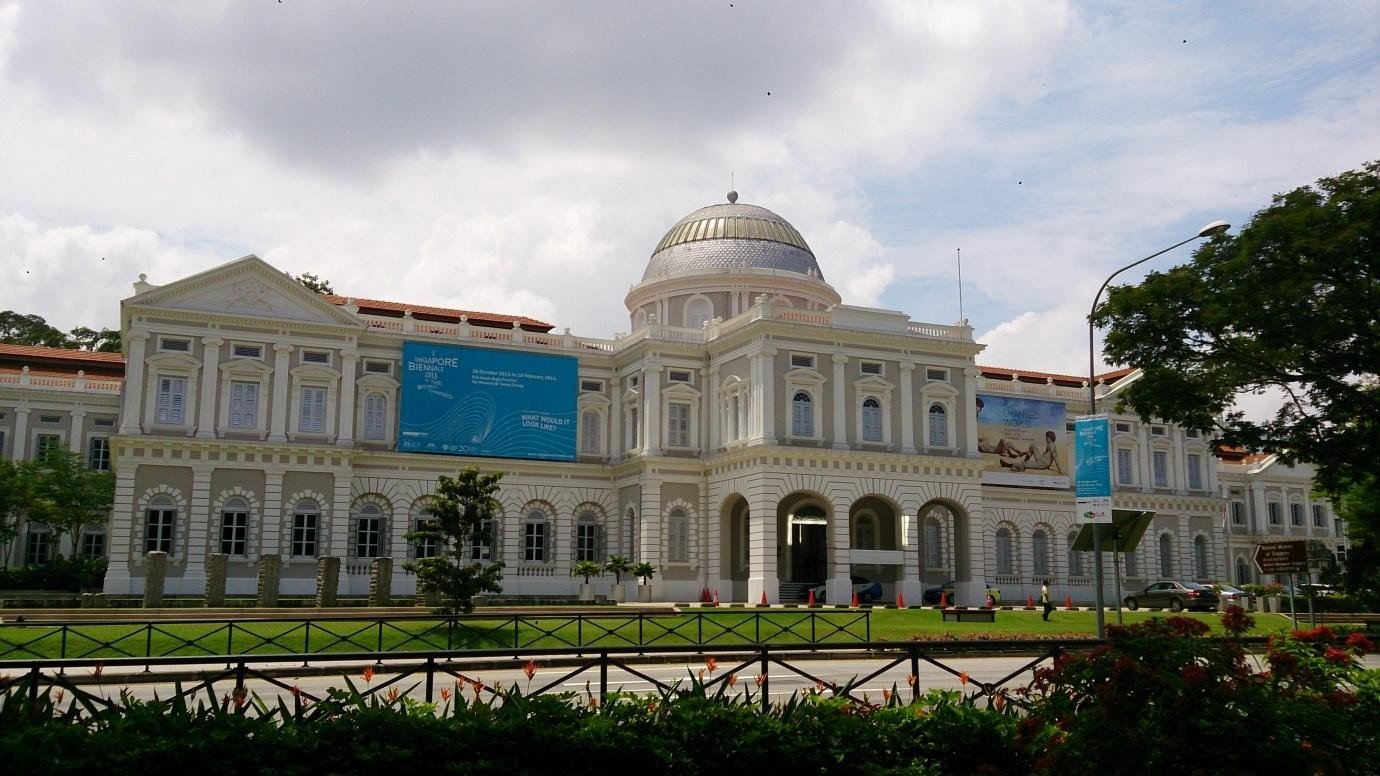 Image credit: ProjectManhattan
Everyone is bound to find a museum of their interest in Singapore as there is a plethora of options – from museums that delve into the history and culture of Singapore, to modern science and technology, and even to the ones whose subject matter are more light-hearted, such as toys. Think you've already visited them all? Check out these little-known museums in Singapore.
Singapore, though young, has quite a rich history, and spending a few hours tucked away in the National Museum of Singapore exploring the various exhibits showcased in the newly re-conceptualised Singapore History Gallery, is more than enough for you come away enlightened about this island many of us call home.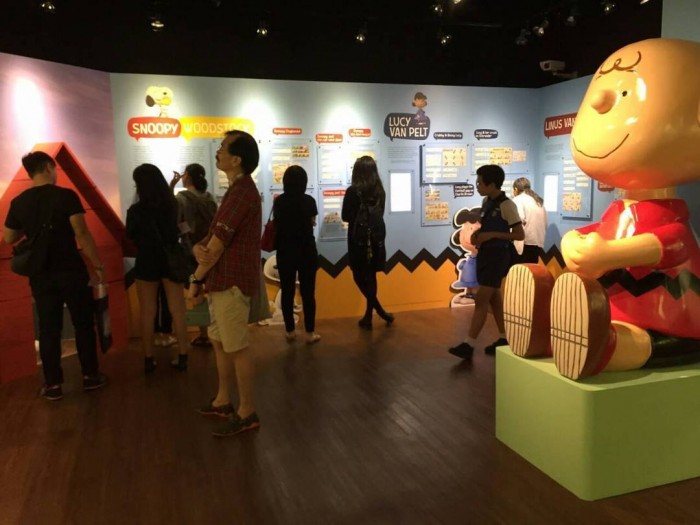 Image credit: Singapore Philatelic Museum
Or we could learn more about the world of stamps over at the Singapore Philatelic Museum, and have fun looking at the stamps collected from all over the world. They even have collections that coincide with social and cultural goings-on. I mean, I just recently visited, and they had an exhibition that coincided with the Snoopy & Charlie Brown: The Peanuts Movie! Super cute.
Also, did you know that all museums under the National Heritage Board offer FREE entry to all Singaporeans and PRs? And as for foreign friends, don't fret! The entrance fees are all below $20 for entry into the museum and its permanent exhibitions, while visiting exhibitions may or may not charge entry fees. However, if you happen to be in Singapore during a public holiday, entries into these exhibitions are free as well!
Here is the list of museums under the National Heritage Board:
National Museum of Singapore
Asian Civilisations Museum
Peranakan Museum
Singapore Philatelic Museum
Reflections at Bukit Chandu
Our Museum @ Taman Jurong
Pick one now and head right there!
Also read: 12 Budget Outing Ideas for Families in Singapore
8. Hone your vocal prowess at Karaoke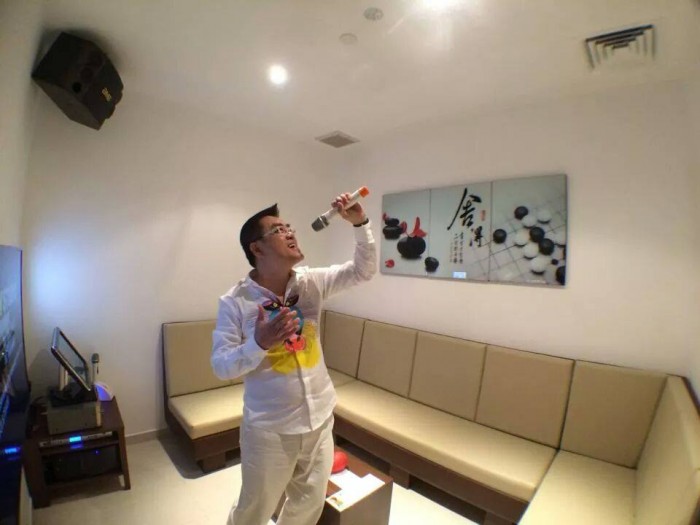 Image credit: Teo Heng Ktv Studio
One of the best ways, I've found, to get comfortable with friends, old and new, is to get together and sing. Whether or not you sing like a choir member or completely off-tune and off-beat (like I always do), everyone warms up after a good laugh at one another's singing abilities, or lack thereof. After all, it is only when one has shown at least one flaw that we view them more kindly, don't we?
Besides singing, there are also other activities and amenities available—pool tables, buffets, musical instruments, digital games, etc. While many karaoke chains have the above, if you really, really, would just like to sing, with no frills attached, Teo Heng KTV Studio has pretty attractive rates for your consideration. Charges are per room, and there are three room sizes, accommodating to groups of up to 10 people. A three-hour package for a small room great for 4 people on a weekday during off-peak hours would only set you back about $18. Divide that by 4, and each person pays less than $5! Even during peak hours, one need only pay $10 for the same room! A word of advice thought: Do remember to call ahead and make reservations in advance; the affordable rates make it a very popular activity, not due in part to the students and youths.
Cost: Varies on the room size and number of people.
9. Marvel at science and technological advancements at the Science Centre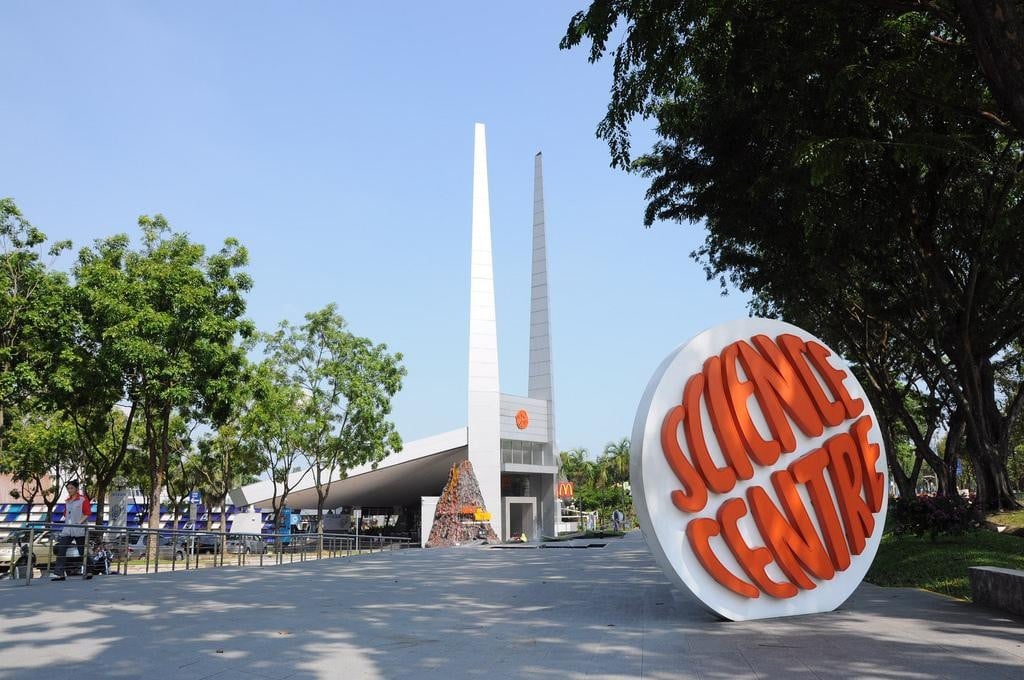 Photo Credit: Christian Schmitt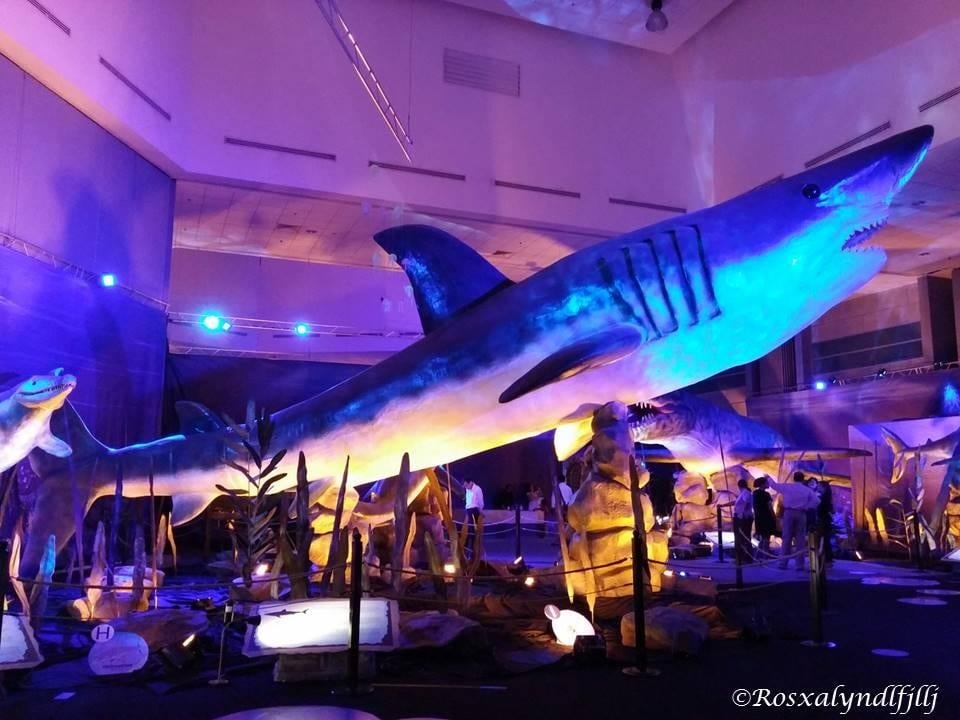 Turn a gloomy afternoon into an educational one for your family at the Singapore Science Centre. Hundreds, even thousands, of interactive exhibits ranging from biology to physics and modern technology are housed in 14 galleries, each showcasing man's wonderful creative innovations and how far we have come since the days of cavemen. 20,000 square metres of outdoor exhibition space also house the Waterworks exhibition, Kinetic Garden and Eco-garden, allowing adults and children alike to learn more the concepts involved in an engaging and interactive manner.
The Centre also hosts temporary and travelling exhibitions, such as the Monsters of the Sea exhibition, now on till the end of February.
Cost: Up to $6 for Singaporeans/PRs, $12 for foreigners.
10. Slide down the snow slopes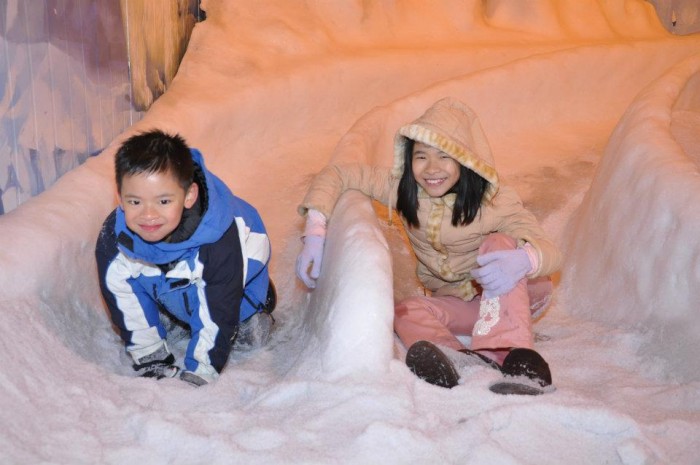 Image credit: Science Centre 
Affliated to the Science Centre is Singapore's Snow City. Pretty much the only place you might feel anything close to winter temperatures, Snow City is Singapore's solution to a snow attraction. The snow is produced on-site using a special snow gun that channels liquid nitrogen to freeze water into the pristine white soft snowflakes. The Snow Chamber, where all the activity takes place, is maintained at a snowfall depth of 40 cm. This translates to about 150 tons of snow!
Snowball fights and snow angels aside, visitors can also slide down a 60-meter long, 3-storeys high snow slope. The Snow Chamber was just recently re-presented with a new look, and refreshed activities and interactive exhibits.
Cost: $12-18/hour, depending on age. Visitors can get promotional prices for bundle tickets.
11. Play a round of laser tag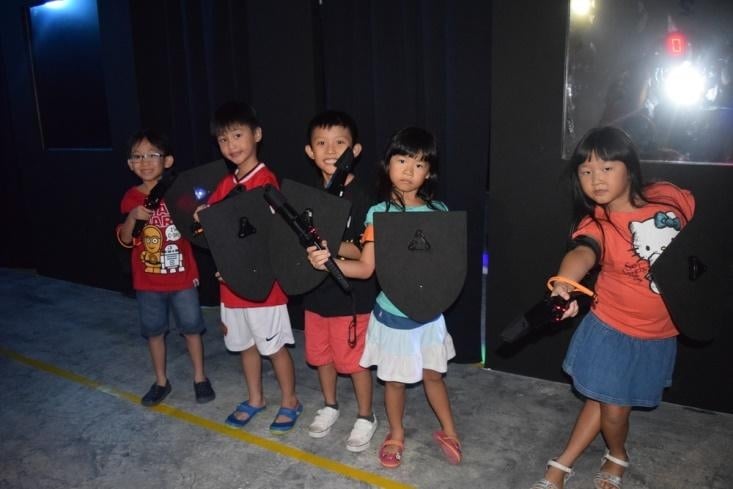 Image credit: Tag Team Inc.
Would you like to shoot your friends, just for fun? Then head down for a round of laser tag! Team up with your friends, and score points for your team by shooting players of the opposing team down. And you do get to shoot them, literally. Using the same infrared technology as the ones you see in remote controls, you'll "shoot" your enemy using a hand-held infrared-emitting targeting device. Very espionage-esque, don't you think? Hey, maybe we all have a little of spying and shooting abilities in us!
While in other countries laser tag may be seen as an outdoor activity, it is not necessarily the case in Singapore. Tag Team prides itself on being Singapore's largest indoor laser tag arena, accommodating up to 20 persons at one time. That's a lot of people to kill. Children as young as 6 years old can play in this arena. Kids aged 4 and above usually play in another smaller arena that takes up to 10 people. The guns used here are also smaller and lighter than the ones in the larger arena, making it more manageable for younger children to use.
Cost: $12 per mission.
12. Play some board games at a board game cafe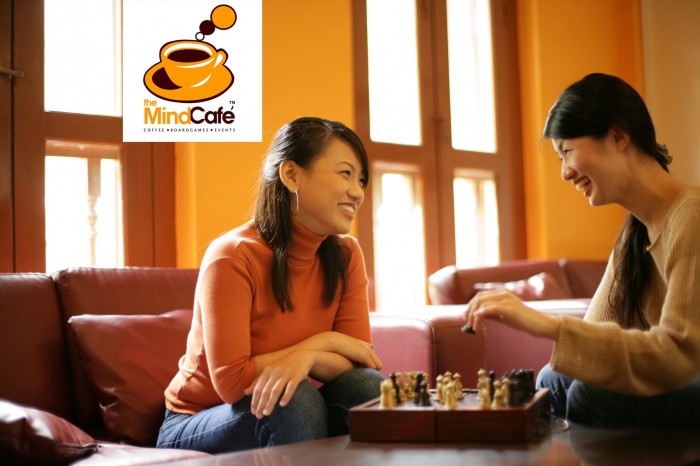 Image credit: The Mind Cafe
Remember the days when we didn't have smartphones, and thus no mobile app games? What did we do when we were bored then? I, for one, remember the good ol' days of Monopoly and Scrabble.
Relive those days at The Mind Café and take your pick from more than 300 board games! From the classics such as backgammon and chess to the novel Ugly Doll or Identik, I'm pretty sure you'll be able to find something right up your aisle.
Into strategy and war tactics?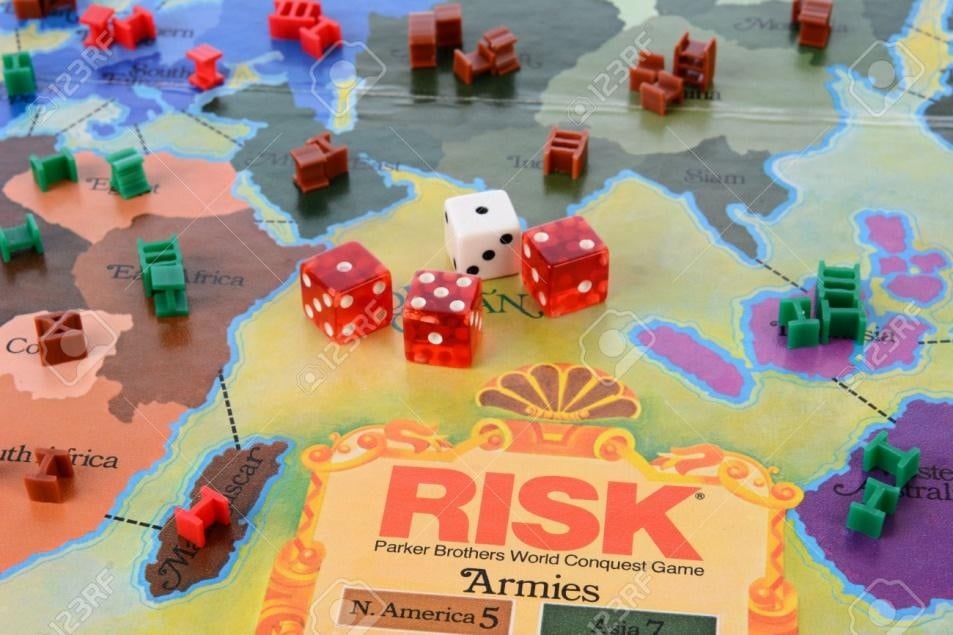 Image credit: Steven Cukrov
Or word-based ones?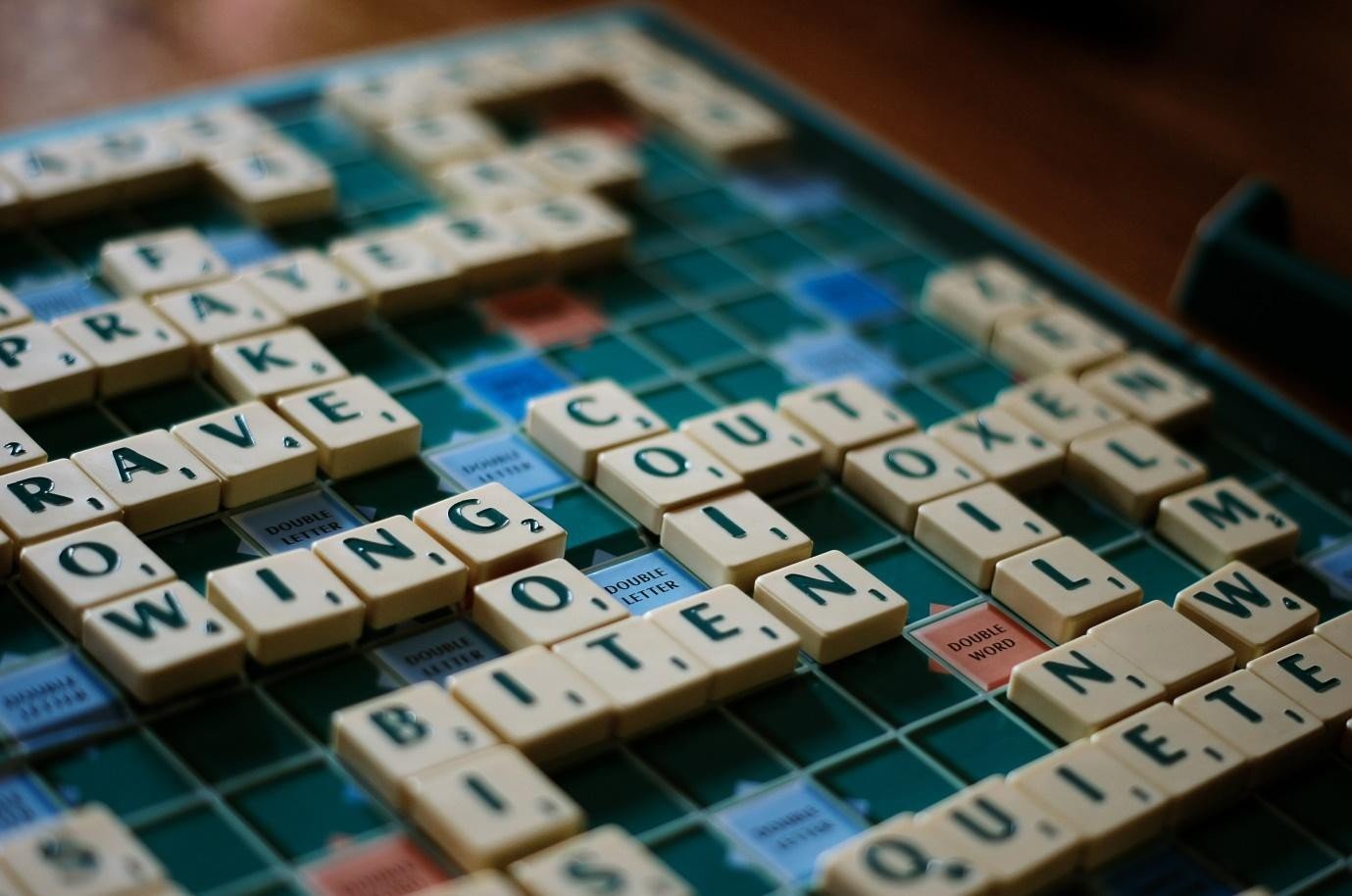 Image credit: The Barrow Boy
Fastest fingers first?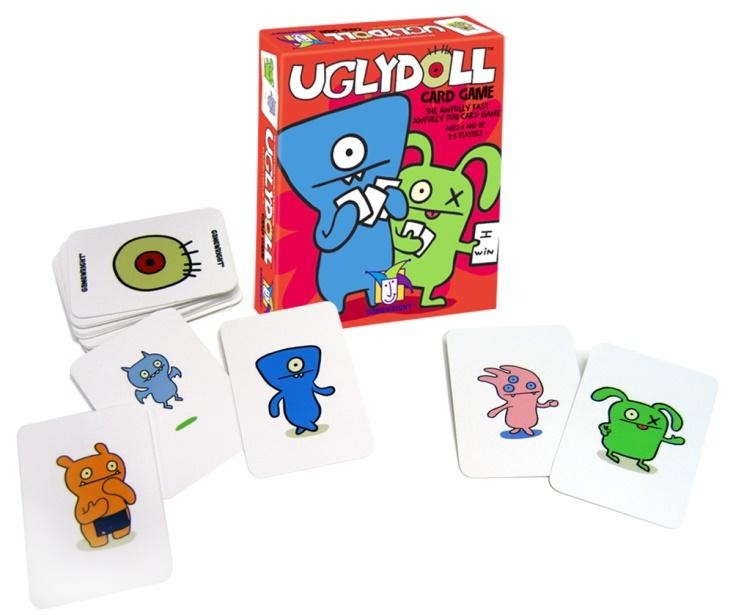 Image credit: Gamewright
Or teamwork based ones?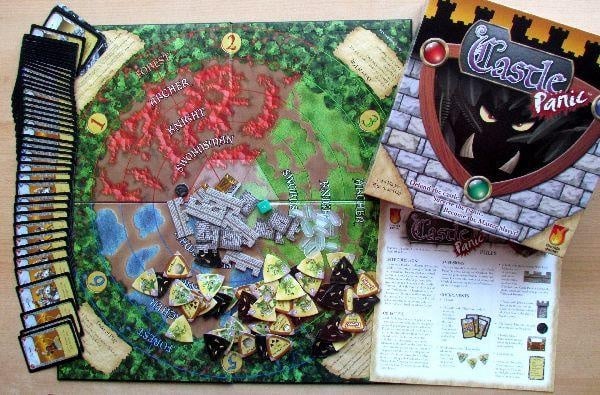 Image credit: Dusan
And what do you pay to use their facilities and huge collection of board games? A couple of dollars an hour. In addition, as its name suggests, they have a selection of food and beverage, just in case you get the munchies while playing.
Cost: $2/hour
Also read: 20 Fun Outing Ideas in Singapore Under SGD 20
So there you go, my friends. Rainy Singapore isn't all gloom and doom, is it? I hope you've found something here to while time away the next rainy day!