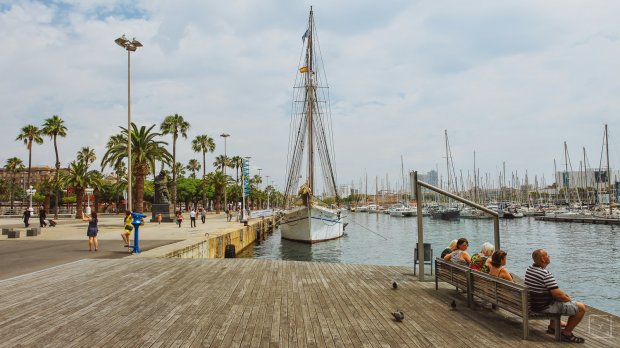 It was one of those muggy afternoons. Walking down the marina area of Barcelona, called Barceloneta, the wide esplanade was home to many sculptures — this is, after all, the epicentre of Catalan art and design. An energy that reverberated from the hubbub of Las Ramblas was transformed into more relaxed, languid scene.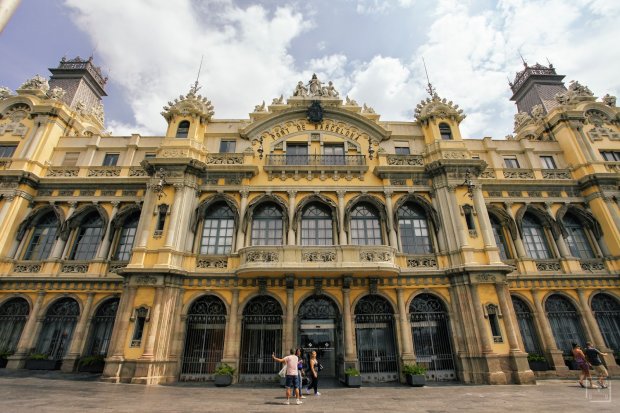 Barcelona's old customs building.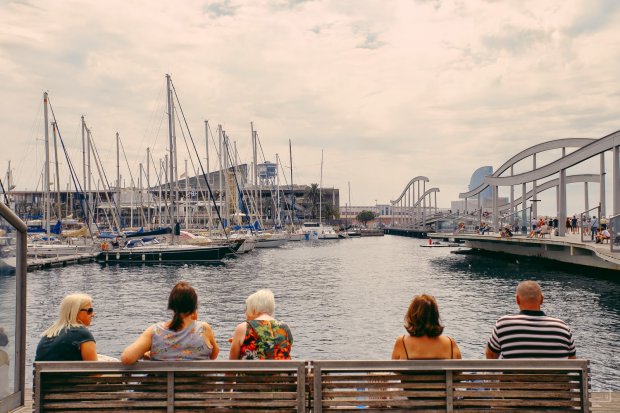 Known for sandy beaches (7km of them) and home to Barcelona's old harbour, Port Vell, the area is now a hubbub of restaurants, nightclubs and the end point of the Port Vell Aerial Tramway, connecting it from the iconic heights of Montjuic. Sculptures abound this place since its revitalisation for the 1992 Summer Olympic Games, with the likes of Rebecca Horn, Frank Gehry and Dali.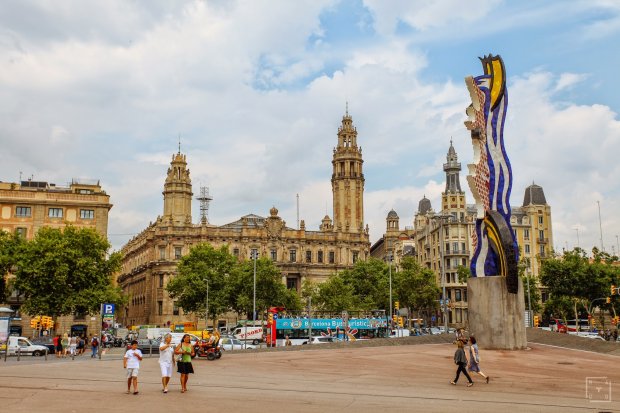 The wide boulevards along the promenade also make it great to just sit by and people-watch. You get to see the very open culture of public affection of the Spaniards (didn't get it down in photographs) and lots of them just relaxing by the marina — locals and tourists alike.
Also read: Travel Notes: An Asian's Take on Europe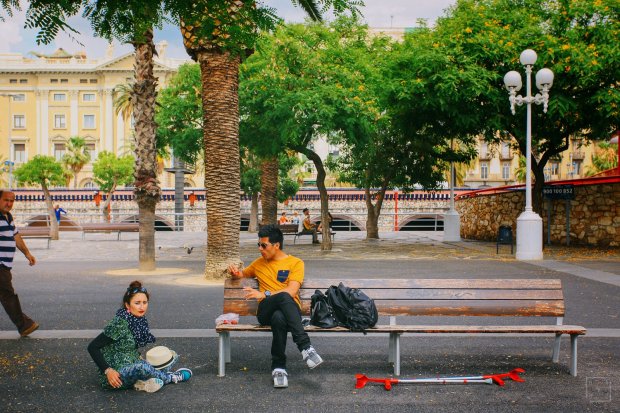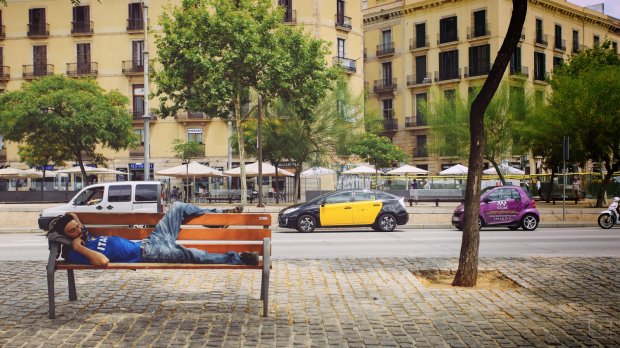 No wonder the Spanish invented the word siesta.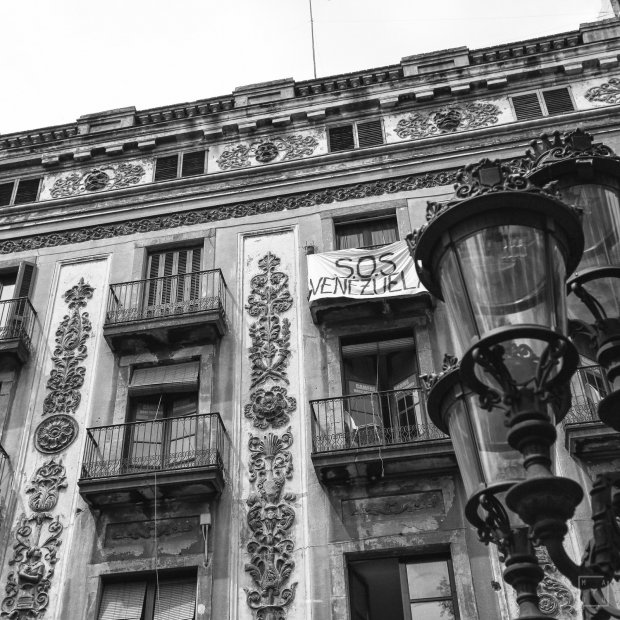 As I walked further towards the old Barceloneta, the buildings looked more traditional and ornate, leaving the Modernist masterpieces to the newer, more commercialised part of Port Vell. The 5 storey tall structures emanated the rich Art nouveau influences that are characteristic of Catalan architecture, spewing many alfresco cafes and potential tourist traps that I was keen on avoiding. On the main boulevard along La Barceloneta, that is.
I took a right onto the street, Carrer Del Mar. Feeling hungry for some tapas (and having not had fresh seafood while I was on exchange in landlocked Germany), I was eager to try out seafood tapas, and I tried my luck at Bodega La Peninsula, located at 29, Carrer del Mar. And yes, it was rated pretty decently on TripAdvisor, so, why not?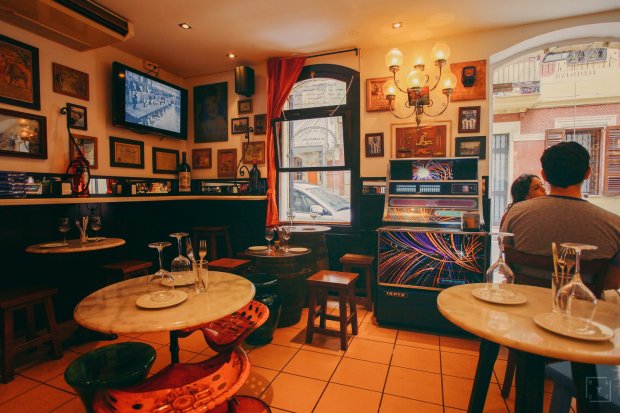 The interior resembled something out of a 1980s movie. With the vintage 1980s record machine at the corner, I loved how they incorporated the use of stools made out of recycled metal coupling it with marbled table tops. I'll let the pictures speak for themselves.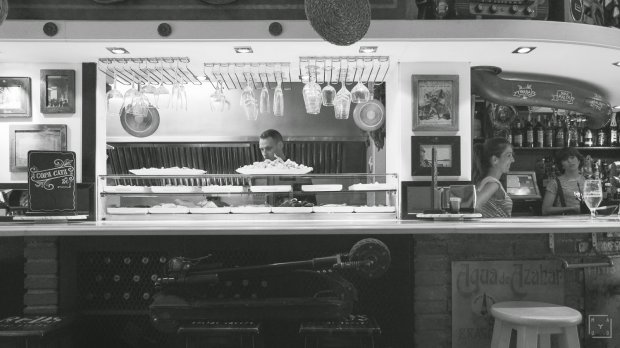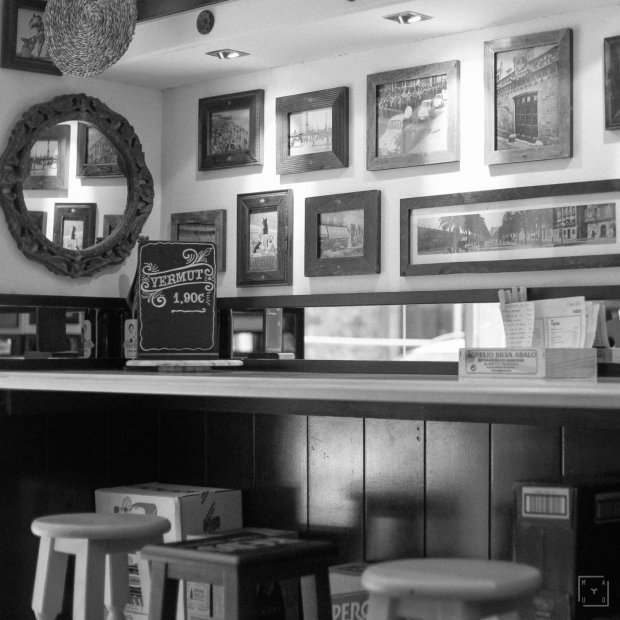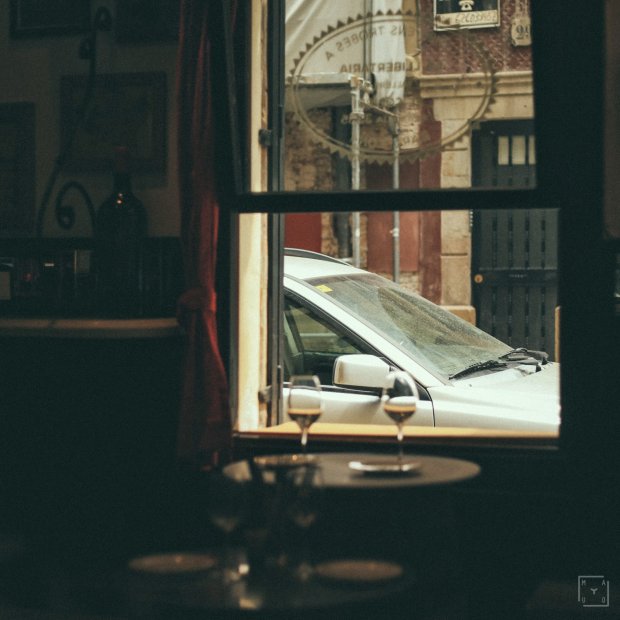 Note the hipster window decals. Vintage-hipster creds up level.
I've not really had tapas before, but I heard papas bravas was a "must-try", and was somewhat of a Spanish take on french fries. These are basically fried potato dices that are usually boiled first before deep fried, giving it a crispy outer skin while having its insides warm and fluffy. It's also topped with salsa and aioli — the latter being a cream sauce made of garlic, lemon juice, olive oil and egg whites (amongst other seasonings). Despite the simplicity of this dish, this version by Bodega La Peninsula did not disappoint — the potatoes were so crisp that they had a slight crunch when I bit into it, and went really well with the rich, savoury dollop of aioli. The spicy salsa provided a nice, tarty kick to the heavy savouriness of everything. Do note that they tend to be a little heavy on the seasonings here, so if you can't take your food too salty, remind them to go easy on the salt.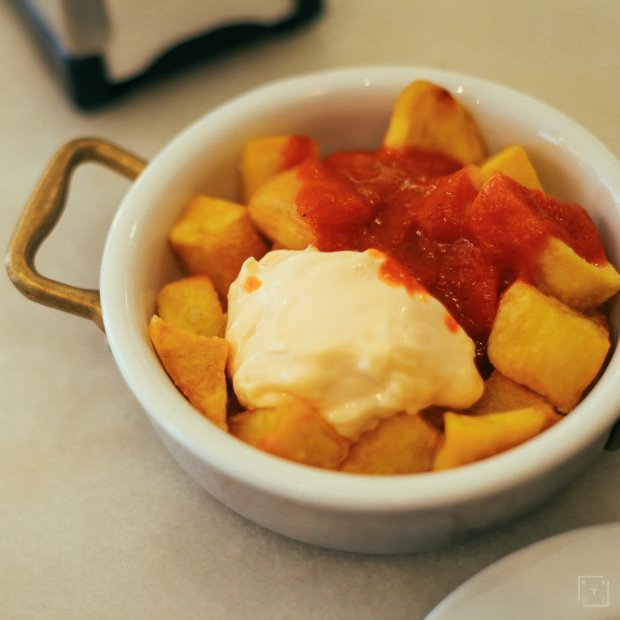 Papas/Patatas bravas — fried potato dices with salsa and aioli.
I had the sardines (forgot what they were called in Spanish). I was told by the staff that they were caught just that morning — so why not, right? And damn, I didn't know what kind of herbs they put, but it tasted very sprightly and flavourful. It was as if spring started dancing in your mouth, but heavily seasoned with doses of sea salt. Even though I wasn't a big fan of fish, I had to say that this was pretty damn good.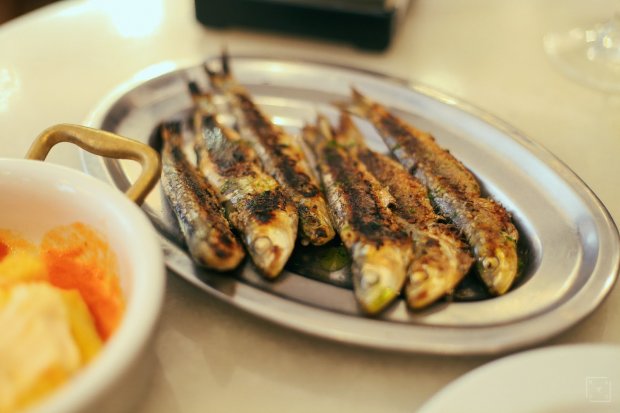 Very, very fresh seafood — the humble sardines were elevated to a higher culinary level with the skilful touch of the chefs at Bodega.
Speaking of seafood, there was also this lovely self-service seafood restaurant somewhere around the Barceloneta area — called La Paredeta. Located at 7 Carrer Comercial, it's one in a couple of chain restaurants of this establishment (another one is located somewhere near La Sagrada Familia, if I'm not wrong). It was a warm sunny evening when me and my friends visited — right after our day at the beach at Sitges. And pardon the poor photos, these were all taken with my iPhone 4.
In all, I think the prices here were relatively reasonable, I think I spent about EUR15 (approx. SGD24) for this meal (with a glass of white wine, not pictured) and that included a small tip. I would recommend this place if you're looking for a place that's not one of those overtly commercial haunts on the main streets of Barceloneta.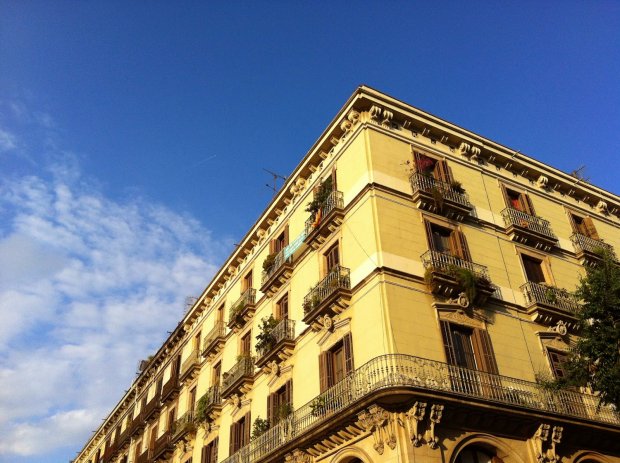 The sun was brilliant even at 7PM. Well, it was summertime after all.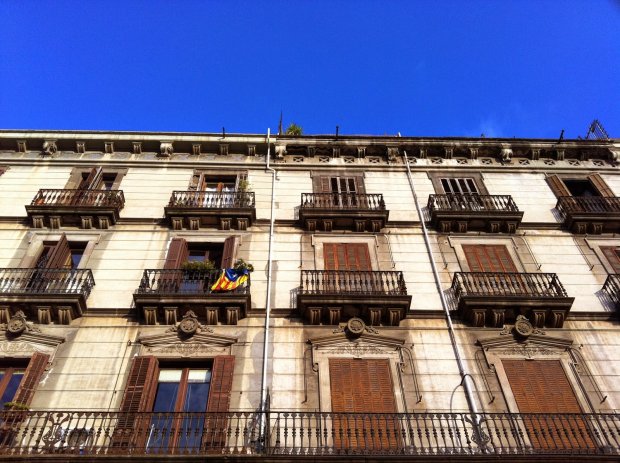 The wonderful neighbourhood around the Carrer Comercial area, near Ciutadella park.
And so we arrived to a snaking long queue even before it opened officially at 8:00 PM. Yes, 8:00 PM for dinner service, because it's summer and the sun is still sky-high. Generally wary of places with snaking long queues (mainly because I think they are usually overhyped), the 25 mins spent waiting in line passed quickly as our party of 8 entertained each other. (Another reason to come here in a big group)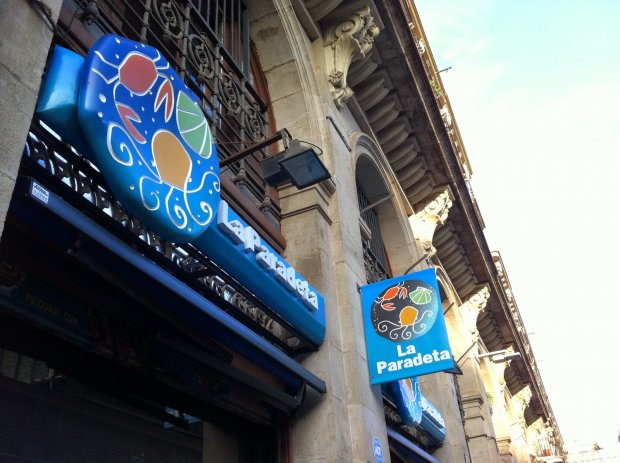 So essentially, how it works is this — it's like a Marché just for seafood. Really, really fresh seafood. You pick the seafood a la wet market style, hand it over in a plate and the staff will cook it for you in anyway you want (we just left it to their own free will). And for EUR1.50 (approx. SGD2.4) or something, you'll get a nice basket of free bread. (Yay to filling our tummies!)
Also read: World's Best Cities to Eat, Shop and Have Fun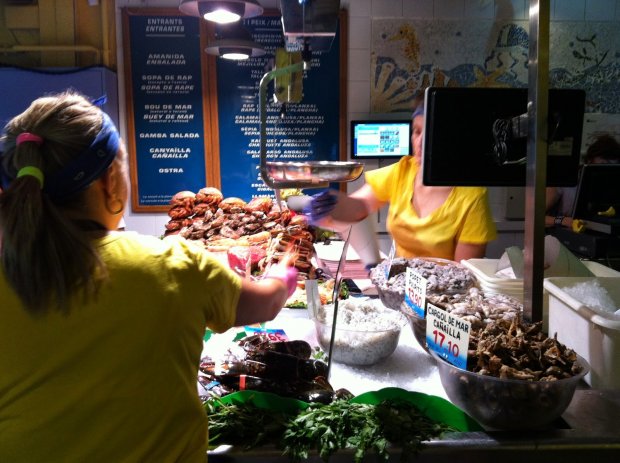 We ordered a calamari, some oysters (not pictured), baby squid, prawns, mussels — enough to feed a mountain of people. Portions were massive, and everything was bloody delicious. Calamari was crisp, well-seasoned and not rubbery, baby squid was crisp and exploded in a juicy, oily goodness (the fresh squid flavour had seeped into the oils used to fry the thing). The mussels, while on the spicy end, made us mop up any remnant of sauce with our breads — it was that good. And the prawns were so sweet, fat and juicy! What's not to like!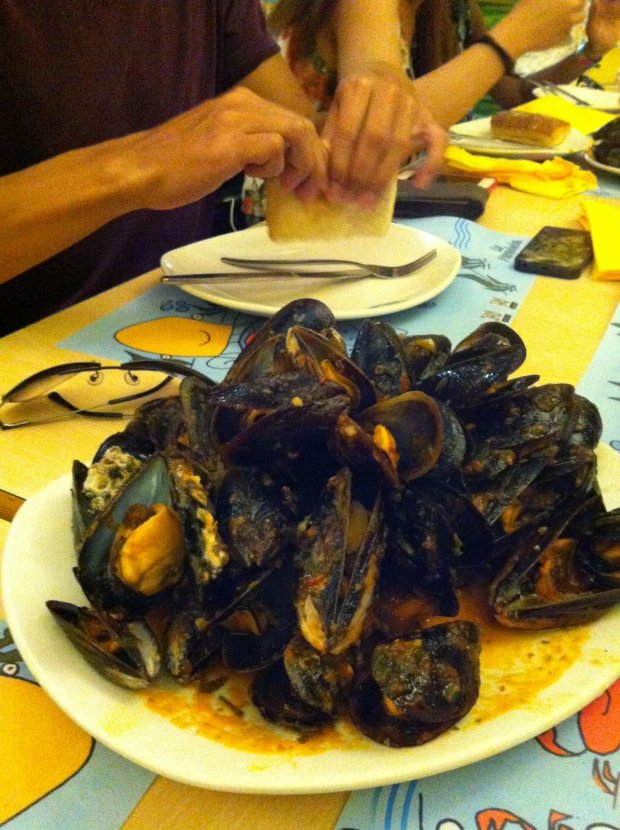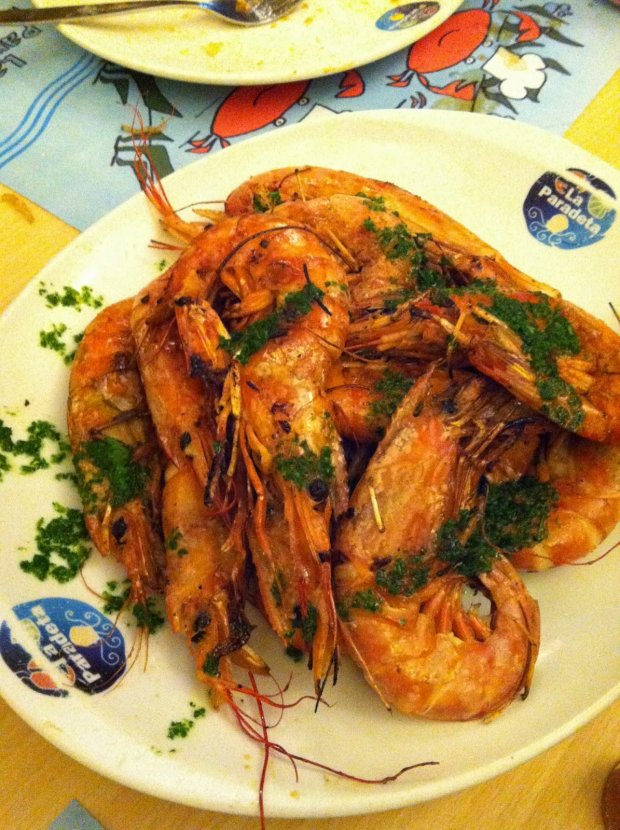 All these, for a very reasonable EUR15 (approx. SGD24) a person. I think it was one of the freshest and heartiest meals I've had in Spain, with the company of friends. The thing is, it was all very simple — no complicated reductions, sauces and stuff. A little tinge of olive oil, garlic, some herbs and that was all it took to elevate this into a very enjoyable dining experience, one that I'll remember in a long time to come.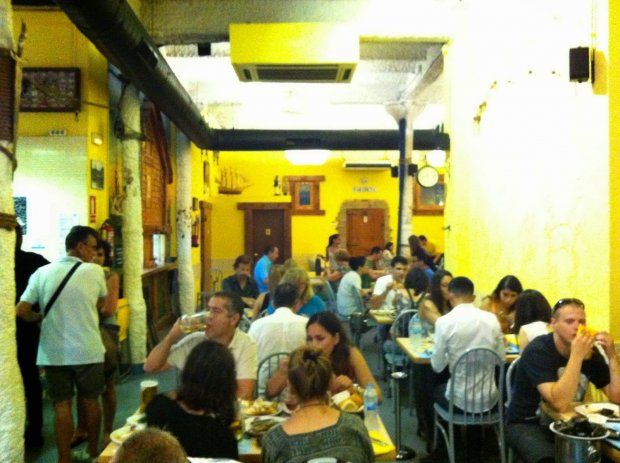 Contributed by The Moose.