"Madrid is pretty boring." These words struck deep as I enquired around about the mysterious city of Madrid before my very first vacation to Spain. Friends told me that there was nothing much to do in the city. So I harboured low expectations on my trip there, imagining a typical cosmopolitan city filled with dull, concrete buildings and endless crowds.
BUT… After exploring this bustling and beguiling city, I can sincerely say that I beg to differ. Sure, the first few moments in Madrid might be a tad overwhelming to the senses. Think: cars whizzing by, hurried paces on the pavements, animated and loud conversations by the sidewalks, smokers congregating in the alleyways, and architectural wonders looming above your head. It's certainly a lot to take in all at once.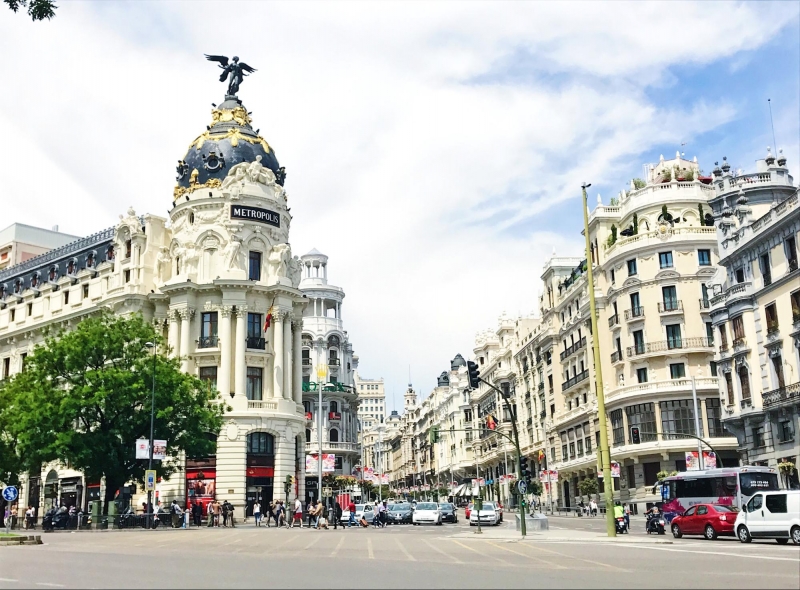 Slowly though, I discovered that beneath this smorgasbord of sights and smells, lay an energetic city filled with passionate Spaniards who truly live life to the fullest. A gleaming metropolis filled with royal palaces, medieval mansions, elegant manicured gardens, impressive collections of artistic masterpieces, gastronomical creations and more, Madrid is a wonder to behold. And if you're wondering how on earth I came to this conclusion, you've got to read on to find out. *winks*
This list is a sure-fire way to kickstart your Spanish adventure.  
#1: Go on a tapas bar crawl around the Latinas & Letras District
The Latinas and Letras districts, also known as Barrio de la Latina and Barrio de las Letras, are home to a concentration of hole-in-the-wall tapas bars and taverns, perfect for an immersive experience of Madrid's exciting nightlife. The Latina district, in particular, is vibrant and eclectic, and also one of the oldest parts of Madrid!
I had the best tapas bar crawl experience with Sean (from Singular Madrid tours), our incredibly friendly and enthusiastic tour guide who demonstrated what true Spanish hospitality meant. I was beyond excited to feast on the best tapas dishes Spain had to offer, and boy, it was absolutely amazing!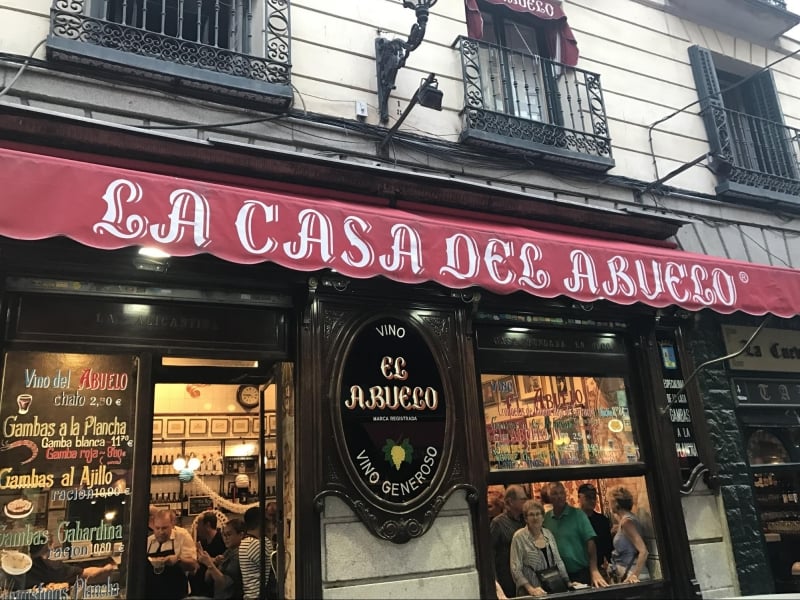 Our first stop was La Casa del Abuelo, which is famous for their signature dish of Garlic Shrimps, also known as Gambas al Ajillo. Each plate costs 10.90 euros ($17++ SGD), and comes with free-flow of red/white wine as well as white bread for you to dip into the garlic olive oil.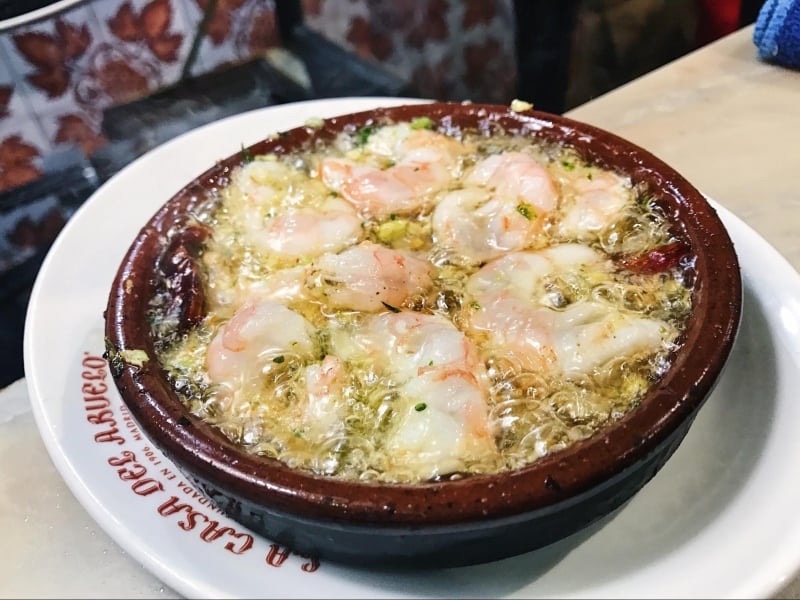 OOH LA LA. Just take a look at this bubbling beauty of sautéed prawns doused in minced garlic and olive oil on a hot plate. Just a glimpse of this picture is enough to make me salivate all over again. If you asked me what was the most memorable dish I ate from my 10-day sojourn to Spain, THIS would be it. I could probably have it for breakfast, lunch, and dinner and still not be sick of it. Mark my words, you've got to try it for yourself!  


Apart from the mind-blowingly delicious prawn tapas, we also ventured to Los Galayos for crispy fried calamari, Cantina La Traviesa for fresh and juicy tomatoes, and Casa Parrondo for their signature Pulpo a la Gallega (Galician octopus). I was amazed at how thick and huge the tomato slices were, which tasted amazing even with simple seasonings like olive oil and sea salt. They were bursting with flavour in my mouth with every bite i took! The paprika-flavoured octopus slices were also delightfully chewy and tender.
Coupled with copious amounts of wine or sangria and great company, a tapas bar crawl is the way to go for happy, convivial gatherings! You also get a better understanding of Spain's gastronomic culture, as you feast on an assortment of tapas dishes amidst rapturous laughter and heartfelt conversations. Make sure you visit these tapas bars when you travel to Madrid!
Addresses:
La Casa del Abuelo: Calle de la Victoria, 12, 28012 Madrid, Spain
Los Galayos: Calle Botoneras, 5, 28012 Madrid, Spain
Cantina La Traviesa: Calle Cuchilleros, 10, 28005 Madrid, Spain
Casa Parrondo: Calle Trujillos, 9, 28013 Madrid, Spain
#2: Have lunch at La Azotea del Círculo de Bellas Artes with a spectacular view of Gran Via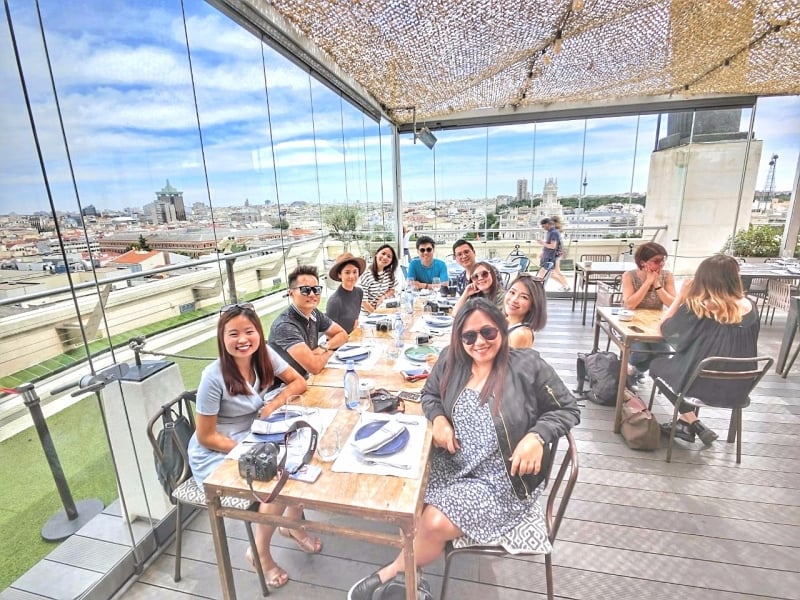 La Azotea del Círculo de Bellas Artes has mastered the concept of dining with spectacular, panoramic views hands down. Featuring floor-to-ceiling glass windows that form the perimeter of this rooftop restaurant, I was floored by the unique design the moment I stepped in. Besides, it's one of the best viewpoints in Madrid, so you know your dining experience here is definitely one for the books.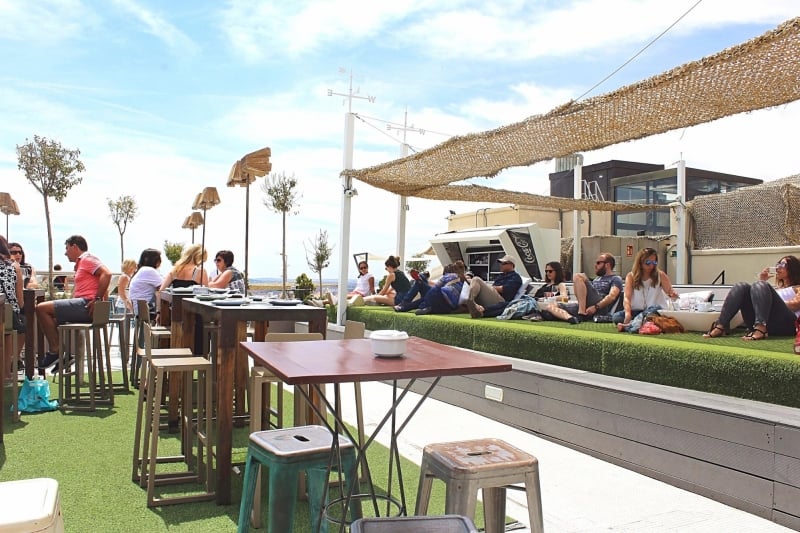 They even provide daybeds outdoors for you to laze around and lounge on, while people-watching, sipping cocktails, or just staring out into the horizon. I absolutely loved the relaxing ambience and chill vibes at this rooftop restaurant. It's the perfect way to spend a tranquil afternoon just soaking in the mesmerising city views.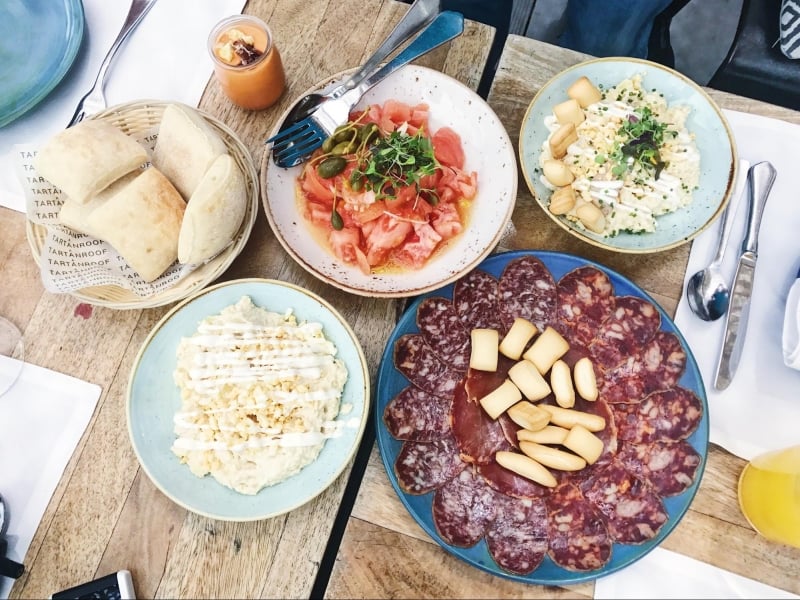 We feasted on a variety of dishes such as chorizo, tomato salad, gazpacho and more. Gazpacho, in particular, which is a chilled soup made out of tomatoes, onions, bell peppers, cucumbers, garlic and more – was so refreshing and cool to drink in the summer heat! It was quite a culture shock for me initially because we usually drink our soups hot, so it felt weird to have something savoury yet cold at the same time. Nevertheless, it was a great appetiser!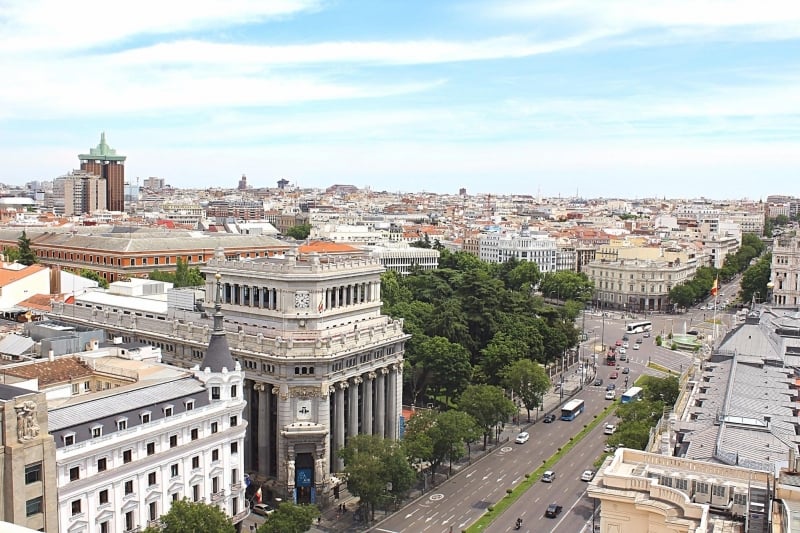 Yes, this is the majestic view of Madrid's skyline that greets you from La Azotea del Círculo de Bellas Artes. I just couldn't stop snapping away!
Address: Calle de Alcalá, 42, 28014 Madrid, Spain
#3: Have dinner at Puerta57, inside the Santiago Bernabau Stadium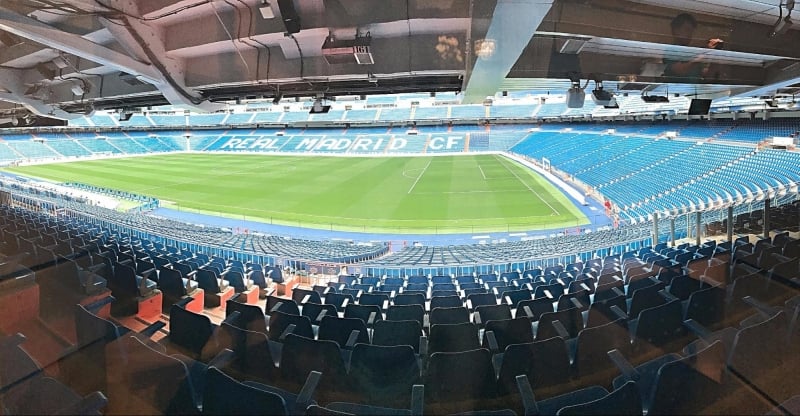 This one's for all the Real Madrid football fanatics out there! You'll never go back to watching football games the same way again after dining at Puerta57. With an unparalleled view of the football field, you can dine in comfort and style while catching all the live action happening out there. Awesome or what?

And of course, how could I miss out on a picture with the legendary football club's sign? Tuck into generous amounts of anchovies, seafood paella, clams and more as you scream in excitement while watching the match. Sadly, there wasn't any football match going on while I visited! Cristiano Ronaldo, where are you?  
This is a dining experience you can't miss for sure when you visit Madrid.
Address: Calle de Padre Damián, s/n Puerta 57, 28036 Madrid, Spain
#4: Explore the hipster Malasaña & Chueca districts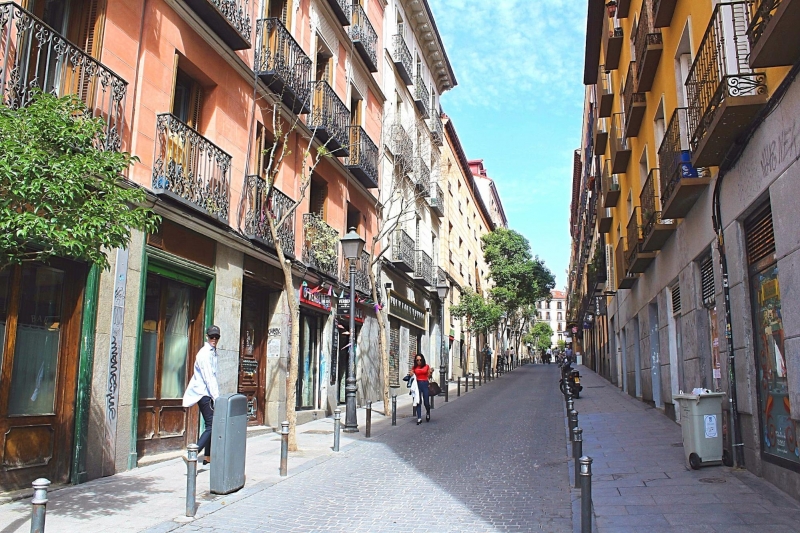 Every city has a hipster, alternative area and for Madrid, that would be the Malasaña & Chueca districts! The colourful alleyways are chock full of random graffiti street art, quaint cafés, vintage shops, tattoo parlours, trendy eateries and eclectic pop-up shops. I was genuinely surprised to see that Madrid had such a vibrant and indie side to it!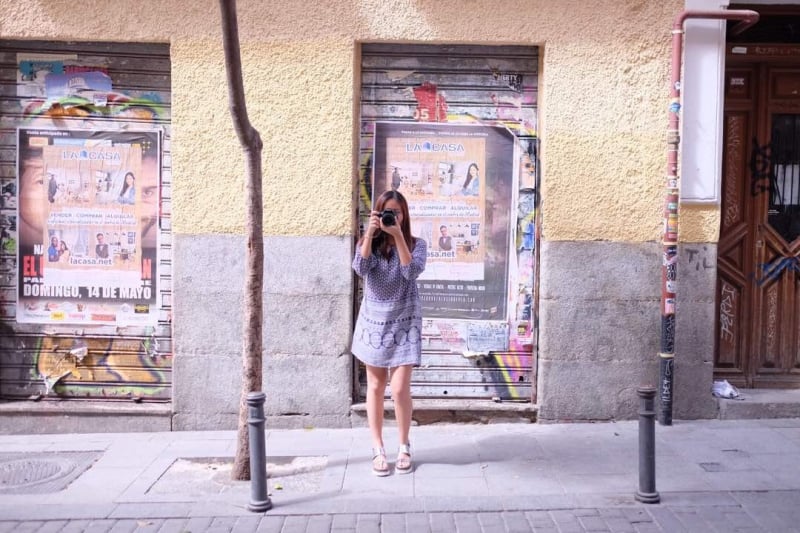 The quirky streets make great backdrops for spamming photos and updating your 'gram. It really reminded me of Haji Lane in Singapore! I loved how the cafés open up into the alleyway, so you could sit by the ledge and people-watch over a good cuppa for a lazy afternoon.

My friends and I were melting under the sweltering heat when we spotted this conspicuous, rainbow-coloured entrance of a popsicle shop. And yes, we ran into the shop immediately, gushing over the variety of sorbet flavours they offered. Five minutes later, we emerged happily with a popsicle each in hand, like overjoyed kids in a candy store. I chose the mango yoghurt flavoured popsicle and it was refreshingly delicious!
They are 100% natural with no extra chemicals or diabetes-inducing sugar levels, so it was a perfect summer treat! For the adventurous souls you can try out funky flavours like lemongrass or avocado, but they have other awesome ones like watermelon-cucumber or raspberry-hibiscus tea as well. Find them at Lolo Polos Artesanos!
Address: Calle del Espíritu Santo, 16, 28004 Madrid, Spain
#5: Try out Cocido Madrileño at Taberna La Bola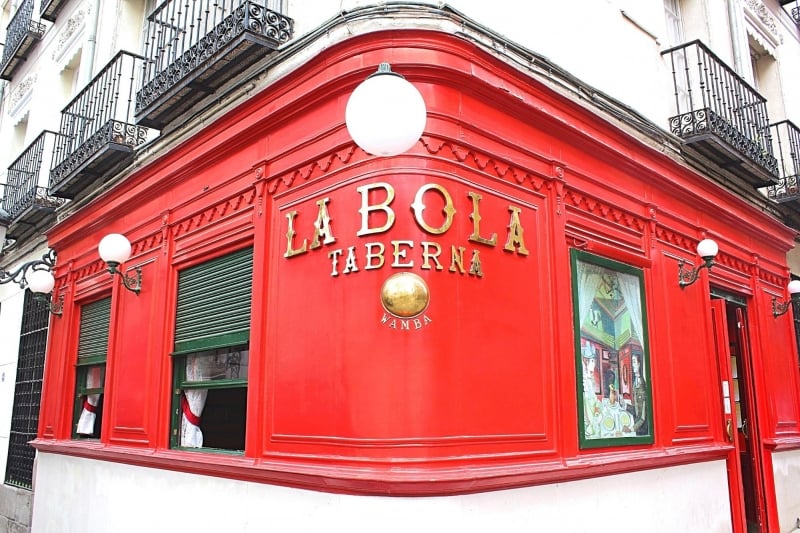 It's hard to miss the impeccably striking scarlet facade of Taberna La Bola. Just the exterior alone gives you an inkling of how authentic and traditional this dining establishment is.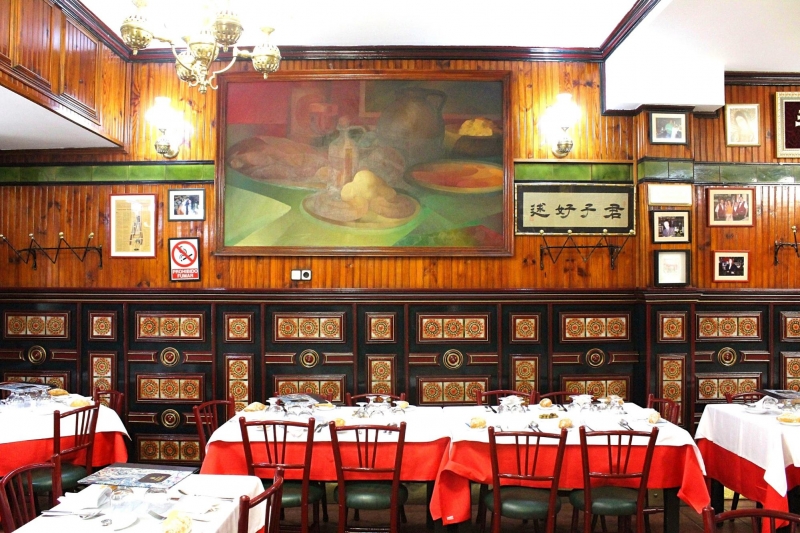 Stepping into Taberna La Bola was a whole new story. I was enraptured by the warm, homely ambience, and yet fascinated, by the presence of huge oil paintings, idioms, and various photographs hanging on the wall.


This restaurant was established back in 1870 – it's a whopping 147 years old this year, and has gone through four generations of the same family! Their speciality is none other than the cocido madrileño, also known as Madrid stew. Maintaining the tradition of cooking it using oak charcoal, and serving it in individual clay pots, there's no better place to visit than Taberna La Bola for an authentic taste of this unique stew.
A chickpea-based stew served with potatoes, vegetables, meat, thin noodles, and a rich, hot broth, it glides down your throat smoothly and gives you a comforting embrace from within. First, you pour the broth out onto your plate from the claypot, and then pour out the remaining ingredients thereafter.
I found very generous chunks of meat that were full of umami flavour! Needless to say, I was happy and satisfied after finishing the entire bowl. Don't forget to order their apple fritters served with ice-cream as well – it was a delightful conclusion to our wonderful meal!  
Address: Calle de la Bola, 5, 28013 Madrid, Spain
#6: Visit the Buen Retiro Park where you can kayak in a fountain pond
If you need a breather from the hustle and bustle of the city, Madrid has got you covered. The Buen Retiro Park is an idyllic place for a languid afternoon stroll, whilst immersing yourselves in lush greenery and fresh air.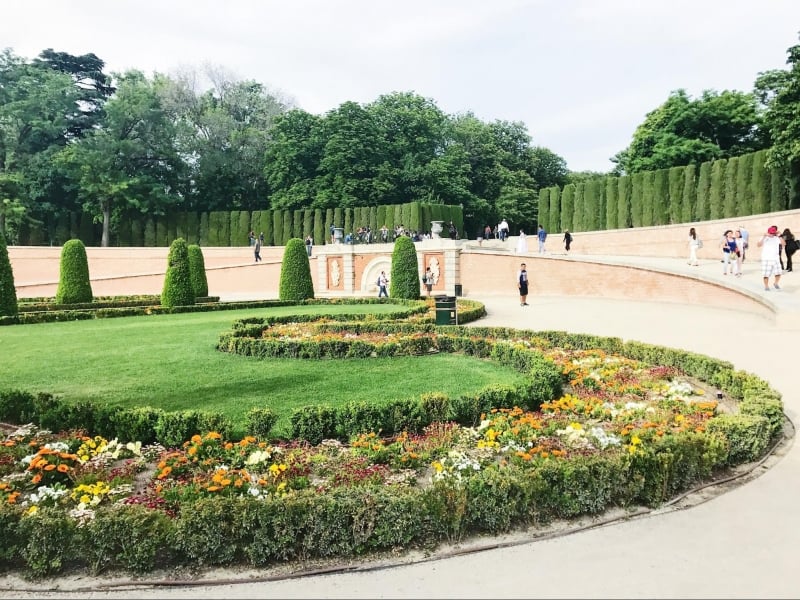 A magnificent park with stunning landscaped gardens, fountains and sculptures, I felt instantly refreshed and rejuvenated after exploring the grounds.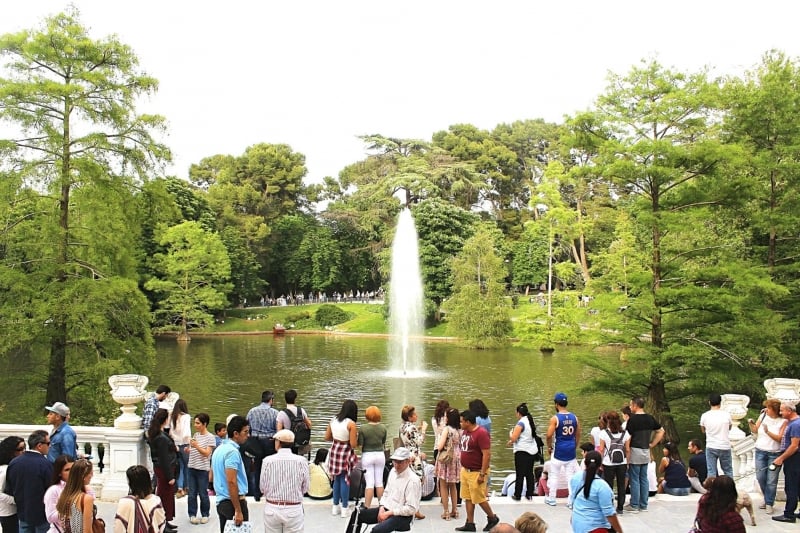 It's a popular hangout spot for locals to have picnics, walk their dogs, go for a jog, or play recreational frisbee! The iconic architectural monument, the Crystal Palace, hosts temporary exhibitions but was unfortunately closed for renovation works when I visited.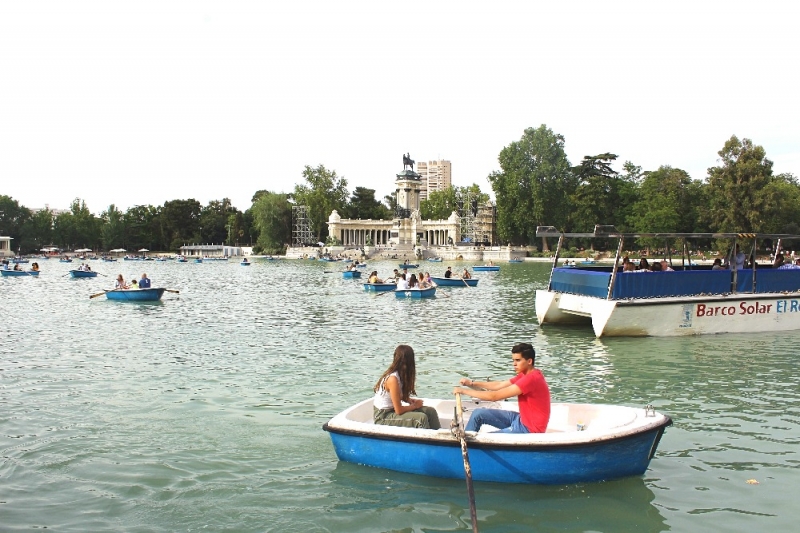 The coolest part is the fact that you can even rent a rowboat to row around the peaceful lake with small duckies! Or if you're too lazy to row, you can even hop aboard a solar-powered boat for a small fee.
Address: Plaza de la Independencia, 7, 28001 Madrid, Spain
#7: Visit artisanal street food markets for fresh produce & chill vibes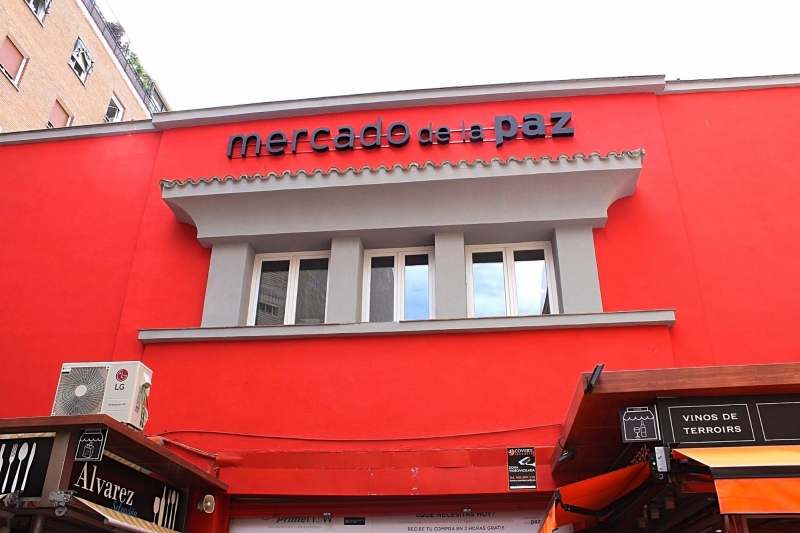 Nestled between branded stores in the upmarket neighbourhood of Salamanca, Mercado de la Paz offers you a glimpse into the everyday lives of the locals as they go about their grocery shopping routine. This market has been providing fresh food and delicatessen products for over 130 years, and you'll find a staggering assortment of seafood, cheese, meat, wine, and fruits!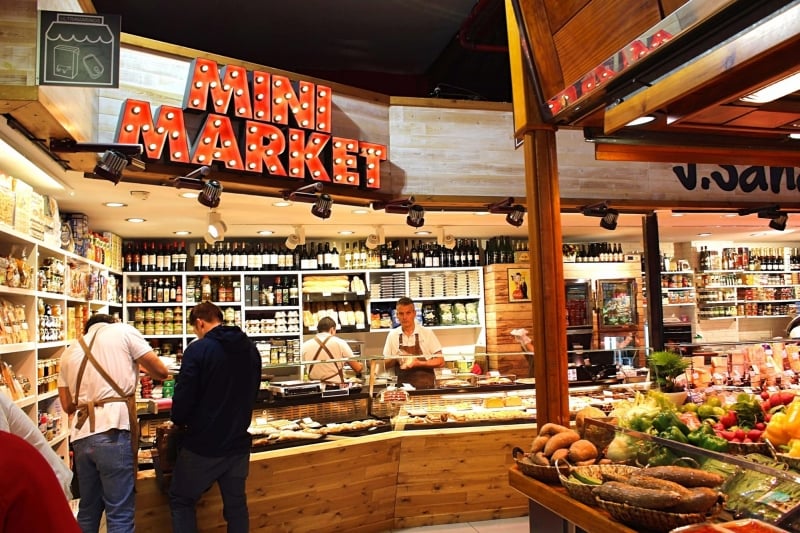 Just take a look at those ripe, juicy cherries! Y-U-M. You won't find many tourists here for sure, so go ahead and peruse through all the products at a leisurely pace. I liked how clean and well-organised it was, devoid of crowds with only a lingering fragrance of fresh fruits wafting through the air.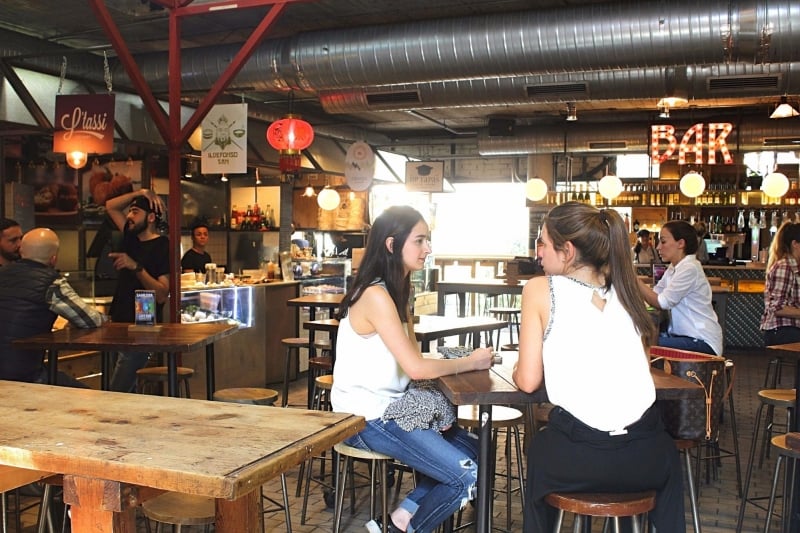 Another great hangout would be Mercado de San Ildefonso, a three-storey food emporium comprising of a market, outdoor terraces, and rooftop bar all rolled into one! It has a quaint industrial-chic interior, featuring exposed piping, metal girders, neon lighting and wooden furniture.
Situated in Madrid's trendiest neighbourhood, Malasana, you can feast on a variety of tapas here and wash them down with a refreshing cold beer. It's essentially a testament to the European street food market trend, just like how we have Pasarbella in Singapore. They have everything from Galician oysters to Huelva prawns, meat kebabs, steak tartare flavoured with foie gras and truffles, pizzas, paellas, and many more, leaving you absolutely spoilt for choice.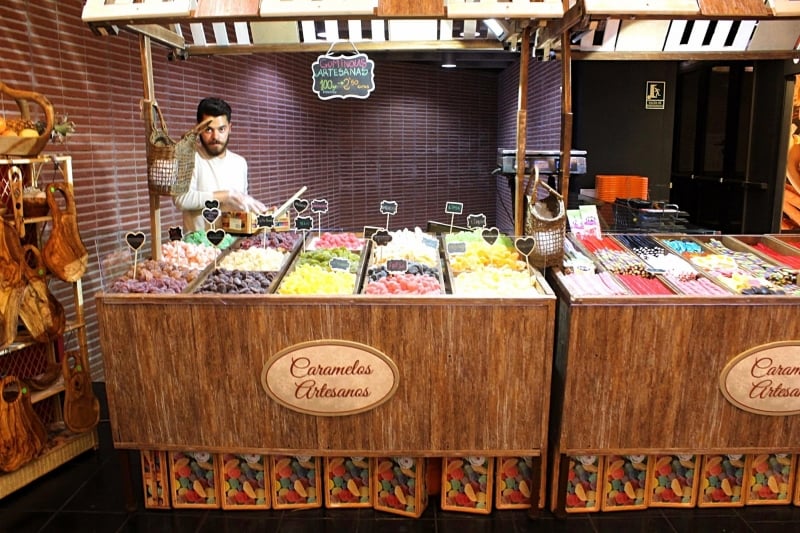 There's also Mercado de San Antón, a contemporary indoor market in the neighbourhood of Chueca. The ground floor comprises of traditional stalls selling fresh fruits, vegetables, candy and even baked bread!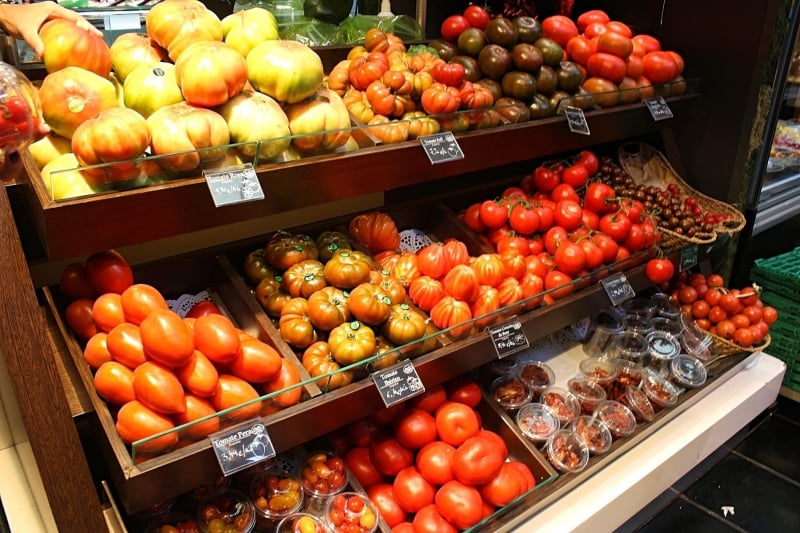 I never knew that there were so many different types of tomatoes until I visited this market! Cool, huh?
The first floor comprises  a kaleidoscopic array of tapas bars and food stands offering Spanish bites as well as Greek, Asian, or other international cuisines. The second floor especially, is the cherry on top of the icing because it houses a restaurant and rooftop bar with spectacular views of Madrid's cityscape. You could practically stay here all day!
Addresses:
Mercado de la Paz: Centro Comercial La Paz, Calle de Ayala, 28, 28001 Madrid, Spain
Mercado de San Ildefonso: Calle de Fuencarral, 57, 28004 Madrid, Spain
Mercado de San Antón: Calle de Augusto Figueroa, 24B, 28004 Madrid, Spain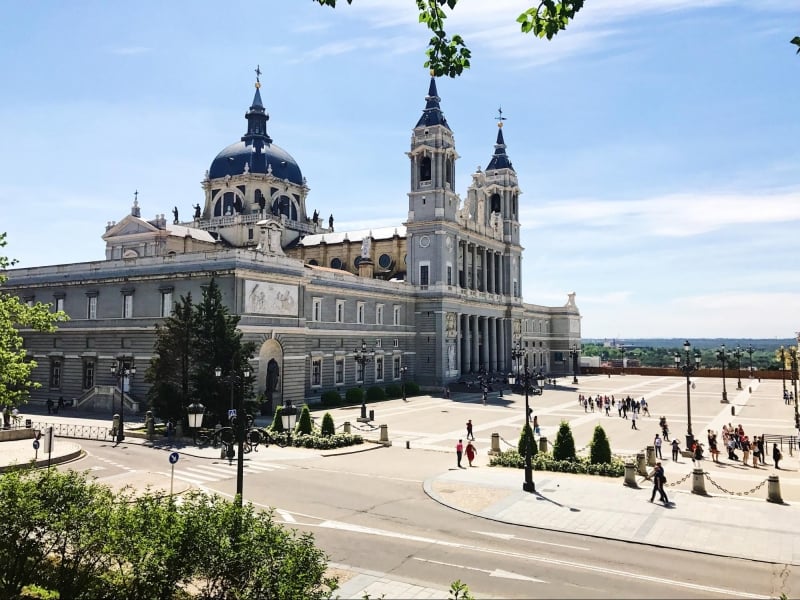 There's plenty more to explore in Madrid for sure, but this list is a great start for any first-timer like me! Aren't you just tempted to head over to Spain right now and discover what this charming city has in store for you?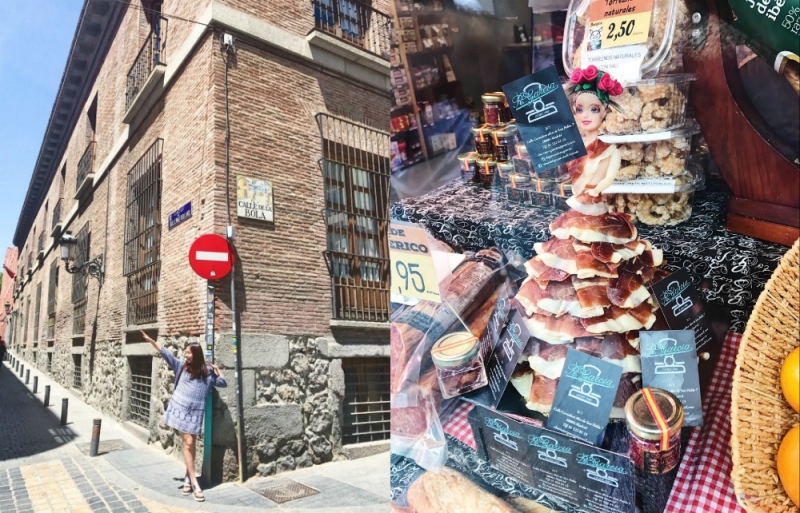 Besides, where else can you find a Barbie doll decorated with clothes made out of jamón ibérico? This city is pretty creative with their food produce, no? *winks* I left a part of me right here and I'll definitely be back for sure. Someday, somehow. Adiós for now!
---
I extend my deepest gratitude to Cathay Pacific and the Spanish Tourism Board for showing me the wonders and sights of Spain's most beautiful cities.