Adventure in Bandung
Adventure would probably be the last thing one would associate with Bandung, the capital of West Java province in Indonesia. Nicknamed the 'Paris of Java' by the locals, Bandung is more commonly known as a shopping haven with the omnipresence of factory outlets in this city. However, unknown to many, the third largest city of Indonesia is the gateway to a myriad of heart-pumping action for the adrenaline junkie.
Scaling Heights
Ditch the artificial rock walls and go for the real McCoy at Citatah Cliff. About an hour's drive from Bandung, Citatah is a vast area of limestone hills located in Padalarang. It is widely known for its rock-climbing activities among those with a penchant for scaling heights.
Mining activities are still very much alive at Citatah. We stopped at the entrance of a mining site, which also seemed to be the entrance to the rock climbing area. As our coach meandered uphill on a narrow rocky road, I gaped not only at the sight of the approaching limestone walls but also at the dexterous driving skills of our driver. The coach eventually had to stop halfway up the hill and we made the rest of the way to the basecamp by foot, teetering on rocks and sweeping tall grass away from our faces.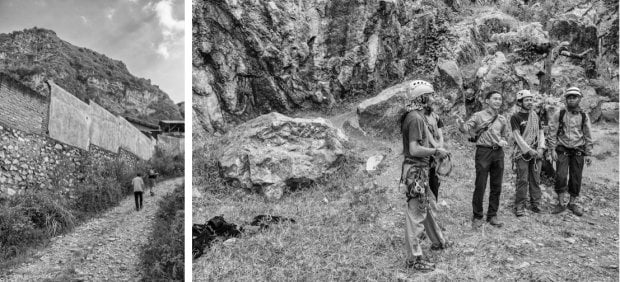 There were about five to six professional rock-climbing trainers awaiting our arrival at the basecamp. A quick introduction of the gear was made for the benefit of the uninitiated among our group. At Citatah, there are different cliffs of varying difficulty levels. The routes range from 10 metres to 125 metres long. The one we were introduced to was supposedly an easy one but still proved to be a challenge for those without prior experience in rock climbing. Only one of us, who had prior experience in indoor rock climbing, made it to the end point – a cave nestled within the walls of the limestone hills. It took her about half an hour to make the ascent and another 15 minutes to make the descent.
Typically, a two-day course (costing about S$200) would be recommended for the experience. Ours was organised by Exotic Java Trails. If you are keen to channel your inner Spiderman, go during the drier months between April and August, which are considered to be suitable for rock climbing.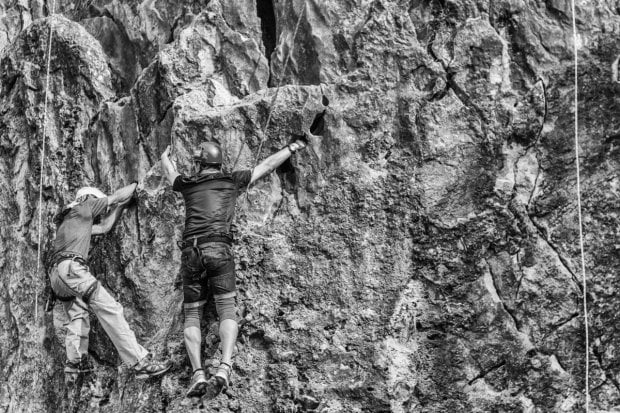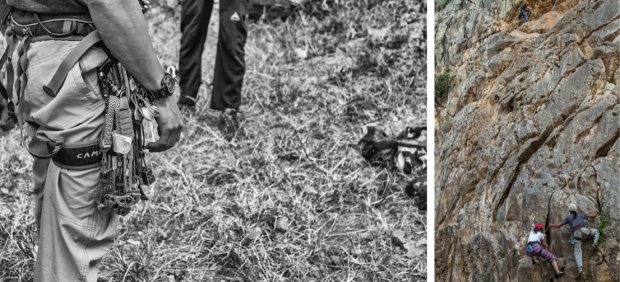 Action on Wheels
Mountain biking is an activity surging in popularity these days and ardent riders are constantly seeking to explore new trails. The Cikole-Ciater bike trail, which is located just 38 km from Bandung, might just be the perfect locale for a weekend cycling trip.
We kicked off the 15-km ride, arranged by Exotic Java Trails, at Cikole Village in Lembang district, which is located at the foot of the famous volcano, Mount Tangkuban Parahu. The Cikole-Ciater trail might not be for everyone though, as we found out later. The terrain was rather uneven and it was hilly at certain points. Due to its technical descents and ascents, the trail calls for riders with skills of at least intermediate level.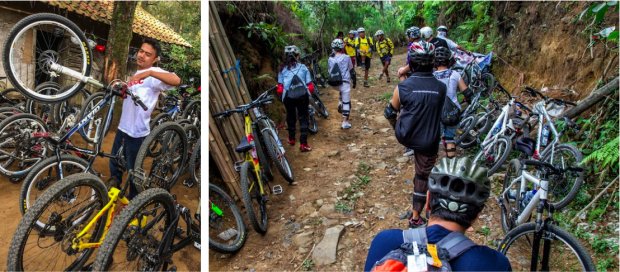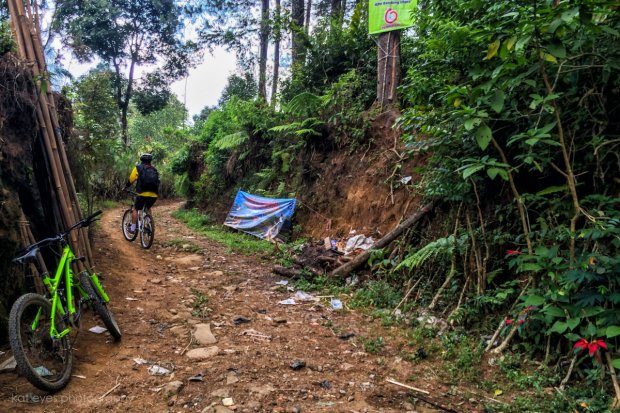 Whether you're a mountain bike enthusiast or not, you will enjoy going though the trail which is the perfect introduction to the pristine countryside and nature of West Java. At each and every turn, it was a sensory onslaught. We were treated to sights of lush forest foliage and tea plantations covering rolling hills. Being a tea lover, I was tempted to walk amidst the tea plantations and take in the scent of the tea leaves. At one point, I even saw a field of maize, something I don't get to see back in my urban jungle home. Coupled with the cool 20°C weather, it was easy to forget that I was in Southeast Asia.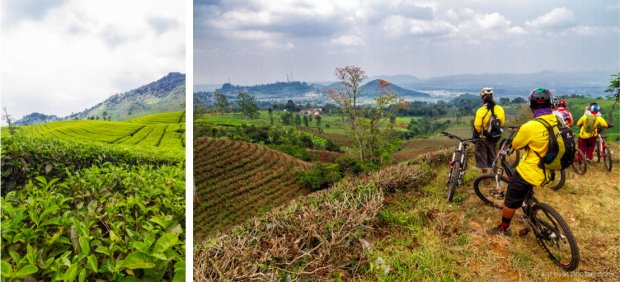 Giddy Up
If physically demanding activities are not your cup of tea, you can opt for horse riding at Sari Ater Hotel & Resort. Besides its 103 rooms and bungalows that come with their own hot spring pool, the resort at the foot of Mount Tangkuban Parahu also offers a variety of outdoor activities, such as Jeep off-road experiences, rowing, flying fox and horse riding, just to name a few.
I was given the chance to try horse riding at the resort. To say that I was not daunted on my first equestrian experience would be a lie. Right from the start, I had difficulty trying to mount the horse as there was no mounting block for me to use. Eventually, I managed to do so only with help from one of my travel companions.
Once on the horse, my acrophobia started to kick in, despite the horse being not a particularly big one. I feared that I would fall off the horse and hung on to the saddle handle for my dear life. Thoughts of the horse bolting off with me on it began to cloud my mind too. In reality, none of my fears came true. The horse I had was a gentle soul and well-trained. As it plodded on the dirt path, my fears slowly dissolved by the minute. My grip on the saddle handle, though, remained tight. I felt I would lose my balance if I were to loosen my hold.
At the end of the ride, I released my feet from the stirrups and dismounted from the horse with more ease than I had mounted. Looking into the big expressive eyes of the horse, I stroked its mane and mouthed a soft 'Thank you' to the beautiful white creature.
Walking on Fire
A trip to Bandung is deemed incomplete without a visit to Mount Tangkuban Parahu, one of Java's most popular tourist attractions. The 2,084 metre-high mountain is an active volcano where you can hike to the edge of its crater to view gurgling hot mud up close.
Our vehicle slowly made its way up to the volcano's craters, on a narrow road that could hardly take two lanes of ascending and descending traffic. Our Indonesian guide told us that the volcano had just been re-opened to the public the month before, having been closed due to a series of seismic activity being detected. "Small eruptions," he said. That remark was hardly reassuring, but still it did not deter us a single bit from wanting to see the volcano.
The moment we got off the vehicle, a strong stench of sulphur engulfed us, followed by a whole bunch of peddlers who took to us like bees to honey. The way up to the craters was like a market, with countless stalls selling handicrafts, food and even bottles of sulphur. I was amused by the fact that sulphur were bottled and put up for sale in such a manner.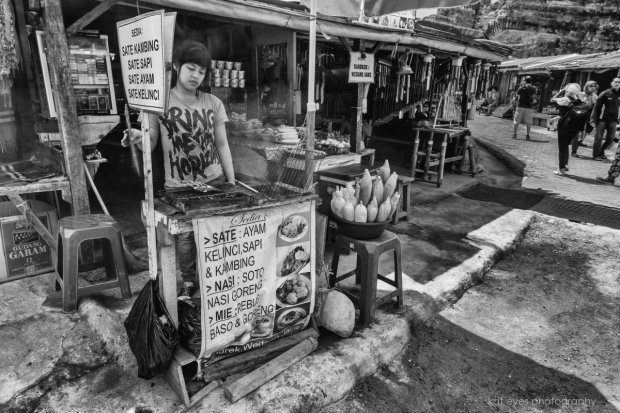 Mount Tangkuban Parahu has a distinctive shape, like an upside down boat. In fact, that was how the volcano got its name. Our guide informed, "The word 'Tangkuban Parahu' means up-turned boat." Mount Tangkuban Parahu has three craters known as Kawah Ratu (Queen's Crater), Kawah Domas (Domas Crater) and Kawah Upas (Upas Crater).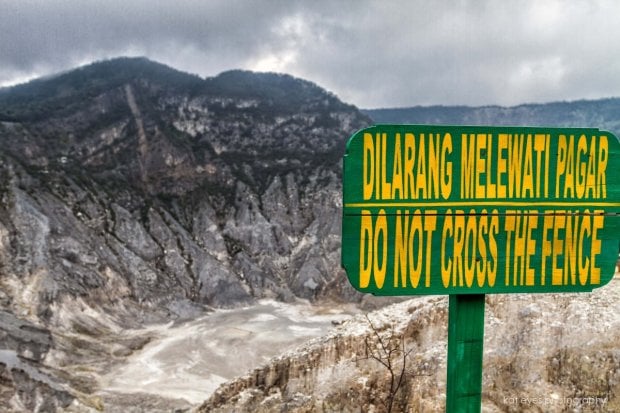 After a slow uphill hike of about 10 minutes, we finally made it to the craters. Despite having seen volcanoes in other countries, I had to admit I was impressed by the view.
Standing at the top of Kawah Ratu, it seemed so surreal as I looked down at the crater and its huge grey pool. Steaming white fumes rising from the volcanic vents hinted of the fiery activity just underneath my feet. Everything was grey, including the sky. The occasional accumulation of poisonous gases basically robbed vegetation of any chance of surviving around the crater. Juxtaposed against the dark clouds looming above us, the volcano reminded me of Mordor from Lord of The Rings, sans the flowing lava of course.
Mount Tangkuban Parahu was unlike any other volcano I have seen before. It was quite a sight to behold.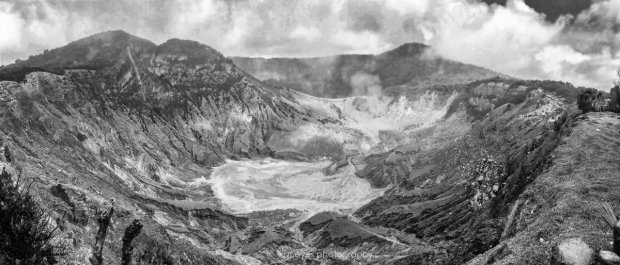 This trip was made possible by TripZilla, Tigerair, West Java Tourism Board, ASITA members of West Java and Visit Indonesia Tourism Officers.
There's something for everyone in Bandung – adventure enthusiast or not. Start planning your trip to Bandung now!