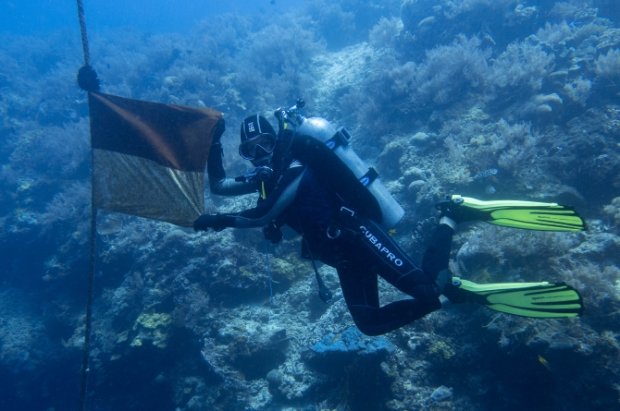 Found the flag of Indonesia in the waters off Menjangan Island
Don't be mistaken: A dive safari is not quite like a regular scuba diving trip. You'd have to prepare yourself a little differently, and you'd also have to manage your own expectations by understanding certain things before signing up for one.
I went on a Bali dive safari about a month ago, and although — fortunately — I didn't find myself dropping an unbelievable number of F-bombs for being ill-prepared, frankly, there were times I thought to myself, "Damn, I wish someone had told me that…", or, "Thank God I knew that or I would've been so screwed!" Hopefully with these tips, you won't find yourself in any sort of sticky situation if you do decide to go on a Bali dive safari like I did.
Also read: How Scuba Diving Completes A Traveller
1. Not the time to underpack
This is not the time to underpack. I know, the experts say "carrying only what you need makes you a master traveller", blah blah blah. Plus, as divers, we tend to pack less clothing, thinking we'll just wash and re-use them when we're at our destination. But in this case, you'll be checking in to a new resort every other night. How are your clothes going to dry in time? Unless you're okay with your T-shirt exuding a funky smell, pack properly for the entire duration of your stay.
2. Don't forget your dive gear or equipment
Seriously, don't forget your dive gear or equipment, especially if you aren't renting anything. The bus (or minivan) you're travelling on from place to place is essentially the dive centre itself, and it's equipped only with what you need. If you're renting gear from the dive operator, they would've prepared what you require prior to the trip. But if you have your own set of gear, and you forget something, they probably won't be able to replace it for you.
3. Check emergency preparedness
Because it's a dive centre on wheels, check how prepared they are to handle an emergency. Before the dive safari officially kicked off, my dive guide showed me the DAN first aid kit that was sitting at the back of the minivan, pointing out that he was even ready to administer oxygen if needed. I thought this was extremely important, and was very grateful he told me all that even though I didn't think to ask about it in the first place.
4. Opt for home stay
If you want, opt for the home stay option. It's cheaper, but be warned — rooms are extremely basic. I'm not sure about other dive operators, but with Tasik Divers, you can go with this to save a ton of money (approximately USD900/SGD1170+). You won't get the luxurious resorts (maybe just one or two of them, depending on availability and the season, I suppose), and many of the home stay accommodations do have more than a couple of kinks, like poor lighting (I struggled to set up my underwater camera on a few occasions), lack of wall sockets and even simple things like tissue boxes.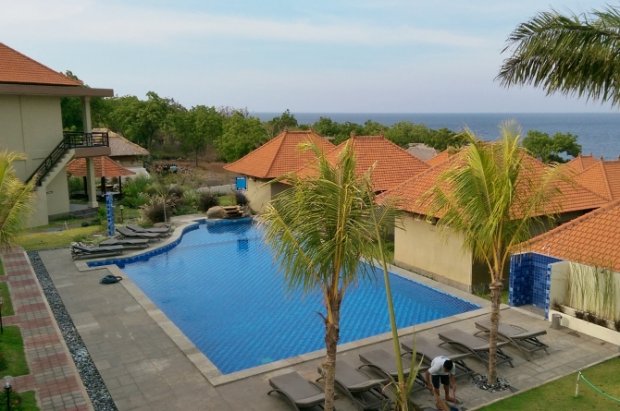 Ocean View Dive Resort—one of the fancy places I got to stay at during the trip
5. No place to soak or rinse cameras
Underwater photographers, there will probably be no place for you to soak or rinse your cameras. Before dives, between dives, and after dives — nada. Remember, this is a mobile dive centre we're talking about, so don't expect a camera room or a tub of freshwater for your use. Instead, all the maintenance has to be done back in your room.
6. Eat with a local
Meals are cheaper (and better) when you're with a local. And this local I'm referring to is your dive guide. If you've seen the cost breakdown of my trip (refresh your memory here), you would've noticed dinner wasn't covered in the package. But, you have to know your dive guide is not obliged to accompany you and/or your posse to dinner. However, that being said, if you ask nicely (and tip handsomely at the end of the trip — c'mon, it's only right), it shouldn't be a problem for them to bring you to places where flavours are authentic. On top of that, in some areas, locals generally pay a different (lower) price for meals compared to tourists, so if you're a considerate, polite, and overall, pleasant guest and human being, maybe, just maybe, your dive guide will offer to make payment first. You guys can settle the bill somewhere else after. Once again, he is not obliged to do this as well so for the latter, I wouldn't ask or force him to do anything he doesn't want to. If he says no, don't be a jerk about things and let it go.
Also read: 7 F&B Places in Bali To Spoil Your Stomach With Good Food
7. Avoid going out alone at night
If, like me, you're a solo female traveller, do your best to avoid going out alone at night. I know, it is a clichéd piece of advice, but I can't help but bring this one up. Apparently, a group of men had asked my dive guide if I was "for sale" when we were on our way to another resort. He freaked out and didn't let me go out to dinner alone after that incident (let me just say this is one of the reasons I always choose Tasik Divers over any other dive operator; they never fail to make me feel safe). Even if your dive guide is unable to accompany you to get something to eat in the evening, perhaps you could make it a point to head out as early as possible and be back in the resort before sundown, or ask him if he can drop you somewhere so you can opt for takeaway instead? I'm sure you'll figure it out.
8. Flexible itinerary
The itinerary is — to a certain extent — flexible. You have the option to alter what you're going to see and do when you make your way from resort to resort during the day. I only found out about this during my trip, so it was too late to skip the many temples I visited (not exactly thrilling in my books) in favour of seeing more natural attractions, like waterfalls. Talk things out when making your bookings to see what can be done, but of course, don't push it.
Also read: Visiting Bali? Two Mind-Blowing Temples Worth the Visit
9. Pack motion sickness pills
The boat ride to Nusa Penida can be hellish; pack motion sickness pills and take them at least 30 minutes before boarding. And it's not a short journey either. It can take anywhere from 30 minutes to an hour, depending on how choppy the waters are. And believe me, it can be f*cking choppy.
Also read: How to Deal with Seasickness? Here Are 9 Tips
Please keep these tips in mind before going on a dive safari in Bali.
Contributed by The Globetrotting Diver.