If you're looking for a thriving metropolitan that's also a melting pot of various cultures and ethnicities, Jakarta is the best epitome of that. Housing the most skyscrapers in the whole of Indonesia, the city is also known for its unbeatable shopping and gastronomic experiences, iconic mosques with stunning architecture, and storied heritage sites from the Dutch colonial era! Now that you've found your next dream destination, it's best to spice things up by finding the right Airbnb in Jakarta that promises you nothing short of comfort and convenience.
Read on to learn more about these gorgeous Jakarta Airbnb homes near top attractions that will make you want to fly there this instant!
Also read: 11 Prettiest Cafes in Jakarta for Coffee, Brunch, and More
Best Jakarta Airbnb homes to bookmark for your next trip
1. This well-lit abode with colourful paintings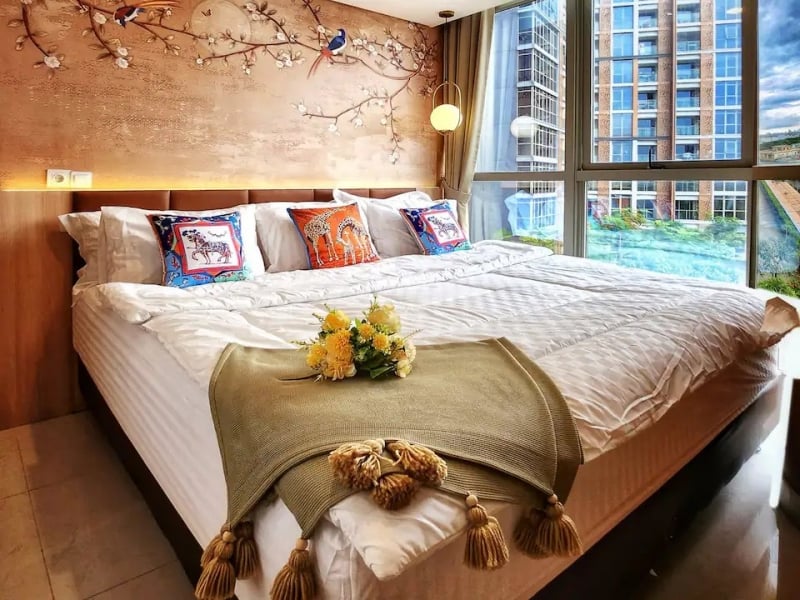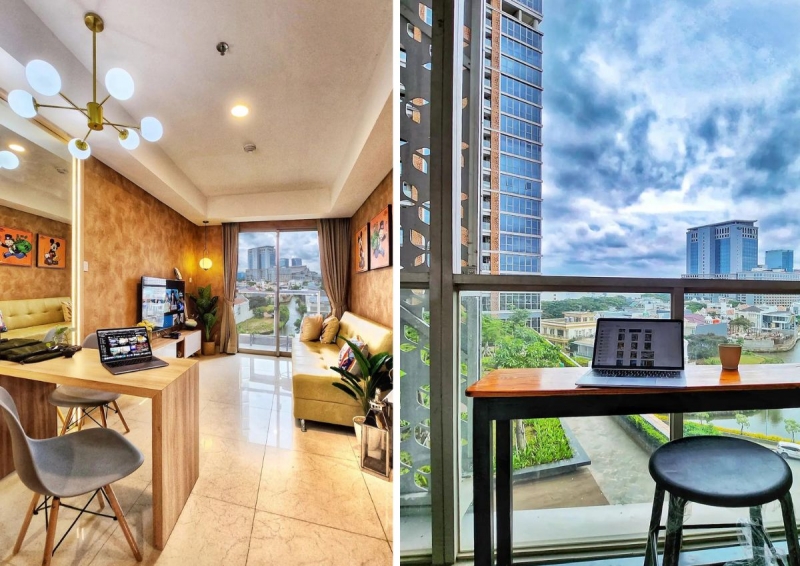 Listing name: Golden by San | 2 BR King Size Bed Luxury at PIK
Listing type: Entire rental unit
Max. no. of guests: 5
No. of bedrooms: 2
If a comfy bed and well-lit space are what you're after, then this earth-toned Airbnb in Jakarta Utara (North Jakarta) should be at the top of your list. Think cushiony-soft king-size bed, double single beds, and a sofa bed that'll allow you to sink in when you lie down (perfect!). Got some work to do? Its outdoor workspace will give you peace of mind and perhaps some inspiration, as it overlooks the gorgeous cityscape. 
Dotted on the walls of its living space are colourful paintings of classic cartoons in vibrant hues — all without sacrificing the overall aesthetics! Plus, you can have a fun movie sesh with your family binge-watching a Netflix show or two on a 55-inch smart TV all night long. When you're ready to head out, wander Pantai Indah Kapuk's best restaurants for some local cuisines and visit the lively Chinatown nearby!
2. This Japanese-inspired condo perfect for curling up all day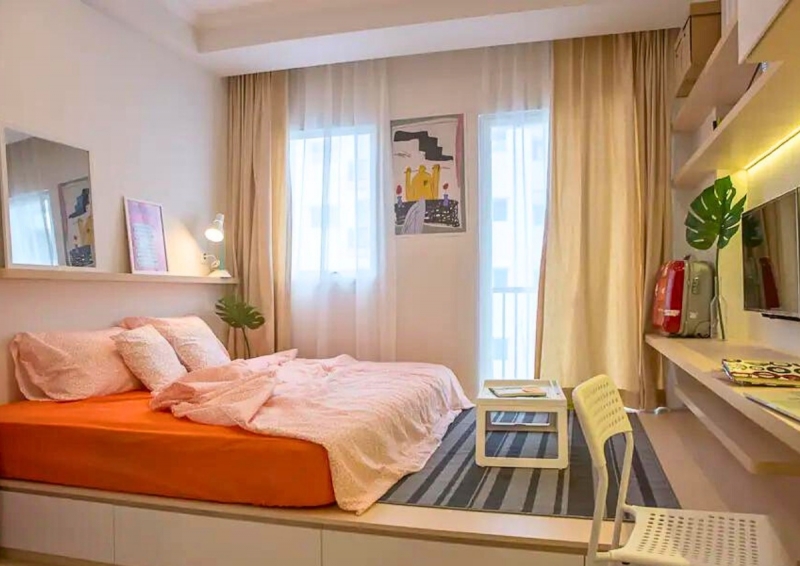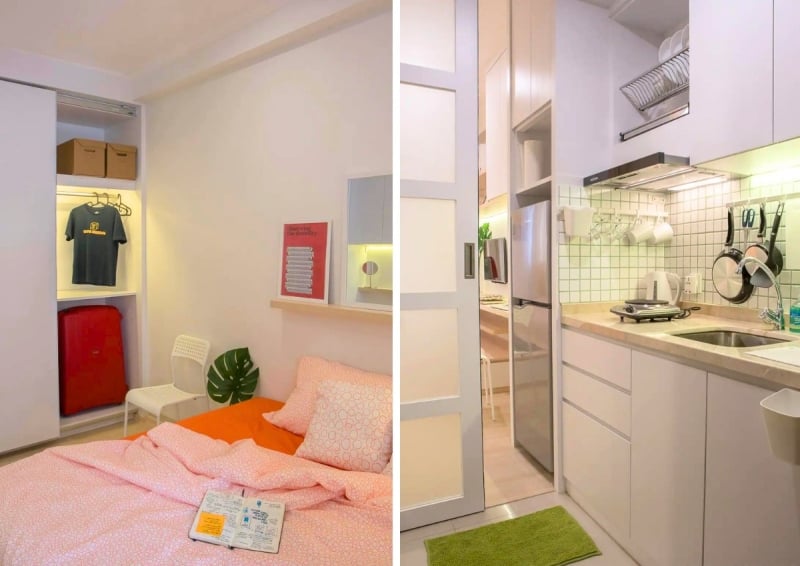 Listing name: Japanese Style Studio Apartment. Clean & Cozy.
Listing type: Entire rental unit
Max. no. of guests: 2
No. of bedrooms: 1
Looking forward to taking on Jakarta with your partner? This Nihon-themed home is the perfect stay for you! Blending Japanese minimalism and bright patterns, the place calls for an irresistible R&R experience during your stay. You can binge-watch your favourite show on its 32-inch flat-screen TV while snuggling in your comfy bed that's on a platform. 
To get some fresh air, bring yourself to the little balcony that lets you enjoy a quiet time, especially after the sun goes down. Despite its compact size, the space's fully-equipped kitchen allows you to cook simple meals comfortably. Don't fancy cooking on your own? There's a local-recommended restaurant nearby called Warung Aneng, which offers tasty Indonesian cuisine wrapped in banana leaves! 
Did we mention the Grand Indonesia Mall and Taman Mini Indonesia Indah are only a 20-minute drive from this stay? Definitely a Jakarta Airbnb worth booking for future trips!
3. This fabulous rose gold-themed apartment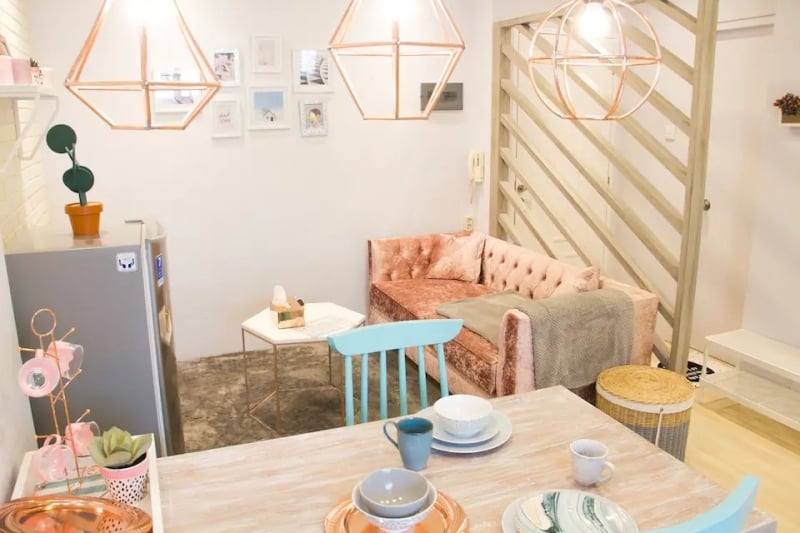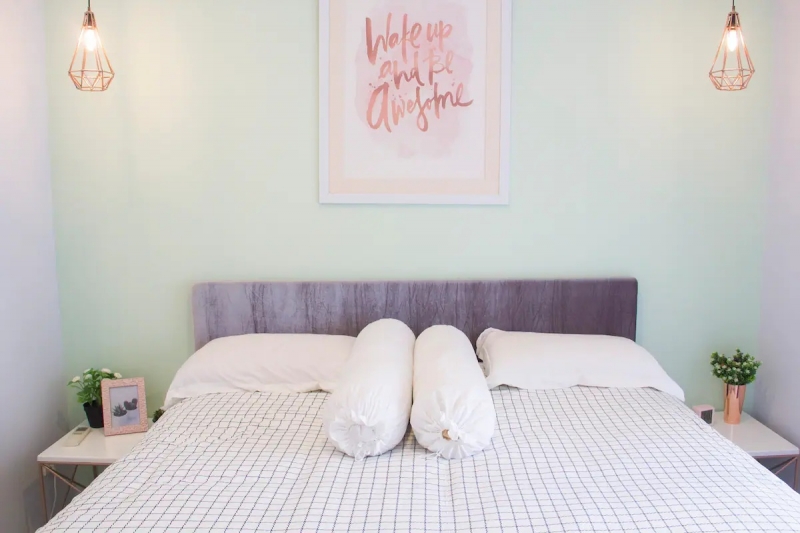 Listing name: Wildflower Mediterania 2 Bedroom Central Park Mall
Listing type: Entire rental unit
Max. no. of guests: 4
No. of bedrooms: 2
This shabby-chic home in Central Park Mall (Podomoro City) will be the perfect stay for an intimate gathering with your best girls (bridal showers, anyone?). Bathed in pastel hues and playful pops of rose gold, the space sure is a visual delight! Some of the perks provided by the Host include a queen-size bed, two single beds, a fully equipped kitchen with basic ingredients for light cooking, and a fast WiFi connection. 
Feel like hopping on a round of shopping spree with your besties? Put on your best fit and walk to the Central Park Mall via the West Tunnel in front of the apartment's lobby. Talk about a stylish Airbnb in Jakarta that serves both looks and convenience!
4. This boho-chic residence in Cikini area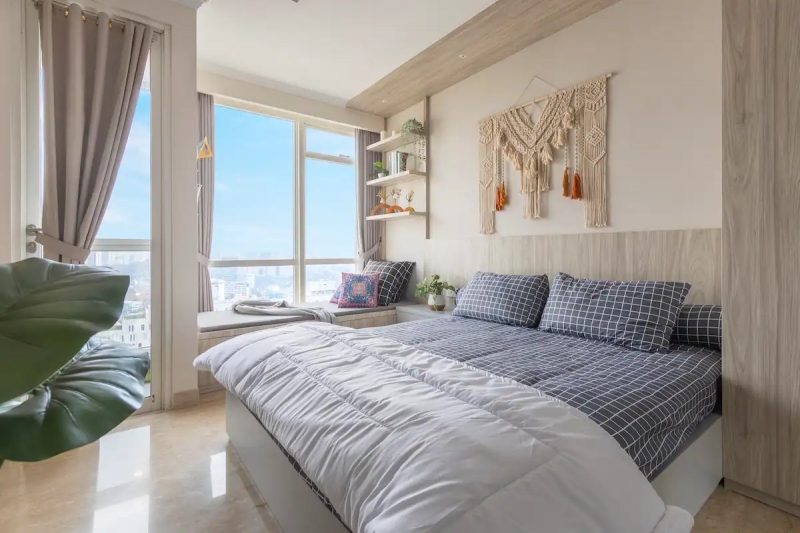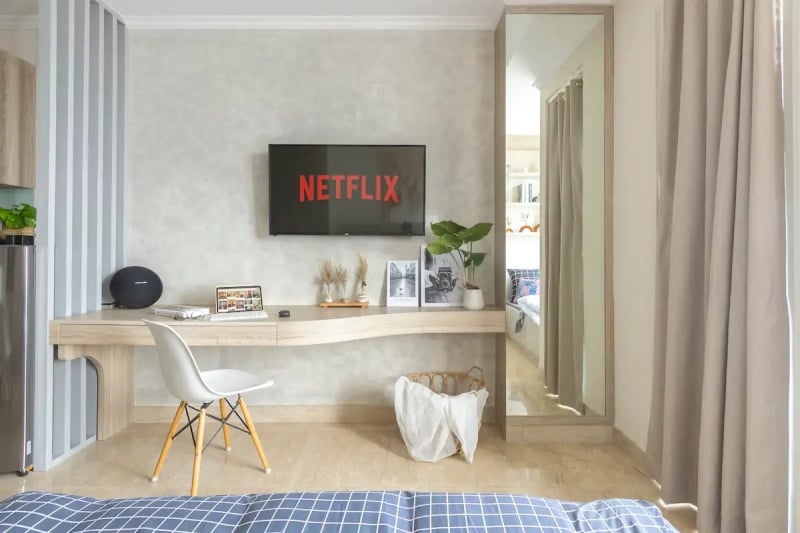 Listing name: Monas View Studio | Central Jakarta
Listing type: Entire condo
Max. no. of guests: 2
No. of bedrooms: 1
This sun-soaked Airbnb in Jakarta Pusat (Central Jakarta) is ideal for those looking for a calming holiday amid the bustling metro. Step inside, and you'll be greeted by a blend of neutral palettes with a touch of bohemian-style decor that screams "carefree relaxation" from every corner. 
One of the best things about this homey apartment is its unobstructed view of Monumen Nasional (Monas) and unbeatable city lights vista come nightfall. Looking forward to new episodes of your favourite Netflix or Disney+ show while travelling? You won't miss a thing as these streaming platforms come for free when you book this stay. 
Don't forget to drop by the infinity pool on the fifth floor if you fancy swimming out in the open with Central Jakarta as the backdrop. When you're tempted to explore the city on foot, visit Taman Ismail Marzuki Complex and Lucy in The Sky nearby for the best experience.
5. This Scandinavian-inspired home in the middle of downtown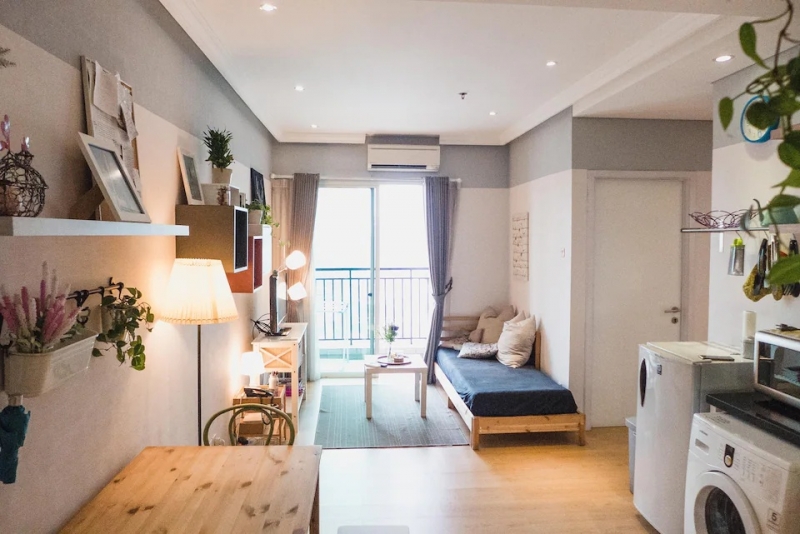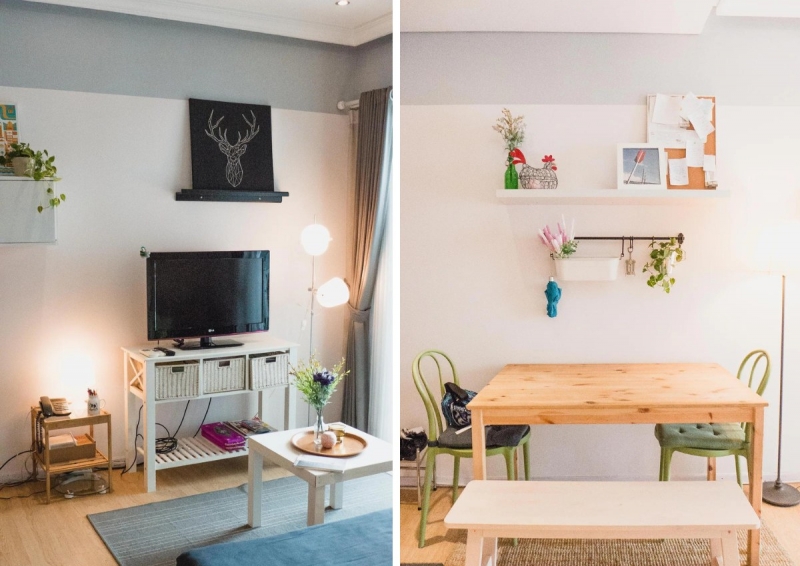 Listing name: Central Jakarta, Netflix, gym, and pool.
Listing type: Entire rental unit
Max. no. of guests: 6
No. of bedrooms: 2
This cosy Airbnb in Jakarta is the go-to haven for your next family trip to Indonesia's capital. Boasting a laid-back ambience and cosy nooks perfect for unwinding, you might even have a hard time leaving this space after all. During your free time, be sure to check out its open-air balcony, blessed with the best views of the city's towering skyscrapers. 
Travelling with your little ones? Cheer them up by bringing them to the large play area on the fifth floor, where you can also find a swimming pool, a sauna, and a gym. For some adventure with your loved ones, you can easily head to Thamrin City and Plaza Indonesia, both within a 10-minute walk from this stay.
6. This colourful homestead in Puri Indah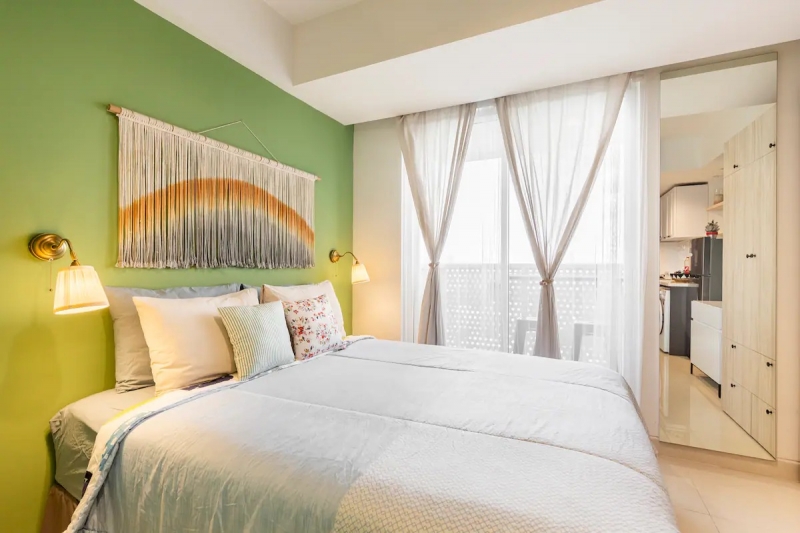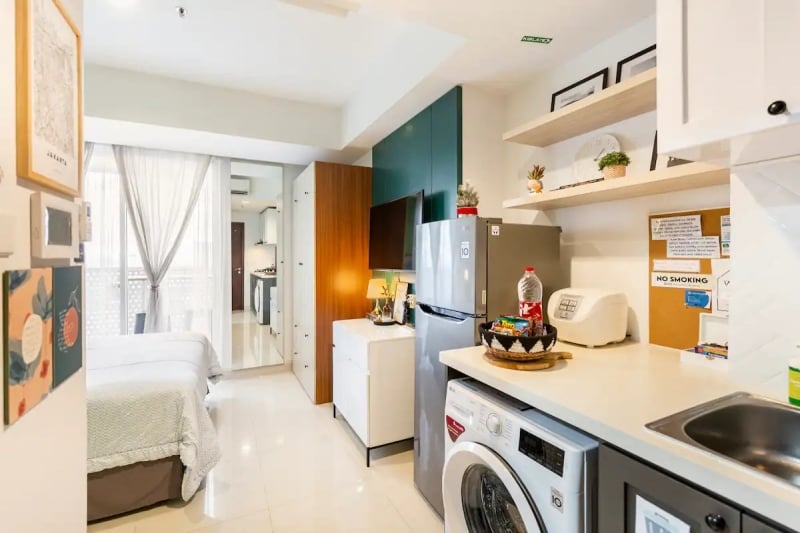 Listing name: Cozy Studio at Puri with Wi-Fi, Netflix, Balcony
Listing type: Entire rental unit
Max. no. of guests: 3
No. of bedrooms: 1
This lovely Airbnb in Jakarta Barat (West Jakarta) is the best choice for a group of three. Perfectly blending silent white tones with an apple-green hue, you'll find serenity in every corner of this gem. Not to mention, top attractions such as Lippo Mall Puri and Museum MACAN (Modern and Contemporary Art in Nusantara) are close by! Another perk of staying here is that the Soekarno Hatta Airport is less than a half-hour's drive from this place. 
After a long day of exploring, come home to a comfy bed and a smart TV for some relaxation. If that's not enough, take some fresh air on its balcony overlooking the city or plunge into the outdoor pool for a splashing good time. 
7. This family-friendly Jakarta Airbnb with a vibrant interior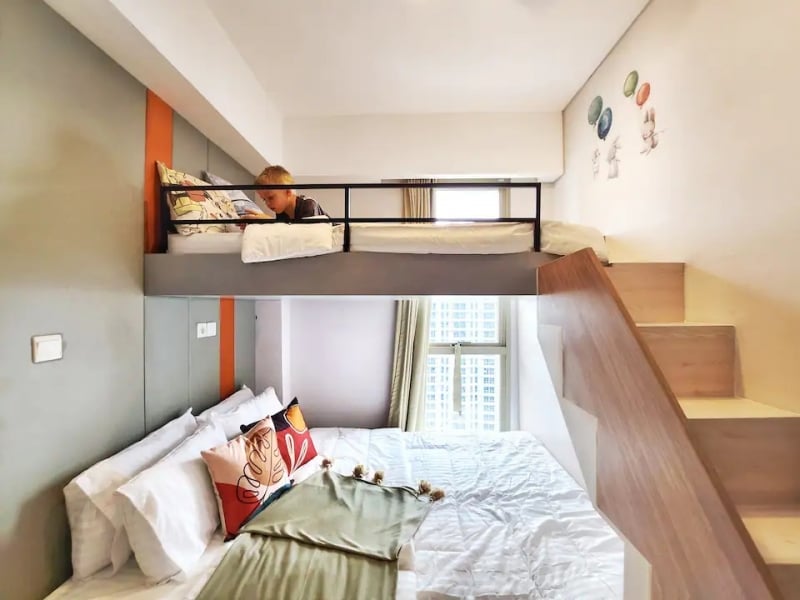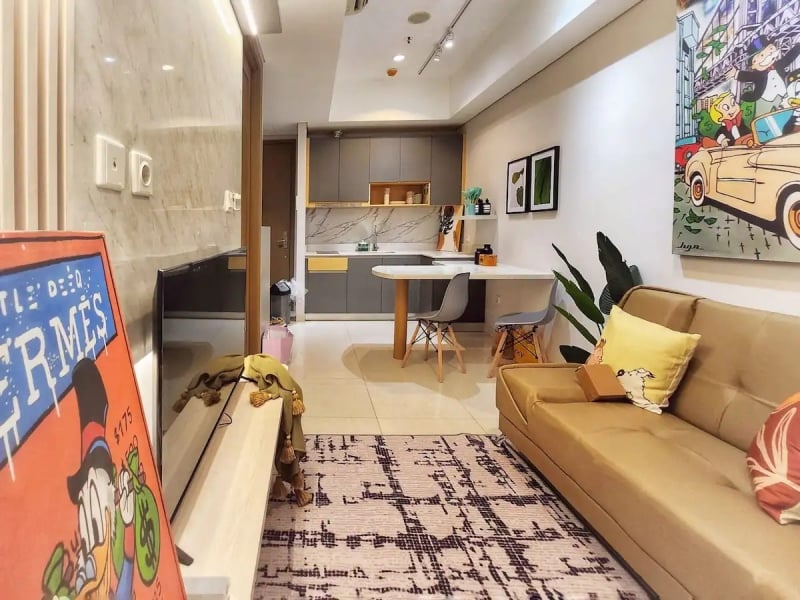 Listing name: Asmara by SAN | Luxury Hi Capacity bed inside mall
Listing type: Entire condo
Max. no. of guests: 4
No. of bedrooms: 1
This contemporary abode with polished fixtures will be a great retreat for a small family on vacation in Jakarta. Merging a contemporary interior with a feel-good element — catching early morning glow- the space brightens up the mood as soon as you walk in. It is equipped with a cosy bunk bed, a sofa bed, and a full kitchenette for light cooking. 
Aside from the top-notch amenities that include free access to Netflix and high-speed WiFi, you will also get the privilege to access its indoor heated pool, gym, and study room library. Did we mention this unit is in a building connected to Taman Anggrek Mall? So, worry not about where to shop for necessities and pamper yourself with luxurious stuff! After a round of shopping spree, visit the storied Museum of Textile, within an 18-minute drive from the mall.
8. This spacious house bathed in natural light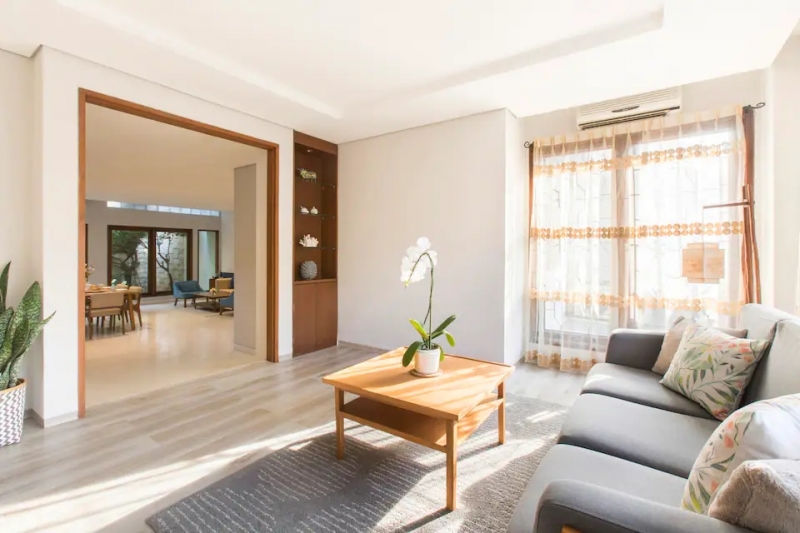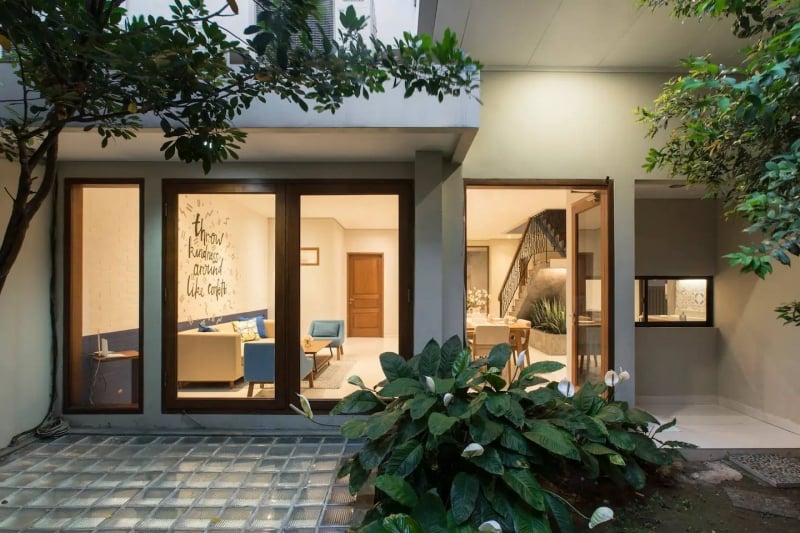 Listing name: Rumah Komering
Listing type: Entire home
Max. no. of guests: 10
No. of bedrooms: 4
If you're looking for the best place to unwind with your bigger circle of friends, this serene Airbnb in Jakarta Pusat is the answer. You'll witness architectural brilliance meets tropical landscape, resulting in a tranquil space perfect for a much-needed getaway!  
Whether it's a family holiday or a reunion with friends, this retreat caters to your need for privacy with spacious rooms and lounges. There's also a fully-equipped kitchen and pantry for light meal preparation. While you're there, hold a BBQ session with your loved ones in the backyard and have unforgettable outdoor dining together.
Psst, do spare some to explore Plaza Indonesia, the National Monument, or Istiqlal Mosque nearby for the best experience in the city!
9. This sleek Jakarta Airbnb brimming with class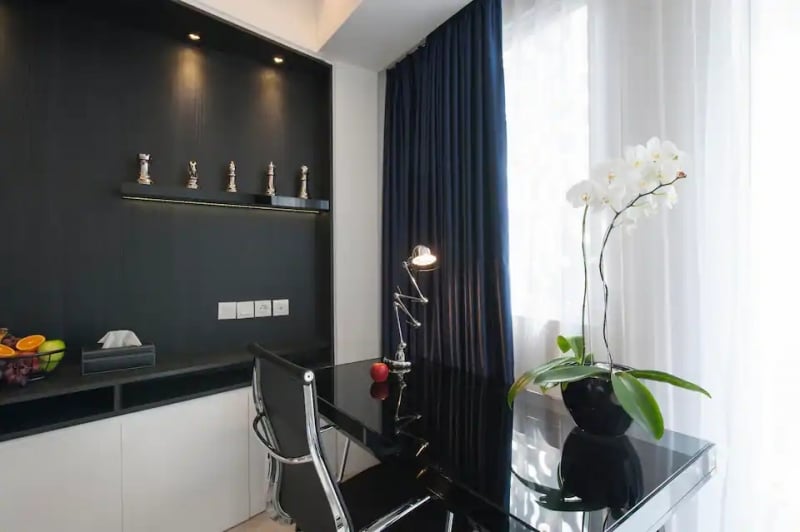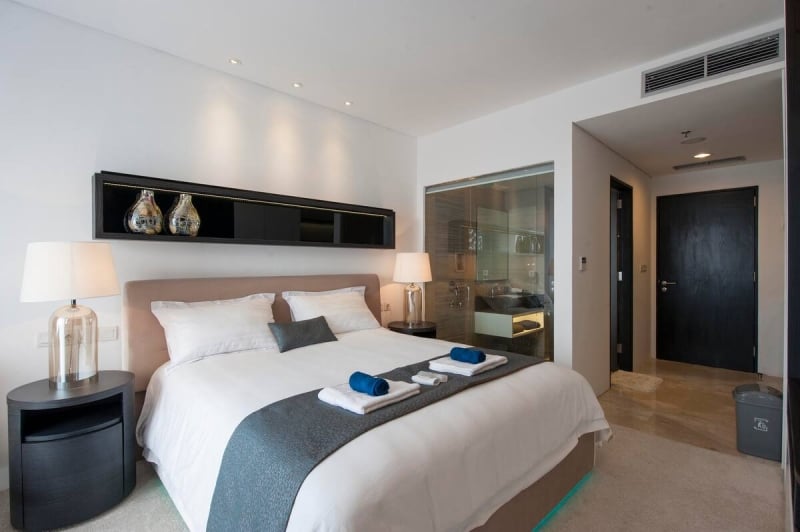 Listing name: Jakarta Studio By Interior Designer
Listing type: Entire rental unit
Max. no. of guests: 2
No. of bedrooms: 1
This monochromatic lodge with timeless elegance is the go-to place for travelling partners who prefer the classier things in life. The furniture in dark shades adds a dramatic, avant-garde flair when juxtaposed with a white background; creating a dynamic balance to the space. Expect a new and spacious room to welcome you as soon as you walk in.
FYI, this Airbnb in South Jakarta is inside a four-star hotel. It is also only a 17-20 minute drive from Taman Satwa Anak (a zoo) and Cilandak Town Square. And if you're feeling lethargic and in need of a rejuvenating escape, the many spas around the area welcome you with open doors! Talk about the best hotel Airbnb Jakarta has to offer that is super stylish and convenient at the same time.
10. This pristine dwelling with waterfront views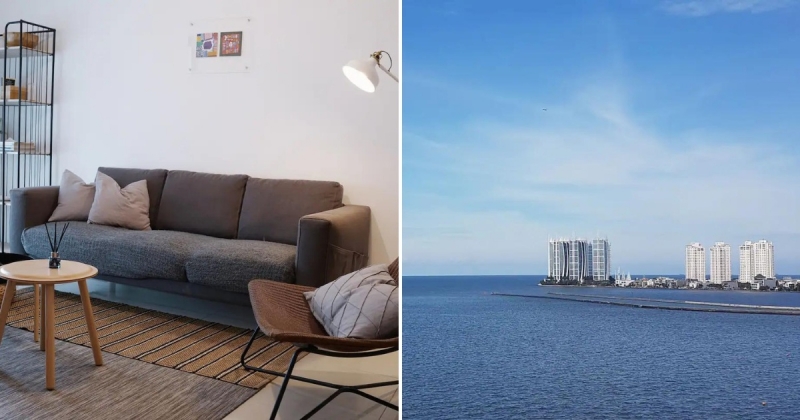 Listing name: 2 BR Spacious Promo Price! above Mall near Airport
Listing type: Entire rental unit
Max. no. of guests: 5
No. of bedrooms: 2
With a stunning combination of tropical and Nordic decor, this condo overlooking Jakarta Bay is quite the minimalist dream. The use of slim furniture and uncluttered design exudes a roomy atmosphere as soon as you enter. Comfy beds, top-notch amenities, and free WiFi are what you're in for when you book this stay. 
Unlike the other homes that boast stunning city views, this Airbnb in Jakarta Utara has an unbeatable ocean vista that can be enjoyed both from your balcony and the space's rooftop garden. What makes it even better is that it nestles right on top of Baywalk Shopping Mall, so fret not about where to find the nearest shopping centre! 
If you have extra time, visit Pluit Village, PIK Avenue, or the neighbouring Pantai Indah Kapuk for an unmatched culinary and entertainment experience.
Also read: Jakarta Souvenirs: 10 Authentic and Budget-Friendly Things to Buy in Jakarta
And that's pretty much it! Have you found your dream Jakarta Airbnb from this list? If you have, all that's left to do is to book your flights and experience the wonder of Jakarta yourself! 
Got a property you'd like TripZilla to feature? Inquire with us here.
---
This article contains affiliate links. When you book through these links, we may earn a small commission at no additional cost to you. All images courtesy of the respective property listings.