I have a confession to make: I'm a beauty addict.
This could be the reason why metropolitans replete with malls and beauty retailers always have a stronger pull for me than natural landscapes. While abroad, I often find myself gawking at pedestrians on the streets and drawing some conclusion about the local definition of "beauty" or "fashion", and it's not always as apparent as Korean people's obsession with perfect skin and red lips.
These are some of the intriguing trends I've noticed in Southeast Asia.
In Thailand, extravagant manicures are trendy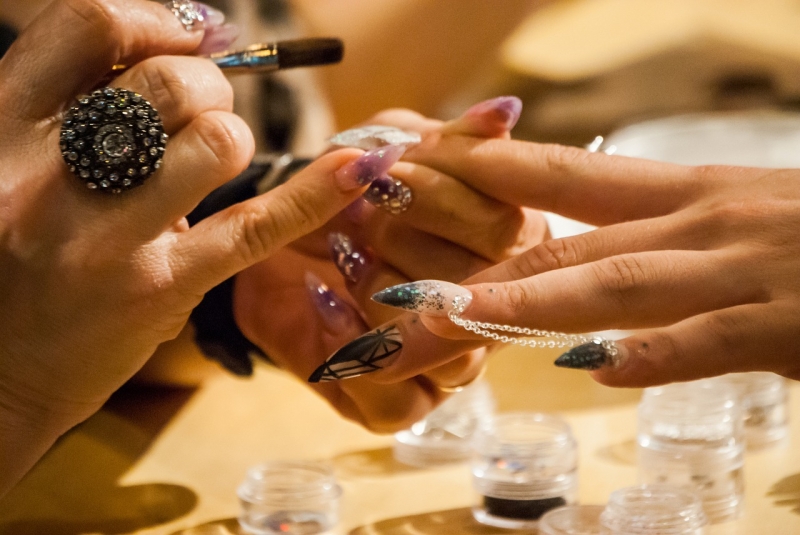 When I took the rush hour train in Bangkok and stood in close proximity with female office workers, I could not help but notice they were all flashing off sophisticated and intricately-designed manicures. To my left, someone's nail piercings were making the jingling sound when she was tapping her phone screen. To my right, a lady was adjusting her grip on the handle with one hand and struggling to hold her bag with the other, and her nails were glinting in the sunlight the whole time. 
That's when I realised it: In Thailand, women sport really, really extravagant nails to work. And I'm talking about long, artificial nails bedazzled with jewels, powder roses and pierced with rings. Although it might not be the best idea to wear those fragile accessories every day, it seems like it's a big thing in Bangkok, and perhaps in other cities too.
In Myanmar, wearing the traditional dress is the norm
Ok, this one is not that subtle. Burmese girls seem to prefer their traditional dress, the longyi, to mainstream fashion wear. I saw it on almost every girl on the streets, in pagodas and even in hippie cafés. Longyi consists of a tight-fitting silk robe and it is usually accompanied by a long-sleeved, buttoned up blouse. The good thing about this outfit is that it really flatters the Burmese' waistline. I saw t-shirts and jeans, of course, but considering the prominence of a traditional outfit as casual wear, it's interesting.
…and Burmese sunscreen colour the faces of the locals
Since we're talking about traditional fashion, thanaka, or Burmese sunscreen, is widely used too. Thanaka is a block of powder made from herbs and other ingredients that Burmese women put on their cheeks or forehead to prevent sunburns. It does not blend with the skin and therefore appears as distinctive yellowish-white stains. I have to say I was intrigued when I saw that nearly all girls wore it on the streets. I mean, I work so hard and spend a lot of money on those beauty blenders to make my foundation melt into my skin.
In Taiwan, face masks are a fashion statement
People in Taiwan love face masks. I saw so many people wearing cartoonish marks to accessorise their pastel outfits or black masks to match their snapbacks. Some girls also simply wear the hygienic, functional disposable masks. These masks are not used just for commuting on motorbikes and in dusty areas – the locals also wear it to street markets on their food hunts, taking it on and off when needed.
In Singapore, black Nike shoes are ubiquitous
While there are so many shoes equivalent to black Nikes in terms of functionality and style (think the American's iconic black Converse), Singaporeans remain loyal to them. I could not help but notice that black Nike shoes are a go-to item of young Singaporeans. It's no surprise – the item looks perfectly compatible with the casual and sporty style that many of them follow. The black Nike can also complement many outfits – my Singaporean friends wear them with jeans, shorts, and even dresses, and they all look stunning. 
Are there any more trends you've noticed? Share them below in the comments section!