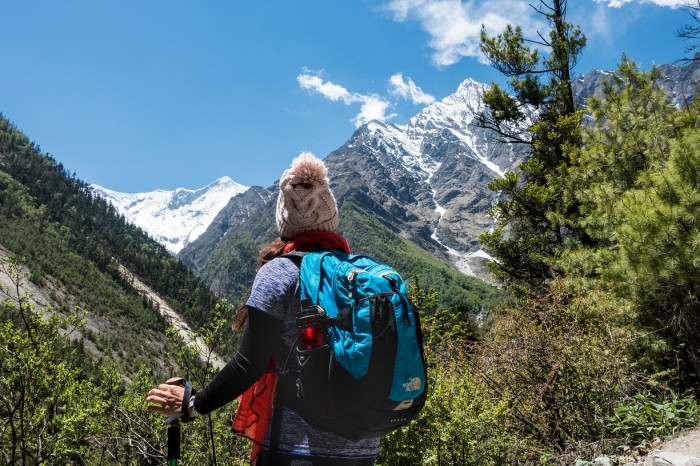 When I began planning for this trip in late 2014, I must admit it was on a whim. I felt like I was stuck in a rut and I needed a getaway, one that is time-consuming and energy-ridden.  So I chose a solo trekking holiday. My original plan was to trek Everest Base Camp. I booked a ticket to Kathmandu, Nepal and my departure date was set in early May 2015. However, a deadly earthquake of magnitude 7.8 hit Nepal on 25 April, killing more than 8000 people and injuring more than 21,000. The earthquake also triggered an avalanche at Everest Base Camp (EBC), effectively cancelling my plans.
Guiltily, I wiped away my self-pity tears and postponed my trip to a year later, changing it to Annapurna Circuit. What the heck, I decided to add even more days to it and settled on an 18-day trek through the Annapurna region.
Also read: 17 Southeast Asia Trails on Every Hiker's Bucket List
The Annapurna Circuit has been compared many times to EBC and many have preferred the sceneries at Annapurna, due to its changing landscape as you climb to higher altitudes. It is voted one of the best hiking trails in the world with stunning views and accessible teahouse lodgings along the trek. The total length of the circuit varies between 160km to 230km. You will also see some of the world's highest peaks – Manaslu (8163m) and Dhaulagiri (8167m) – as well as numerous peaks of heights 6000m to 8000m from the Annapurna range.
It was definitely a trip of a lifetime and I highly recommend everyone and anyone to go for it! Since I've completed this trek, I'm going to share with you an easy guide to planning your own trip to the Annapurna Circuit!
1. Decide whether you want to go solo or join a group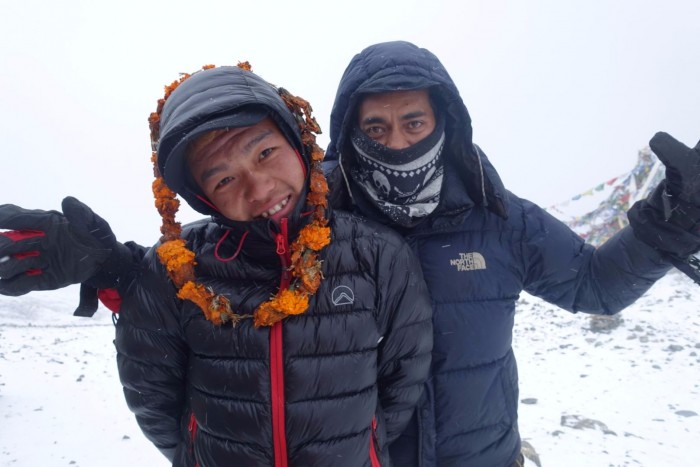 There are many trekking agencies offering tours to Annapurna Circuit and they usually range from 13 days to over three weeks. Prices vary from as low as US$800–1500 per pax. You can book your tour online but here's a tip for the brave and patient: you will get the best rate if you book it after reaching Kathmandu. Thamel is a blustering district filled with tourists and that is where all the travel agencies conglomerate. You can depart any day you like; guide and porter are easily arranged on short notice and you can negotiate with the agency directly.
You can also choose to go completely solo. During my trek, I saw many trekkers who did it completely alone without any guide and porter. This depends on your fitness level and confidence in navigation. If you are not very fit, get a porter to carry your bags. If you are not very good at reading directions, get a guide too. A guide can also help you communicate with the locals, find you the best shelter for the night and take care of you if you fall sick or worse, encounter injuries.
I chose to go half-solo with a guide and porter because I felt that it was good to contribute to the local economy and learn about the local culture. Whether you decide to take a guide or/and a porter is your own personal choice and will depend on many factors including your budget, fitness level and experience.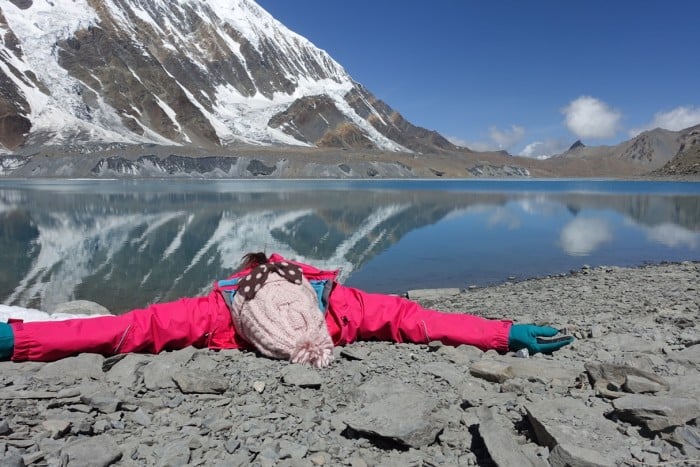 2. Decide how many days and which side trips you want to trek, and plan your route from there
There are many factors you need to consider but most important is your fitness and endurance level. Annapurna circuit, especially if you are passing through Thorung La Pass (5416m), is no walk in the park. I exercise regularly, have climbed Mount Kinabalu and Mount Rinjani (supposedly one of the toughest beginner climb), and still found Annapurna circuit taxing on some days. You can do the whole circuit in just 13–14 days if you take a jeep to Chame and begin your trek from there. Most people will trek the circuit counter-clockwise, starting from Besisahar, so they can slowly gain altitude, hence lessening the risk of high altitude sickness.
There are many side trips available along the way and they require different levels of difficulties. Among the famous ones are Annapurna Base Camp (4130m), Ice Lake (4650m) and Tilicho Lake (4919m), the highest trekkable lake in the world!
I took a seven-hour bus ride from Kathmandu to Besisahar and another local bus for an hour to Bhulbhule. This is the route:
Nagdi – Jagat – Dharapani – Chame – Upper Pisang – Ngawal – Manang – Tilicho Base Camp – Shree Kharka – Thorung La High Camp – Muktinath – Jomsom – Tatopani – Ghorepani – Poon Hill and Birethanti – Nayapul.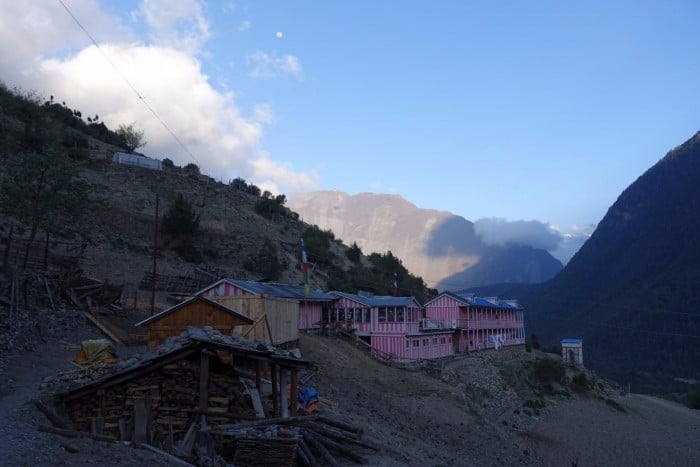 3. Accommodations and meals during the trek
The circuit attracts many enthusiastic trekkers yearly from all around the world. Many of the villagers rely on tourism to support their living. They open up their homes and transform them into teahouses. Even though resources are scarce in the mountains, you will still live comfortably. Dal bhat is the national food of Nepal and considered the power food of trekkers, hence the phrase "Dal bhat power 24 hour!" It is a cheap (around Rs 200–300), refillable and a high-carb meal that will charge you up like an Energizer bunny. Not surprisingly, it is the staple food of many trekkers. If you're not into steamed rice and lentil soup, they have pasta like macaroni, lasagne and spaghetti slathered with delicious gooey yak cheese. Food and water get more expensive as you climb.
There are water stations and river streams, so if you wish to conserve money and the environment, bring a water bottle and fill up. Remember to get purification tablets! A one-litre mineral water bottle usually costs around Rs 80–200. The most expensive water bottle I bought was a whopping Rs 500 at Thorung High Camp.
But beware – nothing will prepare you for the public toilets in Nepal. Most are squat toilets and in the most deplorable conditions. But a hole is a hole, and if you gotta go, you gotta go. Funnily, most toilets I encountered have a square window that is large enough for a person to pop their head in and have a look around. Though I must say, they do offer the best views of the mountains if you stay long enough to appreciate it.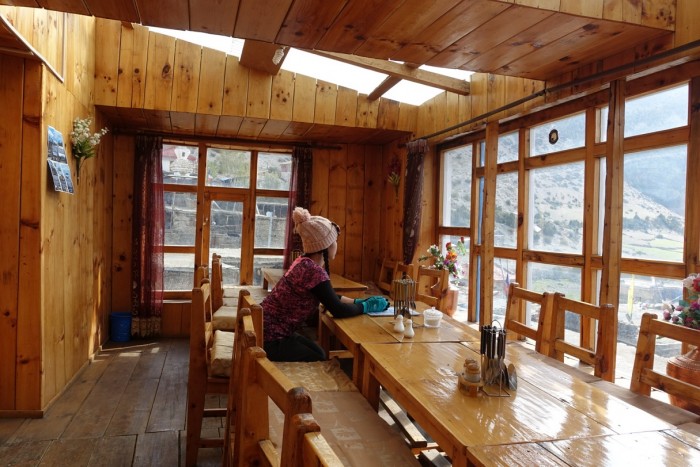 Light sleepers are advised to bring earplugs because sounds can travel through the paper-thin walls of your accommodation. Many rooms have twin-sharing single beds. During the peak seasons in Oct–Nov, most trekkers will have to share rooms with strangers. I was lucky to go during mid-May just before the monsoon season, so I always had a room all to myself. Most teahouses also allow you to stay for free if you eat your meals there. I must say, I really lucked out when I went because I stayed in some of the most luxurious teahouses with beautiful skylight windows.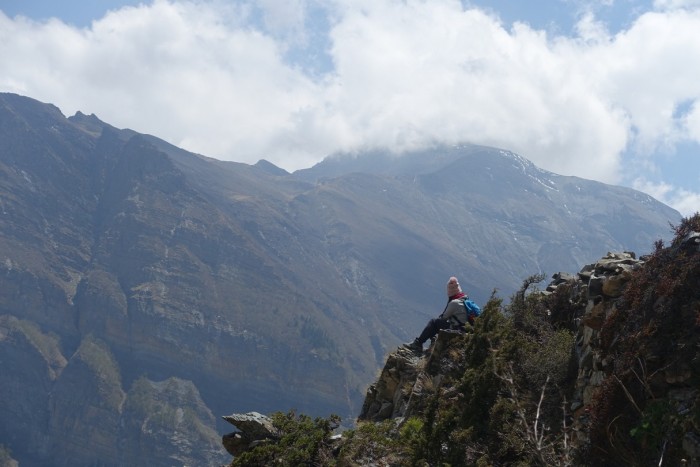 4. Invest in a travel insurance
… especially if you like to take photos of yourself sitting on the edge of a cliff.
While Annapurna Circuit is considered one of the safest trekking trails, it is not without its dangers. In October 2014, 42 people perished when a sudden snowstorm swept across the Annapurna region. Ill-equipped trekkers died from the extreme exposure to the cold at Thorung La Pass. The trek can become treacherous at some parts, especially when you reach the landslide-prone areas of Tilicho and the unpredictable vastness of Thorung La.
Trekkers are also advised to hike slowly and be careful of high altitude sickness, hence the common advice to climb high but sleep low. High altitude sickness can affect anyone and because the symptoms start with common ailments, it is easy to ignore until too late. Not all trails are easily accessible, so evacuation can be very expensive. Therefore, it is advised to buy a travel insurance that covers helicopter evacuation if necessary.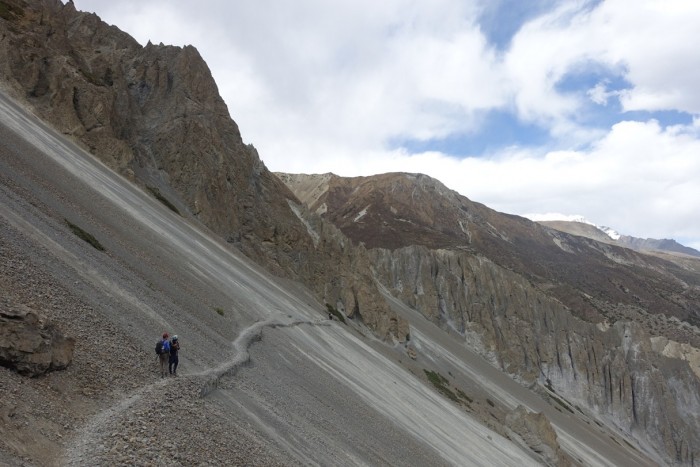 5. Fly into Kathmandu and buy your trekking gear there
There are many international flights into the madhouse airport that is Kathmandu Tribhuvan International Airport. This chaotic airport can disorientate even the calmest traveller. I have never seen anything like their baggage claim area – it didn't matter which destination you arrive at; all the bags were mixed together and thrown onto the same carousel. So imagine how apprehensive I felt as I stood together with tired travellers from Mumbai and Chennai, praying for our bags to appear. It didn't calm my nerves when I saw that many travellers took precautions and had their bags tagged with ropes of varying colours and even their passport biodata pages.
But I digress.
Once you leave the airport, head straight into dusty Kathmandu. The city is still recovering from the earthquake and everywhere, bricks and rubbles litter the streets. Anyway, head into Thamel, the heart and soul of the tourist capital. Here you can find any gear imaginable to make your trekking journey more convenient. Gears are extremely cheap; backpacks – while most are counterfeit – are sturdy enough for short treks; secondhand high-quality shoes are sold at every corner; and trekking poles as cheap as US$5–10. Thamel is a favourite spot among the adventurous and leisure shoppers alike. Stock up here because things get more expensive as you get deeper into Nepal.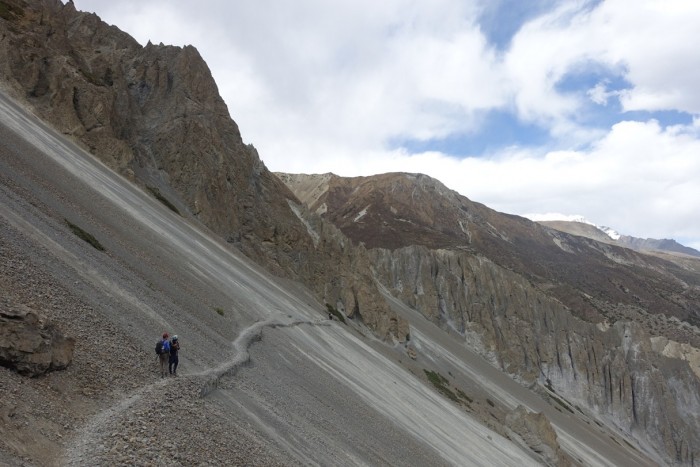 Also read: Poon Hill Trek: A Life-Changing Journey to the Himalayas
6. Prepare your checklist!
There are many things you need to do to get ready for your trek. You must get two permits before hiking: the Annapurna Conservation Area Permit (ACAP) and Trekkers Information Management System (TIMS) card. Both permits are required to enter the Annapurna area and you will need to check in at the checkpoints along the circuit. You can purchase them at the Nepal Tourism Board offices in both Kathmandu and Pokhara. If you are going with a tour agency, then they will get it for you.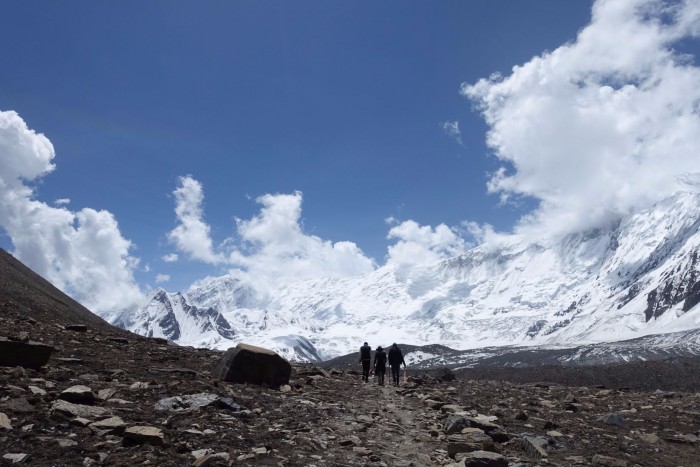 Depending on the season you are going, it is important that you bring the right trekking wear. Even as it entered summer whilst I was trekking, the temperature still dipped below the negatives in higher altitudes in Ngawal, Shree Kharka and Thorung La. So don't be stingy on the baggage weight and bring your down jacket and winter gloves! As for shoes, it is advisable to break them in way before the climb, make sure they are comfortable and remember those winter socks because the last thing you need are blisters on a 2–3 weeks trek.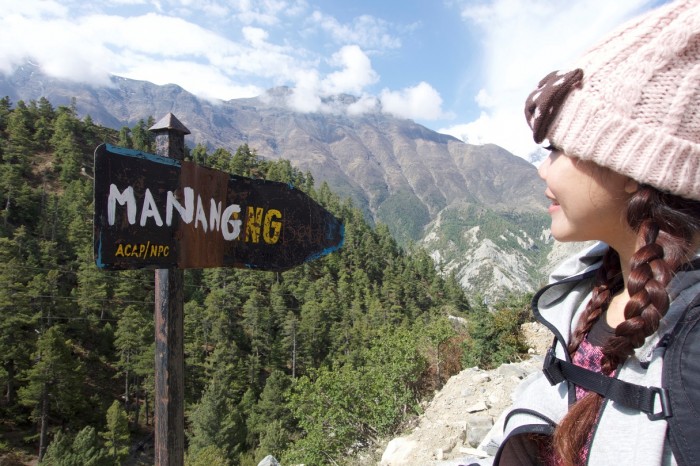 7. Let there be internet and cellphone connection!
Ask and you shall receive! I purchased NCell for Rs 1000 and that gave me enough credit to last most of the trek. There is Edge and 3G in Chame, Manang, Muktinath, Jomsom and Tatopani. There is also wifi available at most villages, even at 3500m altitude in Upper Pisang and Manang. I know, surprise surprise! Most teahouses also have wifi for their guests but some will charge between Rs 100–200 per day of usage.  Wifi is not fast but good enough to post an update to your family and friends to let them know you're still alive! On very good wifi days, you can even video chat your loved ones!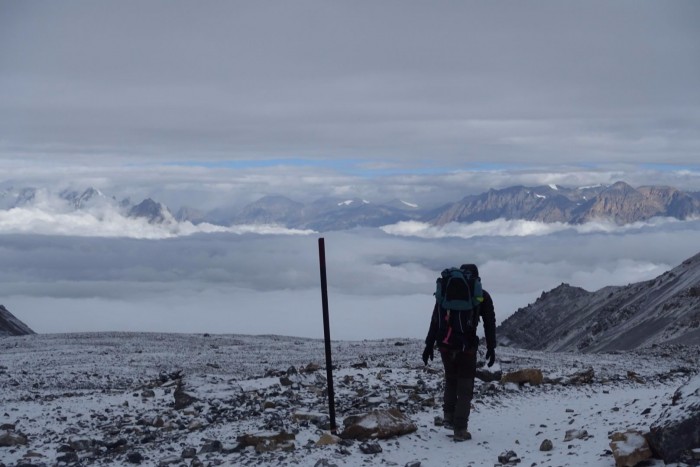 8. Bring enough backup power for your phone and camera!
Bring a powerbank with you. Bring two. Also, buy extra memory cards for your camera.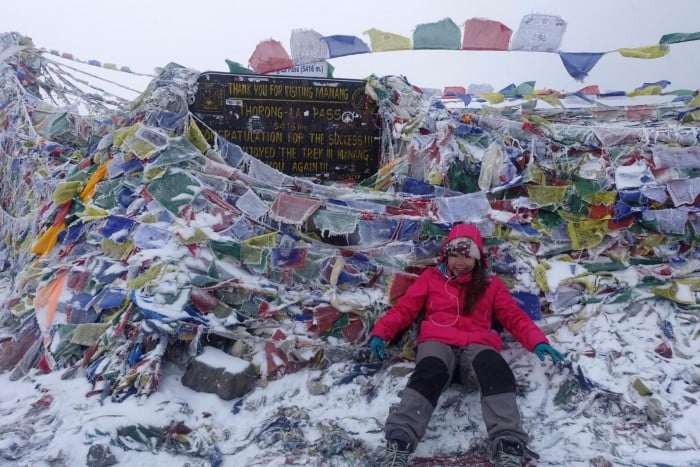 I'm not one of the  "I can take photos with my phone" people. You go on a journey of a lifetime, you stand on top of the world's most beautiful pass and you snap your moment of victory with a smartphone? Nuh-uh!
Most teahouses will allow you to charge your electrical gadgets for free in the common room. Hotel Top View in Upper Pisang and Hotel Himalayan in Manang lets you charge for free in the privacy of your own room.
9. Train for the trek, but if you didn't, don't stress too much
Most days, you will be walking and climbing for 5–7 hours a day. My advice is to work on your endurance and positive mindset. While it will certainly make your life on the circuit easier if you hike and exercise regularly, it will not be the deciding factor whether you will finish the trek or not. What's important is your mindset. Even after my legs were tired and cramping, my heart kept going.
Because at the end of the day, you will always be rewarded with views like this.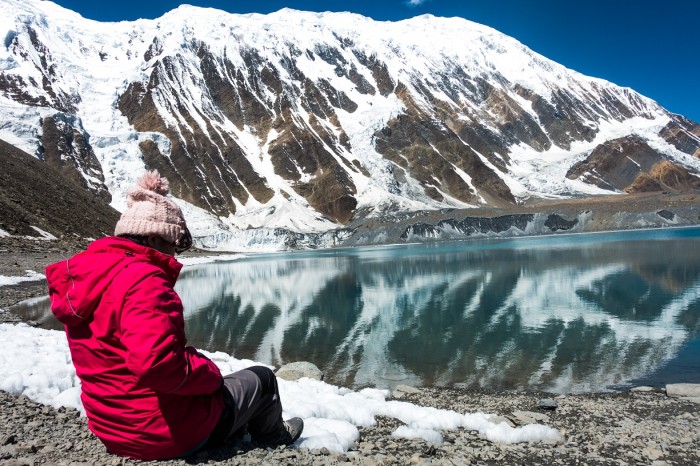 10. And last but not least, be awed and just enjoy every single day of the trek
Annapurna Circuit is the most beautiful journey I have ever completed in my life. Every day was a gift. I woke up every morning on the trek, thanking the views and memorising them so I will not ever forget how so very lucky I am to see this in person. I flew home to Malaysia more grateful and happier, and this is how every holiday should be.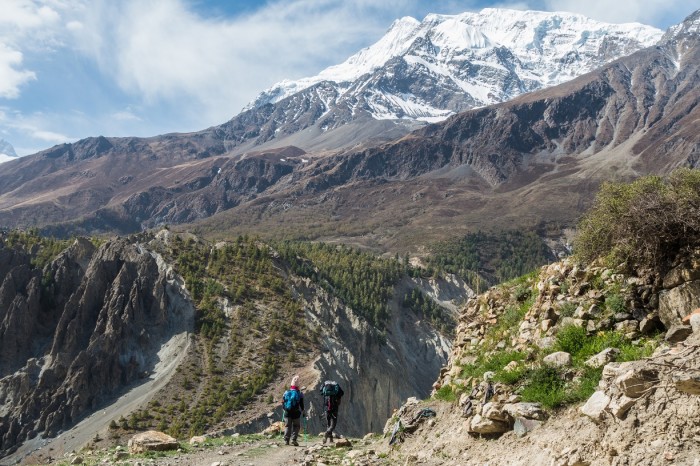 Also read: 13 Most Photogenic Day Hikes in Asia
So go! Have your own Annapurna adventure!