Alas, the list of the highly-anticipated Singapore public holidays and long weekends for the year 2023 is here! Without further ado, let's get to the nitty gritty because we know how excited you must be right now.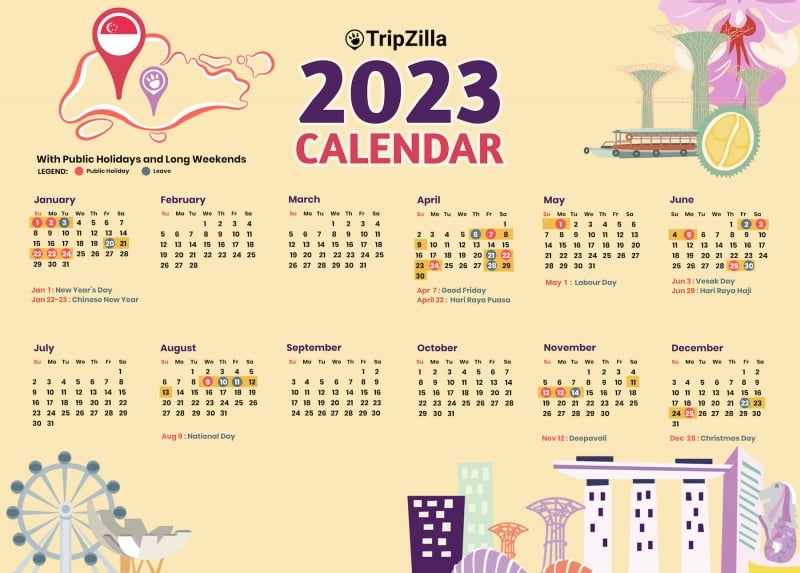 List of all Singapore public holidays in 2023
According to the Ministry of Manpower, the following is a list of gazetted Singapore public holidays for 2023:
1 Jan 2023 (Sun): New Year's Day

22-23 Jan 2023 (Sun-Mon): Chinese New Year

7 Apr 2023 (Fri): Good Friday

22 Apr 2023 (Sat): Hari Raya Puasa

1 May 2023 (Mon): Labour Day

3 Jun 2023 (Sat): Vesak Day

29 Jun 2023 (Thu): Hari Raya Haji

9 August 2023 (Wed): National Day

12 Nov 2023 (Sun): Deepavali

25 December 2023 (Mon): Christmas Day
5 Singapore long weekends in 2023
There are 10 public holidays in 2023, with five of these falling on a weekend: New Year's Day, Chinese New Year (day 1), Hari Raya Puasa, Vesak Day, and Deepavali. That just means more time to spend with your loved ones on top of unplugging from work or school to fully recharge! Or perhaps, maximise your time by booking a short weekend getaway to Bintan, Bali, or Phuket.
Make it 10 long weekends in 2023 by taking 11 leave days
However, there is a way to make it 10 long weekends instead: by taking 11 leave days. What results is either three, four, or five-day long weekends —  every one to two months!
Take a look at the strategic cheatsheet we have come up with and bookmark it straight away! All that's left to do is for you to reach out to your human resources manager and lock in the leaves in advance.
Singapore long weekends 2023 cheatsheet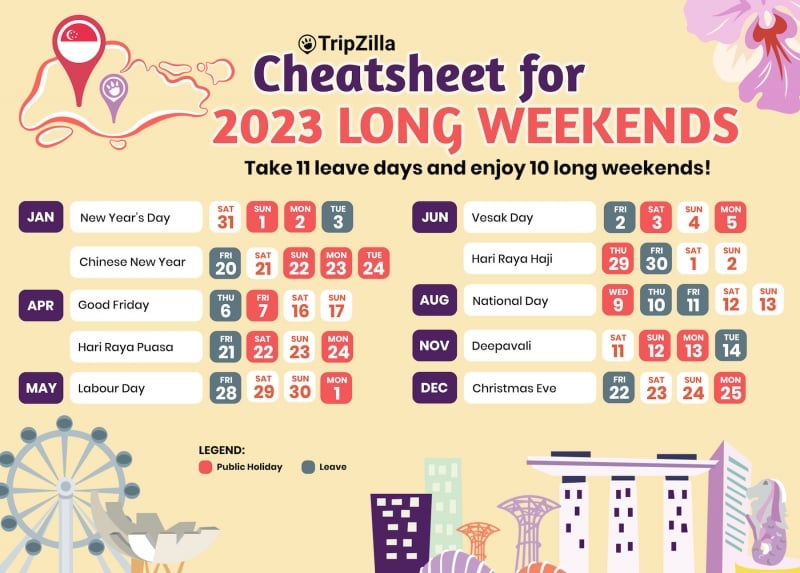 Feel free to download the calendar and cheatsheet, and don't forget to share this article with your friends!
As we enter the new era of revenge travel, it's time to plan for your long-awaited getaway. Maybe the Singapore long weekends of 2023 will finally let you do that! To get started on your travel planning, head to our Travel Inspiration page.
TripZilla wishes you a memorable holiday in 2023 — well in advance!