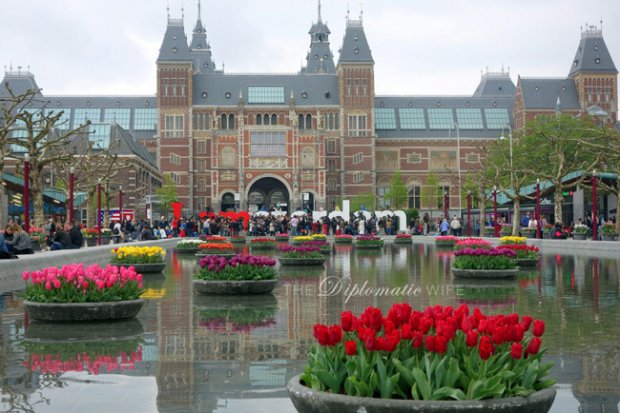 A last-minute trip to Amsterdam mid-April – supposedly the best time to go if you want to see famous Holland Tulips in their full glory. Thanks to quick searches online and recommendations from Deepa, we tried and tasted some pretty memorable things during our stay. We opted for going around on foot and public transport (TD doesn't like to bike) and we were able to do these things (and more) in a relaxed and enjoyable pace. This is in no particular order.
Also read: Awestruck in Amsterdam: Things to Do and Where to Go
Tulips were the main reason we went to Amsterdam and the world-famous Keukenhof is the place to see them. The garden in Lisse is a mere 30 minute bus ride from Amsterdam and it is so beautiful, it felt like I was in a dream. The Keukenhof is open from mid-March to mid-May, but they say the best time for tulips is mid-April and we were not disappointed, because the timing was perfect for us. Tulip blooming time can vary depending on the weather. Also if it is too hot the tulips wilt, but I was told mid-April is a safe bet. If you go too early or too late, you will see different flowers in bloom so it will still be very pretty. My photos don't do any justice to the garden. You'll need 3 hours to walk around, excluding travel time. Click here for more information on Keukenhof.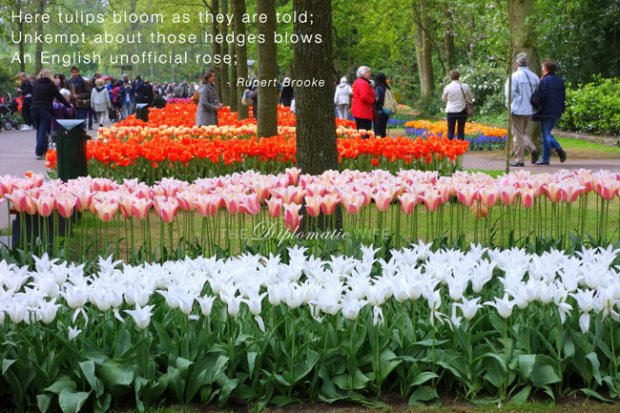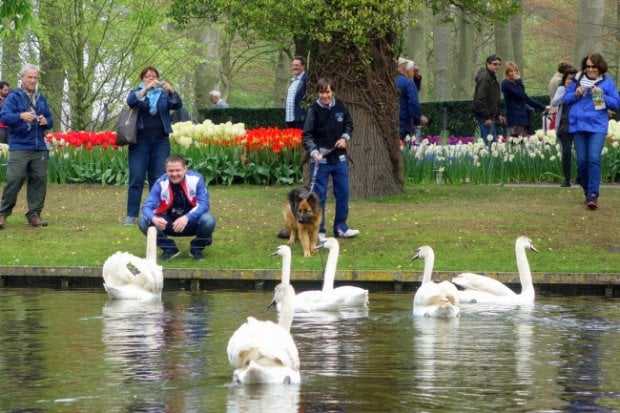 CAUTIONARY TALE: The only thing that wasn't very nice was the Keukenhof express bus. Perhaps because the line was long, they were trying to get as many people as possible into the buses, so we were packed like sardines. The conductor was yelling at us to move into the bus even though there was already very little standing room. What's worse is the bus driver kept speeding up and breaking abruptly, so there were a couple of times wherein we fell on other passengers. As a result, I twisted my ankle and it was not very nice to go around the Keukenhof with hurting ankles. I also felt very bad for the elderly who were made to stand for the duration of the unpleasant ride. In my opinion, we all paid the same amount for the ticket and it is not fair that some people had seats while others had to stand. They should have ensured that everyone had a seat. If not, then they should have made sure at the very least that their drivers drive safely and smoothly. It is more an issue of safety and I hope they will improve on it. I'd be willing to wait a few minutes more as long as they don't overfill their buses. I'm sure they earn more by doing this, but it's not pleasant for the visitors. The Keukenhof express is also not handicap-friendly.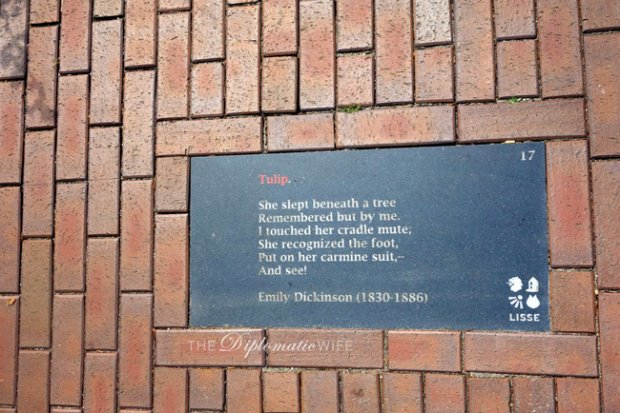 Right outside the Keukenhof are the gorgeous tulip fields of Lisse which you can explore on bikes. We took a few pictures of the gorgeous fields before we left.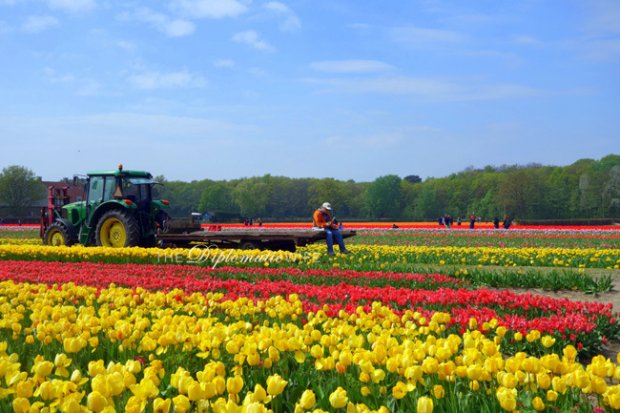 GOOD TO KNOW: The tulip fields are grown for their bulbs. The flowers will be cut off right after they bloom so some research is needed to make sure you don't arrive to empty fields. Timing is different each year depending on the weather.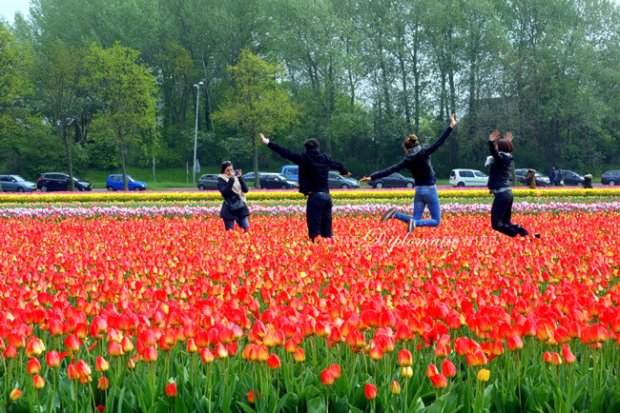 2. Stroll around the red light district
Amsterdam is famous for its RLD (Red Light District), where there are different alley catering to different types of people. Hearing about it was one thing, and seeing it with my own eyes is a different thing altogether. I am in no way making a judgement because I believe in travelling to broaden one's horizons and to learn about and respect differences in cultures, points of view and practices. If you are too conservative or traditional then this activity is not recommended. There are some tourists who brought their underage children to gawk at the girls through the windows. I think you will agree that activity is for adults who are mature enough to make their own decisions and aren't as impressionable as children. Don't you think?
GOOD TO KNOW: Taking photos of the prostitute is strictly prohibited and there have been instances of expensive cameras getting thrown into the canal so be warned!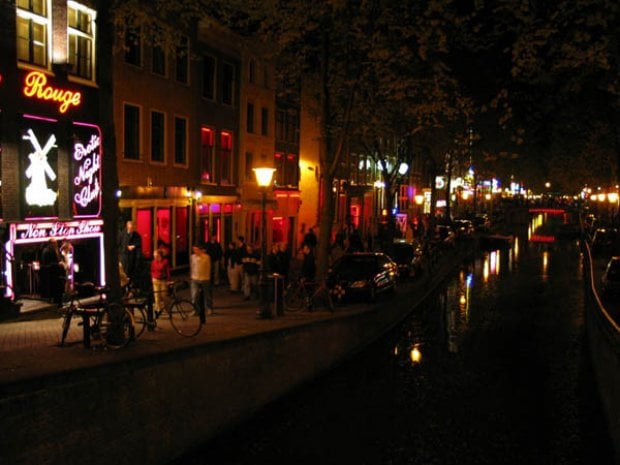 © Pictures of Amsterdam RLD courtesy of Amsterdam.info. See more photos here.
"Amsterdam prides itself on its wholly liberal and tolerant attitude, embracing the fact that people may be into prostitution, soft drugs and pornography-and this is only human. So instead of criminalizing everything, this very upfront city wears its heart on its sleeve – what you see is generally what you get. However, now as a legal profession, the government ensures that all prostitutes are able to access medical care and work in better conditions by regulating and monitoring working practices and standards." – Read more on Amsterdam.info.
3. Canal cruise tour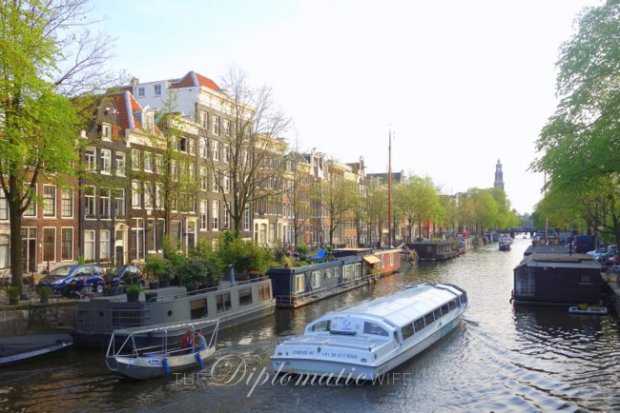 The best way to see Amsterdam is on a Canal Cruise and thankfully a silver ticket in our Holland Pass could be exchanged for a ticket to the 100 Hundred Highlights tour. There were other canal cruise options but this cruise tour runs till 10pm while the others run till 7pm. We went right before sunset so saw the canals in both light and dark. I found the evening portion interesting too because everything was lit up and pretty. It was kind of cool to peek inside the windows of the boat and canal houses, and the residents didn't seem to mind! The tour which was delivered in several languages was informative, and we learnt about Amsterdam history, architecture, etc.
Also read: 3 Lesser Known Places in the Netherlands to Fall in Love With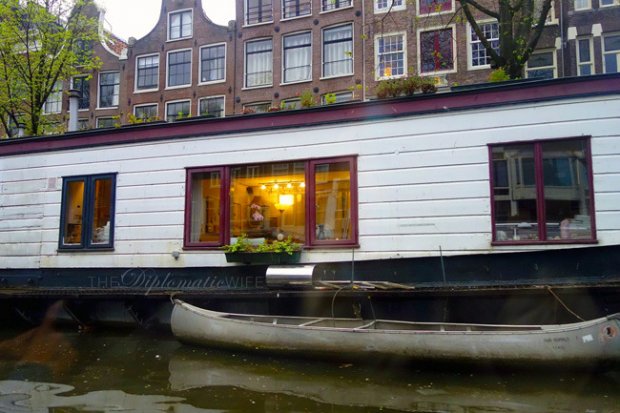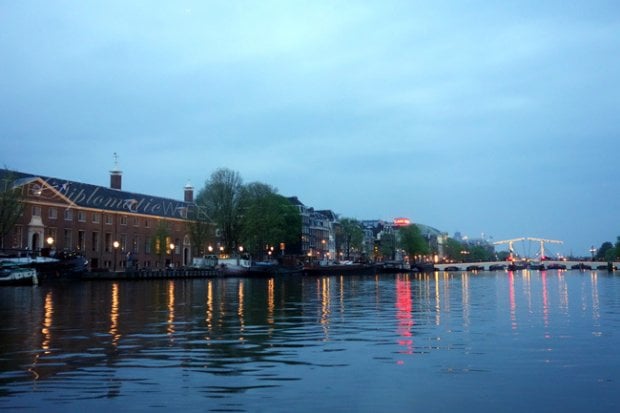 DIPLO TIP: Bring some bread, cold cuts, cheese and personal-sized wine/drinks so you can have a lovely snack while sightseeing.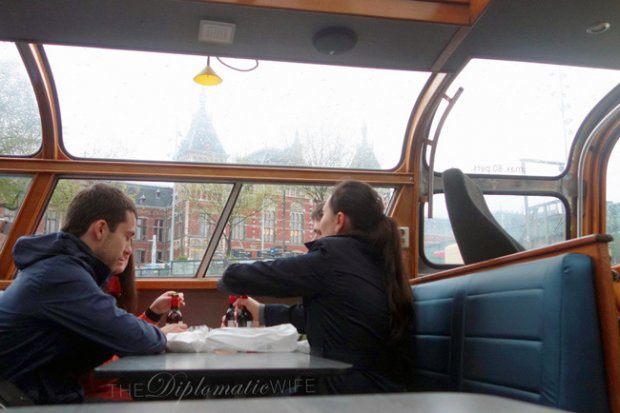 There are many museums in Amsterdam but the Rijksmuseum is the must-see, like the Del Prado in Madrid. I loved seeing Dutch masterpieces like the likes of Rembrandt. I'm not a big fan of Van Gogh but it was an experience to see his self-portrait up close.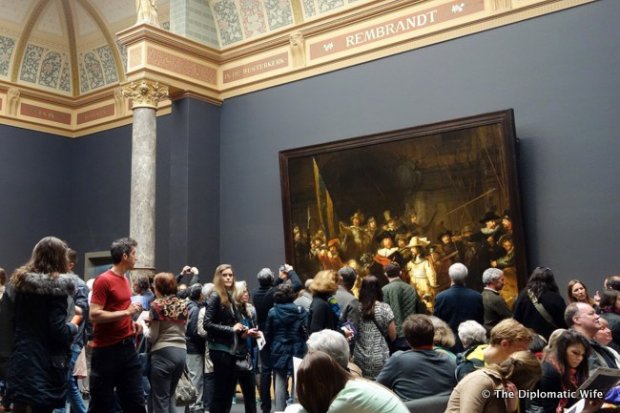 We were posted in Indonesia for 4 years so I found it interesting to learn more about Indonesia under the Dutch colonial times in the section for Indonesian art and items, like the Banjarmasin Diamond from Borneo (Originally 70 carats and now cut to 36 carats). I also loved seeing the still life that featured banquet tables which were so realistic to the most minute detail that they looked like photographs. #17thcenturyfoodporn!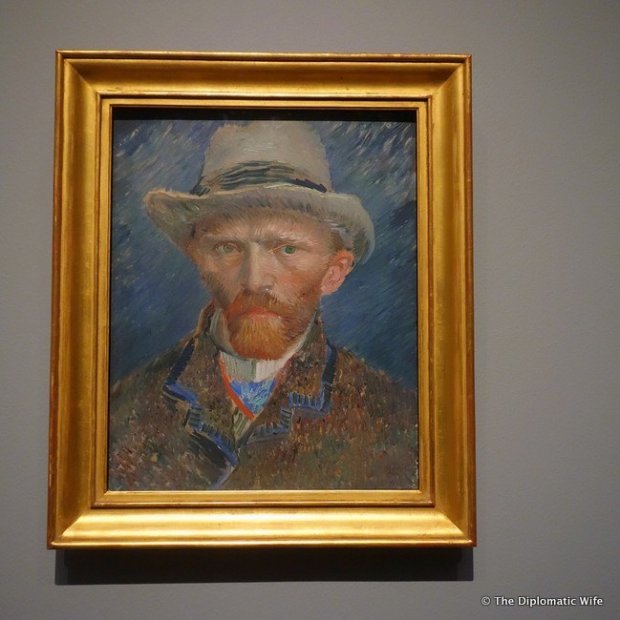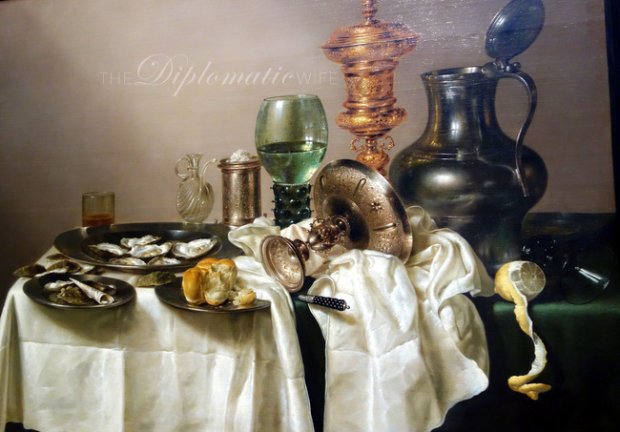 Stilleven Met Vergulde Bierkan
5. Best apple pie in town at Winkel
I was excited to catch up with my super funny and witty friend Deepa and I was so happy that she, Marlon and Tala had time to meet up with us. We let her pick the place and her answer was very quick: Winkel, best apple pie in Amsterdam. Whipped cream is a must. Diet? What diet?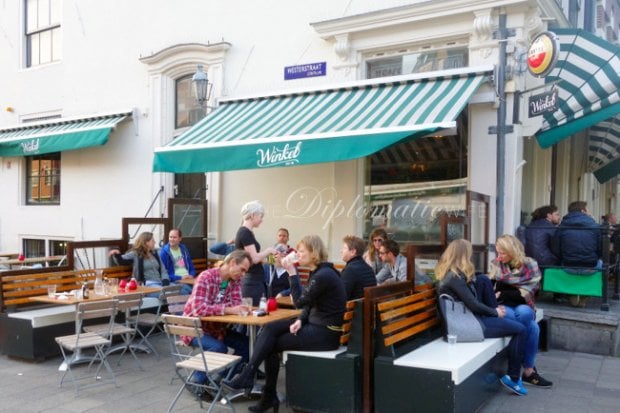 Before dessert we also had to have Bitterballen and Dutch beer, Amstel. I had the Radler – YUM. The apple pie is a must-try. It's not too sweet, not too rich and so delicious. We savoured each palate-tickling bite.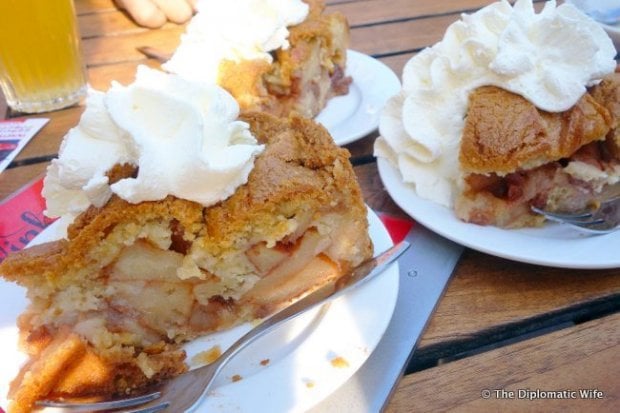 6. Indonesian Rijsttafel at Blauw
After a year of leaving Jakarta, we missed Indonesian food. Where better place to get it than in the Netherlands? The best way to enjoy as many Indonesian dishes as possible in one meal is to order Rijsttafel, and the best place to get it is at Blau Restaurant. Considering the Dutch-Indonesian ties I wouldn't be surprised if is the best Indonesian restaurant I will ever try in Europe. Enjoying Indonesian food Rijsttafel-style is basically a Dutch invention and it means "rice table".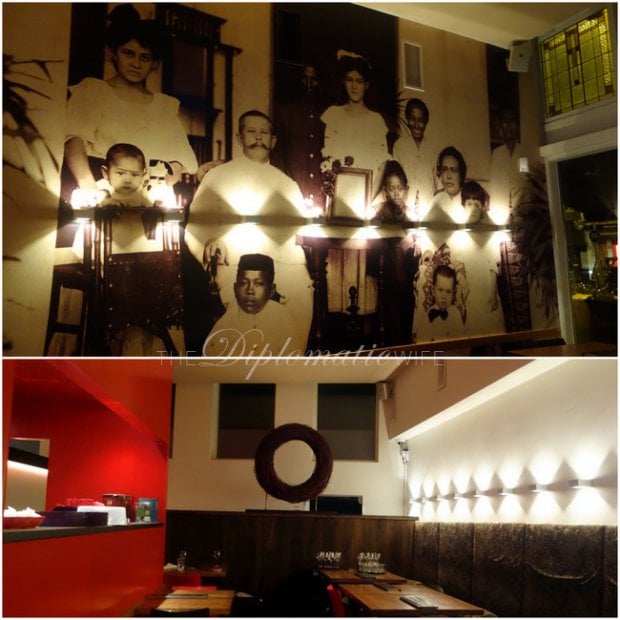 This place is a little pricey and reservation is a must especially if there are more than two diners. We decided to take a risk by coming to the restaurant late (past 9pm). Luckily, we were able to get the last table for two in a corner.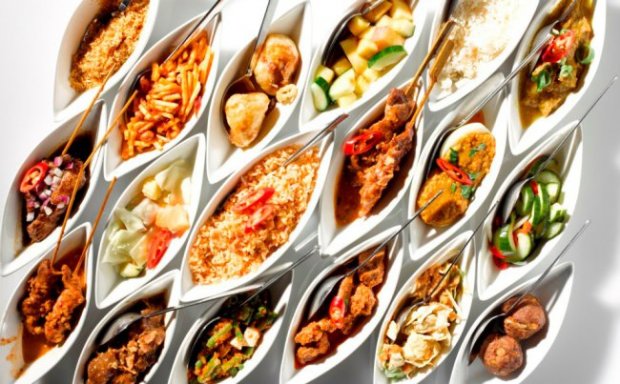 Image Credit: blauwrotterdam.nl
We ordered a Rijsttafel to share, extra prawn satay and a bottle of their Rose (it is perfect with the spicy fare) and paid around EUR 70 (approx. SGD 110). Still not bad considering the quality and quantity of the food. We really enjoyed our meal and were the last ones to leave because we ended up chatting with one of the Indonesian waiters. I didn't expect to get such amazing Indonesian food outside of Indonesia!
Also read: 21 Famous Local Foods to Travel The World For
To have better value for money we did not avail of breakfast at our hotel, instead we looked for good options for brunch. When I searched for amazing brunches, one place caught my attention: Le Pain Quotidien. Their fresh, organic and local menu sounded amazing and I agree with the positive reviews!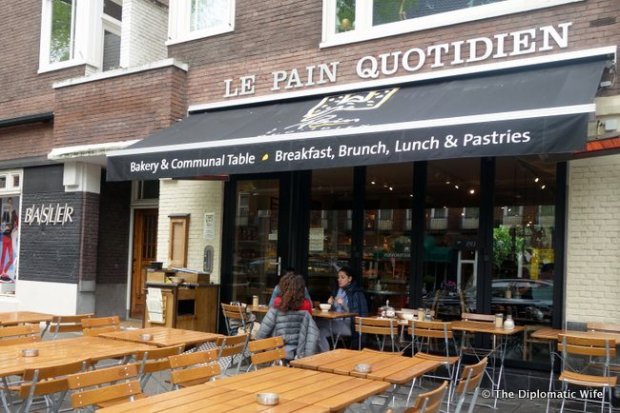 I don't usually like salads for brunch but their salads were such a yummy treat.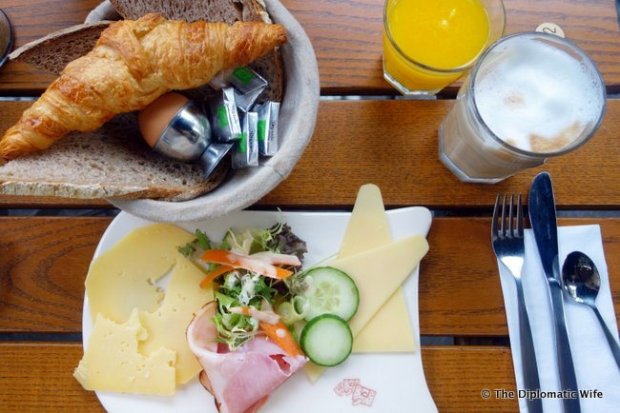 Their freshly baked pastries great were quite good, and made even better by their house brand Brunette Belgian Hazelnut Praline Spread! I loved this spread so much that I bought a bottle to take home.I love having it on French toast. Move over, Nutella!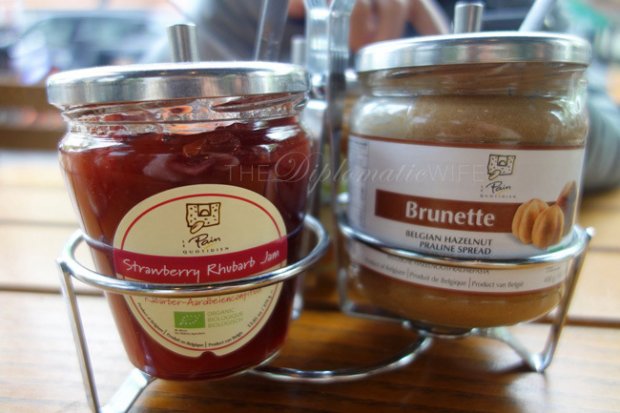 The Dutch love their patat or Vlaamse Frieten, and the best place to get them is Vlaams Friteshuis Vleminckx. Don't ask me how it is pronounced. =p I was expecting a long line but because we got there right before closing time then there was absolutely no waiting time.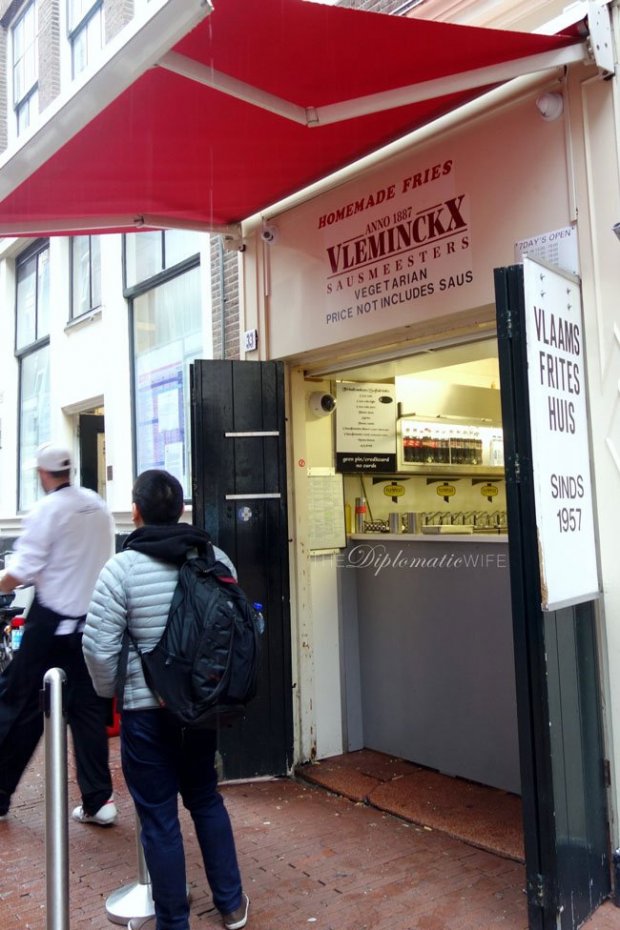 "In English we refer to them as French Fries, but the French can't take claim for their invention. Sadly, neither can the Dutch. These bad boys were born to the Dutchie's favourite neighbour: Belgium and were coined "french fries" by confused worldly American WW1 soldiers after the language spoken – and not the country." – Stuff Dutch Peoople Like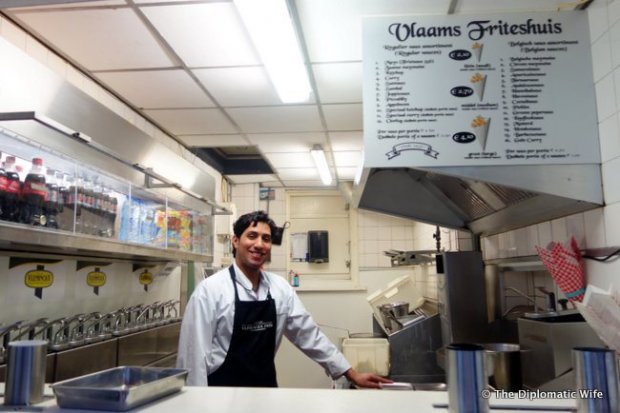 What makes Dutch fries different are the mind-boggling variety of sauces, the favourite being mayo, which doesn't taste like normal American mayo as we know it. We tried their famous Samurai (spicy mayo) and curry (sweet curry ketchup) sauces in separate cones. Both were extremely delicious and as a potato-lover with a weakness for French fries, I can say that this has to be one of the best I've ever tried.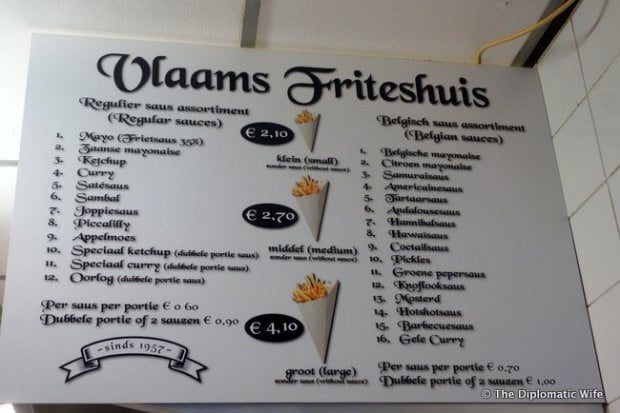 I would recommend getting a small size for the Samurai. It has a strong and rich spicy mayo flavour so you might not want to have too much of it. This sauce can also be quite messy. The sweet Curry sauce was quite addictive so I didn't mind having a medium cone. I'm so glad we were adventurous and tried something other than ketchup on our fries! Maybe next time I'll try it in peanut sauce haha!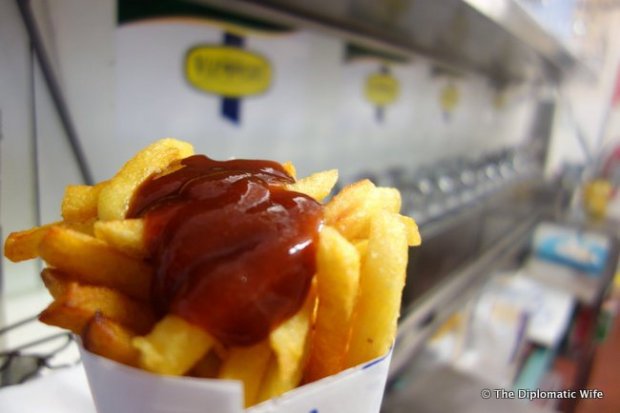 GOOD TO KNOW: The secret history of French fries
9. Try Surinamese food
It was my very first time to hear about Surinamese food from Deepa and Marlon, and we were lucky there was an open restaurant nearby on the Sunday that we met. Suriname is a tiny country in South America which was once a Dutch colony (like Indonesia). The Dutch brought over labourers from Indonesia, India, and China to work on their plantations and the combination of their different cuisines adapted with the local ingredients came to be known as Surinamese food. Also like the Indonesians, there are many Surinamese who are now residing in the Netherlands, so you can enjoy their food without travelling all the way to South America.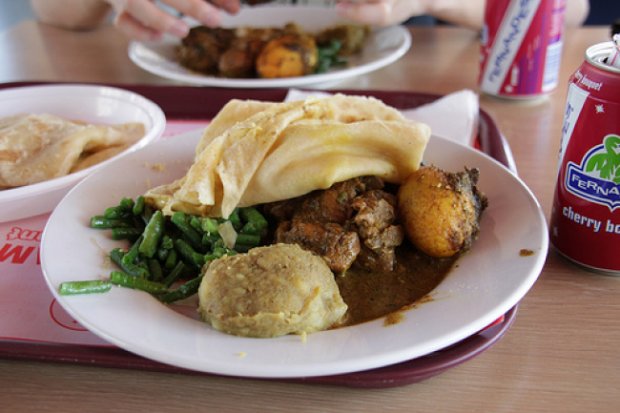 Image Credit: muntthee
TD and I are always game to try something new at least once in each travel destination, so we got takeaway from a place nearby that sells Indian food. It was a Sunday and the place they usually get their Surinamese fix was closed. To be quite honest I had a hard time remembering the names, but you can check for Surinamese restaurant recommendations here, here and here. I love Indian food and roti so I un-surprisingly enjoyed having takeaway Surinamese in Deepa's lovely balcony.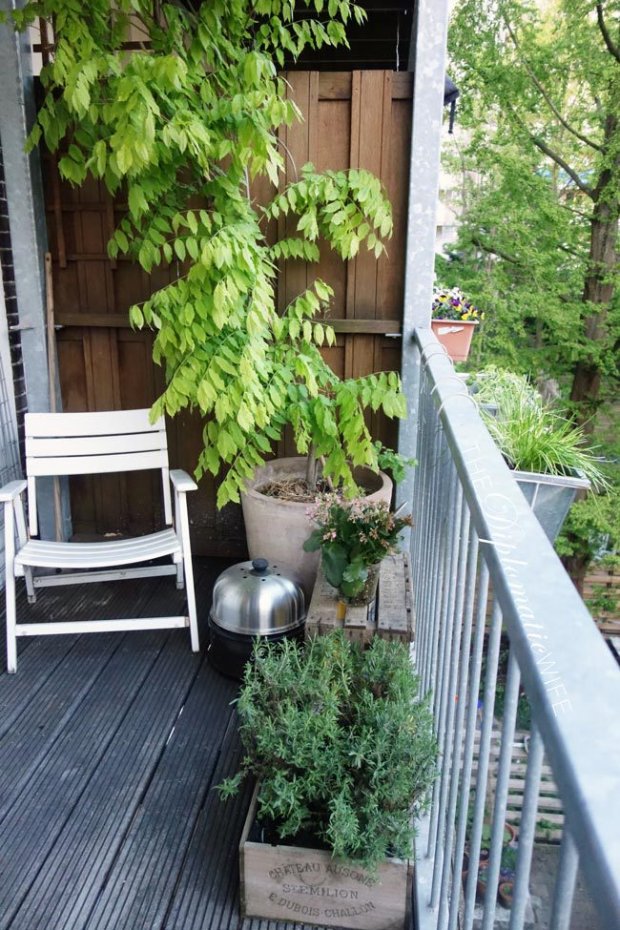 Bread bakers since 1910, they sure know what they are doing at Simon Meijssen's. We are so lucky that this bakeshop was right across the hotel. I can't rave enough about this quaint little bakeshop. Everything… and I mean everything… we tried here was so good that after croissants for breakfast, we packed up 3 paper bags of sweet and savoury baked goodies for our train ride to Berlin. Good thing too, or we would have starved throughout our troublesome trip home.
Also read: 10 Amazing Bakeries Around the World Every Foodie Must Visit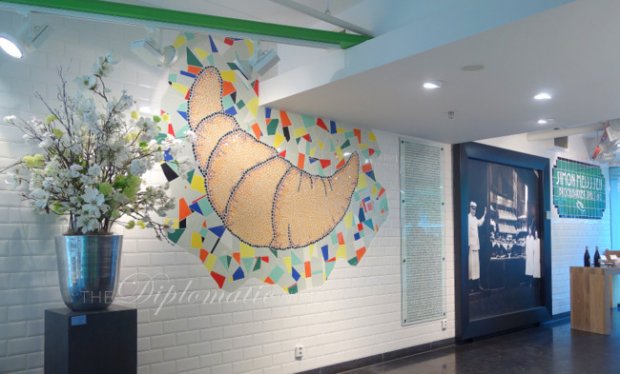 They had some foccacia for tasting with olive oil (which they also sell), which convinced me I needed a loaf to bring home. Their croissants are simply fabulous. Best ham and cheese croissants I've had to date.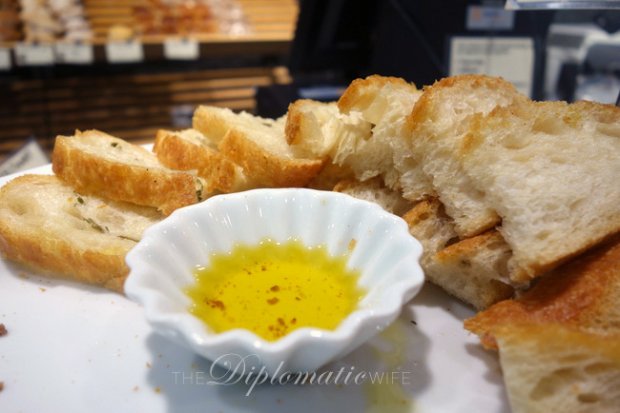 If you have a sweet tooth, you might also love the hazelnoot schuim-gabakje (roasted hazel nuts in a mocha cream cake) and the valrhona chocolate explosie. How can you go wrong with any dessert made with valrhona?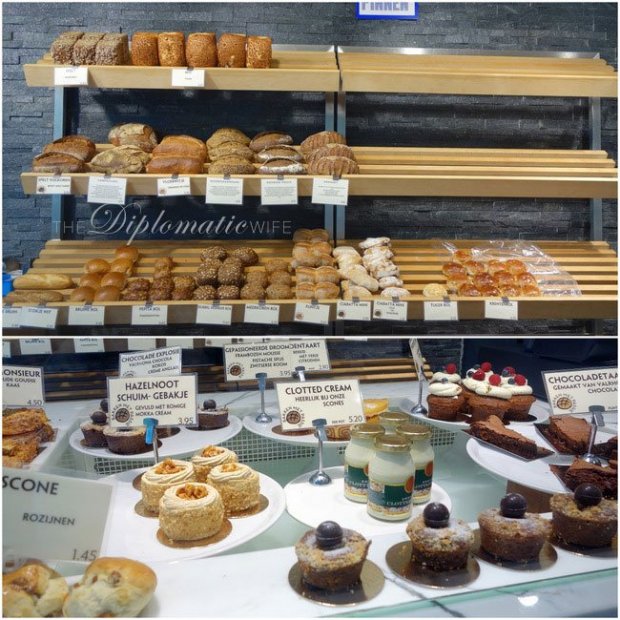 Do read my post on Amsterdam Transport, Tickets and Hotel.
Other useful links:
Currystrumpet.com – Life in Amsterdam through the eyes of my friend Deepa
Amsterdam Tourist Information – Travel guide to Amsterdam features information on hotels, apartments, sights and entertainment in Amsterdam and all the Netherlands.
Also read: Unveiling Amsterdam: The Good, The Bad And The Ugly
So there you go! My top 10 highlights in Amsterdam! Have you ever been? I'd love to hear some of your unforgettable experiences, big or small, in the comments section below.
Contributed by The Diplomatic Wife.