Amsterdam may be known as the Venice of the North or the City of Bikes, but there's none quite like its museums. Boasting over 400 museums ranging from works by revolutionary artists like Van Gogh and Rembrandt to historical Jewish icon Anne Frank, this place is not short on history and culture.
For science buffs, you get your share of the cake too. Being the birthplace of microbiology, Amsterdam presents the world's only microbe museum and exhibits the largest number of human mutations in the Vrolik Museum.
With so much to see but so little time, we've compiled the top 10 museums you must visit when in Amsterdam.
1. Rijksmuseum
For a crash course on this city, head over to Rijksmuseum. Also known as the state museum, Rijksmuseum houses Amsterdam's widest collection of art and artefacts showcasing its history and heritage.
Featuring a stunning 80 galleries with 8,000 displays, you can expect to view masterpieces by some of the greatest Dutch Masters of the 17th Century.  Immerse yourself in the likes of Frans Hal, Jan Steen and even Rembrandt. For art aficionados, you're in luck! Come face to face with Golden Age jewels like Vermeer's Kitchen Maid and Rembrandt's famous Night Watch when you're here.
Address: Museumstraat 1, 1071 XX Amsterdam, Netherlands
Opening Times: Daily: 0900-1700
2. Van Gogh Museum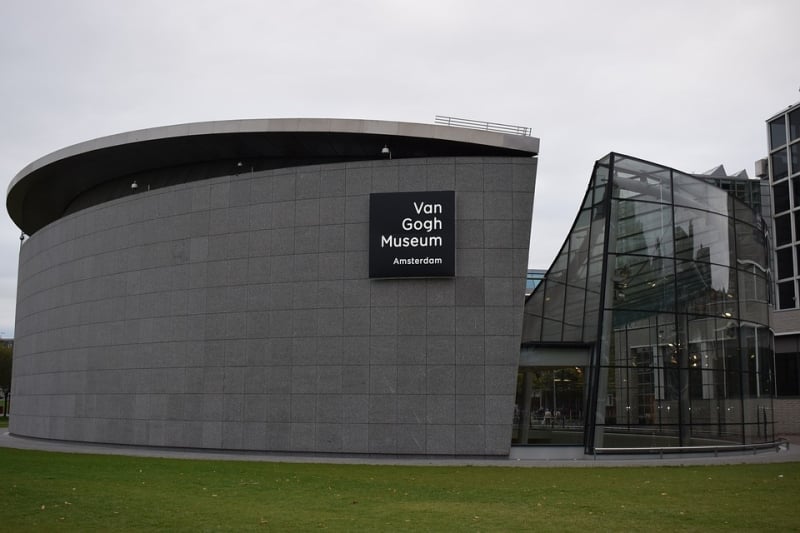 Located a stone's throw away from Rijksmuseum lies the world's largest collection of works by Dutch Post-Impressionist painter, Vincent Van Gogh. Get a glimpse into the life of the 'mad' artist who influenced generations of artists that followed.
Aside from appreciating the whopping 900 paintings that Van Gogh completed, become personally acquainted with the man by learning his life story and even peeping into his private correspondence with his loved ones. Oh, and did we mention, Van Gogh's phenomenal Sunflowers and The Potato Eaters are also displayed here?
Address: Museumplein 6, 1071 DJ Amsterdam, Netherlands
Opening Times: Mon-Thurs, Sun: 0900-1900; Fri-Sat: 0900-2100
3. Anne Frank House
Witness the pages of Anne's diary come to life when you visit her actual hideaway in Anne Frank House. Be amongst her belongings like her celebrated diary, and of course, the Secret Annexe where she spent the last days of her life as a Jewish refugee before she was betrayed and sent to the concentration camp.
For those who are clueless about Anne Frank but are nonetheless interested, a free audio guide will be provided upon admission. Fret not if Dutch is not your strong suit, because the audio guide comes in nine different languages to help anyone and everyone fully enjoy the experience.
If you wish for a more thorough introduction, the museum also offers a 30-minute introductory session on the life of Anne Frank during the Second World War. However, a word of advice: pre-book your tickets as they sell like hotcakes!
Address: Prinsengracht 263-267, 1016 GV Amsterdam, Netherlands
Opening Times:
(April-Oct) Daily: 0900-2200
(Nov-March) Mon-Fri and Sun: 0900-1900; Sat: 0900-2100
4. Rembrandt House Museum
For ardent fans of Rembrandt, visit the Rembrandt House Museum where the legend himself lived and worked from 1639 to 1658. Step into his bedroom or roam around his garden while you're here.
Follow his thought processes in various demonstrations by Rembrandt experts. Learn about how he approached his work or how he prepared his colours and canvasses. Whether it's the study of light and shadows, or Impressionist art techniques, the museum staff will satisfy all your burning questions. Aside from the knowledgeable and helpful staff members, there is also a free audio guide to carry you through.
Address: Jodenbreestraat 4, 1011 NK, Amsterdam, Netherlands
Opening Times: Daily: 1000-1800
5. Stedelijk Museum
For fans of modern and contemporary art and design, Stedelijk Museum is your dream come true. Journey down the evolution of art over the last 150 years with icons such as Cézanne, Mondrian, Picasso and Warhol.
Sail through the numerous galleries teeming with paintings, sculptures, film and video amongst many others. Whatever the medium, this museum houses it all. In Stedelijk, even the building itself is an attraction. For naysayers, modern art will continue to have no meaning for you till you visit this place.
Address: Museumplein 10, 1071 DJ Amsterdam, Netherlands
Opening Times: Mon-Thurs, Sat-Sun: 1000-1800; Fri: 1000-2200
6. Heineken Experience
While others may love Amsterdam for its unique coffee shops and lively red light district, lager enthusiasts would make a beeline for a taste of the Heineken Experience. Previously Heineken's first built brewery in Amsterdam's city centre, it is now an attraction documenting the heritage of the world's favourite beer.
Visitors will embark on a 1.5 hours self-guided tour and finish off with two glasses of chilled beer topped with a hefty head of foam. For visitors who wish for a personal touch, opt for the VIP tour at €55 (~S$88) per pax where you'll sample a variety of premium beers. The best part? You'll also have your own personalised Heineken bottle!
If you're worried about bringing children along, here's some good news: children may enter but they must be accompanied by adults. However, instead of alcoholic beverages, they'll be served either soft drinks or water. The Heineken Experience is an event for all ages!
Address: Stadhouderskade 78, 1072 AE Amsterdam, Netherlands
Opening Times: Mon-Thurs: 1030-1930; Fri-Sun: 1030-2100
7. Cheese Museum
Far from just a cheese tasting session, this museum-cum-shop has plenty to offer. Dress up like Dutch cheese farmers from the past and learn about the history of cheese making in Amsterdam, or witness the world's most expensive cheese slicer. On top of that, sample Amsterdam's best cheese — at no cost! Cheezus, now that's a steal!
Address: Prinsensgracht 112, 1015 EA Amsterdam, Netherlands
Opening Times: Summer: 0900-2200; Winter: 0900-2000
8. NEMO Science Center
Having almost nothing to do with the clownfish except in name, the NEMO Science Center is the largest science museum in the Netherlands. Boasting five floors of hands-on activities, films, installations and demonstrations, this is a place where learning is fun no matter your age.
You'll be greeted by various science-related subjects such as Smart Technology and Water World that are separated into galleries. These exhibitions are interactive, and a large part of it consists of 3D reconstructions and models. Whether you're blowing giant soap bubbles or carrying out experiments in the NEMO Laboratory, there's always something in store for everyone.
For a short hiatus, the roof terrace is a great place to go. Sip on a drink or grab a bite at the cafe while enjoying fantastic views of Amsterdam from your seats. When you're done, you can continue the Science expedition at Energetica, the open-air exhibition located on the roof.
Address: Oosterdok 2, 1011 VX, Amsterdam, Netherlands
Opening Times:
(12 Feb-9 Sept) Daily: 1000-1730
(10 Sept-21 Dec) Tues-Sun: 1000-1730
9. Micropia
Step into the only museum of its kind — Micropia. Entirely dedicated to the study of microbes or microorganisms, none of the specimens in its exhibits are bigger than an ant or visible to the naked eye. For Science nerds, this will become familiar domain very soon.
Get interactive with quirky exhibits like the kiss-o-meter which demonstrates how much bacteria is exchanged during a kiss and the benefits of it, or the microbe body scanner that tells you how much and what type of microorganisms are currently residing in the different parts of your body.
Here at Micropia, microbes are objects of fascination rather than some harmful contagion associated with illness and disease.
Address: Artisplein Plantage Kerklaan 38-40, 1018 CZ Amsterdam, Netherlands
Opening Times: Mon-Wed, Sun: 0900-1800; Thurs-Sat: 0900-2000
10. Vrolik Museum
Certainly one of Amsterdam's unique charms, the Vrolik Museum is definitely worth visiting if you're into medical abnormalities. While it's fascinating, to say the least, this place is not for the faint-hearted. Pregnant women and children are also advised against going.
What started out as a private collection of embryos and anatomical mutations by one of Holland's most notable scientists, Gerardus Vrolik, grew to become a safe hold for deviant specimens which now includes bone pathology. It's even safe to say that the museum houses the greatest number of human mutations in the world.
Located snugly in Athenaeum Illustre University, find yourself surrounded by cyclopean babies, siamese twins and rows of skeletons amongst other mutations. Wicked!  For those who would like the full experience, the Department of Anatomy & Embryology holds guided tours for groups of up to 15 people. At present, the museum is a fundamental pillar for molecular research as well.
Address: Meibergdreef 15, 1105 AZ Amsterdam, Netherlands
Opening Times: Mon-Fri: 1000-1700
No trip to Amsterdam is complete without visiting any of these museums. Whether it be art, history or science, Amsterdam is fertile ground for inquisitive minds to sprout and germinate. For food gourmets, Amsterdam assures you a belly good time as well.