At some point in our lives, we've all found ourselves stranded at the airport with long stretches of downtime. Most of us turn to our devices for comfort and entertainment. But why watch movies when you'll probably do the same thing on the plane? 
If you're travelling with friends, you can learn a little more about each other right before your epic trip. Maybe even bond with each other. Here are some fun and interactive airport games to keep you and your friends occupied before a flight! 
Also read: 15 Phone Apps You Need to Plan Your Next Trip
1. Make up funny stories about strangers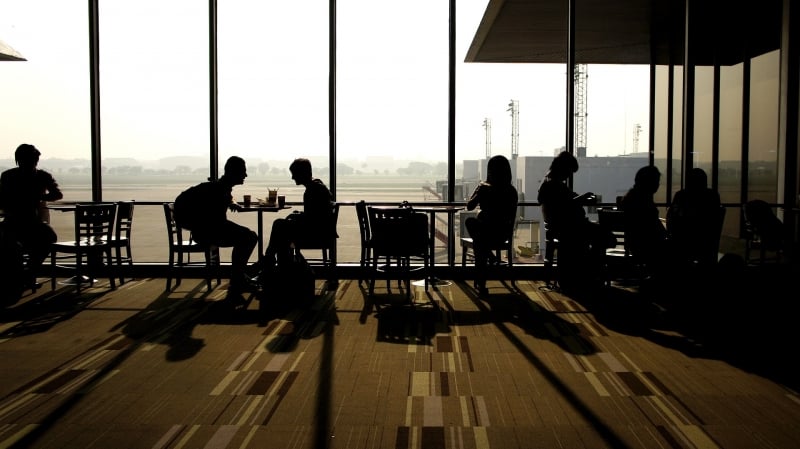 Whenever we're bored at the airport, my mother and I like to invent humorous stories about the strangers we see. That chic woman in shades sipping her coffee? Maybe she's about to meet her lover on a romantic getaway to Phuket. That man with the baseball cap and hoodie? Maybe he's on the run from the authorities, looking anxiously over his shoulder to make sure no one knows how much money's in his backpack! 
Let's just say that people-watching can be fun, especially when you let your imagination run wild. You can dub the conversations of strangers with your own dialogue; even spin a dramatic backstory or two. Just make sure that it doesn't turn mean-spirited and that nobody else overhears your budding soap opera ideas. That could get awkward. 
2. Ask your friends 21 Questions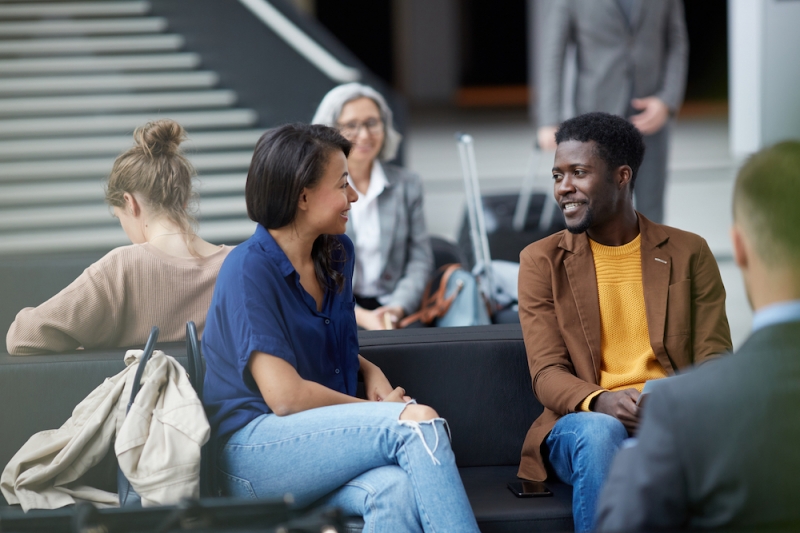 Few things bring people closer than games that involve truth-spilling, and this goes for the long waiting periods at the airport, too. Asking random questions — nothing too invasive, of course — is a chill and super casual way to learn more about your travel buddies. It helps you discover things about each other that you might not have known before. 
Here are a few rapid-fire questions to start with: If you could travel to one country in the world, where would you go? Are you a mountain or beach person? What's one thing that you wish more people knew about you? 
3. Have a good laugh with Heads Up
Essentially charades for the digital era, Heads Up! (iOS and Android) is a mobile app that's a huge hit at parties. Players can choose from categories such as famous celebrities, movies, songs, and accents. After choosing a category, one person holds to their forehead a phone that flashes a word or phrase. Meanwhile, the rest of the group tries to describe what's on the screen or do their best impressions until the guesser says the correct answer — or not. Either way, it's a great ice breaker! 
That said, people can get carried away while playing these kinds of interactive games at the airport. Try to be mindful of the other people around you. And remember your boarding time! 
Also read: 10 Entertaining Apps to Kill Time for Your Next Long-Haul Flight 
4. Play "I Spy" or "Punch Buggy"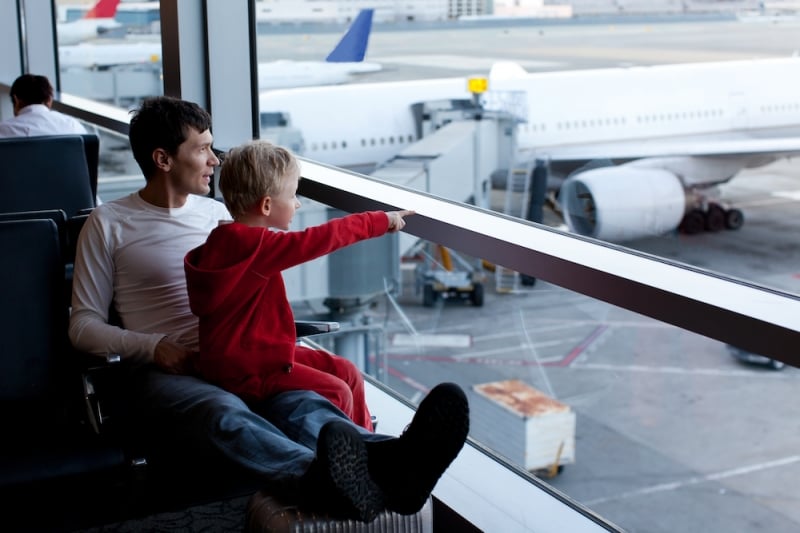 If you're travelling with young children, you don't want them running all over the place at the airport and finding new ways to get injured. "I Spy" is one of those low-maintenance games that you can play at the airport because it can be concentrated in a small area. This way, you keep your children close at hand while holding their attention, as they desperately search for clues all around them.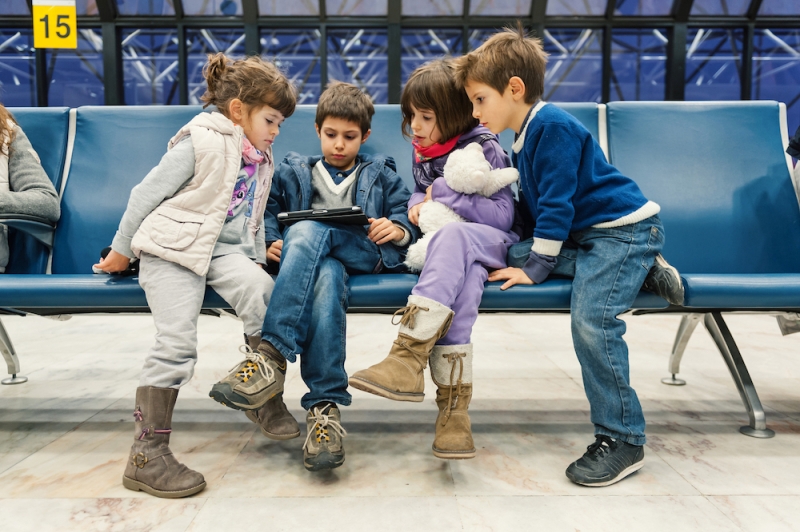 It's true that most kids nowadays prefer to entertain themselves with their devices, but kicking it back with a classic "I spy with my little eye…" never gets old. 
On the other hand, the adult version of this game is to pick something not totally out of the blue — like people carrying Hydro Flasks or wearing fedoras — and punch your friends on the shoulder every time you see one! 
Also read: 8 Struggles Parents Have to Deal With When Travelling With Children
5. Test your vocabulary with Word Blitz
I got sucked into this game after I lost to the person who invited me. Fingers flying across the screen, yelling out curses as the clock started ticking, I realised I was addicted. 
Ditch the crossword puzzles for Word Blitz on your mobile! It's a fast-paced word puzzle that lets you challenge your friends to see how your wordsmith abilities compare against theirs. In short, it's like a more intense version of Scrabble. 
To play, arrange the letter blocks to complete as many words as you can. Whoever scores the most points when the timer runs out, wins. Be warned, though: It's a game you won't be able to put down!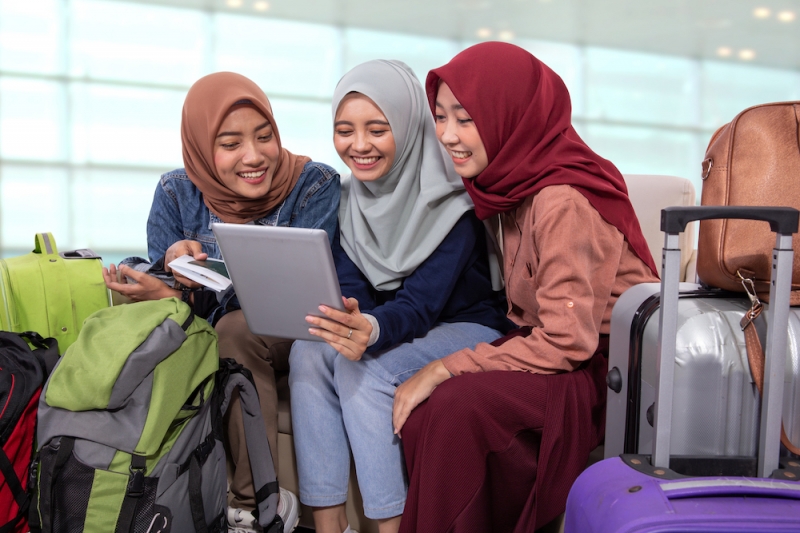 As the minutes tick by, these non-disruptive airport games will keep you thoroughly entertained. Before you know it, the wait will be over — and it will be time for you and your friends to fly again!