Contributed by Sammieng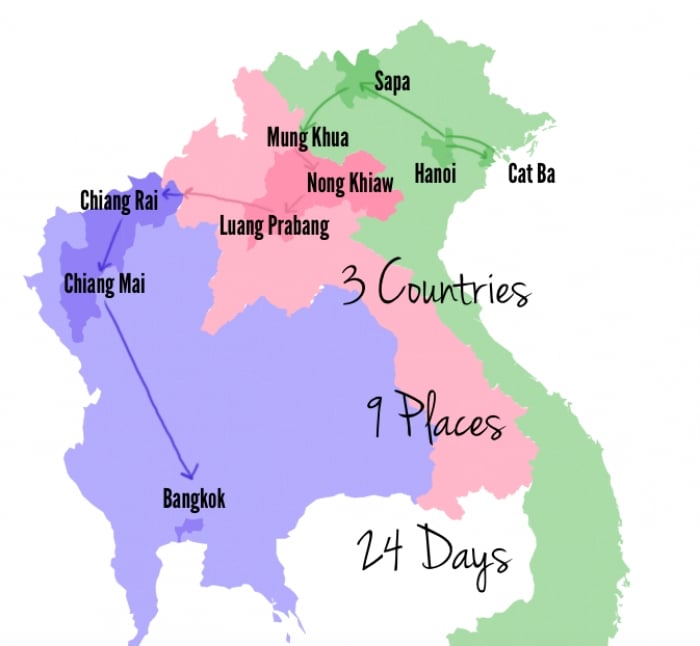 Backpacking in SEA, along what is known as the Banana Pancake trail, is easier than what one thinks.
We decided to start in Hanoi and end in Bangkok. (Reason: Most shopping will be done in Thailand.)
I'll be covering where we went, giving any potential backpacker out there an overview of overland transport, border crossings, accommodation and what we did in each of the nine places we went to, which included Hanoi, Cat Ba Island, Sapa, Muang Khua, Nong Khiaw, Luang Prabang, Chiang Rai, Chiang Mai and Bangkok (in this order).
If you're lazy to read through my blabbering, look for the bolded texts and the transport guide at the end of the post.
The gorgeous photos were shot by Dawn, who was holding on to her DSLR even while climbing limestone karsts. The bad pictures were taken by me, who survived on an iPhone which had half the LCD spoilt the entire trip.
Vietnam
1. Hanoi
For Hanoi, think Old Quarter and Hoan Kiem Lake. A hostel/guesthouse around these areas will serve you well. Most places of attractions can be reached by foot.
The main highlight of Hanoi for us was the pedestrianisation of the area around the lake from Fridays to Saturdays. No more crazy traffic! There were many street performers and community activities; the locals were engaged in games like dog and bone and tug of war on the streets! The lake area was also beautifully lit up.
The cafe culture in Hanoi is also not to be missed. Our favourite was The Notes Cafe.
2. Cat Ba Island
Instead of doing a day tour to Halong Bay, we decided to stay a few days on an island which also features similar limestone karst scenery. To get to Cat Ba Island, we spent VND 170,000 for a bus by Hoang Long Bus Company. The trip took around four hours, with a bus to Haiphong, then boat transfer to the island before another bus to Cat Ba Town from the port.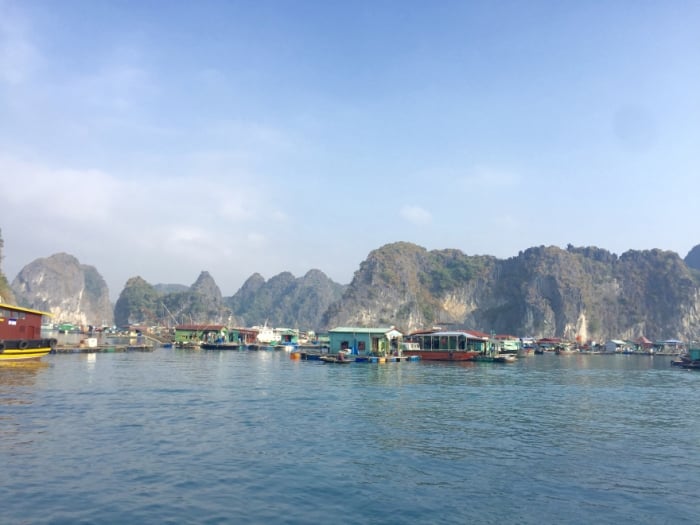 It's hard to get lost on the island. Cat Ba Town (the touristy part, not where the locals live) is mainly a long stretch of restaurants, shops and accommodation lining the beach.
Our favourite cafe (which we went to everyday, sometimes more than once) is the charming Like Coffee which is run by a kind owner. Food-wise, Cat Ba Commons serves pretty dope fried rice.
Boat tours to see the bay can be found all over the island, but they are mostly the same. We booked our tour with our guesthouse Cat Ba Hostel for SG$17, which is quite a steal. The tour included a hike on Monkey Island (no safety precautions, attempt at your own risk), one-hour of kayaking, snorkelling and a very delightful lunch. The scenery itself would have been worth the money!
We also did a tour to Cat Ba National Park and Hospital Cave with the guesthouse (though we would recommend you hire a motorbike driver to get you to those places instead to save money; we had to catch a bus so didn't want to risk it). The former is a challenging but short one-hour hike to the peak with rewarding views. The latter is a small but interesting cave which was used as a hospital during the Vietnam war. We had a guide who memorised his lines very, very well.
We would also recommend Cat Ba Hostel for its cheap (SG$7.50), tidy, spacious double room and friendly owner.
3. Sapa
Unfortunately, we found Sapa very touristy. The constant clamouring of the hill tribe villagers that starts with the same phrase "Where you from?" made for quite an uncomfortable stay. Nonetheless, the views were not too bad, from Sapa Lake to the waterfalls at Cat Cat Island and of course, the famous rice fields.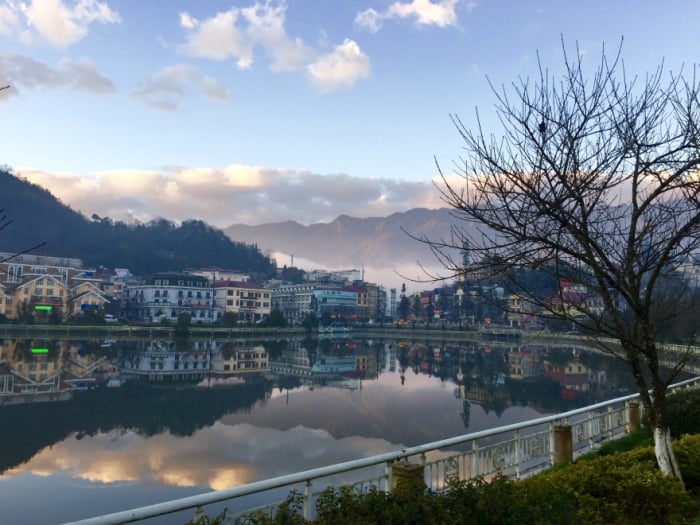 To get to Sapa, we booked a VND 380,000 trip from Cat Ba, which included transport to Hanoi before a sleeper bus to Sapa, which was very comfortable despite the weird neon lights.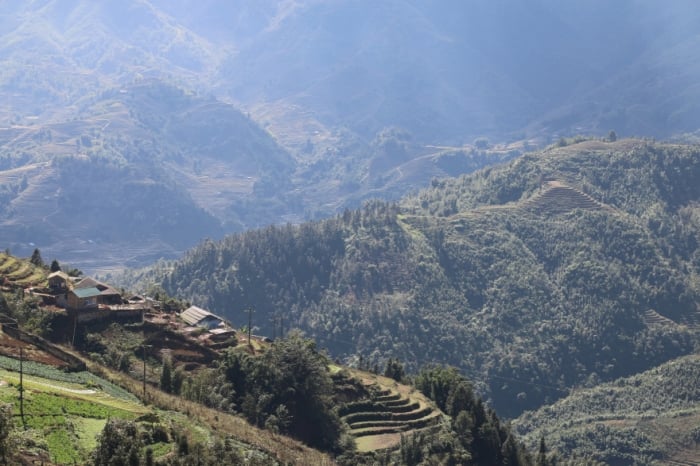 Sapa town is very small and very walkable. Use Sapa Lake and the Church as landmarks to orientate yourself; it is near impossible to get lost.
The hike to Cat Cat Village (VND 50,000 entrance fee) is easy and takes less than four hours (expect some incline, though). The village felt rather artificial. Nonetheless, there were some nice views along the way. We booked a Bac Ha market tour for US$12, which also brought us to Lao Cai and Ban Pho Village, both close to the China border.
We booked a homestay in Hau Thao Village via Airbnb called Zizi Homestay. The village is very small and simple, just what we liked. We also met fellow travellers there. Though it was raining, we managed to do a small hike to the top of the hill, and a short one to Ta Van village on the other side of the valley.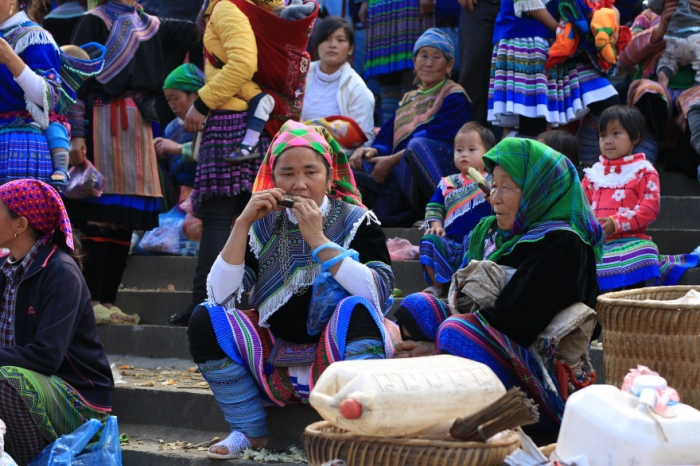 We stayed at Sapa Stunning View 2 Hotel (SG$20/night), which was basically a 3-star hotel with warm showers, nice beds and a good view of the mountains.
Laos
4. Muang Khua
Muang Khua is a village with practically just two main streets. It is really just a transit town for one to ease into the laid back vibes of Laos and take the five-hour river boat ride down the Nam Ou, which was what we did.
We asked a couple of tour agencies to get a sense of the price for the bus to Muang Khua and the cheapest we found was VND 400,000. This bus ride was not comfortable. It was overbooked and packed with locals. The bus driver even blasted music, so get ready for a chaotic ride.
At Muang Khua, we recommend Saibaidee Bar, a delightful cafe run by a French-Lao couple. Try their grilled pork and eggplant with sticky rice, but stay away from their fried rice. It is one of our favourite cafes for its laid-back atmosphere. We even met the boatmen at the bar, who was very interested in Singapore. Say hello to him if you meet him there too!
Saifon Restaurant, which was recommended by Lonely Planet, seemed to only serve rich tourists. Twice, they were reluctant to take our orders!
We stayed at Nam Ou River Guesthouse for 50,000 kip. It was basic and quite dodgy, but it did have comfortable beds. We heard that other guesthouses had better facilities including WiFi, so ask around.
5. Nong Khiaw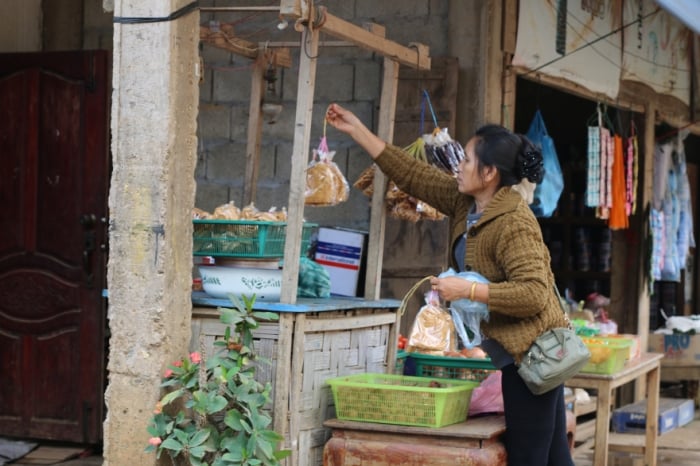 Muang Khua is so tiny that you will end up meeting the other tourists and backpackers who will join you for the five-hour boat ride, so ask around and chances are, there will be enough of you for the boat ride. Turn up before 9am and get a ticket for 135,000 kip, and wait around for another hour before the boat leaves.
The five hour will make your butt hurt, but it is a great change of pace from the bus rides and human jams. The boat ride was on a typical Laos long-tail boat, which was not very comfortable. The view got better towards the end, which was when we saw large limestone karsts.
If you do not make this boat trip, we would still recommend staying at Nong Khiaw (instead of taking the vastly overpriced bus from Sapa to Luang Prabang). Ask a local where to catch the bus to Nong Khiaw.
Nong Khiaw is similar to Cat Ba. Quite tourist-centered, and dotted with local cafes and guesthouses. It is small enough to walk around. There are two main parts to the town connected by a beautiful bridge with wonderful views of the Nam Ou.
We recommend you check out the local morning market west of the river, which is near Alex 2 Restaurant, a nicely decorated cafe. There is a very tiny cave 3-4 kilometres away, east of the river, which you can either cycle or walk to. Go into the cave via a large staircase and avoid the other where you will likely to be scammed by two young girls who will ask for up to 40,000 kip. (Yes, my friend got scammed.)
Walking or cycling will take you through several villages as well. Expect some curious stares because the locals aren't that used to tourists yet!
We tried several restaurants/cafes, and we would recommend Alex Restaurant, with its homey vibes and mums-cooking-like dishes. We also enjoyed our food at VongMany Restaurant. We would skip CT Restaurant which serves overpriced, meh food. The backpackers' hub would be Delilahs, but we didn't enjoy it too much either.
The best WiFi spot was Riverside Lodge. It may look posh, but the food is only slightly more pricey. Expect great service, great views of the river and the best possible WiFi in Nong Khiaw. The security guard is very, very friendly – say hi to him too!
6. Luang Prabang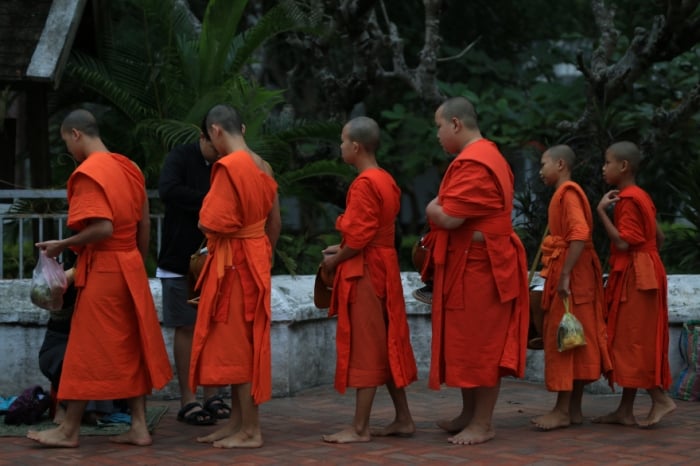 Luang Prabang is quite a classy tourist destination. As comfortable as any city, but as laid back as Laos in general – perfect for a holiday!
To get to Luang Prabang, walk to the bus station west of the river (past the morning market) and get a ticket for 37,000–55, 000 kip (depending on comfort and timing). The buses run in the morning and afternoon.
When you get to Luang Prabang after 3-4 hours in an overpacked minivan, get your ticket to your next destination, Huay Xai, immediately (it is written as Bokeo on the board). You should arrive at the Northern Bus Terminal. We were disoriented when we arrived – it was in the middle of the day, super hot, super dusty – and we ended up paying 40,000 kip more for the ticket from a company in the city. Arrange your own songthaew (minivan) to the bus terminal to save the money.
There are so many cafes in Luang Prabang. For good WiFi, try Indigo Cafe, which has pricey food but serves some affordable pastries. Croissant d'or was not too bad either. My friend liked Coconut Luang Prabang for its drinks and WiFi. We enjoyed Poko Loco for its unique garden setting, but it is definitely quite pricey too.
We didn't try the night market buffet as the hygiene is a little questionable. We did try the crepes stand, and they weren't great but they were just fun to try. A must-eat would be the coconut pancakes at the night market – so delicious!
The main attraction of Luang Prabang is definitely the night market. The goods are unique compared to those in Thailand, and the sellers are so chill it's not stressful to look around at all.
People usually visit Kuang Si Falls and Pak Ou Caves, but we were too tired and prudent; the transportation would cost up to 50,000 kip. Instead, I crossed the Bamboo Bridge (5,000 kip for a ticket) to the quieter side of Luang Prabang and visited some wats. We also observed the morning alms ceremony, which was a nice quiet affair although we did see some tourists who posed for photos as they participated in the ceremony, which I didn't really agree with. You can also climb Mt Phousi very easily, but we are not sure if the view will be very rewarding.
We stayed at Heritage Guesthouse (200,000 kip/day), which was a little old. Accommodation options seem to be lacking in Luang Prabang, and prices were very high for backpackers, so that was the best we could find.
Thailand
7. Chiang Rai
Chiang Rai is another charming little town with nice cafes and local street life.
Bus to Chiang Khong for the border crossing is another half-nightmare. The bus is again overpacked, with stools lining middle part of the bus. Music was again blasting. The roads were not too paved either. You will be dropped at a bus terminal. Try to make some friends, which will be helpful for arranging a tuk-tuk to the border. Opt for the later, pricier 7pm bus. We arrived too early and froze in the cold for one plus hour before the border opens.
The border opens at 7am, but they will charge you a ridiculous overtime fee, so wait till 8am! From there, you can take a bus (THB 24) across the border, get your passport chopped and take a bus (THB 40) into Chiang Khong. From Chiang Khong, we just walked aimlessly till we found a nice restaurant run by a super nice lady, who helped us flag down the bus to Chiang Rai, which costs us just THB 35.
Chiang Rai doesn't have any high rise buildings, but you start to see chains like Watsons and The Pizza Company. We stayed at the marvellous Orchid Guesthouse ($20/night), with aircon, strong WiFi and a wonderful bathroom.
The night bazaar is worth a visit, though if you walk further away from the main tourist street, you will find the local night market, which has more food. We found the choices lesser than that in Chiang Mai, but the prices were cheaper too.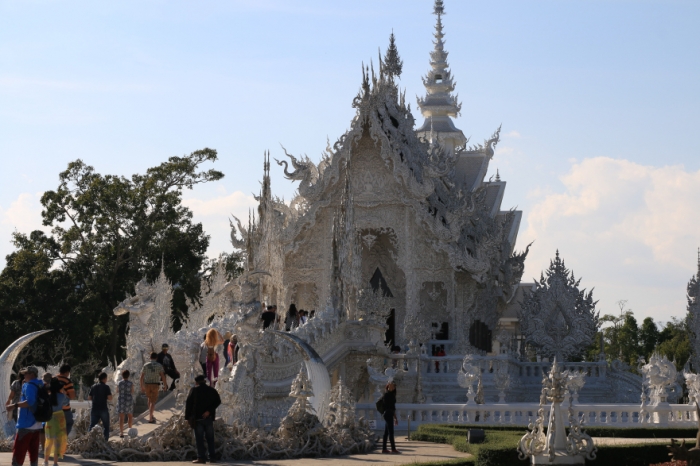 At Chiang Rai, we cycled to the White Temple, which took about three hours one way. The temple is impressive but doesn't take much time to cover. Spend some time in the artist's gallery huddled near the temple, though; it is worth a tour.
8. Chiang Mai
Chiang Mai is like an upsized Chiang Rai. It's growing as a tourist destination, but you wouldn't find that many international chains away from the Chiang Mai night market.
We took a four-hour bus ride from the bus terminal for THB 429 baht. Chiang Mai is definitely much bigger than Chiang Rai, but still walkable. Plus, it is easy to navigate as well, with the city gate boxing up the main tourist area. I spent most of my time just walking and exploring, and even wandered to the 'wet market' where the locals go to.
I did a simple walk from the Phrae Gate to Wat Chedi Luang, passing by the Architecture Museum before reaching Wat Suan Dok for really delicious food at Pun Pun Organic. All you need to do it walk along the main Ramchedron Street. I also passed by The Workshop, which is a beautiful cafe and cat house. All drinks are THB 65 and you get to play with the cats!
The wats are usually quite packed with tourists, though, so I would recommend getting templed out in Laos instead.
My friend did a cafe hopping tour and loved Graph Table. We also had good food at Diamond Cafe, though it was quite packed. Our favourites for food will, however, be the Salad Concept, with Cedele-like food but supersized and much cheaper. THB 69 for a giant salad with five toppings, and only THB 6 per extra topping. They also have plugs and WiFi. Win.
The Chiang Mai night market was also thoroughly fun to explore. The goods are no longer too touristy which is good, in a way. We bought some fruit soap, which smells amazing and looks adorable. We recommend trying the Bingsu near Hard Rock cafe.
There is also PasarBella-like food market at the night market area, with food stalls and hipster seating, and a live band. The food we tried didn't impress us, but the grilled seafood looked enticing.
Do also check out the Warorod Market in the morning to pick up some food souvenirs. Very busy with some local vibes! I managed to snag some cheap (THB 70) hair dye here, which actually worked very well.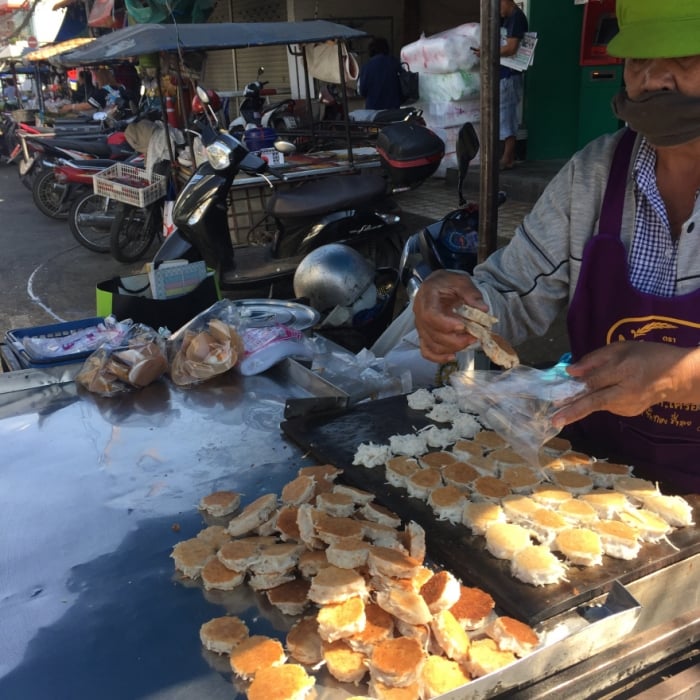 We stayed at Chiang Mai Inn Guesthouse (THB 250 a night for a double room), which was honestly quite old and unimpressive. But the staff is nice and responsible, and the location was right outside the Phrae Gate, which is quiet yet near the major attractions.
9. Bangkok
We didn't spend much time in Bangkok. Again, we booked our tickets (THB 488) when we arrived at the bus terminal. It took around 10 hours because of a massive jam in Bangkok. From there, we took the city bus to Mo Chit BTS to avoid the expensive tuk-tuk and taxis (follow the signs, or see where others are walking). Following that, we went to Central World Mall via BTS.
We used the Aero-Link to get to the airport, where we slept overnight before catching our flight back to Singapore.
So yes, that's it! If you are interested to find out more about the transport details, I've done a transport + border crossing guide in a google docs file accessible by this link.
Transport Guide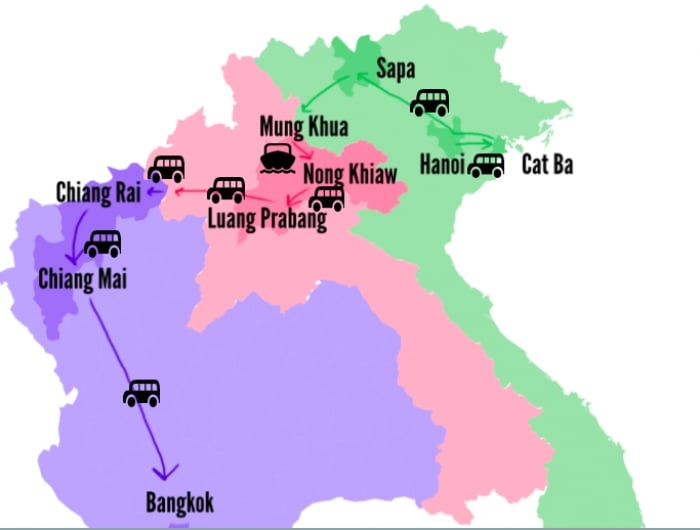 Other remarks:
Take note that bus stations are usually not located in the city centre. This is why I recommend buying tickets for the next destination once you reach a particular place. This also means you may need to get a tuk-tuk into town or walk for some distances to get to the city centre.
Safety: We didn't worry too much about human trafficking – though I heard stories of that for the Cambodia-Vietnam Border
The table above doesn't include crossing borders
Factor in the timings too: buses in Thailand and Vietnam tend to have more timings compared to buses in Laos. The buses we took in Laos were also public buses, compared to the ones run by tour companies in Thailand and Vietnam.