Planning your next getaway? Don't be daunted by the process, let technology help you! A booming travel industry has led to a multitude of travel sites popping up, most of which have phone apps so you can book everything from plane tickets to accommodation and even source for interesting sights using your smartphone!
We've picked out 16 of the best apps for you to use to book your next trip below:
Planning Your Itinerary
1. Google Trips
Can't remember all your travel details? Fear not, as Google Trips organises all the essential information in one convenient itinerary. Your travel reservations such as your flights and accommodation are automatically gathered from your Gmail and organised in order, while Google Trips suggests day trips, nearby attractions, and things to do based on them.
No mobile data? No problem, as the app makes your itinerary available offline so you can always access it.
2. TripIt
Similar to Google Trips, simply forward your flight, hotel, car rental and other related travel confirmation emails to TripIt and it'll create a master itinerary for you to access at any time throughout the trip. You can also share your whole itinerary or specific details such as your flight status to friends and family, so you don't have to spend time copying and pasting the details.
3. Citymapper
Available in 39 urban areas around the world and constantly adding more, Citymapper helps you find your way around a big city easily by providing public transport options and even walking directions. It will also give you the map of the route, the estimated time taken, and the price of each option.
For certain cities, it can even give you live departure times and alerts on disruptions, as well as step-by-step directions in real time. Exploring a city has never been easier!
4. Ready To Travel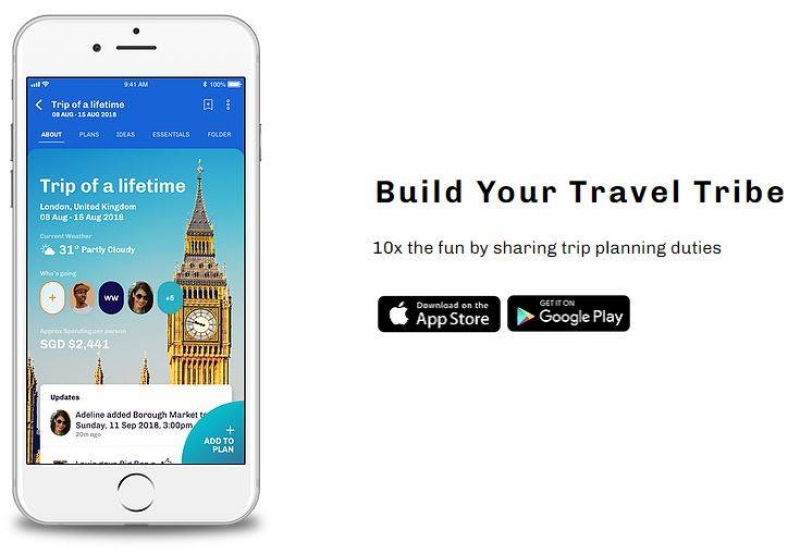 How would you like a collaborative itinerary planner that is connected to all the travel essentials you'll ever need? Now you can have it with just a touch of a button! Ready To Travel is the one handy app that has all the sources you need – from in-app travel inspirations to travel insurance. Not only that, this app is also the winner of 'Best Travel App' in the TripZilla Excellence Awards 2019!
5. Google Maps
Of course, for finding your way around any city, there's no better app than Google Maps. Simply enter any two locations, and the app will provide you with the best route between them, along with driving, cycling, public transport and even walking options.
That's not all, though, as you can even save locations that you want to go in a handy list, and view curated lists by other travellers, along with their reviews.
6. TripAdvisor
Read what other travellers have to say about your hotel, flight, restaurant, and attraction that you just stumbled upon using the Tripadvisor app! You'll have access to millions of reviews, opinions and photos by fellow travellers so you can plan the best itinerary for yourself.
It's also a great app to search for restaurants by food type, price, and rating, as well as to discover great restaurants near you.
Booking Your Transport
7. Skyscanner
A travel fare aggregator and search engine, simply enter the two cities which you want to travel between, and Skyscanner will compare hundreds of airlines and millions of routes instantly so you can select your preferred option.
The app also helps to compare hotels and car rental prices so you can settle them all in one app. Sign up for price alerts as well, and the app will notify you whenever a price for a certain route drops!
8. GoEuro
With GoEuro, you can compare trains, buses, and flights between any two cities in Europe. Not only will the app give you the different options and sort them by their price or duration, it will also recommend certain routes that have a good balance between both. If the direct route is unavailable, it can also suggest nearby connecting airports or train routes and estimate the travel time.
9. Rome2Rio
Rome2rio functions like GoEuro, but with the added benefit of suggesting intra-city routes, as well as expanding their search to all over the world. Simply enter any two addresses, landmark, or city as your destinations and the app will display all the travel options, along with the travel time and prices. You can also search for nearby accommodation as well!
10. SeatGuru
In the midst of booking your flight and choosing your seat? Use SeatGuru to check which seats are the best in each airline, and what amenities the plane that you're taking has! With over 700 colour-coded seat maps and over 50,000 reviews from other flyers, you can just input your flight number and it will show you the seat map of the exact plane that you're flying in.
Booking Your Accommodation
11. Booking.com
Booking your accommodation doesn't get any more convenient than Booking.com! Just enter your location, how many rooms you need and how long you want to stay, and it will give you a list of options, which you can then book directly on the app.
A confirmation will be sent to you on the app, which you can then show your hotel as proof of your booking. You can even make changes to your booking directly on the app itself. Convenience at your fingertips!
12. Airbnb
For something a bit more personalised, you can use Airbnb to search for apartments, rooms, or even holiday homes for rent in the place you want to go! Many of these listings are by actual locals, and you can even interact with them to get tips on places to go while you're in town.
What's more, the city you're in may even have Airbnb Experiences, which are curated tours by locals that will bring you off the beaten path and explore the true side of the city.
Before You Go…
13. Duolingo
It's always helpful to know basic phrases in the country that you're heading to, but picking a new language can sometimes be a chore. Make life easier by downloading Duolingo so you can practice your speaking, writing and listening skills while on the go! Improve your vocabulary and grammar in other languages by answering bite-sized questions. And it's completely FREE!
14. XE Currency
Keep track of foreign exchange rates on the go by using XE Currency! With over 180+ exchange rates updated to the minute, you can even check historical charts to see how the currency rate has been trending, and create alerts so that you can be alerted if the currency you want reaches a certain rate. You won't have to keep going to your currency trader for the latest rates any longer!
15. Accuweather
Heading to a country with volatile weather? Stay updated on the latest weather conditions from wind speed to temperature using the Accuweather app! You'll receive highly accurate forecasts from up to two weeks in advance, so you'll be well prepared when packing your luggage.
You'll also receive minute-by-minute weather forecasts at the location itself, as well as storm alerts so you can make alternate plans in time. The Realfeel Temperature feature also tells you how the weather actually feels like outside, even if it looks bright and sunny.
16. Splitwise
Booked a holiday with your friends but puzzling about how to settle the finances? Use Splitwise to record who's paid for what, and the app will automatically keep track of who owes who and split the cost accordingly. You can even view your balances, track spending trends, and set up email reminders for outstanding bills. No more pondering about unsettled finances!
Thanks to these travel apps, the whole world is literally at your fingertips, waiting to be explored. Whether it's booking your flight, searching for the best accommodation, or planning a day trip, these apps have you settled.
Get down to booking your next trip using these nifty apps today!