San Francisco and Los Angeles, arguably two of the most iconic cities along the American West Coast. The former, a dreamy harbour beyond the fog-veiled Golden Gate outline. The latter, a magnificent medley of dazzling lights, cameras and superstardom action mixed with sun-kissed beaches.
Both cities are jam-packed with an array of eye-catching attractions. If you're unsure of which to pick, my recommendation is to experience both! I've done it before across the famous Pacific Coast Highway and it's, without a doubt, the best way to truly immerse in the dizzying highs of that "Californian state of mind".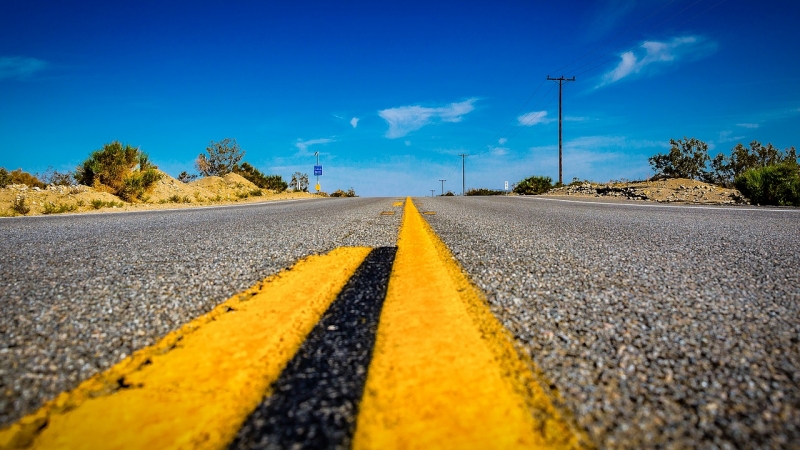 This road trip itinerary goes from San Francisco to Los Angeles, but you can really start from either direction. It's entirely up to you! Korean Air flies to either destination with only a short 1.5-hour transit in Seoul, so take your pick. I've found this transit duration to be not too short and not too long – long enough for me to stretch my legs, and short enough to ensure that I don't waste valuable travelling time. It's the best of both worlds!
So book your flights, grab your trusty GPS, rent a car and wind the windows down. With all the mind-blowing pit stops in and around both these cities, I guarantee you that a road trip from San Francisco to Los Angeles will be an epic adventure!
San Francisco Stop 1: Explore Alcatraz Island
Even before you begin exploring the city, you first have to make the day trip out to Alcatraz Island. Plonked right in the middle of the chilly San Francisco Bay, sits the derelict shell of the once infamous prison that housed America's most notorious and cold-blooded criminals.
Today, Alcatraz has been converted into a museum. Grab a headset and explore the prison's eerie halls on an immersive audio visual tour. Not only will you get to retrace the steps of the most-wanted, you'll also be treated to captivating stories of escape attempts and even see the nerve-jangling "Hole", a spooky solitary confinement cell that traps you in a vacuum of darkness. If you're lucky, you might even get to interact with former inmates! Alcatraz has become a mainstay in many San Francisco itineraries and with its illustrious history, it's easy to see why.
Address: Golden Gate National Recreation Area, San Francisco, CA 94133, USA
Opening Hours: Daily from 8:45 AM to 8:30 PM (closes at 6:15 PM on Tuesdays and Wednesdays)
San Francisco Stop 2: Maneuver through Lombard Street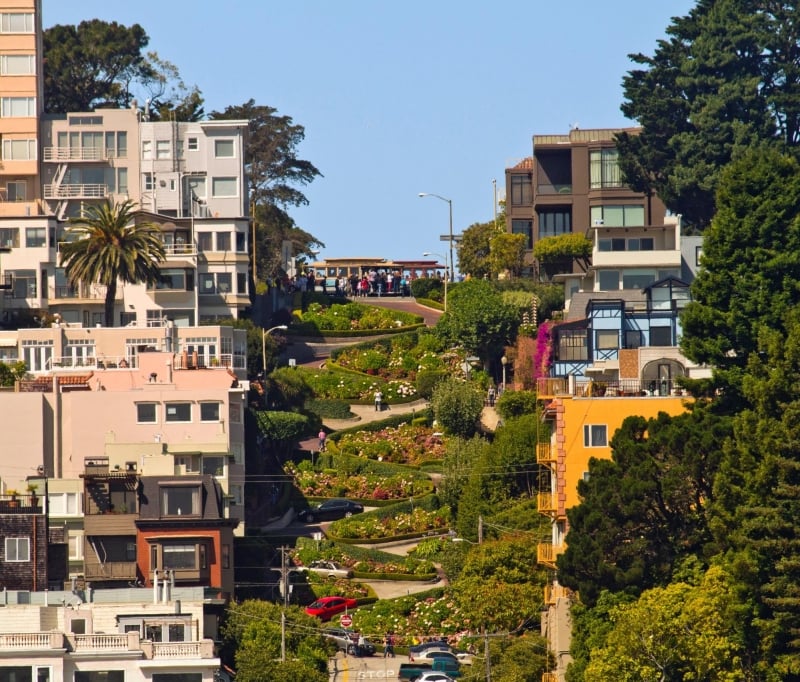 Since you've got your car, you might as well test out your driving skills along the world-famous Lombard Street, dubbed the "most crooked street in the world"! With eight extremely sharp bends to manoeuvre through, it certainly works up quite the challenge to swivel through the meandering road without scraping at the curbs. But most people flock here for the amazing photo opportunity, where the road is surrounded by Russian hill mansions and lined with pockets of perfectly manicured flowers. This unique experience represents everything that San Francisco stands for: quirky entertainment built around the city's steep natural landscape. From Lombard Street, you can easily access several other attractions like Fisherman's Wharf and Chinatown.
Address: Lombard St, San Francisco, CA 94133, USA
Opening Hours: Daily, 24/7 hrs
San Francisco Stop 3: Dig into fish & chips at Fisherman's Wharf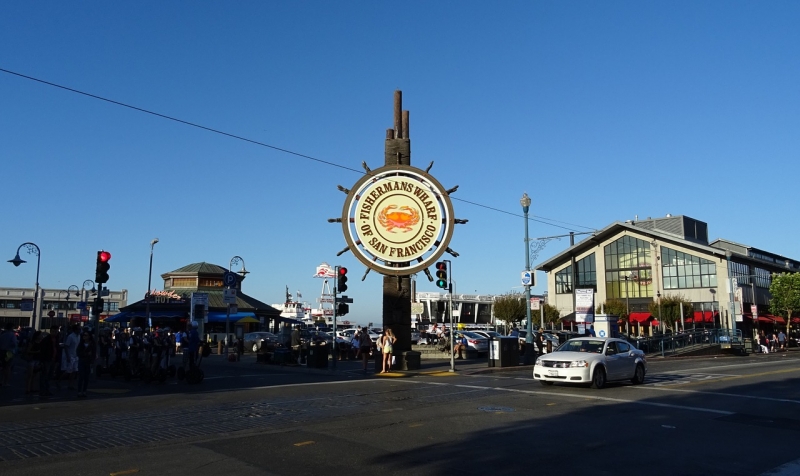 Speaking of Fisherman's Wharf, I highly recommend making this a priority if it's your first time in San Francisco. With over 130 different restaurants, shops and street stalls, Fisherman's Wharf is the main attraction for waterfront entertainment. Dig into a steaming platter of fish and chips and take an evening stroll along the wharf. You can start your expedition by getting the bulkier attractions like the San Francisco Maritime Historic Park, which also showcases an actual WW2 submarine, out of the way. But do save more time for Pier 39 for all your shopping necessities. Besides this, the seafood here is also to die for! Every restaurant serves up the freshest and heartiest catches of the day so you don't have to muddle over your dinner menus here.
Address: Jefferson Street, Between Hyde and Powell Streets, San Francisco, CA 94133
Opening Hours: Retail stores, carts, food trolleys and restaurants open from 10:00 AM to roughly 9:00 PM.
San Francisco Stop 4: Marvel at the Golden Gate Bridge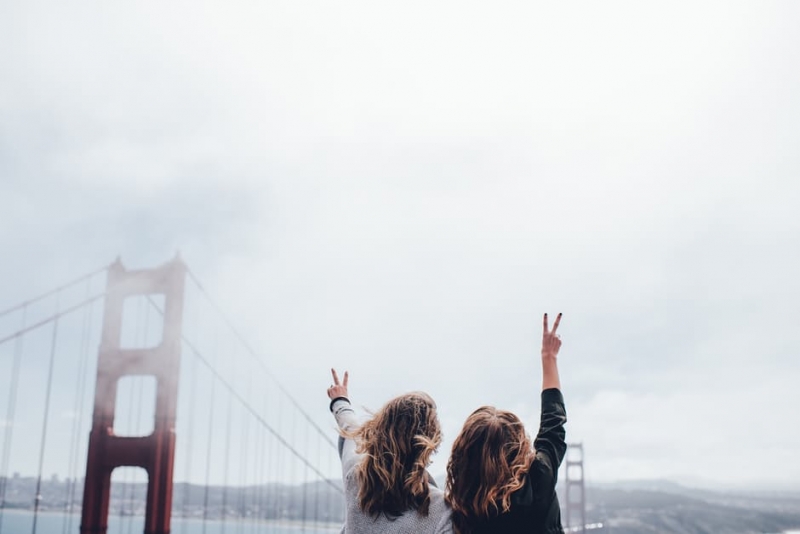 This is THE show-stopping highlight when it comes to San Francisco. You've probably seen it get smashed to smithereens by a dozen different Hollywood monsters in movies before. So there's no way you can tick San Francisco off your bucket list without see the bridge for yourself. The image above was shot from the shores of Fort Point. Getting to Fort Point requires just a short brisk walk from Fisherman's Wharf past the Marina District and into the Presidio. If you want even better angles to admire Golden Gate Bridge from, head across the bridge toward Marin County, where Battery Spencer and Hawk Hill give you immense and unrivalled views.
Address:
Fort Point: Presidio of San Francisco, Long Ave & Marine Dr, San Francisco, CA 94129, USA
Battery Spencer: Golden Gate National Recreation Area, Marin Headlands, Conzelman Rd, Sausalito, CA 94965, USA
Hawk Hill: Golden Gate National Recreation Area, Marin Headlands, Conzelman Rd, Sausalito, CA 94965, USA
Opening Hours: Fort Point, Friday – Sunday, 10:00 AM to 5:00 PM // Battery Spencer, daily 24/7 hrs // Hawk Hill, daily 24/7 hrs.
Can't wait to explore the very best of San Francisco? You'd probably want to get there as soon as possible and I don't blame you – there's just so much to see and so little time to take it all in!
Well, you can do just that when you fly to San Francisco on Korean Air; transits are almost quintessential when it comes to long flights, but with Korean Air you can save on all the downtime transiting between countries and enjoy minimum connecting flight times as short as only 1.5 hours. This way, you can seamlessly evade the tiresome hold ups and long transit waits that other airlines give you, and get to San Francisco as soon as possible!
From quirky winding streets to the colossal bridge, San Francisco is a splendid mix of cosy suburban vibes and bustling city action. It's no wonder that the cityscape enchants tourists from all across the world. Neither too busy nor too mellow, it's the perfect place to kickstart your American adventure. Just don't leave your heart in San Francisco because your road trip's only just beginning!  
Along the iconic Pacific Coast Highway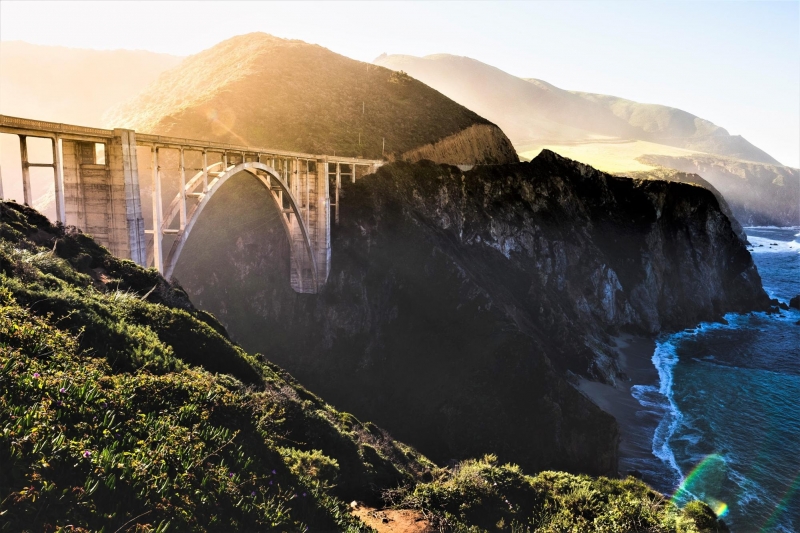 Road trips were made for bold adventurers. You could always zip through shorter alternative routes, but they're far too boring and unworthy of the drive. Instead, the iconic Pacific Coast Highway is the way to go! With the Cali sunrise shimmering in your eyes, salty sea breeze waving through your hair and beautiful view of the rugged coastal cliffs, you'll find brilliant destinations along the way to forge some of the fondest memories.
Along the way: Appreciate the sprawling marine ecosystem at Monterey Bay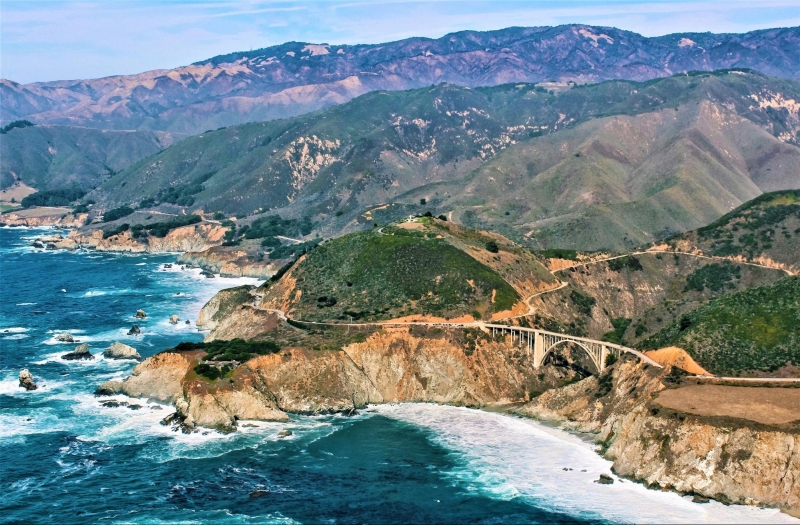 Surely with all these coastal bluffs to trace, you'd expect to find an abundance of marine ecosystems. And none more magnificent than at Monterey Bay Aquarium! Admire the marine life through the giant exhibits at one of the country's best aquariums while the kids don scuba diving suits to dive into the tanks. Monterey bay also offers water activities like whale watching and surfing. When in Monterey, it's said that you must also explore the finer things in life and sip some of its famous wines.
Just a few miles down, you'd arrive in the sleepy town of Carmel-By-The-Sea, a charming place filled with cobbled streets and fairytale-like cottages. The Point Lobos State Reserve is a standout landmark in Carmel, offering an abundance of wildlife to spice up any visit.
Address: 886 Cannery Row, Monterey, CA 93940, USA
Opening Hours: Daily from 10:00 AM to 5:00 PM
Along the way: Immerse in heritage at Santa Barbara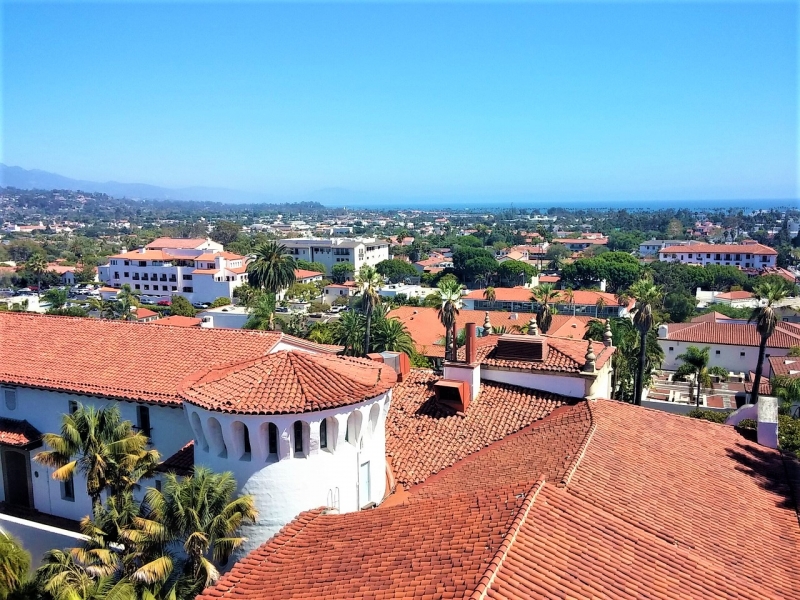 Driving on, the classy city of Santa Barbara will come into view. Here, streets line with neat white-washed stucco buildings underneath vivid red-tiled roofs. Santa Barbara looks just like a mini Mediterranean! The city is steeped in Spanish heritage and retains its beautifully rustic touch. The pristinely preserved Mission Santa Barbara will whisk you away to a bygone past and is also a popular photo stop. Beyond the classy Museum of Art, there's also Santa Barbara Zoo and Stearns Wharf, but both are comparatively low-key. While not as busy as any other big city on this list, Santa Barbara's peaceful streets could provide a timely respite before the action-packed Los Angeles hits you.
Address:
Mission Santa Barbara: 2201 Laguna St, Santa Barbara, CA 93105, USA
Museum of Art: 1130 State St, Santa Barbara, CA 93101, USA
Santa Barbara Zoo: 500 Ninos Dr, Santa Barbara, CA 93103, USA
Stearns Wharf: 217 Stearns Wharf, Santa Barbara, CA 93101, USA
Opening Hours: Mission Santa Barbara, daily 09:00 AM to 5:00 PM // Museum of Art, Tuesday – Sunday, 11:00 AM to 5:00 PM // Santa Barbara Zoo, daily 10:00 AM to 5:00 PM // Stearns Wharf, daily 24/7 hrs.
Along the way: Surf the waves at Malibu Beach
Right before you reach Los Angeles, you'll pass by the gleaming Malibu Beaches that'll give you a teaser for what is to come in L.A. Watch as the trail of sheer coastal cliffs fades and is replaced by luxurious and modern apartments.
Many celebrities live in multi-million dollar homes along Malibu Beach. Though average joes like you and I can't afford them, no one said there was any harm in ogling at the houses right? If you're craving some beach action, Malibu's beaches are also less crowded than those in Los Angeles. With family-friendly amenities like bathrooms showers, you don't need worry about cleaning the sand off after a morning plonking yourself across your beach mat. I recommend trying out water sports like surfing and paddle boarding at Surfrider beach.
Address: Surfrider Beach, Santa Monica Mountains National Recreation Area, 23050 Pacific Coast Hwy, Malibu, CA 90265, USA
Opening Hours: Daily, 24/7 hrs
Continue southward from Malibu and before long, you'd see the golden beaches of Santa Monica State Beach shimmering into sight. That means you'd have finally made it all that way to "Paradise City"! Hollywood superstardom beckons.
Los Angeles Stop 1: Hit the funfair at Santa Monica Pier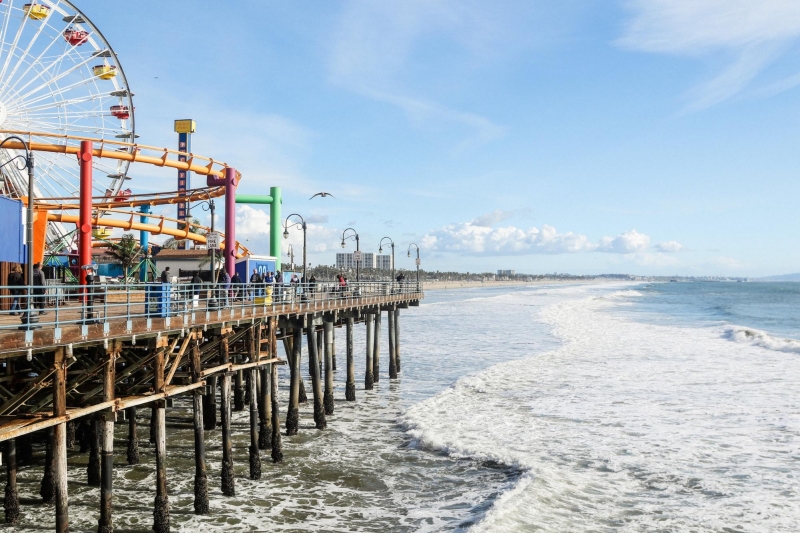 For its opening act, L.A. throws Santa Monica Pier and its outdoor theme park at you for some fun-in-the-sun. Go old school and hitch a ride on the vintage carousel. If you've got time on your hands, try your luck fishing in the ocean at Pier Bait & Tackle. The adrenaline junkies amongst you might want to skip the calefare and jump to the Trapeze School, where you can master gymnastics in an afternoon. But don't forget to stay till night time, when the Pier jolts to even livelier heights with live music performances by All-American bands.
Address: Santa Monica Mountains National Recreation Area, 200 Santa Monica Pier, Santa Monica, CA 90401, USA
Opening Hours: Daily, 24/7 hrs (check with individual businesses for their specific hours of operation)
Los Angeles Stop 2: Rub shoulders with celebrities along Hollywood Boulevard
Try spotting your favourite media personalities amongst over 2,500 Hollywood stars printed along the sidewalks. While you probably aren't A-lister material enough to be invited to a movie premiere at Grauman's Chinese Theatre, that doesn't mean its doors are completely closed. Many famous celebrities have literally cemented their lasting legacy at the theatre's courtyard. From the handprints of John Travolta to Harry Potter wands, you'll be squealing with excitement at all the on-site movie easter eggs. While you could pose with wax figures at the Hollywood Wax Museum, the beauty of Hollywood Boulevard is that you may even find yourself rubbing shoulders with actual celebrities, who frequently visit its shops as well!
Address: 6834 Hollywood Boulevard, Los Angeles, CA 90028–6102, USA
Opening Hours: Daily, 24/7 hrs // Hollywood Wax Museum opens 9:00 AM to 12:00 AM daily (extended to 1:00 AM on Saturdays)
Besides the stars (literal and non-literal), Hollywood Boulevard is packed with shops selling everything from cute trinkets to limited-edition celebrity memorabilia. But how on earth can you fit all your buys into your luggage?
The trick is to fly with an airline that gives you a generous baggage allowance. The usual is 2 pieces of luggage totalling up to 30kg, but why not give yourself some leeway, up it a notch and check-in 2 pieces of luggage totalling up to 46 kg with Korean Air? That's 16kg more worth of loot, and priceless stress-free buying. Now you can buy whatever you want, whenever you want!
Los Angeles Stop 3: Fly to the stars at Griffith Observatory
Escaping all that dizzying glamour along Hollywood Boulevard, Griffith Observatory offers some amazing sightseeing and photo opportunities. Nestled atop Griffith Park, the observatory is also your gateway into the mesmerising cosmos. Here, you can peer through one of the many public telescopes around the complex or watch the Tesla Coil electrify with unnerving sparks. You don't need to be an avid astronomer to enjoy the observatory. For a nominal fee of under US$7, the state-of-the-art Samuel Oschin Planetarium screens groundbreaking documentaries like the "Light of the Valkyries" Viking voyage.
Outside the observatory, feast your eyes on stunning views of the surrounding landscape. They call Los Angeles the city that never sleeps and come nightfall, the skyline illuminates in unison into a sea of warm lights. From the hustle of downtown L.A. all the way out to the Pacific Ocean, there's hardly a better photo stop in L.A. than at Griffith Observatory.
Address: Griffith Park, 2800 E Observatory Rd, Los Angeles, CA 90027, USA
Opening Hours: Tuesday – Sunday, 12:00 PM to 10:00 PM (extended from 10:00 AM on weekends)
Los Angeles Stop 4: Go theme park crazy at Universal Studios Hollywood
An action-packed afternoon at Universal Studios Hollywood is the perfect way to round off your road trip! If some of you are scoffing at the idea of another boring theme park, Hollywood's edition is far bigger and better than Singapore's with way more fun installed.
Survive a post-apocalyptic nightmare and fight through hordes of ravenous Walkers at the newly opened "The Walking Dead" attraction, or boost your nitrous speed at the "Fast & Furious – Supercharged" 3D simulator. Harry Potter diehards can also visit the expansive Wizarding World of Harry Potter. Even better, you can go behind the scenes on a real working studio set! There's so much fun packed here that a day alone probably won't be enough to experience all the activities.  
Address: 100 Universal City Plaza, Universal City, CA 91608, USA
Opening Hours: Weekdays, 10:00 AM to 6:00 PM (extended to 7:00 PM on Fridays) // Weekends, 9:00 AM to 8:00 PM (extended to 10:00 PM on Saturdays)
San Francisco to Los Angeles: The Ultimate Road Trip for that Californian State of Mind
Clear blue skies, sun soaked palm trees mixed in with glitz and glamour and Los Angeles instantly comes to mind. Granted that it may not be the closest destination, the journey there makes all the difference. Don't compromise on your flight experience; Korean Air enjoys the reputation of being a stellar airline with exceptional service, generous legroom and award-winning inflight meals.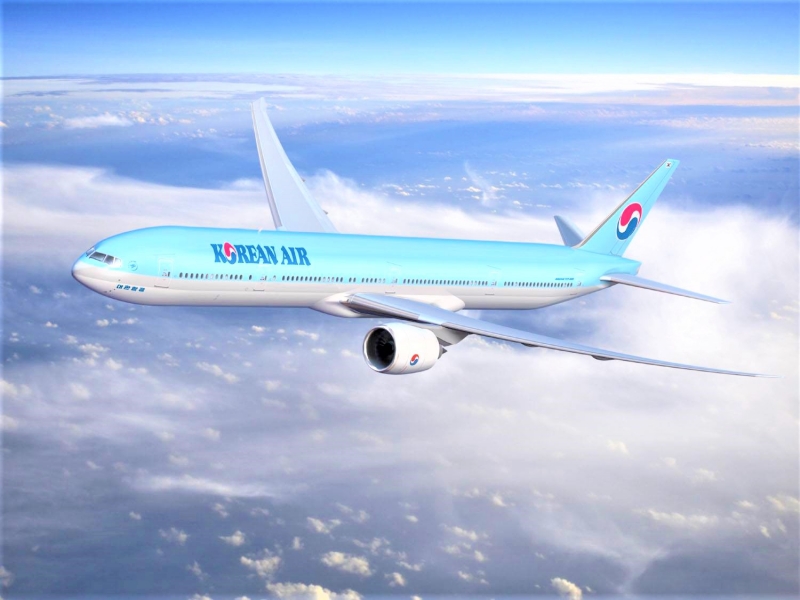 Ensuring that you enjoy a comfortable and seamless flight journey to Los Angeles or San Francisco is a priority, and Korean Air flights to either destinations in the US West Coast now enjoy shorter transit times of under 1.5 hours. You'll get to stretch your legs, arrive at your destination as fast as possible, and have more energy to explore.
Choose to fly with Korean Air and there will be an opportunity to enjoy amazing travel perks including:
Minimal connecting flight times between Singapore, Seoul, Los Angeles or San Francisco down to just under 1.5 hours

Increased check-in baggage allowance of 2 pieces of luggage up to a total of 46kg (23kg each)

World class inflight service providing an experience beyond travel
With Korean Air, you'll have all you need to kickstart your road trip of a lifetime between San Francisco and Los Angeles – if you're looking for fuss-free travel to either destination, this is it. Start booking your tickets right away!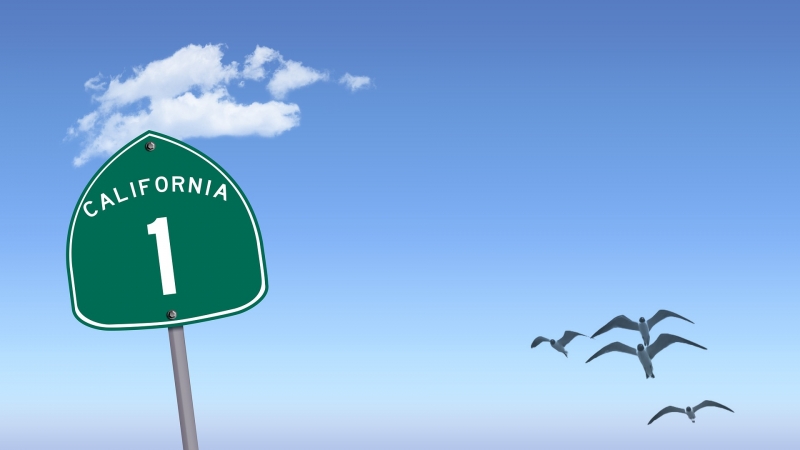 Life is a highway, and you should definitely ride it all night long. If you're looking for that Californian dreamin' road trip in the land of stars and stripes, the Pacific Coast Highway between these two cities is your best bet. I had one of the best trips of my life cruising from San Francisco to Los Angeles back in 2012, and I hope you'll love it as it as much as I do!
---
Brought to you by Korean Air.