When you hear "the Maldives," what often comes to mind are stunning beaches, turquoise waters, and expensive hotels. And it's true: This country made up of around 1,192 tropical islands is home to wondrous white-sand beaches, abundant marine life, and yes, impressive overwater bungalows.
But in recent years, the Maldives has become more accessible to all kinds of visitors, not just luxury travellers and honeymooners. Local guesthouses are now becoming more popular, as they provide an authentic Maldivian experience without breaking the bank. These accommodations offer a good way to witness and embrace the local island culture. Whether you're a saver or a big spender, these charming Maldives Airbnb homes will turn your dreams of a tropical getaway into reality.
Also read: An Interview With Visit Maldives: What to Know About Going There for the First Time
Maldives Airbnb homes to bookmark for your trip
1. This tranquil beachfront guesthouse with a garden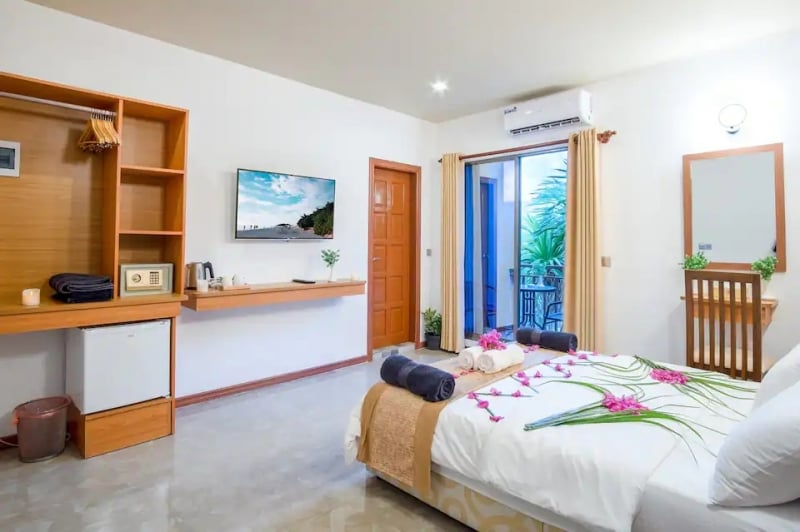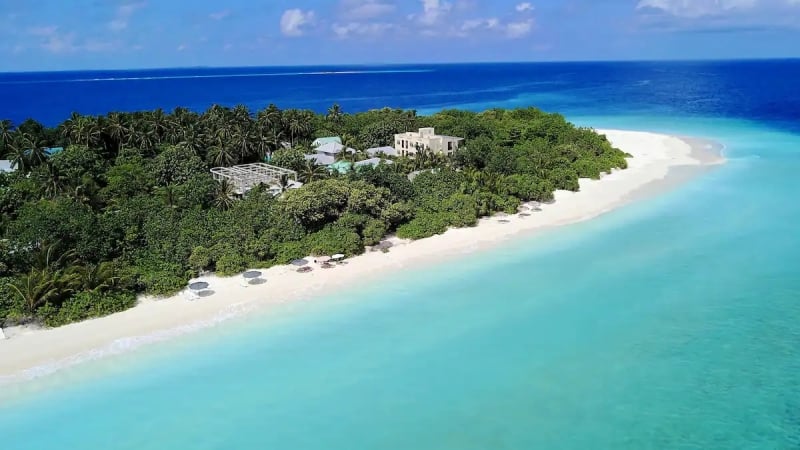 Listing name: Nala Veli Maldives
Listing type: Private room in boutique hotel
Max. no. of guests: 2
No. of bedrooms: 1
When you're on vacation in the Maldives, there's nothing quite like staying by the sea. This beach house will keep you close to the waters! Conveniently located a few steps away from Ukulhas Bikini Beach, this relaxed Airbnb in the Maldives blends charming Maldivian design and modern decor. The guesthouse even has its own restaurant where you can enjoy delicious local meals while basking in the soothing coastal breeze. 
Nearby is a reef where you can enjoy amazing underwater scenery. Snorkelling gear, beach towels, sun beds, and umbrellas are also provided for free at this Airbnb! After an adventurous day at sea, you can look forward to a good night's sleep in the spacious, rustic room. 
2. This quaint cottage with beach access and delicious meals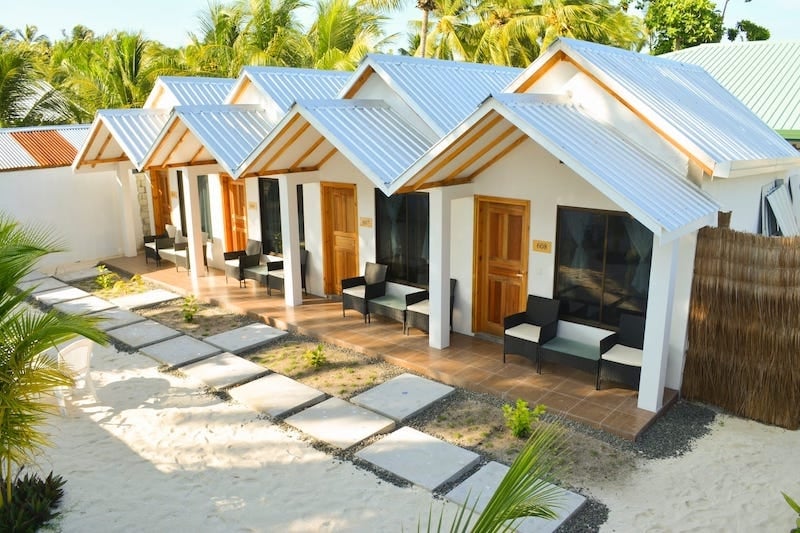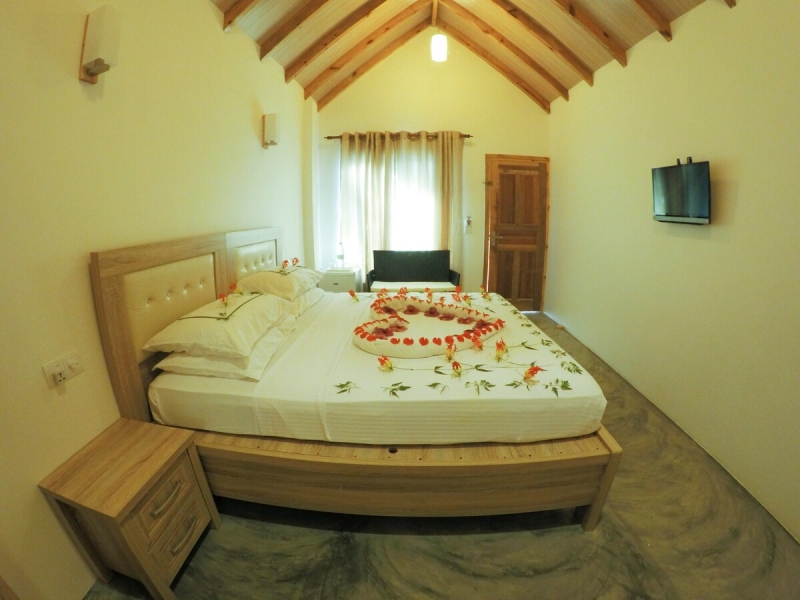 Listing name: Holiday Cottage, Thoddoo Island, Maldives
Listing type: Private room in bed and breakfast
Max. no. of guests: 3
No. of bedrooms: 1
Thoddoo, like many other local islands in the Maldives, has spectacular beaches and rich aquatic life. But what makes it special is that it is one of the largest producers of agricultural products in the country. In fact, it is known for its sweet watermelons, papayas, coconuts, and vegetable farms. Unsurprisingly, when you stay in this Airbnb in the Maldives, your tasty meals will come with fresh fruits.
With two beaches within walking distance and excellent snorkelling areas within one of the natural atolls of the Maldives, this family run-cottage is a great place to enjoy a tropical escape. Reviews rave about the delicious food, the clean and comfortable rooms, the great customer service, and the outdoor shower that lets you stargaze at night. 
3. This gorgeous luxury villa for your large family getaway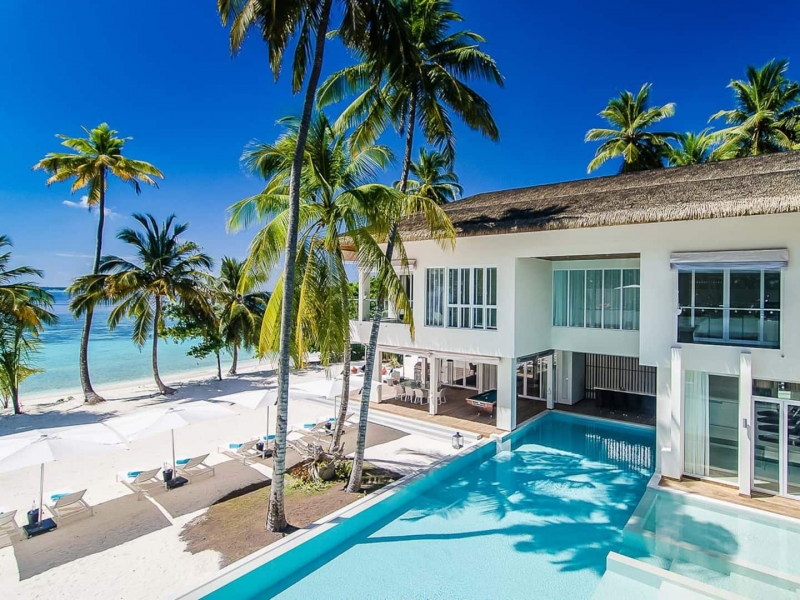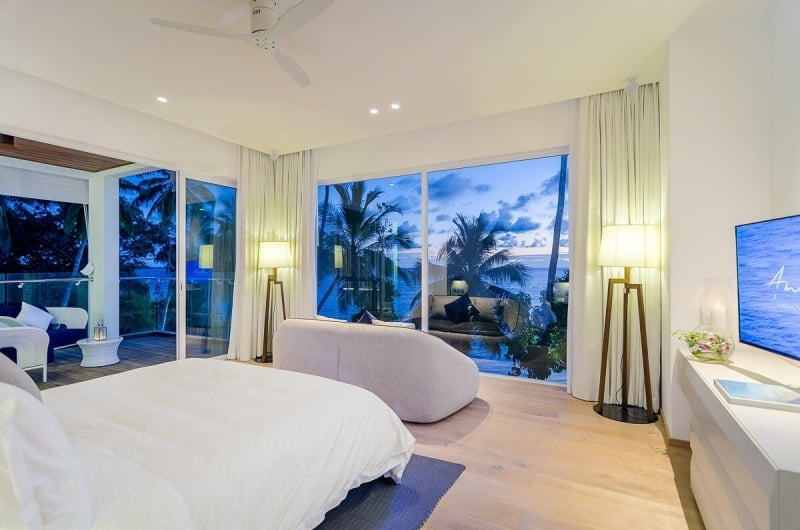 Listing name: Amilla Villa Estate – Luxury stay in Baa Atoll, North Province, Maldives
Listing type: Entire villa
Max. no. of guests: 12
No. of bedrooms: 6
Flush with cash and ready to splurge? Here's a lavish Maldives Airbnb for you! Set in Baa Atoll, a UNESCO World Heritage Biosphere Reserve, this fabulous luxury villa has six beautiful bedrooms that feature spectacular ocean views and luxe en suite bathrooms. There's also a fully equipped kitchen with a breakfast bar, an entertainment lounge for the whole family, and plenty of indoor and outdoor living spaces, perfect for vacationing in style.
Make sure to snorkel in Hanifaru Bay, which is famous for its large numbers of whale sharks and manta rays. After an exciting aquatic adventure, you can choose to lounge by the swimming pool or take a dip in the hot tub. 
4. This immaculate Maldives Airbnb that's near diving spots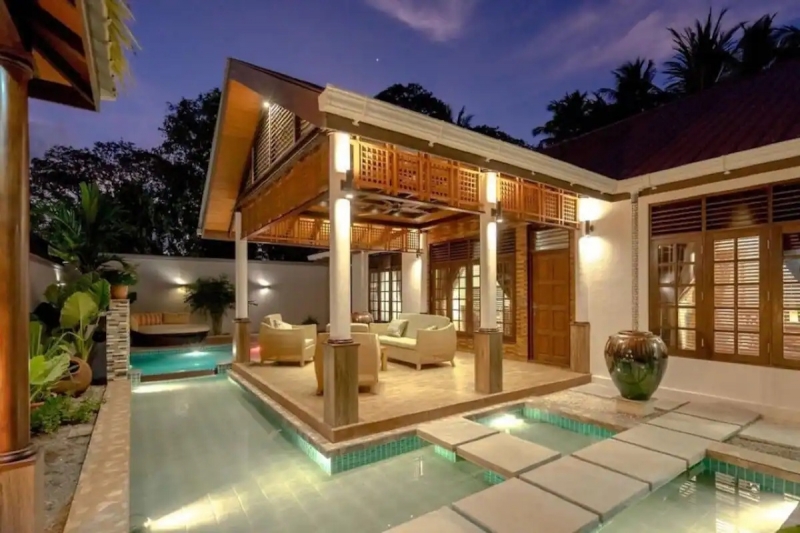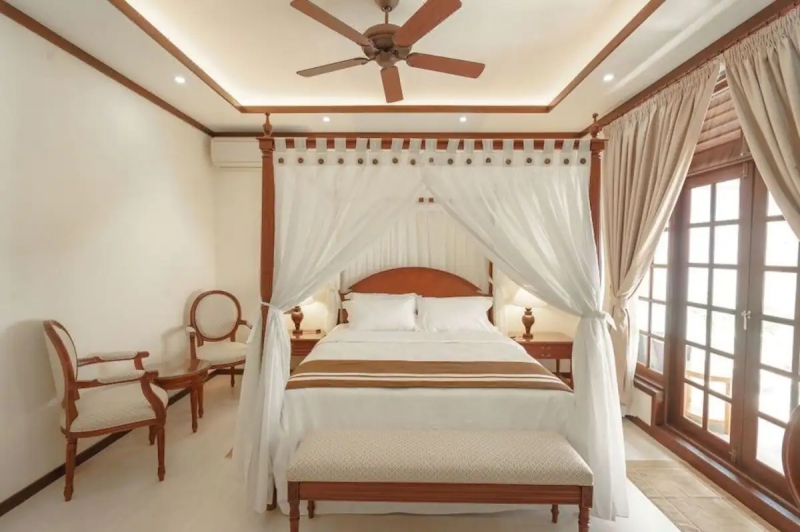 Listing name: Lovely house 3bedroom in Maldive
Listing type: Entire house
Max. no. of guests: 6
No. of bedrooms: 3
Fuvahmulah is every diver's dream! No other place in the Maldives, or even in the world, offers the once-in-a-lifetime chance to see seven rare species of sharks in one dive. Why not plan a diving trip for six and stay in this three-bedroom house in the Maldives? 
This local house in one of the most unique islands in the Maldives has three bedrooms, each with a queen-sized bed. Tranquil and elegantly designed with the essential comforts and amenities, it is close to superb diving spots, as well as dining and shopping areas. On days that guests don't want to venture far, there's a private plunge pool on the property for relaxing swims.
5. This cheery and chic boutique hotel for the ultimate family retreat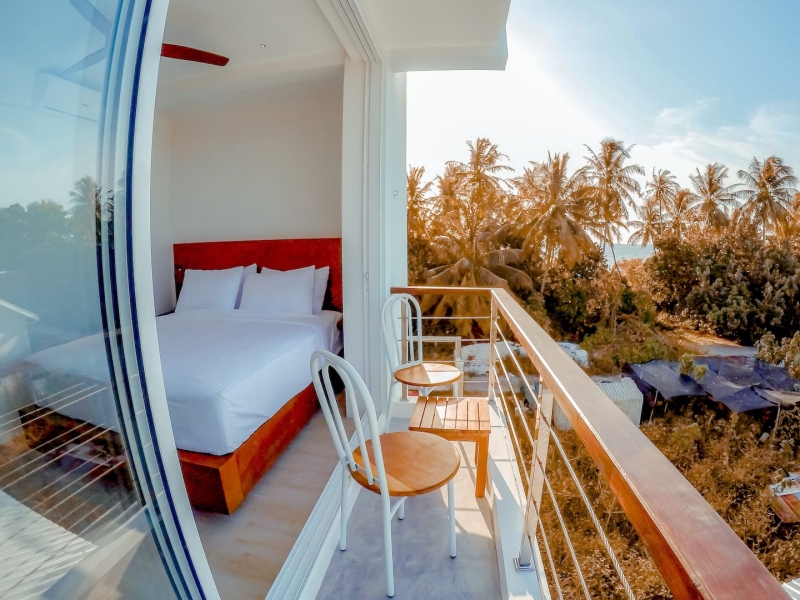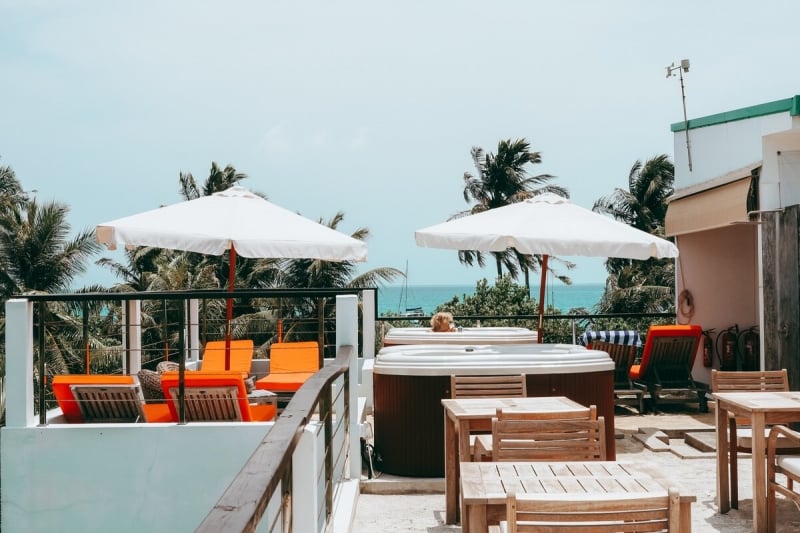 Listing name: Bliss: Your Island Getaway (Family Room)
Listing type: Room in boutique hotel
Max. no. of guests: 4
No. of bedrooms: 2
Look no further if you're a family of four. We've found the perfect Airbnb in the Maldives for you! This tropical-themed hotel has connecting rooms (one with a queen-sized bed and one with two single beds), giving your family quick access to the beach, as well as more space and privacy. Regardless of age, there's something for everyone in the family: a kids' corner with colourful bean bags, a rooftop balcony equipped with Jacuzzis and tanning beds, dining tables, a coffee shop, a gym, and plenty of cosy nooks.
You'd be doing yourself a favour by staying in this Maldivian paradise. Dhigurah in South Ari Atoll is home to whale sharks, mantas, and other marine megafauna. The three-kilometre-long island of Dhigurah has a white-sand beach and a picturesque sandbank that's ideal for sunset watching. 
6. This spacious room for two right off the Maldivian sea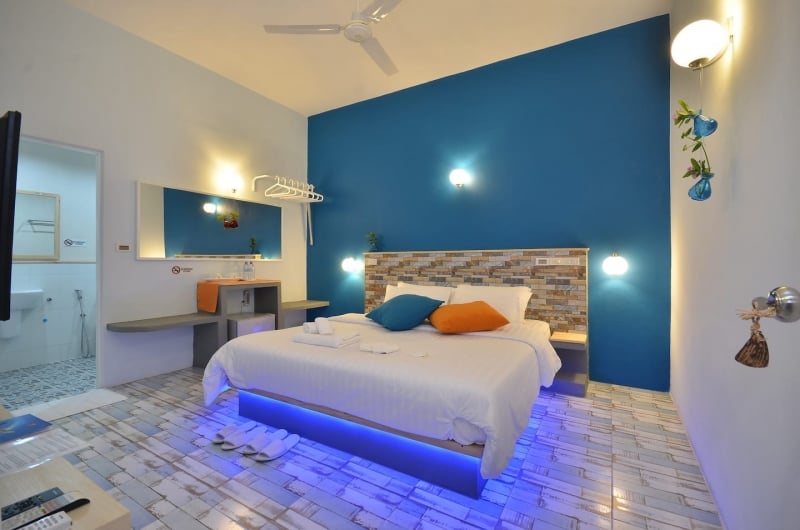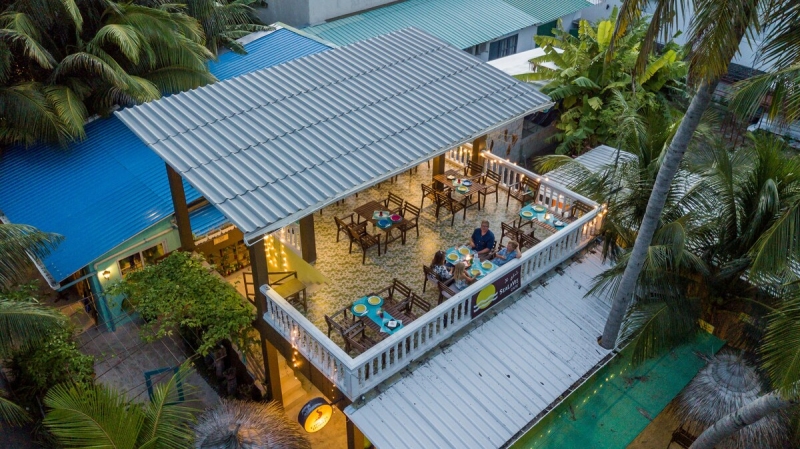 Listing name: Private Room in SeaLaVie Inn, Ukulhas, Maldives
Listing type: Private room in guest suite
Max. no. of guests: 2
No. of bedrooms: 1
Situated in the North Ari Atoll, this Maldives Airbnb features a clean and spacious room with a king-sized bed for you and your loved one. Amid the modern interiors, little touches here and there mirror the great tropical vibe of the idyllic island.
The hosts are known for being warm and hospitable. Snorkelling gear from fins to full face masks with snorkel, life jackets, and even water shoes are provided for free. There are also outdoor sitting areas and garden swings, where one can relax after snorkelling. Guests also love the property's restaurant, which serves authentic Thai cuisine with vegan options. 
7. This luxe boat for the perfect island-hopping adventure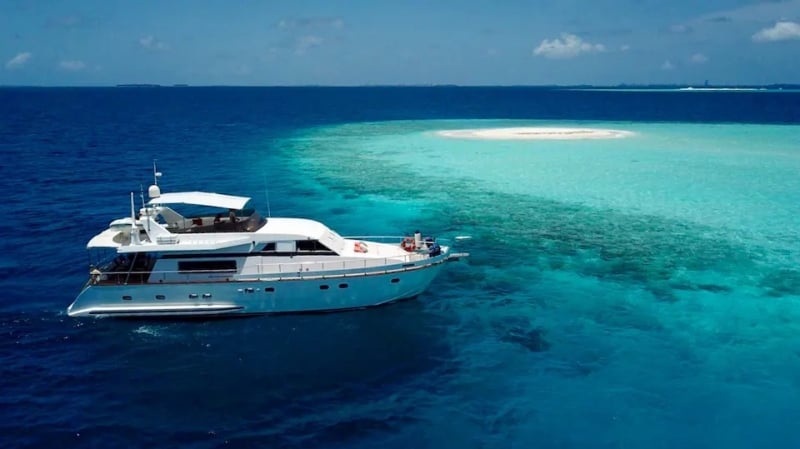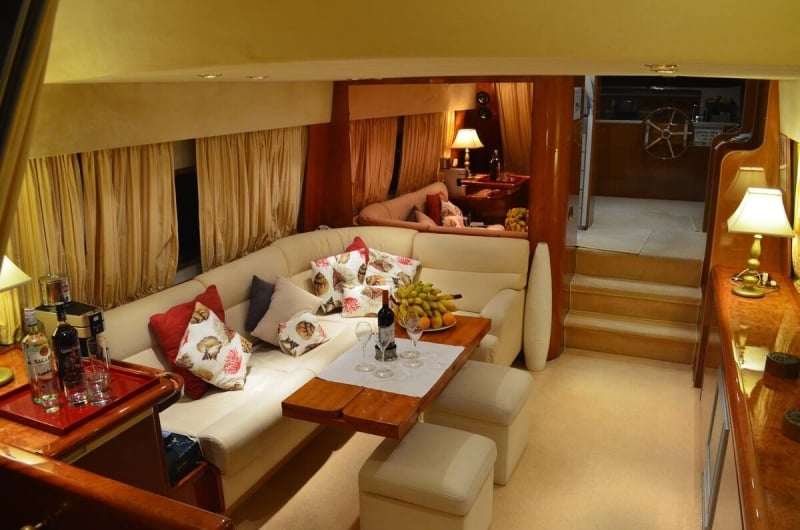 Listing name: Fascination Yacht Charter
Listing type: Private room in boat
Max. no. of guests: 6
No. of bedrooms: 3
If the Maldives trip of your dreams includes sunbathing atop a luxe yacht, then this unique Airbnb stay is for you. Beautifully designed for style, comfort, and luxury, this hotel-style charter will undoubtedly elevate your experience in the Maldives to another level. It's the perfect base for your island-hopping, specialising in sailing, scuba diving, and snorkelling trips. Fishing, surfing, and other tropical activities are also available. 
With three bedrooms, each with comfortable bedding and a private bathroom, the boat can house up to six guests. Previous guests have praised the exceptional service aboard the MD Loabi, including the delicious local cuisine served by the chef. Set sail on the ultimate live-aboard adventure in the Maldives, surrounded by blue skies and mesmerising beaches while treading the clear waters of the Indian Ocean.
8. This bright and cosy room for couples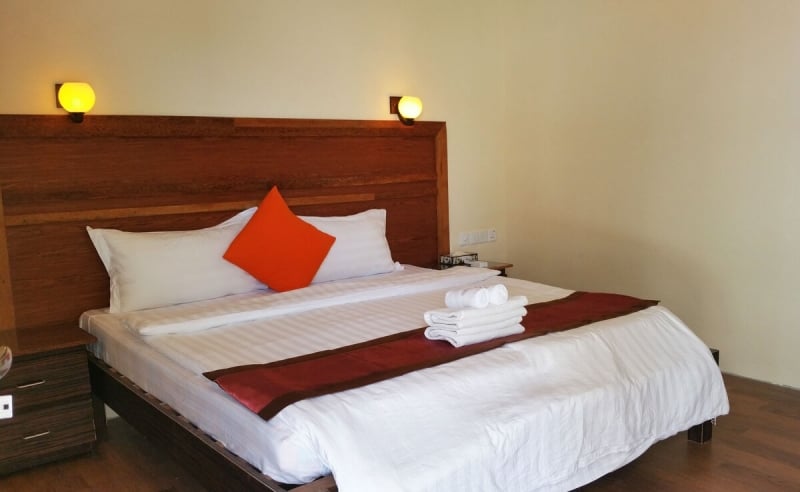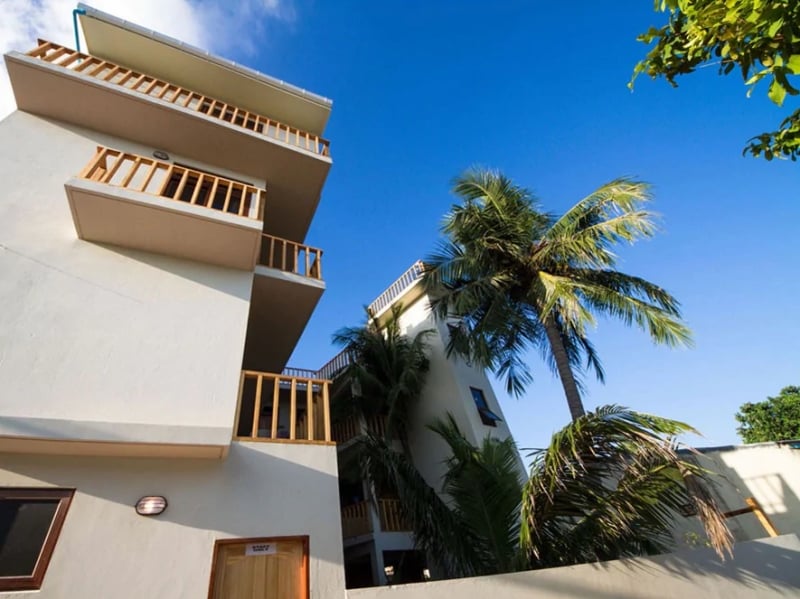 Listing name: Sea, Sun, Sand Maldives on a Budget Standard Room
Listing type: Private room in bed and breakfast
Max. no. of guests: 2
No. of bedrooms: 1
Set on the tiny island of Gulhi, this Airbnb in the Maldives is certainly one of the most affordable options for couples. This standard room in a bed and breakfast is well-lit, cosy, clean, and has the basics for a comfortable stay on a budget. Meals will not be a problem, since the in-house restaurant serves delicious meals of different cuisines in generous portions.
Internet access is provided so you can show off your trip on the 'Gram, while snorkelling equipment is also available. If you need help planning the Maldivian holiday you deserve, the staff can arrange activities like island-hopping, fishing, cruising, surfing, diving, sandbank visits, dolphin watching, and other water sports. 
9. This budget-friendly Maldives Airbnb that's perfect for large groups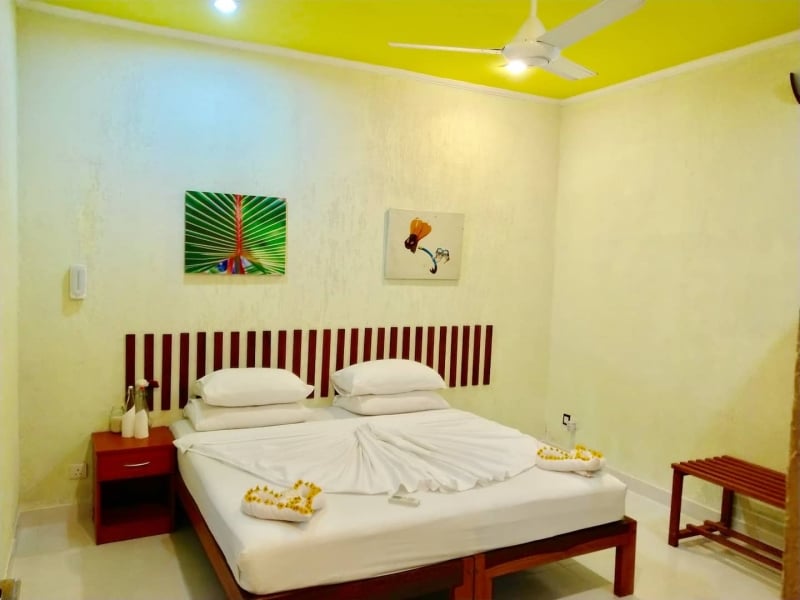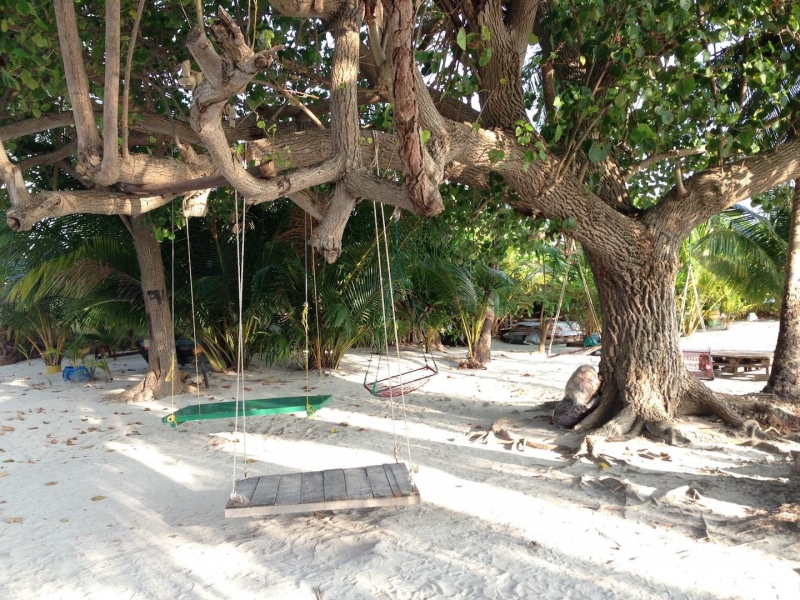 Listing name: Midsummer Thulusdhoo:Your home in Maldives
Listing type: Entire cottage
Max. no. of guests: 12
No. of bedrooms: 4
Thulusdhoo is the capital of Kaafu Atoll, the largest and most well-known atoll in the Maldives. The island is also popular for its surfing spots. These include the world-famous Cokes Surf Point, named after Thulusdhoo's Coca-Cola factory (the only one in the world where the drink is made from desalinated water!), and Chickens, named after the old chicken farm on the island.
With its long stretches of splendid beaches and rich underwater world, Thulusdhoo is a great place to immerse yourself in the natural beauty of the Maldives and embrace its local culture. And what's more, you can enjoy it with your family and friends, thanks to this quiet, comfortable, and affordable cottage in the Maldives. Housing four bedrooms that can accommodate a total of 12 guests, dining essentials, a BBQ grill, and a private yard, this place promises a lovely stay. 
10. This rustic guest house fit for surfers and snorkellers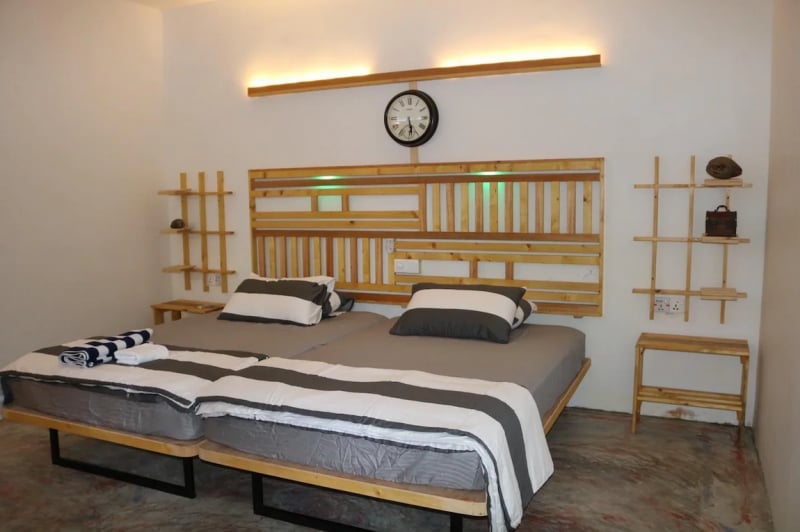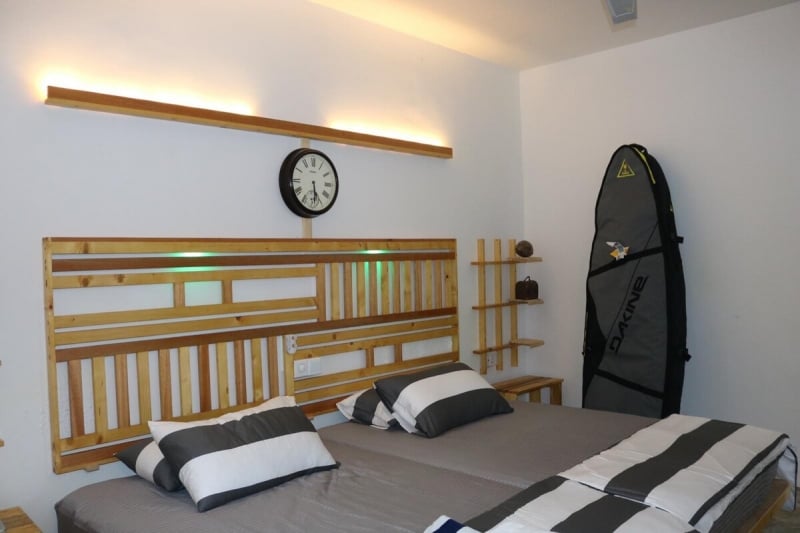 Listing name: Himmafushi Surfing Home – Sultans
Listing type: Private room in bed and breakfast
Max. no. of guests: 2
No. of bedrooms: 1
This surfer-themed guest house in the Maldives should be your sanctuary if you're thinking of heading to Himmafushi's famous Jailbreaks surfing spot. One of the best surf spots in the Maldives, Jailbreaks takes its name from the prison that's located in Himmafushi.
With a spacious private room with a big and clean bathroom, a large courtyard, a shared kitchen, delicious and generous meals, and warm hosts, your stay at this Airbnb will surely be comfortable. Close to the pristine beaches and diving spots, this is an awesome place for a laid-back holiday and a taste of local life. 
Also read: 12 Tropical Airbnbs in Asia to Experience the Best of Island Life
Have you picked a Maldives Airbnb for your upcoming trip? It's not easy to choose but we hope this list helped. Now, it's time to stop daydreaming and start planning. Your dream Maldivian holiday is within reach!
Got a property you'd like TripZilla to feature? Inquire with us here.
---
This article contains affiliate links. When you book through these links, we may earn a small commission at no additional cost to you. All images courtesy of the respective property listings.