Iran is a wonderful travel destination, jam-packed with beautiful sights and attractions. It is not unusual for travellers to leave Iran with a promise to return – simply because they enjoyed themselves too much!
If you're embarking on your first trip to Iran, I'm excited for you. Not sure where to get started? Well, most travellers with two weeks or less in Iran choose to visit these few cities: Tehran, Shiraz, Isfahan, Kashan and Yazd. Therefore, this list covers the things to do in these select few destinations.
Well, let's get into it – check out these 25 fun things to do in Iran on your first visit!
Tehran
1. Stroll along the Nature Bridge as the sun goes down
Tabiat Bridge in the daytime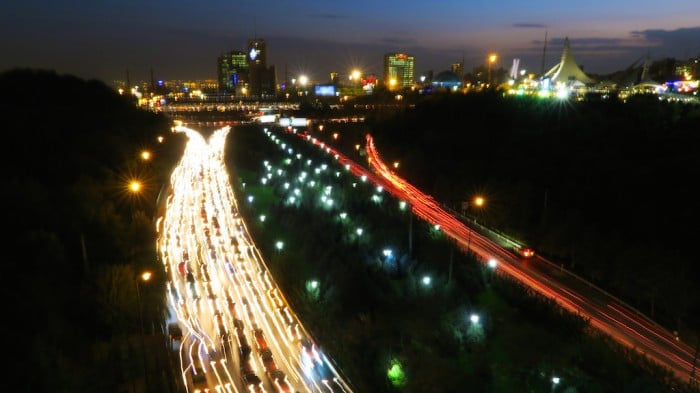 View from Tabiat Bridge at night
The Nature Bridge (also known as Tabiat Bridge) is one of my favourite chill-out spots in Tehran. This award-winning bridge is best visited in the evening, so you can enjoy the view of mountains in the north while there is daylight, and the city lights after the sun goes down.
2. Feel like royalty in the lavish Golestan Palace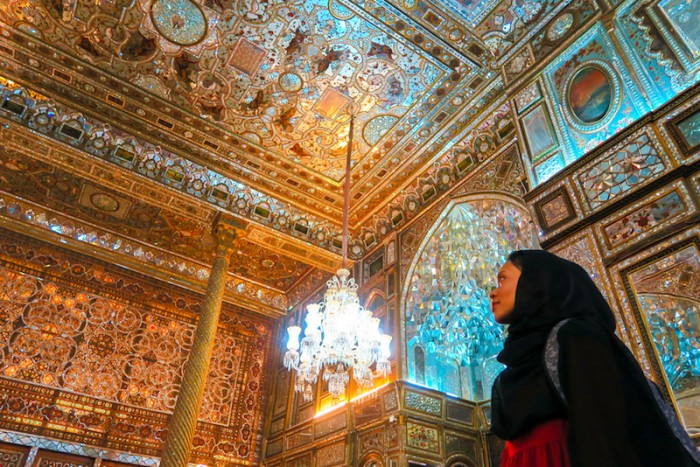 In the Emarat-e Badgir (Building of the Windcatchers) in Golestan Palace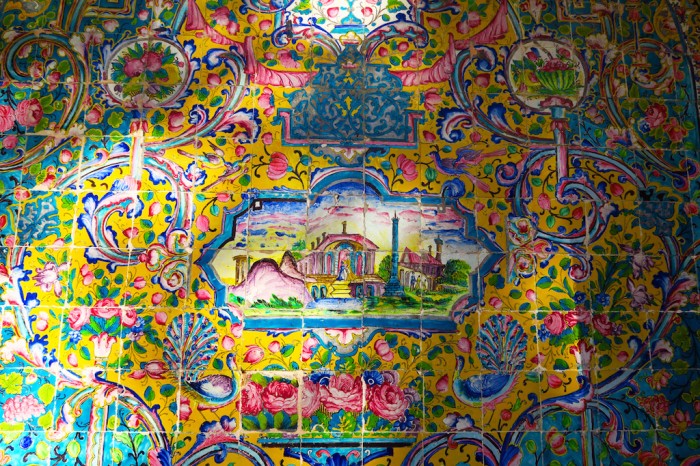 Tilework in Golestan Palace
The Golestan Palace is one of the must-visit attractions in Tehran. This former royal Qajar complex comprises a tranquil garden surrounded by grand buildings, some of which are free to visit but most requiring additional entrance tickets. Since the entrance to Golestan Palace itself is already 150,000 rial, it is best to choose wisely which buildings you'd like to enter. Popular ones include the Talar-e Aineh (Hall of Mirrors) and Emarat-e Badgir (Building of the Windcatchers). Also, don't miss the tile work and mosaics on the building exteriors!
3. Take the metro like a local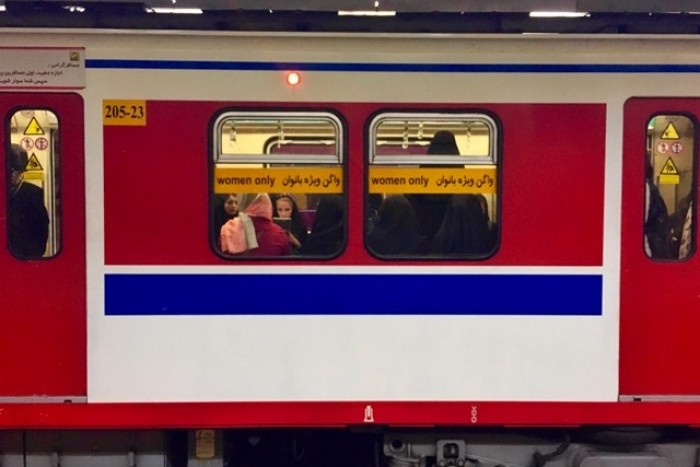 Women-only metro carriage in Tehran
Join the locals in their everyday affair and take the metro! Yes, it may be packed like sardines during rush hour, but that's just part of the experience. It's interesting to watch vendors squeeze through the crowd, selling anything and everything from pantyhose to selfie-sticks. Getting around by metro is very affordable and you can either get the single-use ticket or buy a rechargeable card. Females, take note that the women-only carriages are at both ends of the train, but you can still ride in the mixed carriages.
4. Sample sour fruits and shisha in Darband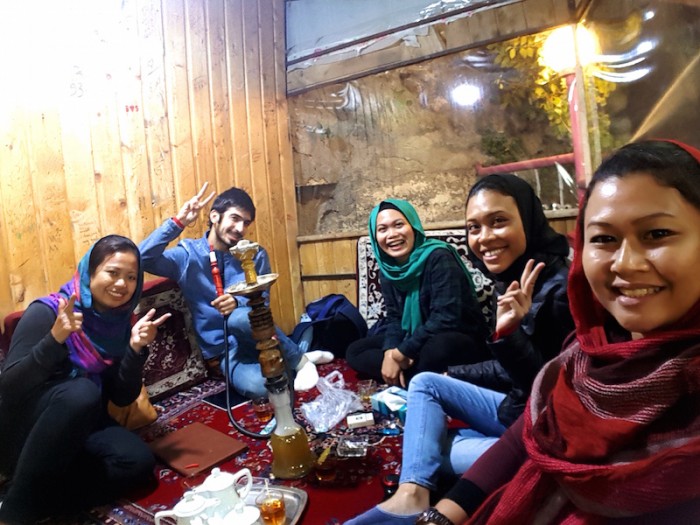 Shisha with my travel buddies and Hakan, our friend from Tehran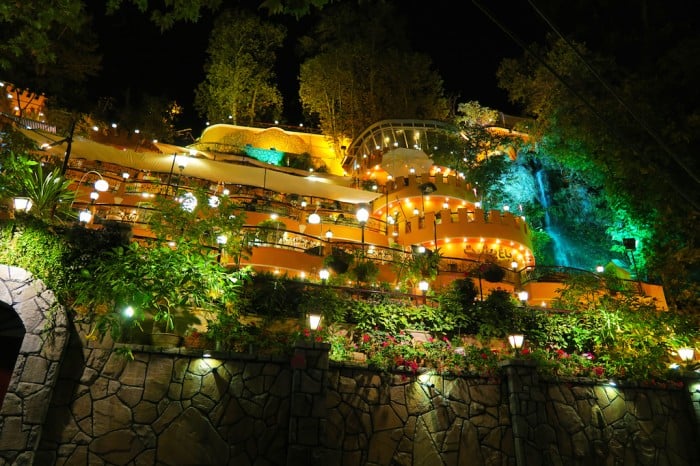 Restautant up the hills in Darband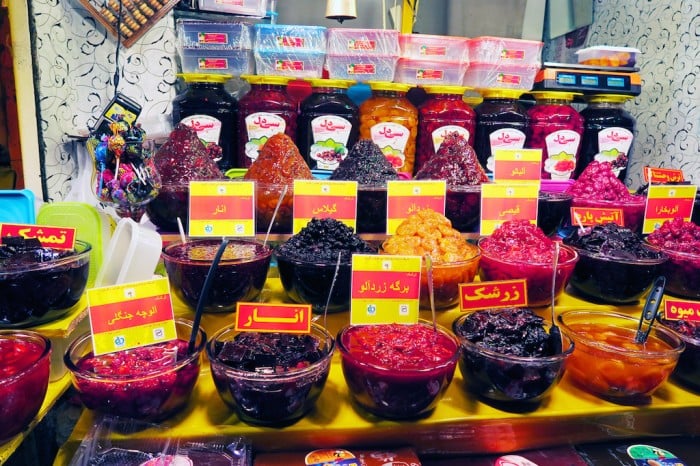 Sour fruits for sale
This picturesque little village in the north of Tehran is the gateway to Mount Tochal. However, Darband is not just for hikers! There is a large selection of restaurants as you walk uphill deeper into Darband. Drop by one of them for a meal or a laid-back shisha and chai session. Along the trail, there are also shops selling sour fruit delicacies which you can sample!
5. Feast in Moslem Restaurant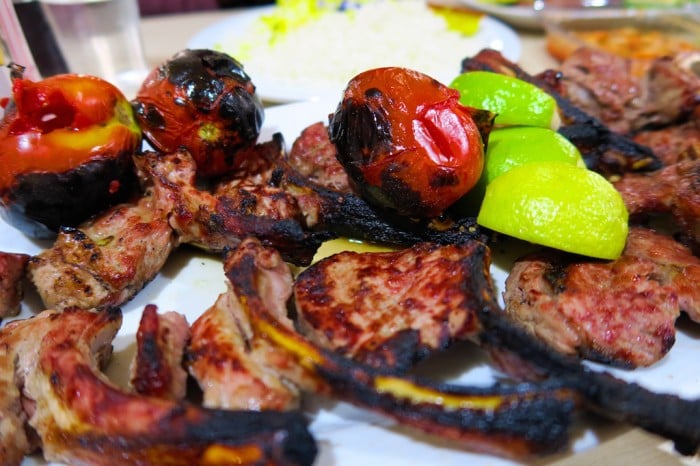 Succulent lamb shashlik in Moslem Restaurant
You'll probably be visiting Tehran Grand Bazaar so while you're there, drop by the famous Moslem Restaurant for a meal. This ever-busy restaurant sees long queues every day, a testament to the quality of the food served. Try their famous tahchin, which is saffron rice with chicken, but be warned that the portion is huge! This restaurant also serves a large range of kebabs and my friends who have been here recommend the lamb shashlik!
Shiraz
6. Watch the colours change in Pink Mosque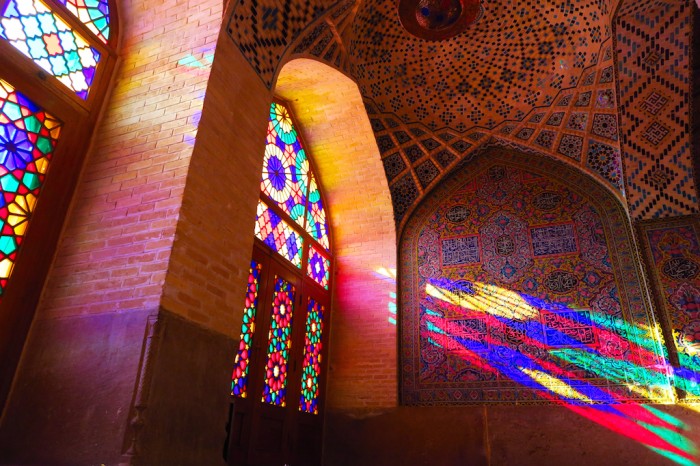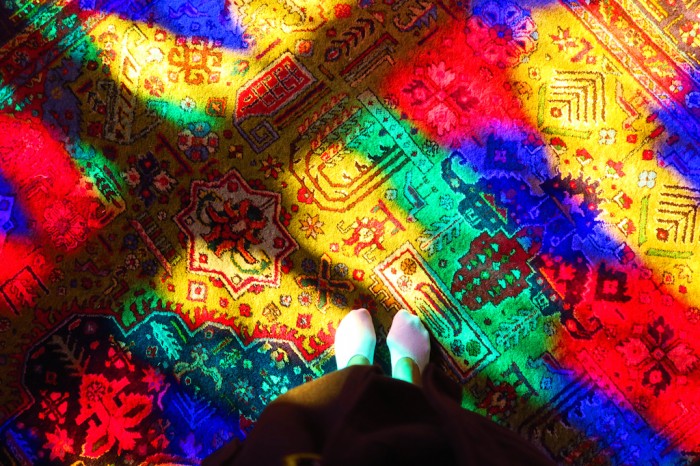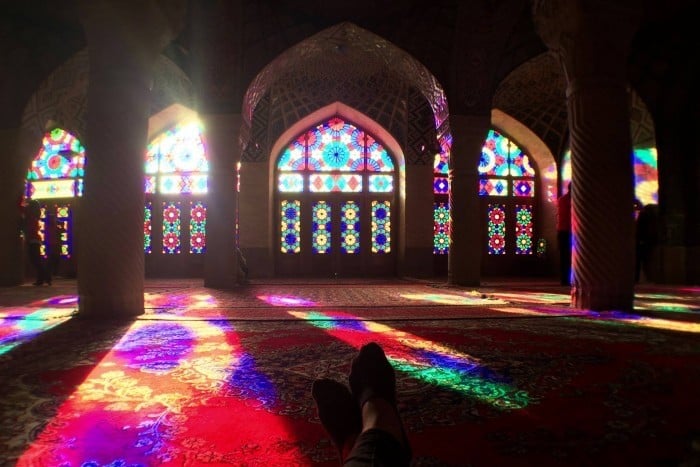 The stunning colours in Pink Mosque
You've probably already seen the stunning photos of Pink Mosque (also known as Nasir ol Molk Mosque) and I won't be surprised if this is the most-photographed mosque in Iran. Come early in the morning and if you're not in a rush, stay for a few hours to watch the colours move as the sunlight hits the stained glass windows. This is a light show like no other!
7. Roam around Vakil Bazaar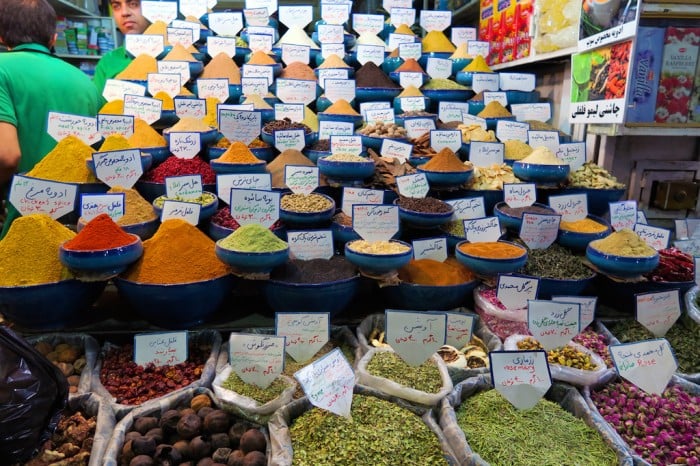 The huge variety of spices in Vakil Bazaar
Vakil Bazaar, located in the historical centre of Shiraz, is a great place to wander and get lost in. You'll weave your way in and out of shops selling spices, handicrafts and rugs, and emerge in peaceful courtyards and caravanserais. Don't forget to pick up some souvenirs here!
8. Try faloodeh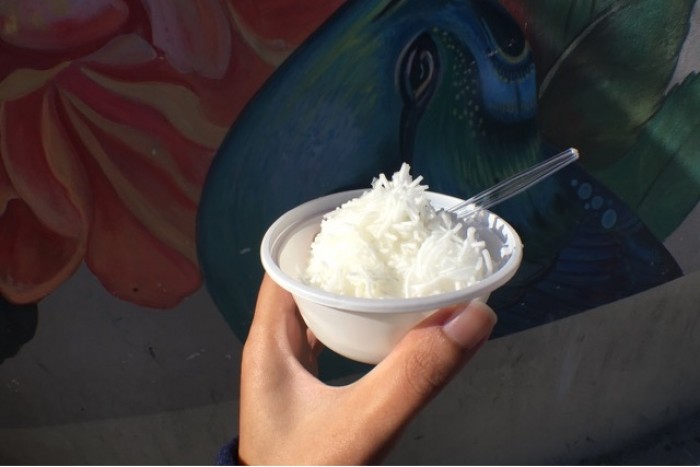 Yum yum! 
Don't leave Iran without trying some Iranian desserts! Faloodeh is what Iranians would call 'ice cream' but it is actually frozen vermicelli noodles with sugar syrup and rose water. Since it originates from Shiraz, this is the best city to try it.
9. Visit the tombs of famous poets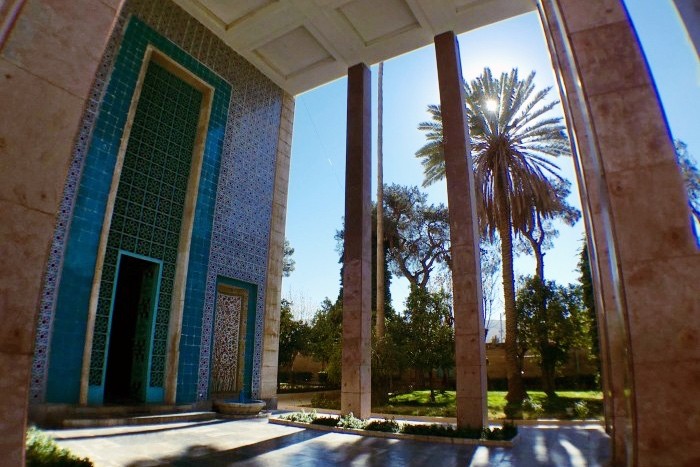 The tomb of Saadi, a famous Persian poet
Iranians' love for poetry is most evident in Shiraz, also known as the city of poets and literature. Pay a visit to the tomb of Hafez or Saadi, two beloved Persian poets from centuries ago, to get a glimpse of the city's everlasting love for poetry.
10. Make a trip to Persepolis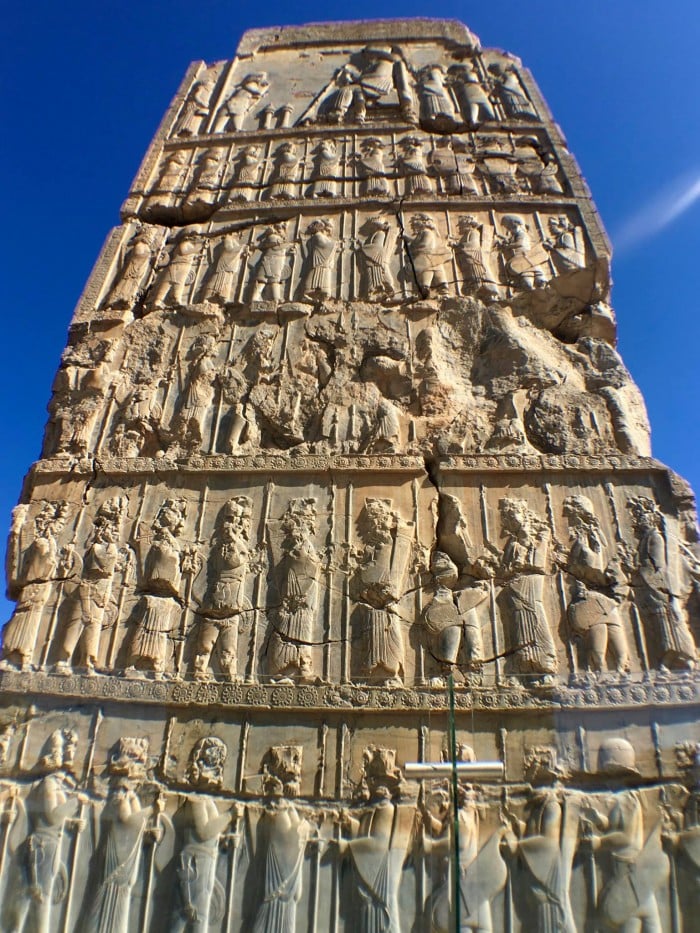 Intricately-crafted pillar still standing in Persepolis
Some people say that you haven't been to Iran if you haven't seen Persepolis. That is how important this archaeological site is! Founded by King Darius the Great around 518 B.C., Persepolis was the ceremonial capital of the Achaemenid Empire. This UNESCO World Heritage Site is usually visited as a day-trip from Shiraz, either on tours or by hiring a taxi.
Note: You can contact my friend Hakan (+98 919 445 1036 on WhatsApp) to arrange a driver to Persepolis or if you need any sort of help with visa/hotel/tours in Iran. 
Isfahan
11. Explore the attractions in Naqsh-e-Jahan Square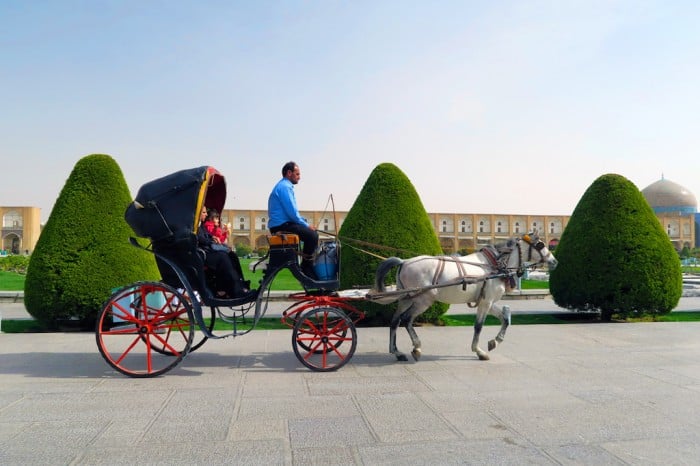 Tourists can ride in a horse carriage around this massive square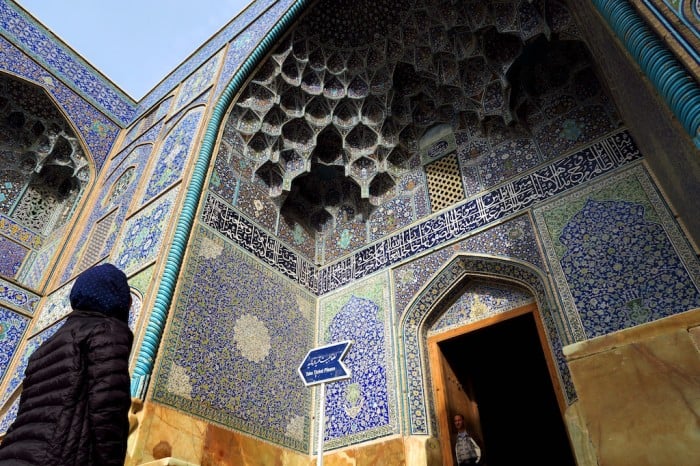 The entrance of Shah Mosque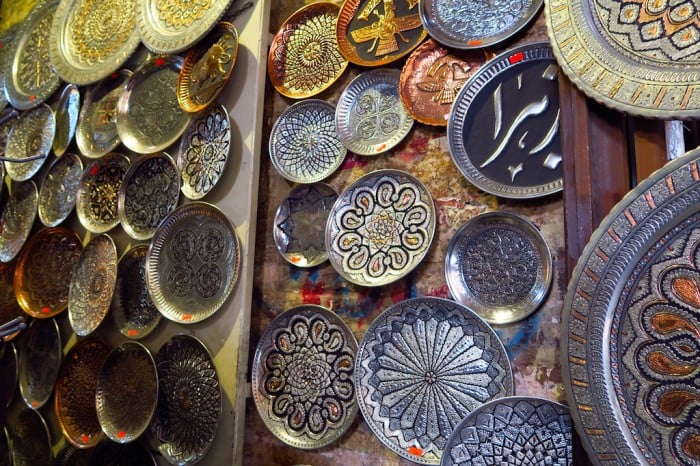 Beautiful plates in the bazaar around Naqsh-e-Jahan Square
Naqsh-e-Jahan Square, also known as Imam Square, is a huge and magnificent square in the centre of Isfahan, built during the Safavid era. It is flanked by Shah Mosque in the south, Ali Qapu Palace in the west, Sheikh Lotfallah Mosque in the east and the Kaiseriyeh Gate (the entrance to the Grand Bazaar) on the north. Visit these historical sites, take lots of photographs and then wander in the bazaar to buy handicrafts and sweets.
12. Soak in the atmosphere on the bridges at night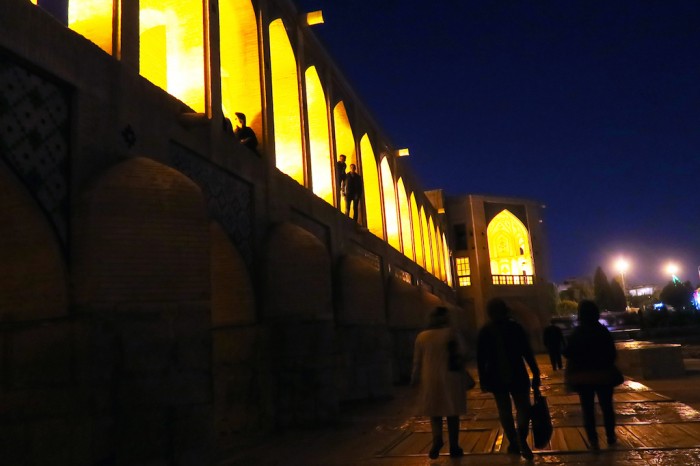 The lights in Si-o-seh pol Bridge at night
Isfahan's gorgeous bridges such as Si-o-seh pol and Khajoo Bridge lights up at night, making it an atmospheric location to explore. Cross your fingers that you'll come at a time when the river is flowing! However, if the river is dry, you'll have the chance to walk under the arches of the bridge. Though there could be many people hanging out here at night, you can still find plenty of quiet spots which you can claim for yourself.
13. Roam around Jolfa, the Armenian Quarter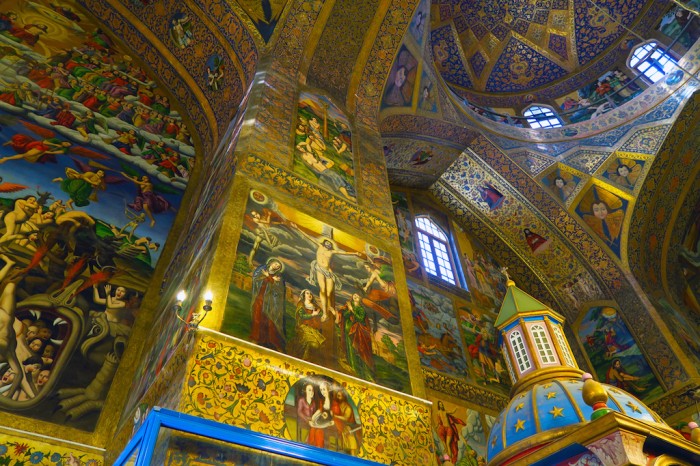 The breathtaking interior of the Vank Church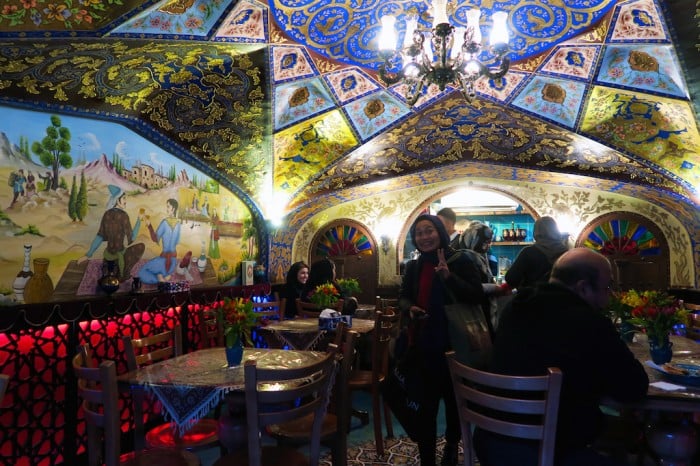 Bahar Narenj cafe in Jolfa
Jolfa, the Armenian Quarter of Isfahan, is a beautiful neighbourhood and the main attraction here is the magnificent Vank Cathedral. The frescos that cover the interior of the Vank Church, depicting the Biblical story, is a sight to behold – you simply have to see it for yourself. After visiting the Vank Church, drop by the nearby Bahar Narenj cafe (in front of the Jolfa restaurant), a cosy little space with the most stunning ceiling. Oh, they serve a wicked Nutella milkshake too – though you should probably try some local drinks instead.
14. Hike up Sofe Mountain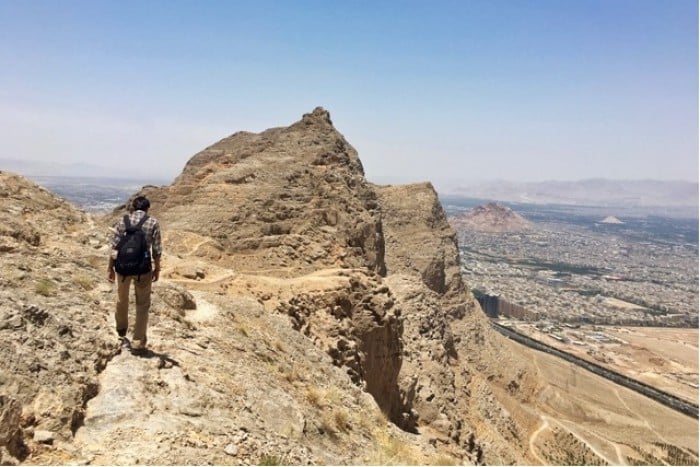 Near the top of Sofe Mountain
Itching for a hike? Take on Sofe Mountain, located south of Isfahan and easily accessible from the city centre. The hike to the peak takes about two hours and the trail is mostly paved. Alternatively, you can also ride a cable car to the top! Sofe mountain is great to visit early in the day or even at night. Bring some food along for a picnic at the foothills of the mountain!
15. Sleep under the stars in Varzaneh desert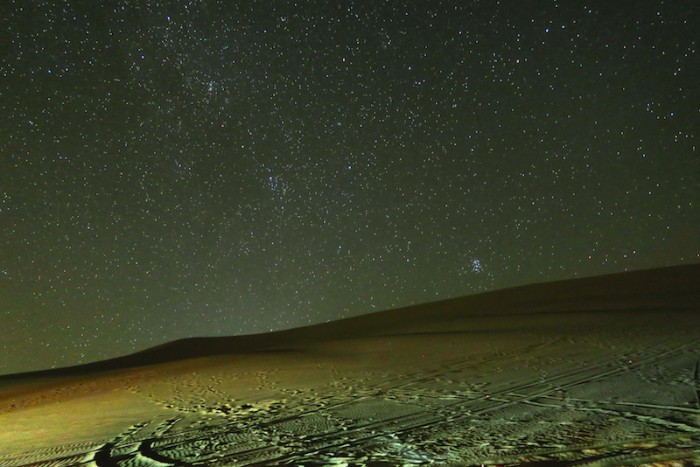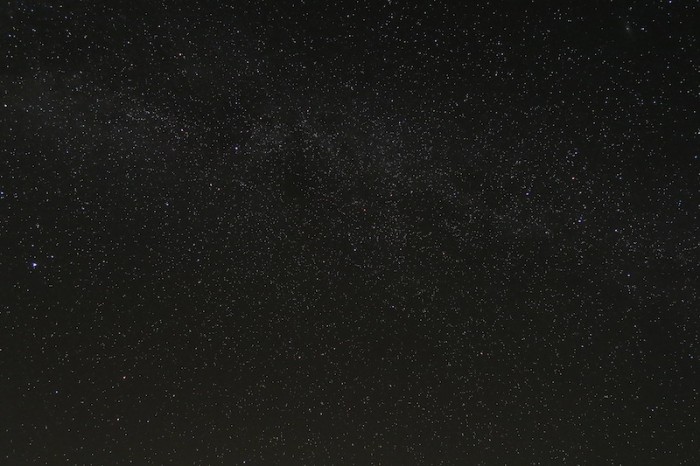 The beautiful night skies in Varzaneh, the desert near Isfahan. If you'd like to camp here overnight like I did, feel free to contact my friend Ali (+98 913 601 0442 on Telegram/Whatsapp) about the desert tour. 
What's a trip to Iran without some adventures in a desert? Varzaneh is 1.5 hours away from Isfahan and you can camp here overnight under the stars. However, take note that while you might be here to enjoy nature, some Iranians come to the desert to party. Good luck in finding a quiet spot in the camping area where all the cars are parked!
Kashan
16. Visit stunning traditional houses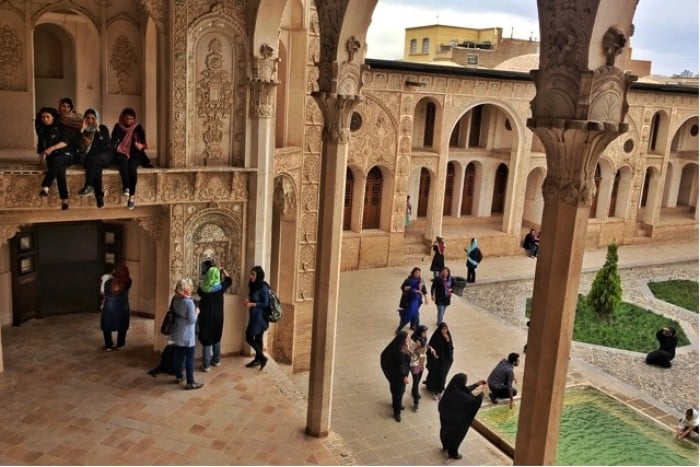 Tabatabai House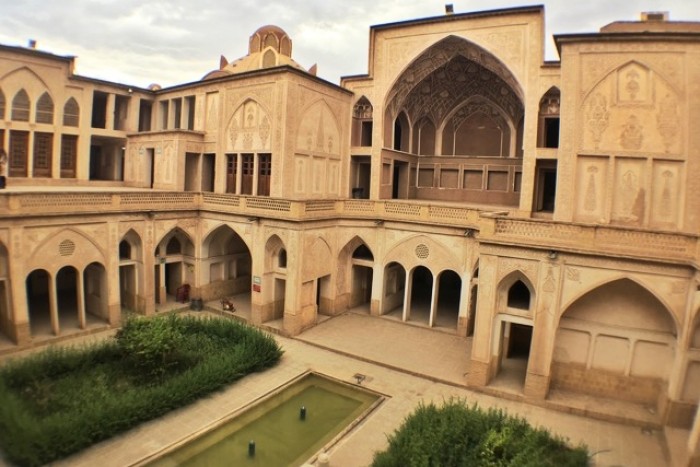 Abbasi House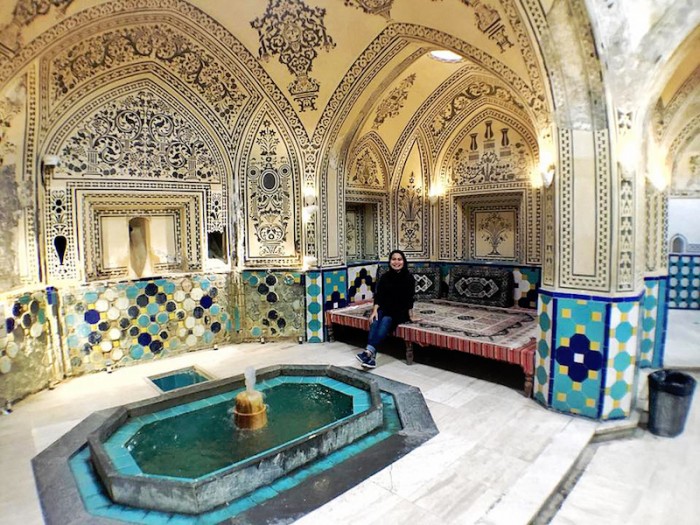 Sultan Ahmad Amir Bathhouse
If there's one reason to visit Kashan, it's the historical houses! Located a stone's throw from one another are Tabātabāei House, Boroujerdi House and Abbasi House. These houses exemplify the lavish residential architecture of affluent families in the 18th and 19th centuries. Another attraction in the area is Sultan Amir Ahmad Bathhouse, a downright stunning "spa" of the ancient days.
Yazd
17. Explore the alleyways in the Old Town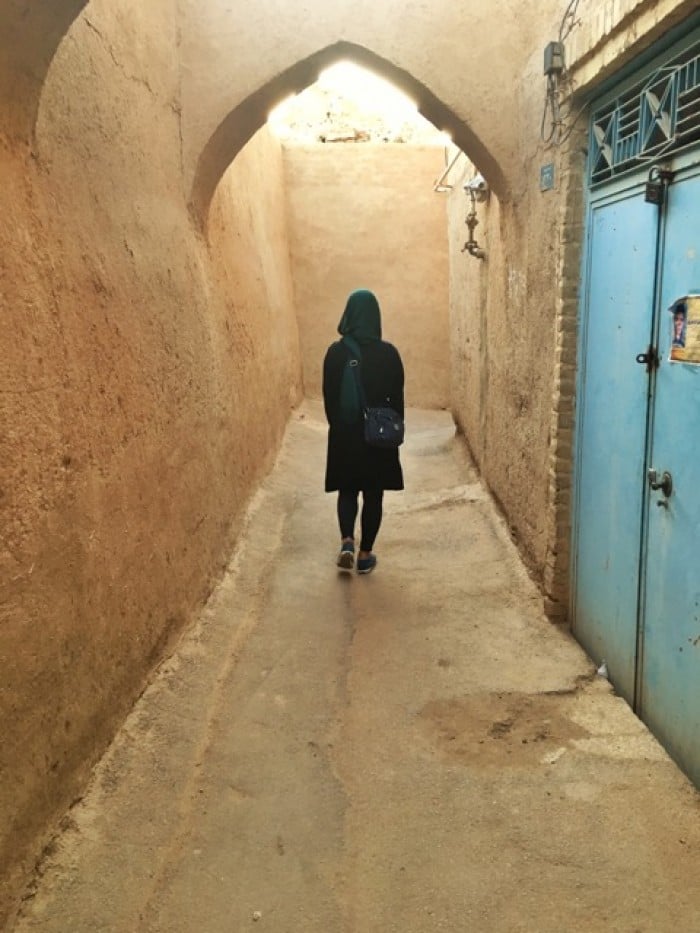 Wandering around the alleys of Yazd
This desert town of Yazd is a great destination to take a break from the city. Put on your walking shoes and explore the labyrinthine mud-brown alleyways in the Old Town! This is one of the most ancient towns on earth – so it'll definitely feel like you're walking through history.
18. Catch the sunrise from a rooftop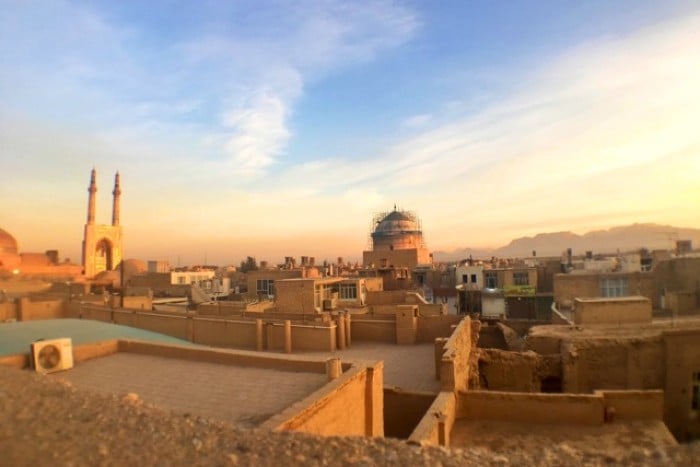 Sunrise from the rooftop of Orient Hotel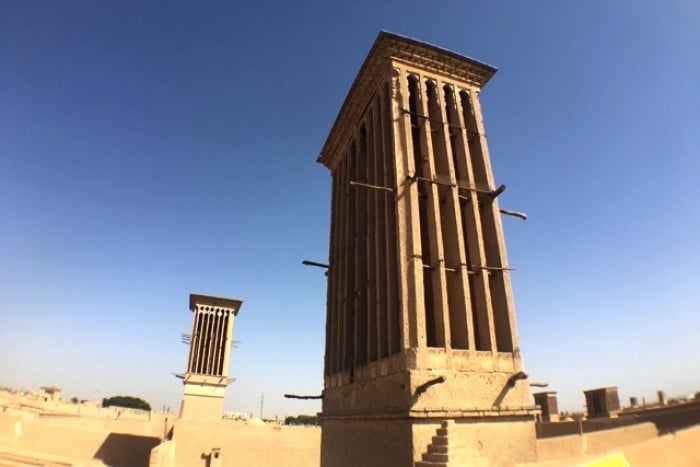 A typical badgir 
Wake up early to catch the sunrise from a rooftop! Yazd is known as the city of wind towers, and from the rooftop you can appreciate this. The distinct badgir (wind catchers) are fascinating structures designed to cool down buildings during the hot summer months. They dominate the skyline, along with the occasional minarets.
19. Watch a Zurkhaneh performance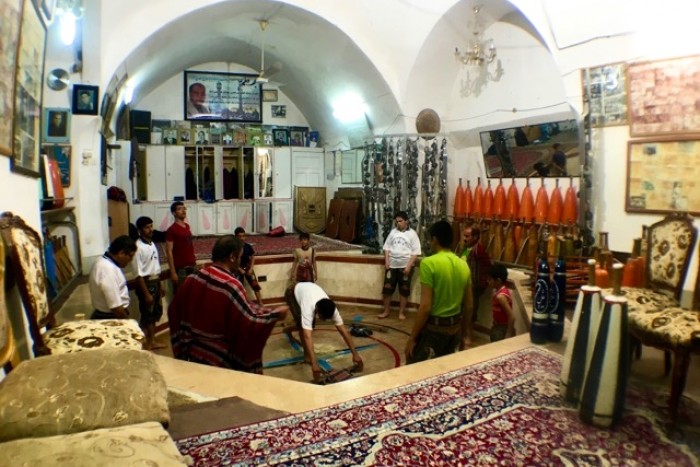 A small zurkhaneh performance 
Zurkhaneh (which translates to "House of Strength") is a form of traditional martial arts in Iran, where men practise callisthenics and other body-building exercises in a ring. Get ready for loud music and the smell of manly sweat! You can catch this action at Saheb A Zaman Club Zurkhaneh, located near the Amir Chakhmaq Complex in the centre of Yazd.
Others
20. Enjoy tea like a local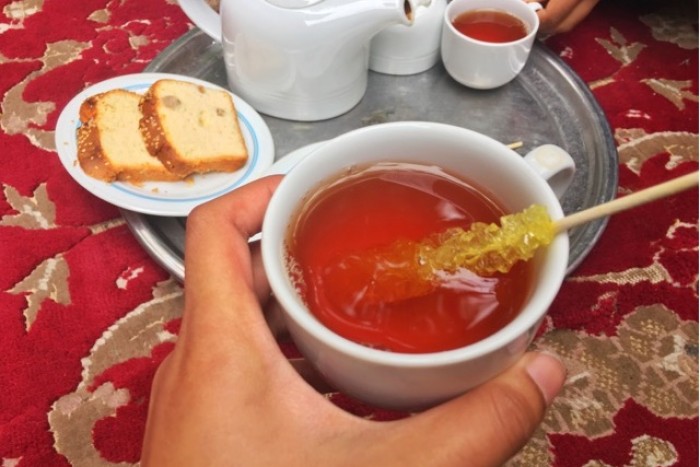 Iranian tea with nabot on a stick
When in Iran, tea time is almost all the time! Iranians brew and drink tea like art. Sometimes, it is made in a teapot with tea concentrate, and this teapot is placed above a samovar, which is a heated metal container used to boil water. To make your cuppa, pour the desired amount of tea concentrate in your cup, followed by hot water. Also, there are a few different types of sugar that can be served with your tea: qand (sugar cubes), nabot (saffron-coloured sugar crystals), poolaki (caramelised hard sugar candy, typically found in Isfahan), etc. Some of these sugars are placed in the mouth before sipping the tea.
21. Feast on Iranian food
Iranian food is DIVINE!
Here's some of the delicious food that awaits you in Iran: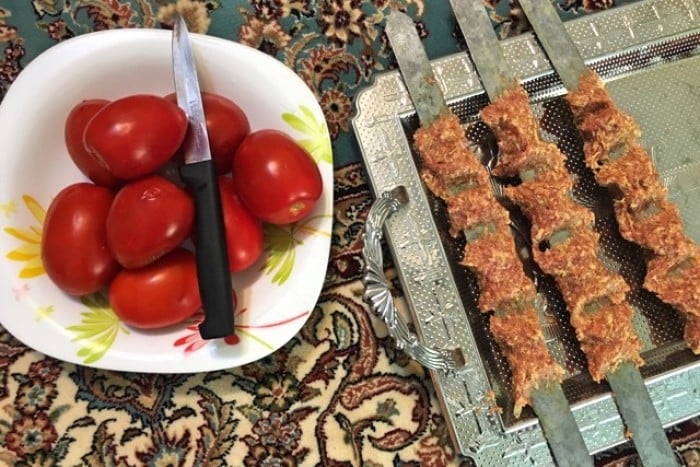 Homemade kebab in the making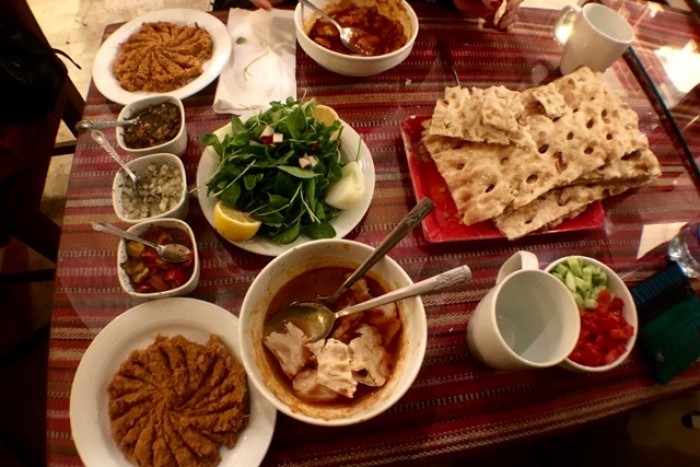 Dizi in a famous Dizi Restaurant in Tehran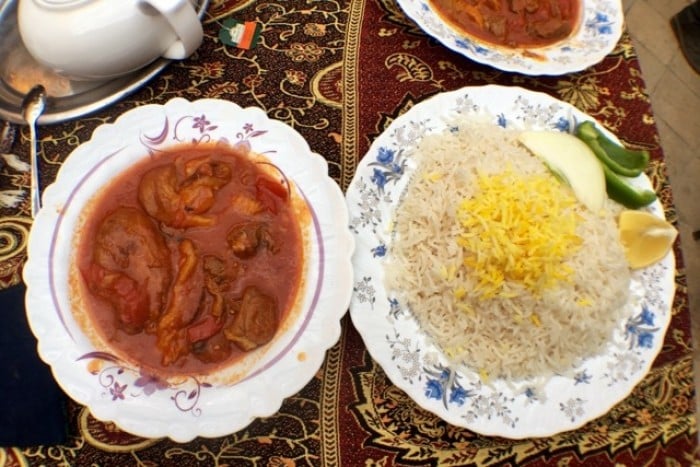 Khorosht-e bademjan (eggplant stew with rice)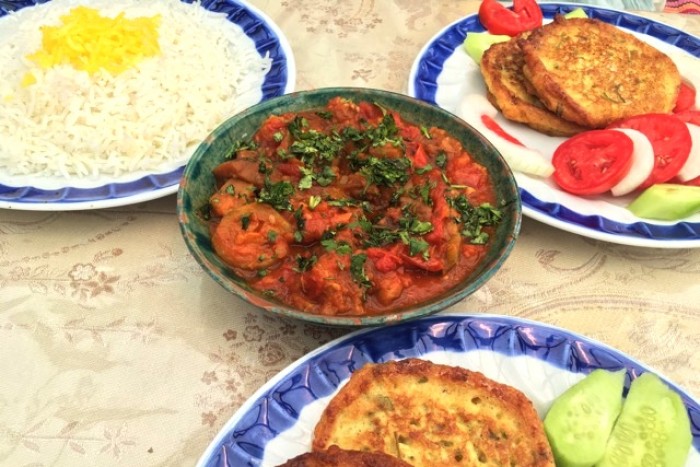 Yatimcha, a traditional dish in Yazd made from zucchini, tomatoes, onions and spices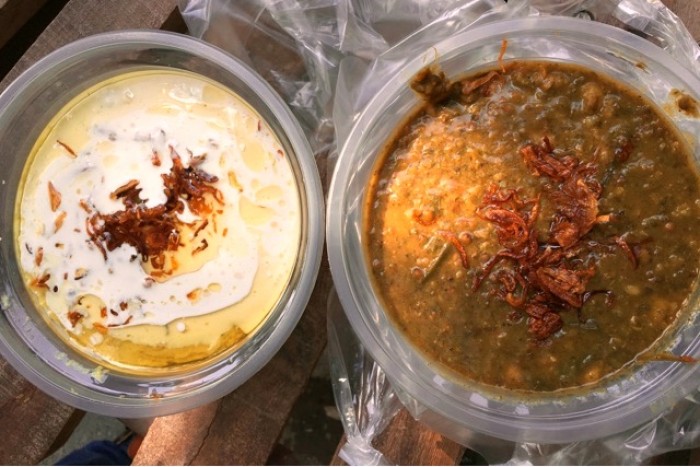 Halim bademjan (eggplant stew with lentils, meat and yoghurt) and a type of aash (thick vegetable soup)
22. Go off the beaten path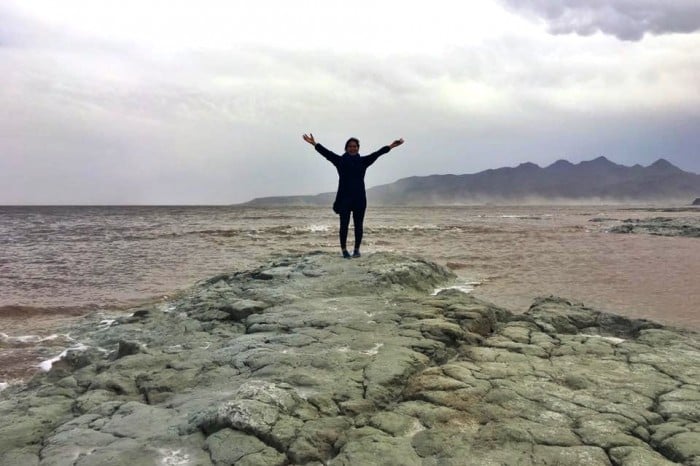 The reddish-orange Lake Urmia, a saltwater lake that is rapidly dwindling in water volume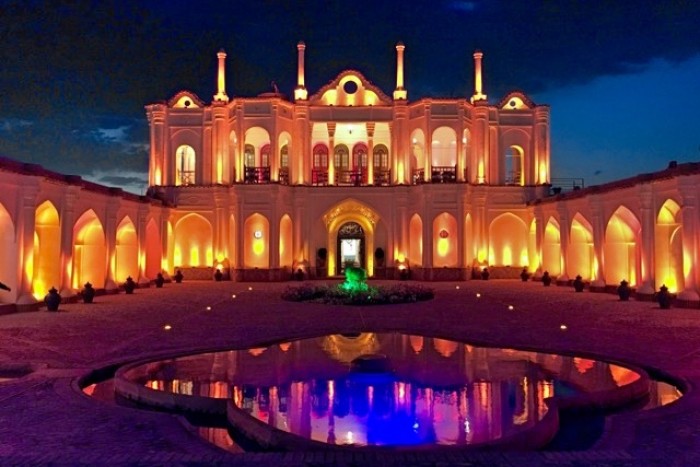 The stunning Fathabad Garden near Kerman
If you have enough time in Iran, get off the beaten path! Travelling is not just about visiting tourist attractions – it is also about throwing yourself out of the comfort zone for some great adventures! So go ahead and wander off into the lesser-known cities and towns… who knows what you'll discover!
23. Stay in a traditional hotel
The atmospheric courtyard in Orient Hotel, Yazd
Keep a lookout for traditional hotels when you pick your accommodation in Iran. This is a great way to glimpse into the architecture, living arrangements and even atmosphere of an Iranian residence in the past. The three I stayed in are Ehsan Guesthouse in Kashan, Orient Hotel in Yazd and Niayesh Boutique Hotel in Shiraz. I had a great experience in all three.
24. Try Couchsurfing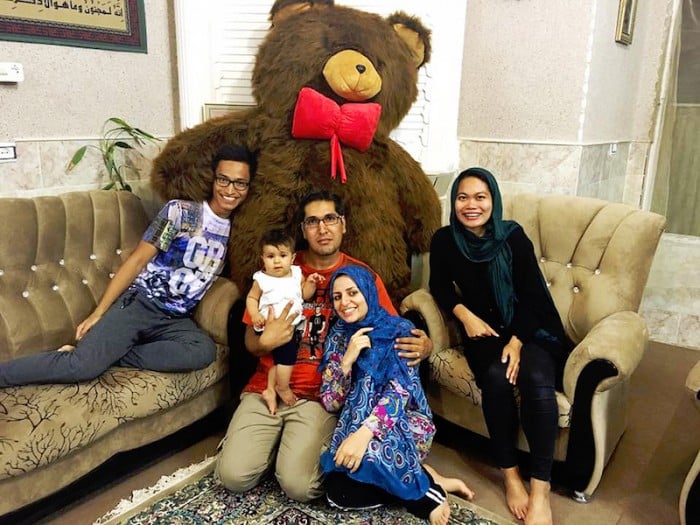 My lovely hosts in Rafsanjan
The easiest way to make Iranian friends even before your trip is through Couchsurfing! The Couchsurfing community in Iran is very active, and you can find locals happy to be your host. If you're not comfortable with staying in a stranger's home, you can arrange a meetup for coffee or a walk around the city. Either way, befriending a local will give you in-depth insights about the local culture and way of life. It will give you a more fulfilling trip, beyond skimming the surface with tourist sights and attractions!
25. Make friends with Persian cats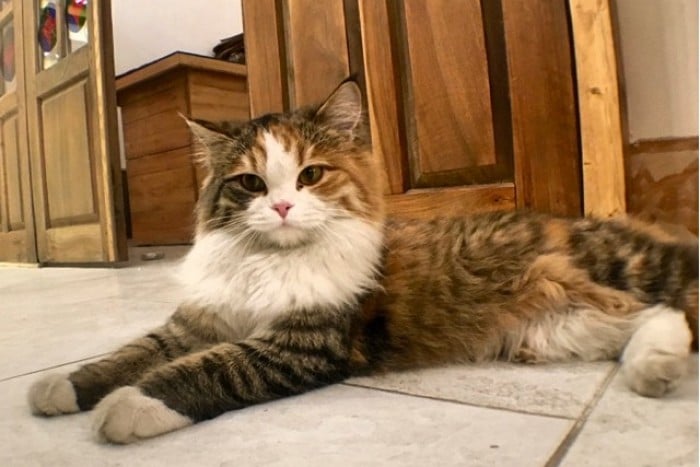 Furry kitty in a carpet shop in Yazd
One of my favourite things about travelling is meeting cats from around the world – but I'm just a crazy cat lady. Anyway, ever wondered where Persian cats come from? Where else but Iran (Persia)! While most of the pretty Persian cats with luxurious fur can only be found in homes, you can still find beautiful cats in public spaces, especially gardens. They tend to be wary of humans, so keep calm and gain their trust.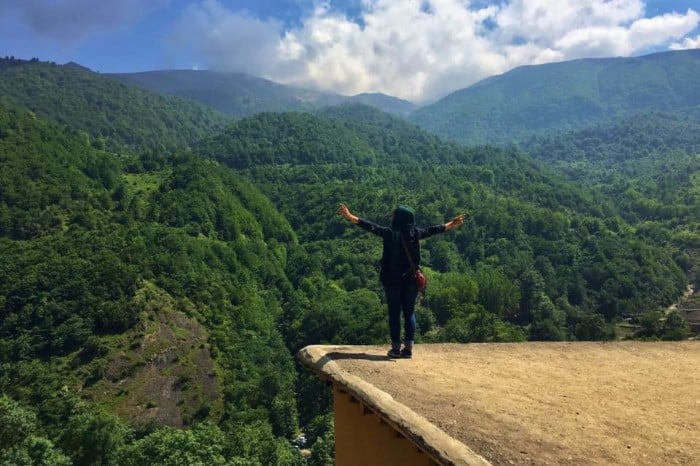 Feeling free in Masuleh
To conclude this list, I'd like to offer a little reminder to all travellers: come with an open heart and mind, and you'll be rewarded greatly.