Wildlife hotels, or hotels directly featuring wild animals as one of their amenities, have always received much criticism ever since they became a thing. Yet a lot of these establishments continue to operate around the world. Believe it or not, people do actually book with them despite all the ethical concerns that come with their stay.
Such is the case with China's Polar Bear Hotel.
As the name obviously suggests, it's a hotel that boasts of having polar bears, real and live ones, on its premises. Specifically, if you were to book one of 21 rooms in this hotel in China, you'd be treated with a view of these magnificent arctic creatures right from your accommodation, with a mere glass enclosure separating you from the "attractions".
Also read: Wildlife Tourism: When Is It Ethical?
First of its kind accommodation
Located within the Harbin Polarland theme park in Harbin, Northern China, the Polar Bear Hotel is the first of its kind to open globally. The polar bears are practically available for viewing round the clock from where they're kept — a small area containing mini pools of water, an all-white floor, and artificial ice.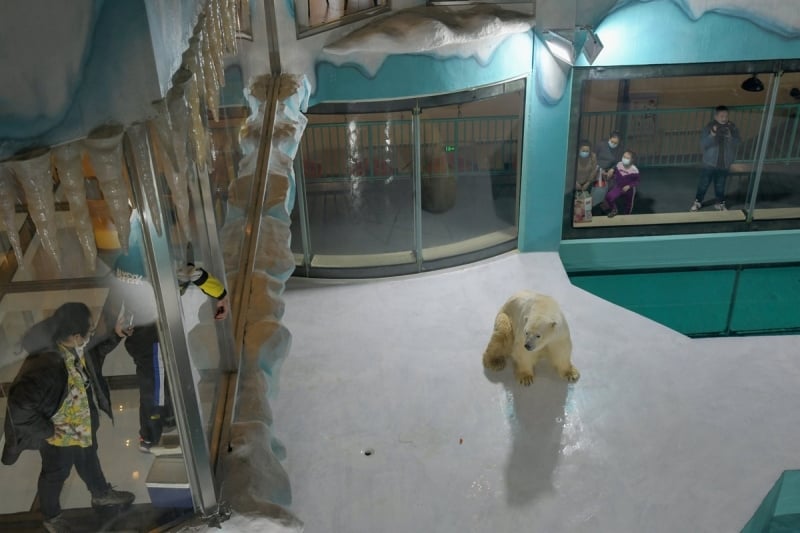 Although far from polar bears' habitat in the wild, this enclosure serves as a makeshift environment for the hotel's carnivorous mammals.
"Whether you're eating, playing or sleeping, polar bears will keep you company," explained Harbin Polarland's official WeChat account, as reported by Reuters. A spokesperson for Harbin Polarland also said that aside from the indoor enclosure whose photographs have been circulating online, there's an outdoor area that they sometimes go to when weather and air quality permit.
Polar Bear Hotel opened for a trial period from March to May 2021. Room rates range from ¥1,888 (about S$390) to ¥2,288 (about S$473). Staying in the hotel likewise gives one convenient access to the rest of Harbin Polarland, said to be the first polar performing arts amusement park in the world. It also displays dolphins, penguins, and beluga whales.
Meanwhile, Harbin, which has an average temperature of 3.6 degrees Celsius, is known for its ice and snow festival held annually.
Also read: 17 Theme Parks in Asia-Pacific to Visit for An Exhilarating Holiday
Polar Bear Hotel criticisms
Since its opening, publicity has never been a problem for the Polar Bear Hotel. Bad publicity, that is — as it earned an instant series of criticisms from animal rights groups and the worldwide community of animal-loving travellers.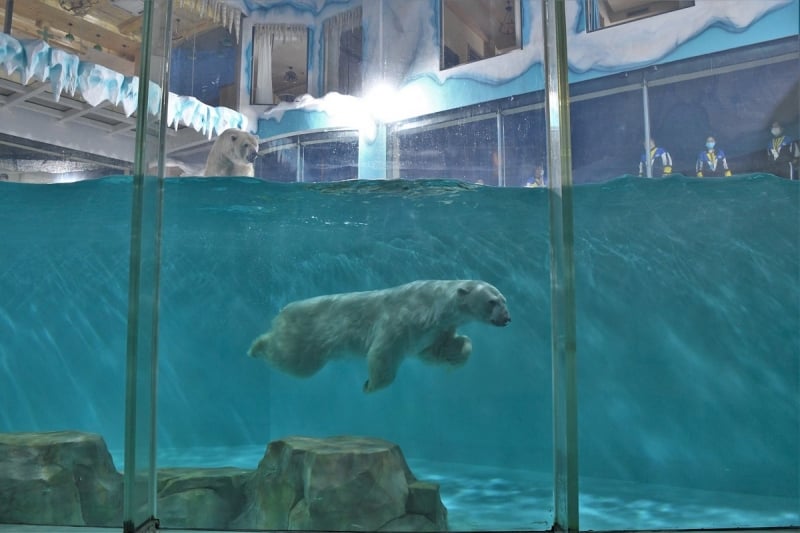 Among the first to speak out, of course, was the People for the Ethical Treatment of Animals or PETA. "Polar bears belong in the Arctic, not in zoos or glass boxes in aquariums — and certainly not in hotels," its senior vice president, Jason Baker, said in a statement. "Polar bears are active for up to 18 hours a day in nature, roaming home ranges that can span thousands of miles, where they enjoy a real life."
More than the environment, the purpose of building the hotel was lambasted by an animal welfare charity in the United Kingdom, Wild Welfare. This hotel is akin to a 21st-century bear pit. There is absolutely nothing positive to say about a captive animal facility which only caters for public need," said its acting director, Simon Marsh.
He added that "zoos and other captive facilities should prioritise the individual needs of their animals, not the public."
---
All images credit to Harbin Polarland/Stringer via Reuters.