Congratulations! You've survived the last few years of school, completed all those pesky group projects and other dissertations – plus finished those final-year exams that you've been stressing out over for months. Since school is finally out, it's time to start planning for your grand graduation trip with the squad! Are you bored of the usual destinations and yearn for something peppered with a whole lot more of adventure? Then read on for we've got just the list for you!
1. Ride with the camels in the Sahara Desert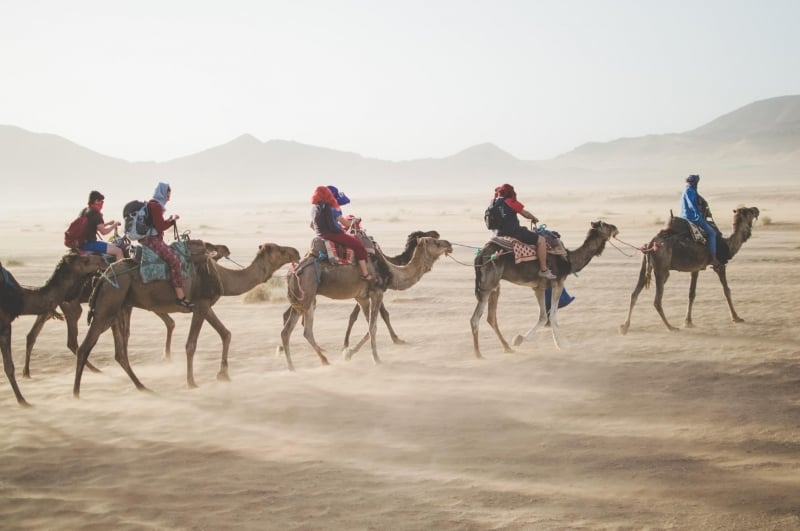 Mention the Sahara Desert and many would probably think about vast, sandy deserts and camels. What fun things could there possibly be to do in the middle of a desert wasteland? Surprise, surprise! If you and your squad are game for a desert adventure, it's time to catch a flight to Morocco!
Trace the footsteps of Bedouin Arab tribes of days old through the planet's largest desert on a camel as your group traverse the Saharan sand dunes. Leave the digital ecosystem and civilisation behind to experience authentic rustic comfort deep in the desert. On a desert safari overnight camp experience, you get to watch the sun sink behind the mountainous dunes, while setting up traditional nomadic tents for the night. Warm yourselves around the campfire as the evening is livened with Berber music and other performances. As night falls, embrace the silent atmosphere of the desert as you spend the night under the canopy of stars.
For an authentic Moroccan experience, take a dip in one of their local Hammams (public baths). When in Marrakech, don't miss out on the local bath experience in Dar El Basha, the city's largest Hammam. Explore the red city as peer into ancient Moroccan sites and marvel at the incredible traditional architecture that adorns the country!
Hostels in Marrakech: Starts at MAD50 (~S$8) per pax, per night
Saharan desert camp: Ranges around MAD450 (~S$65) per pax, per night
Hammam experience: From MAD50-100 (~S$7-$14)
2. Backcountry camping under the Canadian sky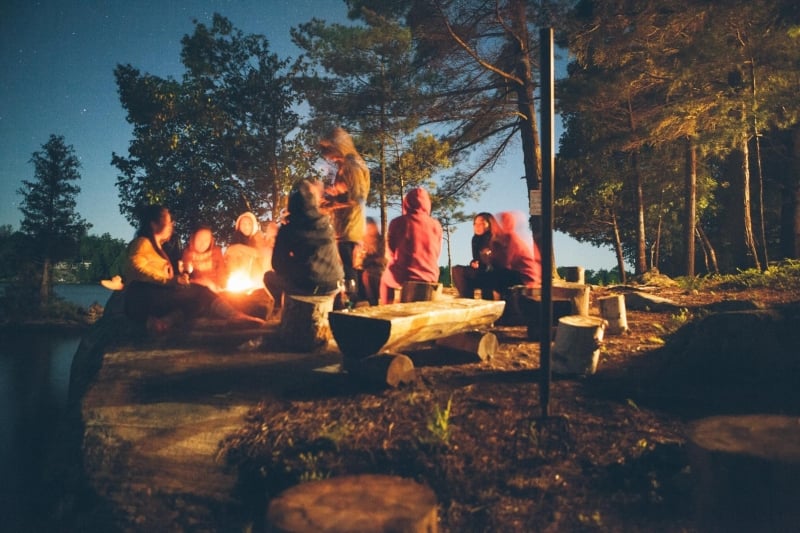 If you think nothing beats camping out with friends in the great outdoors, Canada is the place for you! The Canadian countryside may be wild and untamed but it is one of the most popular regions to go on full-out backcountry camping. From prairies and icefields to lakesides and national parks, you and the squad will be spoilt for choice on where to explore! The country is also flooded with ideal campsites, so fret not about accommodation. Pick a camp spot (throw a dart on the Canadian map, if you need to!), pitch a tent and get ready for a camping experience like not other! Some camping grounds require you to pay for a spot. Avoid paying for campsites by looking out for free campgrounds to save up on that precious dough!
Once you're back in civilisation in Toronto, indulge in the jolly spirit of the city as you venture about with your friends! Enjoy free concerts produced by the Canadian Opera Company during music festivals, traipse the art galleries and museums or go on a free city tour.
Hostels in Toronto: Starts at S$30 per pax, per night
Camp: Ontario parks' campsites start at CAD35 (~S$36) per campground, per night
3. Hit the ski slopes at Hokkaido's trendiest ski resort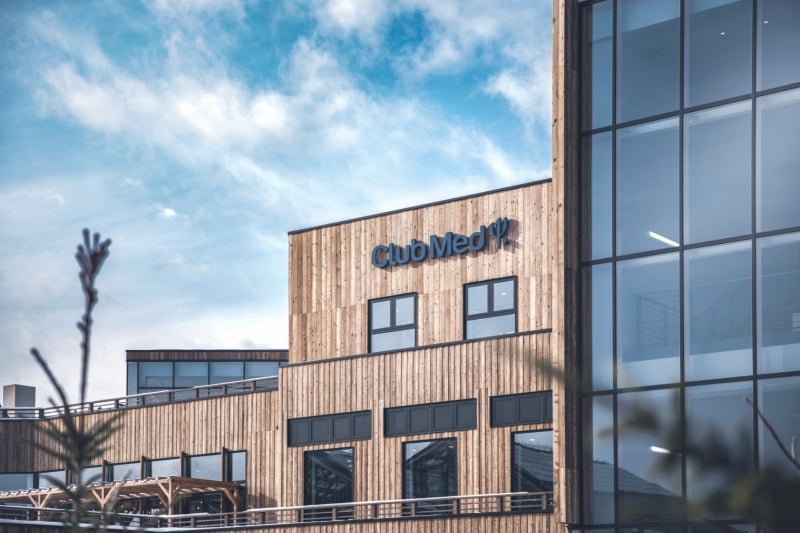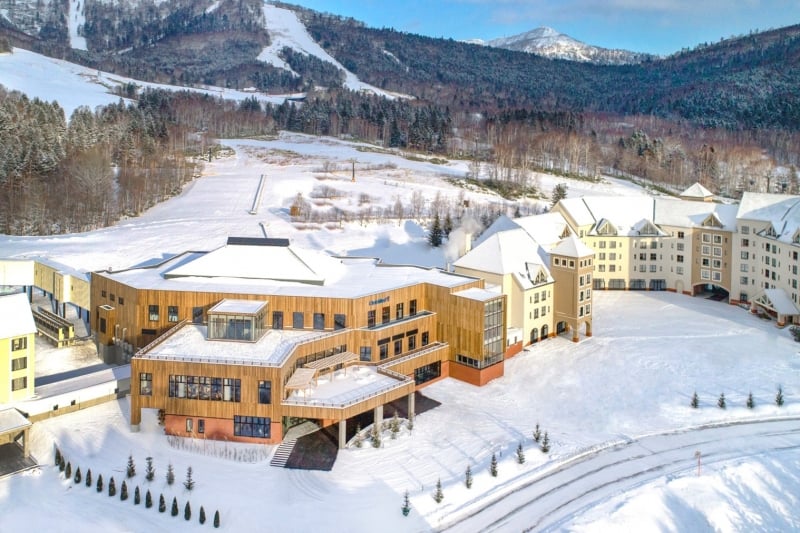 Always wanted to see white powdery snow and try thrilling snow sports like skiing, snow trekking, or ride Japan's largest indoor wave pool? A graduation trip tucked away in the winter wonderland of Hokkaido might just be the right thing for you! Not to mention, there are fresh seafood, premium Wagyu beef, and award-winning locally brewed spirits which make the trip more than just a snow escape but a gastronomic culinary journey as well.
And if you and your squad love challenging ski slopes, ever-buzzing party scene, mouth-watering delights and crave for novel experiences such as staying in an ice hotel nestled in a magical snow village, Club Med Tomamu Hokkaido will offer a memorable experience for you and your BFFs.
The best part is, this relatively new resort which opened in December 2017, is sprawled across over 1.45 square kilometre of Tomamu Mountain – think spectacular snow-capped mountainscapes!
4. Trek up the highest peak in Malaysia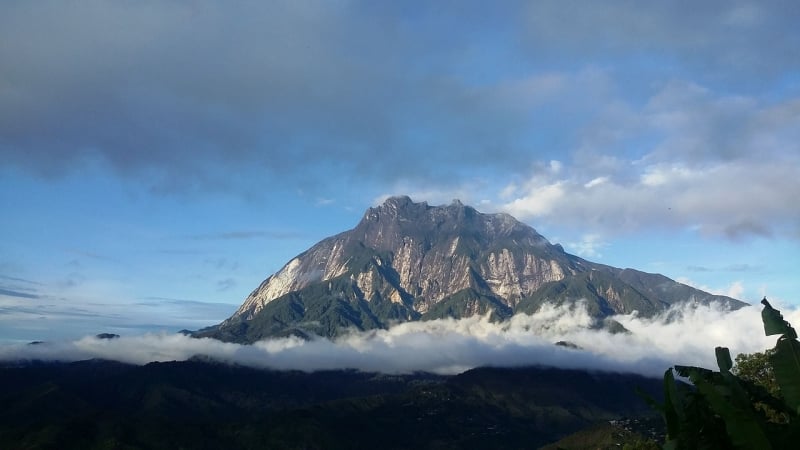 Game for the climb of a lifetime? How about making an attempt to scale Malaysia's highest mountain – Mount Kinabalu in Sabah, Malaysia? Do not underestimate this physically strenuous activity – the summit of Mount Kinabalu, Low's Peak, is at 4,095m. The trek up to the summit takes approximately two days and a certain level of fitness, so if you and your friends want to enjoy breathtaking views at the top, be sure to start training early for the climb!
If hiking up Mount Kinabalu seems too daunting, try trekking through the jungles of Maliau Basin (Sabah's Lost World), instead. This remote part of the forest doesn't see much tourists; only keen nature-lovers who would brave through dense vegetation to Maliau Falls, a sparkling seven-tiered waterfall which is the largest in the basin.
Hostels in Sabah: Starts at RM26 (~S$9) per pax, per night
Mountain Climbing Package: 2D1N tour starts at RM1134 (~SGD380) per pax
5. Rejuvenate yourself with a yoga retreat by the beach in Bintan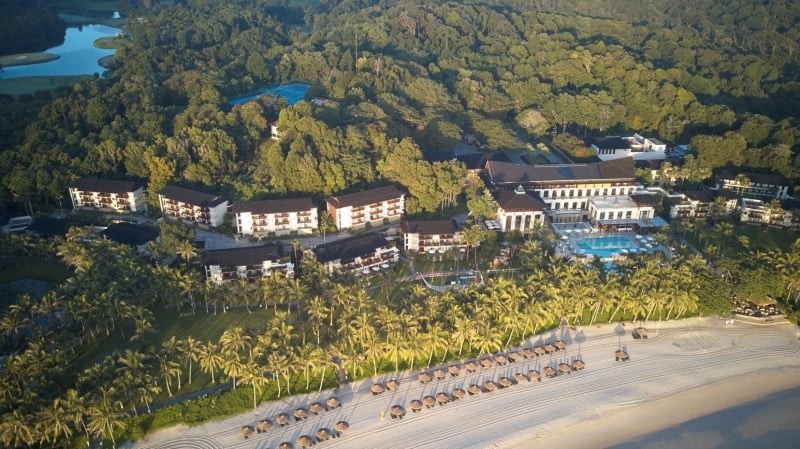 After an intensive period of burning the midnight oil and cramming for the papers, the best way to rejuvenate your body and calm your mind is with yoga! To make it more fun and enjoyable, how about yoga by the beach in an idyllic destination like Bintan?
Situated just 55 minutes away by ferry from Singapore, Bintan is a popular, affordable holiday destination with round-trip ferry tickets starting from just S$58. Among all the resorts, Club Med Bintan offers the best deal with an all-inclusive package that encapsulates resort transfers, accommodation, food, drinks and select activities, and don't worry – the options are far from limiting. Besides yoga by the beach, expect activities like snorkelling and kayaking on top of all-day epicurean offerings at their numerous restaurants and bars!
6. Dive with the turtles in Sipadan Island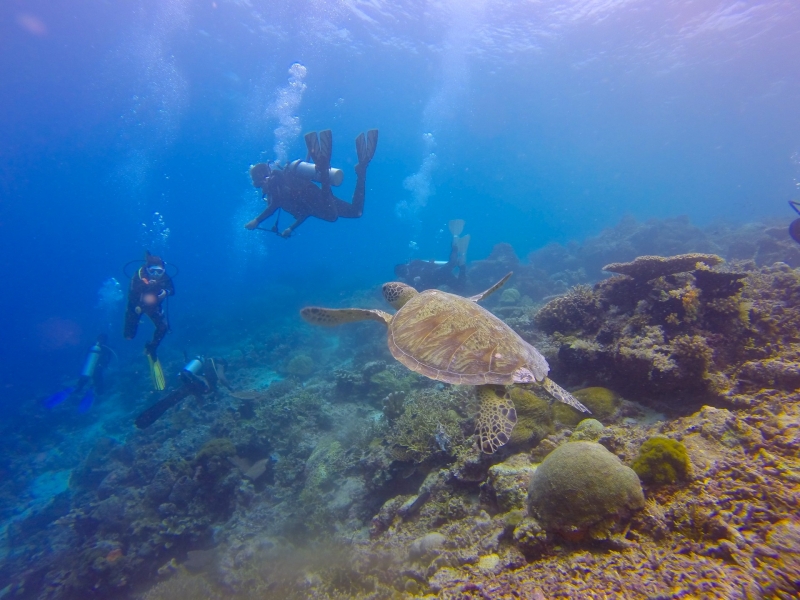 Touted as one of the most beautiful scuba diving spots in the world is Sipadan Island in Malaysia. Home to the largest barrier reef in Southeast Asia, the Sipadan Barrier Reef houses an ecosystem consisting of hundreds of turtles, shark varieties, schools of fish as well as barracudas and manta rays! If diving isn't for you, you can still get to immerse yourself into these blue waters and snorkel, too.
Although this hotspot for marine biodiversity is situated far from the mainland, fear not about finding accommodations in this remote oceanic region. Sipadan Island itself may not have lodgings for overnight stays but the nearby mainland city of Semporna has a variety of accommodation options for divers and visitors to choose from!
Inns in Semporna: Starts at RM60 (~S$20) per room, per night
Diving package: Starts at RM1000 (~S$335) per pax
Non-diving (snorkelling) package: Starts at RM950 (~S$320) per pax
7. Go on an eye-opening cultural and heritage cycling tour through Delhi
What better way to get a glimpse into the daily lives of the locals and the gorgeous historical architecture than on a cycling tour? If you are looking for a unique way to explore India, riding a bicycle through the busy streets just has to be it. You'll get to go pass national monuments like temples and historical villages and if you book a tour with an agency, the local guide will also give you the lowdown on all the sights and sounds around you.
In New Delhi, make sure your cycling route takes you to all the historical landmarks like the Nehru Stadium, India Gate and Hamayun's Tomb. In Old Delhi, take the route that will bring you to the banks of the Yamuna River, Chadni Chowk, Red Fort and Jama Masjid. At your pit-stops, talk to the locals, barter at the street markets or stop for a glass of freshly brewed chai tea. For lunch, feast on fresh naan and a bowl of murgh makhani (butter chicken) for a simple yet delicious meal. Whether you decide to explore New or Old Delhi, you will truly see India in a whole new light after you're done.
Hostels in Delhi: Starts at INR350 (~S$6.90), per pax, per night
Cycling tour: Starts at INR2,000 (~S$41) per pax
8. Soak at the edge of the Victoria Falls
Dare to soak at the edge of the world's largest waterfalls? If you and your buddies consider yourselves a bunch of brave hearts, then head down to Victoria Falls in Zambia. Get your hearts racing as your squad dives into the deep pool while the currents steadily push you to the edge of the falls by the river's sheer force. Afraid that you might just tip over the edge? Fret not, the rock walls formed right at the end of the pool will prevent you from plunging down some 108m.
Zambia isn't home to just the Victoria Falls, but also a myriad of animals. Embark on a half-day safari to catch sight of some of Africa's amazing animal citizens, such as the African elephants, hippopotamuses, majestic lions, wildebeests and giraffes! From bathing in the most dangerous infinity pool to incredible animal sightings, this Zambian journey would definitely be an unforgettable adventure! Conquer all these sights and sounds on an incredible backpacking journey.
Hostels in Lusaka: Starts at ZMK50,290 (~S$12) per pax, per night
Devil's Pool Package: Starts at USD105 (~S$140) per pax
Half-day Safari: Starts at ZMK528,050 (~S$126) per pax
9. Experience shark cage-diving in Cape Town
Any Jaws fans out there? This one's for you! Team up with your circle of fellow shark-lovers and make a trip to Cape Town. Hop into one of the steel cages and dive down to get up close with the ocean's apex predators in their natural habitat. Prefer to marvel at the sharks from a safer distance? Spot them from the boat as they viciously hunt for seals in the area!
Apart from coming face-to-face with the infamous carnivores of the sea, soak in the surreal aerial views of Cape Town from the top of the world-famous Table Mountain. Get your mates to hike up to the top of the flat-top mountain and be mesmerised by the stunning panoramas! The free hike up will indeed be more rewarding than those costly cable car tickets.
Hostels in Cape Town: Starts at ZAR206 (~S$23) per pax, per night
Shark Cage Diving Tour: Starts at USD200 (~S$265)
Table Mountain Cable Car (one-way): Starts at ZAR150 (~S$200)
10. Walk the plank in Huashan
Pirates are not the only owners of plank walks, the city of Huashan is, too! This notorious pathway, also known as the world's most dangerous hike, is infamous for claiming 100 lives per year. The narrow plank that is fixed to the side of the mountain will take you to the South Peak, the highest peak of the five Huashan Mountains in Shaanxi, China. Supported by safety harnesses, handrail chains and a 3-feet wide plank, this treacherous path is not easy to traverse as there might be someone coming from the opposite direction! An experience like this will have you and your friends talking for a long time. Still up for the walk of your life?
If you aren't much of a thrill-seeker, head over to the capital of Shaanxi, Xi'an, the starting point of the ancient Silk Road. Walk through the aisles of the vibrant markets and explore the lifestyle and culture of Chinese Muslims, who make up a significant portion of the Xi'an population. The wallet-friendly street snacks and eateries also make Xi'an an awesome destination for a foodie trip!
Hostels in Xi'an: Starts at CNY24 (~S$5) per pax, per night
Entrance fee to Mount Huashan: CNY180 (~S$38) (students get to pay half the price!)
Plank Walk Harness Rental: CNY30 (~S$7)
11. Marvel at the architecture of Bukhara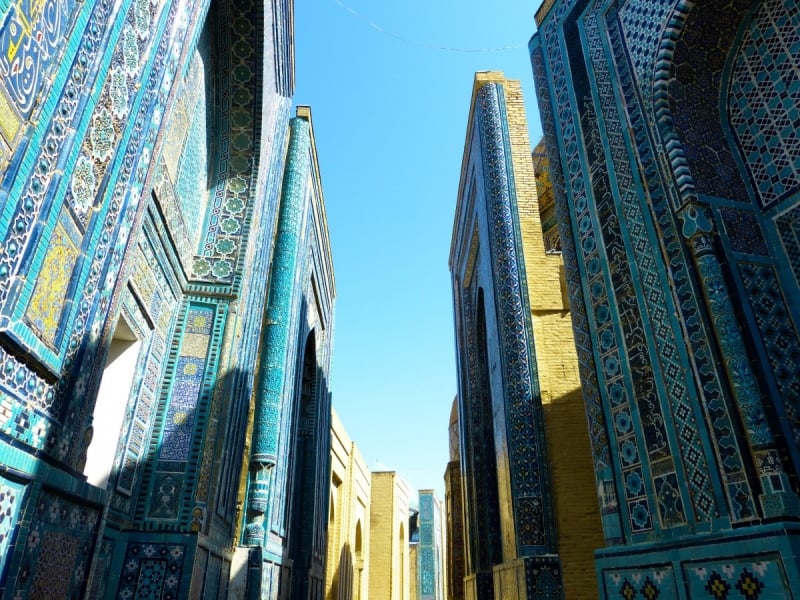 Maybe your definition of fun is more of marvelling at mesmerising architecture and getting engrossed into diverse cultures? If so, Central Asia welcomes you! Only having gained independence recently from the Soviet Union in the 90's, most parts of Central Asia are still culturally thriving with minimal technological development in the rural areas. However, Uzbekistan in particular holds the crowning glory when it comes to fascinating architecture of Central Asia.

Grab your buddies and take a trip down the Silk Road cities, such as Bukhara and Samarkand, to let your soul be filled with wonder by the Uzbek culture and architecture. Walk the grounds of the Ark Citadel, Lyab-i Hauz, Mir-i-Arab Madrasa and admire many other elaborate minarets! Once a hub for trading during the times of the Silk Road, marketplaces are a must-visit when dropping by Bukhara. Remember, bargaining is de rigueur here. Also, when getting souvenirs, source out unique local items that will remind you of your time in Uzbekistan. Typical souvenirs might be pricier than what the locals might get.
Hostels in Bukhara: Starts at USD7 (~S$10) per pax, per night
Attractions entrance fee: Starts at USD1.50 (~S$2) although quite a number of them can be free
12. Work during your holiday in New Zealand
Some say that work and holiday shouldn't be combined. But when it comes to New Zealand, opting for a working holiday trip seems easier on the wallet. When you and your friends decide to go on a work holiday trip, work on some days and travel the country on other days.

There are a variety of jobs you can go for such farming or pre-school teaching, depending on your qualifications. By doing so, not only do you earn money and save on lodging, you and your buddies will also get to enjoy an authentic Kiwi experience!
With regards to the rest of the non-working days, spend the money you righteously earned, of course! Take a boat ride down Milford Sound, delve into the Waitomo Caves as glow-worms light up the way for you or take pictures at the Hobbiton movie set. All that being said, nothing can beat trekking the rustic trails in New Zealand's parks and lakesides. Home to many natural wonders and breathtaking sceneries, these vast parks are best explored by foot.
Hostels in Auckland: Starts at NZD21 (~$20) per pax, per night
Important tips:
Don't dump your student cards in the bin yet! Some places offer extra deals and discounts to different attractions when you flash your student card so don't be afraid to ask the counter staff if they have special prices for students.

Pack light so you won't have to pay for extra baggage charges when you come back with bursting luggages!

Don't forget to start monitoring early for cheap flight deals, or source out different transportation options like connecting flights or a flight plus train combination that will help you save on getting to your destination! After all, you guys

do

have all the time in the world now, since school is out. It wouldn't hurt to take a little detour if it saves you a bit of money.

Do plan and book your hotel ahead of time. You can check out the

HotelsCombined app

.

It compares prices from all the top travel sites to get you the best deal in one search. With all these savings, you can afford to indulge and spend more at your destination!
All in all, good times are on the way regardless of the destination you pick from this list. So, get planning and start gathering your peers. Travel safe and happy graduation!