Italy is filled with many ancient towns and cities, all home to magnificent architecture and historic sites. We all know about the wealth of history in Rome, the gorgeous buildings in Florence and the spectacular canals in Venice. But it is the Italian countryside that is the nation's real treasure. Rural Italy is arguably the most picturesque region on earth, dotted with unimaginably pretty villages – sometimes consisting of houses painted in the brightest of colours, other times made up of surprisingly shaped structures and oftentimes located in a breathtaking location, be it on coastal cliffs, on a hill overlooking undulating hills or on the shore of a lake.
[TRAVEL DEAL] From the glorious Vatican City to the mighty Colosseum in Ancient Rome, discover the Jewels of Italy on a 7 day trip for less than S$200 with Trafalgar!
The following fifteen towns are some of the most beautiful in all of Italy – let them be an inspiration for your future travels!
1. Burano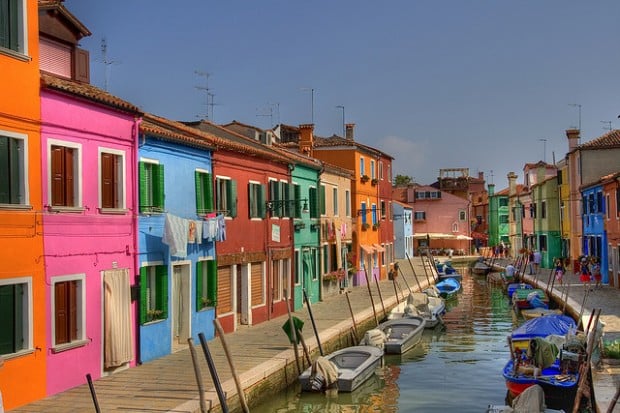 Image credit: Martino Pizzol
Burano could be called a miniature version of Venice, its bigger world-famous neighbour. Just like Venice, Burano is an archipelago in the Venetian Lagoon in northeastern Italy. It consists of four islands, which are all interconnected by bridges and are covered with the most colourful buildings – it's those buildings that the town is most famous for. Another attraction is Burano's lacework.
2. Ravenna
Image credit: Gabriele Quaglia
With a population of more than 150,000, it's rather a city than a town, yet Ravenna definitely belongs on this list. It's home to no less than eight UNESCO World Heritage Sites, several museums, churches dating back as far as the 4th century and the tomb of Dante. Additionally, make absolutely sure to see the town's famous Byzantine and Christian mosaics.
3. Gubbio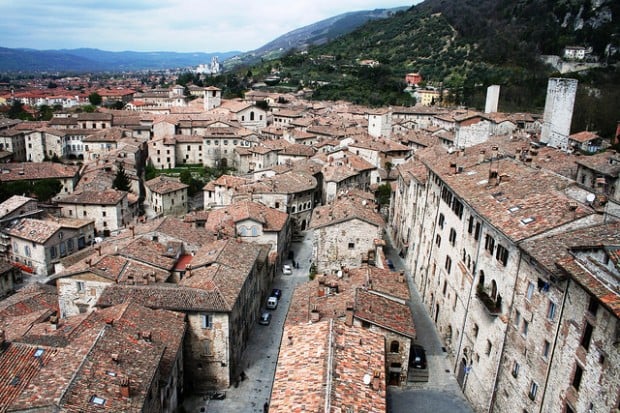 Image credit: Benito Roveran
Situated in Italy's Le Marche region, somewhat off the beaten tourist track, pretty Gubbio is often regarded as the country's ceramics capital. There, you will find everything from hand-painted vases to plates to pitchers and bowls. Its streets winds their ways up a hillside and are lined with century-old brick buildings.
4. Castelsardo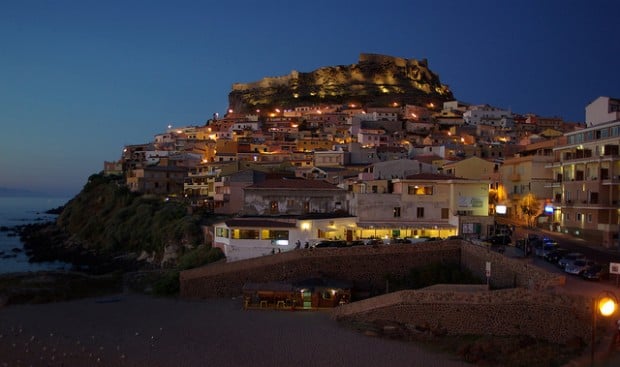 Image credit: Mario De Carli
Perched on a rocky hillside on the Sardinian northern coast, Castelsardo is a town of almost 6,000 inhabitants. This historic coastal town is home to several interesting attractions, including the Doria Palace, the Doria Castle, prehistoric megalithic walls, a church and cathedral, and Elephant's Rock, one of the very symbols of the island of Sardinia. Filled with restaurants, cafés, shops and tourist offices, attractive Castelsardo makes for a fantastic day trip.
5. Positano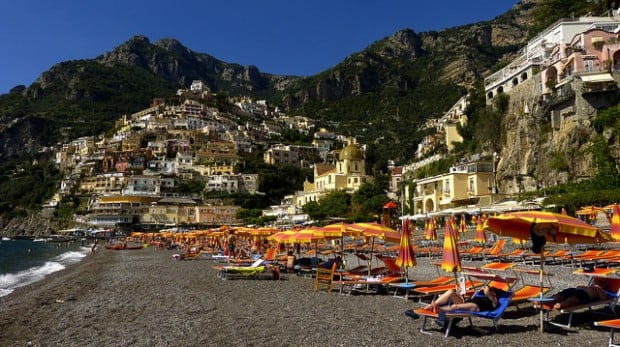 Image credit: Mariano Mantel
The village of Positano is doubtless the most stunning on the entire Amalfi coast. It has a marvelous seaside location, its brightly coloured houses built on the steep coastal hillsides; its pretty beach, plethora of restaurants, scenic harbour and spectacular church draw in many thousands of visitors each year. This is definitely one of the most beautiful towns in Italy and possibly one of the most photographed as well.
Also Read: 6 Gelaterias to Visit for the Best Gelato in Italy
6. Bosa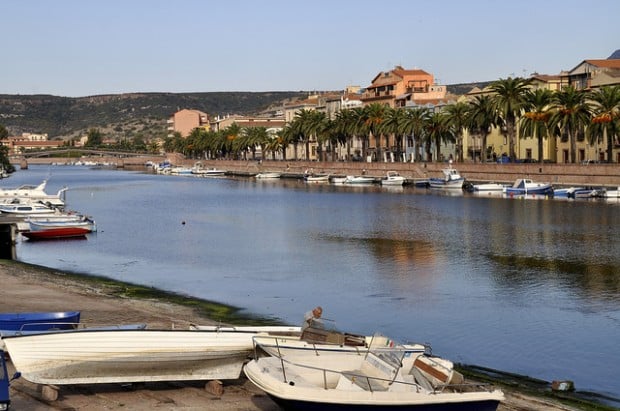 Image credit: Milo-31
Bosa is arguably Sardinia's most picturesque town – a town with a palm-tree-lined waterfront, dazzlingly colourful houses, overlooked by a castle and crisscrossed by narrow winding alleyways. The town is so colourful that, when seen from a distance, it looks somewhat like an urban rainbow. Add to that a plethora of nearby beaches and wineries, and you have a potentially perfect place to unwind.
7. Malcesine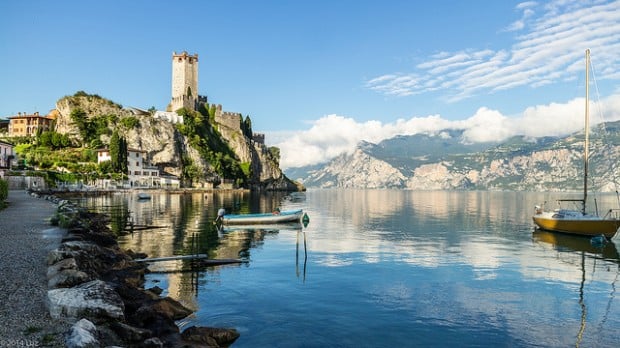 Image credit:  lozwilkes
Beautiful Malcesine is a town on the shore of Lake Garda in northern Italy's lake district. It's a very popular tourist destination, home to the prominent medieval Scaligero Castle, the tall Monte Baldo that can be reached by cable car, and the Capitani Palace. Crammed between the blue lake and a sheer mountain range, Malcesine is blessed with a magnificent location. In summer, the town gets overrun by holidaymakers, sun-seekers, day-trippers, cyclists and hikers alike.
8. San Gimignano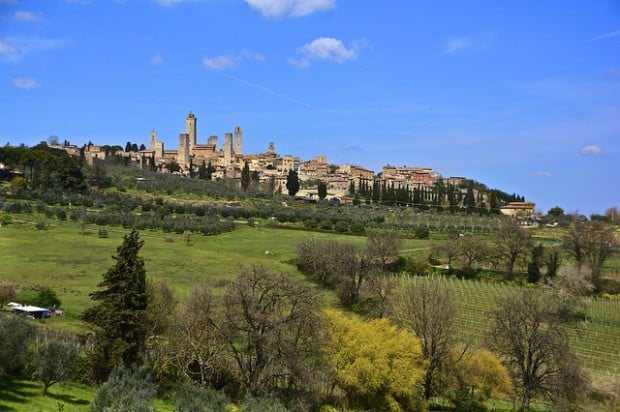 Image credit: Antonio Cinotti
San Gimignano is a spectacular town in the heart of Tuscany. Set atop a hill overlooking the surrounding Tuscan countryside – possibly one of the most beautiful regions on the planet, it is said to be the best-preserved medieval hilltop town in Italy. Seen from one of the vineyards that lay around it, San Gimignano 16-tower skyline looks like it could come straight out of a fairy tale. This is an absolute must-see.
9. Vernazza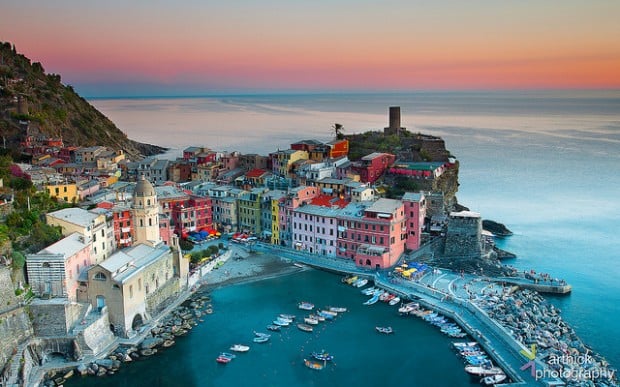 Image credit: Karthick Ramachandran
The town of Vernazza, home to about one thousand residents, is one of the five towns that make up Cinque Terre, arguably the most well-known coastal region in Italy. This breathtakingly beautiful town originated as a fishing settlement and these roots are reflected in the fact that there are no cars. Highlights include the pastel-coloured buildings, the church, the Doria Castle and the beach. For some world-class views, make sure to walk to coastal trail that links all five villages of Cinque Terre (meaning Five Lands) together.
10. Alberobello
Image credit: Ricardo
Quaint Alberobello is a unique town in the Apulia region in southeastern Italy. It's main attraction is the so-called Trulli, ancient dry-wall limestone dwellings that are now a UNESCO World Heritage Site – definitely a town that's worth checking out.
11. Civita di Bagnoregio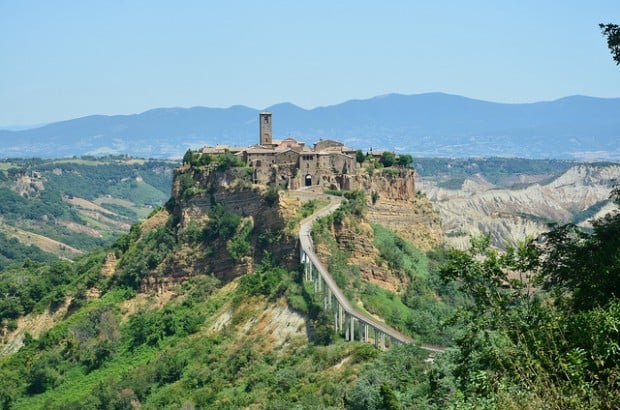 Image credit: Gianluca Papaccio
Built on top of a remote cliff, Civita di Bagnoregio might just be the most striking of all Italian towns. Its location is nothing less than extraordinary – the town can only be accessed on foot or on a Vespa on a long stone bridge. A dramatic destination, to say the least, and definitely worth a visit.
12. Dozza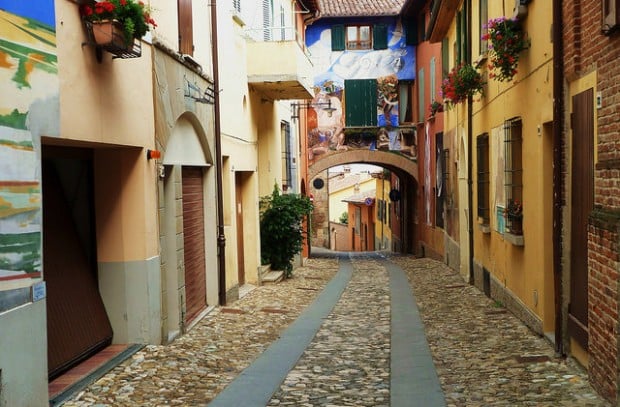 Image credit: Turismo Emilia Romagna
A small town in the province of Bologna in the Emilia Romagna region, Dozza's main landmark is the Sforza's Castle. The main tourist attraction, however, is without question the bi-annual festival of the painted wall. That festival involves renowned Italian and international artists painting works of art on the walls in the town. As a result, Dozza's cobbled streets are like an open-air museum, lined with gorgeous paintings and great fun to walk around in.
13. Pitigliano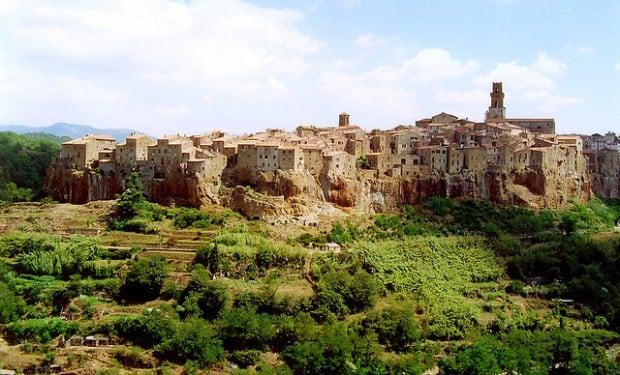 Image credit: Thomas Mues
The southern corner of Tuscany is less-known, yet superbly beautiful, as is shown in this jewel of a town. Pitigliano rests picturesquely atop a rocky spur that protrudes from the undulating countryside. It's known as 'the little Jerusalem' because of its century-old Jewish community. The town is dotted with historic landmarks and sites, as well as monuments and ruins. When looked at from afar, it is difficult to distinguish the gray stone buildings from the rocks below. A downright gorgeous Tuscan town, Pitigliano should be on any Italian itinerary.
14. Glorenza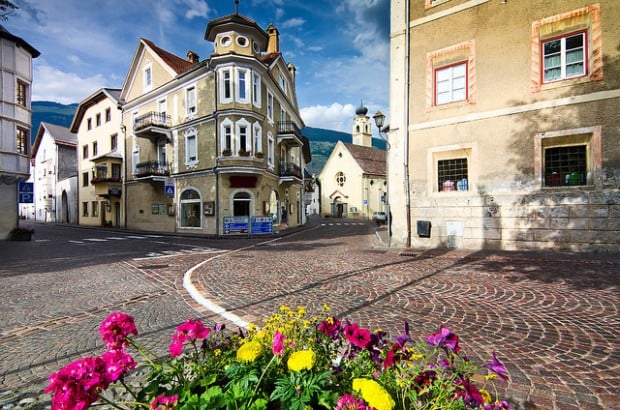 Image credit: Motographer
The smallest village in the southern Alps, Glorenza is located in the South Tyrol region of northern Italy. It lies so close to the Swiss and Austrian border that more than 95% of its population speaks German. Home to less than 1,000 people, this walled village is set amid green fields, orchards and meadows and is also known as Glurns in German. It's an ideal "hidden" destination to de-stress and relax.
15. Atrani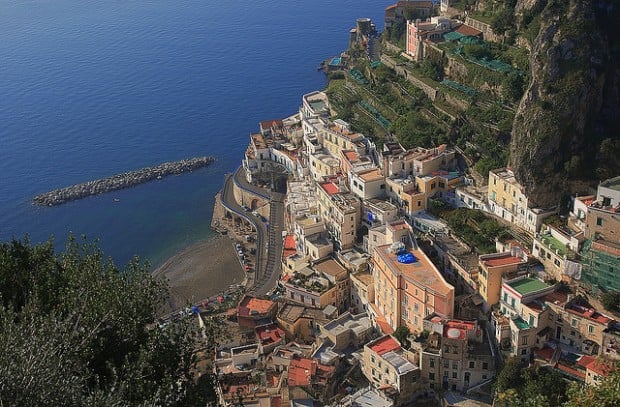 Image credit: Antonio Salsano
Atrani is squeezed between the azure blue waters of the Mediterranean Sea and the hills that line the famous Amalfi coast in southern Italy, Atrani is a place to visit for sandy beaches, coastal walks, pastel-coloured buildings, terraces covered with lemon trees, old churches and its fabulous year-round Mediterranean weather. The town, one of the smallest in southern Italy, lies only 700 meters from Amalfi, its more famous neighbor, and has been a seaside resort town since as early as Ancient Rome – it was founded by the rich Roman aristocracy.
Also Read: 5 Most Photogenic Places in Europe for Shutterbugs
If this list makes it look that you could spend weeks on end exploring the picturesque towns in Italy, it can be overwhelming to know that there are several others. Italy is littered with beautiful rural towns and it can be a challenge deciding where to go first. Let these fifteen towns be a start!