Food is an essential part of travel, there's no doubt about that. The flavours, the colours, the preparation, everything which goes into the production of food say a lot about a country's culture and story.
But of course, our passion for food is sometimes driven by something much simpler than a constant hunger (pun intended) for understanding culture: we simply love good food!  
Spain is a country which has very diverse food cultures depending on which region you are in. But regardless of location, the country offers a wide variety of delicious foods that leave even the harshest of food critics craving more.
So here's a list of foods and drinks which one must try when travelling in Spain. Split into appetisers, entrées, desserts and drinks for added convenience.  
Appetisers
1. Jamón ibérico and other Spanish cured meats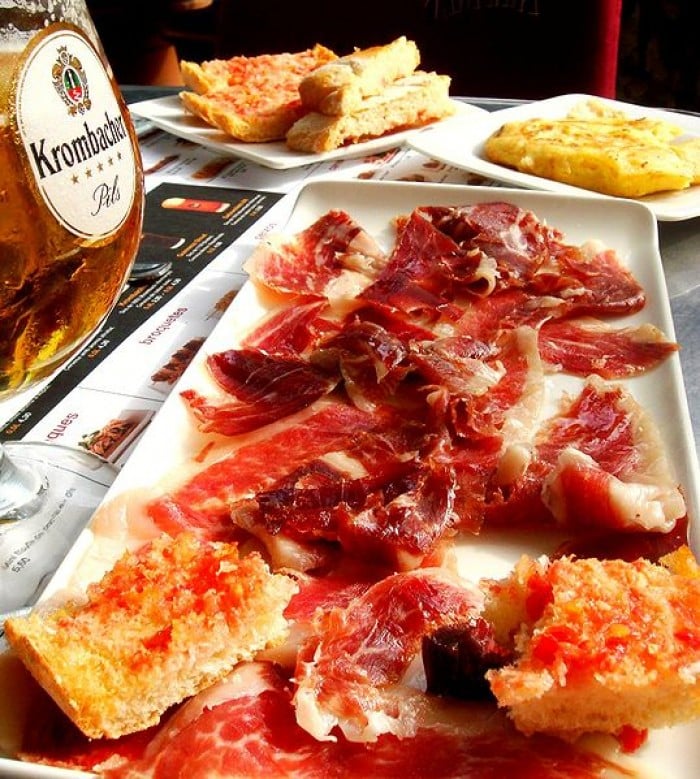 Image credit: Evan
The Spanish love their cured meat and hams and for good reason: the flavourful cuts taste phenomenal! Perhaps the most popular cured meat in Spain is the jamón ibérico, dried meat of black Iberian pigs. What makes the jamón ibérico so special is that the pigs are allowed to roam freely after weaning, allowing them to toughen up their meat and providing the best quality ham around. The cured meat is often cut up and served live at the bar, often accompanied by different assortments of Spanish hams, such as chorizos, which is a Spanish cured sausage with paprika (not to be confused with salchichas, which is Spanish for sausage).
2. Patatas Bravas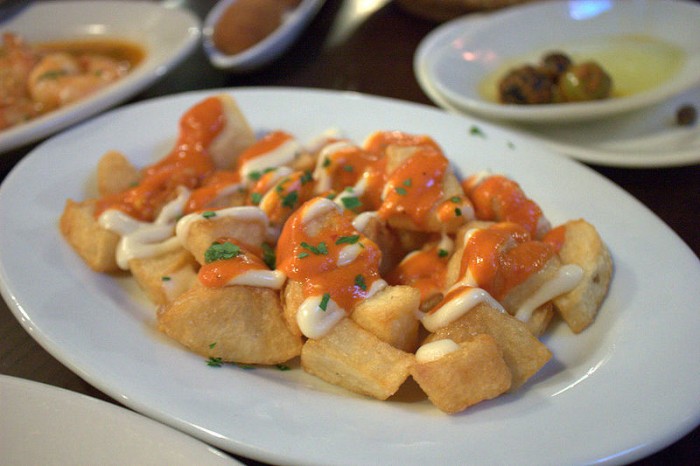 Image credit: Krista
A personal favourite of mine, patatas bravas roughly translates to 'brave potatoes'. It is a staple of Spanish tapas even though it is a dish of relatively lowly stature. It's basically fried potato cubes served with a combination of sauces. Although there are many variations, the traditional way of serving patatas bravas is with spicy tomato sauce. Ah, the taste of summer.
Also read: Things to See and Do in Barceloneta, Spain
3. Gazpacho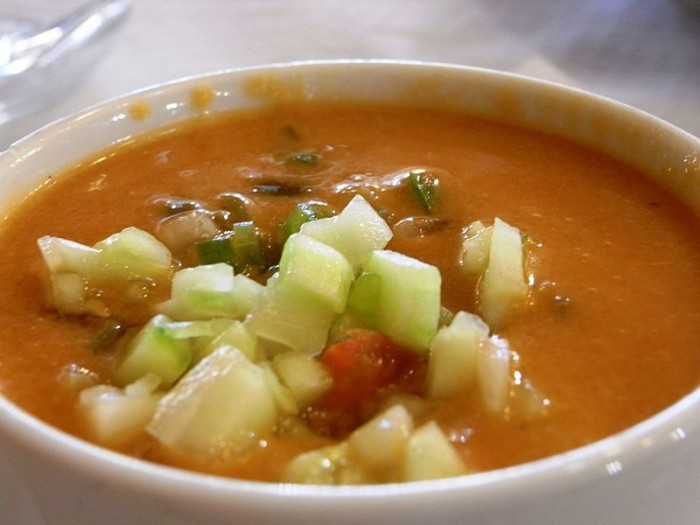 Image credit: Javier Lastras
To put it simply, a gazpacho is a cold vegetable soup with a tomato base. It is often served in the summer because of its cooling properties. There are various ways gazpacho is made and served. Some have visible chunks of vegetables in them while others serve smoothly pureed soups in a glass or mug. The soup tastes refreshing and savoury and is a must try in the summer, or any other season for that matter!
4. Gambas al ajillo
Image credit: Javier Lastras
Right, gambas = shrimps; ajillo = garlic. Therefore, gambas al ajillo is simply sautéed shrimp with garlic. It is an immensely popular tapas dish and sometimes served as a main dish in Spain. It's basically juicy shrimp cooked with garlic in olive oil and served (usually with a dash of lemon juice). Simple yet scrumptious.  
5. Pan tumaca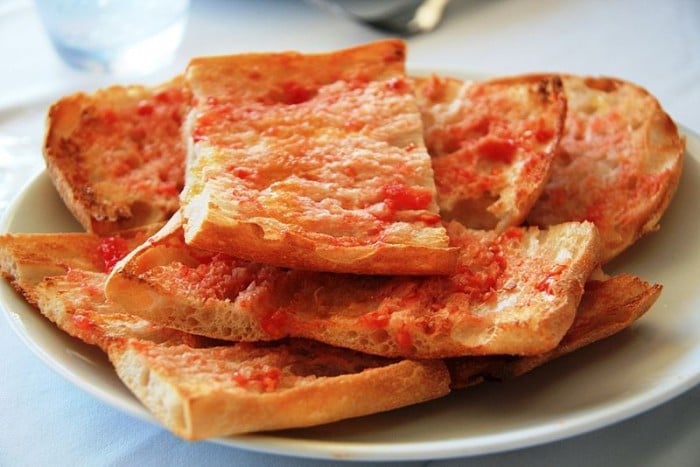 Image credit: Javier Lastras
When I visited Spain, it was in the summer, which explains why so many of the dishes on this list contain tomatoes. Hah! Pan tumaca is an extremely simple snack which is often prepared as breakfast or served in tapas bars. It consists of thin slices of toasted bread imbued with garlic and tomatoes and served with a drizzle of the finest olive oil. Some even add some queso (I could have said cheese, but since this was an article about Spanish food, I just had to say it in Spanish) to take the dish to the next level!
Entrées
6. Paella
Image credit: Manuel Martin Vicente
A paella (ba-ey-ya) is a traditional rice dish often considered the national dish of Spain. It is said to have originated in Valencia in the mid 19th century but has since established itself as THE iconic symbol of Spanish cuisine. The rice is often cooked with beans, saffron and flavourful broth and served in a large flat pan. There are multiple variations of paella. I personally recommend trying the seafood paella (paella mariscos) when in Barcelona, Valencian paella in Valencia (they often use a combination of chicken and rabbit meat in the dish there) and mixed paella (paella mixta) when in Madrid.
7. Tortilla Espanola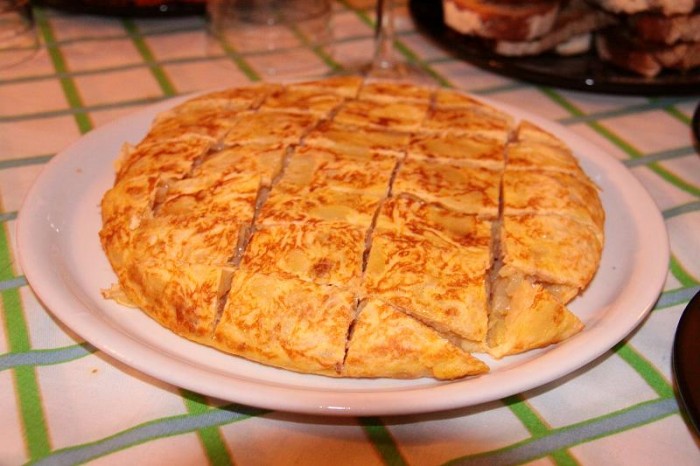 Image credit: Lothanc Dincht
Also known as tortilla de patatas (if you paid attention earlier in the article, you would hopefully know what patatas means), tortilla espanola is in no way related to the South/Central American flat bread. Instead, it is a Spanish omelet and consists of only two ingredients: eggs and potatoes. The dish is most commonly found in tapas bars around Spain but it can also be served as an entrée. It is often very thick and served as wedges, much like a pie. Given its ingredients, the tortilla espanola is very filling, which is why most people order un pincho de tortilla (which is more or less a slice) instead of una tortilla.      
8. Pollo al ajillo
Image credit: Paul Keller
Much like gambas al ajillo, pollo (chicken) al ajillo is basically chicken cooked (sautéed, or simmered with wine or sherry, or baked)  garlic and served with potatoes, mushrooms and a salad. It is an extremely common dish in Spain and it is popular due to the inexpensive nature of its key ingredients. Despite the humble cost of assembling the dish, the taste is top class and rightfully rich.
9. Pulpo a la Gallega
Image credit: Javier Lastras
Pulpo means octopus and Gallega means Galicia, a region in the north west of Spain. The dish is relatively simple in preparation. It is boiled octopus sprinkled with coarse salt, paprika and a drizzle of olive oil, often served on a wooden platter. Sometimes, simplicity really is the best as the dish offers tons of flavour with every bite despite its lack of glamorous ingredients.
And now, on to the most sinful section of the article:
Postres, or…desserts!
10. Churros con chocolate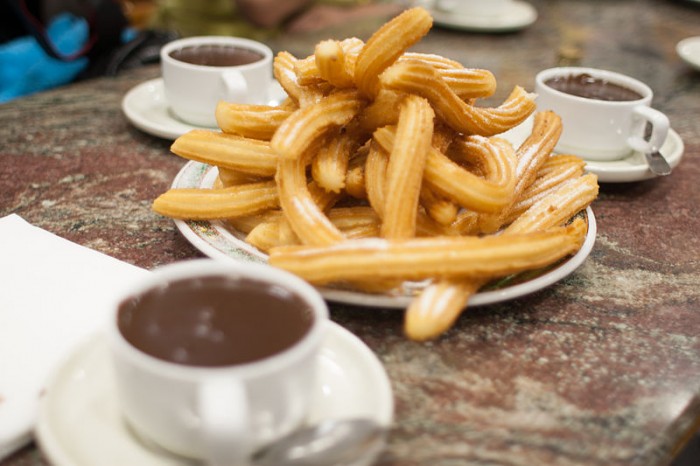 Image credit: Tim Lucas
I doubt the words churros and chocolate need much of an introduction but just in case…Churros are deep-fried twisty pastries that are soft to the touch and delicious even on its own. But throw in some dark or milk chocolate (which by the way, is basically a dark liquid which possibly came straight from the Heavens and is probably what unicorn blood is made of) and be prepared to have an explosion of 'yum' on your palette.
11. Crema Catalana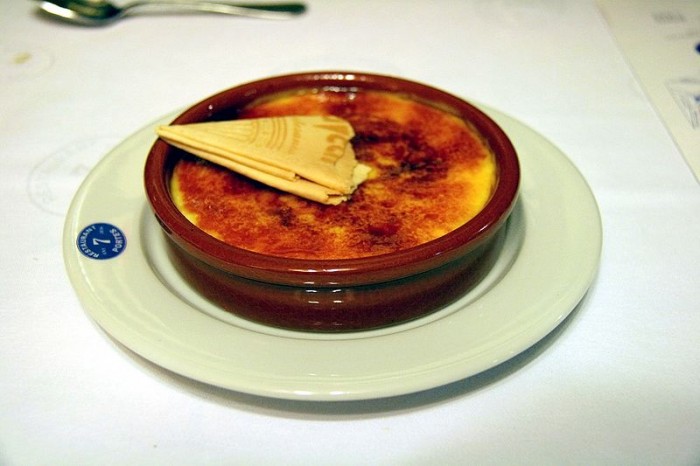 Image credit: Tamorlan
The Spanish crème brûlée, ladies and gentlemen! A rich custard based topped with a layer of crusty caramel and served with lemon or orange zest, this sinfully sweet dessert is one of the most popular after-meal delights in Spain. Similar to the crema catalana is the leche frita, which is fried milk. It is basically thicken milk, flour and sugar deep fried and the glazed with sugar and served with a sprinkle of cinnamon.  
12. Turrón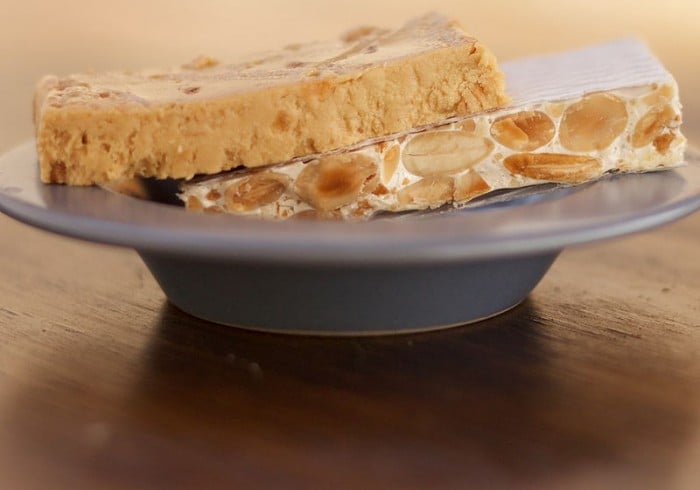 Image credit: Jonathan Pincas
This one is actually more of a sweet snack than an actual dessert but I doubt your tummy's probably growling too loudly for you to notice that at this point. What, just me? Fine. Anyways, a turrón is a nougat made primarily of honey, sugar, egg white and nuts (usually almonds). It comes in either rectangular shapes or as round cakes and is often eaten as a traditional Christmas dessert in Spain and South America. And now, time to wash all of that delicious food down with some good ol' Spanish…
Drinks
13. Sangria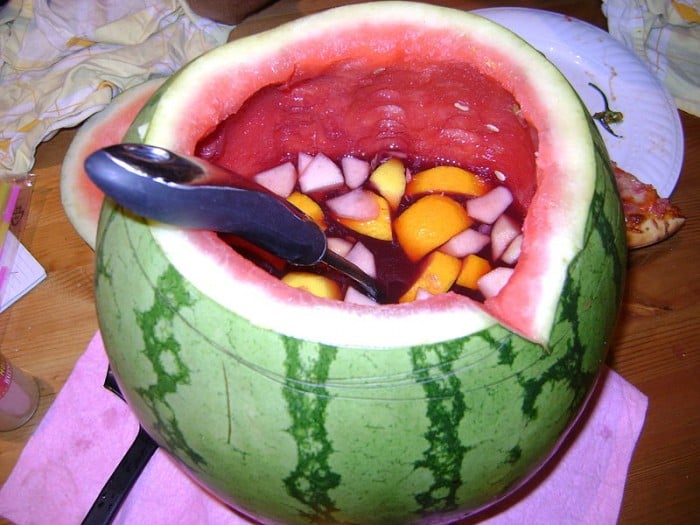 Image credit: quasipodo
A sangria is refreshing to drink as it is fun to say! For those unfamiliar with it, a sangria is a traditional Spanish fruit punch made of red wine and chopped fruits, usually oranges, limes, apples, kiwis and any other fruit with slight acidity. Normally, honey, orange juice or some other sweetening agent is also added to the mix along with a dash of brandy or soda. It is best served cold and shared among friends. Note: the watermelon bowl is completely optional.
Also read: Tips to Surviving Madrid on a Budget
14. Agua de Valencia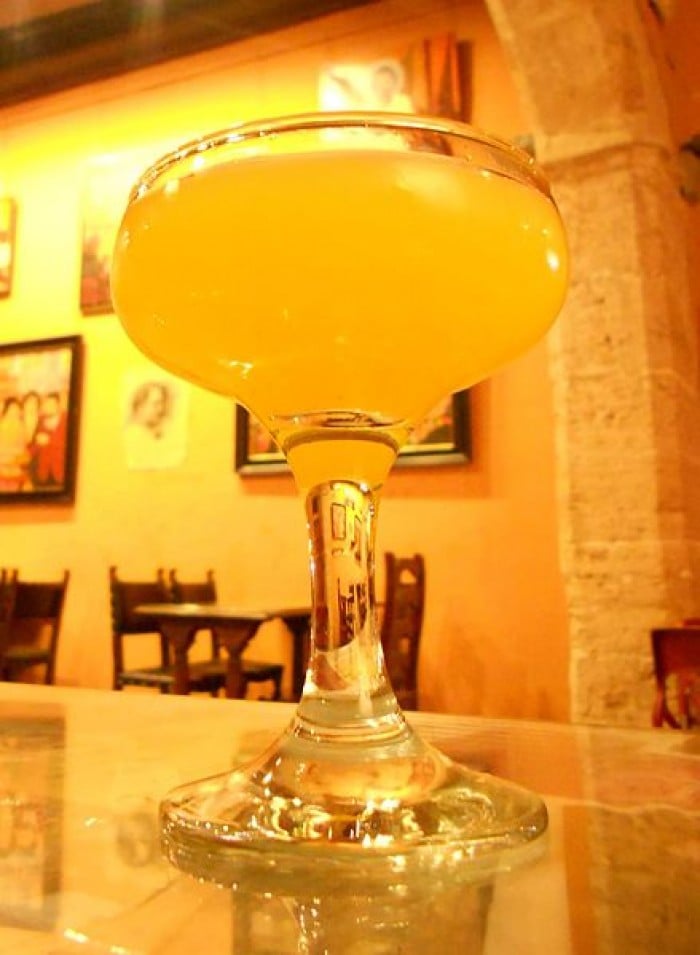 Image credit: Manolo Gil Labrandero
Despite its name translating to 'water of Valencia', it is advised that you do not drink this with any medication. That's because Agua de Valencia is a Valencian cocktail made from a champagne and orange juice base and contains dashes of vodka and gin. It can be found in almost every restaurant in Valencia and makes for a great drink to have with your Valencian paella. Often served in pitches, this drink is one made for sharing and for having a good time with friends.
15. Cola Cao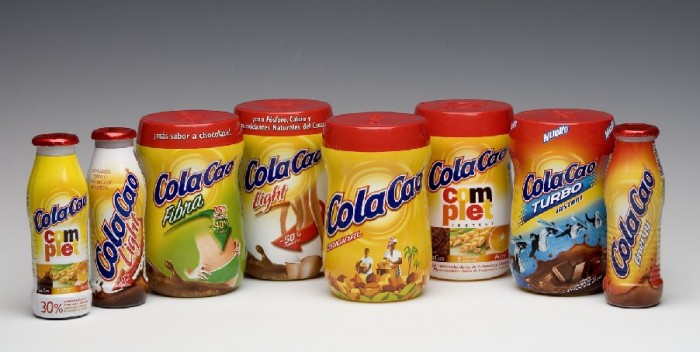 Image credit: AulaEmpresa
Cola Cao is pronounced as 'cola gao'. Of course, in Hokkien, you might think that you're ordering thick cola but rest assured, you're not. Cola Cao is like the Spanish counterpart of Milo in Malaysia. It is a high energy chocolate drink produced in Barcelona that is served either hot or cold. It is a mainstay in almost any breakfast cafeteria (meaning café in Spanish) in Spain. When my friend and I tasted it for the first time, I could have sworn there were stars in our eyes. It was THAT good! It goes well with the breakfast bocadillos (baguette sandwiches) and…actually, you know what, it goes well even on its own! Definitely try it when you find yourself in Spain.
Also Read: Things to See and Do in Barceloneta, Spain
Well, there you have it, people. A personal list of some Spanish delicacies which I think you really must try the next time you're in Spain. I don't know about you, but I worked up quite an appetite (more like craving) while writing this article and recalling the flavours of each dish. Now, I need to go find something to munch on while you should really start planning your trip to Spain!
Sin duda, tendrás un buen tiempo en Espana! (Without a doubt, you will have a great time in Spain)